Purveyor of Knowledge and Emerging Publisher of Content and Visually Driven Books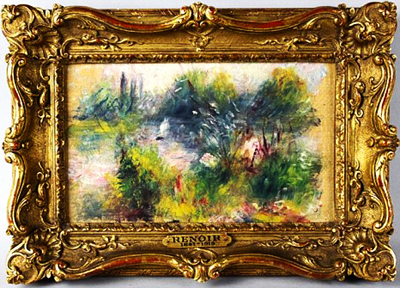 Woman buys Renoir for $7

September 2012--A Missing Renoir has turned up in a fleamarket in America, where a woman bought it unaware of its value, for $7 (€5.45).
The lucky buyer said she was persuaded to make the purchase by the fact the painting was being sold along with a doll of the American folklore character John Bunyan and a plastic cow. "I'd never seen a John Bunyan doll before," she told Huffington Post.
She also liked the fancy frame, which she thought she could resell. She took the canvas out, planning to throw it away, when her mother told her it would be worth getting it valued – especially as it had a prominent plaque on the frame with "Renoir" written on it…
Now auctioneers Potomack say the painting has been identified as Paysages au bord de la Seine, which they estimate to be worth about €60-80,000.
It is said that an American collector brought it to the USA after buying it in Paris and that its whereabouts had not been known since 1926.
The finder, who has been dubbed "The Renoir Girl", said she will use part of the money on a trip to Paris with her mother.



Photo:The Potomack Company Auctions and Appraisals

Source: The Connexion