Purveyor of Knowledge and Emerging Publisher of Content and Visually Driven Books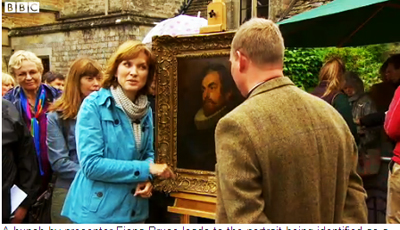 December 2013--A hunch by presenter Fiona Bruce leads to the portrait being identified as a genuine Van Dyck
A painting bought for £400 and featured on the BBC's Antiques Roadshow has been revealed to be a Sir Anthony Van Dyck portrait worth about £400,000.
Father Jamie MacLeod, who runs a retreat house in north Derbyshire, first took the artwork to Newstead Abbey, Nottinghamshire, in 2012.


He said he was now planning to sell the piece by the 17th Century Flemish artist to buy new church bells.


The BBC show's host Fiona Bruce said she was "thrilled" by the revelation.


More was revealed about the painting when Father Jamie took it to filming for another edition of Antiques Roadshow in Cirencester, Gloucestershire in June this year.


The Van Dyck portrait was identified after Ms Bruce, who was making a show about the artist with expert Philip Mould, saw the painting and thought it might be genuine.


Following restoration, the painting was verified by Dr Christopher Brown - one of the world authorities on Van Dyck.


The portrait, originally bought at a Cheshire antiques shop, is the most valuable painting identified in the show's 36-year history.
Father Jamie, who runs a retreat house in Whaley Bridge, on the edge of the Peak District, said: "It's been an emotional experience and it's such great news."


Van Dyck was the leading court painter in England under King Charles I and is regarded as one of the masters of 17th Century art.


The painting is a portrait of a Magistrate of Brussels which is believed to have been completed as part of the artist's preparation for a 1634 work showing seven magistrates.


Ms Bruce said: "It's everyone's dream to spot a hidden masterpiece, I'm thrilled that my hunch paid off, to discover a genuine Van Dyck is incredibly exciting. I'm so pleased for Father Jamie."


Mr Mould said: "Discoveries of this type are exceptionally rare.


"The painting's emergence from beneath layers of paint was dramatic. It's been revealed as a thrilling example of Van Dyck's skills of direct observation that made him so great a portrait painter."


A Van Dyck self-portrait that was recently sold to a collector who wants to take it abroad, has become subject to a temporary export ban.