Purveyor of Knowledge and Emerging Publisher of Content and Visually Driven Books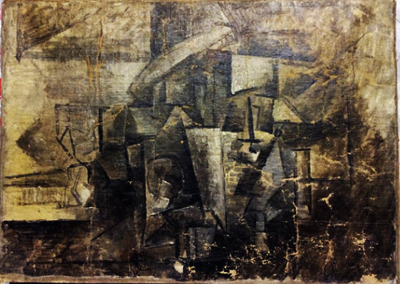 The cubist painting La Coiffeuse by Pablo Picasso was considered missing for over a decade.
Photo: AP/US Department of Justice

A Stolen Picasso Painting Shipped As A Christmas Present
Has Finally Been Seized
by: Artnet News
This article originally appeared on artnet News.

March 2015--A stolen Picasso painting which was considered lost for years has resurfaced in the United States, where it had been shipped under false pretenses as a $37 Christmas present labeled as "art craft." The 1911 painting, La Coiffeuse (The Hairdresser), was discovered in December in a FedEx shipment from Belgium to Long Island City.

The US attorney for the Eastern District of New York, Loretta Lynch, filed a civil forfeiture suit on Thursday, February 26 to return the painting to France. The work is owned by the French government.

The painting, worth millions of dollars, was stolen in Paris more than a decade ago, though the theft's exact date is unclear. It had been smuggled out of a storeroom at the Centre Georges Pompidou.

The canvas was last exhibited in Munich in 1998, and then returned to Paris, where it was placed in storage at the Paris museum. It wasn't until three years later, in 2001, when officials received a loan request for the cubist landmark, that the theft was noticed. Having searched the storerooms to no avail, they declared the painting, then valued at more than $2.5 million, stolen, the New York Times reports.

An unknown person going by "Robert" shipped the painting on December 17 from an address in Belgium to a climate-controlled warehouse in Long Island City. The package was labeled as "art craft," with a stated value of $37 and complete with a Christmas card. The next day, the painting arrived at the Port of Newark and was seized.

Federal Customs and Border Protection officials examined the FedEx shipment and found the missing Picasso. They notified the Department of Homeland Security, and officials working from Long Island City, Queens, then took over.

There's no information on whether anyone has been arrested in connection with the shipment and the identity of the package's recipient has not been released.

French museum officials came to New York in January to examine the painting in person. Comparing it with historical records and photographs of the missing work, they confirmed that it was indeed La Coiffeuse.

Anthony Scandiffio, the deputy special agent in charge of Homeland Security Investigations who seized the painting, said in a statement, "The market to sell stolen antiquities in the United States is drying up."

A number of recent thefts from European museums have shown that robberies are often inside jobs committed by employees with access to invaluable artworks, manuscripts, and artifacts. (see Librarian Steals Priceless Documents from Russian Museum also Prosecutor Asks for Five-Year Suspended Prison Sentence for Picasso's Electrician Pierre Le Guennec). However, many cases remain unsolved for years (see Unsolved Art Heists: The Missing Paintings of Vincent van Gogh).

Artnet News is the world's first global, 24-hour art newswire, dedicated to informing, engaging, and connecting the most avid members of the art community with daily news and expert commentary.