Purveyor of Knowledge and Emerging Publisher of Philippine Art
by Christiane L. de la Paz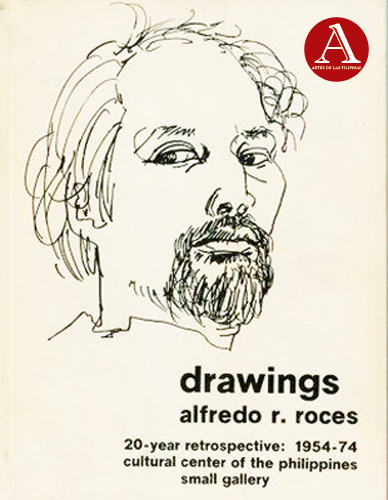 January 2016--Alfredo Roces holds a prominent place in the history of Philippine art. He is a painter to begin with a figurative style but soon began to amalgamate Expressionism, Fauvism and Impressionism in his paintings. As he move into Abstract Expressionism and assemblage, he also branched out in these various separate directions without abandoning the figurative and realist schools. More than that, he is also a notable author of Philippine art books whose ability to connect with the readers comes down to how he brings out the fullness of his subject. His books, Amorsolo 1892-1972, Filipino nude: the human figure in Philippine art and a portfolio of nudes, Legaspi The Making of a National Artist, Anita Magsaysay-Ho In Praise of Women, Felix Resurreccion Hidalgo & The Generation of 1872, to name a few, immortalized his writing style. Clear and solid sentences, apt words and sentences to reflect the truth about his subject are the distinguishing marks of his style. He is a recipient of the Ten Outstanding Young Men in Humanities and a Hall of Fame awardee at the Filipino Australian Artists and Cultural Endeavor Society, among many others.In this two-part interview with Roces, he takes us back to his early years as a student of Dominador Castañeda and then George Grosz, his involvement in the formation of the Saturday Group, his artworks during martial law and his life and activities in Sydney, Australia.
lee mas...
by Alice Guillermo, Erwin Castillo, Quijano de Manila,
December 2015--Danny Dalena appeared with a bang in the early seventies. He first made his mark with a brilliant and caustic political cartoons and illustrations for the Free Press Philippine Leader which gave new life to editorial cartooning and brought out the exciting potentials of the graphic arts in our country. This was followed by his Jai-Alai Series which placed him high on the roster of AAP winners and won for him the Mobil Art Grand Award for painting 1980.

This present CCP show is survey rather than a retrospective of the artist's works and Dalena himself emphasizes its ongoing quality of art still in the process of being produced. Included are his political cartoons of 1970 to 1972 and the more recent ones for Midweek magazine in 1985, the toilet and graffiti drawings of 1972, paintings from the Jai-Alai Series from1974 to 1979, the Alibangbang Series in 1980, the Quiapo paintings in 1979 and the present Pakil Series from 1984 to the present.

Dalena honed his art in hundreds of characters studies, figure drawings of down-and-out betting hall and beerhouse types. In these highly concentrated images is revealed an endless obsession with morality in the telltale wrinkle of skin, the ugly folds of fat, the sweet and grime ill-concealed beneath the worn clothes. The superb fluency of drawing captures an entire vocabulary
lee mas...
September 2012--The Mangyan tribe has been included in the history of Mindoro. Spaniards have long documented the life of the Mangyan people. However, much is still to be learned from the culture of one of the Philippines' richest ethnic group. Mangyan refers to the Philippine ethnic group living in Mindoro Island but some can be found in the island of Tablas and Sibuyan in the province of Romblon as well as in Albay, Negros and Palawan. The word Mangyan generally means man, woman or person without any reference to any nationality. Social scientists have documented Mangyan tribes into several major tribes. One of the ways to categorize them is through their geographical location. The Northern tribes include the Iraya, Alangan and Tadyawan tribes while the Buhid, Bangon Batangon and Hanunuo Mangyan comprise the tribes in the South.
The Culture

Despite being grouped as one tribe, Mangyans differ in many ways. In comparison to the technological advance between the two geographical divisions, the Southern tribes are more advanced as seen in their use of weaving, pottery and system of writing. The Northern tribes, on the other hand, are simpler in their way of living. Their language just like the whole Philippines came from the Austronesian language family. However, even if they are defined as one ethnic group the tribes used different languages. On the average, they only share 40% of their vocabulary words on their mutual languages. The tribes have also varied physical and ethnogenetic appearances: Iraya has Veddoid features; Tadyawan are mainly Mongoloid; and the Hanunuo looks like a Proto-Malayan.

lee mas...
November 2015--When one mentions the district of Betis in the town of Guagua, Pampanga, the first thing that most likely comes to mind is woodcarving. It is an art that is as old as the history of the town itself and a skill that has been passed on from generation to generation, unveiling the wealth of the locals' creativity and many facets of their culture. Betis remains to be the furniture-making and woodcarving centre, not only of Pampanga, but of the entire Luzon. Betis furniture, in particular, is recognized by many as "export quality" and "world class." The eclectic mix of local and European aesthetic sensibilities has appealed to international buyers for it gives both Oriental and Western appeal. If you happen to pass by the Olongapo-Gapan and Bacolor-Guagua Road, you'll notice a long stretch of shops and showrooms displaying wood furniture and sculptures of religious icons made by local carvers of Betis, most of them from Brgy. Sta. Ursula. Old folks coming from this barangay are believed to be the pioneers in the tradition of pamandukit (woodcarving) and pamaganluagi (wood working) in the Kapampangan province.

In this essay, the author compares some of the works of well-known contemporary woodcarvers (mandukit) namely Willy Layug and Boyet Flores, and determine how they were influenced by master-carver Apung Juan Flores, while also reflecting on the development and state of the woodcarving tradition in Betis.The following aspects are taken into account and examined: artists' background; subject matters or themes; styles and approaches; materials and tools; techniques and process of production; and other important issues such as art patronage and market.

lee mas...
April 2012 -- The press has recently been full of reports about forgeries. In Europe, fakes by Wolfgang Beltracchi have embarrassed a number of experts and collectors. In the US, a painting purportedly by Jackson Pollock that was sold for $17m is the subject of a lawsuit against the now-closed Knoedler gallery and its former president Ann Freedman. This "Pollock", moreover, seems to be only the tip of the iceberg, since it appears to belong to a surprisingly large collection of pictures supposedly painted by leading abstract expressionist artists. This collection was allegedly brokered by a previously obscure dealer named Glafira Rosales, who is now said to be the subject of an FBI investigation. The names attached to the paintings Rosales allegedly handled include Franz Kline, Willem de Kooning, Robert Motherwell, Barnett Newman, Mark Rothko and Clyfford Still, as well as Pollock.
One of these paintings, supposedly from the "Elegy to the Spanish Republic" series by Motherwell, was recently confirmed as a forgery by the Dedalus Foundation as part of a court settlement. The foundation, which I head, is sponsoring a catalogue raisonné of Motherwell's work. Our experience with this and related works makes it clear how problematic the issue of authenticity has become for scholars, collectors, gallery owners, and foundations specialising in modern painting. Sharply rising prices and an increasing scarcity of major works have created a rich environment for forgers.
lee mas...
by Claire Voon for Hyperallergic
October 2015-- Ukiyo-e, the popular color woodblock prints of Japan, are globally recognized and renowned, but their raunchier examples tend to see less light, rarely going on public display. Known as shunga ("spring pictures"), these highly erotic scenes comprise a genre of their own, and an exhibition devoted entirely to them has opened for the first time in their country of origin. Shunga, currently on view at Tokyo's Eisei-Bunko Museum, features 133 works shown over two consecutive display periods, with many attributed to familiar names such as Katsushika Hokusai and Utagawa Kuniyoshi.

The exhibition is preceded in scope by only one other show, which opened at the British Museum in 2013 and drew close to 90,000 visitors in three months. Nearly half of the works on display at Eisei Bunko come from the British Museum, with the rest borrowed from various Japanese museums and private collections. Open since mid-September, Shunga, too, is attracting so many people that organizers have been reporting heavy visitor congestion and 20-30-minute waiting lines. Despite the works' popularity, their highly explicit nature is the chief reason behind their limited display in museums: as Japan Today notes, finding sponsors for large shunga exhibitions is difficult, and curators often express worry about public complaints. Ten establishments turned down requests to host Shunga before Eisei-Bunko offered its space, and the exhibit is restricted to museum-goers 18 years old and up (the British Museum advised parental guidance for those under 16).

lee mas...
September 2015--There are at least three major discursive issues that can be extracted from the document, Customs of the Tagalogs written by Juan de Plasencia in 1589, if we are to put socio-political context into the text – first, the issue of authorship; second, the discourse of power in colonial writing; and third, the logic of binarism or the Occident-Other dichotomy. These are interrelated threads that probably constitute major segments of colonial historical writing in the Philippines.

The authorial voice or authorship plays a pivotal role in putting meaning(s) to this colonial text. The author, Juan de Plasencia was, in the first place, not a native Tagalog but a Franciscan missionary who first arrived in the Philippines in 1577. He was tasked by the King of Spain to document the customs and traditions of the colonized ("natives") based on, arguably, his own observations and judgments. Notably, de Plasencia wrote the Doctrina Cristiana, an early book on catechism and is believed to be the first book ever printed in the Philippines. Such initiatives were an accustomed practice of the colonizer during the Age of Discovery to enhance their superiority over the colonized and validity of their so-called duties and legacies to the World. It is a common fact that during this era, the Spanish colonizers, spearheaded by missionaries, drew a wide variety of texts ranging from travel narratives and accounts of the colony to even sermons.

In this particular text, de Plasencia tried to avoid discussing the "conflicting reports of the Indians" through an "informed observation" to obtain the "simple truth." This "truth," however, is debatable, and the manner of how he actually arrived to his reports is even more problematic. The text foregrounds two important figures: the observer (de Plasencia) himself, with his own background, subjectivites and biases; and the observer's subject
lee mas...
by Artes de las Filipinas Web Team
October 20, 2009 -- EACOMM Corporation hosted a cocktail reception to celebrate the publication of its first book project, Private Collections. Almost three hundred guests turned up at the Isla Ballroom 3 of Edsa Shangri-La Hotel to welcome the release of the limited edition art book and to have it signed by the art collectors.
The audience had a warm and unforgettable moment that Tuesday evening. Artists and distinguished guests from the business, arts and society stood in lines to meet and have a chat with Washington SyCip, Hans Sy, David Consunji, Joey de Leon, Napoleon Abueva, Charlie Cojuangco, Joel Jimenez, Eddie Chua, Patrick Reyno, Mark Villar, Julius Babao, Arsenio Tanco, Jovenal Santiago, Manny Zialcita, Gilbert Santos, Wilmer Hontiveros, Louie Ojeda, Mikee Romero and Alexander Tan, who were recognized and honored that night.
Private Collections is available online and at Fully Booked.
lee mas...