Purveyor of Knowledge and Emerging Publisher of Content and Visually Driven Books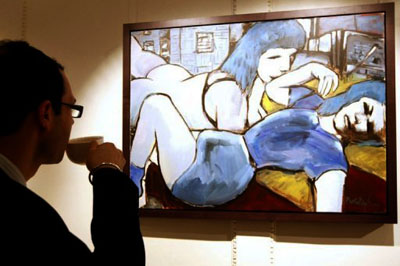 BOB DYLAN PAINTINGS COME UNDER FIRE
by: Mariano Andrade of the Associated Foreign Press

Bob Dylan faced uncomfortable questions Wednesday over several paintings in a New York exhibition by the prolific singer-songwriter that appear to have been copied directly from other artists' photographs.
The paintings are part of a show at the Gagosian Gallery titled "The Asia Series," billed as "a visual reflection on his travels in Japan, China, Vietnam, and Korea."
According to the Gagosian, the art work, which went on display earlier this month, shows how Dylan "is inspired by everyday phenomena in such a way that they appear fresh, new, and mysterious."
But Dylan watchers and an article in The New York Times highlight another mystery behind the exhibition: that several paintings supposedly reflecting Dylan's globe-trotting artistic career are nearly identical to already published photographs.
For example, a painting titled "Trade," showing two elderly men bent over while talking, and one of them holding a banknote, is the same as a black and white photograph by famed photographer Henri Cartier-Bresson taken in 1948, the Times pointed out.
Even the lines on the foreheads of the men are similar, as is the short flight of steps in the background.
Another apparently copied painting is titled "Opium" and depicts a dark-haired woman in red lying down alongside opium paraphernalia. The same scene -- in the same colors -- appears in Leon Busy's photo "Woman Smoking Opium."
A third painting "The Game," depicting three men playing a board game, is the same as a 1950 photograph by Dmitri Kessel.
The gallery shrugged off any possibility of controversy, saying in a statement that "the composition of some of Bob Dylan's paintings are based on a variety of sources."


These include "archival, historic images, the paintings' vibrancy and freshness come from the colors and textures found in everyday scenes he observed."
Some Dylan fans concurred.
"Everybody does that. In painting, music, literature. Everyone is always riffing on what someone did before them," one person going by the online name the_revelator posted on the fan site expectingrain.com.
"People who are completely original are extremely rare. Almost all art is derivative. I don't like Bob's work any less because of all the influences and the appropriation," the_revelator said.
But the revelation was more disturbing for others in the world of Dylan followers.
"I guess it's because he gets away with it when others don't as much... maybe that is what aggravates me the most," said one commentator called Milkcow wrote.
Milkcow went on to express deeper reservations about the voice and writer behind many of the world's most popular ballads.
"I was listening to his 60s songs... and really was blown away by his lyrics especially for how old he was when he wrote them.... but then you find whole things snagged from other people's stuff... the same thing he hates when people do it to him."