Purveyor of Knowledge and Emerging Publisher of Content and Visually Driven Books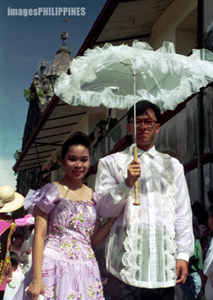 The culminating event of this Maytime tradition is the Santacruzan. Image courtesy of www.imagesphilippines.com (Mr. Nestor Santiago)
THE SANTACRUZAN FESTIVAL
By: Julianne Pascual
In spite of the glare and blare of the demanding city life lies a moment wherein the only thing you can't help but do, is to breath in the scent of May. One such example is the Flores de Mayo, also known as Flowers of May, held in honor of the Blessed Virgin Mary.
Every afternoon in May, people within the community gather together in their Church to offer their prayers, as well as their exotic assortment of flowers to the Blessed Mother. These flowers are collected together for the numerous festivities all together known as the "Flores de Mayo". Generally, parishes end the celebration in a procession to the church where the Evening Mass will be held. This procession is also known as the "Santacruzan", loosely translated as Festival of the Holy Cross.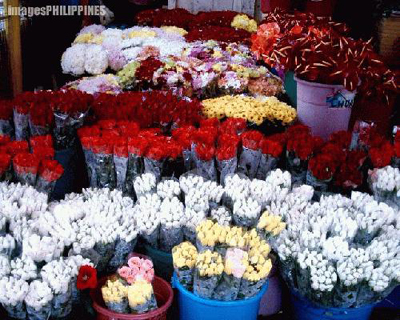 Colorful flowers are in bloom in the month of May that adorn the floats during the Santacruzan festival.
Images courtesy of: www.imagesphilippines.com (Rosemarie Espejo)
In the Santacruzan, chosen young ladies with their respective escorts by their side, parade on the streets under arches colorfully decorated and designed with May flowers. Each lady is dressed in an elaborate gown suited to the Queen that she portrays. The focus of the procession is when Reyna Elena and Prince Constantine pass these streets under magnificent and blooming arches. Following them, is a large float carrying the Blessed Virgin Mary. As this goes on, the locals are invited to participate by lighting candles and join in singing hymns of praise. The evening is brought to a close with a dinner hosted by the Mayor. Each time, these processions never fail to bring out the best of the town.
Introduced by the Spaniards, this tradition has been practiced for over a hundred years already. In this period, it has been carried to different Filipino communities within Europe and America. This month-long celebration brings together townsfolk as they indulge in the local treasures of their beloved hometown.
You can take the Filipino out of the Philippines, but you can't take the Philippines away from the Filipino. May has always been a time for celebration. Now, Filipino customs like this put emphasis on a borderless world, as we celebrate with our fellow kababayans the history of our culture, the connection of our ties, and the scent of May spread thousands of miles apart.