Purveyor of Knowledge and Emerging Publisher of Content and Visually Driven Books
by Artes de las Filipinas Web Team
April 2022 -- Artes de las Filipinas welcomed the year 2022 with its latest publication, The Philippine Art Book, a two-volume sourcebook of Filipino artists. The data gathering for this book began in the year 2012 and was completed in 2020 to give time for artists' interviews. Scattered interviews and correspondence to artists' kins and exhaustive library research and available records were utilized in writing the entries of each artist.

The book has become an A-Z guide to more than a thousand artists and is a good resource for readers interested in the works and biographies of Filipino artists. Its distinguishing feature is that it covers the lives, works and artistic activities of acclaimed, lesser-known, obscure and contemporary Filipino artists who have contributed to the flowering of Philippine art history for the past nearly five centuries. It is also designed to add interest and understanding to the reader's visits to exhibitions and museums as well as aid the study of past and contemporary art. More importantly, the writing provides updates to reflect new scholarship, revised articles, bibliographies and corrections of past research to all classes of students and users for self-education or as a starting point for further investigation.
lee mas...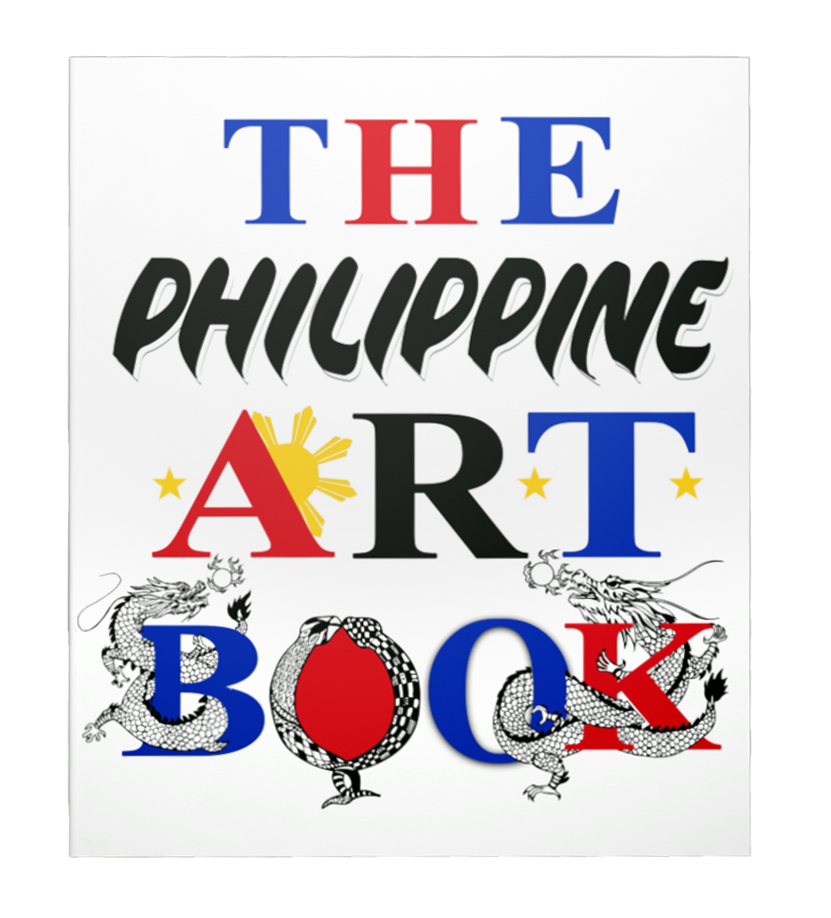 by Artes de las Filipinas Research Team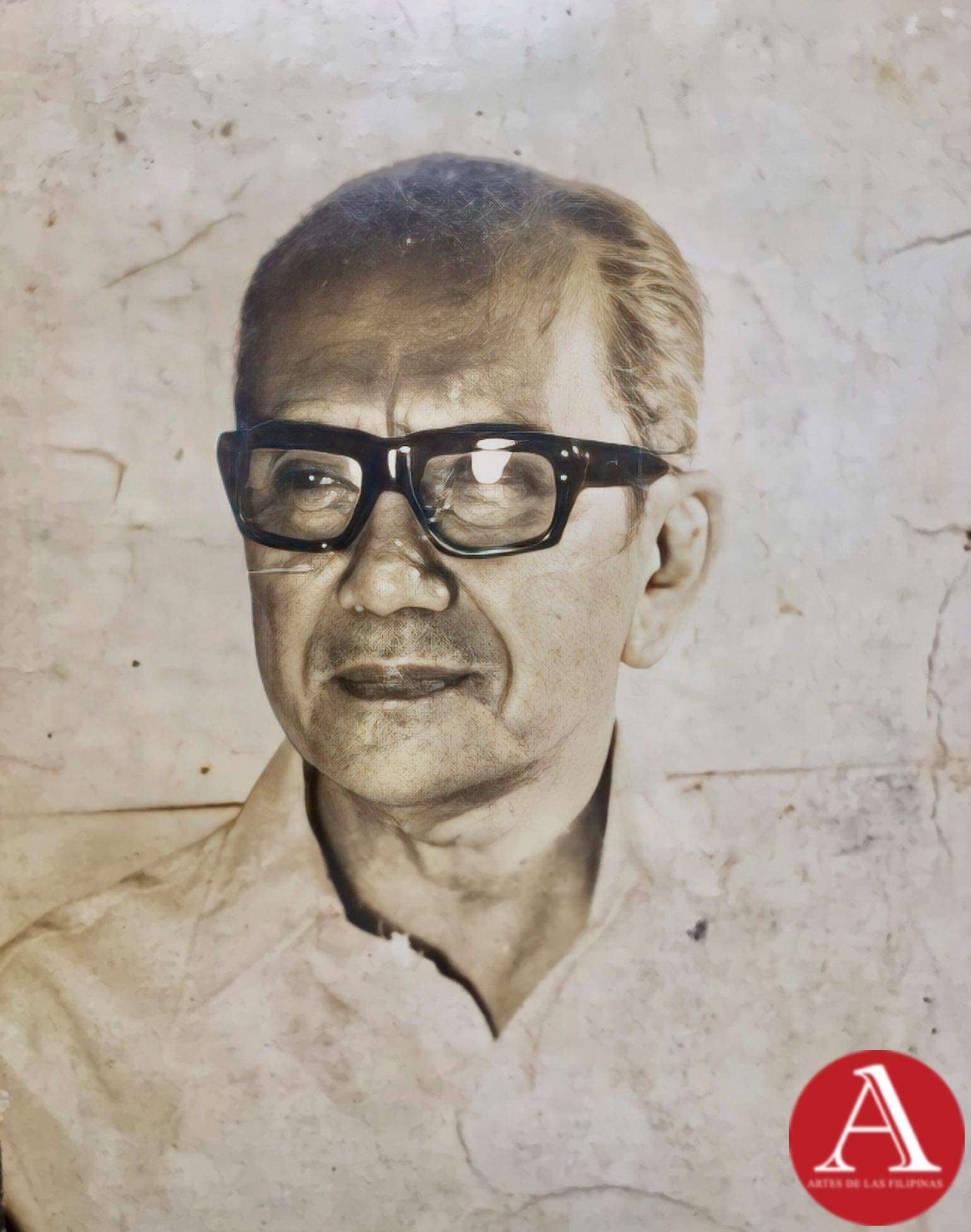 September 2022 - One of the emblematic komiks writers in the Philippines, Jose Zabala Santos contributed to the success of the Golden Age of Philippine Komiks alongside his friends and associates, Francisco Coching, Francisco Reyes and Tony Velasquez. The four of them created enduring characters that entertained the komiks readers for generations. In 1932, Amado Hernandez, the editor of the Sampaguita magazine, launched his career as a cartoonist. Later, the pre-war komiks readers of the vernacular komiks strips were soon introduced to the delightful characters of Titina, Lukas Malakas, Sianong Sano and Popoy, among several others. After the Second World War, Zabala Santos worked on outdoor advertising with Amado Manalang and as a cartoonist in the komiks, Halakhak Komiks, edited by Isaac Tolentino. He later joined the Pilipino Komiks, where he plotted and illustrated his flagship character, Lukas Malakas.
This month, Artes de las Filipinas honors the contributions of Jose Zabala Santos by highlighting his life, his influence on artists like Larry Alcala, Mauro Malang Santos and Nonoy Marcelo, to name a few and his one of a kind komiks strips. The photographs of works and the excerpts available in this site were collected and shared by Gerry Santos and Gerard Joseph Santos, Jose Zabalas Santos' son and grandson.
lee mas...
by Christiane L. de la Paz
October-November-December 2017--In 1979, Inday Cadapan was forty years old when she set out to find a visual structure that would allow her to voice out her opinion against poverty and the unjust labor practices. Largely self-taught, she began painting her commentaries to help the people see how they could make their communities pliable. One of her key paintings, Inang Bayan that depicted the political leaders during the Martial Law and the EDSA Revolution found its way to the cover of the Panorama magazine. Soon after, Cadapan eagerly studied the works of Willem de Kooning, Henri Matisse and Pablo Picasso. She found their use of simple, bold and well thought-out lines a labyrinth to which a single thread was the key. She also began using strident colors as an expression of beauty. As a result, Cadapan produced a surfeit of images which placed her in conversation with other Expressionist painters. Aside from her acrylic and watercolor paintings of still lifes, landscapes and women figures, Cadapan also created wood sculptures that have references to Ifugao rice gods. She also made use of ceramic, papier mache and fabric collages in the form of dolls across her career. "More than anything, art is gestures, instinct, feelings and these things are not taught in school," Cadapan once burbled. In 1986, she mounted her first one-woman show, Expressions Inday '86 at the City Gallery in Rizal Park where the paintings and wood sculptures that she created from 1981-1985 were the cynosures of the show. After that, she continued to paint and sculpt prolifically in this style. In this replete with informative anecdotes interview, Magel Vee, her only child, proposes a new understanding of her mother's artistic contributions to the history of Philippine art.
lee mas...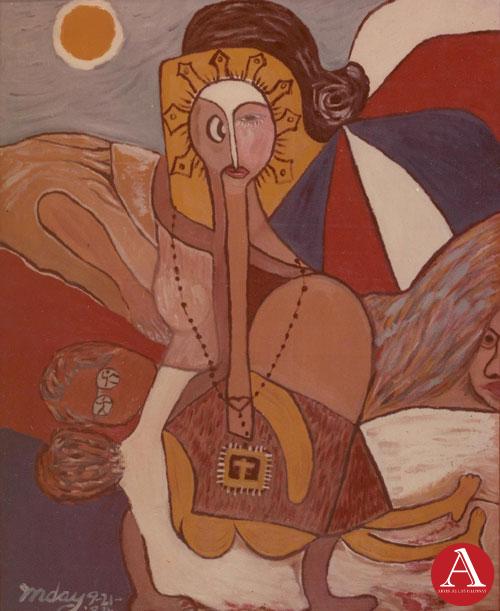 by The Artes de las Filipinas Research Team
March 2016--This exhibit feature ancient ornaments crafted by our Filipino ancestor from 700 to 1,200 years ago. These form part of the Bangko Sentral ng Pilipinas (BSP) Pre-Hispanic Gold Collection.

The illustration that depict how these exquisite gold pieces were used are from the Boxer Codex, a manuscript written in 1590 with colored drawings of ethnic groups in the Philippines at the time of their initial contact with the Spaniards.In the Philippines, the 10th and 14th centuries were years of political, economic, and social progress, when primary artistic and scientific development occurred. Unearthed gold ornaments manifest a rich material culture dating almost 300 years before Spanish colonizers discovered the island.

Of the metals abundance, the Spanish explorers who landed on the islands in the 16th century noted," Pieces of gold, the size of walnuts and eggs, are found by sitting the earth in the island." As gold was plentiful, ancient Filipinos mastered gold working and created splendid works of art that are exquisite demonstrations not only of the skillful.
lee mas...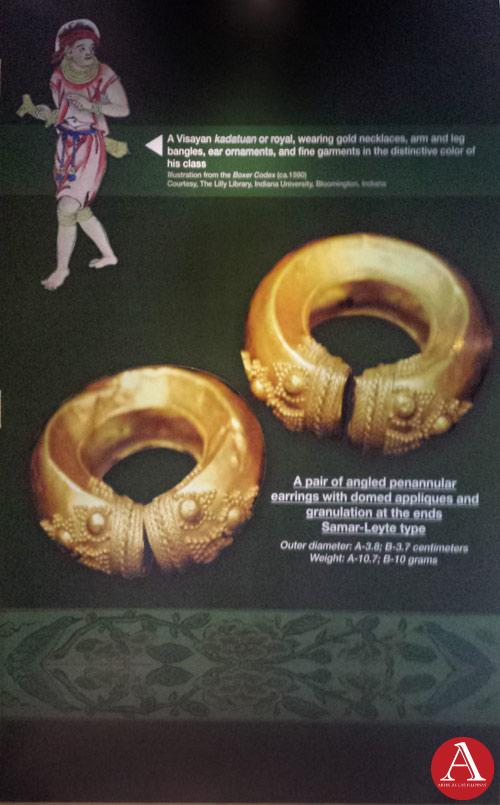 by Christiane L. de la Paz
September 2022 – The fashion exhibition of Salvacion Lim Higgins hogged the headline once again when a part of her body of work was presented to the general public. The display is chic, refreshing, modern, contemporary and pure joy that any wearer from yesterday to today continues to surprise. Ironically, the exhibition was displayed in the lobby of a mall where foreign brands took up most of the space, exerting significant competitive pressure on made-to-measure fashion. But this is precisely the objective of the fashion exhibition: to expose Salvacion Lim Higgins's artistic vision and make it relevant to today's generation. Her work reminds everyone that simplicity and uniqueness were lifetime goals. For more than four decades, Salvacion Lim Higgins's body of work is characterized by neatness, volume, elegance, sculptural and classical and evidently -- drama. Her legacy of walking pieces of art, tailored pieces, exact and perfect fit equates that a Filipino designer once set the bar as high as possible.
lee mas...
April 2012 -- The press has recently been full of reports about forgeries. In Europe, fakes by Wolfgang Beltracchi have embarrassed a number of experts and collectors. In the US, a painting purportedly by Jackson Pollock that was sold for $17m is the subject of a lawsuit against the now-closed Knoedler gallery and its former president Ann Freedman. This "Pollock", moreover, seems to be only the tip of the iceberg, since it appears to belong to a surprisingly large collection of pictures supposedly painted by leading abstract expressionist artists. This collection was allegedly brokered by a previously obscure dealer named Glafira Rosales, who is now said to be the subject of an FBI investigation. The names attached to the paintings Rosales allegedly handled include Franz Kline, Willem de Kooning, Robert Motherwell, Barnett Newman, Mark Rothko and Clyfford Still, as well as Pollock.
One of these paintings, supposedly from the "Elegy to the Spanish Republic" series by Motherwell, was recently confirmed as a forgery by the Dedalus Foundation as part of a court settlement. The foundation, which I head, is sponsoring a catalogue raisonné of Motherwell's work. Our experience with this and related works makes it clear how problematic the issue of authenticity has become for scholars, collectors, gallery owners, and foundations specialising in modern painting. Sharply rising prices and an increasing scarcity of major works have created a rich environment for forgers.
lee mas...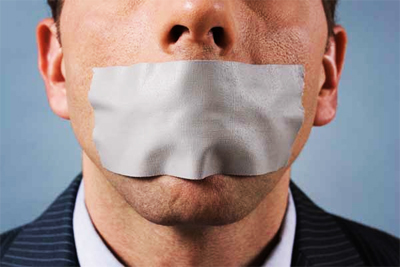 by Claire Voon for Hyperallergic
October 2015-- Ukiyo-e, the popular color woodblock prints of Japan, are globally recognized and renowned, but their raunchier examples tend to see less light, rarely going on public display. Known as shunga ("spring pictures"), these highly erotic scenes comprise a genre of their own, and an exhibition devoted entirely to them has opened for the first time in their country of origin. Shunga, currently on view at Tokyo's Eisei-Bunko Museum, features 133 works shown over two consecutive display periods, with many attributed to familiar names such as Katsushika Hokusai and Utagawa Kuniyoshi.

The exhibition is preceded in scope by only one other show, which opened at the British Museum in 2013 and drew close to 90,000 visitors in three months. Nearly half of the works on display at Eisei Bunko come from the British Museum, with the rest borrowed from various Japanese museums and private collections. Open since mid-September, Shunga, too, is attracting so many people that organizers have been reporting heavy visitor congestion and 20-30-minute waiting lines. Despite the works' popularity, their highly explicit nature is the chief reason behind their limited display in museums: as Japan Today notes, finding sponsors for large shunga exhibitions is difficult, and curators often express worry about public complaints. Ten establishments turned down requests to host Shunga before Eisei-Bunko offered its space, and the exhibit is restricted to museum-goers 18 years old and up (the British Museum advised parental guidance for those under 16).

lee mas...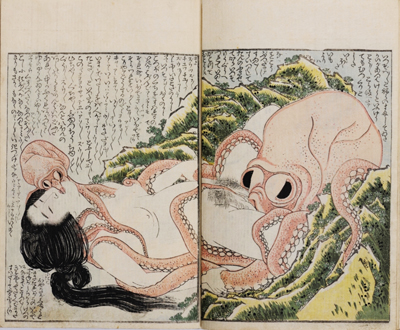 September 2015--There are at least three major discursive issues that can be extracted from the document, Customs of the Tagalogs written by Juan de Plasencia in 1589, if we are to put socio-political context into the text – first, the issue of authorship; second, the discourse of power in colonial writing; and third, the logic of binarism or the Occident-Other dichotomy. These are interrelated threads that probably constitute major segments of colonial historical writing in the Philippines.

The authorial voice or authorship plays a pivotal role in putting meaning(s) to this colonial text. The author, Juan de Plasencia was, in the first place, not a native Tagalog but a Franciscan missionary who first arrived in the Philippines in 1577. He was tasked by the King of Spain to document the customs and traditions of the colonized ("natives") based on, arguably, his own observations and judgments. Notably, de Plasencia wrote the Doctrina Cristiana, an early book on catechism and is believed to be the first book ever printed in the Philippines. Such initiatives were an accustomed practice of the colonizer during the Age of Discovery to enhance their superiority over the colonized and validity of their so-called duties and legacies to the World. It is a common fact that during this era, the Spanish colonizers, spearheaded by missionaries, drew a wide variety of texts ranging from travel narratives and accounts of the colony to even sermons.

In this particular text, de Plasencia tried to avoid discussing the "conflicting reports of the Indians" through an "informed observation" to obtain the "simple truth." This "truth," however, is debatable, and the manner of how he actually arrived to his reports is even more problematic. The text foregrounds two important figures: the observer (de Plasencia) himself, with his own background, subjectivites and biases; and the observer's subject
lee mas...