Purveyor of Knowledge and Emerging Publisher of Content and Visually Driven Books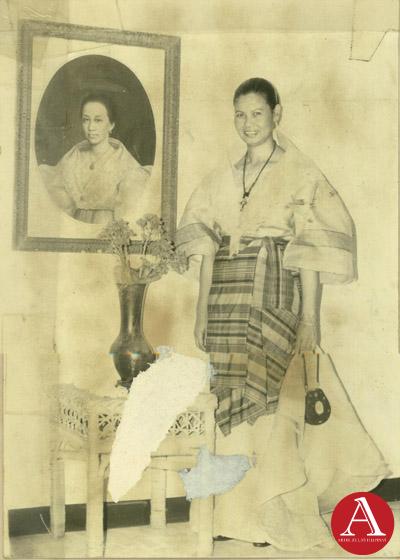 Inday Cadapan: The Modern Inday
by: Christiane L. de la Paz

October-November-December 2017--In 1979, Inday Cadapan was forty years old when she set out to find a visual structure that would allow her to voice out her opinion against poverty and the unjust labor practices. Largely self-taught, she began painting her commentaries to help the people see how they could make their communities pliable. One of her key paintings, Inang Bayan that depicted the political leaders during the Martial Law and the EDSA Revolution found its way to the cover of the Panorama magazine. Soon after, Cadapan eagerly studied the works of Willem de Kooning, Henri Matisse and Pablo Picasso. She found their use of simple, bold and well thought-out lines a labyrinth to which a single thread was the key. She also began using strident colors as an expression of beauty. As a result, Cadapan produced a surfeit of images which placed her in conversation with other Expressionist painters. Aside from her acrylic and watercolor paintings of still lifes, landscapes and women figures, Cadapan also created wood sculptures that have references to Ifugao rice gods. She also made use of ceramic, papier mache and fabric collages in the form of dolls across her career. "More than anything, art is gestures, instinct, feelings and these things are not taught in school," Cadapan once burbled. In 1986, she mounted her first one-woman show, Expressions Inday '86 at the City Gallery in Rizal Park where the paintings and wood sculptures that she created from 1981-1985 were the cynosures of the show. After that, she continued to paint and sculpt prolifically in this style. In this replete with informative anecdotes interview, Magel Vee, her only child, proposes a new understanding of her mother's artistic contributions to the history of Philippine art.

From Inday Cadapan's social expressionist paintings in the 1970s, she moved to painting women in the style of Picasso and Matisse. Why do you think your Mom was drawn to these two major art figures?

My Mommy was sickly growing up and was mostly confined in her banig bed. Her mother, Inda, would paste magazine cut-outs of Picasso paintings and other works of the masters in the walls of their nipa hut. Fascinated with the lines and colors, she enjoyed observing the abstractions and found the hidden figures interesting and humorous. In her adult life, my Mom started reading biographies and back issues of Arts and Antiques magazines that she bought from American Living stores wherein she stumbled upon the great works of arts which in turn rekindled her interest in the two competitive friends, Picasso and Matisse.

My Mom has a happy disposition and a melancholic mood brought about by her sickness and marital situation. She shifted from social expressionist oil paintings to vibrant watercolor paintings. In one of our conversations I asked her, "Who would want to remember all that angst? We all need encouragement in this time of our life!" Then one day I heard her admitted during an interview, "Binaitan ko na ang painting ko kasi gusto ko nang ipagawa ang aking workshop."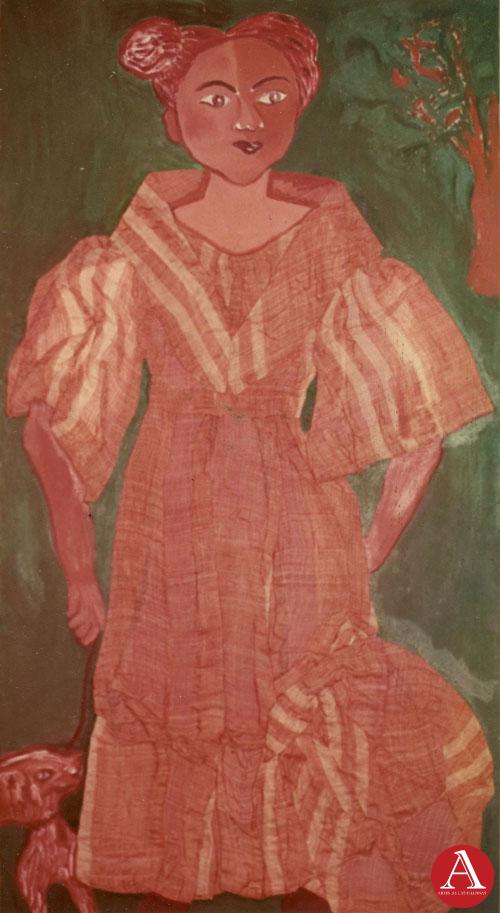 Untitled (1981)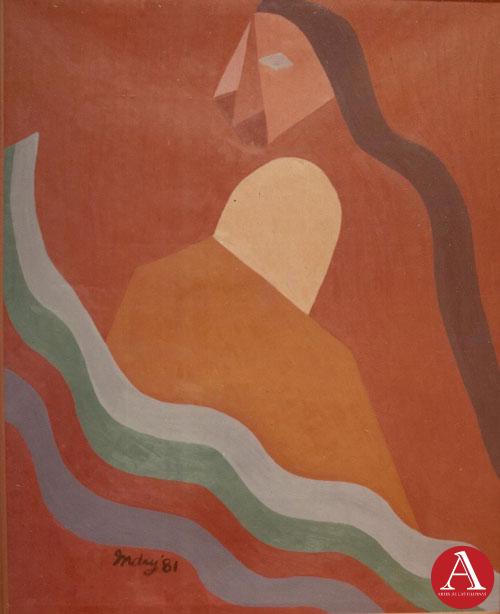 Declaration of Independence (1981)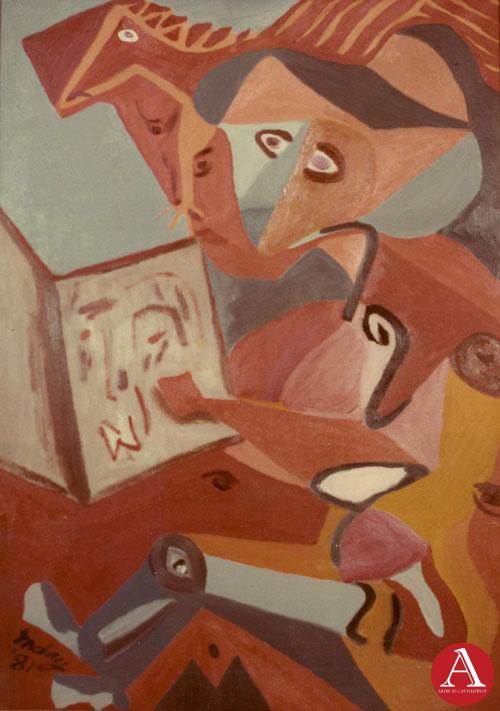 Beggar (Palimos Po) (1981)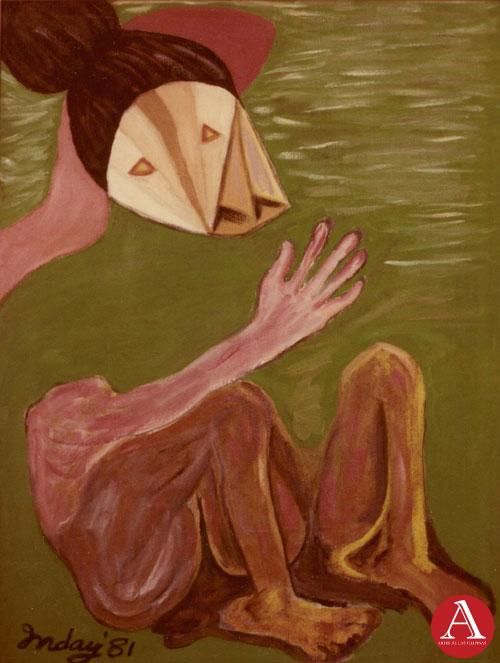 Ang Tugtugin (1981)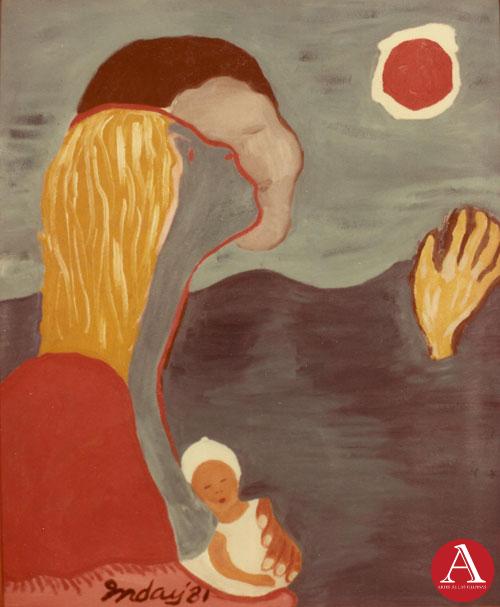 Saklolo (Help) (1981)

Can you share with us some of her other important works?

She wanted to make sculptures so she made some installation art combining dried upo and dama juana (big wine bottles) with abaca as a scarf. That was her "Madonna" artwork. She even used old rice granite grinder for her "Cañon in EDSA" creation. Her atelier was built from old molave posts, capiz windows, old woods from demolished houses. She also made aparadors, buffet tables, a king size bed for me, two single beds for her grandchildren, chairs and dining tables for our family use. She also designed her atelier and renovated our bungalow house even though I am the one in our family with a degree in Architecture. She also invented her own vinegar and recipes like a mad scientist!

Are there other works that your Mom created that were not known to the public?

I tried showing her recent works in every exhibit that I staged. Works in acrylic and oil painting, line drawings, watercolor paintings, sculptures, furniture, painting on stones, tapestry, collage and those dolls that she made for me and her installation art which was generally her soft sculptures. My Mom even sew my prom dress and wedding gown! There are still pieces that I kept at home that I have never shown to the public like her stamp pad art.

Expressions Inday '86 was your Mom's maiden exhibition. Tell us more about this show.

The show was held at the City Gallery, Rizal Park Manila besides the Manila Hotel
on January 11-21, 1986 before EDSA I happened. My Mom showed thirty pieces of her works which she did from 1981-1985 that comprised of paintings in oil on canvas, installation art, sculptures and collage. Her subjects were mostly the travail against the Marcos regime and a woman's agony.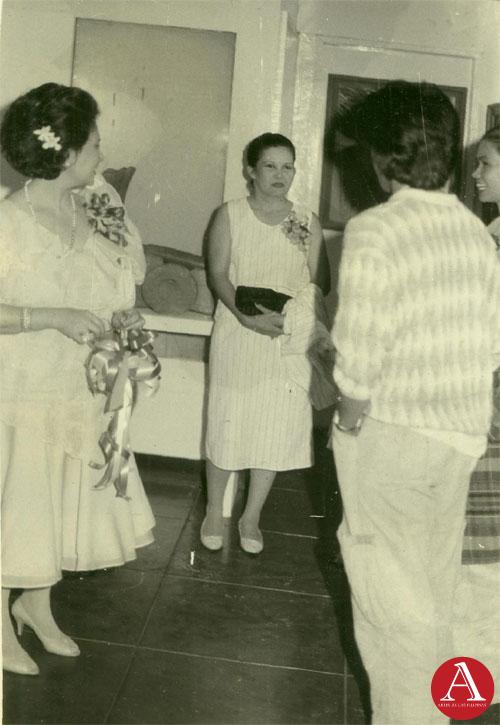 Guests of Honor at the City Gallery Exhibit:
L-R Viring Anson, Mrs. Bertoso, Ariel Dalisay and partially hidden, Inday Cadapan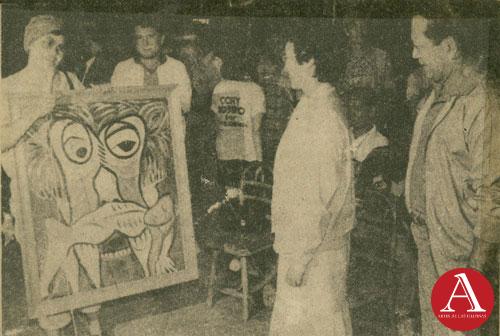 Presenting Cory Aquino with the painting "Apple of the Eye of the Filipino People" beside Vice-President aspirant Doy Laurel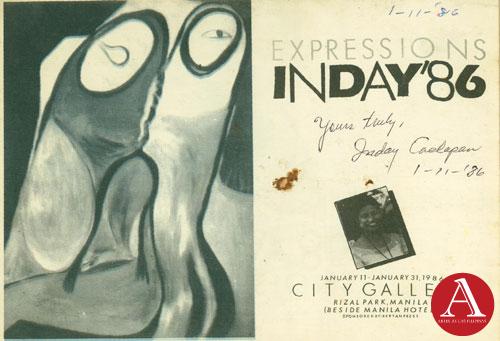 Expressions Inday '86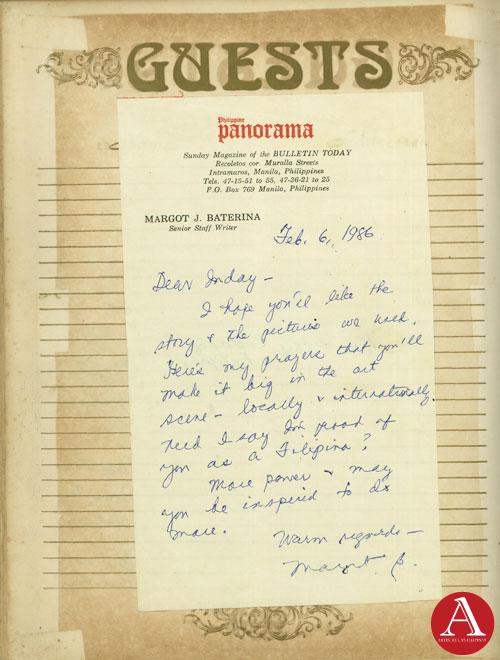 Margot Baterina's Note to Inday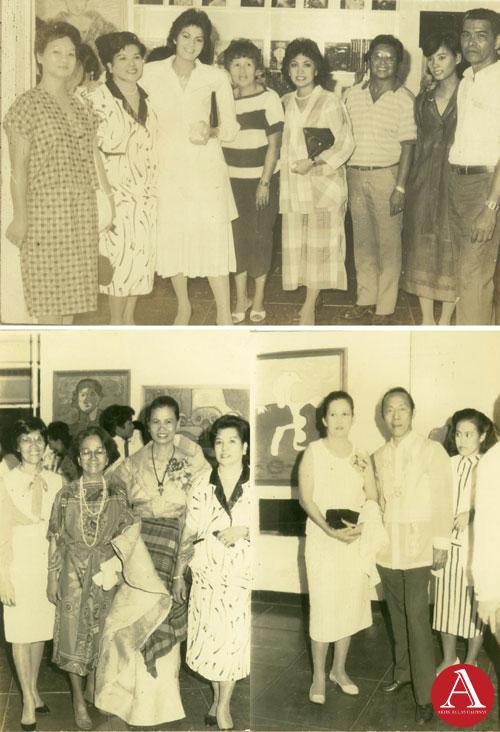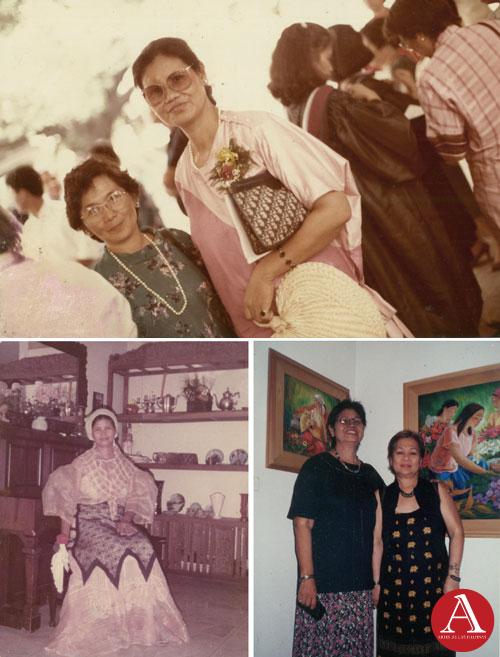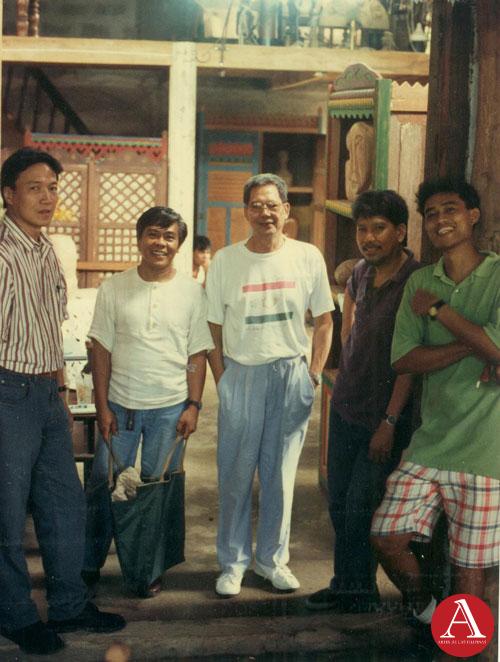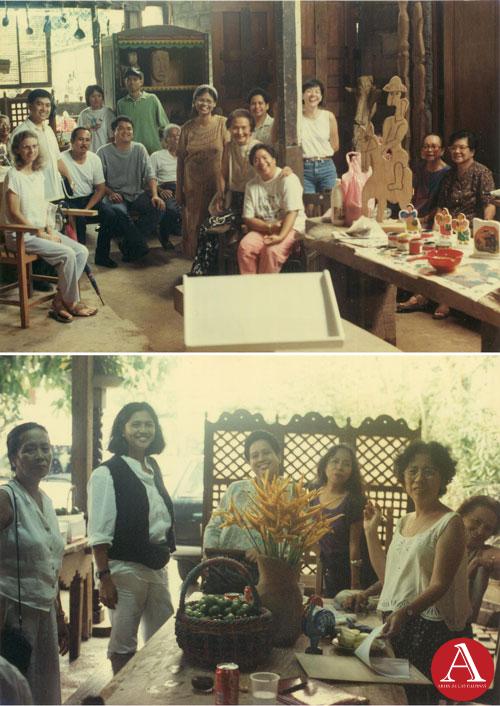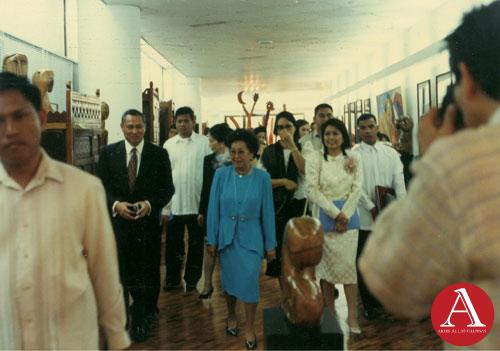 Take us through her second and third solo exhibitions.

Her second solo show was in 1994 at the Lopez Museum at the Benpress Building, Pasig. There were 30 pieces of artworks displayed, mostly, in watercolors, 2D sculpture on the faces of EDSA and some oil paintings. I don't remember if there were any sold item from this show but this exhibition established Inday's gravity in the field of visual arts. Marissa Floirendo was our guest of honor. We met Mrs. Floirendo in our Mile Long Center Antique store and she bought a number of Inday's art pieces for her collection. She also commissioned Inday to paint an underwater scene with no strings attached. Inday felt conscious if the collector will like it or not so she made a series out of it. Eventually the family of Floirendo collected Inday's artworks.

Her third solo show was in 1995 at the Madrigal Center, Ayala Alabang. Ning Jurado and Domini Torrevillas were her guests of honor this time. Domini is my Mom's good friend and kababayan. She helped my Mom in appealing for her People's Power I monument problem in GSIS. Ning Jurado, on the other hand, is one of our avid buyers of antique folk pieces. Mrs.Jurado is my also my mentor and is like a second mother to me. I stayed with her one time when I ran away from home then she bought me a ticket to Visayas to run farther from my Mommy. She never bought antique pieces from my Mom, "hard sell" style kasi. But when I started managing the shop, she became one of my avid sukis and through the years, Mrs. Jurado also collected my Mom's wooden sculptures. Her starter was my Mom's watercolor painting of a fishpond where her 3-year-old sister, Caring, almost drowned and Inday just grabbed her arm to save her!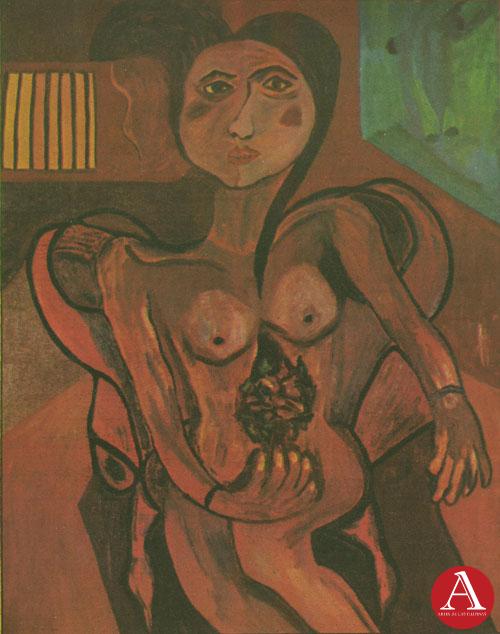 Hope (1984)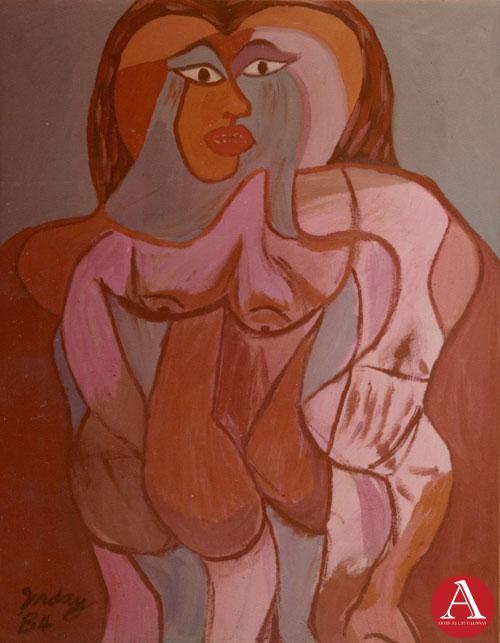 Overseas Domestic Helper (1984)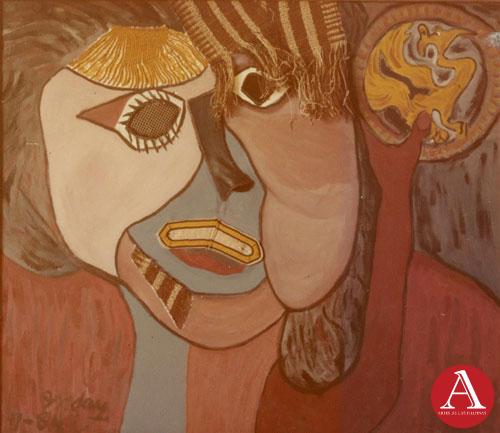 Collage (1984)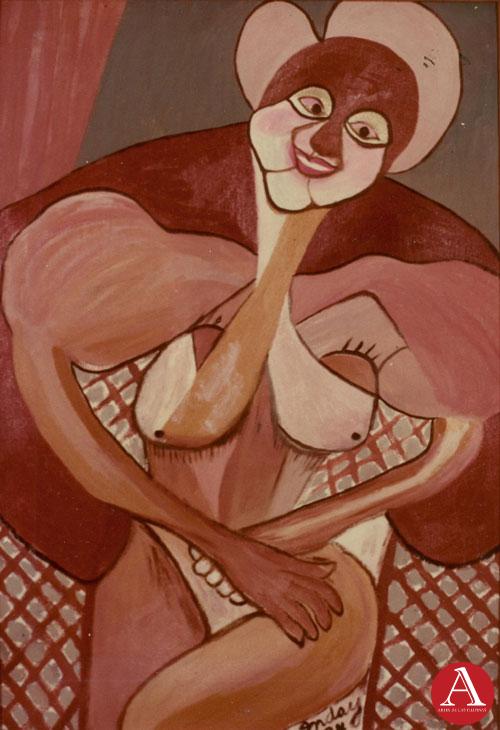 Ermita Bunny

What would you say was your Mom's most memorable solo show?

It would have to be in her 2000 show at the Art Space, Glorietta 4 staged by Art Gallery Philippines owned by Mrs. Nograles and the late Mrs. Mitra. Joel Jimenez was one of our guests of honor in that show. There were over fifty works of arts in watercolor, oil on canvas, sculptures and ceramic arts. My Mom was interviewed by GMA-7 News. Joel Jimenez's art piece, "Working Man" was exhibited in that show. It was one of my Mom's favorite and Joel's, too! That particular piece brought a lot of memories to my Mom's art career. Also, film producer Tony Gloria gazed at her still life artwork for hours in the gallery then eventually he bought it for his own collection. He then paid us a visit with Pete Jimenez in our home after the show to know Inday up close and personal. I curated that exhibit! I hung her line drawings to save on framing and simply to show my Mom's more spontaneous works. Her wooden sculptures were surrounded by her colorful watercolor paintings.

And what about the last show that she mounted?

Her last show was in 2003 at the Alliance Francaise de Manille. We exhibited most of her works on tiles specially the 8 x 8 inches 10-tile piece entitled "Expression." Jardine Davis, a Frenchman, bought her blue nude ballet dance. That was too reaffirming which encouraged me even more to push my Mom's art in the art market. I became my Mommy's mouthpiece! I talked about her health status, mood, love life and character in her art like what they see in her artworks!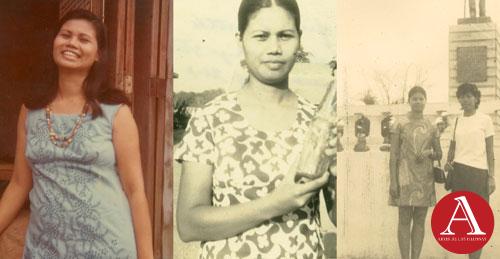 Can you share some of your Mom's biographical details?

Inday who was my grandmother told my Mom that they were related by blood to the storyteller Lola Basyang who was Severino Reyes in real life. I suspect that maybe that's where she got her storytelling ways which she translated into her canvas. My Mom learned to read when she was in Grade 5. She was a bully to her classmates. She was very industrious even when she was in elementary but sickly while growing up. She had a rheumatic heart disease, almost had mastectomy, underwent blood transfusion when she had an ectopic pregnancy, contacted Hepatitis B that led to her having liver cirrhosis which eventually caused her death. My Mom bled to death! Her favorite doctors were Dr. Perfecto Palafox and Dr. Erlinda Valdeleon. She was known to many as compassionate, generous, a voracious reader particularly in the arts and biography, experimental, a mad scientist and an engineer in her own rights. She was also addicted to constructing her home. When she completed a secretarial course, she was tested on her shorthand writing skill. She was able to take down "Dear Sir" only then quit her job laughing!

My Mom was also able to set up a vegetable store, lugawan, kakanin in the public market in late 1960s. But because it was too tiring for her health, she gave the business to her assistants. Later, her assistants became even richer than her! She also pursued a career in antique dealing. My Mom was an excellent treasure hunter in discovering arts because of her background in research and public relation.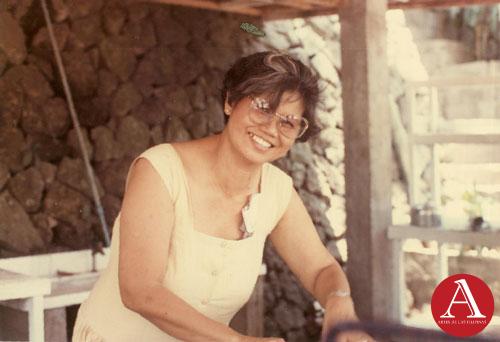 Why was she called Inday?

Her real name is Elsie Ilagan Reyes-Cadapan. She was supposed to be named Elisha. Inday was how she was called at home since she was the sickly child. This means that she was the favorite in the family.

What does your Mom sign in her artworks?

Mommy signs "Inday" and accompanied it with the year she completed the work. Example, Inday '98, Inday 2000 or Inday 2K. Early on, she signed the exact dates like Inday 9/12/89. She said that she signed Inday in her artworks to honor the Visayan women. In her time, there were popular places that carry Inday as a tag name such as the Inday Panciteria or Inday's Sari-Sari Store. So rural. Inday also refers to our Bisayang household helpers but not to the Visayan. Inday is an endearing name to them!

Tell us about the antique shop that your Mom opened. How did that antique shop end up with you managing it?

We were strolling in Luneta during the early 1970s and she stumbled upon an antique stores in the red light district in Ermita that tickled her interest. Then she went on her own research and started buying secondhand Arts and Antiques magazines. She started dealing coins and stamps and even went to Quiapo, Manila to learn the trade! One day, she bought an old hanging brass vase in a prestigious antique store in Ermita. She pleaded the store owner to give her a freebie, a rotting painting rolled in a jar with cobwebs. The owner was already so hungry and wanted to dispose her from her store so she got her loot. She had it restored by the artist Angelito David who now migrated to Canada with a promise that he will give him P10, 000 as a restorer's fee if and when that painting was sold. That happened in 1972. In 1974, my Mom sold the piece to Architect Leandro Locsin. The piece was attributed as the "Mona Lisa of the Philippines" by an unknown artist. That very moment, she realized that an artist, even way pass his lifetime, can make someone rich out of his talent. My Mom desired to be one!

From that sale, we were able to construct our house and set up an antique store in Arquiza St. near Padre Faura, Ermita, Manila. We named the store, Century Antique Shop. My Mom and her sisters and some of our relatives managed that store until they closed it in the early 1980s. The shop was full of old santos, books, prints, paintings, baul, Chinese and Japanese porcelains, jewelries, old furniture and other abubot. After that, we joined antique shows that were popularized by Viring Anson "tiange ng antic." We wore Filipino period costumes during our exhibits at the Philtrade and some museum and garden shows. Then I started managing our shop at Atrium Makati. It was a long extended exhibit at the 3rd floor then we transferred to Mile Long Center. Then we closed shop in 1998. My Mom's art sold more than our antiques so she remitted all the sale to buy her art materials. Antique selling was very slow at that time and I needed to monitor my growing children so I started joining bazaars to cut down on our operational expenses.

Can you tell us about your father and your siblings, if any?

The young Rodrigo Cadapan was a scholar at the National University and a third placer at the Electrical Engineering Board Exams. He wrote beautiful love letters to the young Inday. Then they eloped, praying that if her life will be better with my Dad as the Lord will. Mom later discovered that my Dad's letters were copied and she would always tease my Dad about those! My father, as I know, was a passive but honorable man. He was loyal to Don Jose Cojuangco, his employer with whom he worked at the Luisita Golf Course, correcting the sprinklers that watered the grass. He was offered to work overseas but he declined. He felt that my mother will divorce him if they will live in America. However, their cultural differences became a constant marital problem to them as my father believed that a wife should only be confined at home. But my Mom knew that she has her place under the sun and that there are many opportunities for her to earn more to meet the needs of her family. My Dad, however, was just quiet about my Mom's success in the art world. He supported my Mom by framing her oil paintings during her first solo exhibit and driving her around to fulfill her errands. I am the only child of their union as my Mom had an ectopic pregnancy. She got pregnant again after four months and gave birth to me with a 50-50 chance to live. Because of that traumatic experience, she used birth control pills to refrain from having another pregnancy but she used it too long which caused her to develop other illnesses.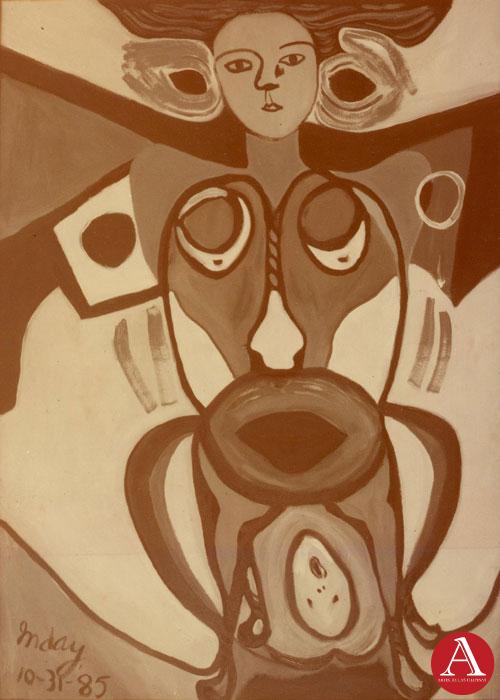 Woman's Agony (1985)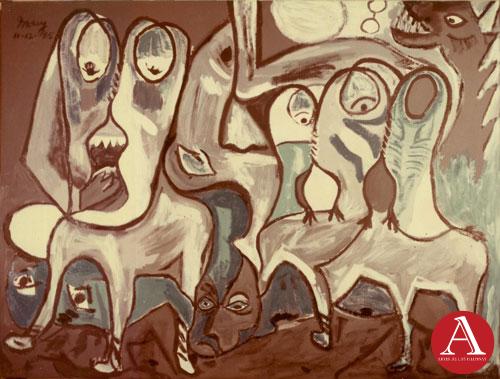 Search for a Leader (1985)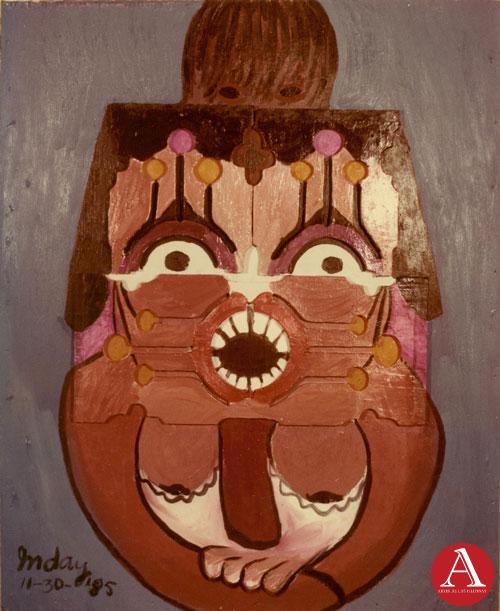 Dahil sa Iyo (1985)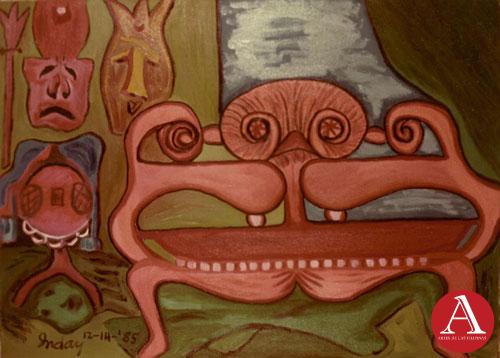 Interior (1985)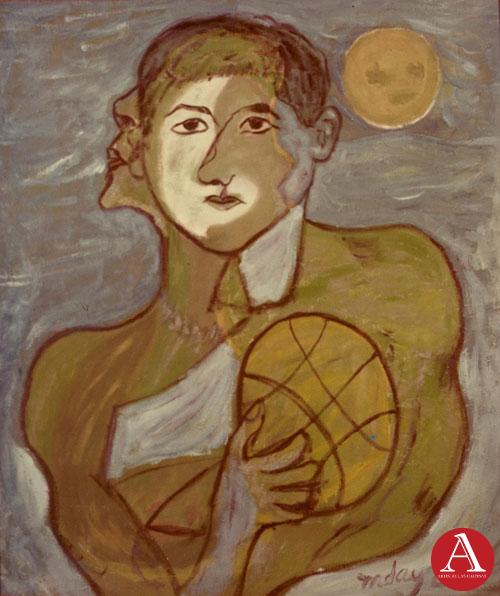 Martial Law Baby Boy (1985)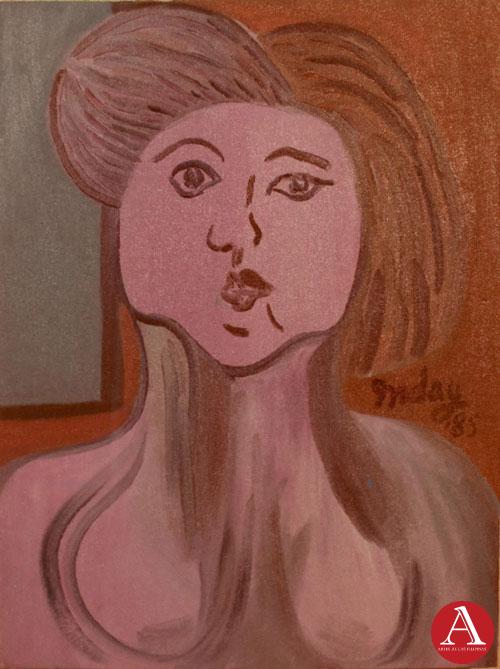 News Broadcaster Lady (1985)


What age were you when your Mom started her art career?

I was fifteen years old when she started expressing her art in creating reproduction of Philippine furniture which we sold in our antique store. I am very familiar with my Mom's artworks because she would always tell me the whys, hows and whens of her subjects. Even if I look disinterested in her discussion, I still listened. Eventually, I started putting an interest on her colorful narrations for each of the pieces that she created. I also heard the stories behind each piece and the aches and yearnings she had of them. My Mom and I always chat during evenings or early mornings when she cannot put herself to sleep. Because I was her only child, my Mom was grooming me to be an artist by enrolling me on the First Children's Museum Library Art Lesson at East Avenue, Quezon City when I was in Grade 4 under artist-teachers Mr. Gemo de Luna and Mr. Fernando Sena. She even made me join a number of art contests wherein I earned honorable mentions. I guess, I was a willing victim! But I noticed that her eyes sparkled while talking to my art teachers only to find out that she was the one who wanted to be an artist! I even thought that she was flirting with them so I started nagging her to become the artist herself instead of me!

Because I was the only one left to take care of her remaining artworks, I looked for alternative places to exhibit her artworks besides the usual art galleries and art museums and so I exhibited my Mom's works in coffee shops, dental offices, restaurants and even gay bars! I myself curated her exhibits, designed her frames, documented her works, wrote teasers/publicities of her exhibits and designed her invites. That's where I learned art management. When I enrolled for a course in Managing the Arts at the Asian Institute of Management, it reaffirmed what I've been doing all these years and polished what I will be doing in the years to come! Some days when I find myself clueless, I just leaf through my Mom's artworks as if she is whispering to me on what I should do next. I firmly believe that my Mom's spirit thrives in each of her pieces! I also remember that she would always tell her friends that I know well enough on what to do with her artworks when she is long gone. She made sure that I won't waste away her artworks which means that there is too much assignments for me to do!

Has there been a case of forgery?

So far, there is no forging incident yet except when a dear advertising friend of mine who designed one of my Mom's invites showed me that he tried to copy the artwork of my Mom for the invitation card that he designed. I saw the big difference and I felt it wasn't my Mom talking to me. He said it was too difficult to copy her work, anyway!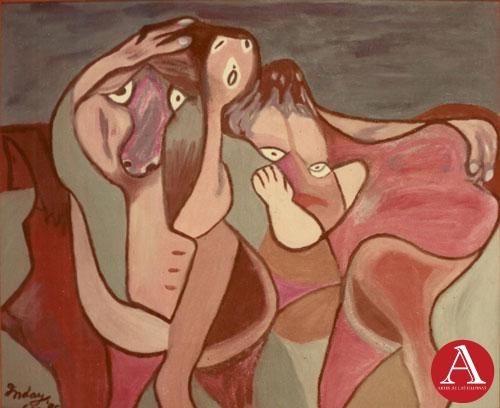 Anguish (1985)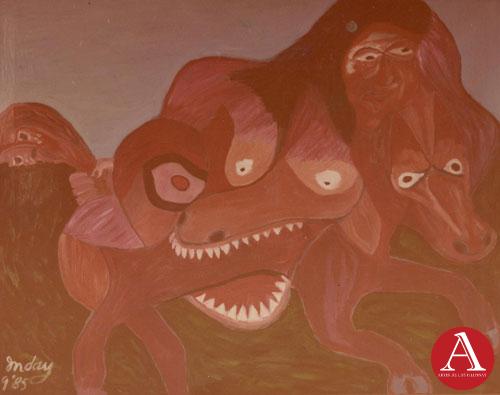 Monopoly (1985)



Boycott (1985)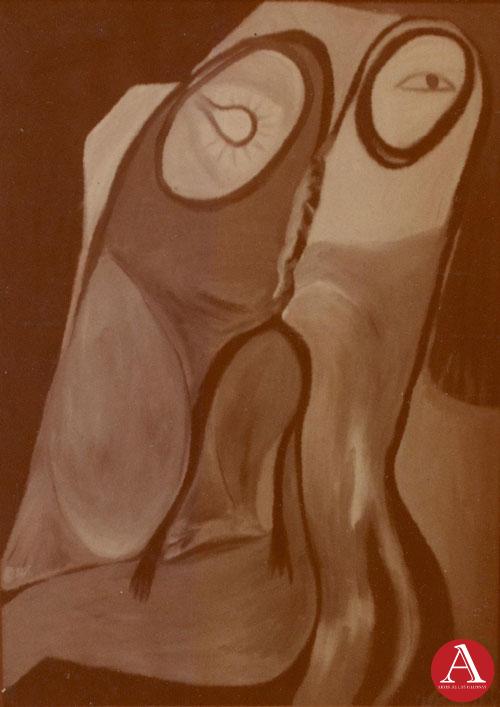 Man and Woman (1985)

Share with us some of the works of Inday Cadapan in private collections.

Serendipity: How I met Inday Cadapan by Joel Jimenez

"Sometime in 1995, I was walking in Mile Long, the mini mall along Amorsolo St. in Legaspi Village. I was just window shopping and I chanced upon a wooden sculpture by an artist I did not know. Interestingly enough, I was drawn to the piece and had asked the shop owner, Magel, to bring the piece out of the shop so I can appreciate it better. I looked at the piece from all angles. I had a feeling that it was talking to me, asking me to bring it home. I went back to the shop and purchased the "Working Man." Only then did I ask who the sculptor was, what other pieces she created and in the process get as much background information on her. This was my first introduction to the works of Inday Cadapan. Serendipity led me to her work and to her."

"As years went by, I've learned much about Inday. Mostly through the stories from her daughter, Magel, through the articles written about her in magazines, newspapers and through Inday herself. Most of the works of Inday that I own are her wooden sculptures. These pieces are usually made of molave wood. I've always been drawn to Inday's sculptures for their emotions, strength, and sometimes their whimsical and child-like look. I've recently picked up a number of her head sculptures which I plan to display in my office in GMA Network. Something about these faces that make you see a part of Inday... inquisitive, tranquil, surprised, sad and mad. But that's who she is. She wears her emotions on her sleeve, letting you know if she likes you or not. Purely black and white... yes or no. No grey area and no ifs, buts and maybes. Because of her temperament, she is oftentimes misunderstood but through her sculptures and paintings, she is able to release more of her emotions."

From Joel Jimenez's testimonials one can say that my Mom, Inday Cadapan's art is distinctively Inday's. Knowing the person better makes me realize why she sculpts or paints the images that she does. In her rests a child-like person, complete with the creativity of a fruitful mind and a temperament of a 2 year old child. Thus, her pieces are quite simple, yet very powerful and engaging. Inday Cadapan has moved on and left us four years ago but she lives through her art and the people whom she touched deeply. I am privileged to have had the pleasure of getting to know her both through her works, as a mother and as an artist.

Eventually, my Mom's collectors became my friends. I met the sister of Virgil Prieto, Valerie, now based in Spain and I found out that my Mom made several portraits that resembled her! It was prophetic! Valerie became so dear to my Mom, in similar sentiments. We even made her our honored guest in our UP exhibition with Remy Boquiren who was my Mom's best friend in the art world. In that exhibit, Virgil Prieto discovered my shop in Mile Long. He just came back to Manila after a long stay in New York. Maybe he and his sisters may have compared notes on why they liked my Mom's art. The rest is history.

Last year Mrs. Katy Paradise bought the molave sculpture of my Mom entitled, "Woman!" I needed to deliver that after a year when her vacation house in Nasugbu, Batangas would be finished. I offered her a two-piece narra wood, the only relief art piece that my Mom made and titled "Women of Inday," 1997, size 2 meter x 1.80 meter. My Mom's pieces had a way of finding each other as both were dated 1997. I guess that was the highlight of her creative career!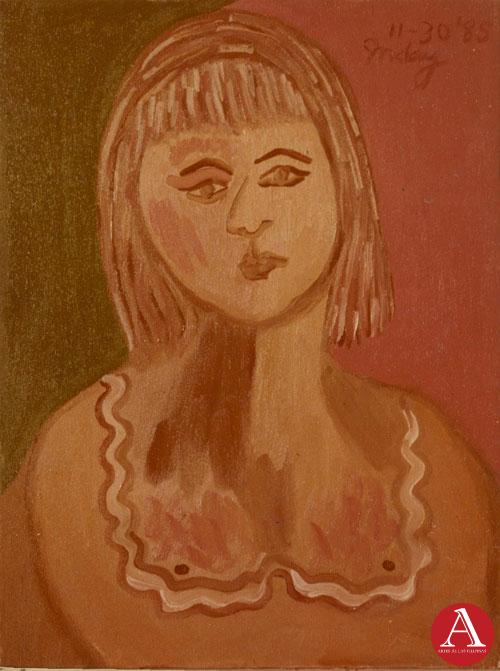 Alice (1985)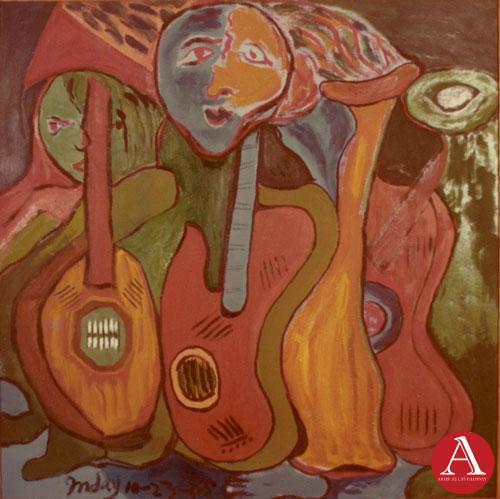 Carolers (1985)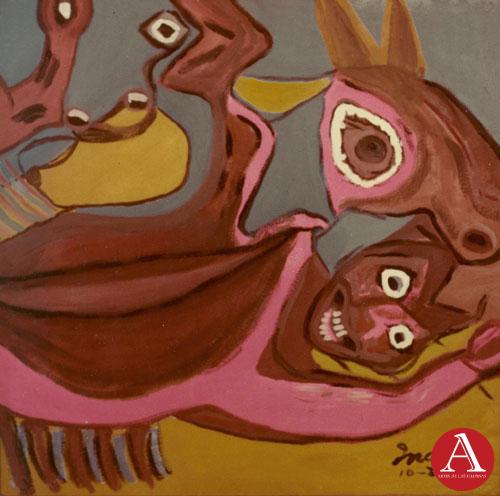 The Fall of the Harlequin (1985)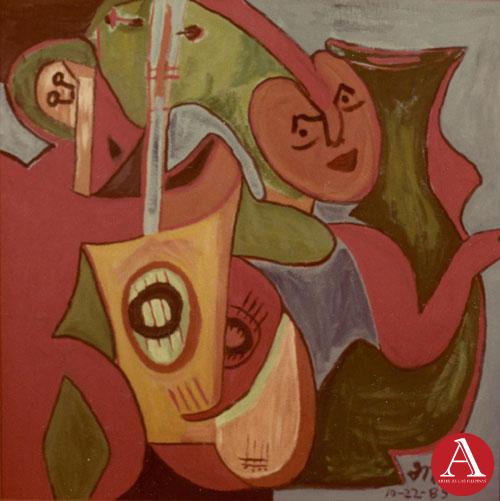 Rock Opera (1985)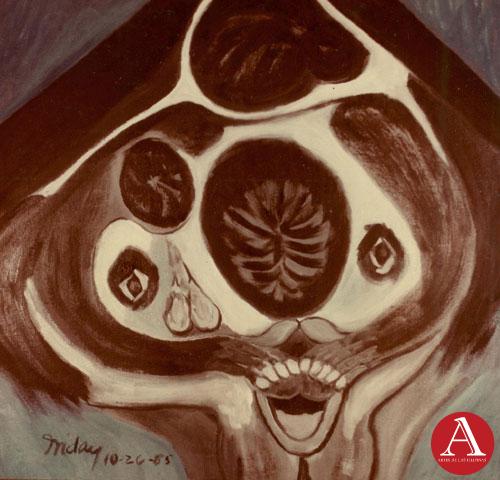 Hapunan ng Mag-Anak (1985)

What was her last year like?

My Mom enjoyed going out of town during her last two years. She was able to visit her favorite sister, Caring Zangenberg in Munich, Germany in 2002. She stayed there for ninety-nine days! She started signing her artworks especially her sculptures, finished all our molave beds and made a lot of unfinished works. She was melancholic and complained about her health. While my aunt in Germany and her older sister, Mary were here on a holiday, my Mom was honored in their hometown last December 30, 2003. During her speech, she did not talk about her achievements like other recipients would do; she simply talked about how beautiful her hometown was during her childhood. That night, she had a terrible cramp attack so she took a small doze of Aspirin that caused her to bleed to death -- the ultimatum of liver cirrhosis!

What were the awards that your Mom received in her lifetime?

In 1987, Inday Cadapan won first prize at the Higante Contest at the Cultural Center of the Philippines. Her entry in that contest was a higante. A local thriving young artist assisted her in this project that she conceptualized a folk giant puppet to symbolize the puppets in our society. In 1997, her entry, "Kay Tagal ng Umaga" (The Morning Takes Long) was the Jurors' Choice in Sculpture at the NCCA. The piece showed a pregnant woman in molave sculpture looking at the crescent moon. It spoke about my Mom's impatience on being noticed in the art scene. Her spirit was thriving hard on that piece of art! In 1998, she was among the Top 50 finalists at the Philip Morris Art Contest. The awarding was held in Glorietta 4 Activity Center. Her artwork, "Sabi-Sabi" (Talk of the Town, 1998, 180 cm x 200cm, acrylic on canvas) was chosen among 400 entries. This art piece was in reaction to the Charter Change proposal of former President Fidel V. Ramos. This piece was consigned to The Drawing Gallery at 290 Orchard Road, Singapore since 2005. In 1999, she also received the Golden Jubilee Award, Cultural and Visual Arts from her college—the Foundation University in Dumaguete City. Then in 2003, she was awarded the Hamiling Bayawanon Award for Culture and the Arts in her hometown. My Mom was happy to have been acknowledge by her hometown. There is really no place like home. It was the last award given to her. Eight days later, she expired.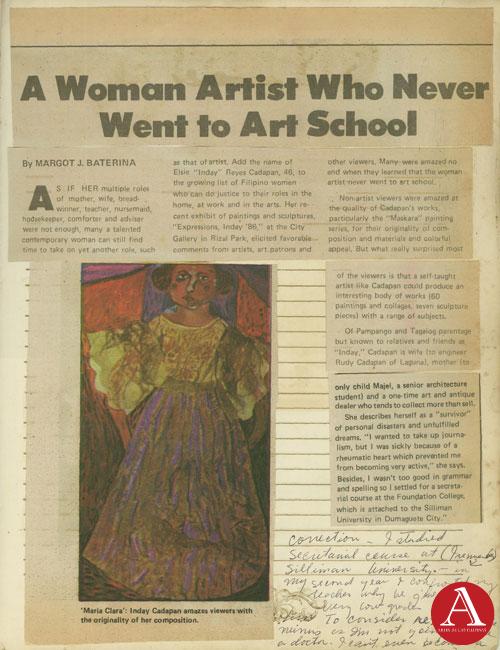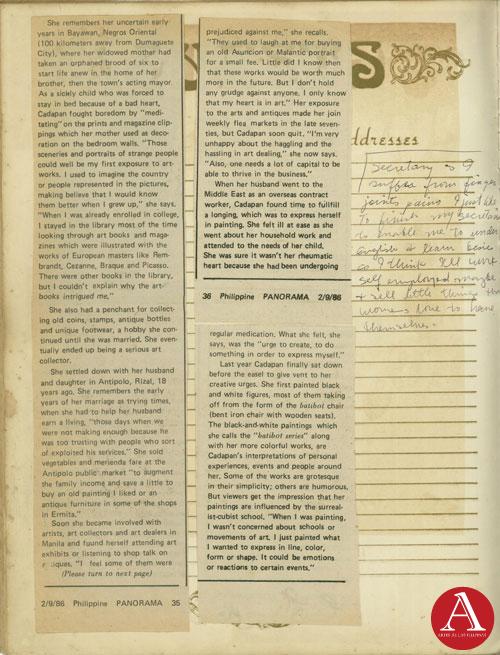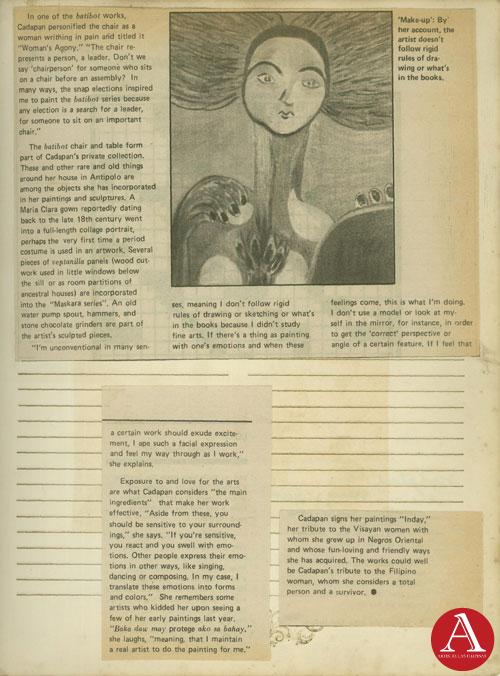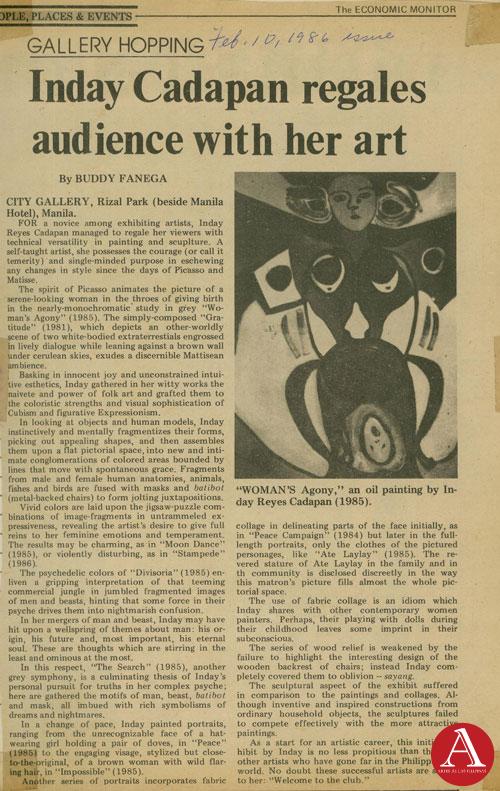 What were some of the positive and negative comments in the press said about your Mom and her works?

My aunt often teased my Mom that she can paint like her using her own foot! That's the most sarcastic comment I heard but my Mom just shoved it off! But Buddy Fanega, Carrie Lorenzana and Alice Guillermo wrote good reviews about her. Those who said negative comments were mostly from people who just looked at her works and who never knew her well so they gave insulting remarks like.... "She just painted and called herself an artist!" I also heard that there were some academic discussions on art mentioning my mother's works as "invalid" and "trying hard." I did not allow myself to be affected by those remarks because I know the truth. I may not be from the academe but once you discover something pure and simple and heartwarming, you can never go wrong. I was just trusting my instinct by looking at my Mom's collectors. What reaffirmed my belief was when several French collectors started acquiring her artworks! Once, a friend also asked my Mom, "Don't you find it offensive to charge too much when you only did that piece in 30 minutes?" My Mom did not answer. She only told me about that incident when we came home. My response to that question would have been, "We will charge you more if you finish your art in five minutes!" Then off she went with her mischievous smile! At another time, she approached a known lady art dealer to exhibit her works in her art gallery but the lady art dealer responded, "There is still something missing in your paintings, Inday." My Mom just responded with a smile. She just told her, "Okay, I will find what is missing." My Mom liked the challenge and was never offended by criticisms!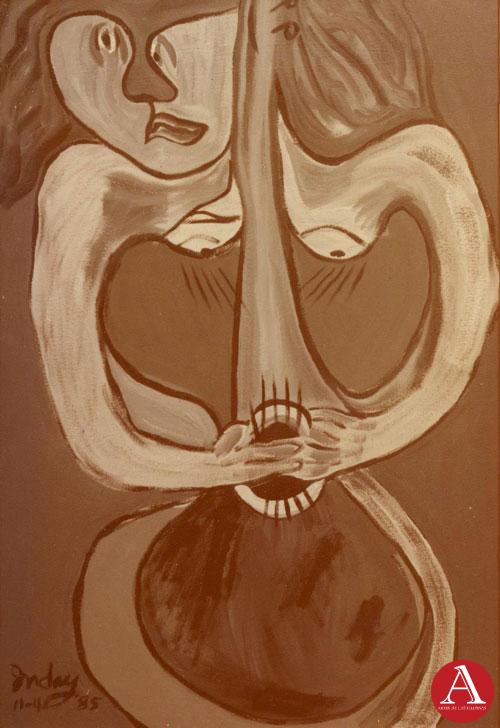 Musician in Distress (1985)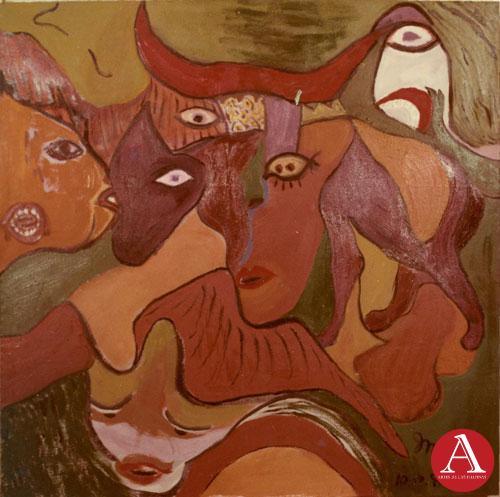 The Killing of the Intellect (1985)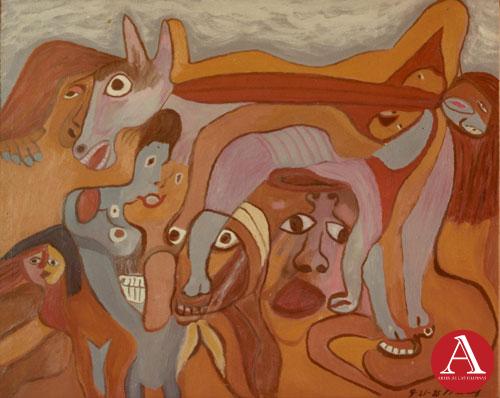 Divisoria (1985)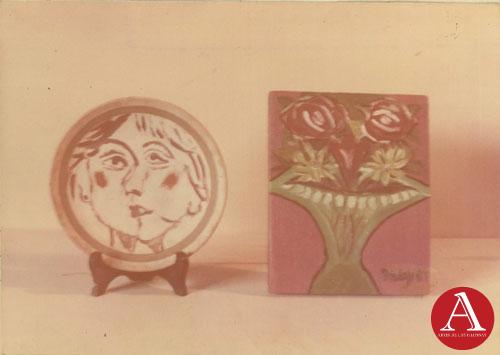 First Portrait on Old Plate and Still Life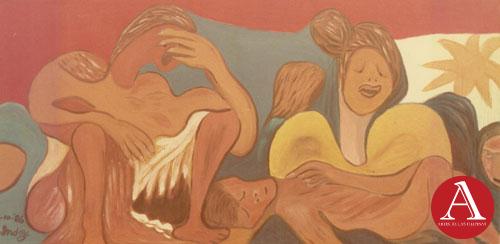 Inang Bayan (1986)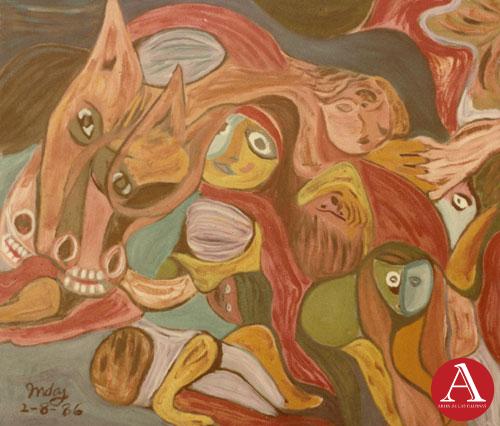 Resolution-Premonition (1986)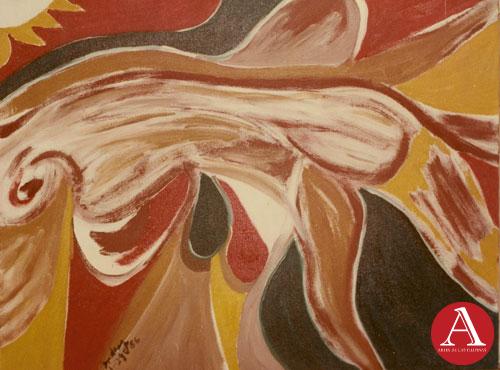 Liberty or Death (1986)

Do you think that your Mom has been ignored by art critics?

I realized the saying, "To each his own" with this question. In other words, "may kanya-kanyang katapat ang art." My Mom was dying and was given six months to live! She was just happy to express herself that at her age, her art can still be her last hoorah! Before she left us, she was reaffirmed, noticed, met some of her collectors and became her friends. She was also able to help others through her art even up to this present. Her life was extended for thirteen more years because she has forgotten that she was sick while pursuing her art. The selling was just a bonus!

The art critic's positive review is like chasing the wind, you just cannot please everybody. My Mom was honest enough to say in each piece of her art that "Hey! I'm unschooled but I can do that in all honesty, no pretensions, walang bola 'to and it makes me happy!" Someone even advised us to title her works poetically but she whispered "E, di diniktahan ko na lang ang viewer pag ganyan. Pabayaan mo silang mag-isip." My Mom used to say, too that "some artists believe that the mere beauty of their work qualifies them as an artist but their works actually lack depth. I am more involved in the depth of my works and how my works affect the viewers. I want the viewer to be part of the artwork."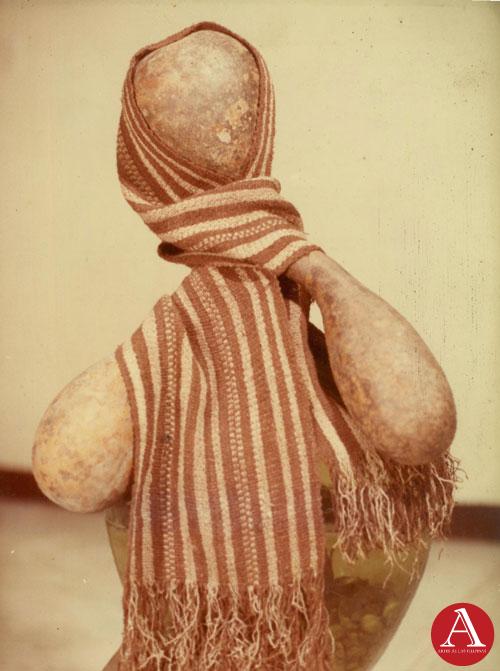 Madonna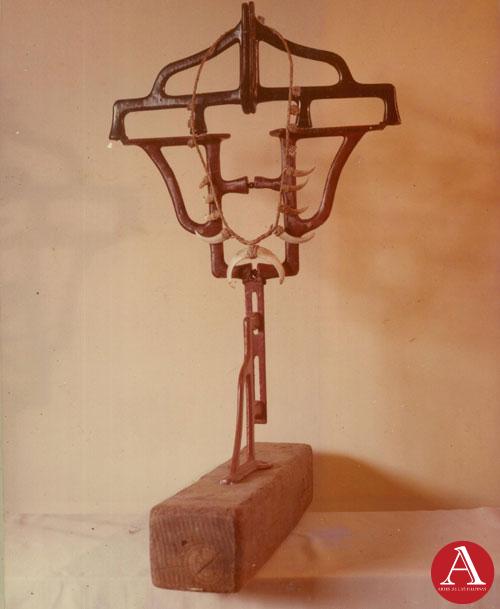 Mascara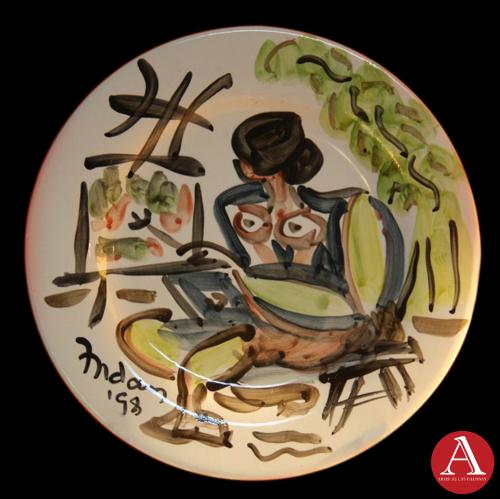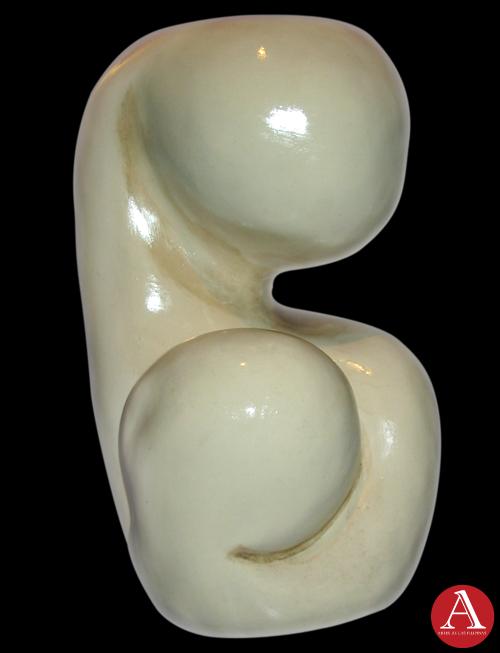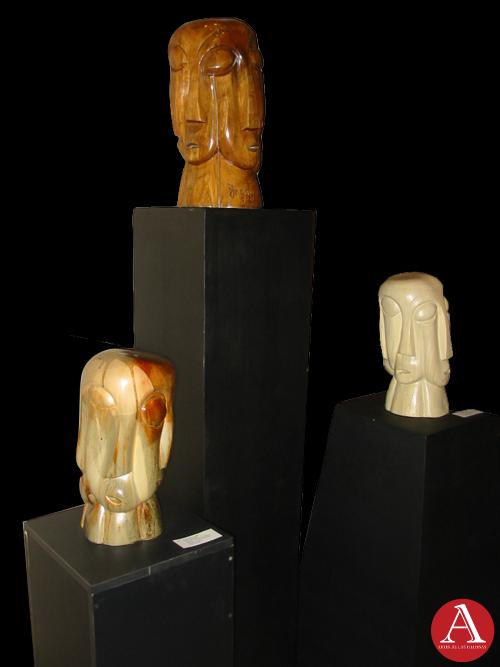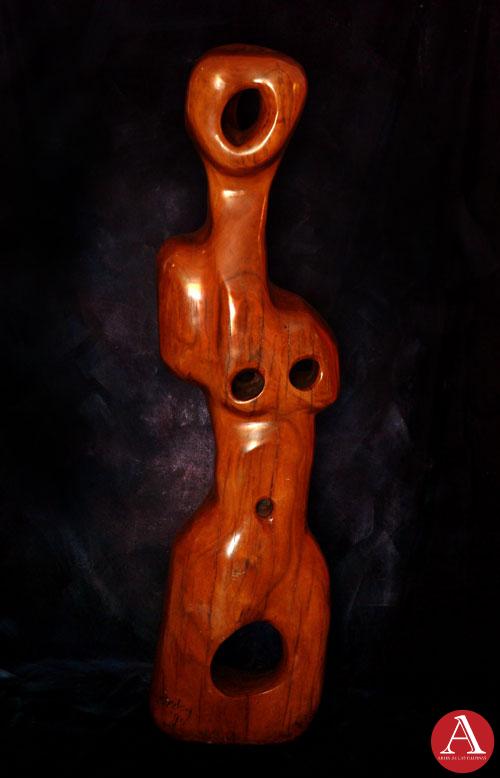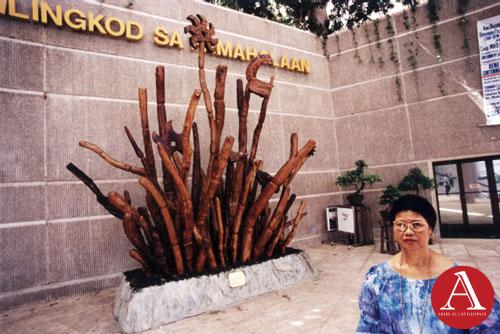 How and where should we situate the contributions of your Mom in the annals of Philippine art history?

For one, Inday Cadapan was part of discovering the old masters. She was an honest artist who had a strong conviction by just sharing her thoughts to her audience! She painted subjects that will awaken a person's heart and spirit which eventually can lead them to a life changing experience. There are hundreds of ways in solving a problem so let Inday Cadapan's art speaks for itself. Work in excellence! Inday Cadapan also took risks and was never afraid of her detractors. She had enough courage to express herself. It was like standing naked before her audience, unveiling her soul and becoming the best version of herself. She also inspired others to create and she was grateful enough to pay forward that inspiration. To say the least, Inday Cadapan belongs to the expressionists in Philippine art history.