Purveyor of Knowledge and Emerging Publisher of Content and Visually Driven Books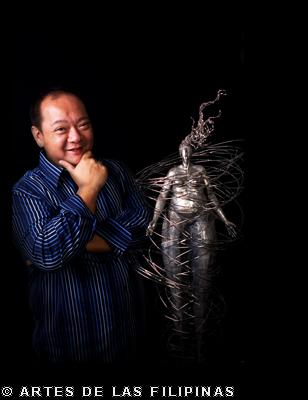 Daniel de la Cruz's Touchstone
of Modern Sculpture
by: Christiane L. de la Paz


January-February 2011-- Many of the artists who emerged in 2006 found themselves pursuing a career in painting. But Daniel de la Cruz, who turned forty that year, actively turned his thoughts towards his dream of becoming a sculptor and debuted his figural sculptures at the Ayala Museum, reaping unbelievable success and adulation. Because of his talent and deepened commitment to his art braided with his professional training as an accomplished product designer and fascination with the creative possibilities of metals, this led him to produce sculptures of graceful and powerful rotund figures of women, eventually becoming his signature style. His searing body of works is viewed with anecdotes, childhood memories, studio notes, fairy tales, fantasy, myths and legends and is thought of as chronicles of his intellectual and practical journeys. Half a decade later, as the range and quality of de la Cruz's art practice have become acceptable to the art viewing public, he continues to nurture his growing menagerie of works to engulf in the memory and imagination of hard to please critics, curators and collectors. Today, many of his seminal pieces now grace the homes and offices of important private collections and continues to receive series of commissioned works. In this January 2011 feature, Daniel de la Cruz draws a warm and easy going portrait of himself, his family and educational background, his early professional career, the dynamics of his working method and throws a floodlight on how his ever-growing dedication to his art changed his life.
Graduating from the University of the Philippines in 1989, what are you doing with your life during the early phase of your career?

I ventured into the world of art late in my life. When I marked my fortieth birthday, I decided to pursue my lifelong dream of becoming an artist and a sculptor. I staged my first exhibition in 2006 and have been holding regular exhibitions ever since. It has been such a rewarding experience the past four years.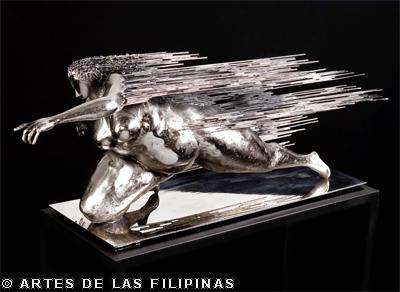 Deliverance (2009)
Tell me about your early influences leading to your interest in becoming a sculptor.

More than choosing to be in front of the television, playing in the streets, drawing and coloring occupied my childhood time. I have been into creating and drawing with pencils and crayons ever since I was young. We are not a very well to do family in the beginning and we did not grow up with toys and many perks. We had to learn to seek and make up our own diversions as children. My father lovingly taught me and my siblings to make toys out of bamboos and woods. And because of that I learned how to make stick puppets, bamboo acrobats and my forever favorite turompo (tops)! The challenge of making toys taught by my father instilled in me a love for working with my hands. I remember the time when I came to discover clay; it was such an exciting thing for me because I was permanently making figures out of them which fueled my love for sculpting. And also, one of the most influential things in my younger sculpting hobby was from film. It's a bit funny to share this to you but it was the first showing of Star Wars that really got me heavy into my hobby. I was so amazed by the imagination and the whole world created by Steven Spielberg! As a child, it was awesome to know that one's imagination can be made into reality as it was done in that movie. And after watching Star Wars, I immediately took out my clay and started sculpting my own world of creatures. Using clay as a base, I combined it with all sorts of things: from fur to chicken bones and even weirder things to finish my creatures. This hobby of making fantasy creatures is what spelled the beginning of my true love for sculpture.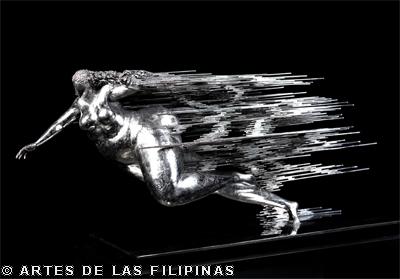 Rewakening(2009)
Was Fine Arts your undergraduate course?

Coming from an old-fashioned family of doctors, I enrolled myself in U.P. in the hopes of pursuing a career in Medicine. This was not to be because I ended up graduating a AB Philosophy, a pre-law course. My father always thought that being a doctor or a lawyer were the only respectable career paths for his children to follow and so my desire to take up Fine Arts was not allowed.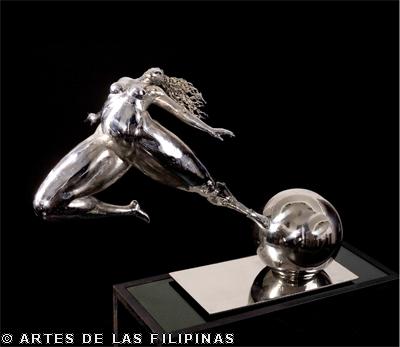 Release (2009)
Are your parents and siblings doctors?

My parents are both doctors. My Dad, Eduardo Roberto, is a cardiologists and my Mom, Leticia Aquino, is a pediatrician. My Dad came from very humble beginnings in Orani, Bataan and had to work his own way through medical school and even had to send his eight other younger siblings to school. We grew up with a very disciplinarian background where hard work and perseverance were instilled in us at a young age. My father strived hard to provide for us and he also succeeded in becoming one of the more prominent doctors in the country. In light of this, he always nurtured the dream that one of his sons would one day become a doctor like him but things didn't really work out that way because my siblings stayed more or less on the career paths set out by my father, except for myself. I am the youngest of five siblings. My eldest sister, Christine, is a pulmonologist and is now based in Singapore where she heads the cancer research and medicine development. Next is my brother, Edward, who works with my Dad in some of the family businesses. Also my brother, Mike works with my Dad and has taken over in running my Dad's pharmaceutical company. Then there is Beverly, an ophthalmologist, who is also married to another doctor, Lito Rosas who is the medical director of Asian Hospital. Among us boys, we had our grade school and high school education in La Salle Green Hills and almost all of my siblings finished our education in the University of the Philippines with me graduating with an AB Philosophy degree.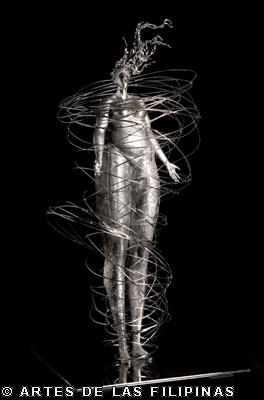 Be Still (2009)
What are some of your early recollections of art in your family?

Interestingly enough, the person who least believed in art as a career was probably the person I inherited the talent from, my Dad! Aside from making toys for me and my siblings, my father paints during his spare time. He used to do fairly good oil paintings of scenes he grew up with in the province and some of his paintings still proudly hang in our family house.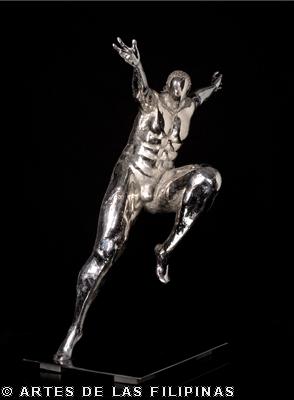 Flux (2009)
While in UP, do you have classmates or friends from UP CFA?

I was what one call in my U.P. days gala and lakwatsero so I had friends and barkadas from all of the colleges, from Fine Arts to Physical Education to Economics and everywhere else, I have friends! (laughs)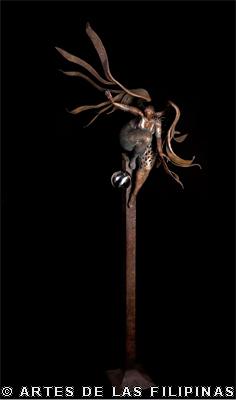 Paladin (2009)
What were you like in college?

I spent my time and freedom sowing my wild oats, so to speak. Back then, I was a bit of a man about town because I wasn't really sure about what I was going to do with my life or what I'll even do in college. Students in UP are given a lot of freedom to attend or not attend classes as long as they passed the exams. Although I do not consider myself a poor student, academics were a bit strained for me. There are certain subjects that just defeated me; starting with my first attempt to get into medicine as my Dad wanted me to have worked, but for some strange reason, my grades in Chemistry never made the cut despite all the practice I got from having to repeat some subjects over and over again! (laughs) And so when I finally gave up on Chemistry, I shifted to Philosophy as a pre-law course. I actually enjoyed Philosophy more and I did a fair job at it. However, by the time I finished my course in Philosophy, it was clear to me that day on that I would never make it as a lawyer.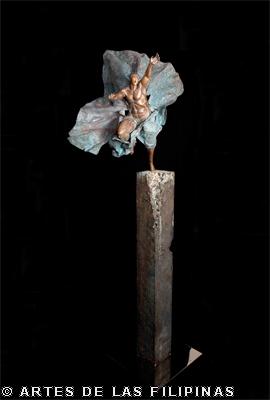 Beyond (2009)

What was the first job that you applied for?

Upon graduating my pre-law course, I made up my mind that becoming a lawyer was not what I wanted to be. This lead to a very difficult decision for me to strike out on my own, separate from my family's fold and pursue my own dreams. I thought then that if I couldn't become an artist, I should at least find a career where I could make a living using the talents I knew I had -- to draw and sculpt. Luckily for me my hobby of sculpting in clay caught the attention of Cory Quirino during my second year in college. She generously wrote a beautiful article on me and my creations. These were fantasy inspired creatures and monsters done in clay and other materials, which was featured in Panorama magazine. Being a well read magazine in that day, the article caught the attention of some export companies who contacted me and offered me to work for them should I ever look for a job. This was the perfect break for me and upon making the decision not to pursue Law I applied and got a job as a sculptor and product designer. I was quite successful in this career and even went so far as designing for well-known companies abroad and ended up as full partner in the company I was working for in the Philippines. The success and recognition I gained in product design and in product exporting exceeded all my expectations. But I felt that there was still something missing.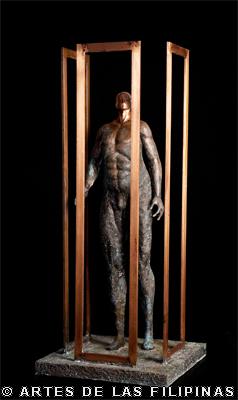 Crossroads (2009)
What was missing?

The missing part was my personal satisfaction as an artist. As a product designer, I create products with the buying public in mind. My designs are based on the current taste of the market and are made to hit certain price points. Being a sculptor allows me the creative freedom that I have longed desired; the freedom to express myself and create something new from what I have done in the past.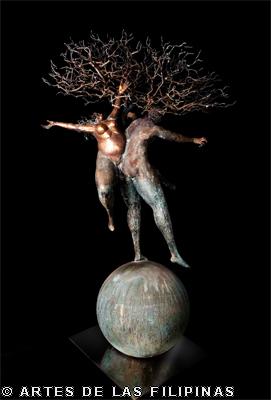 Genesis (2009)
What are some of the companies that own some of your early works? During this time, are you signing your name on these works or are you are under contract with the company that hires you?

Most of the companies that I've designed for abroad are known to industry insiders. They are mostly big import companies that sell to the stores. I would normally have contracts with them to design exclusive collections of products that they would market abroad. To name a few would be Enesco from the U.S. Enesco is the company that made big the brand Precious Moments. They marketed my designs and my name in the states the same way. A company named Papillon Exclusives also sold products in the States under the brand of "Daniel dela Cruz." In Europe, I worked with SIA import company, Gerimpex and a few others. Probably the more known company that I have designed product collections for would be Villeroy & Boch in Germany. During this time I was also working with Nature's Garden, a Philippine export company.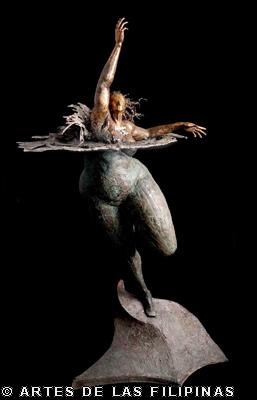 Redemption (2009)

You first entered the art scene in 2006, what is the status of the art scene during those times? Were you joining group exhibitions with your fellow sculptors?

By the time I started my art career, I was aware of the art scene not from the standpoint of an artist but as a relatively new collector of paintings. In 2006, there were so many extremely talented young painters and the selections to choose from were quite broad. I felt that it was a good time for artists to be exposed and recognized. There were a lot of galleries to showcase their works and people like me were really interested in collecting art.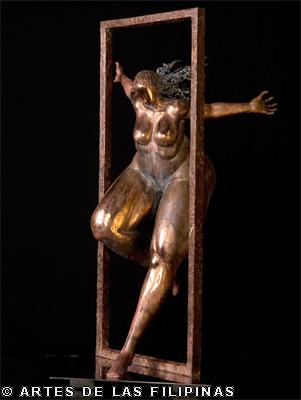 Passage (2009)
What is the focus of your art collection during this period?

I was focusing mainly on the works of National Artist Arturo Luz. I was always a huge fan and I'm proud to say that I have a few very old works of his. Nowadays, aside from a couple of Sanso's works from the 1950s and a few Mario de Riveras; my wife and I just buy paintings that appeal to us aesthetically. There are so many excellent young artists so we just buy what we want for the home without considering the names behind them. What is important to us is that the painting is something we enjoy seeing everyday in our home.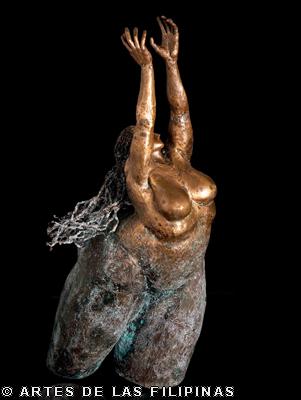 Paean (2009)
Were you also collecting sculptures?

I only have very few sculptures by other sculptors. I have two small works of Lor Calma, given to me as gifts and two small works of Luz. But I do have a huge four feet sculpture by National Artist Abdulmari Imao and a smaller one as well. On my wish list is a Saprid sculpture.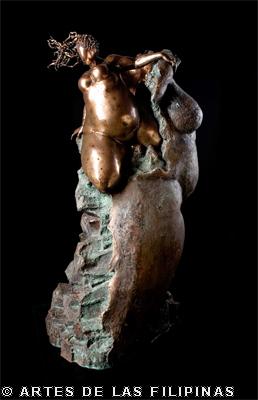 Rebirth (2009)
We have had only a few National Artists for Sculpture, why do you think this has become the case?

As I have experienced, sculpture as an art form is a very difficult direction to take. The materials needed, the space required, the machinery and labor all takes quite a large investment. I feel that the cost involved to go into sculpting is very prohibitive, which may be the reason why not many young artists end up as sculptors. But I am a firm believer that most of our young artists can sculpt as beautifully as they paint. But because of the high costs involved, the opportunity is not always there.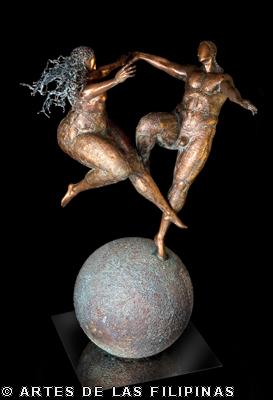 Journey (2009)
Who among the National Artists for Sculpture have made an impact on you?

Abdulmari Imao. I admire how Mr. Imao modernize some Filipino-Muslim icons and came up with a look that is completely his own.
Is becoming a National Artist something you aspire for?

I think becoming a National Artist is something all Filipino artists should aspire for. For me, becoming a National Artist means that you have contributed to the country's development, to its culture and have used one's talent to make one say "Ako ay Pinoy!!!" With or without the title of National Artist, I think this is one thing all Filipino artists should strive for.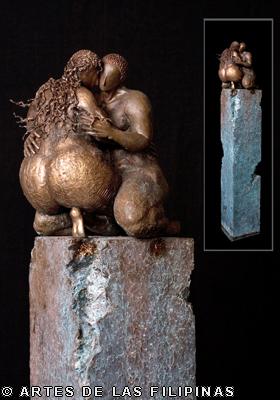 Comfort (2009)

Tell me about your first exhibit.

At the age of thirty-nine, with my desire to do something completely new and different to mark my turning 40 I decided that I was finally ready to take the plunge and fulfill my original dream of being an artist and being a sculptor. The years of designing and working with almost all types of materials served as my training ground in art. Within a year I managed to develop my own technique of working with metal and had my first exhibition at the Ayala Museum in 2006. In this pursuit I was generously guided by sage advice from National Artist Arturo Luz and Architect Lor Calma. The show was a sold-out success and the reviews were very positive. It seems that my chosen path as a sculptor was a very open field with very few other sculptors in the scene as compared to painting. Having no pre-conceived notion of the art scene, I simply did works which were driven by my own desires to express myself. Four years down the road today it has now gone beyond being a hobby and has become a second career for me, and hopefully in the near future, my only career.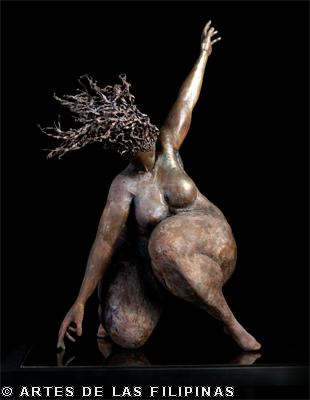 Reaching For The Light (2009)
Were you doing sculptures or furniture pieces before?

Before I started sculpture as art, I was already doing sculpture as décor. I was carving Santa's, angels and other figurines for the export market. I've also designed small furniture accessories like picture frames, candle holders and other items.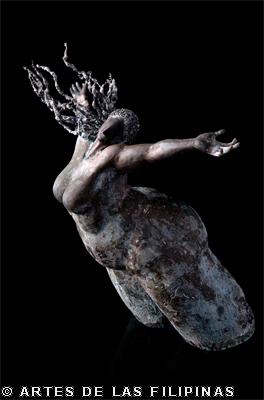 Promise (2009)

What was the first gallery that carried your works?

The first gallery to purchase two of my works was Gallery Joaquin. And then it was followed by a group show with Gallery Nine and my first solo exhibit to be done with a gallery was early this year with Art Verite Gallery.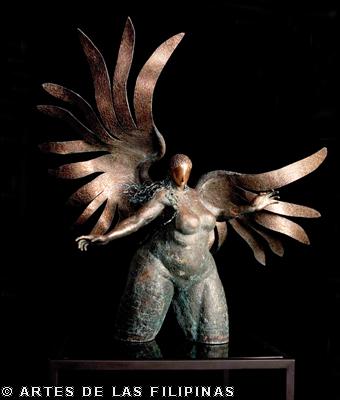 Aegis (2009)
What was on your mind when you made your first step in branching out as a sculptor?

I was totally scared! I was unknown, a novice who is already old and not many things were going my way. But I did have a few things that have worked in my favor. The first is that even if I started late, I was more mature and more confident of what I wanted to convey through my art. Second, I was doing my first exhibit to fulfill a dream and so in a way I was just doing the art more for myself to find out if there is still a room for me to learn and become an artist. Lastly, turning forty meant that I have gone through a lot of successes and failures in equal measures. If I manage to do even with one show then that would have already been a dream fulfilled.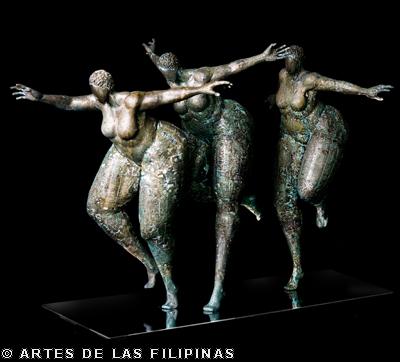 Progression (2009)
Let's say none of your works were sold during your first exhibit, would you have continued?

It's hard to say but I guess I would still have enjoyed the whole process tremendously! On the other hand, if they didn't sell and the money needed to invest in continuing didn't come in, I might not have continued. But what is clear to me is that I believe that not everything happens by chance and that there are always the Hands of God. Despite all our plans and efforts, ultimately our futures are guided by God, if only we listen and if only we have faith that wherever we are at any point in time is where He wants us to be and where He wants us to go.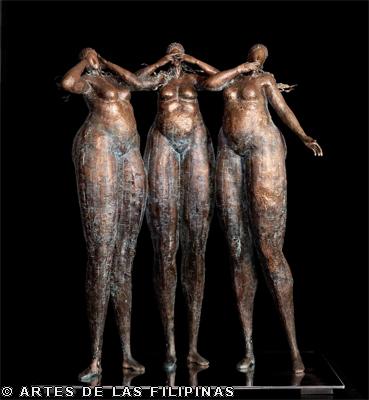 Vajra (2009)
For the ideas of your own exhibitions, how do you try to be different in concepts and executions?

I was quite lucky that people found my works very original from the start. With each new exhibit I have, there is a personal desire and effort to come up with something fresh and new while at the same time maintaining the unique look I have developed. My ideas really come simply from life experiences, work, my family life, travels. Recently my relationship with God has begun growing stronger and I do believe that most of my ideas and inspirations come from Him.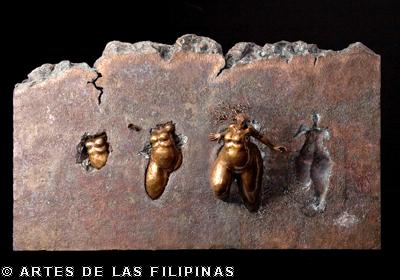 Emergence (2009)
Metals make the bulk of your works. Where do you source your materials?

My materials are sourced from metal distributors in Manila. The main material I work with is brass of different thickness, copper when needed, lead and stainless steel. The final finishes are as well electroplated coatings of copper, brass, chrome or nickel. I am very particular in avoiding painting over my works only because I want the true nature of the metals to come out. I also use acids to accelerate the aging and oxidation process of the metals to achieve the patinas I want.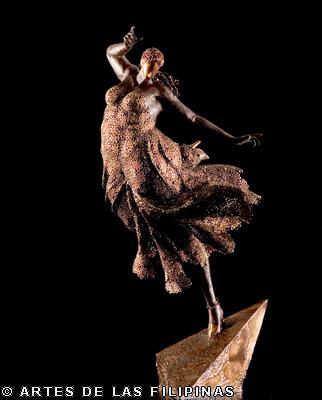 Soliloquy (2009)

What material do you use in signing your works in metal?

I have a specially made metal stamp that I hammer onto the sculptures to deboss my signature onto the pieces. The stamp is made of steel.

Have you had a case in the past that the head or leg or arm of your figure sculpture fell? Can collectors come back to you to repair it?

I have been lucky not to have any major problems yet such as things coming or falling off. But all my collectors know that I can always do any repairs, if needed.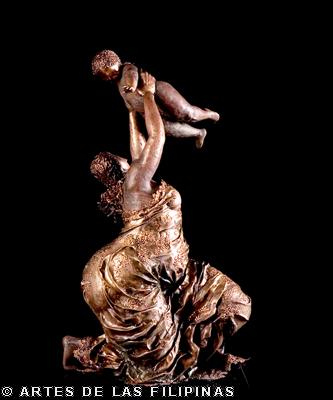 Endless (2009)

How many in house assistants do you employ?

Currently, I employ twelve workers who have been working with me in my export factories. I trained my staff to work like professionals because doing sculptures is time consuming and the work process is very labor intensive. Occasionally, I also employ young artists as apprentices.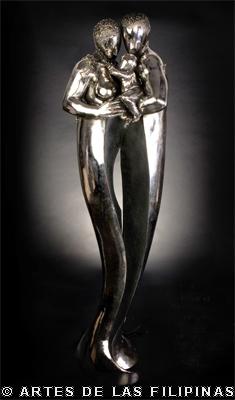 Binhi (2010)
What are your assistant's roles and designation?
In each step of the process of my sculptures, from the sketch to the initial clay study to the final piece, I am completely involved in it. I have been asked numerous times by people if I do the work all by myself. That alone is not physically possible, especially with the materials that I work with. There are too many processes involved in making a sculpture such as grinding, sanding reinforcing and the like that takes days sometimes weeks and months to accomplish. You will need someone to sand and pound away endlessly. It is also physically impossible to even carry and move around the sculptures alone because of its sheer size and weight. The workers do all this time consuming work for me. The young artist apprentices that I work with, I use them to help me oversee some of my works. I am also a person who believes that "the more I learn, the less I know." That's why I enjoy it immensely when I bounce ideas and concepts, discuss my sculptures' flaws, merits and other possibilities with like-minded people. I do this with my workers and apprentices and even with my collectors. I am no genius and neither am I superman so I listen and welcome any help in forms of work, ideas and observations. There is always something one can learn from another person as long as one keeps an open mind. I also try to tell people that if they study a bit of art history, from the Classic Age until contemporary time, most sculptors maintain a studio and a workforce do their works. This is one of the reasons why there are few artists who focus on sculptures because the materials, investment and labor required is intensive.

I am also quite lucky because I am still involved significantly in the export business but my partners are doing most of the actual operations. My job entails me to design products which I do in my computer or in my studio and then I email my work to the factories. This allows me more time and freedom to focus on my work as a sculptor.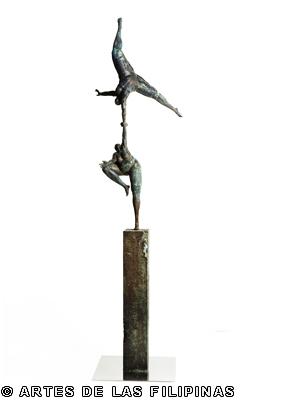 Apex (2010)
How much of your work in a year are allotted for commissioned works?

At this point, the larger bulk of my sculptures are private commissions.
Do you have plans of doing public art on commission or free?

I have been doing some public and institutional art for Pasig City, a few condominiums, St. Luke's Hospital and working on a large crucifix for a church. For public art such as something near the airport I would definitely bid for a project like that but doing a huge sculpture for free is something that I am not sure if I can afford. All I know is that if the art is for a greater cause such as to help the underprivileged or would be for the greater glory of God, I will see what I can do and give it my best shot.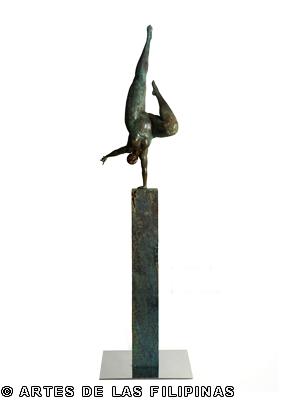 Equilibrium 2 (2010)

How many weeks does it entail you to finish one work?

One to three months depending on the complexity.
How many months does it entail you to prepare for an exhibit?

I normally have fifteen to thirty works on display for an exhibit. After every exhibit I am already preparing for the next one. So preparations can take anywhere from six to twelve months.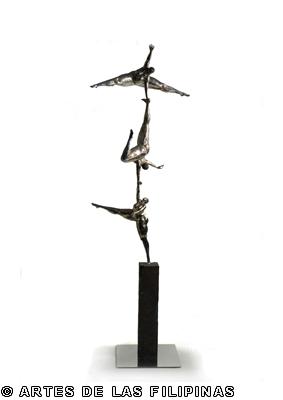 Summit (2010)

What pricing method do you employ?

I just have the basic costing for materials and work involved but the major factors are always the complexity of the work and difficulty and the concept behind the work, notwithstanding its size.
As early as now, do you document your works?

Yes. Each piece is photographed and filed digitally in my computer.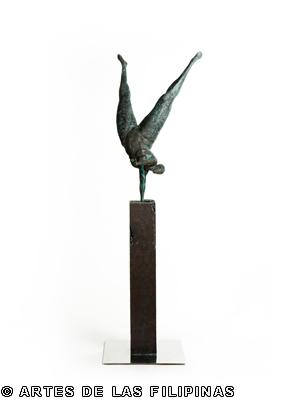 Equilibrium 3 (2010)
Are collectors assured that each of your sculpture is unique and that no copy in your studio is left?

The process alone guarantees the individuality of each piece, being completely handmade. A number of times people request for versions of sculptures they have seen but I tailored them specifically to the collector. So, though some pieces may carry the same style and concept, each piece is still very unique. I enjoy working with collectors for commissions and I take quite a lot of effort to get their own ideas and opinions so that each piece would have their involvement and hopefully reflect a bit of the collector's personality.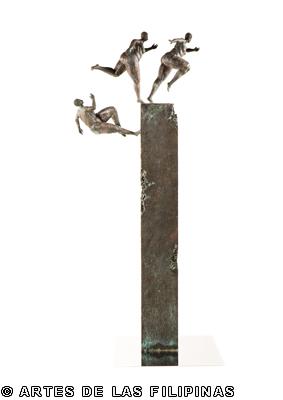 A Step At A Time (2010)

What are the themes that you have explored in your works?
My work is very figurative and I would like to hope that they are seen as narratives. My favorite theme is women and everything that makes them special and different. Recently, my works have gone beyond women and have now ventured into themes involving life – life's trials and tribulations as well as our relationship with God. The most common threads within these themes is to communicate more positive and uplifting emotions in my works. I feel that if I were to immortalize something in sculpture, I would prefer to immortalize positive things. I am already past forty and I have gone through enough troubles, disappointments and heartaches in my life. The lessons that I've learned from my own troubles and trials are only those worthy of remembering.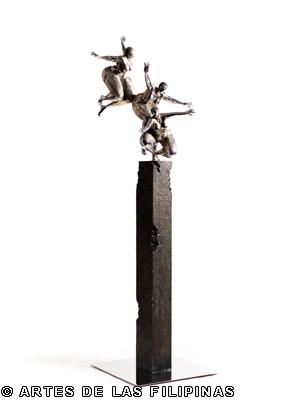 Gaining Ground (2010)
What can you say are the trademarks of your works?

The texture, techniques and materials of my sculpture give it its own special look. A trademark most easily recognizable in my sculptures is the unique proportions of the women forms that I do. Although my works on the forms of women have quite significant robust bodies, their motions and movements are still very light, graceful and elegant.
In your four years as a professional sculptor, what has been the best compliment said about you or your work?

When people have said that they see that I have put so much of myself into each sculpture and that each piece has a very personal connection to them. Another important compliment I received is that my work was described as very progressive and the look and feel of my works is quite unique.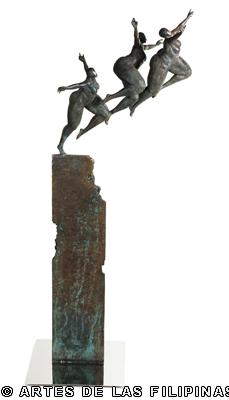 Finding Faith (2010)

What is unique about your works according to these people?

Aside from the unique use of the materials and the graceful but rotund forms, majority of the comments that I heard from people is that they like the piece because they can easily relate to the piece and the titles. I would hear them say-"Hey, that's me!" or "Hey, I've gone through that same experience."

And what have you been criticized of?

What makes my art unique and very distinguishable is the form and grace of the figures in my sculpture. With each show I strive to come up with whole new looks for my work but still retaining my signature look. One criticism I have heard is that they found the recent exhibit "more of the same."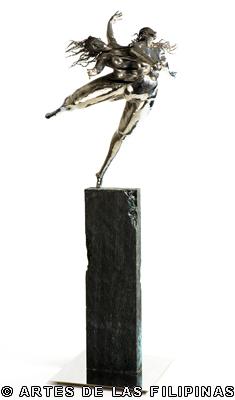 Precipice (2010)

How many exhibits have you had since 2006? Which one is more memorable?

I've had a total of seven solo exhibitions all together but my second solo exhibit "Parangal" in 2006 focuses on Christ. It was memorable because it was my way of honoring and thanking the Lord for allowing me to fulfill my dreams of becoming a sculptor.

When you are in the process of working, who exactly is the viewer you have in mind?

I am quite lucky that by the time I ventured into art I was relatively financially stable already. This allowed me a certain amount of freedom wherein I could focus fully in expressing myself and allowing the visions in my mind to take solid three dimensional form. The viewer from this standpoint is myself. However, one of the main guidelines I try to adhere to is that I want my art to be inspirational and to as much as possible impart positive feelings to the viewer. This guides me in my work to consider the people who will have my sculptures in their homes and hopefully what they bring home will make them happy.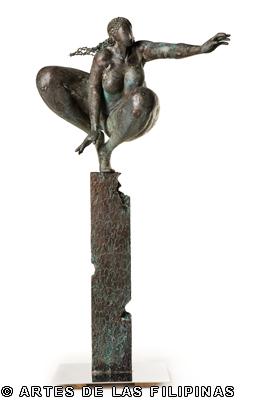 Reach (2010)

Do you agree that the first exhibit of a painter could make or break his career? Did this apply to you?

From personal experience the success of my first exhibition inspired me to further develop my art. It is quite possible that, had my first exhibit been negatively received, things would be quite different for me.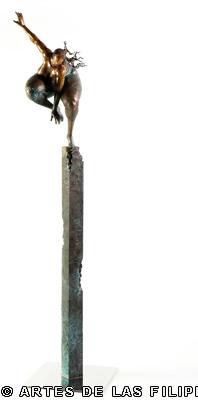 Turning of the Tide (2010)

Have you ever won any important awards?

I have won some awards but not in my art career.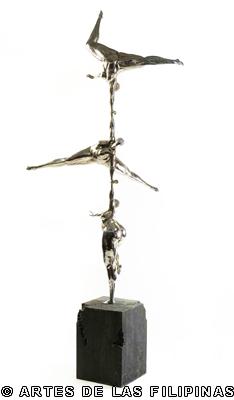 Zenith (2010)
What awards have you won?

I have received a few awards in my export and design career but I don't remember the exact details anymore probably of old age (laughs). But in the 1990s I have won a Best New Product Collection in the Japan Gifts Exposition. A Katha award in the Philippines for Best Filipino Product Collection and most recently, the Gold Medal for the "Festival of Nativities" held in Rome in December 2008. This yearly exposition held in Rome features Nativity sculptures and designs from five continents which are competing for this coveted prize. My Nativity sculptures won the highest honor in a field of one hundred and thirty-one entries from seventy-one countries.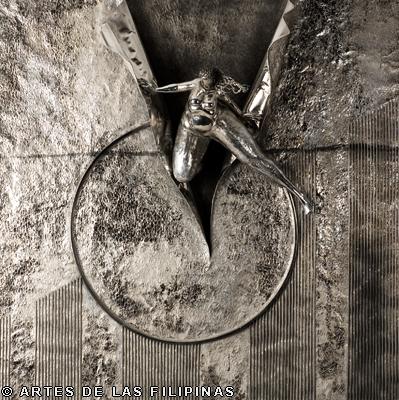 Beyond Time (2010)

Do you think a sculptor such as you can become commercially successful without receiving any award in his entire career?

Being only four years in this career hasn't given me any chance to receive awards, but from my experience so far, I have never encountered a collector who ever asked me about my awards. It was always a case of whether they liked my work or not. I am sure that awards and recognitions do count a lot in an artist' career, but in the end the connection between the art collector and the artwork defines the success.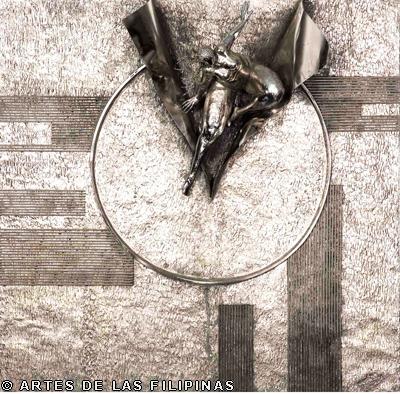 Beyond Time 2 (2010)

As you progress as a sculptor, who among the Filipino sculptors had an influence on your work?

I am very much a fan of the works of Arturo Luz, Lao Lian Ben and a number of younger artists. I believe their influence in my art is not in terms of the physical but rather more aspirational. I view an artwork and try to digest what's in it that connects me with it, what's in it that makes me want to have it. It's difficult to explain but it is this feeling which I aspire to capture in my own art.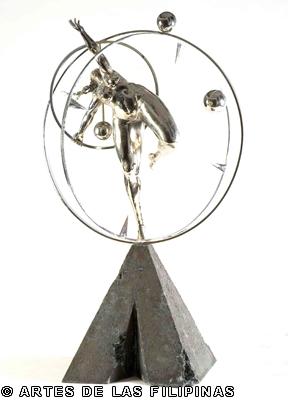 Seize The Day/Carpe Diem (2010)

What about foreign influences?
I am very much in awe of the large scale works of Fernando Botero, the bold works of Ju Ming and how he captures grace and movement in very simple yet powerful forms. Henry Moore is also one of my top favorites.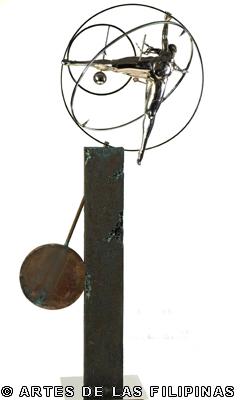 Time Waits For No One (2010)

Who handles the business side of your profession?

Having many years of experience in other businesses it is inevitable that I handle the business side of my art as well.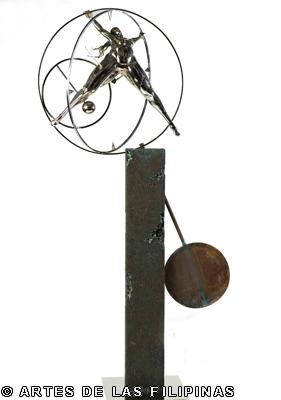 Time Waits For No One (2010)
What are the advantages and disadvantages of being an "all-in-one?"
Deciding to try to do everything was a function of necessity rather than a conscious decision. I was never into the art scene and so I did not know any galleries that I could approach. I was unknown and untested and so I don't think a gallery would even invest in a show for me. One of my advantages of having started at the time I did is that I have a large network of friends and acquaintances who gladly gave their support during my first exhibit. Also, a number of people were generous enough to help me develop my art for the exhibit and teach me how to stage a one-man show but the ones who had the most impact on my young career is the guidance I received from National Artist Arturo Luz and Architect Lor Calma.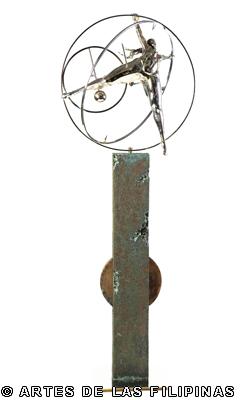 Time Waits For No One (2010)
Do you intend to be an "all-in-one" in the coming years?

At the moment, I am still in the process of learning and so I do not think that being an "all-in-one" is necessarily a long term direction. I am, however, very careful in seeking out people that I can partner with for assistance.
Do you have an idea of the profile of collectors who buy your works?

One of the greatest rewards I have received since venturing into my art career is the people I have met. Most of the collectors who have purchased my work have ended up as very good friends. It seems that a common love for art is a great starting ground to develop friendships. A large number of my collectors are relatively young professionals, doctors, lawyers, businessmen who like me have gained an appreciation of art and the desire to collect art in their 30s-40s. I have also been blessed to have many collectors who have been collecting art for decades. They are usually in their late fifties and above. It has always been extremely gratifying to visit their homes and see the amazing artworks they have collected through the years and an immense source of pride to know that my work is deemed worthy to be included. One specific experience was just today, when I delivered to the home of one of the collector's you featured in your book, "Private Collections." It was awe inspiring and very humbling to see the volume of very rare paintings by masters in her home.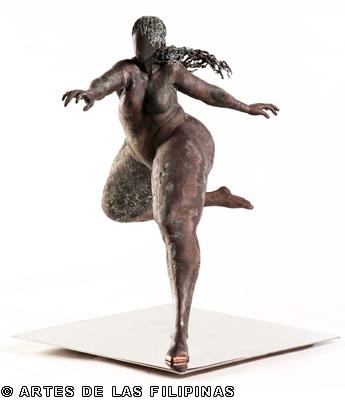 Running With The Wind (2010)

Have you had exhibitions abroad?

Just in Singapore so far.
Since you exhibit in various galleries, where can collectors buy your works?

I normally don't have any works displayed in the galleries but I have worked with Art Verite, Gallery Nine, Gallery Joaquin and have received commissions through Art Elements Gallery. They can contact me for commissions through them or they can reach me at my website www.delacruzsculpture.com.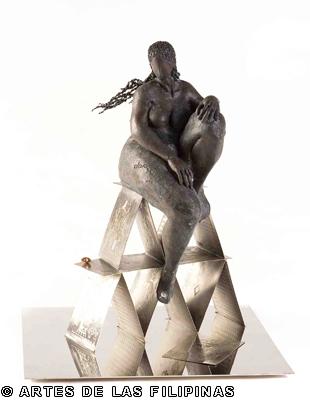 House of Cards (2010)m
Which among the art critics would you want your works reviewed?

Cid Reyes.

Who are your friends in the art circle?

Just a few still, off hand I can mention Sonia Ner, the retired director of the Ayala Museum. A number of gallery owners and for artists there's Lizzanne Uychaco, Sajid Imao, Michael Cacnio, Tiny Nuyda, Ramon Orlina and National Artist Arturo Luz. I am sure I forgot to mention some others but they are certainly my friends. (smiles).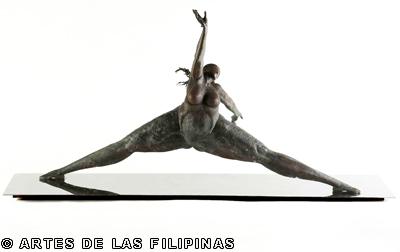 Eternity In Her Heart (2010)

Are you friends or friendly with other sculptors?

Yes, many. I am friends with Sajid Imao, Michael Cacnio and Ramon Orlina, National Artist Luz, Architect Lor Calma. All of whom have been my admiration even before I became a sculptor. Of special note is Ramon Orlina and his wife, Lay Ann. Ramon and Lay Ann generously took time to guide me and teach me what to do prior to my first exhibit abroad.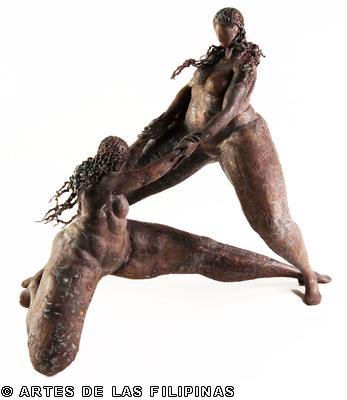 The Road Less Traveled (2010)
Is there anyone in the art circle whom you would you like to have a one-on-one conversation? What would you like to talk about with this person?

The late Solomon Saprid, Mr. Ed Castrillo and National Artist Napoleon Abueva. They are our Filipino sculptors who have done beautiful sculptures and who have paved the way for us young sculptors to follow. I am sure that having a conversation with any of them regarding sculpture would leave me richer in experience.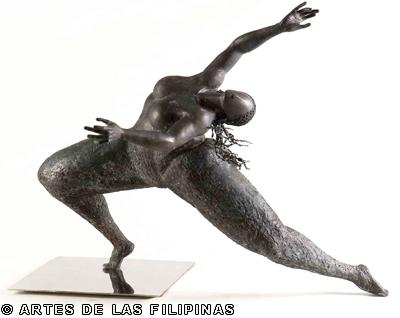 Catharsis (2010)

What are your other interests?

I am a learning to be a bit of a novice audiophile, cars of course, gardening, collecting watches, collecting art and since the new house came, a serious koi hobbyist.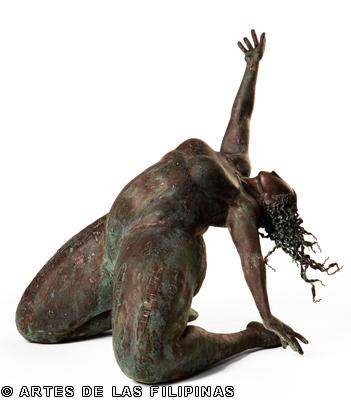 Ad Majorem Dei Gloriam (2010)

Tell me about this house in Pasig.

My wife and I have lived in our Pasig lot for fifteen years but we had to demolish the old house three years ago to build our new house. Our kids are getting bigger and we needed more space. Our initial house was had a large pond with three open air gazebos built over the pond. This old house had only two small bedrooms. When the kids started growing up, my wife and I decided that everyone needed their own rooms. My wife is an artist in her own right. She is responsible for most of the public Christmas lighting and décor you may see in the streets. She is also a graduate of interior design. I am also a landscape nut and gardener. And so in designing and building our new house, my wife and I worked very closely with our architect to come up with this new house, our new home.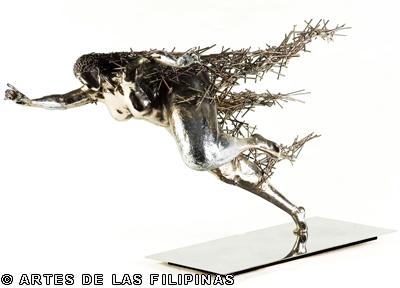 Fragmentation (2010)

You are also fascinated with cars.
I have always been a car nut ever since my high school days. Initially, I like cars to be able to get around but later on I fell in love with car designs and its engineering. Having a low budget, I learned to even take parts apart from my cars and put them back myself. Recently, I have been into restoring vintage cars and I find this quite satisfying. Restoring a car is like re-building it completely and in a way a form of sculpture in itself. I am always at awe at how a car's design can reflect certain periods and time. I consider some of them as works of art. Unfortunately, since the time I began my metal sculpture I haven't had time to attend to this hobby.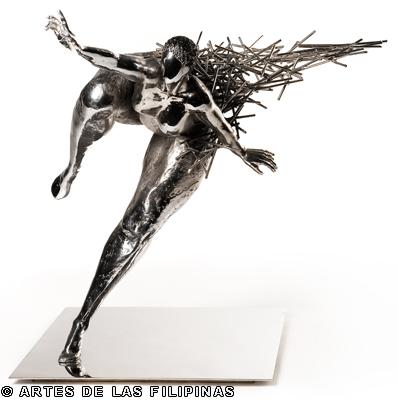 Escape (2010)

You have also traveled to many places. Where have you been so far?

Germany, Italy, Switzerland, Belgium, France, Luxembourg, Austria, Turkey, Thailand, Vietnam, Indonesia, China, Singapore, U.S.A. Now, I am not sure if I remember it all.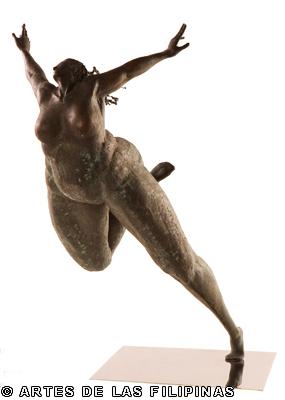 Rapture 2 (2010)
How long have you been married and how many children do you have?

My wife, Monica, and I have been married for sixteen years now. We have been blessed by God with three beautiful children, Eduardo who is fifteen years old, Danielle, twelve, who is also my only girl and our youngest, Diego who is nine years old.



Gather, Girl, The Roses (2010)
What do you tell your children about you or your works?

One of the things I feel lucky about is that through my sculpture my kids are starting to develop an interest in art. They are very supportive of me and are very open in telling me what they like about my work. I feel proud when my kids choose a sculpture and display it in their own room.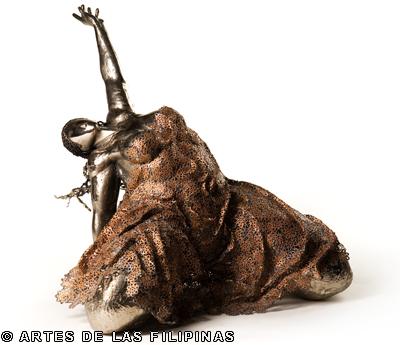 Beyond The Darkness (2010)

What is it about being a sculptor that you love?

Working with my own hands, sweating and getting dirty but mainly being able to visualize an idea and create it in a full three dimensional form is the most rewarding experience.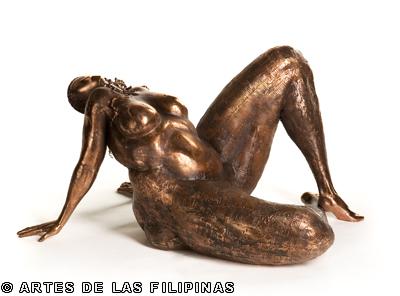 Heat (2010)
And what are its tradeoffs?

Wearing quite a number of hats, from working with the export business, dealing with my investments and being a sculptor is quite a lot to handle. It is physically and mentally exhausting. But the worst trade-off is because of the amount of time that I need to do all these, I miss out on spending more time with my wife and children. I only console myself with the thought that all the hard work that I am doing will be for them in the end.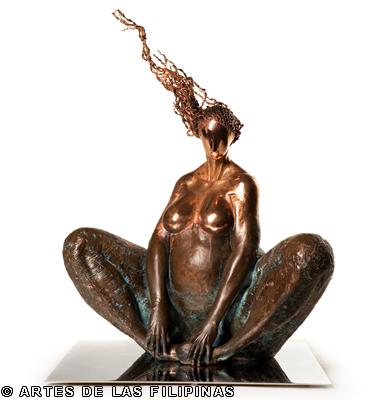 Enlightenment (2010)
Do you think your works will hold a place in the history of Philippine art?

All I know is that I am very serious with my art and I know too that what I have been doing is unique. My hope is for my works to have a positive influence to Philippine art. Whether I will have a place in history of Philippine art, only time can tell.