Purveyor of Knowledge and Emerging Publisher of Content and Visually Driven Books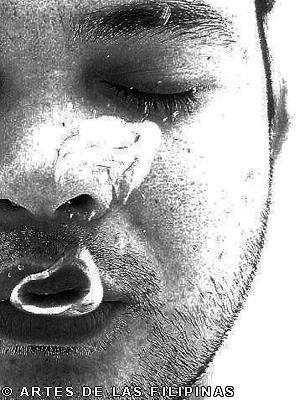 Jason Moss' Unabashed Narrative
by: Christiane L. de la Paz

April 2011-- Jason Moss has been around the art circle since 1997. He graduated with a fine arts degree from the University of Santo Tomas and soon started work as an illustrator and then had stints as an animator, TV director, editorial cartoonist and instructor while pursuing his career as a young artist. Slowly, he became an integral part of the contemporary art scene in the country and created a body of work that is absorbing in its seeming simplicity while mirroring the private and secret worlds of his subject or even the artist himself. His figures, sometimes painted as informal portraits and nudes, have an emotional pull to the viewer and quietly exude flickers of melancholy, introspection as well as psychological and sexual desires: security, bliss, youth, body parts, physical strength, companionship, sexual fantasies and freedom—all absurdly rich in meaning. His paintings are executed so confidently and technically that they also reveal Moss as a skillful graphic artist from the start. Today, he continues to produce humurous and spellbinding works with varying themes that continue to excite and engage the viewers. In this April interview, Jason Moss outlines his early life and achievements, his insights and motivations, the work ethics he lives by as an artist and proves why his art continues to be vital and contemporary and why it deserves serious attention.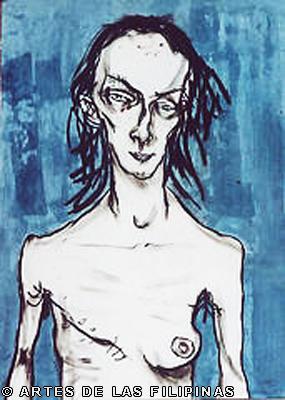 A Liar by the Pool (1999)

Graduating from the University of Santo Tomas in 1997, how was your life like during the early phase of your career?

Like any young artist exposed to the scene, I was a eager to learn. I wanted to meet everybody and circulate around different art circles, sit and talk with senior or emerging artists about their philosophies. I spent most of my time regularly attending openings, reading books, and drawing almost everything and anything. I did not employ myself after college, I did freelance work as an illustrator and held exhibits every year. I was trying everything from animation to volunteerism but they are mostly for environmental non-government offices.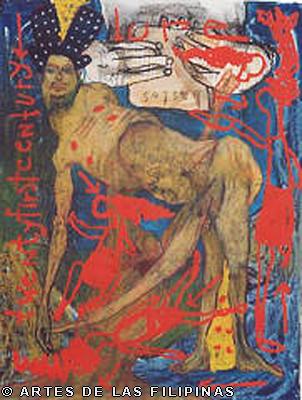 Beautiful Skin (1999)

Was Fine Arts your first course?

Fine Arts Advertising. First and only.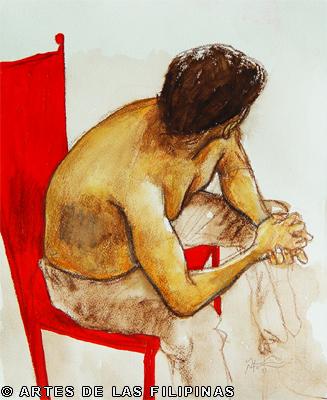 Untitled (2003)

Who are your contemporaries in UST?

Andres Barrioquinto, Wesley Valenzuela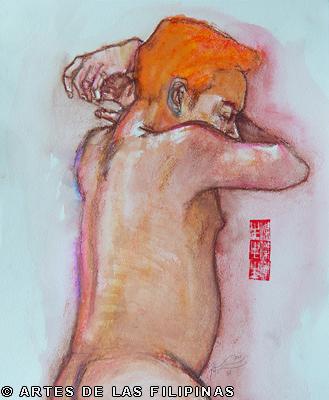 Untitled (2003)

Who are some of your UST Fine Arts professors?

None of which are presently notable but they are credible and greatly appreciated.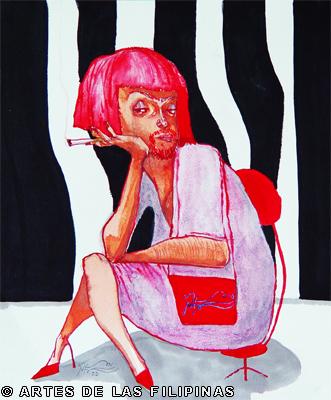 Untitled (2003)
After graduating, what was the first job you applied for?

After my graduation, I was an assistant director for a music channel. Seven years later, I was an art director for a children's art show. In between those years I was an editorial cartoonist and instructor of drawing and painting in a reputable college.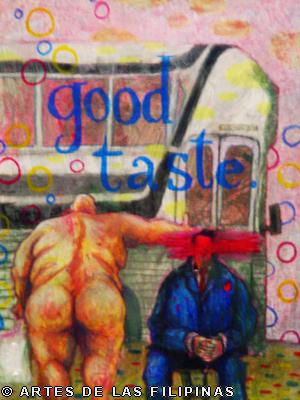 Portable Companion (2003) —moss44

After this stint, did you have another job?

Presently, I am teaching in three different schools. I teach typography, drawing and painting, fundamentals of illustration and graphic illustration.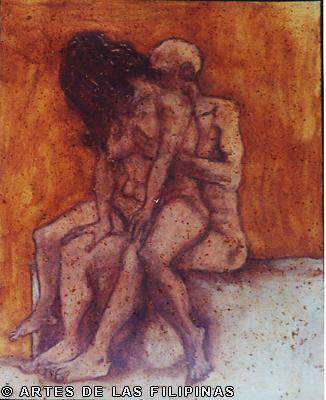 Paktiw (2003)
How do you manage your time with this schedule? When do you find the time to paint?

I teach twice a week, morning till afternoon. I use my free days to either study, read about art and trends, sketch and paint.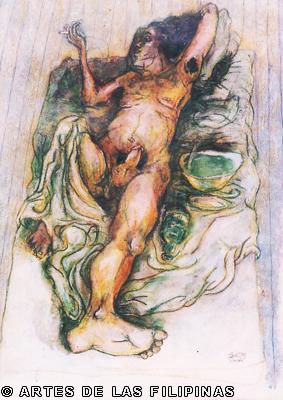 Three After Snails and Beer (2003)

With the two jobs that you do, what do you tell people of your profession when asked? A teacher or a painter?

I tell them I am both.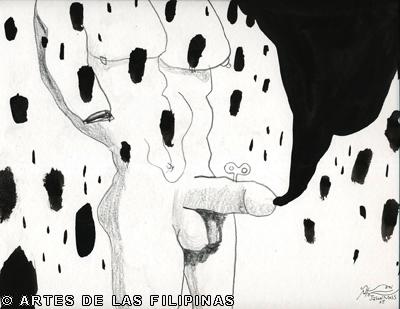 Sports (2003)

You first entered the art scene in 1997, what is the status of the art scene during that time? Was the landscape of the art scene paving ways for young artists? Were you joining group exhibitions?
The art scene had very few artists with credibility, artistic merit and promise. It was carefully weeded out, being more contemporary at the time with painting as its strength, we welcomed more conceptual material and the scene just exploded, eventually, creating a marriage between so many disciplines, personal or borrowed theories, extensions of thought and pop culture. I wasn't sold on the group show idea yet. I wanted to find myself first.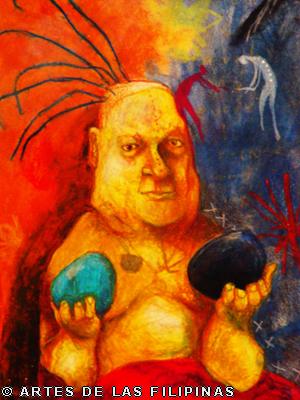 Black or Blue For Tonight (2003)

How long did "finding myself first" take?

I think it's such an intermittent stage in any artist's life, I'd say I'm into my umpteenth incarnation. I'm destroying and rebuilding myself every so often.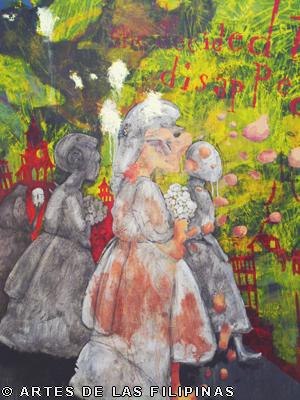 Daydreams Down To Solid Ground (2003)
From that time on, have you joined any group exhibits?

Now and then, yes, if the concept is suitable to my taste.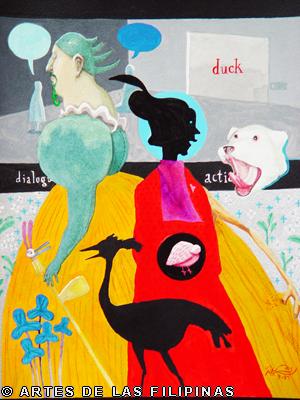 Love on the Left (2004)
Tell me about your first exhibit.

It was a solo show. I was seventeen at the time. I borrowed heavily from Picasso since I've been reading about his life and his work since I was eleven. Of course, it was no comparison. Picasso is Picasso and I was just a seventeen-year-old fan. Eventually, the figure in my work evolved, almost too fast, with the fear of being compared. I still consider it a nice try and I'm still proud of my first show. I was still well-received for a kid to pull this off.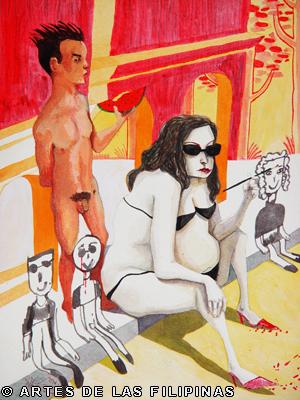 The Expense of Spirit (2004)
What is the first gallery that carried your works?

West Gallery in West Avenue.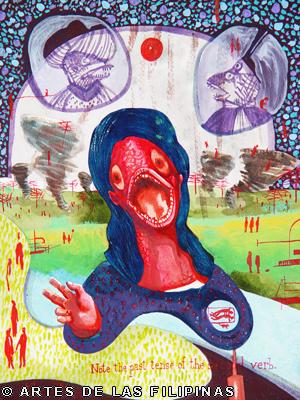 Saint Fish Head, Patron Saint of Doormat (2004)
Is West Gallery the gallery that you want to have your first show? Were you invited for a show or did you present a concept proposal?

Yes, West Gallery and yes, I had to present a concept proposal. The body of work was screened by Malang and Soler. Malang is a family friend. He and my father have been friends long before I was born and while growing up, I would show him my drawings for approval. Only when the right time hit that I was allowed by him to exhibit.

Soiree (2004)

Where do you draw ideas from?

Life experiences. Life observations. My execution has a long list of change but I remained consistent with the subject matter of the human condition. I rely on world events that make our way of thinking shift. The only idea I can think of from "trying to be different" is observation. If you can provide an angle or an idea that is new or obscure or new to the eye then I guess that's how you fall into "being different."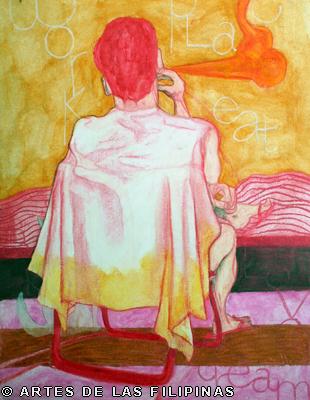 Time (2005)
How do you push yourself to think as an artist when sometimes there are no ideas that flow?

I do no-brainer stuff like draw my own hand or just go out, travel and sketch randomly people and places. I also watch indie films or listen to good music. I search for ideas when I climb mountains or scuba dive on weekends. I also do not talk much to other artists. I keep to myself.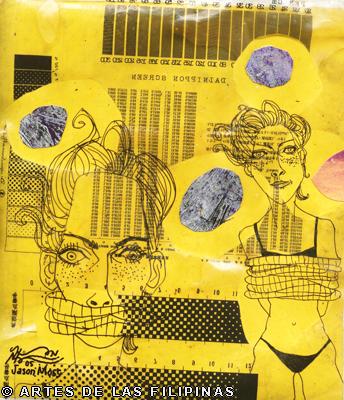 The Bitches (2005)
Do you ever feel tired sometimes of being an artist?

Yes.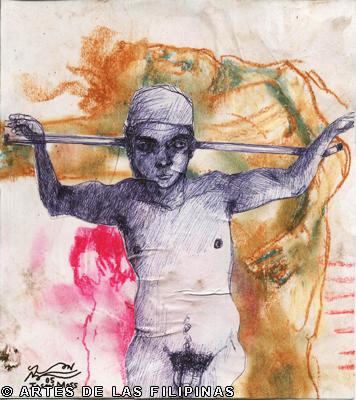 Meat Market (2005)
What do you like and dislike about being an artist?

I have always treasured being an artist as a gift and a skill. I like being an artist because I get to extend my skills into helping out non-government organizations and teach people who are hungry to learn about art.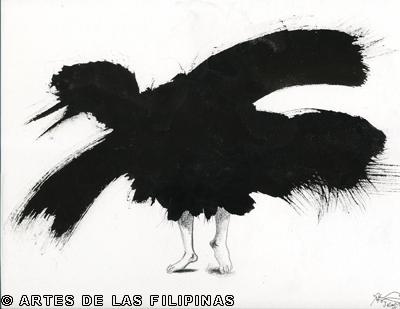 Black Bird (2005)
What are some of the stereotypes about artists that you have proven true by way of your own experience?

Artists look at things and situations at a different perspective.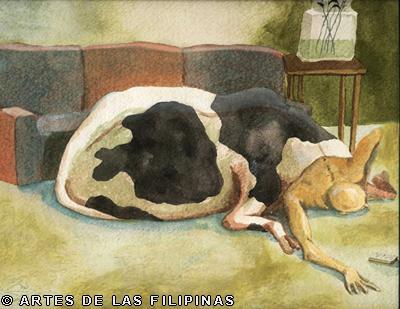 Cash Cow (2005)

If any, did you ever find yourself in a situation when your idea for your own exhibit has been executed by another artist?

Only once or twice but I believe that there is a "hundredth monkey theory." Like getting a bearing from map reading, you think and execute it once or twice before you get the coordinates right.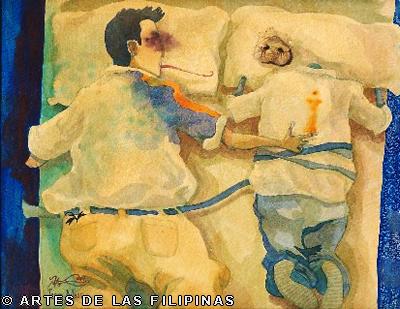 Directing Faith (2005)
Do you try to improve this idea for your next exhibit or do you come up with a new one?

I always come up with new ones. My idea stops when it is presented. Time to explore new ones.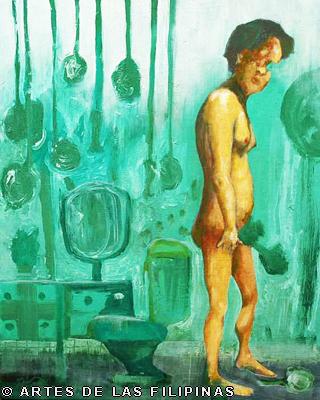 Flirtation Device (2005)
When you are in the process of working, who exactly is the viewer you have in mind?

Myself and Europeans.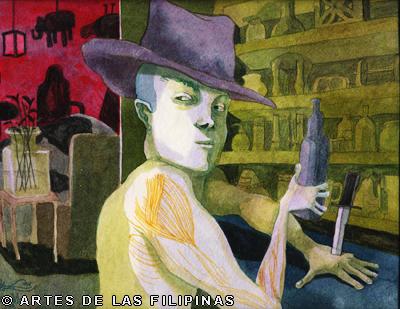 Right Brain Salute (2005)

Why Europeans?

I have nothing against Americans or my fellow Asians. I say this relating to consciousness and being liberal.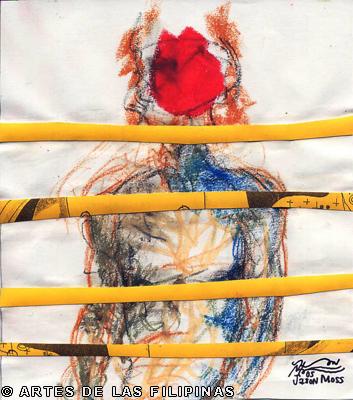 Dangerous Man (2005)

Do you agree that the first exhibit of a painter could make or break his career?
No. A painter should keep trying to improve his craft regardless of shunned response from critics and collectors. It did not apply to me consciously at that time. I just wanted to paint.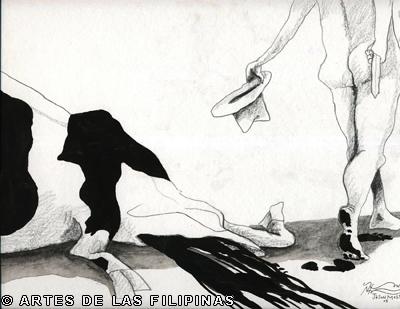 The Rebirth of the Artist (2005)

Are you a member of any artist's group?

No but according to Marcel Antonio, I am the adopted enfant terible of Salingpusa (smiles).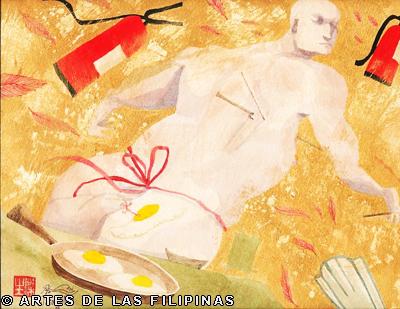 Enjoying Madness (2005)

Are you good friends with Marcel?
Yes, we are friends.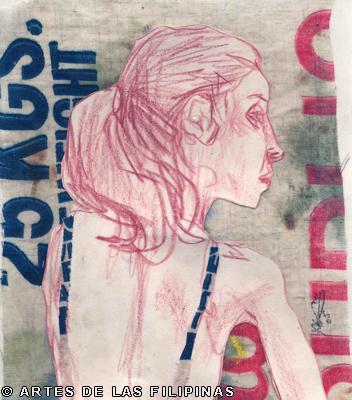 Rice Woman (2005)
Who else are your friends in the art circle?

Kiko Escora, Ronald Ventura, Wesley Valenzuela, Manny Garibay, to name a few.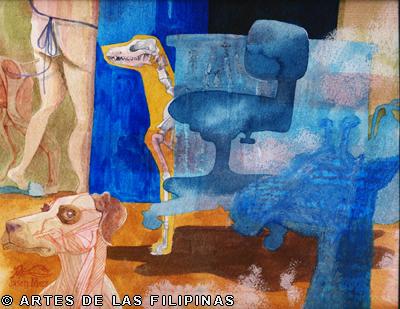 Breakfast (2005)
Who are some of the more interesting people you have met as an artist?

Musicians, actors, fashion designers, theatre actors and film directors.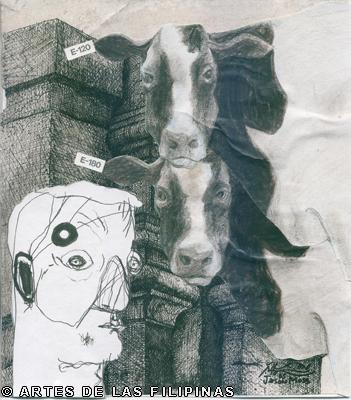 The Meatpacker (2006)
Have you ever won any important awards?

For painting, no but in my other disciplines, yes.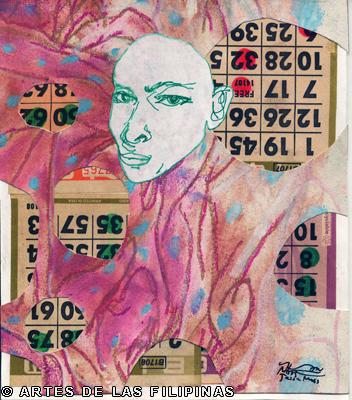 The Bride (2006)
What are some of the awards that you have received?

Most are for my children's books which have been recognized in Basle, Switzerland, and some other notable awards here in Manila such as the National Book Awards.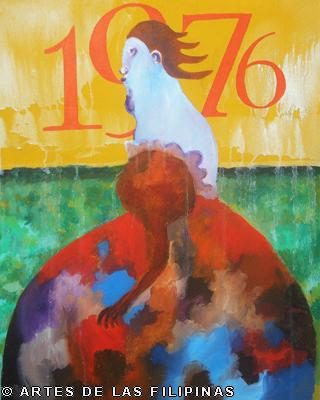 Prince of Chickens (2006)

Do you think awards help make a painter become commercially recognized?

In this country, I believe there is a formula. I guess it does.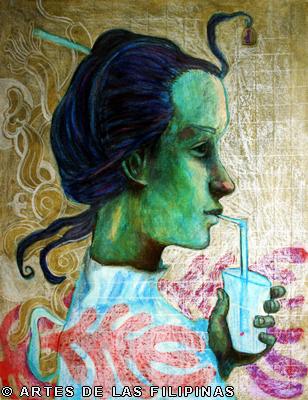 Angler Woman (2006)

Do you think a painter can become commercially successful without receiving any award in his career?

If he aims to be commercially successful, then yes.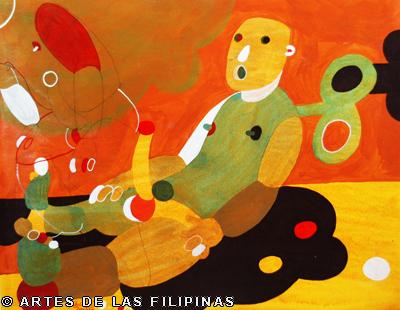 An Imagined State of Self (2008)

Whose style are you drawn to painting during your student years?

Foreign, there's Picasso and Lucian Freud. Local, Dalena and Olmedo.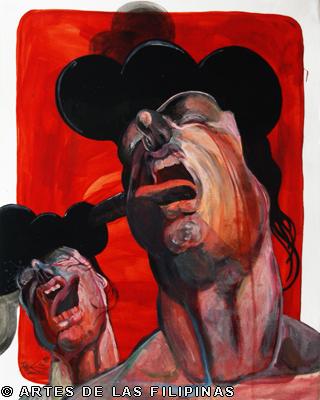 Dual Bust Portrait (2008)

What about foreign influences? Who have fascinated your imagination?

There are so many of them to absorb. I just really stopped looking for them unless friends lead me to them.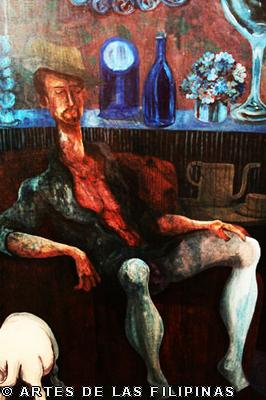 Beautiful Beast (2008)

Who handles the business side of your profession?

I am presently being managed by PABLO Gallery.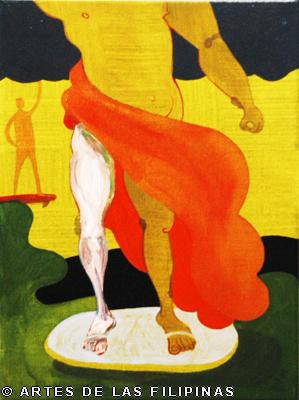 Balance (2008)

Do you have an idea of the profile of collectors who buy your works?

I heard there are architects, doctors, lawyers, writers, actors and young professionals and even other artists.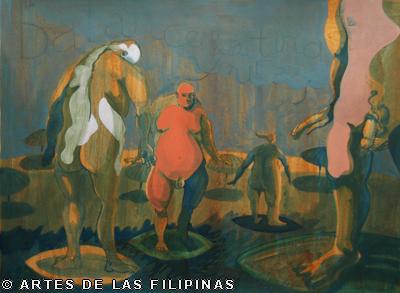 Balance and Acting Your Age(2008)
What goes into your mind when you know that a certain profile of collector follows and owns your works? Do you think they have tastes? Do you think they are intelligent people?

Degustibus non est disputandum. Taste is inarguable but I believe they are intelligent people.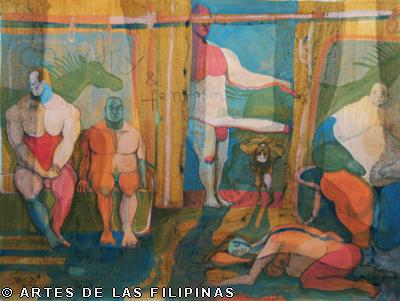 Chivalry and Feminisn (2008)
What has been the best compliment said about you or your work?

"His work doesn't belong in this country."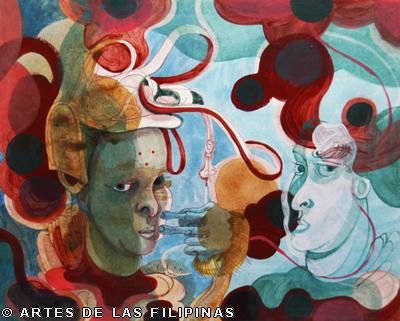 The Negative (2008)
That remark may also be read as an insult, don't you think?

I'm obviously an optimist.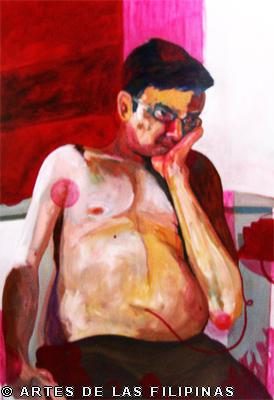 The Planet(2008)

But what have you been criticized of?

Currently, I heard stagnation and repetitiveness.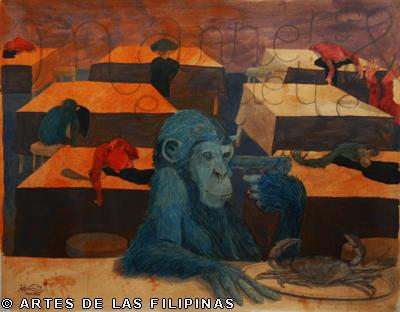 Manners and Etiquette (2008)
How do you handle comments like that? Do you mind? Do you ignore it? Do you work on it?

I try not to worry about it but I definitely assess it. If it does require action to a certain degree, I work on it. But I don't push myself too far as to lose my identity or who I perceive myself to end up as in the long run.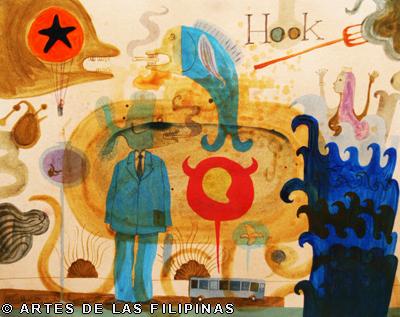 The Cluttered Brain (2008)

Which among the art critics would you want your works reviewed?

I'm open to anyone of any caliber.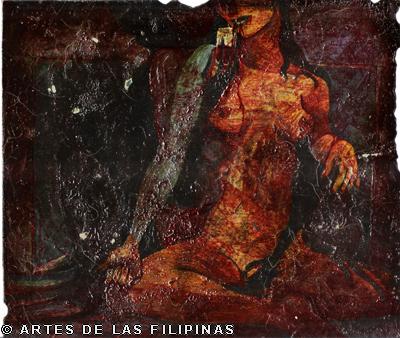 Chupacabra (2008)

Have you been involved in an issue in the past? If yes, how did you manage to redeem yourself?

Once or twice, if my memory serves me right. I really try not to burn bridges but if they push the wrong button, I consider our relationship as null and void and I dare not talk about it or them again. I will always say nice things that I recall of them to others.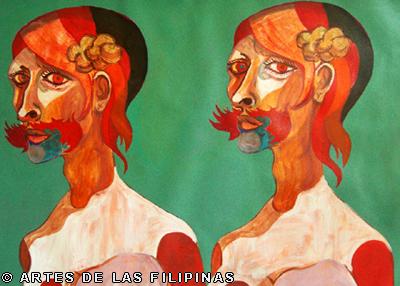 Remora (2008)

Tell me about your younger years. Where were you schooled?

In the Ateneo till first year high school and then I finished in JASMS. I constantly bugged Ben-Hur Villanueva in grade school in his art class seeking approval or asking for advanced techniques or what to read. I still visit the guy whenever I'm in Baguio to say hello and show him my works. In high school, Allan Cosio taught us in art class.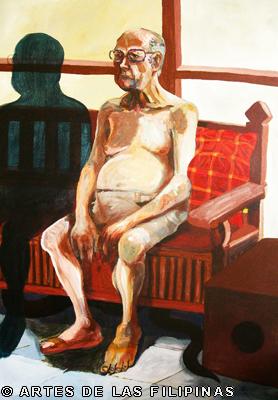 The Migration of Thought (2008)
You do not have a Filipino surname. Where are the Moss from? What do your parents do?

My great grandfather is from Scotland, hence, the surname Moss. My father is a copy editor and my mother is in insurance.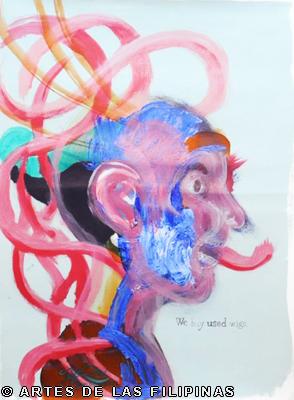 Doctor Wigwam's Wig (2009)

Are you the only artist in your family?

I believe I am.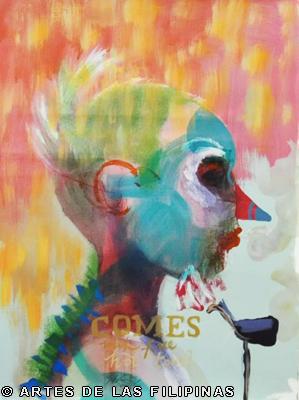 Client Fireman (2009)

How were you introduced to art when you were growing up?

My Dad had a lot of Malangs, Kiukoks and Emilio Aguilar Cruz around the house. According to my parents, I started to draw at the age of three when they handed me crayons. My parents didn't tell me what to do nor did I put it in my mouth. I started to draw instinctively.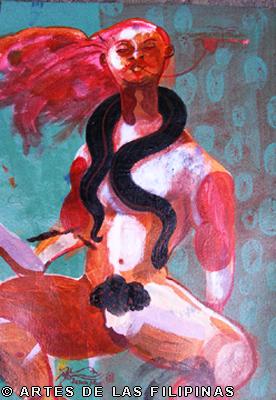 Adam is Eve (2009)

Is there anything about your childhood that showed an early interest in art?

I made a lot of drawings growing up. I gave cards to our neighbors thanking them for the cookies they gave us. I also did puppets, sculpting clay and I kept asking how those paintings up the wall were done.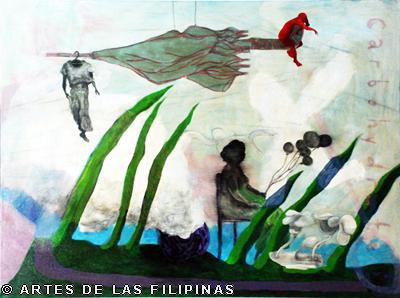 The Game of the Labyrinthian Mind (2010)

Who are some of the people who have influenced you in your development as an artist?

Malang is my Dad's barkada as well as my Ninong Johnny Gatbonton. Malang would let me sit beside him and watch him paint. My Ninong Johnny would let me leaf over his collection of art books in his house. My Dad bought me art books and my Mom bought me materials that I request.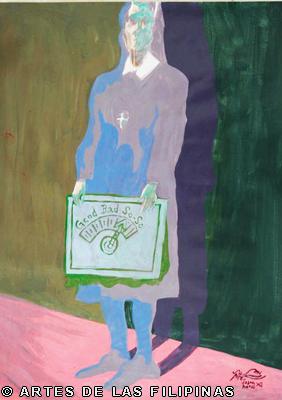 So So What (2011)

Do you employ coded imagery in your works?

Yes I do.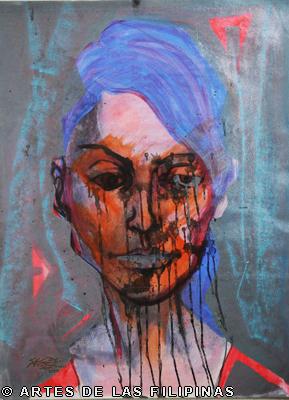 Blessed Lady of Kerosene (2010)
If you are to describe your work to someone, what would you tell this person?

Did my work make you laugh?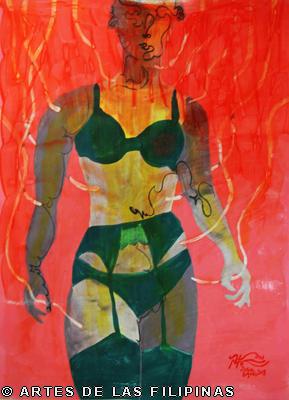 The Working Dead- (2011)
What are your other interests that not many people know about?

I'm a good cook. I love water sports. I acted once in a while in Indie films but just small roles.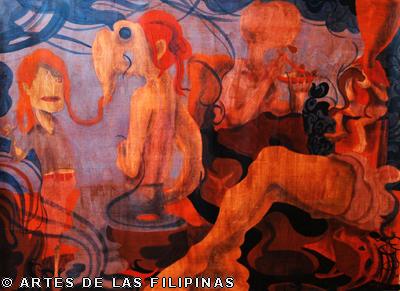 The Mutants (2011)
What do you believe in as an artist?

I constantly learn to see the relationship you have with your art.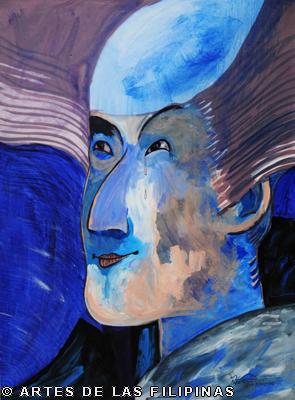 Nowhere Land Victim (2011)
What are some of the standards and ethics you abide as an artist?

First, it is logically possible for a thought to materialize before it's time, so draw everyday. Second, persecuting and denouncing art is first done by their artists, not his/her critics. Flow then edit later. Third, know your fundamentals. Master your draftsmanship. Fourth, do not comment on something you are not familiar with. Study it first. Fifth, create and keep your wealth of philosophical subtleties. Never share your secrets. Sixth, neither intricacy or simplicity is sufficient in itself. Arrive at putting down your brush when you think it's enough. Seventh, relinquish the deficient. There must be something more to an idea on what you left behind. Eighth, keep your studio clean, simple, and organized. Lastly, be respectful of other people's work.

What You Leave The Earth With (2011)