Purveyor of Knowledge and Emerging Publisher of Content and Visually Driven Books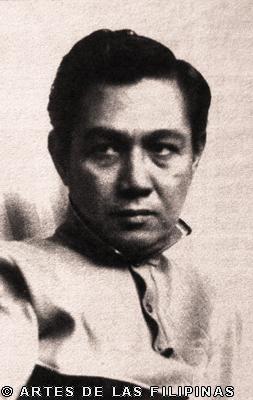 Saulog in his mid-40s
Seeing through the canvas
of Simon Saulog
by: Angelo J. Aguinaldo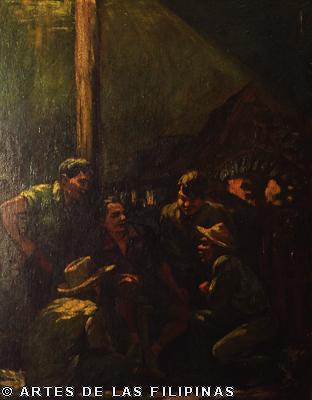 Conspiracy (1943)
UP Vargas Museum and Filipiniana Center

June 2011-- I first met Simon Saulog in 1983. I was then a young misfit college student who wanted to become a visual artist. At that time, I thought I have given up on my dream until I met Simon Saulog who rekindled my passion.
Initially, my plan was to train formally but Saulog scoffed at the idea and suggested that I attend art workshops instead since he had an opinion that attending school is a waste of time and money. For a while, this confused me as he sounded bitter but soon I realized that he made some sense. For a man of innate talent, school might have bored him.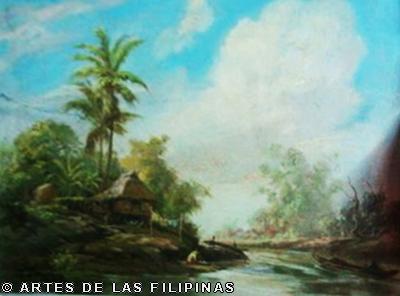 Riverscape (1969)
Alex Castro Art Collection

Back in his hometown in Imus, Cavite, Simon Saulog chose to adopt a group of hobbyists that included myself and he went on to regularly tutor us. This informal school later adopted a structured module with lessons on freehand drawing, pencil drawing, color rendering, portraits, landscape, still life done in various media. Our group, which later became a socio-civic club called Malayang Sining, was fortunate because we had the opportunity to closely work with Saulog and learn directly from him. The ideas we have learned were simply out of the box since we frequented galleries that ceased to exist now and interacted with Saulog's former acquaintances and patrons.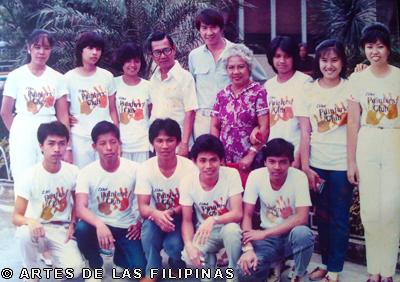 Painter's Club in 1983

Naturally, we developed certain closeness with Saulog and soon called him Tata Simon, an expression of respect to elders among barrio folks. Since I was the writer in the group, I was requested to write about him.
All I was tasked to do was to write a biographical essay which was later published in CD format in 2003 but if I were to do a screenplay, I would have to start with my feet descending an old mixed bamboo and wood slab staircase then landing on a small balkonahe.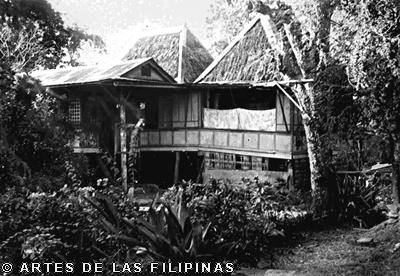 The Birth House of Simon Saulog in Imus, Cavite

I entered a spacious and old-looking sala of bamboo flooring with the scent of oil paint and turpentine, very much like strong lemon rind. Prominent in the room was three long fluorescent lamps dangling over an improvised black worn out easel that carried an unfinished portrait of a man in barong tagalong. That was the only lighting fixture beneath the thatched roof. Imagine my surprise to see Saulog's abode. As a young writer, I felt a sense of loneliness. There is a real story here, I surmised.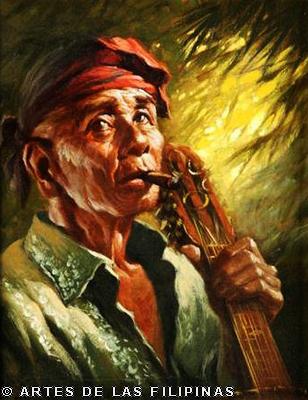 Untitled (1950)
Wuth Franz Jerusalem Art Collection

Intrigued by him, I became a frequent visitor of Tata Simon. I would always seat on his narra sedan chair as I casually asked details of his life in the city and later in the barrio. His naughty grin and thick glasses often distracted me and his revelations were often humorous, heart-warming and emotional.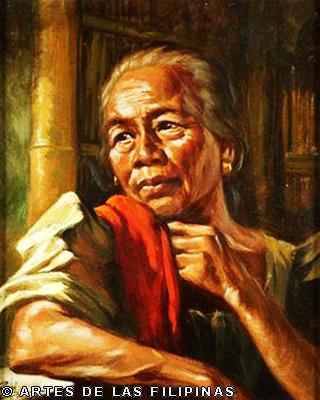 Old Woman (1952)
Wuth Franz Jerusalem Art Collection
He was hyper when he recalled the pre-war Philippine art especially the "battle royale" between the Modernists and the Conservatives and his alleged involvement with the Huks and the NPAs. He was funny when he talked about his contemporaries at the UP College of Fine Arts especially Julian Jumalon, the state of government and politics of his time. I felt I was caught in a time warp. Listening to him was leafing through the pages of a journal turning yellow.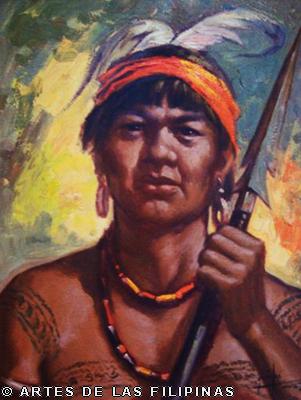 Untitled
Alex Castro Art Collection
The tales of a successful artist turn almost pauper-like to his alleged womanizing since he frequently extended financial help to models who would sit for him which caused much displeasure to his wife.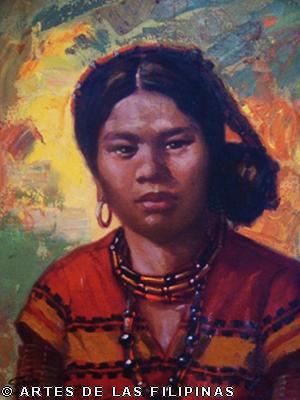 Untitled
Alex Castro Art Collection

And like any famous artists, Simon Saulog both had his own glorious past and beginnings. Mentored by Filipino masters, Fernando Amorsolo and Fabian de la Rosa, Simon Saulog was a popular student at the old UP College of Fine Arts (1934-36). He was a perennial winner in various Art Association of the Philippines (AAP) contest and even competed upon the prodding of Fernando Armosolo. The latter asked him to do so in memory of Pablo Amorsolo who died during World War II.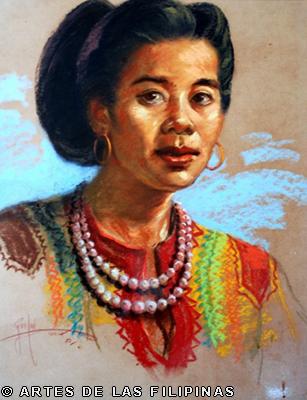 Woman with Pearl Necklace (1950)
Victor Velasco Art Collection

I shall not deal further with the details of his winning streak accounts. Instead, I would like to share my personal rediscovery of the various masterpieces which Tata Simon mentioned to me a few years back before he bade this earthly world in 1995.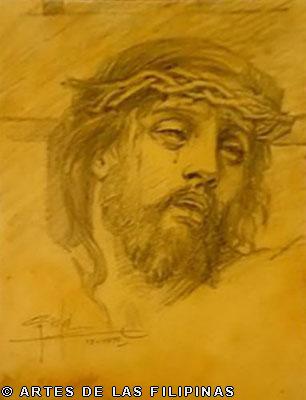 Jesus in Agong (Stations of the Cross)
Makati Medical Center
There are fourteen sketches of Jesus Christ's in agony. The sketches have been hanging for almost thirty years at the chapel of the Makati Medical Center. I noticed the familiar pencil strokes when I frequently sought refuge at the chapel and played caregiver to my 84-year-old mother in January 2008. Jackpot! I told myself when I moved my face a few inches closer to one of his sketches. The graceful signature Saulog is authentic! I recalled how Saulog used to talk with fondness about Dr. Fores, the frontrunner of the Makati Medical Center. A close family friend of Tata Simon even told me that three of the sketches were lost and Tata Simon graciously replaced them with new ones in the 1980s.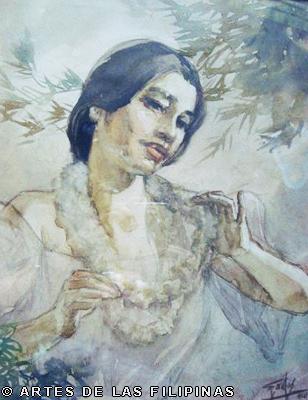 Watercolor Study of A Woman
Alex Castro Art Collection

Then in the same hospital, I had the chance of meeting Makati Medical Center President and Medical Director, Dr. Raul Fores, whose name Saulog used to mention. The meeting was arranged by my former classmate in elementary and Dr. Gabby Gabriel, the Program Director of the Emergency Medicine Residency Training Program of the Makati Medical Center. Dr. Fores owns a Simon Saulog painting which the latter had cleaned several times.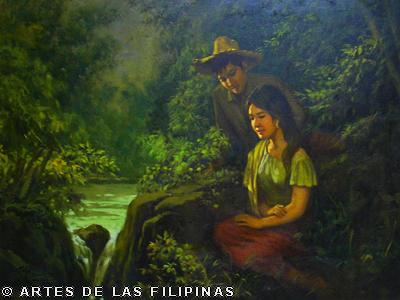 Tipanan (1970)
The painting, "Tipanan," literally means meeting place, was a gift from the Enriqueta A. Castañeda family to Dr. Fores. The Castañeda family had strong ties with Simon Saulog as evidenced by the myriad Saulog paintings among its family members.
Simon Saulog painted "Tipanan" in 1970. It was done at a time when the Conservative School suffered a sharp decline as modernism started to emerge. It was also a time when the art circle saw the rise of the non-representational genre as the most acceptable form of painting. Moreover, it was at that time when Simon Saulog left the asphalt jungle to stay away from the intrigues of Manila's art circle and put up an art shop in his hometown in Imus.
"Tipanan" is a story of love, security and beauty of life. It is an anecdotal painting that revolves around a narrative that Simon Saulog romanticized through the dramatic pose of the lovers. Similar to this work is "Love and Labor" owned by the family of the late Capt. Asisclo Castañeda.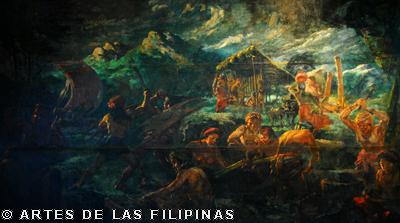 Our Malayan Heritage
Far Eastern University Collection
Then there were two murals, "The Origin of Polo" and "Modern Polo" done in 1949 and are displayed at the Manila Polo Club. I went to check if they are still intact while attending a meeting. In the same meeting, I learned from Martin Lopez of FEU that Simon Saulog's "Our Malayan Heritage" a mural commissioned by the FEU Board has been restored and is in the collection of the Far Eastern University in Manila.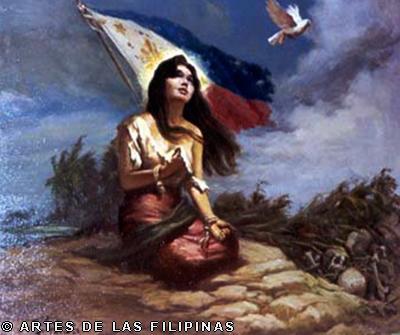 Filipino Woman with Flag and Dove
Richard Villanueva Art Collection

These murals though reminiscent of the Amorsolo School, convey an impressive style from a once glorious period and genre which was sadly affected by the monicker "Calendar Artists," a term coined by the Modernist for the likes of artists such as Simon Saulog.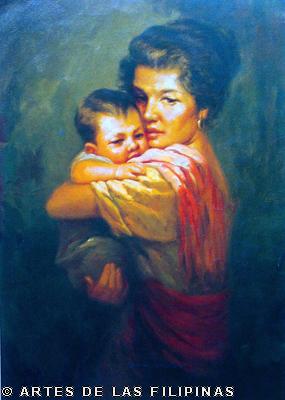 Madonna and Child
Juanito Castañeda Art Collection

To this date, Simon Saulog is known as the master of the Filipino Madonnas, a theme which he painted in the 1950s. The Mother and Child theme fascinated Saulog so much that it seemed to have dominated his output. A classic example is the Filipino Madonna which belongs to the family of the late Juanito Castañeda and another painting owned by Dr. Dennis Mauricio, a New York-based gynecologist-obstetrician.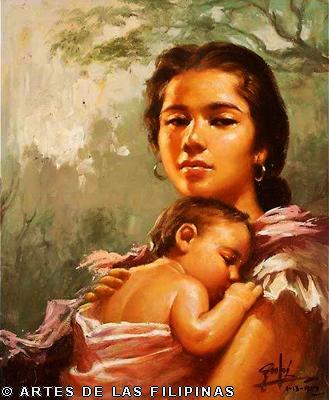 Madonna and Child
Dennis Mauricio Art Collection
Writers and critics often relate that Simon Saulog was at his best when he paints Madonnas. According to Saulog, it was the women of his barrio Malagasang in Imus, Cavite that inspired him to venture into such theme. His models are his next door neighbors and relatives with babies. As such, his Madonnas are always set in the ambience of the barrio and it is this style that set him apart from the works of his contemporaries.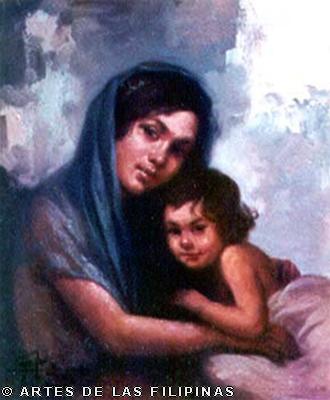 Madonna and Child
Richard Villanueva Art Collection

This is just a fraction of the humanity and the greatness there is in Simon Saulog. In revisiting Simon Saulog, I have seen through his canvases the stories in them.
Angelo J. Aguinaldo works as a Shrine Curator for the National Historical Commission of the Philippines. He is a student of Simon Saulog and a multimedia artist.