Purveyor of Knowledge and Emerging Publisher of Content and Visually Driven Books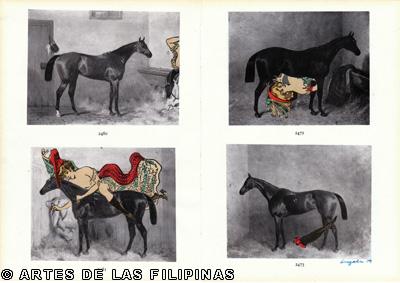 Bordello de Luxe

DINA GADIA'S ASSEMBLING COLLAGE
OF CONTEMPORARY ART
by: Christiane L. de la Paz

July 2011-- Collage has a short and distinguished history and was firmly established as an art form of novelty in the 1920s and 1930s. Today, the popularity of collage is on the rise again and a new generation of young artists such as Dina Gadia is rediscovering the practice by combining different materials charmingly by hand to isolate and expose choice images and to obtain new effects. A painter and a collage artist, Dina Gadia entered the art scene in 2006 by participating in group exhibitions with other artists of her generation. Her early works are influenced by Pop, Surrealism and Imagism and referenced diverse sources such as advertisements, history, science, fine arts, cinema (B-movie posters in particular), comics, accessories of everyday life and the new globalized pop culture. In this July interview, Dina Gadia introduces herself and her works and points out how time and the element of excitement holds up a mirror to our times.

Tell me about you.

I was born October 28, 1986 in Anda, Pangasinan. I grew up with my aunt. I was with her family since I was two years old. I studied at Lucap Elementary School and Colegio San Jose de Alaminos in high school.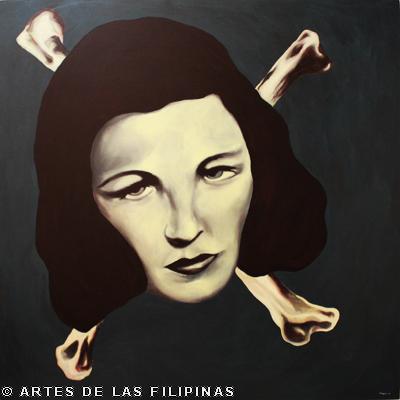 Beware of the Look that Kills (2009)

Do you have siblings?

Yes. I'm the first-born. I'm the only artist in our family and even among our relatives.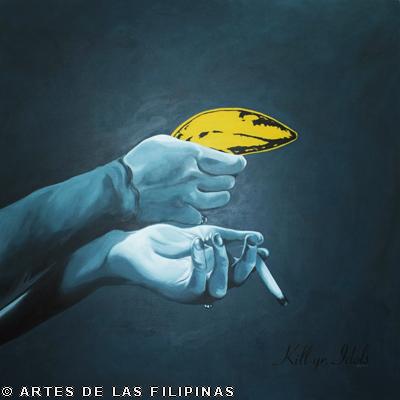 Kill Your Idols (2009)

How were you introduced to art when you were growing up?

I was fascinated with all the Disney and Looney Tunes and cute kitten notebook covers of my cousins and the comics that I often borrow from our neighbors. I wanted to make one of those so I grabbed a pencil and paper and started drawing Donald Duck, Bugs Bunny, Sylvester, etc. and all those cats. Of course there's this usual drawings of plants, flowers, trees and fields.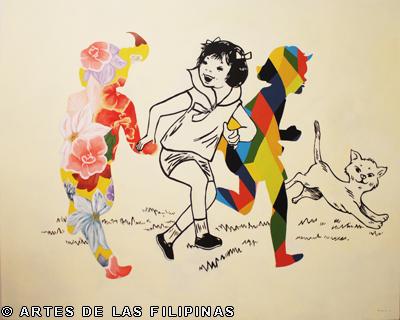 Most Girls (2009)

Who are some of the people who have influenced you in your development as an artist?

My boyfriend Allan Balisi, Tatong Torres, Cos Zicarelli, Mark Salvatus and Wesley Valenzuela.

Vulgar Display of Power (2009)

Which local and foreign painters had an influence on your art?

Jayson Oliveria and RM de Leon. For foreign, Henry Darger, Winston Smith, Norman Saunders, Neo Rauch and Kippenberger.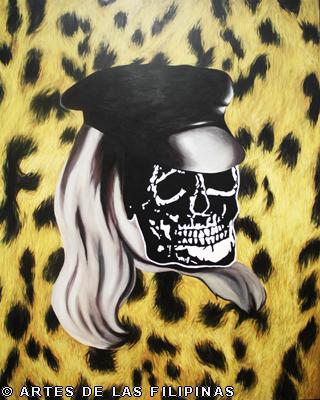 Rip Off Horror (2009)

Whose style are you drawn to during your student years?

In college, I really like the works of RM de Leon, Santi Bose, Marlene Dumas, Barbara Krueger, Winston Smith, Nicola Wood, Marcel Dzama and The Clayton Brothers.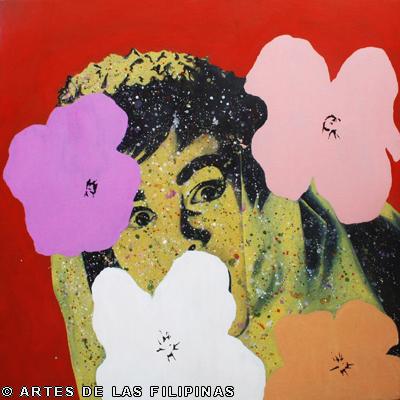 A Cry of Terror, A Honeymoon Scream I (2009)

As a student, were you aware of how the professional art system worked?

Not really. At first, I thought that to be able to show your works in a gallery, you have to like rent or pay for the space, although there are still art spaces out there for rent.

A Fear To Remember (2009)

Do you read a lot of books?

Most of my books are coffee-tables and art books. I have a few Yoshihiro Tatsumi, Chris Ware, Daniel Clowes, Seth and Charles Burns graphic novels and comics.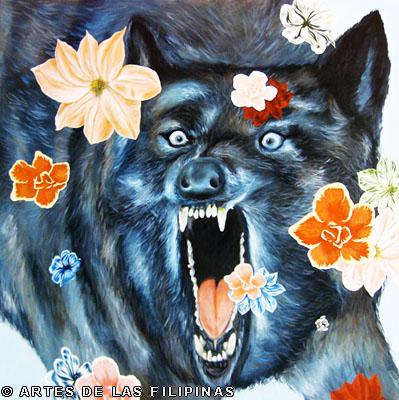 All Outta Angst (2009)

Have you traveled? What is the museum that made an impression on you?

I haven't stepped on a plane yet. (laughs) And I've only seen Louvre and MOMA online!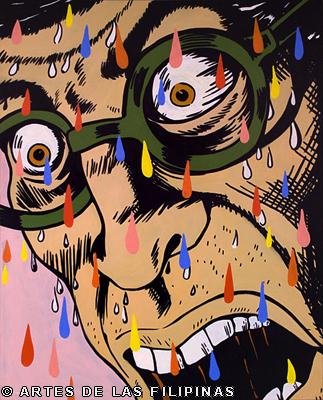 Myth of the Mainstream
What was your first job after graduating from the Far Eastern University in 2006?

I was working in publishing. I make art during free time and attend exhibits. I also participated in several group shows. In publishing, I do layouts for magazine and newspaper, do illustrations for the Sunday "kiddy" section of the paper and make infographics for some of the articles. This was from March 2006 until mid of 2007.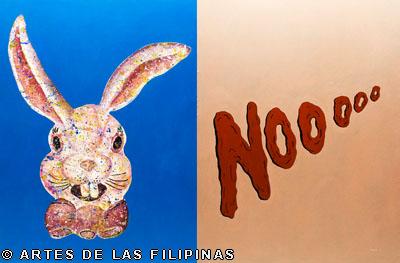 Don't Worry I'll Make You Another Rabbit (2009)
Was Fine Arts your first course?

It was Architecture but our school has this Office of the General Education Curriculum wherein the subjects in our first year are all minor ones. I didn't realize that there was a lot of Math subject in architecture. I chickened-out and shifted to Fine Arts the next year. I majored in Advertising.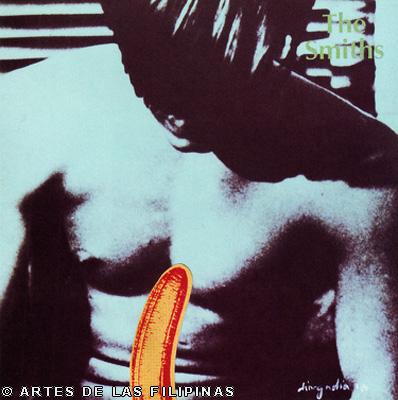 This Charming Man (2010)

Why Advertising?

I realized that I wanted to work in some big shot advertising agency and create ad campaigns, make commercials and print ads and stuff but I ended up working in publishing.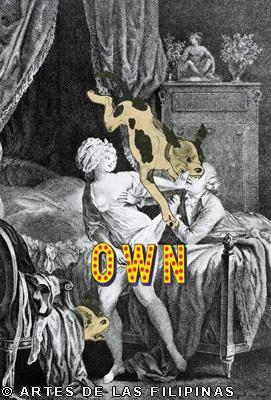 Domesticated Violence Go (2010)

Who are some of your professors in college?

Prof. Robert Kho, Marcial Pontillas, Dom Briones.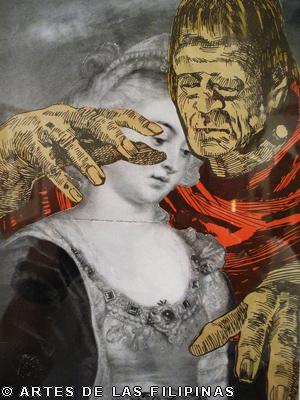 Frankenstein Remix (2010)
How different was the training you received in FEU as compared to other universities offering fine arts degree?

I find some of the classes boring and uninteresting but it's just me. I can see that some of my classmates enjoyed painting "sweaty" bottles of beverage for a Layout subject during those times. The school library's selection of art book was great though. Some of my friends and I always check out these books that led us to Martin Creed, Barbara Krueger, Damien Hirst, Jean Basquiat and other modern and contemporary artists. Sometimes when it's time for another boring class, we just hang out and play tong-its or watch movies.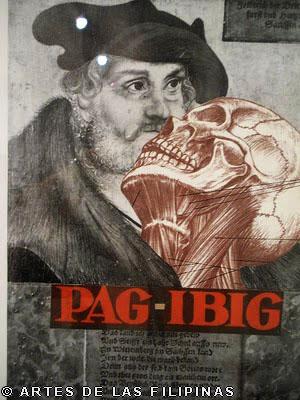 Awesome Gruesome (2010)

Who are some of the artists in FEU that you know of?

Allan Balisi, Don Dalmacio, Jigger Cruz, Mervin Pimentel, Dexter Sy, Bjorn Calleja, Kat Medina, Kirby Roxas, among others.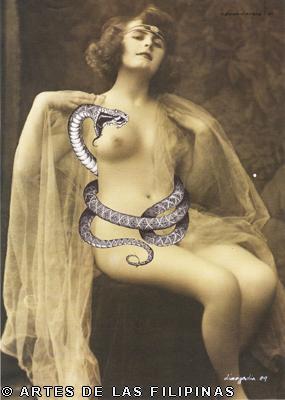 Cobra Sepia (2010)

After graduating, what was the first job that you applied for?

I worked as a graphic artist in Manila Bulletin for a year.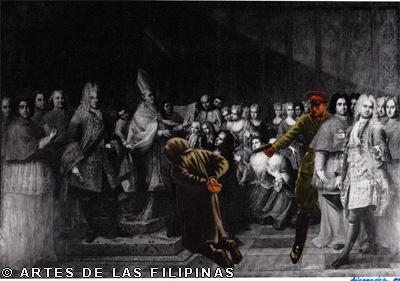 Radical Adults Kill Godhead Style (2010)
After this stint, did you have another job?

Another two years as a graphic designer for Bella Luce Publications.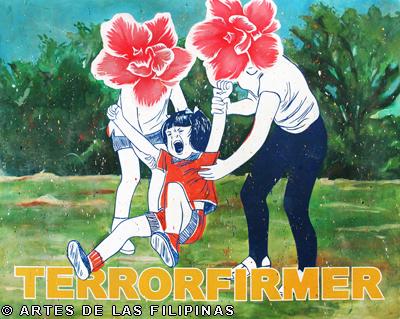 The Big Chameleon Moment (2010)

Tell me about your first exhibit.

The first ever exhibit that I joined is a group show organized by my classmates in 2003. It was held in some bar. It was funny because there was an ongoing show on the first floor of the place while on the second floor, they were playing all this disco tunes and people were dancing. It sucks big time! (laughs) My first solo show was in 2009.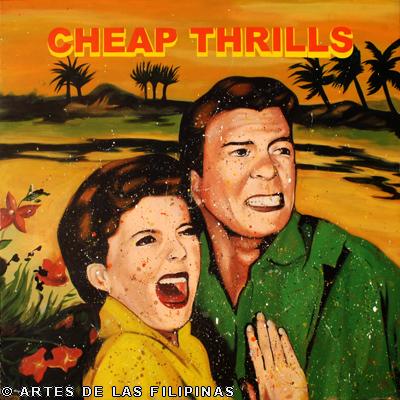 Golden Adventures and Foul Horror (2010)
From the time that you began participating in group shows, how many works have you produced so far?

I made a lot of small paper works mostly 4"x5"s.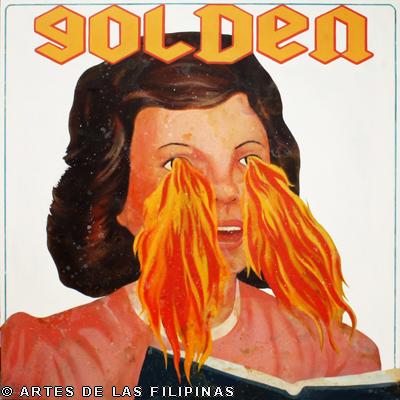 Self-Destruction (2010)

How many days do you finish one work?
Sometimes, I work after lunch until 4am, sometimes from 10am 'til midnight. I make collage and painting so they differ.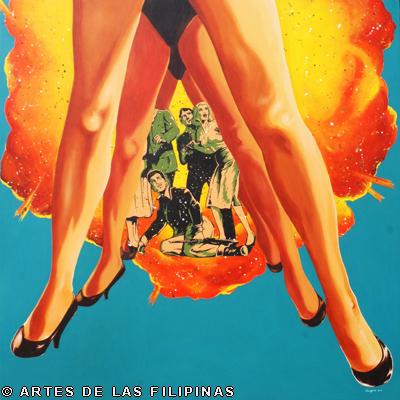 Dynamite Cliché (2010)
Are you the type to have studies before you execute them in a canvas?

I have studies for my paintings but in making collages, it's spontaneous.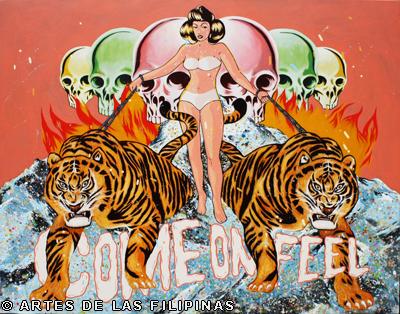 Walk Among Us (2010)
Do you have your own studio or do you work at home?

I share an apartment with Allan. There's a lot of useless stuff here and there, thrift-shop finds, toys and action figures and a lot of boxes.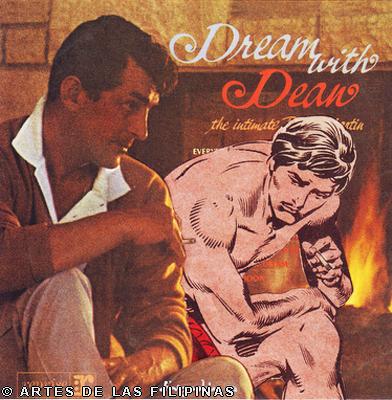 Dream With Dean (2010)
What was the first gallery that carried your works?

Hiraya Gallery.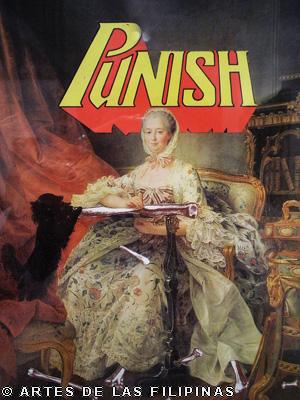 Mother Love Bones (2010)
How did Hiraya Gallery find you?

Artist and friend Tatong Recheta-Torres invited me to join in a group show that Hiraya was organizing in 2008. We had a meeting for the exhibit and at the same time, Ms. Didi Dee, the gallery director, wanted to see the portfolio of the participants whom she's not familiar with. And that includes me. She didn't really like the works that I showed but she said some nice things. She still had me join the show and eventually invited me to have a solo show in her gallery.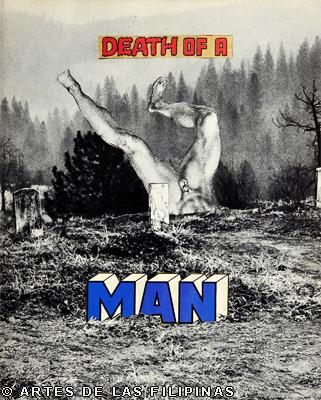 Yr. Man Just Flesh (2010)

What other galleries have you exhibited?
Blanc, SLab, West Gallery, CCP among others.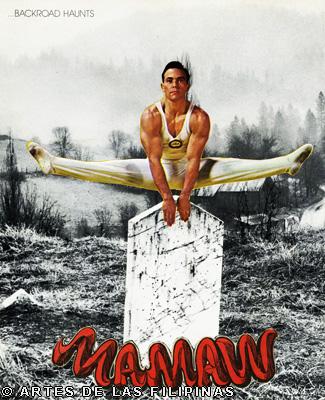 Mamaw (2010)
As someone new in the art circle, how do you try to be unconventional?

I'm not trying to be different, but at the same time, I try to stay away from the conventional. My inspirations are old movie posters, pulp illustrations, comics, old textbook illustrations, album covers, etc.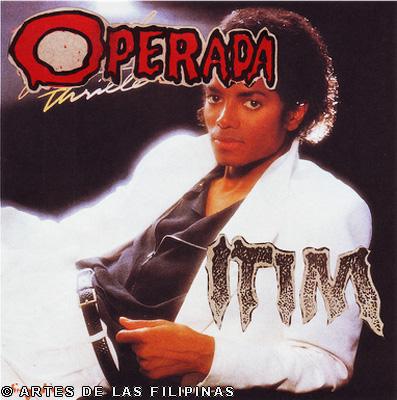 Thriller (2010)

When you are in the process of working, who exactly is the viewer you have in mind?

Myself.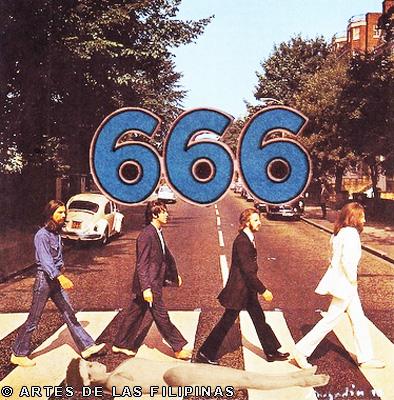 Kamandag (2010)

Who handles the business side of your profession?

The galleries where I get to show my works.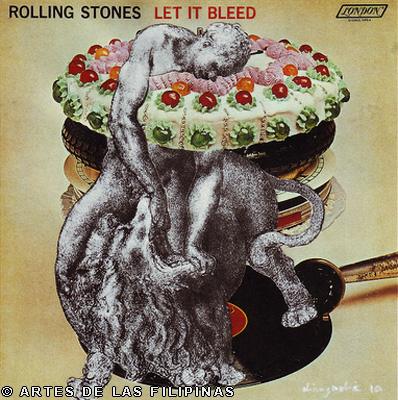 Let it Bleed (2010)

Do you have an idea of the profile of collectors who buy your works?

Some are artists, doctors, bankers, designers. I met a few of them.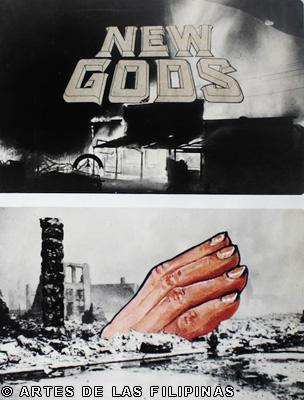 Must Be Destroyed (2010)
Is there any other collector who you wished would own your paintings?

Charles Saatchi. (laughs)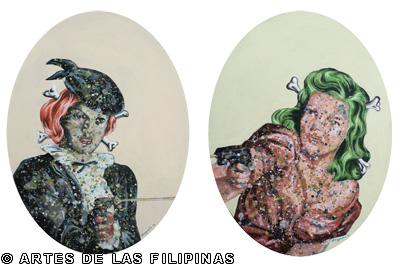 Wig Murders (2010)

Pop art has been your imagery. How did this decision come about?
I was first amazed with Winston Smith's collage for an album cover and that influenced me in making collage. Looking back, I think the lack of things to see during my growing years has been the factor why I love borrowing and lifting images from various sources. There's so much beauty in all these album covers, pulp and pin-up illustrations, old and B movie posters, old textbook illustrations and even those hand-drawn signage we see in the streets.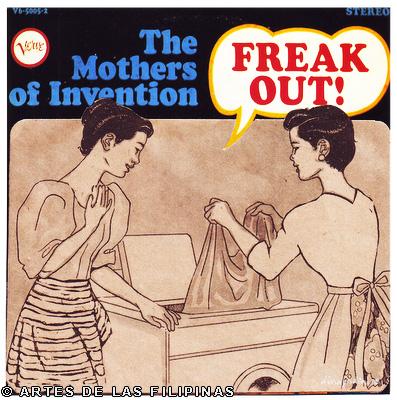 The Mothers of Laveation (2010)

If most of your images are magazine cut-outs, what is the maximum size of your work?
Mostly 8"x10"s or close to that. The availability of materials I use limits the size. But of course, big sizes of collage can be produced out of these magazines or books or whatever printed material. It's just that it does not apply to how I make collage for now.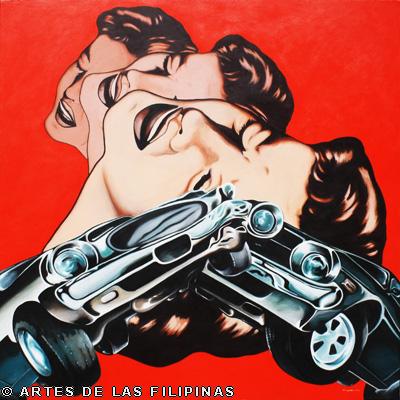 Where The Action Is Hotter (2010)

Tell me about your collage.
My collage is the result of images that went on a speed-date that got married with my consent.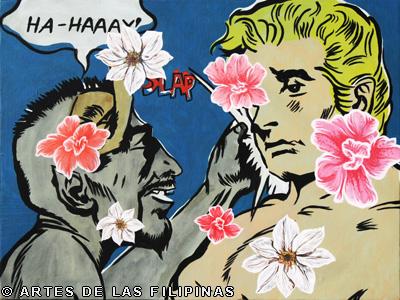 Love Lucifer (2010)

How do you react if viewers say your work is a Roy Lichtenstein inspired?

I'll say "Thank you!" They might recall him because I have works that I based and lifted images from comics. I have a painting that is inspired from one of his work. But some of my works especially my collages are far from Lichtenstein.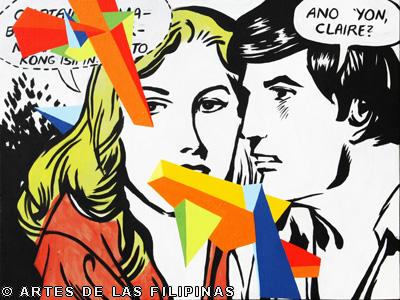 Confusion is Next (2010)

Since the time you began making art, has your style change or has it remain the same?
I have paintings before that looked like African sculptures. Some were cartoony robots.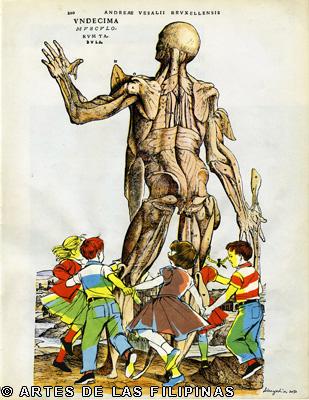 Idol in Action (2010)

What has been the best compliment said about you or your work?

Some say my work is absurd, amusing, funny and playful.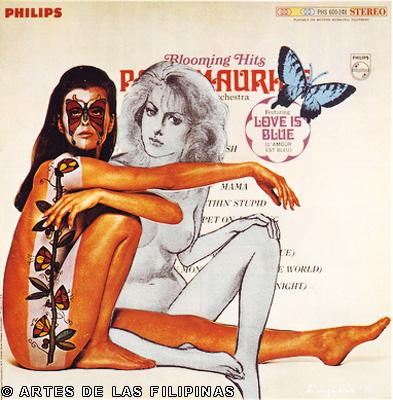 Blooming Hits (2010)

And what have you been criticized of?

I don't know. (laughs)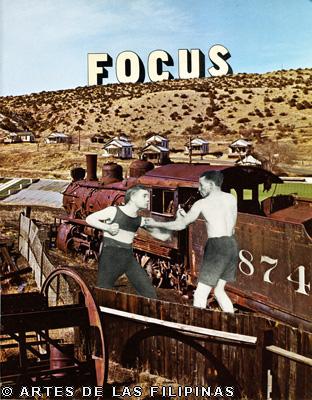 Dazzling Display of Talent (2010)
Do you think your art has a place in the contemporary art scene?

For now, I'm just doing what I want to do and not think of those things because in all honesty, I'm just starting out as an artist.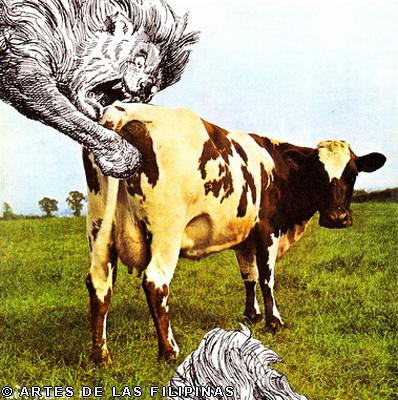 Allan's Psychedelic Breakfast (2010)