Purveyor of Knowledge and Emerging Publisher of Content and Visually Driven Books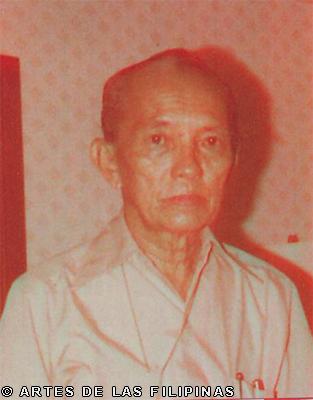 Antonio Dumlao at age 65

Antonio G. Dumlao: The Forgotten Great
by: Christiane L. de la Paz

December 2011--In the not so distant past, Antonio Gonzales Dumlao was a big name in Philippine art. He was a contemporary of Fernando Amorsolo and Vicente Manansala who began his career during the late the 1930s painting landscapes and figures while maintaining a job in an advertising company and engraving firm. Although he was self-taught, he had the guts and technical dexterity to produce large figurative works that were remarkable and brought insight into his own legacy and life. In this December interview, Marinela Dumlao-Currie, Antonio Dumlao's daughter and a primary and secondary tutor in Sydney, Australia, sets the history of her father and discusses at length about what her father was in life and his works with the hope that the memory of his name returns to the consciousness of the Filipino art-loving public and reproposes his relevance in contemporary time.

You are doing a book on your father, Antonio Dumlao. Tell us some details about your own research and why the family has decided to have a book made on Dumlao.

My father was a generous person when it came to sharing his inborn talent. In fact, he gave some of his artworks to friends. As long as he knew his paintings were valued, kept and appreciated, he was happy seeing them on display in the family homes.I was the one who initiated publishing a book about Papa. Yes, there has never been a book about him since. He was an extremely good father and provider to his children. There have been hundreds of articles about him and his arts but never a book! Obviously, he was not too keen on publicity. All his life what he always did was to paint, sketch, draw, sculpt and deal with his art patrons. His works were advertised and sold by word of mouth by his friends and the circle of the elite.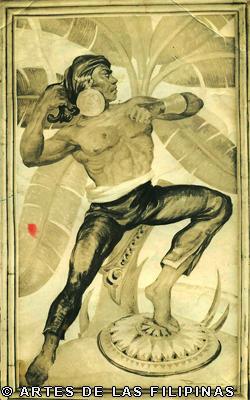 Tell us the methodology you employed in gathering materials for this book.

I have been emailing different art galleries in Manila and the USA where there are art collectors who may still have his works. He used to say: "Gold is gold. No matter how deep, hidden and buried in the grounds, gold lovers will do anything to find it." Unfortunately, only the Filipino elites can afford to buy these valuable stones. I still have had that strong urge in me to incorporate into a book his works, his deeds, his moral teachings and his contributions to society.

I have been in constant communication with my sister, Ameng and Beboy, our youngest brother. They shared with me anecdotes about our father which I missed out because I stayed in Italy for a year as a scholar.

My daughter suggested that I started with available files and the paintings I inherited. Organization of these began in 2009 but the plan began in 2006. I also need to gather comments of professional artists here in Australia as well as Manila.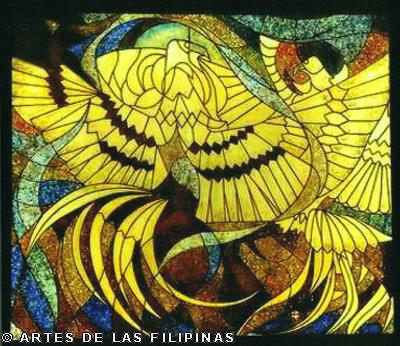 Sarimanok Stained Glass at the Far Eastern University

What will the readers expect from your upcoming book on Antonio Dumlao? Are we to see undocumented paintings from the family collection?

I am confident that the art patrons from home and abroad would like to see and read the mixture of thoughts, ideas, sentiments and feelings expressed in Papa's creations and the stories he shared with his family.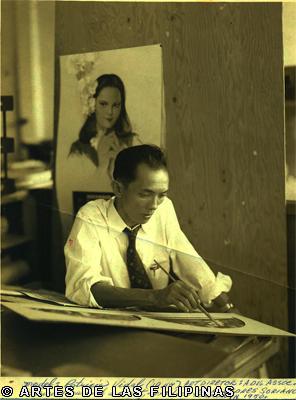 Antonio Dumlao working as an Advertising Associate
at Jean Bisson Advertising Company

Your father began his career during the 1930s, when he was in his mid-twenties, what do you remember of his early works during this period?

I was born in 1948. I can only rely on the files I have of him. He worked for Jean Bisson advertising Company and Antonio Garcia Engraving firm in 1935. From 1934 to 1935 he won various awards for best landscapes and best figures. One of the best was Ina ng Lahi, painted in 1952 bought by Don Andres Soriano; Urduja, which won third prize at the Art Association of the Philippines in 1954 was sold to Mrs. Gloria Villanueva, a top journalist during her time. This painting was bought by the Pangasinan governor this June 2010. Benguet Lily was a second prize winner at the Filipiniana category sponsored by the UST Art Competition in 1934. Defense of Tirad Pass got first honorable mention in 1941; Sultana was awarded best female figure at the Art Association of the Philippines and Balut Island was best landscape at the Art Association of the Philippines in 1952.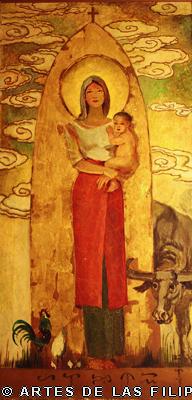 Ina ng lahi
UP Vargas Museum and Filipiniana Collection

Is the Ina ng Lahi purchased by Don Andres Soriano the same painting in the Vargas Museum collection? Is it intended as a series?
There were two paintings of the Ina ng Lahi created by my father. The first and original was bought by Don Andres Soriano. The Cancio Associates of Interior Design owned the second one.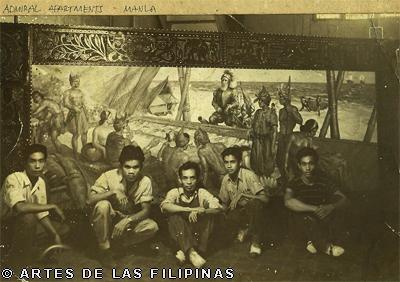 Aside from the winning works done for competition, what does Antonio Dumlao paint for the buying public?

A photo of the Ina ng Lahi was made into a calendar by Don Andres Soriano for the public to afford and own, at least, one of Dumlao's creations. My Papa also managed a frame shop and catered to art lovers from all walks of life by selling beautifully chiselled and engraved frames for their paintings of different Filipino artists. He also continuously offered some of his paintings free to those who could not afford his price.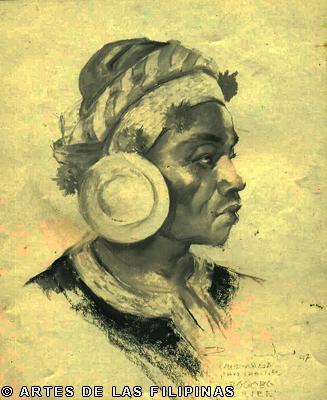 What is the style that Antonio Dumlao is known for?
This June 2011, an art journalist labelled him a figurativist while art patrons, in general, considered him a muralist, a portrait canvas artist, a sculptor and a stained glass innovator. Another journalist, the late Mr. Eric Giron, wrote an article about Papa's stained glass works while he was busy with the mosque in Quiapo just before the arrival of Khadaffi.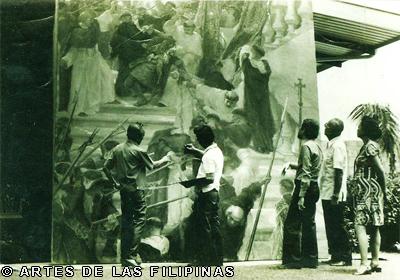 During the 1940s, Antonio Dumlao began receiving mural commissions. Did your father employ assistants or was he doing murals by himself?
My father did all the murals by himself with assistants who helped him clean his brushes and palettes. He did a brass mural which was designed by him and implemented by Mang Sancho and his assistants by clanging and puncturing the brass. It was hard work done for Philippine Air Lines in 1958. Then another mural for the World's Fair in New York was solely drawn, sketched and painted by him.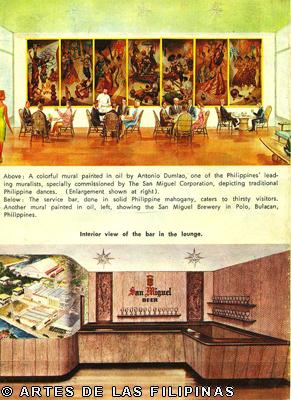 Antonio Dumlao's Philippine Dances, San Miguel Corporation

Don Andres Soriano was Antonio Dumlao's boss in San Miguel Corporation and was very fond of him. In what way was Andres Soriano integral in the development of Antonio Dumlao's career?
Don Andres Soriano was a fan of my father's artworks. He was employed as an art director of San Miguel for many years. Even when he left the company to go on his own, Soriano still highly recommended him to his circle of friends and companies. Through him he met Manuel Elizalde who then was the owner of Philippine Air Lines in 1955. This was the height of his career. He travelled to many countries; met international art patrons, art directors, presidents of American airlines and honorary consul-generals. His travels and exposures to different cultures highly educated him. My father was well versed in English. In fact, he was one of the Filipino artists who could explain well in English to international art patrons our Philippine arts and history. Some Filipino artists could only paint. They needed interpreters when selling and explaining their works. And so it became easy for Papa to deal with foreigners interested in Filipino arts who readily accepted his abilities.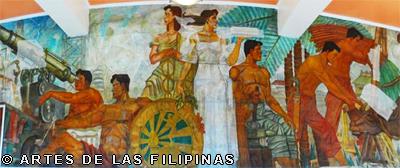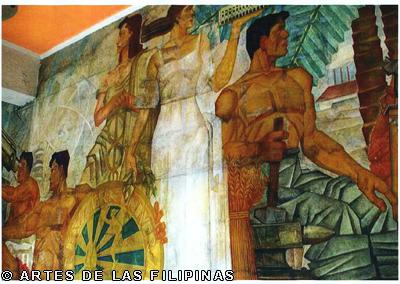 Far Eastern University

Tell us the early life of Antonio Dumlao.
My father was born on April 30, 1912 to Melecio and Jacinta in Calle St., Intramuros where his friendship with Mang Enteng (Vicente Manansala) blossomed. Papa graduated from high school from Manila South High in 1923. I can only remember the interesting stories he shared with us. Normally at dinnertime, his life and works when he was young was his favorite topic. In high school, he said his teacher called his attention while doodling on his paper. When the teacher saw that it was a sketch of her that Papa was doing, she asked him to go on sketching. Papa earned his pocket money by decorating paper fans and selling them in the markets. My father also shared with another childhood friend, Elsa Aenlle, an Italian opera student, his love for classical music. Elsa pursued a degree in Opera at the University of the Philippine. At twenty-seven, Papa married my Mom, Gracia Cervantes, a pianist who was a graduate of the University of the Philippines. My Papa always believed that music and painting are interrelated.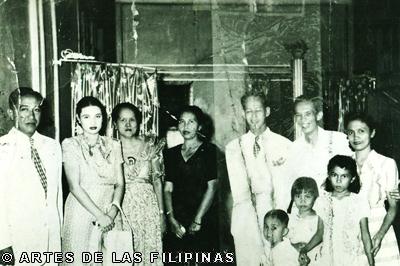 Antonio Dumlao's Family Picture

What about his children? Tell us about you and your other siblings.

My parents had five children namely: Olivia, the eldest who resided in the States for forty-two years; Carmen or Ameng; Boy, an architect and assistant of my father in his projects; myself; and Beboy who worked as payroll clerk for my Papa. Two of my father's children became teachers: Ameng and myself. I have a daughter who work as a manager in a food technology in Sydney.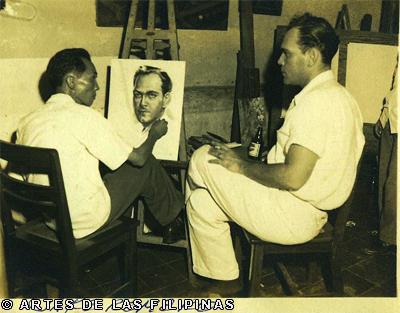 Antonio Dumlao with sitter, Jake Romero

Your father entered the UP School of Fine Arts in 1923 and dropped out the same year. Why do you think did he not continue his education?

Papa quit UP while taking art courses. He was not happy coping with daily routines: getting up at seven in the morning and going home at five in the afternoon was not his thing. He said: "I was not destined to be a military soldier. I want to be free with my time." This was also the reason why he resigned from San Miguel and Assumption College where he taught Basic Drawing. He was always grateful with the blessings Don Soriano gave him. Don Soriano was forever mentioned in his interesting stories.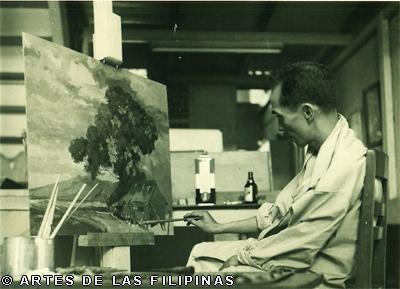 Antonio Dumlao was a student of Teodoro Buenaventura who taught him how to paint landscape. Did Antonio Dumlao study under several other teachers?

Papa never had any formal education in the arts. His travels, his connections with the Filipino elite and international art patrons, his wide readings about the world's best artists: Michelangelo, da Vinci, Bernini, Daly and other Asian artists from China, Japan and the Middle East educated him. He was equally adept in Philippine politics and a good conversant of Philippine art and history as well as Philippine government and corruption. He read and read and read.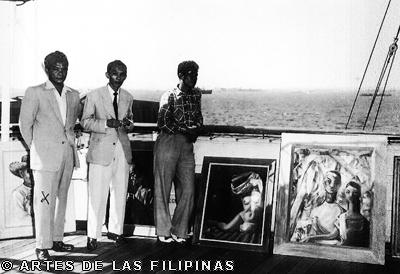 Miguel Galvez and Antonio Dumlao in New York, USA
during the Travelling World Tour-Exhibit in 1955

Some books categorized Antonio Dumlao as a Mabini painter as he was working closely with Miguel Galvez, Isidro Ancheta and Ben Alano. Who are his other contemporaries?

Papa socialized in Mabini in Ermita, Manila when he had some free time. There, he met fellow artists there like Fred Pestano, Gabriel Custudio, Hernando Ocampo, Jose Alcantara, Miguel Galvez and Cesar Amorsolo.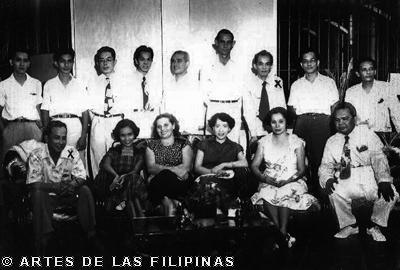 (Front Row with X) Vicente Manansala;
(Back Row with X) Antonio Dumlao

Vicente Manansala was a childhood friend of your father. In what way was their interaction integral in Dumlao'scareer? How do you think your father influenced Vicente Manansala or how do you think Antonio Dumlao influenced Vicente Manansala?
Mang Enteng was a friend of Papa for so many years. They used to play chess after a long discussion of arts in our apartment in Manila. Mang Enteng then continuously became a regular visitor in San Juan where Papa bought a house. He shared funny stories about his travels and Elvis Presley! He had a contagious laughter. All our neighbours heard him laughing and laughed themselves even if they did not know what was going on!! Mang Enteng and my father loved each other as friends. They shared their personal and professional experiences together for so many years. There was a genuine warmth and affection between them. When he heard of Papa's stroke in 1979 he immediately flew to San Juan to see him. Papa was bedridden and speechless. A few months after his visit, Mang Enteng had a heart attack in 1981 and passed away before my father.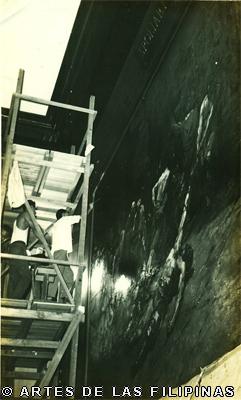 Antonio Dumlao restoring Juan Luna's Spoliarium

He restored Juan Luna's Spoliarium in 1960, how did the project land to your father's lap? What was his training in restoration?

Juan Luna's mural was shipped from Spain to Manila in 1960. I was in Grade 5 then and saw many times Papa and his assistant spending so much time repairing and restoring the great work of art. Carlos Da Silva was the head of the Juan Luna Centennial Commission at that time. He believed my father was highly capable of giving the mural a facelift thus he was offered the position to do the work. Papa never had any formal training in restoration. He did it all by research and technical advice from some restorers.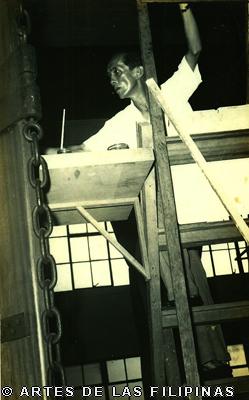 He also designed stained glass and rebuilt church altars, does these works exist today? Why do you think Antonio Dumlao was offered these restoration works and was not awarded to other artists?
His stained glass works are still in Malacañang and the Mosque in Quiapo still exist. He did another mural made of stained glass for Vicente Lopez Jr. in 1978 which the FEU purchased directly from Vicente Lopez, Jr..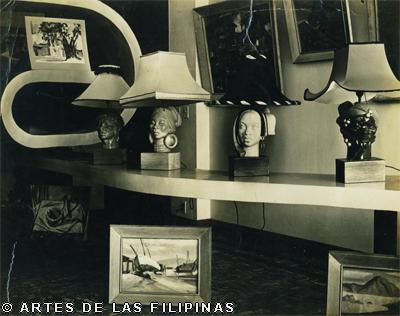 Antonio Dumlao's lamp ceramics

What else did your father do in his career?
My father was also the first artist to pioneer the use of ceramics for lamp bases.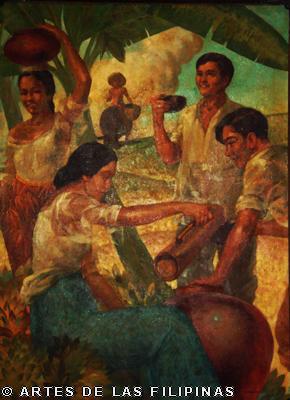 Dalagang Bukid (1966)

Antonio Dumlao was as talented as Fernando Amorsolo and they even had a few interaction paintings. Why do you think that Antonio Dumlao did not have the same fame and popularity as Fernando Amorsolo?

Papa never liked publicity. He relied more on by word of mouth wherein he was successful. Don Andres Soriano was the one recommending his name to his friends, art patrons and companies at home and overseas. With due respect to Fernando Amorsolo, I would rather not comment why he was more popular and famous than my father who was as talented as he was. Papa respected Amorsolo as well as other artists. In fact, Papa admired Amorsolo's paintings and was happy and content about his works being bought and admired by international art patrons and the circle of the old rich art collectors in Manila. He was happy and content dealing with them.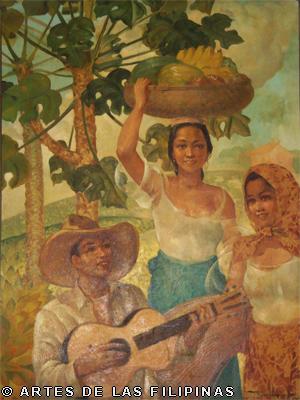 There aren't too many articles written on Antonio Dumlao. Why do you think this has been the case?
He did not have to publish his works because he was happy making friends with the old rich art patrons at home who were buying his paintings.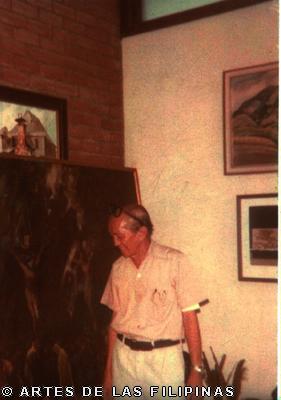 Why do you think writers in the 1940s-1970s did not write critically of his works?
My Papa wasn't too keen on publicity. He was also hesitant to deal with some art critics before who dissected, synthesized and analyzed his paintings like guinea pigs or science samples when they themselves could not even draw. He found them superficial and pretentious. He did not make friends with many art critics.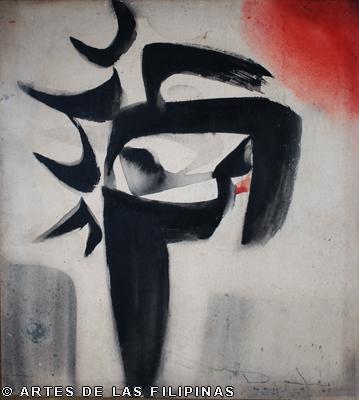 Abstract
Jesus and Maritess Pineda Private Collection

You mentioned that the collectors of your father's works are the old rich. In your opinion, if there is a market supporting your father's works, does it follow that writings about him and his works are less important to him?
Not at all. He was just careful with those journalists who scheduled him for interviews. He valued so much his works that he refused just for anyone to comment or review them. He hated pretence and superficiality.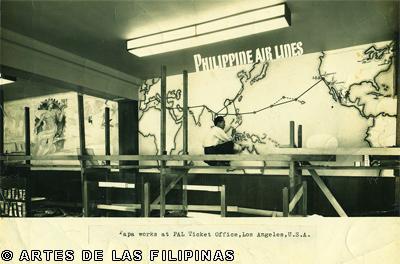 Antonio Dumlao at the PAL Ticket Office in Los Angeles, CA, USA

Tell us about the last few years of your father. What does he hope for his family and his works as an artist?

My father was on duty as an artist when he had a heart failure. He was sixty-seven years old and was finishing his project on stained glass for Malacanang. He had to finalize it within forty days before the arrival of Khadaffi in 1979 and so he was under physical and mental pressure. Papa woke up conscious after the first heart malfunction but he could not move his right hand and slightly affected his cognitive functions. He could not talk well. He could still understand basic commands and could give directions. My eldest brother took over the project of my father and would come and visit him when he had time to do so with his sons.

Papa spent his last years at peace with himself and his family. He was surrounded by his two sisters, Tia Badang and Tia Titang and his younger brother Tio Bert. His children, myself, Ameng and Beboy were there with him. I was only available on Friday, Saturday and Sunday as I was busy managing a school. He was also looked after by three nurses for 24-hours and two doctors. When he recovered, he went around Manila with Ameng by car when he felt restless. They sometimes visited Greenbelt and parks. He watched TV and videos and tried reading some books.

Then the second time he had another heart failure he completely went helpless. This was on August 1983 when he passed away. Through the years while he was still active, he always mentioned to us to look after his works finished or unfinished; to value them and keep them safe and restor without losing its originality. Papa's favorite quotation is "High thou be your titles proud be thy name boundless your wealth as wish can claim. What does a man profit if he gains the whole world and loses his own soul?" These words has been forever been put into practice by us since he passed away.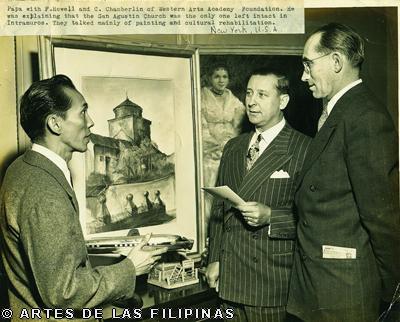 Antonio Dumlao explaining to F. Howell and C.Chamberlin
of Western Arts Academy Foundation that the Intramuros Church
was the only church left intact after the War

What do you think is Antonio Dumlao's contributions in Philippine art?

My father contributed much to the continuous search for Filipino identity on canvas which was all expressed clearly at home and abroad. He allowed the public to discover the genius of Filipino artists.