Purveyor of Knowledge and Emerging Publisher of Content and Visually Driven Books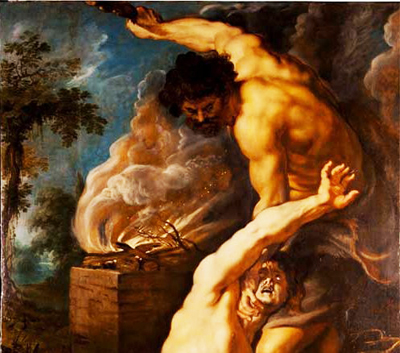 Rubens Cain Slaying Abel, around 1608-1609
Rubens masterpiece "made for market" Artist chose "cheap and cheerful" wood
--The Art Newpaper

January 2012--The restoration of a painting by Rubens from London's Courtauld Gallery has revealed that the work was probably not a commission, but created for the speculative market. Cain Slaying Abel, around 1608-09—one of the most significant works by the artist in the Courtauld's collection—is due to go back on display next month, following an 11-month project to clean the work and address structural issues. The money for the treatment came from the Bank of America Art Conservation Project, which launched a conservation grants programme in 2010.
Although scholars have long known that the painting belonged to a group of works produced following an eight-year trip to Italy, where Rubens studied pieces by Michelangelo and Caravaggio, a dendrochronological analysis of its panels revealed that the work was created almost immediately upon the artist's return to Antwerp. The fact that the oak boards are made from sapwood (the outermost, younger wood) has led conservators to speculate that the painting was for the art market. "It was typical for a client to buy panels for the artist, and in doing so, [the client] would normally buy the best quality materials," says the conservator Kate Stonor, who explains that sapwood is not ideal because it is soft and sweet, making it prone to woodworm. "We think Rubens bought the panels himself and chose the 'cheap and cheerful' option, knowing that the work was for the art market," says the conservator Clare Richardson, who also worked on the piece.
Infra-red imaging revealed line drawings beneath a tree in the background, which are uncharacteristic of Rubens and may be the work of a landscape artist.
Aside from areas of paint loss and layers of varnish that had yellowed, and, in some cases, became opaque, the most pressing concern related to the work's cradle, a late 19th- or early 20th-century addition that was restricting the panel's natural movement and was full of woodworm. The glue was beginning to fail and the panel was starting to pull away from the cradle, causing an unnatural inward curve of the boards, which resembled a miniature mountain range. This curvature also caused disfiguring lines that cut through the figures' marble-toned flesh.
"One of the greatest benefits of the [treatment] is that we are no longer fighting with the condition of the work… the piece now really speaks for itself," says Caroline Campbell, the curator of paintings at the Courtauld.
The Courtauld's chief conservator, Graeme Barraclough, has constructed a bespoke frame with a built-in support system that will "accommodate the natural curvature of the board, allowing it to move without imposing stress on the painting", unlike the cradle that previously kept it in place. "It's like support hose, rather than a rigid corset," Stonor says.

SOURCE: www.theartnewspaper.com