Purveyor of Knowledge and Emerging Publisher of Content and Visually Driven Books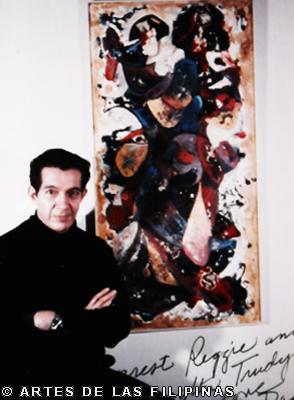 RAMON ESTELLA: A Purveyor of Modern Art
by: Christiane L. de la Paz
March 2012--Ramon Estella first made a name for himself as a writer and director for film, television and radio during the 1950s before having his solo exhibition in 1959 at the Philippine Art Gallery. Working together with Hernando Ocampo, Vicente Manansala, Cesar Legaspi, Romeo Tabuena and Victor Oteyza, he became a practitioner of expressionism and cubism and later developed a style characterized by bold lines and strident colors. Estella had always believed that this approach of painting "leads to a healthy movement, to a kind of art which allows the painter the same freedom in paint as music notes allow the composer -- not an imitation of nature but a personal interpretation." Six of Estella's children: Regina Estella, Rosemarie Bosque, Cynthia Ormachea, Cecile Lavine, Ricardo Estella and Ramon Estella Jr., provided detailed descriptions of their father's early, middle and late career and offered important insights into contemporary perceptions of his heritage as an artist. It is hoped that Ramon Estella's contribution brings the fruits of his artist's lifetime back into the public eye.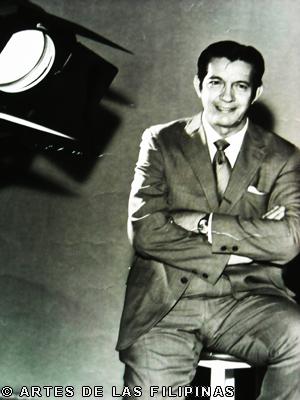 Has there been any book written about your father?

Not to my knowledge only articles in newspapers and magazines. Teddy Co is writing a book about Dad as a director. It was supposed to have been finished three years ago.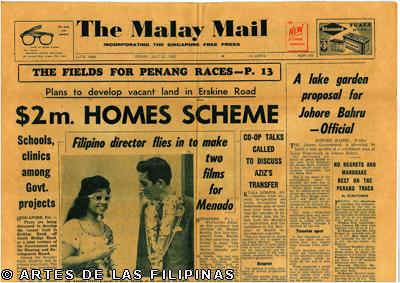 Your father is a known filmmaker. Was he a filmmaker first and painter second?

He was a filmmaker first and a painter second. He took up painting as per the advice of Hernando R. Ocampo. He was among the six of the Neo Realists painters including Hernando R. Ocampo, Vicente S. Manansala, Cesar Legaspi, Romeo V. Tabuena, Victor Oteyza, and Ramon A. Estella. The Neo-Realists had their first public exhibition at the Rotary Room of the Manila Hotel from June 17- June 25, 1950. It was sponsored by the Art Association of the Philippines.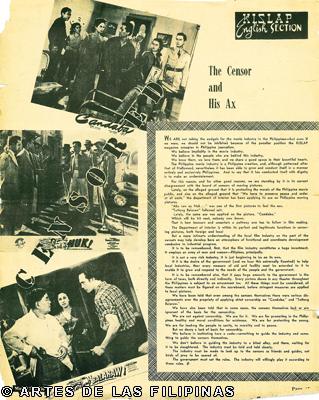 What are some of the major films that your father has directed?
Desperado, Santa Rita de Casia, Ultimo Adios of Dr. Jose Rizal, Huling Habilin, Alias Sakim, Dugo ng Katipunan, Buhat at Pag-ibig ng Dr. Jose Rizal. He made a movie with Zaldy Zshornak and Shirley Gorospe about Tokyo but I can't remember the name of the movie. It could be Pedro goes to Tokyo.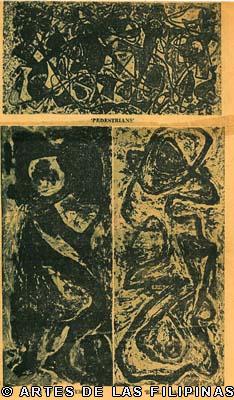 Ramon Estella began his painting career during the mid-1950s. What characterized his early works?

He was a Neo Realist Painter. He was doing abstract and cubism.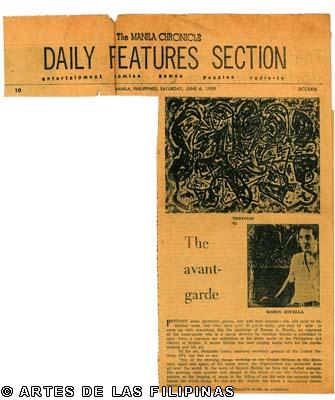 During the 1960s, Estella was documented to have combined expressionism and cubism as his artistic style. What style was he really known for?

He was known for both styles of painting and he was always experimenting with something new.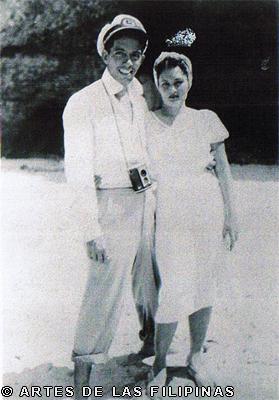 Ramon Estella and his wife

His first one-man exhibition was in 1959 at the Philippine Art Gallery. What was shown in this exhibition?

Most likely abstract works.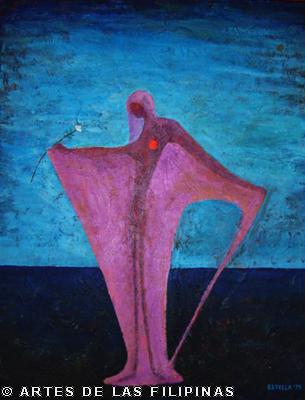 Ultimo Adios Stanza 7

What is the title of this exhibition?

The title was "One Man Art Exhibition at the Philippine Art Gallery by Ramon A. Estella" held on June 6- June 15, 1959 at 4 Arquiza St., in Ermita, Manila.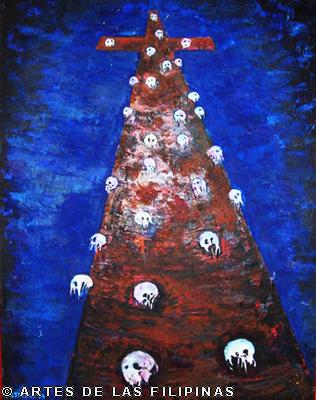 Ultimo Adios Stanza 10

Are there some known series that your father did?

The series of "Dr. Jose P. Rizal's Mi Ultimo Adios" a set of 14 paintings representing the fourteen stanzas of the poem . My father also had a series of Japanese Impressions which he titled, "Sumo Wrestlers," "Mt. Fuji in Summer," "Mt . Fujiyama in Winter," "Geishas," "Koto Player."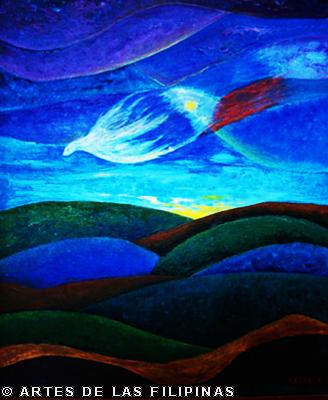 Ultimo Adios Stanza 5
What are some of the titles of Estella's major works?

"Cloistered," "Madonna", "Market Vendor", " La Capilla Del Cristo", " La Trullia". "Man and Woman", "Serenade", "Nativity", "Catacombs", "Hacia La Puerta de San Juan." This is what I remember but I know he did more than what I am able to recall. Besides painting, he also made sculpture – "The Embrace", "Head Of Christ" and " Hele-Hele" which are now part of the National Museum collection. In wire sculpture, he did "Fallen Warrior." Some of his papier mache include "Suma Wrestlers," "The Samurai," and " Yojimbo (Bodyguard).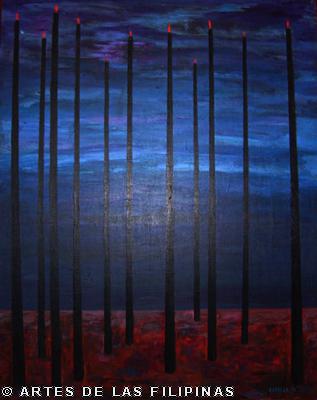 Ultimo Adios Stanza 9

What decade or years do you consider the peak of Ramon Estella's career as a painter?
It may have been the 1950s.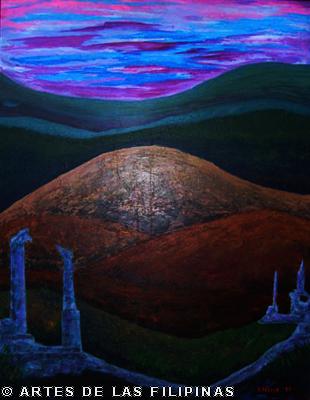 Ultimo Adios Stanza 11

What are some of the positive reviews said about Ramon Estella during his career?

…"As a painter-director, Estella belongs to the progressive group of painters identified with the modern movement. One of his paintings "Madonna" is currently exhibited in the Vatican Galleries, in Rome and he has consistently won awards in art competitions."… Galo B. Ocampo, President of the United Nations Art Club, New York City, 1951

... "Estella's new works mark another step in his evolution from regionalism to internationalism… Estella Paintings on Display in New York by: M. Teatsorth, New York, June 2, 1952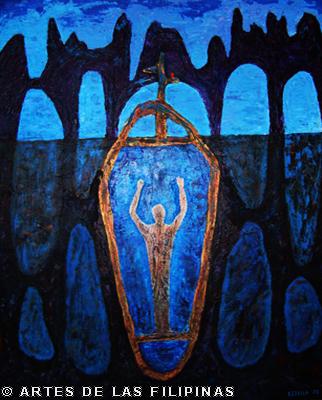 Ultimo Adios Stanza 6

…" Mr. Estella, in ranging from tortuous, lumpy form to a natural lunar theme, real hard-textured and frigidly mysterious is interested in conveying emotion. The harmony in his work is considerable."… New York Herald, June 1954

…"His oils are astringent and composed of overlapping geometric planes and mutres or paled harmonies"… Art Digest, New York, June/July Issue 1954

…" One of the exciting things working at the United Nations is the discovery, again and again of the talent which the organization has attracted from all over the world. In the work of Ramon Estella, we have yet another example…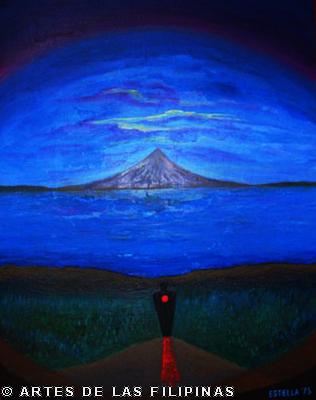 Ultimo Adios Stanza 3

…His paintings add another rich thread to the fabric of our life. Perhaps as important as the keeping of peace is the filling of our life with the splendor which makes life worth living. To this end, Mr. Estella has made a noteworthy contribution"… Benjamin Cohen, Assistant Secretary General, United Nations Headquarters, Dept. Of Public Information, 1954

…"Estella's New Harmonies…provide a friendly visual record of his new synthesis, his interest in color and form relationships, and his comments on life…"Emotive Force" with its loud and raw color tones, comes off memorably a terse statement of the artist exuberant, wielding energy"… The Beehive, Monthly Publication, New York City, 1954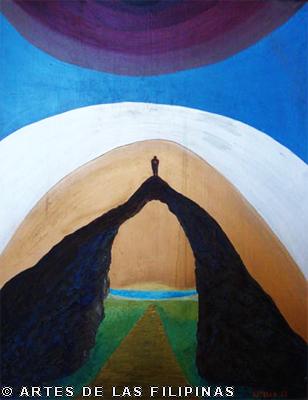 Ultimo Adios Stanza 4

…"At present "Estella" is one of the most prolific of all artists, and especially so considering that he has other occupations besides."… Saturday Mirror Magazine, Manila Times, 1955

…"Ramon A. Estella, perhaps the greatest living Filipino all around artist, creates again another movie masterpiece "Tokyo Calling"… Mr. Estella's versatility include painting, sculpture, and music. He composes music background for his movies."…Tokyo Calling - Business News Magazine, Published in Tokyo Japan, 1967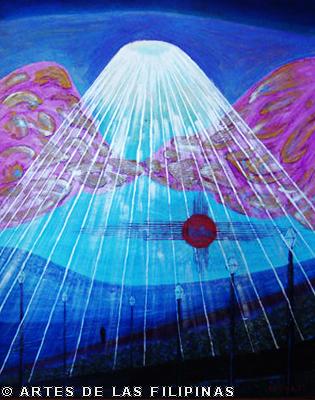 Ultimo Adios Stanza 14

Your father had a few articles written about him which may be use as a reference. Why do you think this has been the case?

I believe it was because his work was original, fresh, innovative and powerful. My father used his imagination and intellect to create and express his artistic side. My father also left the Philippines in the early 1960s when the film industry was regressing to bold and quickie films which were not to his liking. His absence may be one of the reasons.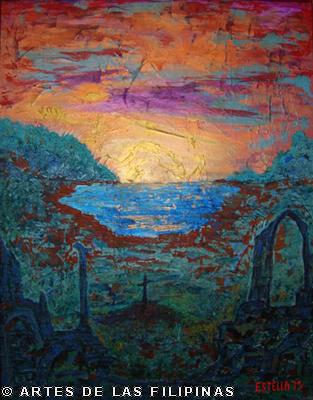 Ultimo Adios Stanza 8

There is no entry of your father in the CCP Encyclopedia. What do you think is the reason for this?

I hope this oversight will be corrected. My father had a lot of exhibits abroad and in the Philippines. My Dad was mentioned in the Struggle for Philippine Art for some of his awards.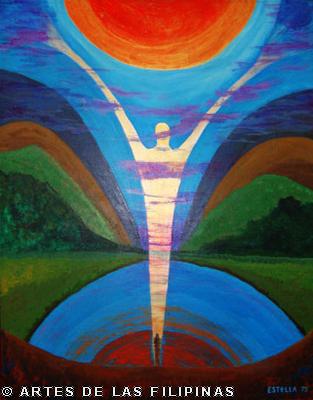 Ultimo Adios Stanza 12

Your father belonged to the Thirteen Moderns. In one interview article on Victorio Edades in Pamana, he said that the name Thirteen Moderns did not come from him and was just coined by a writer. What does your father think about being associated with the group?

I am sure that he felt honored. The Thirteen Modern Neo-realists came later; the last to be included was Arturo Luz, the youngest in the group.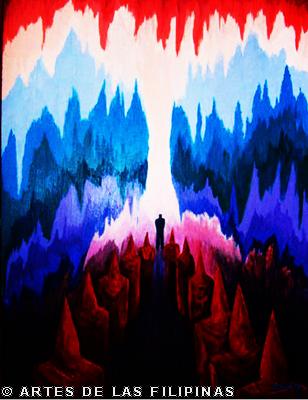 Ultimo Adios Stanza 1

Have there been reports on some forgeries of Estella's works?
None. To my knowledge there have never been any reports of any forgeries.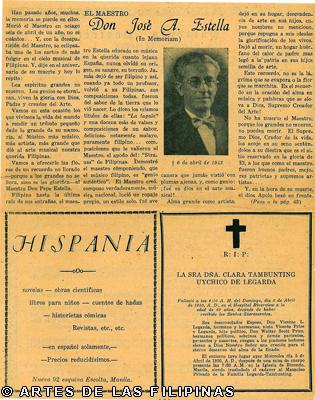 Tell us about the early years of your father.

He was born on August 13, 1911 in Hong Kong. His parents traveled a lot since his father, Jose Estella was a composer and so part of his childhood was spent in Cebu City, where he attended the Santo Niño School.
He graduated AA from San Beda College, Manila, Philippines, B.A., Masters Mass-Media Communications, University of Santo Tomas, Manila, Philippines . He received an award from San Beda College "BEDANS of the CENTURY AWARD 1901 - 2001 , Ramon A. Estella aa.1933 FILM MAKING. " He also have a certificate for a course in radio and television, SRT, School of Radio/Television Techniques, in New York, USA and then studied at the Columbia College, General Studies, TV and Radio, Script Writing, Production, and direction (NBC) 240 hours radio workshop and course on films for television.

My father's expertise was in feature film, documentary for UNICEF & WHO , television and radio production, direction and writing. Film editing and all phases of post-production work. Art direction and photography, still and motion picture.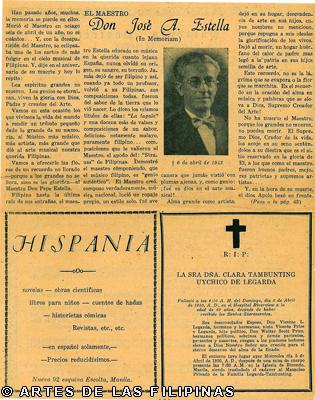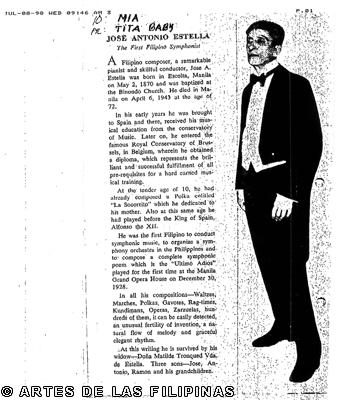 Jose Antonio Estella--Ramon Estella's father

Why were your grandparents in Hong Kong during the time of your father's birth?

On Ancestry.com Miren found an application made by Jose Estella for travel to the U.S. in it only two sons were mentioned. Is it possible that Abuelita Matilde was pregnant with Dad and gave birth to him on the way to America or on the way back? They were probably travelling by ship.



Corner Nook (1973)

He died in Florida in 1991. What did your father die of?
My father died of cancer of the liver on May 4, 1991.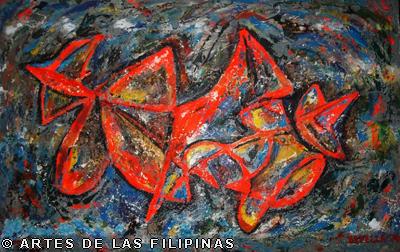 Siesta (1974)

Tell us about the later period of your father in America.
Before my father's death he was working on a series of paintings of Dr. Jose Rizal, whom he greatly admired.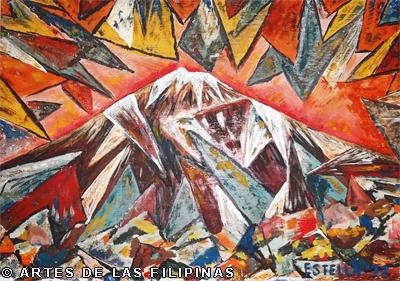 Mt. Fuji in Summer (1972)

Was your father employed when he migrated to America? What was his job there?
My father worked for the United Nations making film documentarties for the USIS and USIA. His area of expertise were feature film, documentary, television and radio production, direction and writing. He worked as an interpreter and a radio technician for the United Nations. I believe he also taught at a university in New York, more probably in Columbia University.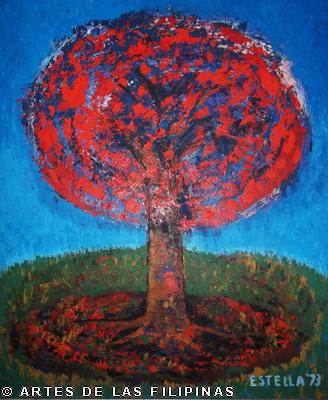 Flamboyant Tree (1973)

What do you think is the greatest contribution of Ramon Estella in the history of Philippine art?

My father's legacy lies in his films and paintings. The fact that his art was appreciated and he was recognized and acknowledged both in the Philippines and abroad during his many exhibitions is a contribution to the country and his family.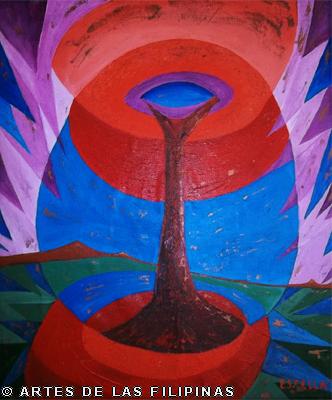 Variations of the Flamboyant (1973)

If Ramon Estella were still alive, do you think his art would still be relevant?

Yes, I think my father's work would be an inspiration to modern artists. My father always believed and said that his type of painting style "leads to a healthy movement, to a kind of art which allows the painter the same freedom in paint as music notes allow the composer, that is, not an imitation of nature but a personal interpretation." We recently exhibited the Rizal Series at the Negros Museum last June 2011 and we received many powerful, positive comments from young college students who viewed the paintings as raw, stirring, emotional and a pride to the Philippines.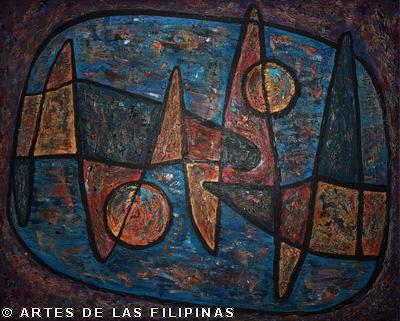 Sailboats (1973)