Purveyor of Knowledge and Emerging Publisher of Content and Visually Driven Books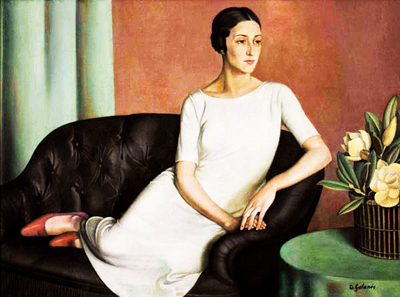 Lady in White by Galanis was rejected by Bonhams in 2008.

Fears grow that Greek art market is riddled with forgeries
by: Riah Pryor for The Art Newspaper
March 2012--Athens, Greece--A legal case brought against Sotheby's by a major Greek collector could be the tip of the iceberg
A major Greek collector has taken Sotheby's to court in Athens over two alleged fake paintings attributed to the Greek artist Constantin Parthenis (1878-1967). The case has stoked fears that the Greek art market is riddled with fakes, which may have increased significantly in number during the boom.
The collector Diamantis Diamantides, who owns the shipping firm, Marmaras Navigation, is one of the biggest buyers of Greek art. He bought Still Life Before the Acropolis from Sotheby's, London, in 2006 and set a record price for the artist when he paid £670,100 for The Virgin and Child in the same saleroom in 2007. Both works are believed to have been consigned by the same two people, although Sotheby's declined to disclose who they were.
EVIDENCE REVIEWED
Doubts were soon raised over the authenticity of the works. Diamantides eventually lodged a complaint against the auction house and Constantine Frangos, the London-based senior director of Greek art at Sotheby's, in February 2010, saying that they fraudulently induced him to buy forgeries. A spokesman for Sotheby's denies this vigorously, saying: "It stands to reason that an auction house that sells billions of dollars of art a year, and relies on its reputation to secure consignments and purchasers, would not put its business at risk by knowingly selling forged works." The spokesman adds: "We are reviewing further evidence that has been submitted concerning the authenticity of the works." A decision on the case is expected shortly.
BOOM YEARS
Sales of Greek art, mostly traded in London, grew rapidly between 2001, when Sotheby's held its first Greek sale, and 2008. The firm sold approximately £50m of Greek art during that period, with a record £15.6m made in 2007. Bonhams also held specialist sales, with works by Parthenis, Constantinos Volanakis and Theodoros Rallis packing salesrooms, with buyers predominately based in London or Greece.
"These individuals were not buying with their eyes open about what is fake and what is authentic. For many, art was being bought to boost social status," says the Athens-based journalist Margarita Pournara, who was one of the first to alert Diamantides over doubts circulating about his paintings. She adds that forgers use a network of socially connected individuals to bring fakes to market.

Rumours of widespread forgery began in 2008 when Bonhams rejected a work, Lady in White, by Dimitrios Galanis (1880-1966) and said "further research" on the work was needed. The sheer volume of works coming on to the market also raised suspicions, especially as the country has relatively few well known modern artists.
The market for Greek art has now seen a dramatic collapse, and Sotheby's dropped its Greek sale in November 2011.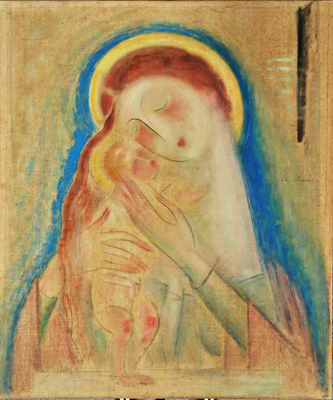 The Virgin and Child by Parthenis is the subject of legal proceedings.
"It's a huge deal that one of these cases has finally come to court," says one collector, who bought a fake painting purportedly by Parthenis in 1997, and has been offered more since. "We are not like the UK and the US, people don't talk about the issue here—there's a general lack of trust in justice and new buyers don't want to highlight their naiveté and mistakes," he says, before adding that he wishes to remain anonymous.
A further problem that has emerged as part of the Diamantides case is the lack of institutions studying Greek artists, developing catalogues raisonnés and discussing the authentication and provenance of art made in Greece. While works have to be assessed for national significance by the National Gallery in Athens before export licences are issued, the process does not involve authentication. Dealers are concerned that the National Gallery's stamp on works is being used as provenance.
While rumours of fakes in the Greek market increase, cultural and government bodies seem unwilling to tackle the problem. "What worries me is that once this case is over, the momentum to look any further will stop," says another collector of Greek art who also wishes to remain anonymous. "There are no bodies on hand to investigate further into whether a crime was committed and we will slip back into how it was before, with no guidelines or regulating bodies—we are working in a vacuum."

SOURCE: The Art Market Newspaper Market, Issue 233, March 2012