Purveyor of Knowledge and Emerging Publisher of Content and Visually Driven Books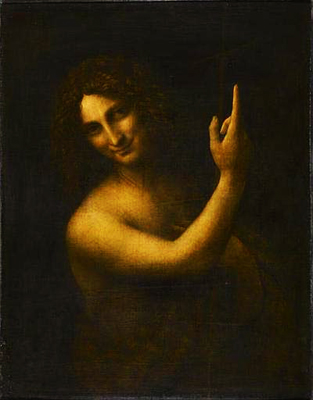 Leonardo's St. John the Baptist, 1513-16 in the Louvre
Some scholars believe that Salai is the model
Leonardo's Lover probably painted the Prado's Mona Lisa
Identifying the assistant who worked on the copy in Madrid could lead the Louvre to reassess the original's early provenance
by: Martin Bailey
April 2012--The Prado's copy of the Mona Lisa was most likely painted by Salaì, Leonardo's assistant and reputed lover. Salaì, whose nickname means "little Satan", joined his master's studio in 1490, at the age of ten, and worked with him until Leonardo's death.

Giorgio Vasari, the mid-16th century art historian, described Salaì as "a graceful and beautiful youth with curly hair, in which Leonardo greatly delighted". It has long been believed that Salaì and Leonardo were lovers, although there is no firm evidence of a sexual relationship.
The identity of the studio assistant who painted the Prado's copy of the Mona Lisa is still being investigated, but Salaì (whose real name was Gian Giacomo Caprotti) has now emerged as the top contender. On 21 February, the newly-restored copy of the Mona Lisa, done side-by-side with Leonardo's original in his studio, was unveiled in Madrid. The Louvre dates the original to about 1503-06.


If it is confirmed that Salaì was the copyist of the Mona Lisa, then it is unlikely that he once owned the original, as has previously been assumed. The Louvre would then have to reassess the early history of the world's most famous painting.
In attempting to identify the copyist, curators at the Prado began by eliminating pupils and associates such as Boltraffio, Marco d'Oggiono and Ambrogio de Predis—since they each have their own individual styles. They also eliminated two Spanish followers of Leonardo, Fernando Yáñez and Fernando de Llanos, whose work is distinctively Valencian.
Miguel Falomir, the head of Italian paintings at the Prado, now believes that the copy of the Mona Lisa "can be stylistically located in a Milanese context close to Salaì or possibly Francesco Melzi". Melzi was an assistant who joined Leonardo's studio in around 1507, but the Prado's copy may well have been started earlier. Of the two, Salaì now seems the most likely.
Bruno Mottin, the head curator at the Centre de Recherche et de Restauration des Musées de France (based at the Louvre), concurs. He believes that Melzi is less likely, and although Salaì's style remains obscure, he is the most likely candidate.
Little Satan
Salaì's nickname came from his behaviour. Leonardo described him as "a liar, a thief", but admired his artistic talent. There are very few works which have been attributed to Salaì, although a Salvator Mundi signed by him was sold at Sotheby's on 25 January 2007. The St John the Baptist at the Pinacoteca Ambrosiana in Milan, a variant of Leonardo's picture now in the Louvre, has also been said to be by Salaì.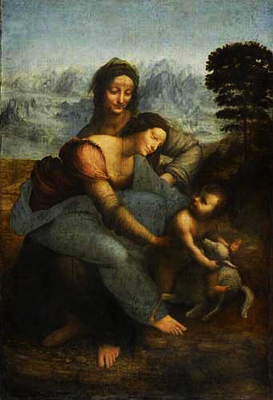 Leonardo's original, The Virgin and Child with St. Anne,
the Louvre 1510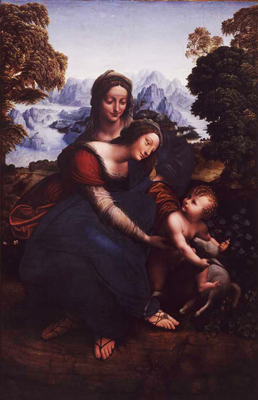 Salai's Madonna and Child with St. Anne, circa 1508-1515
from the collection of the University of California, Los Angeles
Hammer Museum, Willitts J. Hole Art Collection

A third painting, in America, is now also being currently reattributed to the Workshop of Leonardo and Salaì. It is a copy of The Virgin and Child with St Anne (original in the Louvre, 1503-19), in the collection of the Hammer Museum, University of California, Los Angeles. This copy will be shown at the Louvre's forthcoming Leonardo exhibition (29 March-25 June).
On Leonardo's death in 1519, Salaì is thought to have inherited some of his master's paintings as well as part of his vineyard. Salaì died a violent death five years later, from stab wounds. In 1991, an inventory was discovered which showed that he had left a painting known as "La Joconda", an obvious reference to the sitter, Lisa del Giocondo. It was valued at 100 ducats
Until now, it has been assumed that Salaì must have inherited Leonardo's original of the Mona Lisa, which was acquired by the French King, François I. However, if the Prado's copy was done by Salaì, then it suggests that the Mona Lisa he owned (and possibly some of his other "Leonardos") were actually versions he had made. This would mean that Salaì had not inherited the original of the Mona Lisa, so its early provenance will now have to be completely rethought.
Interestingly, Vasari reported that "some of the works attributed to Salaì in Milan were retouched by Leonardo". Although so far, there has been no serious proposal that Leonardo's hand can be seen in the Prado version of the Mona Lisa, Vasari's comment does suggest that Salaì had made copies of his works.
Journey to Spain
Although Salaì had moved to France with Leonardo in 1516, he returned to Milan on his master's death. How then did the Prado's copy of the Mona Lisa reach Madrid?
Falomir proposes that there are two possible routes. The first is with a Spanish governor or administrator who had been sent to Lombardy, which was then ruled by Spain. An obvious candidate would be the Marquis of Leganés, who became the governor in Milan in 1635. He was one of the greatest art collectors of his day, amassing over 1,000 pictures. The marquis died in 1655 and some of his works ended up in the Spanish royal collection and eventually the Prado.
The second suggestion is that the copy of the Mona Lisa could have been bought by the sculptor Pompeo Leoni, who was born in Venice and worked in Milan and then mainly in Madrid. He was an avid collector and owned important works of art and manuscripts by Leonardo. Although a Mona Lisa is not recorded in his estate inventories, following his death in Madrid in 1608, it is possible that he had brought the copy to Spain, but disposed of it before he died.
So far, the earliest accepted reference to the Madrid copy of the Mona Lisa is a "female portrait by Leonardo", which in 1666 was hanging in the Galleria de Mediodía of Alcázar Palace. The Prado's director of collections Gabriele Finaldi remains hopeful that further archival research will reveal more about the mysterious past of the museum's copy. And if Salaì's authorship is accepted, then it will be necessary to reconsider the early provenance of the original of the Mona Lisa—how did it reach King François I, who hung it in his palace in Fontainebleau in the early 1540s?

SOURCE: The Art Newspaper 01 March 2012