Purveyor of Knowledge and Emerging Publisher of Content and Visually Driven Books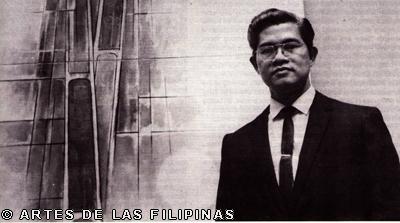 Cenon Rivera with his painting, Genesis

CENON RIVERA: Artist and Professor of Modern Art
by: Christiane L. de la Paz
April-May 2012-- Cenon Rivera, a painter of note, began his art career in the 1950s and later made significant contributions in Philippine art. In 1952, he pioneered in graphic art by making distinctive eighty different sets of serigraphed Christmas Cards. Then in 1956, he began experimenting on monoprint, woodcut, linocut and lawanicut. It was also in this year when he started teaching graphic art at the University of Santo Tomas. He also published "Pintig ng Buhay at iba pang Katha," a bilingual collection of short stories, poems, essays and other writings he did from 1938 to 1956. In 1957, Cenon Rivera started a painting style characterized by horizontal and vertical grids for which he was best remembered. However, despite all the articles written about him and the significant works he produced, the man himself had remained a mystery to many. In this April 2012 feature, Noel Rivera, the artist's son and Executive Director of the Pasig City Museum, provided much information about his father's early career and development as an artist; his artistic outputs; his known and unknown contributions as an art professor and director of the UST Department of Fine Arts and his private life with him.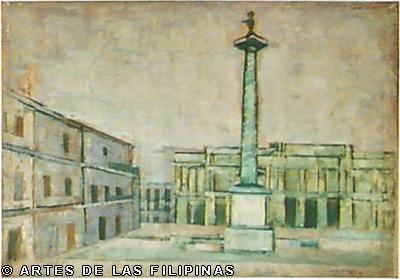 Piazza Colonna, Rome (1963)

Has there been any book written about your father?
As far as I know none yet. He was authoring his own book and when he reached the final editing stage, Alzheimer occurred.
Your father was a painter, sculptor, printmaker and maker of mosaic and stained glass. Which came first? second? third?
Painter, poet, printmaker, stained glass, maker of mosaic, sculptor.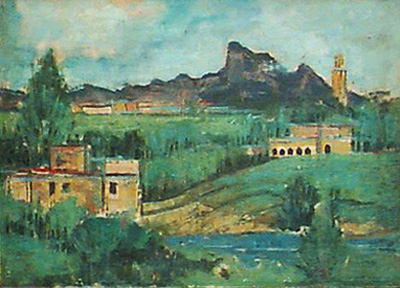 Sabaudia (1963) First Place, Winning Entry in an on the Spot Competition in Italy

Why do you think your father was interested in stained glass technology? It was the course that he took in Rome, Italy, right? Tell us about his training and how he got this grant.
When his panting style evolved in the early 1960s, the style is more of simplified figures that look more like of stained glass designs and most likely he was fascinated with the colors of stained glass windows, specifically that of Sto. Domingo Church which Galo Ocampo designed. At the Academia di Belle Arti, he took painting courses and apprenticed in Vetrate d'Arte Giuliani in Rome where he learned how to make stained glass panels. From the studio, he made working drawings of tools and machineries needed in the craft. His study grant in Rome, Italy was sponsored by the Italian government.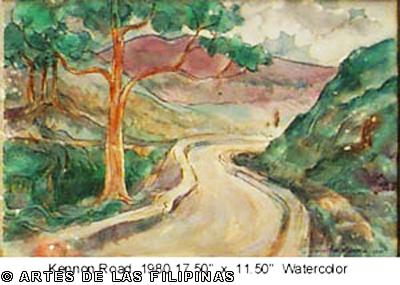 Kenon Road (undated)

Your father also made contributions in wood sculpture. What are some of his known sculptural works? Was he using wood exclusively or with other materials?
The wood sculpture I remember he did was a mural of the history of the Dominican order in one of their retreat houses in Baguio. This was sometime in the 1980s. Although he has made wood sculptures depicting various Philippine dances beginning in the 1950s.
From 1940-1941, your father was a student in UP enrolled in Liberal Arts while taking some subjects in fine arts? Was he a graduate of UP?
His elder brother, Laureano, who was aware of his art aptitude, arranged for his cross-enrollment in two art subjects as a special student in UP School of Fine Arts until the War broke out. My father continued his studies and graduated as BSE major in Art Education at the UST College of Education.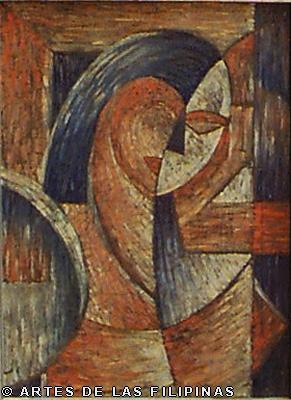 Woman Combing Hair (1951)

What was your father doing during the War?
From 1942 to 1945, he wrote Tagalog short stories, categorized as "pampanitikan" which were published in the Liwayway, Malaya and Bagong Buhay.
It was said that Vicente Alvarez Dizon persuaded your father to teach while he was a student in UP. Why do you think your father was encouraged to pursue a teaching career?
While in UP, my father met Romeo Tabuena who became his bosom friend and Prof. Vicente Alvarez Dizon who influenced him to take the BSE courses in art education. Aside from the fact that his elder brother, Laureano who was aware of his art aptitude, he arranged for my father to cross-enroll in two art subjects as a special student at the UP School of Fine Arts. I think Vicente Dizon encouraged my father for a teaching career because he finished art education which is geared for a teaching profession.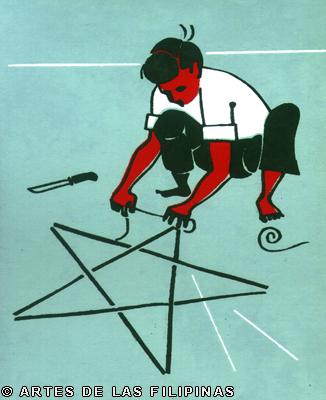 Parol Making (Christmas Card Series)

Your father taught in UST in 1956. Why do you think he did not apply for a teaching job in UP Fine Arts?
He graduated from the UST and most likely, his loyalty to his Alma Mater made him teach at UST up to his retirement.

Cenon Rivera was the second in line as director of the UST Department of Fine Arts when Victorio Edades retired. What were some of his achievements as director?
In 1966, my father started his two terms until 1973 as Director of Fine Arts in UST. He organized art exhibitions, on-the-spot and sculpture contests, art clubs and art missions; spoke in seminars in various organizations and institutions. He also designed the various logos of colleges and departments at the UST.
Let's talk about Cenon Rivera's career as a painter. What characterized his works during the 1940s? What was he painting during those days?

Although he had a natural talent in the visual arts, his interest during the 1940s was more on literary arts where he excelled in creative writing. And these enabled him to work part-time with the Philippine Journal of Education. He also worked as an art director, copywriter and Tagalog editor in advertising agencies while finishing his studies at the UST. After graduation in 1948, he pursued a freelance career in the advertising world as painter and graphic designer, designing books, brochures, seals, logos, cartoons, illustrations and other art works as a sideline to teaching.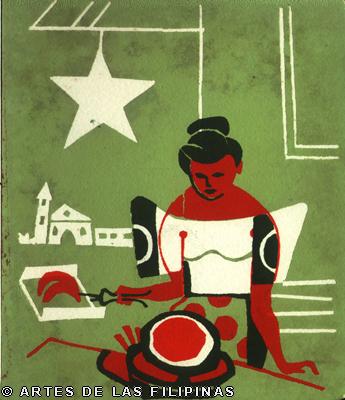 Magbibibingka (Christmas Card Series)

It was said that the peak of Cenon Rivera's artistic career was from 1951-1957. Why do you think past writers assessed those years as his best?

In 1952 he pioneered in graphic art by making distinctive eighty different sets of serigraphed Christmas Cards. Then in 1956, he began experimenting on monoprint, woodcut, linocut, lawanicut, and serigraph. It was also in this year when he started teaching graphic art at UST. Also in 1956, my father published a limited edition of "Pintig ng Buhay at iba pang Katha," a bilingual collection of short stories, poems, essays and other writings from 1938 to 1956. Then in 1957, he started a personal style in painting characterized by horizontal and vertical grids which is described as his particular brand of impressionism.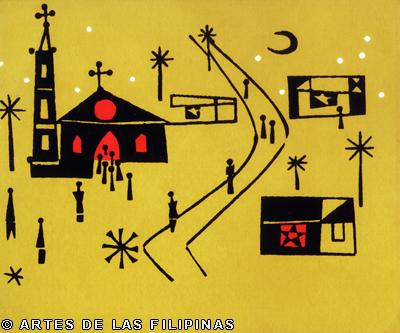 Simbang Gabi (Christmas Card Series)

It was said that Cenon Rivera's approach was analytical cubism. Who were his influences?
He was probably influenced by the international trend at that time and became a follower of "isms" adopting varying degrees of expression, representation and abstraction. Another is his association with the Philippine Art Gallery group with artists such as Hernado Ocampo, Cesar Legaspi, Victor Oteyza and Lyd Arguilla whose conversation was always centered on art. Later, this group was later known as Neo-Realists.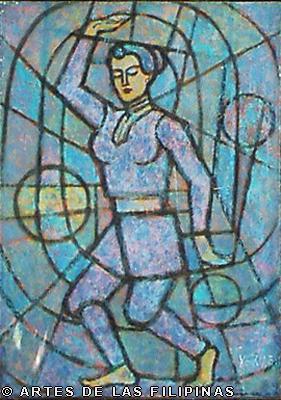 Muslim Dance (1992)

Throughout his career, what style was he known for? What distinguishes his works from other artists?
Majority of his paintings are more of a simple lined depiction of any subject simplified but full of elements of a given subject or theme which may be executed as a stained glass piece. His elements in his composition were well thought of or researched and the color harmonizes the emotion of the artwork's subject.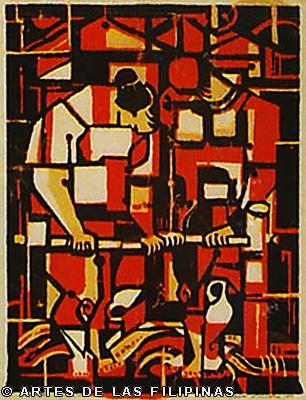 Threshers (undated)
His first one-man exhibition was in 1956 at the Philippine Art Gallery. What was shown in this exhibition? What is the title of this exhibition?
The exhibited works are his paintings, serigraphs, woodcuts and monoprints. Our family has no record of the title of this exhibit.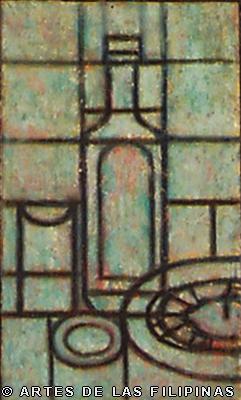 Still Life (1992)

Are there some known series that your father did?
Philippine Dances series, Philippine Legends series, Mother and Child series and the Christmas Card series.
What are some of the titles of his major works?
Maria Makiling, Banana Grove, Genesis: Leggenda Filippina, Equilibrio, Mt Samat 3- panel stained glass: "The Call to Arms," "The Supreme Sacrifice," and "Peace."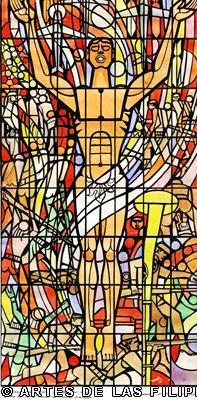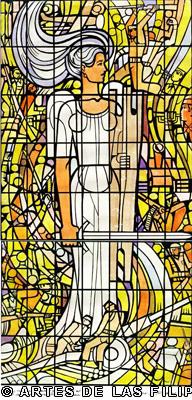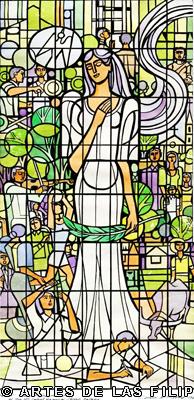 Mt. Samat Three-Panel Stained Glass

What are some of the positive reviews said about Cenon Rivera during his career?

As far as I have read, the reviews are more of a description of his style of painting.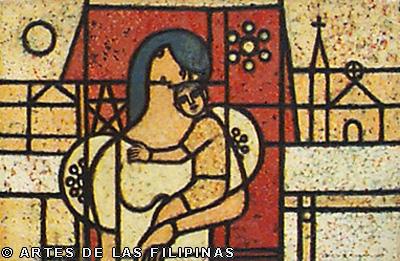 Mother and Child (1983)

What are some of the not-so-good comments said about his works?

Likewise, it is more of a description of his style of painting.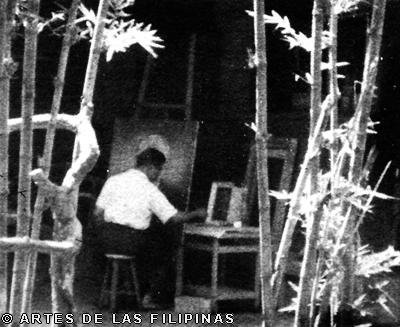 Cenon Rivera painting in his house in Pasig

Your father had a few articles written about him which may be use as a reference. Why do you think this has been the case?
My father was more of an introvert type of person unlike other known artists who are more socially oriented than him.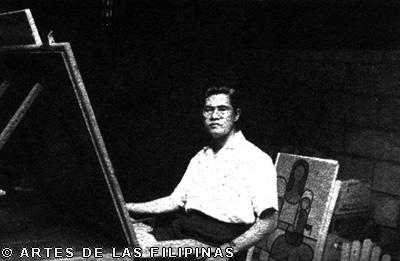 Cenon Rivera on his easel-table in his studio

Do you think your father achieved the fame and success befitted of him?

No because he belonged to that shy group of Philippine abstract painters whose art has always managed to stay in the background while his contemporaries have been outspoken and made names for themselves. The painter in question has been, in the main, meek and humble throughout his life.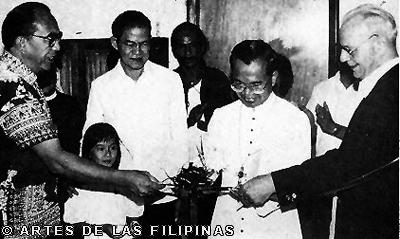 Cenon Rivera during his Baguio Exhibit Opening

Have there been reports on some forgeries of Cenon Rivera's works? If yes, who in the family authenticates his works? What makes one certain that his/her painting/sculpture of Cenon Rivera is authentic?
No known forgeries yet.

Tell us about the early life of your father.
He was born on April 16, 1922 in Hagonoy, Bulacan where he spent his childhood years. He studied at the Hagonoy Elementary School and then at the Araullo High School.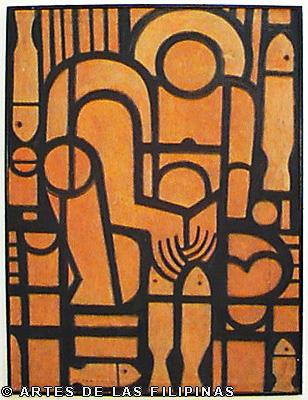 Fisherboy (1975)

Who are some of his artist friends?
Napoleon Abueva, Romeo Tabuena, Leon Pacunayen, Ambrosio Morales, Victorio Edades, Nena Saguil, Leonardo Hidalgo, Mario Parial.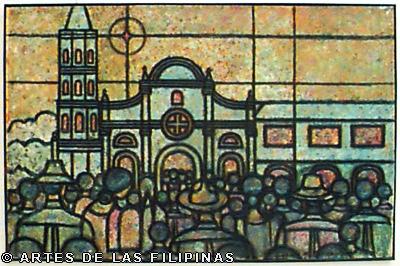 Mass in Barasoian Church (1986)

How would you describe Cenon Rivera as a father?
He was a disciplinarian. From him, I learned carpentry, basics of logo design, publication layouting, graphic design basics, basic color mixing, canvas stretching, stained glass fabrication, among others. It is always a learning experience whenever he and I would talk.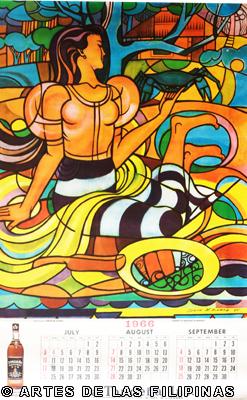 Mariang Alimango

Tell us about your other siblings.
I took up Industrial Engineering in the University of the Philippines. I have no brother or sister. One of my sons is currently taking up fine arts major in painting at the UST. One of my daughters is very creative and good in drawing and is contemplating on taking up fine arts too. The youngest son is also very good in drawing figures.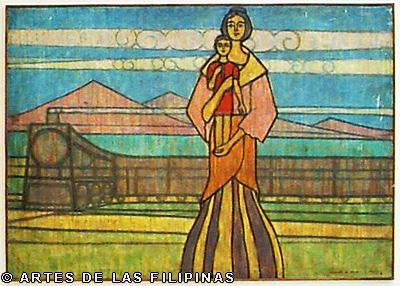 Madonna of the Railroad (1976)

What do you remember most of what your father wanted for his works to become when he passed away?
Before my father was stricken with Alzheimer, he has a number of paintings in the works for an exhibit and was left unfinished until his death to the time our house burned down in 2002 together with all his artworks that were with us.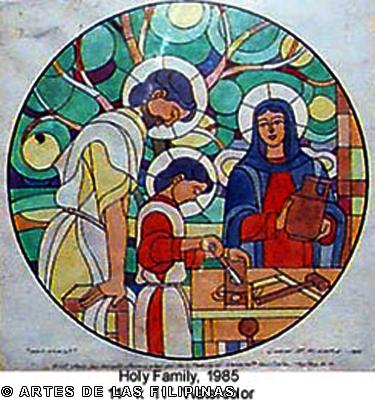 Holy Family (1985)

What kept him busy after his retirement from teaching?

My father retired in UST in 1994 but was given one or two teaching subjects the following school year (1994-1995). Then he began working on a series of around twenty landscape paintings. In the later part of November 1995, Alzheimer started to creep in his memory and was fully developed by mid-December of that year. He was then seventy-three years old. Throughout the years until his death in 1998, he has a number of lucid moments that he can recall events and recognize the members of the family.
Three years after his retirement in 1994, he was conferred the title of Professor Emeritus by the University of Santo Tomas as recommended by the committee headed by Dean Yolanda Reyes of the College of Architecture and Fine Arts and Professor Jaime de los Santos.
He has received Outstanding Citizen awards were granted by his hometowns, Hagonoy and Pasig. In his hometown of Hagonoy, he was an active prime mover in the art organizations in the town as well as in the province of Bulacan. He designed stained glass panels in the churches is Hagonoy – Shrine of St. Anne and in the chapel of St. Joseph. He designed the welcome marker to Hagonoy indicating the industries of the town. He did research on all the barrios of the town and documented the lifestyles of each barrio, this was done for the "Golden Book on Hagonoy".
In the city of Pasig, he designed the current logo of the city. He was active in various religious and civic groups such as the Historical Research Club of Pasig, the Pasig Art Club, Knights of Columbus. He designed the stained glass panels at the Immaculate Conception Cathedral of Pasig. He also designed the cover page and contributed articles on the parish publication called "The Parishioner". He gave art seminars and workshops for students in Pasig.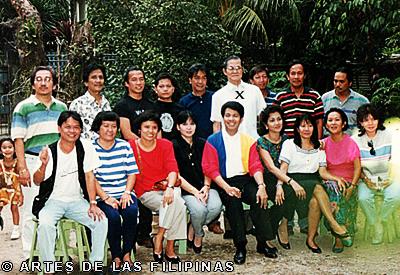 He died in Manila on November 1995 of old age. Was he really never sick of anything?

He retired from the Univeristy of Santo Tomas in 1995. He died on November 25, 1998 from old age and from complications associated with his diabetes.

What do you think is the greatest contribution of Cenon Rivera in the history of Philippine art?
His stint in the teaching profession at the college of fine arts in UST contributed to the success to many of his students and some of them had vouched that what they have learned from my father was invaluable in their career.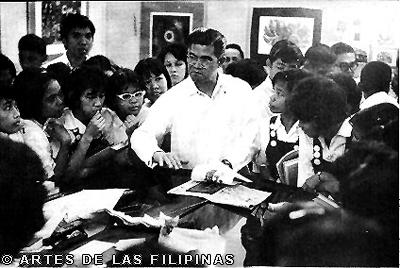 If Cenon Rivera is still alive, do you think his art would still be relevant?

Cenon Rivera's style of art would still be relevant since his semi-modern style representation of designs range from religious to other subject matter which is generally applicable to liturgical applications.