Purveyor of Knowledge and Emerging Publisher of Content and Visually Driven Books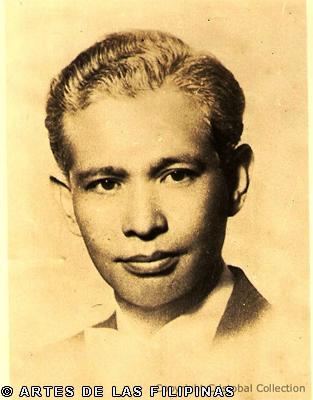 Bonifacio Nicolas Cristobal: Rediscovering a Forgotten Great
by: Christiane L. de la Paz
June 2012-- Bonifacio Cristobal's artistic influence was as great as his contemporaries. He began his painting career in 1937 after obtaining a Certificate in Painting from the UP School of Fine Arts. Upon his graduation, he travelled to Europe to pursue his Masters in Paris, France where he studied figure painting at the Academie Julien and then moved to Rome, Italy to study at the Regge Academia di Belle Arti. When he returned to the Philippines in 1939, he exhibited his works, taught art appreciation and freehand drawing, among others, at the Philippine Normal College and the Centro Escolar University. In 1947, Cristobal continued his teaching profession at the University of Santo Tomas where he taught anatomy, life drawing, modeling perspective, portrait painting and painting from life until his death in 1977. Taken together, Bonifacio Cristobal's body of works is pivotal to the development of modern expression in the country as it gave way to a new interpretation of the painting enterprise. In this June 2012 feature, Aurora Cristobal-Manguera, the painter's daughter, offers an intimate portrait of her father; provides a unified narrative of his early and academic life through his beginning as a painter to his practice of modernism and his involvement with the Thirteen Moderns led by Victorio Edades; and illuminates why the painter's personal life, fame and commercial success followed a muted course.
Has there been any book written about your father?
No. The family was planning to publish one but there was no time to focus on the task. Lack of resources, too, to devote to such an expensive endeavor.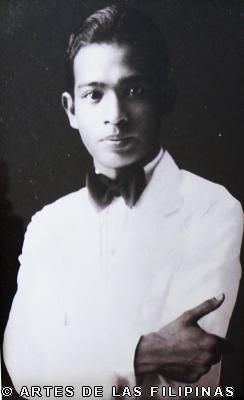 Bonifacio Cristobal's Graduation Picture
in UP School of Fine Arts
Your father obtained a certificate in Painting from the UP School of Fine Arts in 1937.
It was a full four-year course but not a Bachelors Degree. He entered UP on June 1933 – until March 23, 1937. He was admitted into UP by Fernando Amorsolo himself with a full scholarship. In UP, one of his instructors and primary mentors was Fernando Amorsolo. This is why their styles are similar.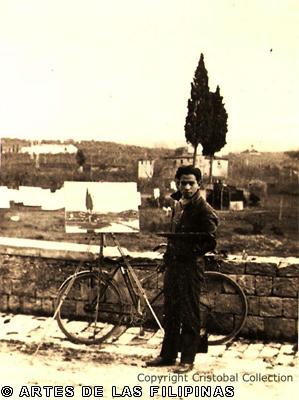 Bonifacio Cristobal in Italy
Where did he work after graduating from UP?
Upon graduation, he travelled to Europe to pursue his Masters. He first went to France to study Figure Painting, before journeying to Italy. He also attended the Academie Julien in Paris and the Regge Academia di Belle Arti in Rome to further his studies.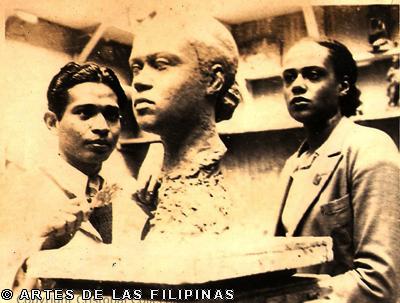 Bonifacio Cristobal in Paris with a live model
What course did he take in these schools?
Master in Figure Painting (Diplome de Peinture) from Académie Julian (Paris) in 1938
Masters in Fine Arts from École des Beaux-Arts.Advanced Studies in Painting (diploma) from Royal Academy of Florence. He also studied under Carlo Siviero and Felice Carena in Italy.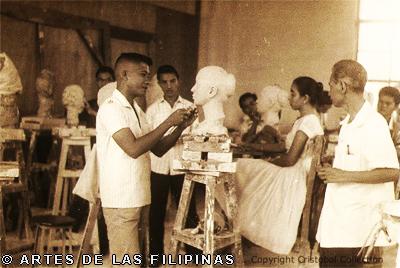 Bonifacio Cristobal teaching a class in Sculpture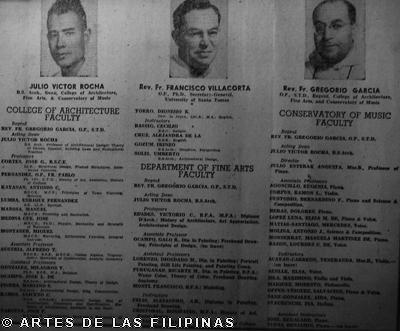 The List of Faculty of the UST Department of Fine Arts
After Europe, where did he go?
He was in Europe when the beginnings of the Second World War were happening there. His original intention was to stay and settle in Europe as an artist but when the War broke out, he began to make his way back to the Philippines. He travelled to different countries to get back to the country, inevitably finding his way to Japan, where he saw that they, too, were preparing for war. When he got back to the country, he was offered to have exhibitions and shows and to teach. He also took part in shows that featured other artists and taught art, art appreciation, and freehand drawing in several different schools including the Philippine Normal College and the Centro Escolar University.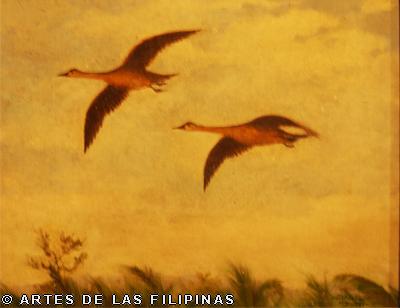 Flying Wild Ducks (1959)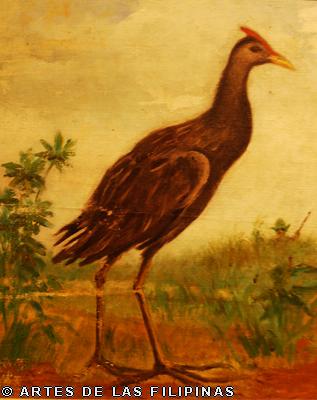 Tob-Tob (circa 1970)
The first exhibition of Bonifacio Cristobal was in 1940?
Yes but it was set for 1941. Jorge Vargas had asked him to do a one-man show which will be hosted at UP but this plan did not push through. Although all the plans were in place and he had already handed over several of his finished works to Vargas, this did not push through because the War broke out.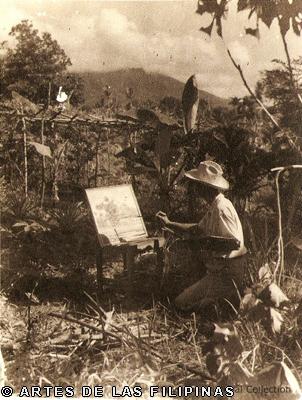 Bonifacio Cristobal Painting in Bicol
What was your father doing during the War?
When the War broke out, he went home to Sorsogon and fled the mainland to live in Sablayan Island, an island at the mouth of Sorsogon Bay. There, he lived the typical farm life --hunting and fishing. Some time during the War, he taught at Gubat High School in Sorsogon.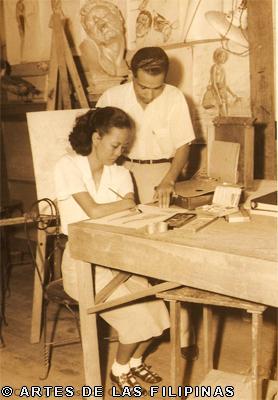 Bonifacio Cristobal with Anastacia Mamuyak

Your father taught at the UST until 1976. What year did he begin teaching? What courses did he teach?
He started teaching before the War broke out. The time devoted to teaching was also a way of imparting some of the lessons he learned from his studies abroad. Some of his students are now renowned artists in their own right. At the University of Santo Tomas, he started teaching in 1947. Courses he taught include anatomy, life drawing, modeling perspective, portrait painting and painting from life and Still Life Painting. He taught at UST until his death in 1977.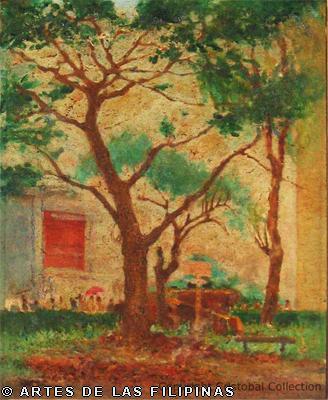 Back View of the Former UST Clinic

Let's talk about his career as a painter. What characterized Bonifacio Cristobal's works during the 1930s-1940s? What was he painting in those days?
As a painter, he started with portraits. His works were still life, landscapes, and portraits. Some of his work can be characterized as religious works. He was a favorite for commissioned work, specializing in portrait painting. Other than painting, he was also accomplished in creating sculptures. He was also a writer: publishing a book on Filipino folk tales (Phoenix Publishing) and the textbook used at the UST College of Fine Arts on Human Anatomy (Phoenix Publishing). He regularly contributed articles on art with The Filipino Educator and The Popular Philippines Magazine.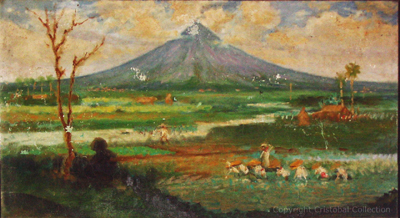 Mayon Volcano (1972)
What characterized Bonifacio Cristobal's works during the 1950s? What has changed from his earliest works?
His works were initially landscapes due to the numerous countries he had visited as well as the beautiful nature spots and rural scenes in the Philippines. He also created still lifes for recreational breaks. He focused on portrait paintings as he was known for this talent. His work featuring religious subjects stems from his affinity to the UST which had an impressive collection of his artworks. Later in life, he would concentrate on painting his daughters who were growing into adolescence.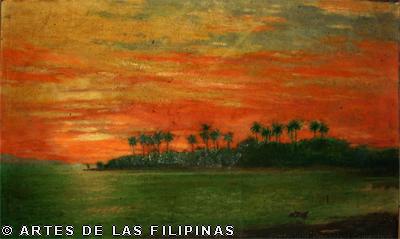 Sablayan Island, Sorsogon
What is the decade which may be considered the peak of Bonifacio Cristobal's career?
1950–1960. This era is the period when he entered a lot of contests and won in some as well as completed a lot of commissioned works. However, much of his time was devoted to teaching which gave him the income stream to raise his growing family.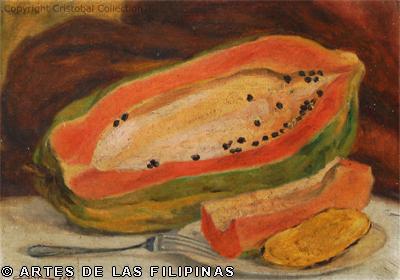 Still Life with Papaya
Bonifacio Cristobal's approach was realism. Who were his influences?
Fernando Amorsolo as he was his mentor. He also admired the works of Michelangelo and Salvador Dali.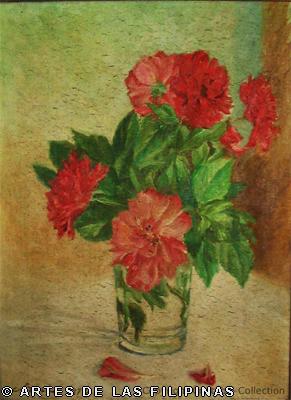 Still Life with Flowers

Writers in the past categorized Bonifacio Cristobal's works as a combination of impressionism and expressionism. What did your father think of his style?
His work is modern simply because previously, art work was defined by work created with a live model present--example a figure or an object. Modern is when the imagery is derived from thought or memory, from an abstract. He painted what he liked.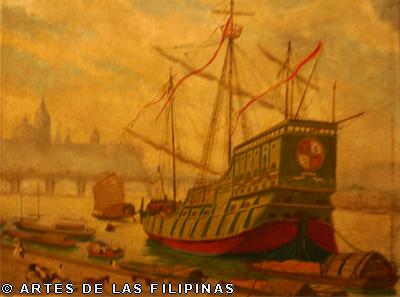 Galleon (1971)
Are there some known series that your father did?
None that we know of.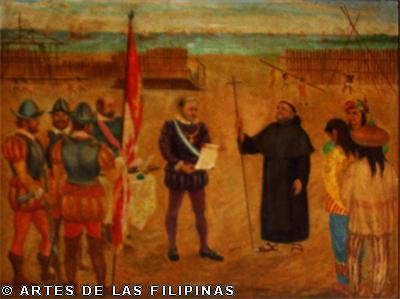 The Founding of Manila
What are some of the titles of his major works?
Rural Scene, Hingutuhan (First Prize, National Art Competition – Art Association of the Philippine in 1948),Mother and Child (1950), Madonna of the Sampaguita (First Prize at the Marian Year Centennial Art Competition, 1954) and Community Service (Art Association of the Philippines, 1955).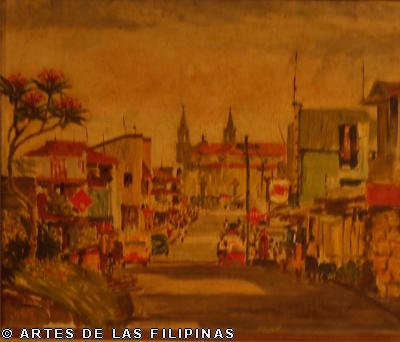 Street Scene in Sorsogon (1959)
The painting, Hingutuhan has become iconic of Bonifacio Cristobal's work. Why did the family decide to keep this painting?
He was the one who chose to keep the original as a keepsake of winning the contest even with offers to buy it at the time. He only had a replica on display. The family chose to respect that decision.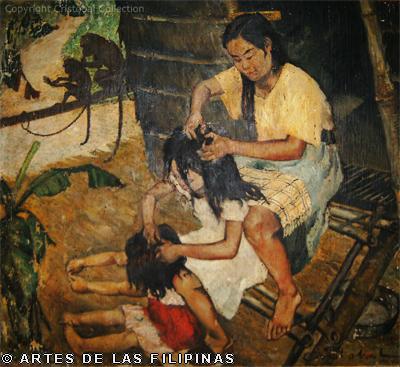 Hingutuhan (1949)

So there are two copies of the work. Is the replica done by him as well? Is the original in the family collection? Where is the replica displayed?
He painted the smaller Hingutuan in 1964. The original is with my Mom while the smaller one is kept by our eldest sister. This replica is the one featured in one of Manuel Duldulao's books. It must have also stirred controversy since the painting bore the year 1964 but the text revealed it won in 1949.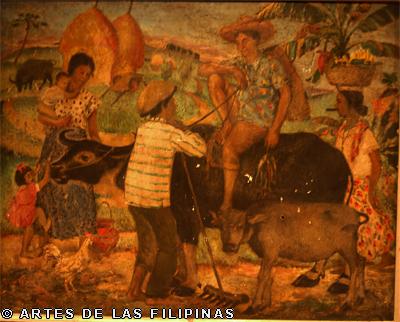 Would you say that your father was prolific? Are there a number of his works in private hands? What are some of his other works, public or private commissioned, that not many people know about?
Compared to his colleagues, he was not as prolific. Although a number of his works that were commissioned are in private collections. He had also been commissioned to paint murals and the like for churches and chapels including the restoration of images at the UST Chapel. He painted images for different buildings in UST but these may have been lost during its renovations and redesigns or in the case of the old High School Building where he had a mural painting at the main entrance but this burn down in 1975.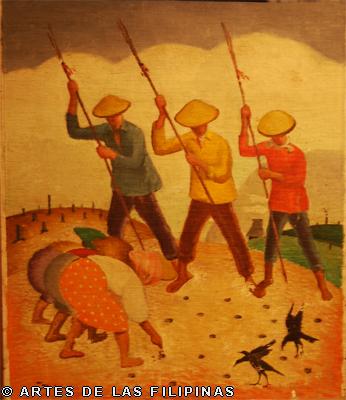 Your father belonged to the Thirteen Moderns. In one interview article on Victorio Edades in Pamana magazine, he said that the name Thirteen Moderns did not come from him and was just coined by a writer. What does your father think about being associated with the group? What did your father think of the efforts of Victorio Edades in promoting modern art?
Being a very modest man, we seldom heard him discuss this accolade given to him as part of this group. We, as children, were used to being surrounded by his art as well as those of other artists'. Although being on the teaching staff at UST, both Papa and Edades must have had some discussions regarding this matter. However, we have no recollection of any comments regarding this topic.



Aguinaldo (1968)

What are some of the positive reviews said about Bonifacio Cristobal during his career?
Reviews of his work were more from satisfied customers rather than from artists or art critics. Mostly, awards or positive reviews were all given posthumously. He would have deeply appreciated being associated with the Thirteen Moderns and those who continue to appreciate his works.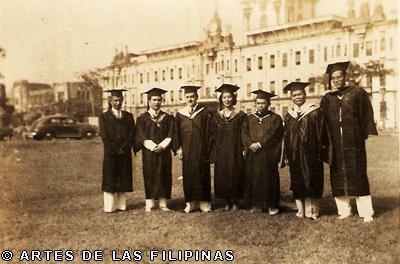 With his fellow faculty at the University of Santo Tomas

What are some of not-so-good comments about his works?
The Hingutuhan received criticism for its content at the time.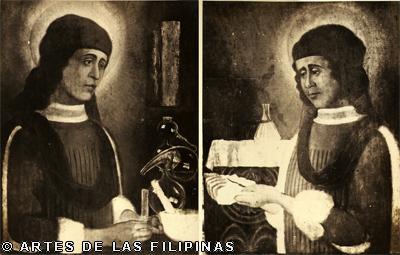 San Cosme and San Damian (commissioned by the UST Seminary)
What is the story behind this painting and why did it stir controversy?
As this was before we were all born, my father relayed some information on this when we were growing up. He says the way the Filipinos were portrayed here did not sit well with some critics. Although the monkeys were seen imitating the people, it might also be taken as the people imitating the monkeys. However, the subject is a typical scene in a rural provincial setting. My father's rendition, original style and personal stroke must have impressed the judges.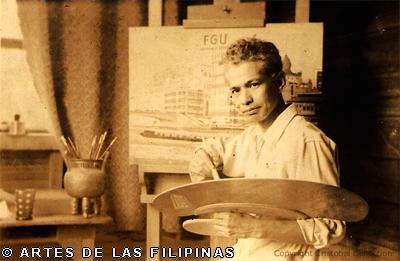 Cristobal with his Escolta painting



Escolta
Your father had a few articles written about him which may be use as a reference. Why do you think this has been the case?
He was a low-key, low-profile individual. He did not like to call attention to himself and was not comfortable opening up to people at first introduction. He lived his life and did his work.

Playing the violin was one of Cristobal's favorite pastimes

Your father died on May 20,1977. Tell us about his last years.
While he was of retiring age, he did not actually retire in 1976. His plan was to go back to painting full-time when he retired. He learned to love music and was brave enough to learn to play the violin late in his life. He started playing it at all hours including in his classes.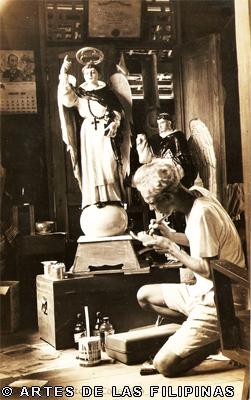 Bonifacio Cristobal in Sorsogon

Do you think your father achieved the fame and success befitted of him?
Being a teacher has tied him and his artistic inclinations for economic reasons. He enjoyed his life, his family and to a certain degree, his art. If he had devoted his life to painting and his other artistic endeavors and the people would have had the current appreciation of the arts, I'm sure he would have achieved fame and more success in the measure that we would like to measure fame and success. However, for being a devoted father and family man, he was, to us, a very successful man, a true artist and a citizen of the world.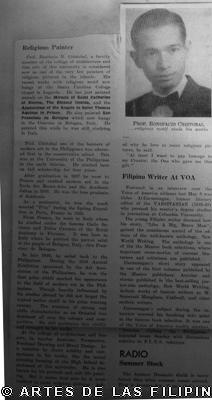 Bonifacio Cristobal had been written as one of the few painters of religious pictures.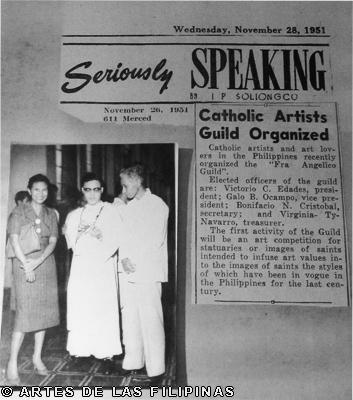 As one of the members of the Fra Angelico Guild
Have there been reports on some forgeries of Bonifacio Cristobal's works? If yes, who in the family authenticates his works?
Yes, there have been a few forgeries. Our mother authenticates his works although no one has approached us for authentication. In the book, A Century of Realism in Philippine Art by Manuel Duldulao, in the reprints of the book, the oil-on-wood painting cited as his, Estero de Sibangon, dated 1931 but the painting looks similar to Bernardo Banez's 1970 painting Canal de Sibacong. This was in the Manila Chronicle- Sunday Chronicle Plus which was published in April 18, 1993.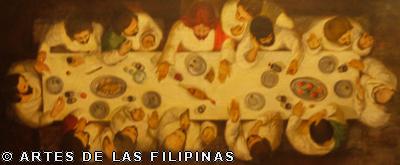 Bird's Eye View of the Last Supper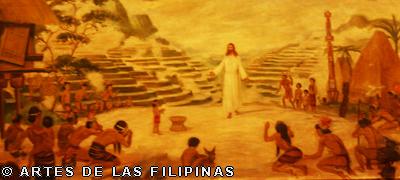 Christ in Mountain Province (1970)

Tell us about the early years of your father.
He had a happy childhood and was a typical child. He played with his trumpo, flew kites, among others. He loved to do sketches of animals. He probably showed much promise in the arts since he pursued its course as a young man.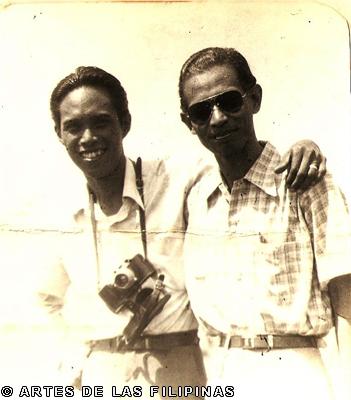 Bonifacio Cristobal (right) with Carlos "Botong" Francisco (left)

Who are some of his artist friends?
Fernando Amorsolo, Botong Francisco, HR Ocampo, Julian Jumalon, Ricarte Puruganan.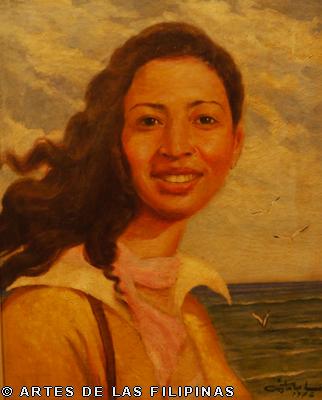 Boots (1976)

How would you describe Bonifacio Cristobal as a father? Has anyone in his family followed in his footsteps?
He was unlike any other. He was funny, witty, caring, loving, selfless and very very interesting. No one in the family became an artist like him but his grandchildren exhibit exceptional talents in the arts. Although no one chose to pursue the profession as a career, they continue to explore other media to apply their talents.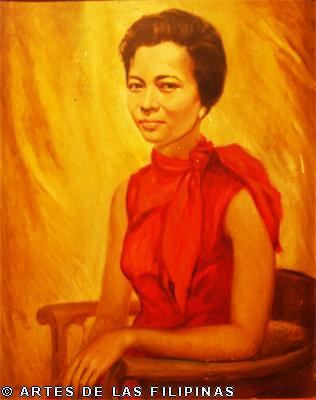 What do you remember most of what your father wanted for his works to become when he pass away?
He believed that "someday (his) works will be (his) legacy." He wanted his works to be appreciated as true works of art, in much the same way that he devoted much time, effort and thought to each piece.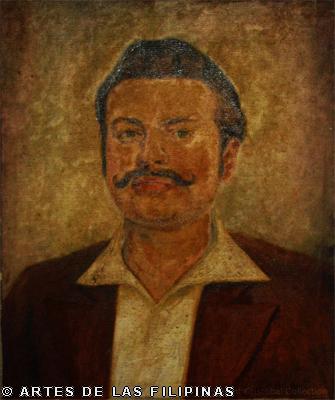 Man with Moustache

What do you think is the greatest contribution of Bonifacio Cristobal in the history of Philippine art?
He had lived in a time when art was at its best but few appreciated it so it was a very difficult time for artists. However, his works, even if quite a few, were his sincere way of leaving an imprint of what was important to him and his country. His unique talent for imagery, style and use of the brush on a canvas is telegraphed in all his paintings. We think, to be part of this era and group of painters who spearheaded Philippine modern art, he will remain relevant and immortal.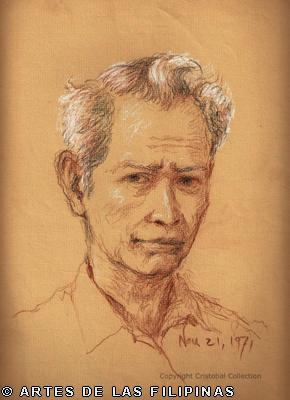 Self-Portrait (1971)