Purveyor of Knowledge and Emerging Publisher of Content and Visually Driven Books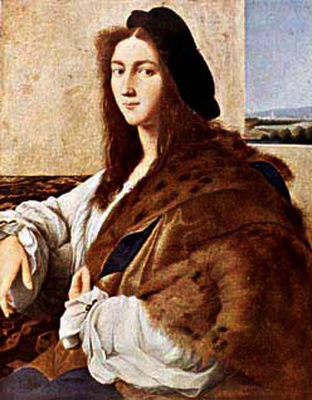 Portrait of a Young Man, around 1513-1514
attributed to Raphael
Poland's long-lost Raphael found
Portrait of a Young Man, missing since 1945,
reported to be in bank vault
by Julia Michalska

August 2012 -- Poland's long-lost masterpiece, attributed to Raphael and feared destroyed by many, has been re-discovered in a bank vault in an undisclosed location.
Portrait of a Young Man, around 1513-1514, from the Czartoryski family collection in Crakow, was confiscated by the Nazis in 1939 for Hitler's Führermuseum, Linz. It disappeared in 1945 shortly before the end of the Second World War.
A spokesman for Poland's Ministry of Foreign Affairs' Office for the Restitution of Cultural Goods told the Polish media today (1 August) that he is confident the painting will be returned to Poland. "Most importantly, the work was not lost in the turmoil of the war. It has not been burnt or destroyed. It exists. It is safely waiting in a region of the world where the law favours us," he said, declining to disclose in which country.
Portrait of a Young Man is Poland's most important work that has been missing since the war. Attempts by the Czartoryski family to find the painting after 1945 were hampered by the fact that Poland was behind the Iron Curtain. In 1991, the family renewed its efforts to find the painting. Although unverified, many art historians believe the subject of the painting is Raphael himself. Prince Adam Jerzy Czartoryski bought the portrait in 1798 along with Leonardo da Vinci's Lady with an Ermine, around 1489-90.
UPDATE: In a subsequent statement on its website the Ministry of Foreign Affairs has tried to calm expectations, saying: "We have no information as to where exactly the image is... however, we can confirm that [the ministry] continues to monitor all signals reaching us about the image's location."

SOURCE: Published online on August 1, 2012 at the Art Newspaper