Purveyor of Knowledge and Emerging Publisher of Content and Visually Driven Books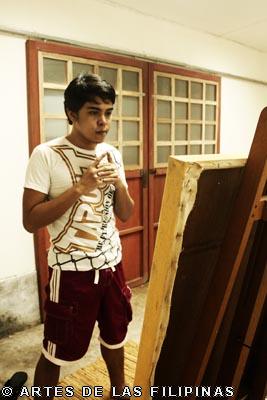 Edrick Daniel in his studio
Edrick Daniel's Chimerical Pursuits
by: Christiane L. de la Paz

AUGUST 2012--Edrick Daniel began his career in 2004 painting figurative works that show the influence of surrealism. Fantasy, tales, relationship informed his early narratives. Later, he sought the foundation of a figurative symbolic art to usher the viewers into his metaphors and inner visions. In creating moods, he made use of props—boats, roses, eyes, tongues, birds, butterflies, moon, black water, suit case, animals and figures floating through the air and conjunctions of seemingly unrelated objects to tell a story, increase the element of enigma, upend, invert and collapse into terra incognita. In this interview, Edrick Daniel eloquently recounts his early life through his student years and artistic training, his companions and artistic colleagues and elucidates his influences which inspired his mature works. Edrick Daniel's sharpness, sensibility, honest, frank and unabashed thoughts and opinions prove that he is no quack or charlatan but a fascinating portrait of a young painter who live his life with panache, deftly wrapping talent into his art.

You entered the University of the Philippines in 2000, give us a picture of your student years.

Life in UP was fun as far as I can remember. I was able to breeze through my major subjects due to the fact that I had a clique to work with. Later on these people I grew up in art became my group mates and we became known as Sangviaje. As a young boy growing up in Antipolo, I was really lucky to have been nurtured by the artists who were hanging out in Dr. Cuanang's residence way before it became what we know today as the Pinto Art Museum. I was lucky to have met Ferdie Montemayor, Mark Justiniani, Elmer Borlongan, Tony and Erwin Leaño to mention a few.

It was also Jerson Samson who really introduced me to art and taught me a lot of what I know today. Jerson was a second cousin of mine, the oddball on my street. Growing up in a household where creativity was an omnipresent element, it was no surprise that my supportive mother found me being fond of tagging along with Jerson and adapting his ways.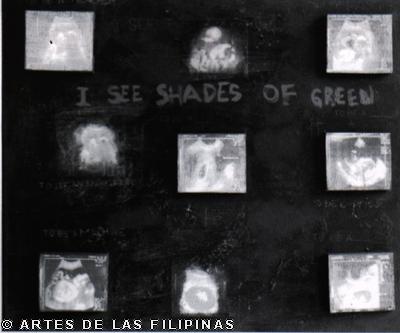 Concept Human (2002)

Tell me about your family. Where are the Daniels from?

My father was from Ozamis before he migrated to Antipolo when he was at his early twenties but I lived in Antipolo all my life so I got to know my family from my mother's side better than my relatives in Ozamis. I love Antipolo; every street, every nook and cranny of it. I would walk around this town as a boy and talk to people I barely knew. I was somehow at ease with them and their faces have become familiar to me. I would see them every day on the way to school. That was then, Antipolo barely had a pinch of the urban vibe in it back in the days.
I was always inclined to drawing, I was a cartoonist for the school paper and was often reprimanded in school for not paying attention to certain lectures. I would rather draw and daydream than bother knowing about certain ideas like numbers and mathematics.
Who among your parents is from Antipolo?

My mother is from Antipolo.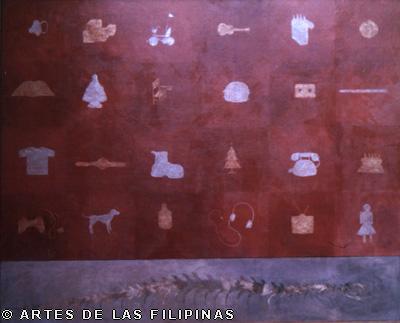 Better Than Silver and Gold (2003)
Edrick008

When and where were you born?

I was born on September 30, 1983 in Pasig City. My mother says it was at the Rizal Provincial Hospital where she gave birth to me.

Did you spend some of your childhood in Antipolo and part of it in Ozamis?

I lived and grew up in Antipolo and went to Ozamis thrice. I only came to Ozamis to visit and get to know my relatives there.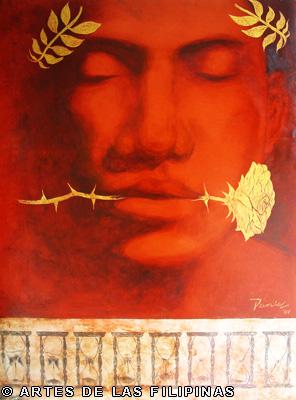 Awit (2004)

Is there anything about your childhood that showed you have an early interest in art?

I remember my mother telling me that every time she asked me what I wanted to be when I grow up, I'd always answer, Gusto ko maging blackboard! She would laugh and ask me why. I'd tell her "kasi madaming pwede i-drawing sa blackboard!" I really enjoyed blackboards more than my other toys. I also remember a relative drawing a car for me viewed from above and when she drew the wheels, she made circles on the corners of the box and it occurred to me that seeing that shape from that perspective was not correct so I erased the circles she drew and made rectangles instead. That event happened a year before I started going to school. My aunts and uncles would always give me coloring books and other art stuffs.

Back then, Jerson Samson was in his high school years and was already practicing art. I'd always see him doing stuff, tinkering with clay, paint etc while i was a kid and that intrigued me. And so I started going to their place on a regular basis and drew together with Jaypee Samson and Reynaldo Samson Jr. on used cigarette cartons. It was a very healthy exercise. We'd draw all day for as long as we had cartons and pens. We'd make superheroes of our own and sometimes we make comic strips while Jerson would mess around with us when we were kids.

What comic book are you reading back then?

I have a good collection of Marvel Comics. These too were very useful to my introduction to art. I found the drawings so fascinating that I had to make time to copy them and try to understand how every page was made.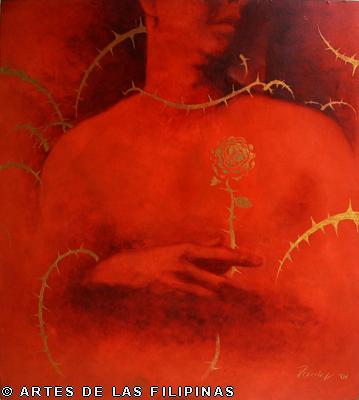 Hanggang (2004)

Where did you have your grade school and high school education?

I finished my grade school and my high school education at Our Lady of Peace School here in Antipolo.

Was Fine Arts your first course?

Yes! It was all I ever wanted. (smiles)

What made you decide to pursue fine arts?

When I was in high school Jerson asked me to attend a Borlongan exhibition entitled "Mauway" and there, I was inspired to paint. I remember two pieces from that show that made an impact on me as a teenager. These works were entitled "Earthquake Drill" and "Jamming Ground." I never thought that art could be that simple and witty. After that show, I took my sketchpad and started drawing. I wanted to make something like that. I wanted to experience how it was to actually be able to make a picture that people understood. It was witty. It was relevant. It was edible. Later on, I came across the works of Mark Justiniani, Tony Leaño and Ferdie Montemayor and grew even more inspired by studying their works. Add that to a barkada of art students like Joven Mansit, John Paul Antido, Dennis Fortozo and Jaypee Samson. Fine arts just became a more obvious path for me. I think I could be anything but a hyper realist. I simply don't have the patience to work with such tedious details. But who knows? Maybe one day I'll try.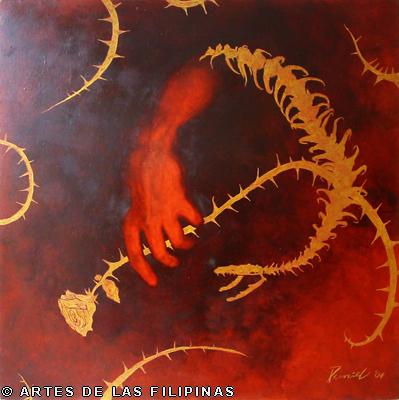 Huling Hinga (2004)

After graduating, what was the first job that you applied for?

While a student, I was already teaching little kids every summer as a workshop moderator. It was at the Boston Gallery where I taught. Ironically, the first corporate job I had after I got out of UP was a call center agent. I stayed there for eight months, and I was offered a teaching slot in a little school in Antipolo -- a job that I loved and enjoyed. I was able to complete four school years with it.

Why did you stop schooling?

I was a moody kid back in UP and I remember talking back a lot to some professors that didn't make sense to me that time. I was raised to be assertive and outspoken so I think I raised a few eyebrows and stepped on a few toes. For now, let's leave it like that. (smiles)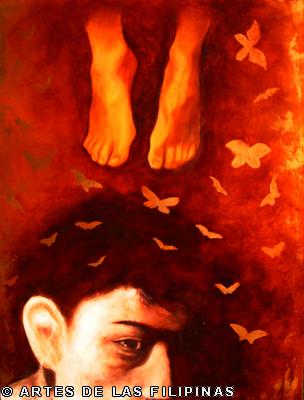 Pedestal (2004)

Do you have any plans of continuing your education in the not so distant future?

Perhaps. I was already making ways to come back but then my solo show got in the way of my education. But I was really proud of making the commitment to the solo exhibition first.

Are you comfortable having your classmates as your professors?

I think that's okay just as long as they don't treat me like I don't know what they're talking about. (laughs loud)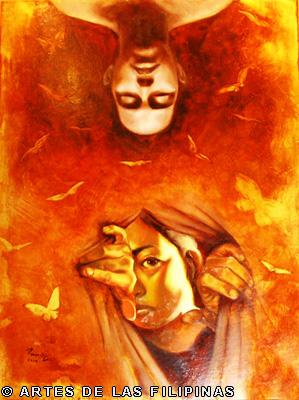 Bitin (2005)

Looking back, which course did you find most relevant in CFA?

I always thought that the subjects that taught you how to think were more relevant than the ones that actually taught you how to paint. During my first year, I had a wonderful Visual Perception professor now known as Pamela Yan-Santos. She pretty much taught me my first formal art ABC's. During my third year in FA, I was lucky to have been a part of Prof. Feleo's Painting class. He taught me how to research, taught me how to think, how to look at objects as a possible artistic resource and many more. He was much like a father to me. I also enjoyed Art Theory under Leo Abaya's class. Ang galing kasi magturo ni Sir Abaya. He made sure that every information came in handy bite-sized pieces. Before we know it, we were talking about aesthetic theories like it was not as complicated as it actually was.

And the course you consider "not worthy of enlisting in?"

Physical Education. (laughs hard). I was never a big sports fan.

Do you have a lot of incompletes when you were a student?

Sadly, yes. Mostly in my General Education subjects.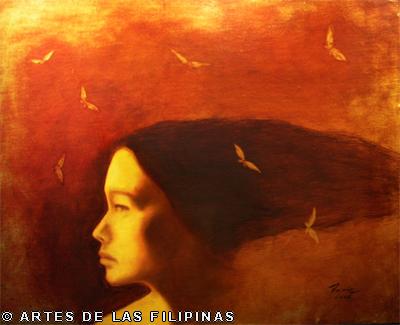 Salubong (2005)

Who are your contemporaries in UP?

Joven Mansit, Winner Jumalon, Maria Taniguchi, Caloy Santos, Dennis Fortozo, John Paul Antido, Nina Laurel, Jaypee Samson, RG Habulan to name a few. Medyo madami yung nagtuloy mag-art from my batch.

Were you also part of the class who makes entries for the Lantern Parade?

Yes. Every freshman was required to join the Lantern Parade back then.

Who was the star student during your time?

Maria Taniguchi and Datu Arellano. Those two always had good plates.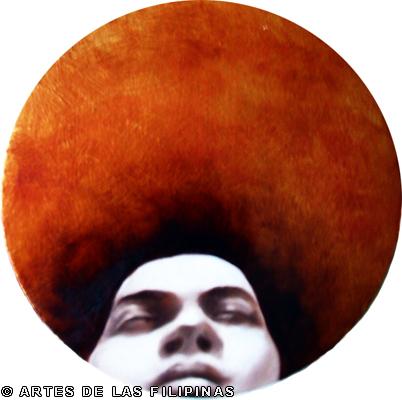 Untitled (2006)

Who are some of your professors in UP CFA?

Roberto Feleo, Roberto Chabet, John Santos III, Benjie Cabangis, Pam Yan-Santos, Norman Sustiger and Leo Abaya.

Any memorable professors from this pool?

Pam Yan-Santos, Bobby Chabet, Bob Feleo and Leo Abaya.

Do you have any plans of teaching in your college?

It crossed my mind but I would need to finish first. (smiles)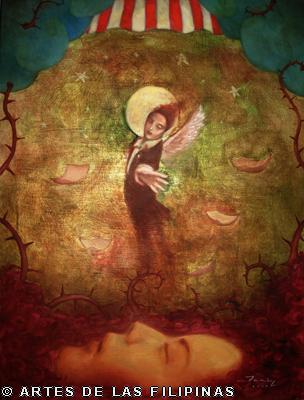 Mensahe (2006)

What are some of the lessons that you have learned that was not taught to you in school?

I think there will be that golden time in an artist's life when he realizes that he's a student no more. That time where you know you just can't get away with something, that time when you realize that you need to be more responsible with your art making. That's one thing that no school can teach and it takes years to get there.

During your student years, whose style are you drawn to painting?

I remember Pam Yan-Santos commenting about how I shuffled styles from one plate to the next. This time it looks like a Borlongan, next plate would look like a Justiniani then next could be a Montemayor. I was drawn to their works for these were what I see while growing up.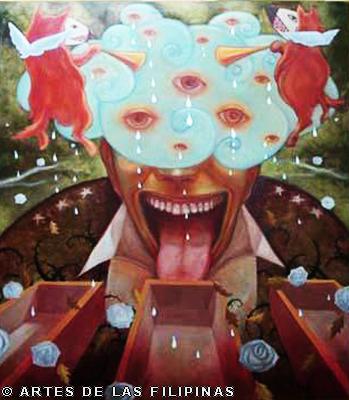 Ang Hukom (2007)

What about foreign influences?

Egon Schiele, Gustav Klimt, Vincent Van Gogh and Mark Ryden.

Where do you hang out in FA?

Kung saan-saan. Basta may yosi at chibog panalo na.

Are you a member of any fraternity?

Nope. Not Interested in them.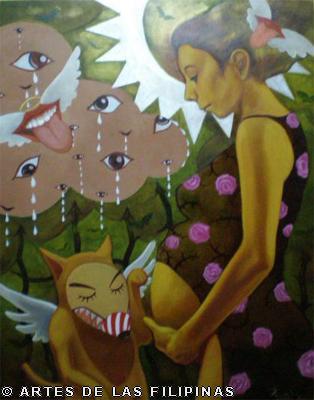 Ang Emperatris (2007)

You entered the art scene in 2004, what was the status of the art scene during those times?

I think that time already marked the clear divide between the different generations of visual art practitioners in the country. You have the artists under Chabet's school of thought then you have the neo-figurativists and then the hyper realists. To me, these were the dominant genres I encountered while I was making art.

Did you come up with excellent works on your early years?

I don't mean to sound tacky but I guess yeah. The pieces I made for Bodabil were the most definitive pieces from my early years. It was these pieces that made John Santos III tell me that I'm on the right track, I also remember seeing Pam Yan-Santos's eyes glow with excitement when she saw my works and she told me that I was able to find my own visual language already. These comments mattered a lot to me because they were my college professors. They saw me grow. They saw my work change and they taught me what I know.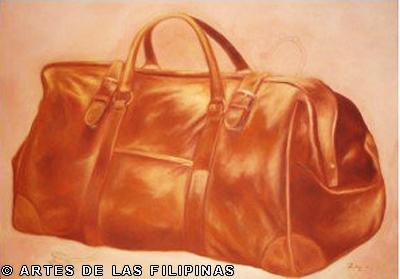 Hanap Buhay (2007)

What was your first exhibit like?
It was a class exhibit with my block mates. It was shown in a small bar in Makati and no one really bothered looking at my works at that time. But it was a learning experience for me. From that day forward, I told myself to never agree to put my works on places that are not solely for visual art appreciation purposes.

Do you agree that the first exhibit of a painter could make or break his career?

No. As John Santos III would always say, "Ang art hindi karera yan, patagalan yan." I remember these words very well. An artist is only as good as his last work and I believe that for as long as you can do art, you always have a chance of outdoing yourself.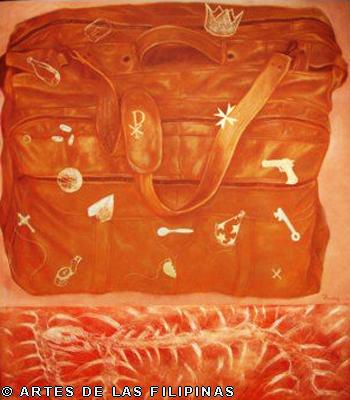 Pabaon (2007)

Let's say none of your works were sold during your first exhibit, would you have continued?

Yes! I have people who are there to tell me to move forward. I have a lot of motivation around me. There's no reason to stop.
How did your parents react to your works?

My Dad, I think, never really understood what I was doing but I think it was enough to console him that I was doing something with my life. My Mom, however, understood my ideas but not all of it. Nonetheless, she supports my dream and continues to do so to this day.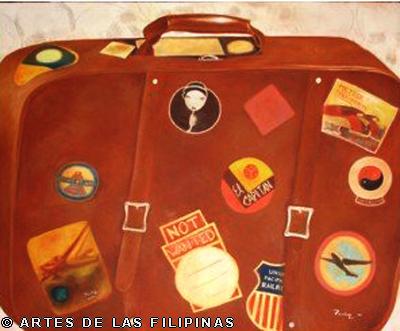 Paglisan (2007)

Do you recall the first work that you sold?

Yes! I was sixteen at that time and it was a competition piece for an NCCA event. At first I thought, "Wow! Someone actually bought my work. I'm buying a gameboy!!! (laughs loud). But a few weeks after that, I received a letter from a collector telling me how he loved my work and how he sees great potential in me. He wrote a pretty long letter with nothing but praises and high hopes. It gave me a lot of confidence. After that, I just knew that I had the knack for making good paintings.
If that letter would have been a hate mail, how do you think you would have reacted?

I really wouldn't know. I was sixteen at that time and I may have felt bad but then again, I had a very good emotional support system here at home.

What are the other exhibits you were in?

Mostly group exhibits and competition exhibitions other than my regular exhibitions with Sangviaje.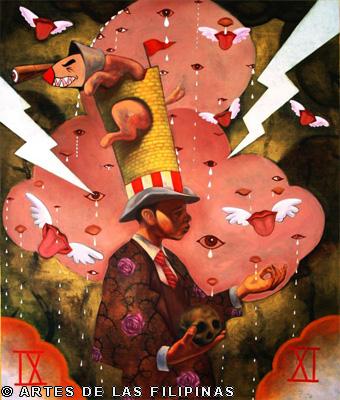 Ang Torre (2007)

Which one was the most memorable?

I think the most memorable was the first Sangviaje exhibition. We were given a chance to show our works with the help of Ferdie Montemayor. He lobbied us to Joel Mendez at that time and he gave us a slot in his gallery in Wilson Street in Green Hills. That time, Elmer Borlongan cut the ribbon. He came all the way from Zambales just to be there to open our show. It was then when we felt like we had their blessing. Every one of them just supported us and made sure we were being careful with our decisions as young artists. We were very lucky.

What are some of your works that you will never sell to anyone?

Those works that had my face on them. Those are very personal and I'd prefer to keep them. Or if I run out of space I'd ask friends to adopt a few pieces until I get my dream house. (smiles)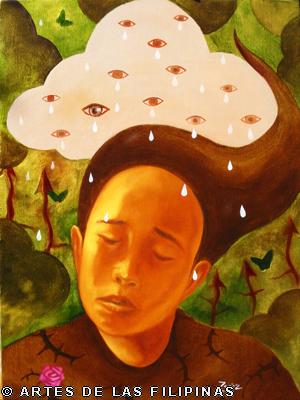 Untitled (2007)

What was the first gallery that carried your works?

The Big and Small Art Co.

Are you represented by several galleries now?

Not officially. But I normally bring works to Boston Gallery and Pinto.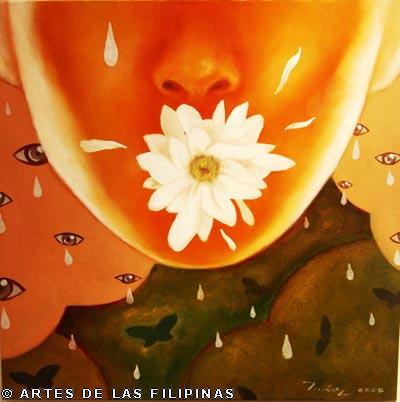 Lihim (2008)

How do you try to present new concepts to the public for your upcoming exhibits?

As I have experienced during my first solo show, I try to stick to my roots all the time while injecting certain concepts within the works. I mean, I lived in late 1980s and it was our generation that witnessed the sudden change in interactivity among individuals. Antipolo is idyllic yet urban and it influence my works. I love romantic elements in paintings. I love making my own figures while incorporating certain symbols and metaphors that I come across with. I lived in a time where semiotics plays an even more important role and I plan to study and bank on that. I don't want to develop a formula. Not yet.

Did you ever find yourself in a situation when your idea for your own exhibit has been executed by another artist?

Yes! That happens a lot. Pero kung iisipin mo, hindi naman eksakto sa iniisip nila kaya ilalabas ko pa rin yung sakin.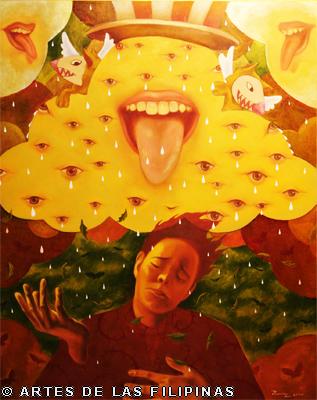 Ang Paghihintay (2008)

Do you try to alter your earlier idea for your next exhibit or do you come up with a new one?

Sometimes I do. Whenever I feel like an idea has not been fully exhausted, I try and make more alterations of that idea.

When you are in the process of working, who exactly is the viewer you have in mind?

Myself. Once I feel content and worry-free about a certain piece, then I know it's a good one. And I know a lot of people who think like me so my works would reach out to them as well.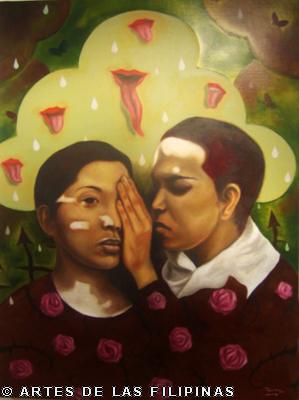 Ang Tangi kong Pag-ibig (2008)

What are some of the themes that you have previously explored?

I am still very much interested in media pollution. It was an idea I brought up for our second group exhibition entitled Palabas. I still find the fact that no matter how sophisticated the means, the forces that drive us to a certain end is still very much primal.

What were your insecurities when you were starting out?

Madami. I wasn't the best in terms of skills and most of the time my symbols were misunderstood. I had to learn to be concise for I was not given the liberty of making specific definitions of things with words. I'm a painter and I must learn to communicate with pictures. And considering how easily I get distracted with other things like longboarding and Muay Thai. I also became the least prolific one. But I always think that the time I spent away from painting gave me more materials to ponder upon. Madami akong naranasan sa labas ng art na sobrang sarap ipakita sa art.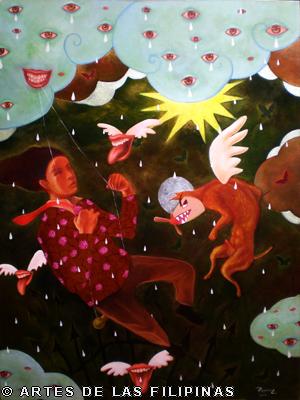 Patibong (2008)

Do you still have insecurities at this time?

Oo pero hindi na masyadong marami. Pag may nakikita akong medyo similar sa gawa ko. Dalawa lang naman nararamdaman ko. Either I go "Oh okay." or I go "I think I need to get back to work".

Have you ever been accused of painting in the same manner as that of another artist when you were starting?

Didn't we all? Here's the thing I always tell my students back then. "It's not wrong to admit who your influences are for as long as you know that one day you will not be them."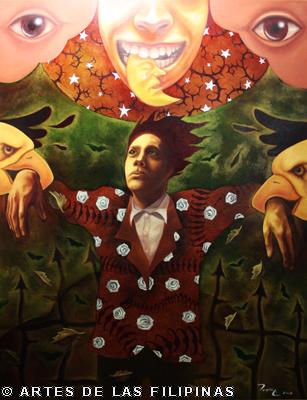 Pillory of the Sleepless (2008)

Are you a member of any artist's group?

Sangviaje.

What do you think are the advantages of being part of an artist's group?

That depends. We pretty much grew up together, studied under the same mentor, went to the same school, did art together, joined competitions together and yet we were able to develop our own unique styles within the group. I think the advantages vary depending on the kinds of personalities you have within your group. But one thing's for sure. It pays to have art buddies. You get to talk to them without explaining much because they know you too well.

Which countries have you visited to have shows?

Singapore for Utterly art and Malaysia for Richard Koh Fine art.

Have you ever won any important awards?

I don't join competitions too often. But I was a finalist at Metrobank and Phillip Morris.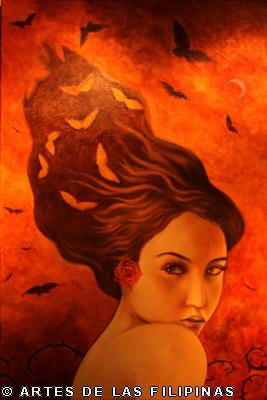 Hanggang sa Muli (2009)

The medals and trophies that you received from these bodies, do you welcome this in your young career?

Not really. I would really enjoy being known for my body of works and not as the competition winner of so and so.
What is it about competitions that turn you off?

I think the only thing I don't exactly like about competitions is the fact that, if you win using a certain style, people will expect you to do that style over and over.

Do you think awards help make a painter become commercially attractive?

Not really because I think if they're collecting you solely for commercial purposes then there's something very wrong with that. I'd rather be that type which collectors will never let go of.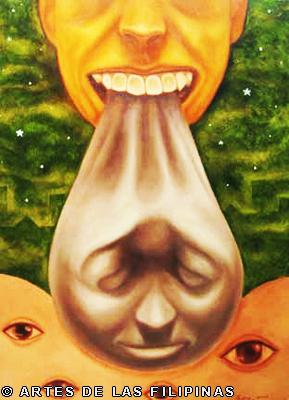 First Bite (2009)

Do you think a painter can become commercially successful without receiving any awards?

Yes, definitely! At this day and age, more exposure is given to the artist. People are learning to see into the work and what it speaks of.

Who handles the business side of your profession?

I used to have a manager but I really felt constrained during that time. It didn't turn out as I expected so I just decided to do things by myself.

Do you intend to have a manager in the coming years?

If I meet an honest and compassionate manager then maybe I'll sign up.

Do you have a person or gallery on mind whom you would like to manage you?

Tin-Aw Gallery.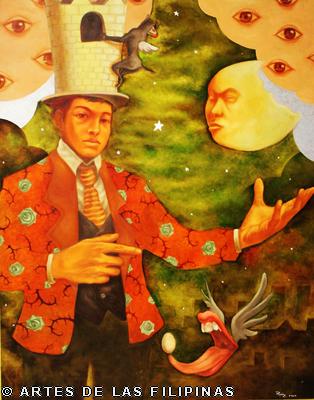 Moon Cake (2009)

Let's talk about the methods you employ in your works. Is there anything about your way of painting that other artists do not do?
I'm not so sure. I might say something that they are already doing. I think I focus more on the narrative of the work rather than the process of it.

What are some of the colors that you always use in your works?

Gold and silver! I like playing around with glare. It gives me an extra element of interactivity. I mean the look of the work would change depending on how light would bounce back from the metallic pigments I use.

Decades from now, if a work is found "attributed" to you, what clues will you leave to historians to discern that the work is yours?
The canvas used and how it was primed I guess. I have played a lot with materials to get the proper priming I want.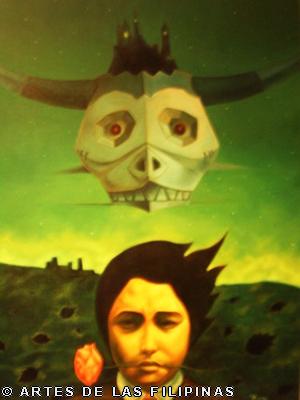 Matador (2009)

What kind of canvas do you use?

I just look for thick smooth canvases most of the time. I find that to be most convenient for me.
Have you always been responsibly documenting your works?

I don't have a lot of pictures of my works especially the old ones. We didn't have a digital camera back then so at most, what we did was borrow. And when Ondoy came, a lot of my pictures and drawings were gone with the flood.

Some artists follow a square inch pricing method, what pricing method do you employ?

Most of the time I follow that, too. Pero kasi may mga works na kahit maliit ma-effort din kaya minsan nagtataka sila kahit maliit na trabaho eh kapareho lang ng presyo.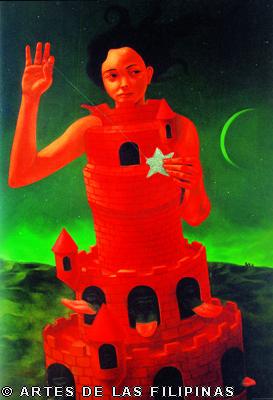 Bestida (2009)

How do you protect your work from "decreasing in value" over time?

Simple lang. Live within my means and don't overproduce. And sana kayanin ko na gumawa ng mas maganda every time.

Let's say that your works have become out of fashion in the years to come, what is your Plan B?

I think teaching would be a good sabbatical should the time come that people get tired of my works. And if ever they do, that only means one thing -- I did not evolve.

Do you have an idea of the profile of collectors who buy your works?

I only know a few but a good number of my works belong to Reggie Quimbo.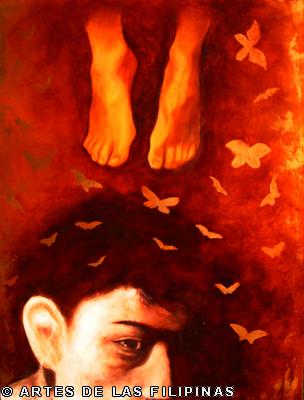 Pet (2010)

What has been the best compliment said about you or your work?

"Malayo na trabaho mo kay Mark (Justiniani)."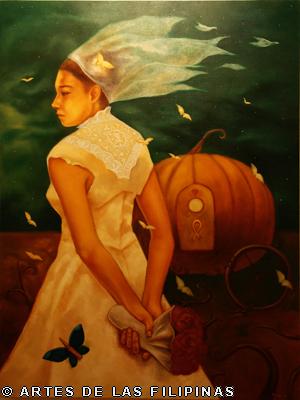 Kasal (2010)

Specifically, what did you draw from Mark Justiniani's works?

I have always been fascinated at how Mark uses his images, the combination of imagery and symbolism is tastefully done to complete a narrative.

And what have you been criticized of?

Minsan daw yung symbolism ko di naiintindihan. Well, that's the risk I took and still have no regrets.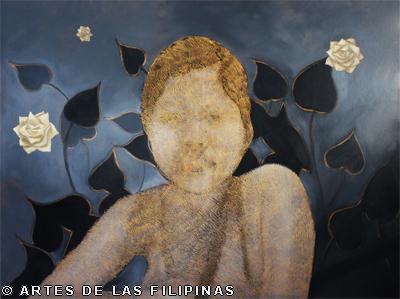 All That is Left (2011)

What is the best time for you to paint?

After dinner towards midnight. Tapos may magandang sound trip lang. Okay na ako don.
Do you have any rituals when you paint?

Sub-consciously I think I immerse myself in good music first to get me in the mood. I often find myself performing alone with the music of The Strokes, Radiohead, The Jerks, Reverie Sound Revue, The Virgins, Tool, A Perfect Circle, to mention a few. (laughs hards).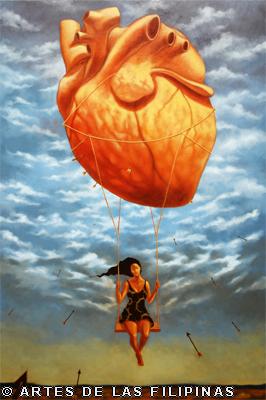 Ako ay May Lobo (2011)

What do you believe in as an artist?

Love your art and your art will love you back.

What are some of your ethics as an artist?

I respect the artists who I think deserves it simply because they know what they are doing whatever that may be. I could not guarantee that it would be the same for those who don't.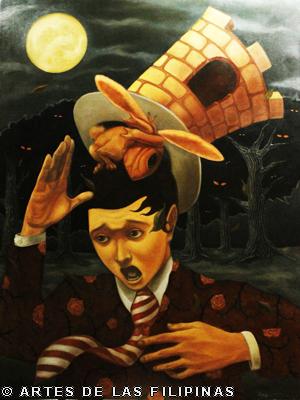 Hat Trick (2011)

Are you fond of reading?

Not so much. But I remember reading a compilation of short stories by Franz Kafka. I enjoyed reading the metamorphosis a lot. And also, I loved Gabriel Garcia Marquez's "Love in the time of Cholera."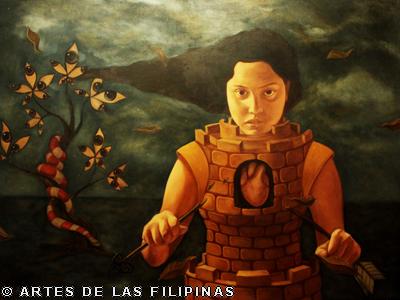 Fortress (2011)

Have you had any memorable commissioned works?

Yes, but I don't know who got it. It was under my manager back then. Things he would never tell me.

Do you like commissioned works?

Yes as long as they're not portraits. Di yata ako magaling sa ganun.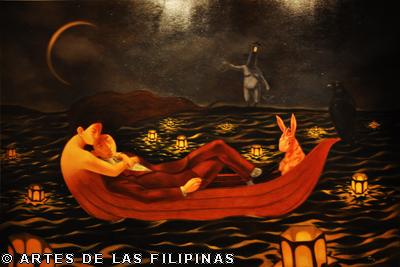 Lulan (2011)
Edrick029
What do you hate about doing portraits?

I don't copy as well as other people. I have to use grids for that and knowing other artists who have had portraits commissioned in the past, I think they kinda hated it, too. Clients would always come and say "Ah it should look like this and that… (etc)" Hindi ko masyadong gusto yung pinakikialaman ako sa trabaho.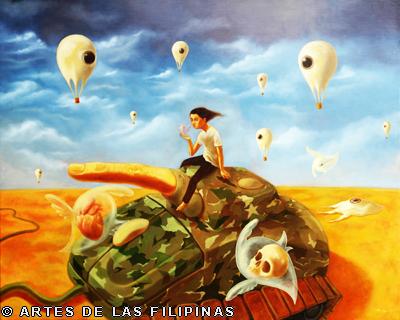 Sandata (2011)
Edrick032

What is it that you intend to happen in your career in the next decade?

I want to be able to share what I know to the next generation of Antipolo artists. I have been privileged to experience this with the Salingpusa members then. It is only fair that I pay it forward.

Why do you only limit your intention to the next generation of Antipolo artists?

Well, for now it's a feasible answer. I don't belong to an institution to formally teach art so I'd rather stay here and help the community first.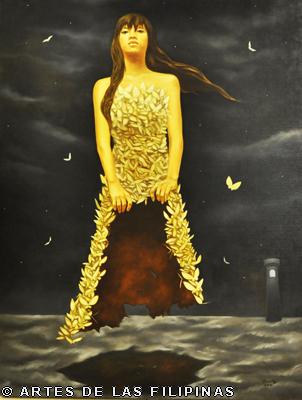 Shelter (2012)
Edrick033
If you are not a painter today, what do you think would have happened in your career?
Other than painting, the only thing I know how to do is talk. So I'll probably be a call center agent or an English instructor or a writer.
In what way did your art help you and your family?

For one, it has given me my bread and butter. It allowed me to live my life on my own time and doing the things I love the most.

What is it about being a Filipino artist that you love and enjoy?

It's more fun in the Philippines! Kahit art! Ang daming materials ng Pilipinas, from witty commentaries about social class disparities to just complete non-sense. Being a Filipino artist taught me how to appreciate third world things under a comical yet sophisticated light. It taught me to dissect these concepts and find something of value in them. And I believe that if I were not immersed into this crazy culture of ours, I wouldn't be able to do what I do.
Having been in the industry for a decade, do you think your art matter?

I certainly think it does. Same goes for any other artistic discipline. I look at it as just me putting my perspectives on canvas.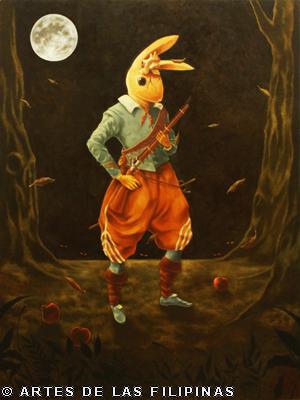 The Hunter (2012)