Purveyor of Knowledge and Emerging Publisher of Content and Visually Driven Books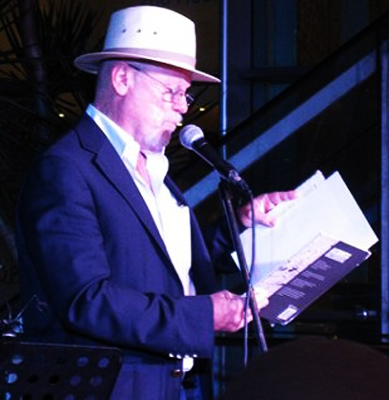 David Mckirdy reads from his book of poems

How to turn a manuscript into a bestseller
Text and photos by Elizabeth Lolarga, VERA Files
November 2012
--Editors today generally spend less time in editing because time is money. This is the observation that novelist Ken Spillman gave at a panel discussion on "Uncut: Issues in Editing" at the recent "Read Lit District," the Third Philippine International Literary Festival in Makati City's Ayala Museum.
Spillman, author of the successful Jake series for young readers and whose novel Advaita was described by Young India Books as a work of "sheer genius" that "gently pushes the boundaries of language," qualified that "the best writers respect and respond well to the editor's work."
Because he also accepts editing jobs, he said as a reader he first tries to get "a feel of the manuscript. I look for copouts or parts where the author is struggling with a point of view or if he is able to sustain it and be effectively consistent if he switches it."
A good editor, he added, "becomes a little bit more of a writer, a partner of the writer. He is inside the work already, not outside."
Spillman said a good editor always prefers "less is more." He advised writers, "Don't overwrite. Give the reader space. Help the book become the best it can be." This can be done by reducing the original draft by maybe 10 percent without anything essential getting lost along the way as the writer learns to edit himself.
David McKirdy, poet, author of Accidental Occidental and former director of the Hong Kong International Literary Festival, said the editor's work is always marked by invisibility. He agreed with Spillman that the better writers respond well to editors.

Juliet Grameslthough he said he had limited qualifications since his daily job is editing a motoring magazine, he had been with Chameleon Press that has put out, among others, poetry books. He has worked with poets whom he described as "completely insane but are great souls." He met one such poet who, apart from submitting a manuscript for publication, demanded that when it is in book form, it must be sold with a bouquet of flowers and a bottle of Jack Daniels.
He said writers who want to be published "must have a clear vision of what you're trying to sell," adding that the trend in Hong Kong is now print on demand. It is also important for a book to be made available overseas for wider readership.
Like Spillman, McKirdy was in favor of simplicity where a writer aims to achieve something clearly when he sends a manuscript to a publisher. For example, a write must not demand that his book be too big; otherwise, it is hard to display it on a bookstore's rack. "Be practical," he said, "and do research apart from keeping everything simple."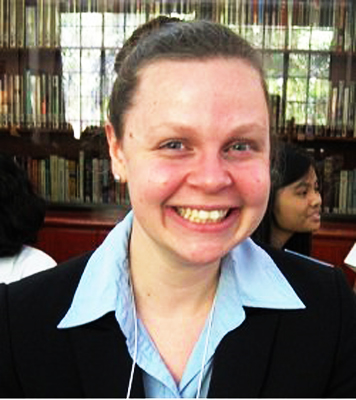 Juliet Grames


Juliet Grames, a crime fiction editor based in Brooklyn, New York, said writers who aspire to be authors must consider "career curation" or finding the right literary agent. She added that she is one of the few editors who like being one because she enjoys working with authors, saying, "There is a book for every person and a person for every book."
Ken SpillmanShe said as an editor of Soho Press, an independent publisher in New York City, she liked to receive manuscripts that tell "multi-cultural stories which is our bedrock." As for the saleability of a book as an object, she ascribed it to "the person who matters--the reader."
She assured the audience that "publishers are not evil people," and they, too, would like to find the right readers for their books. For readers, she said, what matters were the intersecting factors of words, story and issue or message, while for writers, the factors involved are passion, message and money. For publishers it's money, cache and ideas or ideology.
Grames also said that every writer always needs a good copy editor and critic even as the publishing model is changing with the advent of e-books.
Her employer, Soho Press, puts out from 40 to 50 titles a year, and she bewailed the fact that of that number there are "not many submissions from Filipino authors." She said it was time that Filipino writers look around for their agents who could manage the publishing and financial aspects of their career. An agent gets at least 15 per cent of a book's earnings.
She said she would welcome crime fiction submissions from authors from the Philippines and other Asian countries. She added that this genre of fiction could carry the issue of social injustice that troubles countries from this part of the world.
She cited the crime novel The Boy in the Suitcase by Lene Kaaberbol and Agnete Friis, published by Sohol and a bestseller worldwide, that deals with the issue of child trafficking.
(VERA Files is put out by veteran journalists taking a deeper look at current issues. Vera is Latin for "true.")


SOURCE: Blog Post by Vera Files--The Inbox--November 24, 2012