Purveyor of Knowledge and Emerging Publisher of Content and Visually Driven Books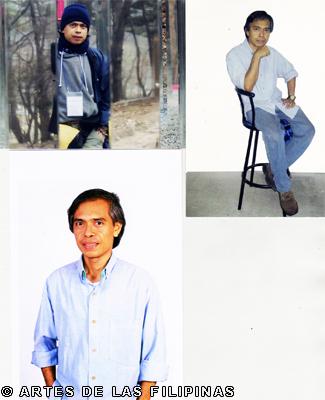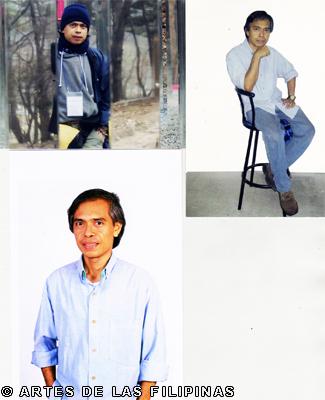 William Gaudinez over the years

WILLIAM GAUDINEZ'S CATHEDRALS OF TRUTH
by: Christiane L. de la Paz
June 2013-- William Gaudinez came to public attention during the 1984 Metrobank Painting Competition. Early in his career, he painted vendors, fiesta and childhood scenes but over time found a way to integrate his paintings, love of sculpture and his narrative gifts in crafted mixed media urnas and retablos using capiz and coconut shells, carabao bones and horns, colored beads, jade, mother of pearl and kamagong hardwood shaped into leaves. With this approach, Gaudinez aimed to explore the customs and ritual practices of the indigenous Filipinos and restore the art making traditions of craftsmen in inlaying materials that were often used in carving and embroidery. His work is generally seen as aligned with folk art as he carved, collaged, painted his urnas and retablos with historical and socio-political-cultural-religious vignettes to satirize contemporary society. In both closed and open doors of his urnas, Gaudinez often took up the themes of globalization to make known his call for change. His images were the poor, the working class, the indigenous people as they provided the honest, simple way of life and an appropriate setting for nostalgia. William Gaudinez discusses further the creation of his art, his growth as an artist and the development of his artistic philosophy in this June interview to reinforce the value of folk knowledge and its place in modern day society.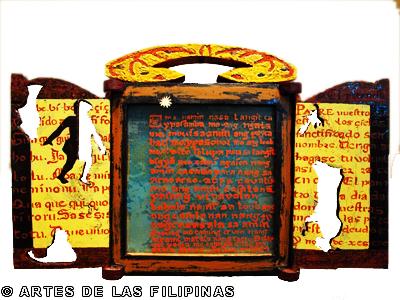 1Sinaunang Binalikan (2010)
Graduating from the University of Santo Tomas in 1982, how was your life like when you are starting in your career?
I worked as a designer and layout artist andillustrator for tourism guide books, job tabloidsand gossip magazines . I didn' t have an inkling that I would one day end up as a painter and sculptor although I loved to draw and color my drawings and was very fascinated with comic books and animation Disney style .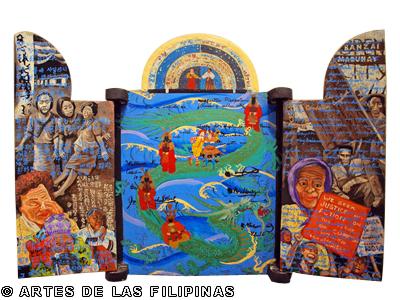 2The Twin Destiny (2008)

Was Fine Arts your first course?
Fine Arts was my first course although I asked the advice of my uncle Angelito Antonio for the best course I should seriously consider to take up in college.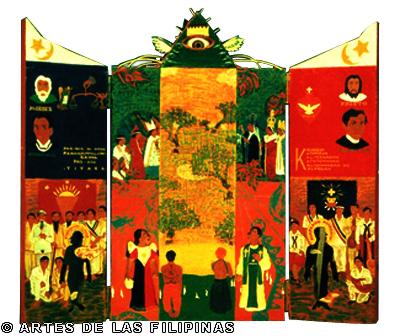 3Sa Mata ng Bundok Banahaw (2010)


And his advice to you was?
He told me to take up Advertising art because it was a practical choice that would put food on my table and feed my family.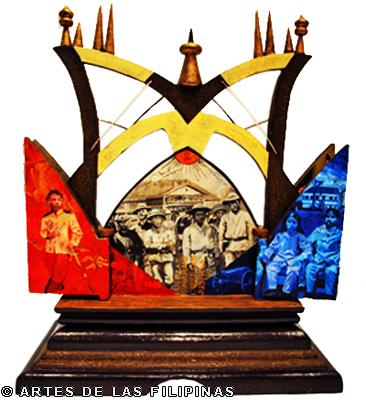 4Ang Retablo ng Dalawang Amo (2010)

How are you related to Angelito Antonio?
My mother is the eldest sister of my uncle Angelito Antonio. My aunt Norma Belleza encouraged me to take up the brush and start painting . I would like to say that I am what I am now because of their generous support , encouragement and faith in what I can possibly do in the future.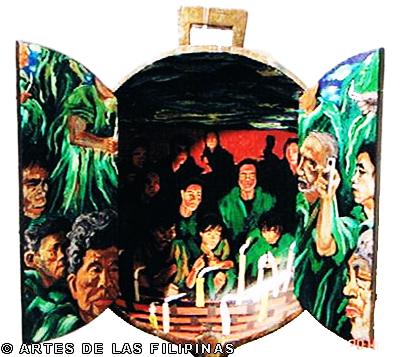 5Panata ng mga Taong Putik (2010)

Who are your contemporaries in UST?
Rowena Bancod Gaborni , Arnel Cruz , Janau Saldariega , Tess Pasola and Tony Gonzalez. Tess and Tony are currently one of the hottest designers in crafts making using handmade paper today .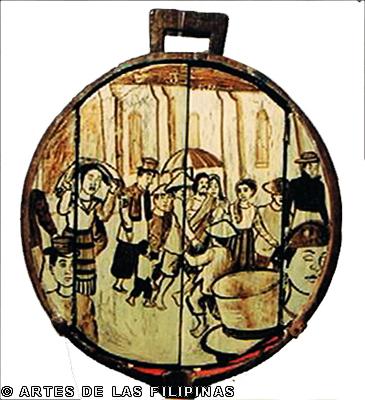 6Niluto ng Kasaysayan (2011)

After graduating, what was the first job you applied for?
I was a staff artist at the Hotel Las Palmas in Ermita, Manila where I did all print and layout requirements in ads, handmade streamers, posters, etc..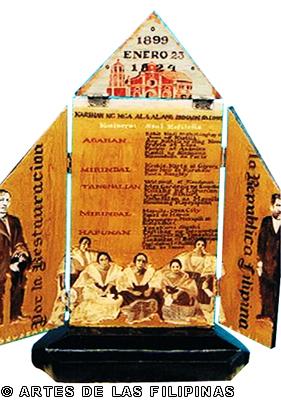 7Pag-ibig sa Magkabilang panig ng Mundo (2011)

After this stint, did you have another job?
I also did layout page designs and package designs for tourism guidebooks and a new novelty product called Shrinky Dinky with a sister company.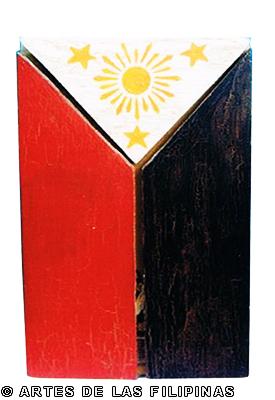 8Urna ng Walong Filipina (1994)


You first entered the art scene in 1983. What was the status of the art scene during those times?
The art scene had a preference for oil on canvas or acrylic on canvas -all Western oriented subjects and themes. Young artists embraced the Western mode of art making . The most prominent first group art exhibition which I joined was with my cousin, Marcel Antonio and Cesar Llamas in Vigan, Ilocos Sur.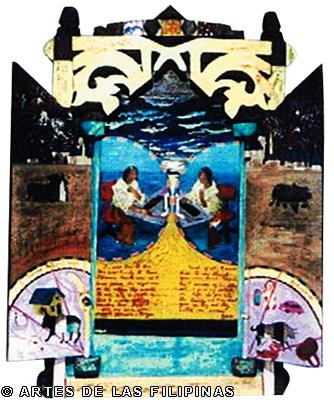 9Pag-ani ng Tubo (2004)

What did you show in this exhibition?
I presented folk art themes such as vendors , childhood scenes , fiestas.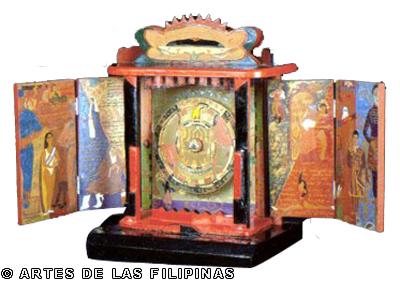 10Si May-i sa mga mata ni Nostradamus (2010)


Painted in a realistic manner?
In my own expressionist paintings in oil on canvas folksy in themes and settings.
How similar or different are your works from your cousin, Marcel?
Marcel is a great artist but his works are influenced by Marc Chagall, Balthus and R.B. Kitaj . I realized that there is a lot more to rediscover to finally come up with my own direction visually.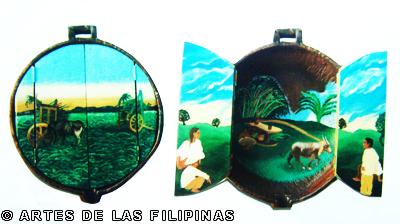 11Kalooban (2010)

Tell me about your first exhibit.
I launched my first solo art exhibition in Galeria Mia. I focused on painting the Edsa Revolution as the central theme. Everything went very smoothly. I had a lot of paintings sold. Only three to four pieces remained out of the twenty-five pieces I mounted.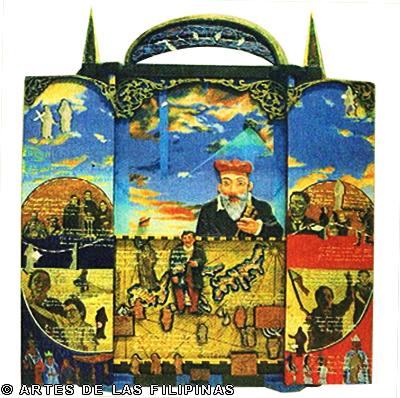 12Ang Sigaw (2005)

What was the first gallery that carried your works?
Heritage Gallery and Galeria Mia.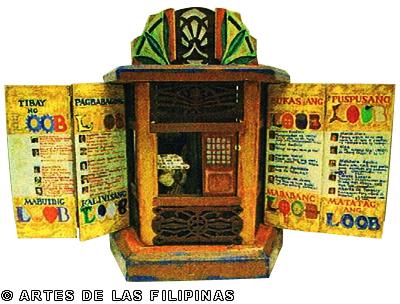 13Globalisasyon Gene-e (1999)

Do these galleries require you to submit a proposal for your exhibit?
No. They simply asked me to do what is simply familiar and colorful to the eyes.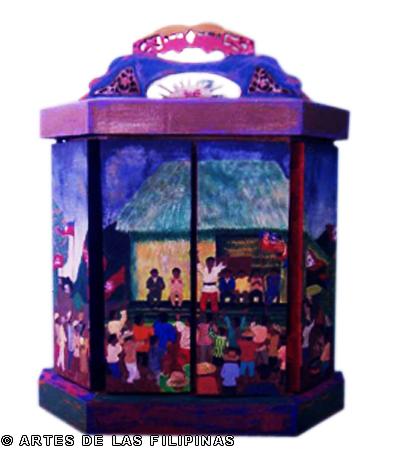 14Yakan Interlude (1999)

For the ideas of your own exhibitions, how do you try to be different in concepts and executions?
In conceptualizing and executing each mixed media retablo and urna, I do research on severalurnas and retables done by unknown artisans. I also try to be flexible on the use of inlaid materials which I engrave on hardwood or terracotta such as carabao bone , carabao horn , mother of pearl , jade , stone, coconut shell chips , colored beads, kamagong hardwood shaped into leaves and glow in the dark cutouts which I use for inlaid stars. I try to conceptualize and execute new approaches on how the form of the urna or retablo would look like on both closed and opened doors since the doors have pegs which can swing on wooden hinges. I also try to explore indigenous practices and rituals as well as colorful festivals celebrated by indigenous peoples.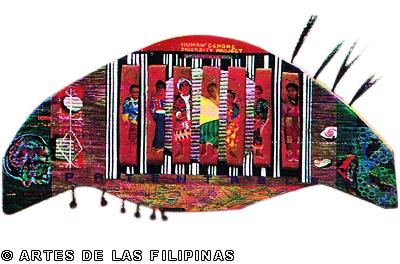 15Sa Baybayin ng Lemuria (1999)

Tell me about the imagery you paint in the urnas.


Some of my urnas have narratives to complement my paintings that are socio -political, socio-cultural , socio-religious in themes. Oftentimes, I utilized stories that are familiar to Pinoy audience but are universally addressed to an international audience including globalization, environmental destruction caused by multinational companies, the vast influence of Western civilization and its materialistic lifestyle that have contaminated and changed us.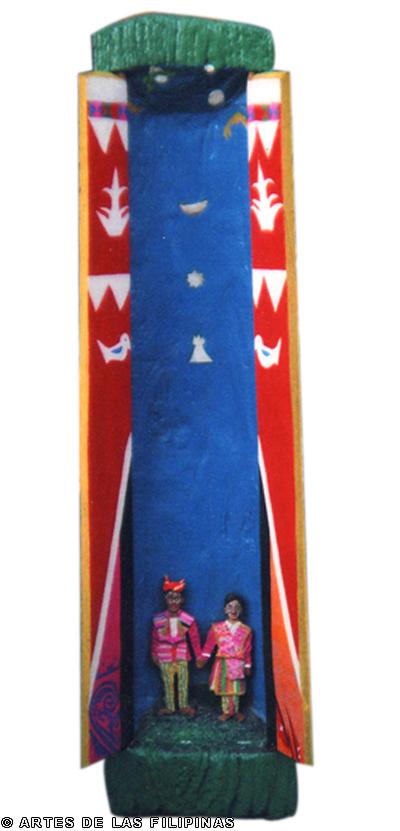 16Kasal (2005)

Sometimes there are also texts painted in your urnas like scriptures. What are these texts about?


Yes. I try to expand the concept of comic books. Instead of putting thought bubbles, I utilized texts to put forward my statements and concerns. Oftentimes, I give hints of what I want to say.
Do you make us of old urnas or you make your own urnas?
As much as possible, I make my own urnas but there was a time that an art collector commissioned me to do a retablo with an antique gradas (the feet of ancient retablo).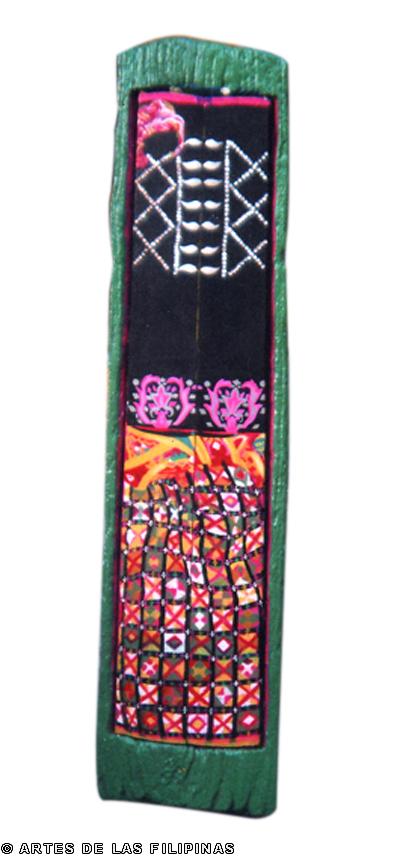 17Ang Mga Tala ng mga Manobo (2012)

Where do you source your hardwood and carabao bone inlays?
From people who have a large collection of old hardwoods. My inlays, I get them from various sources outside of Manila .
What made you decide to pursue mixed media urnas and retablos?
I was fascinated with the visual possibilities of making my own versions of the ancient retablo and urna and at the same time fusing the nearly extinct folk art practice of inlaying carabao bone , mother of pearl, colored beads, hardwood and carabao horn, among others.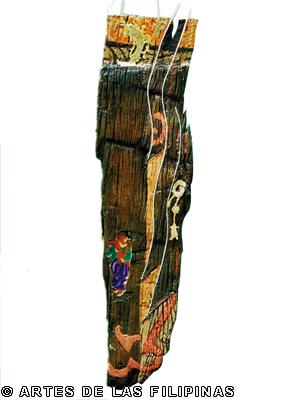 18Ang Mga Mukha ng Buwan (Subanon Phases of the Moon) (2012)

When you are in the process of working, who exactly is the viewer you have in mind?
I don't focus on the viewer. I concentrate on how I can better present and enhance the subject matter. If I feel that certain details need upgrading to make the subject matter as contemporary and familiar to the viewer then I develop and enhance it prior to actual sculpting and painting .


Do you agree that the first exhibit of a painter could make or break his career?
I just went on and enjoyed my transition period from canvas to mixed media assemblages .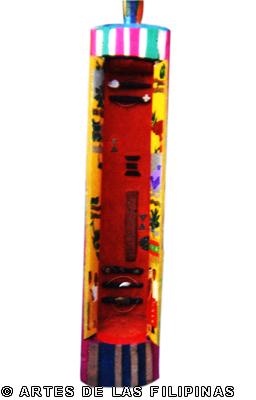 19Bakunawa Rising (2010)

Are you a member of any artist's group?
Have you ever won any important awards?
I'm thankful that all that hard work, persistence and determination I did paid off . The most recent award I received was a finalist for the non -traditional components category for the Guild of Philippine Jewellers /Hiyas Jewelry Design Competition 2012.The Parangal sa Sining at Kalinangan Award for sculpture 2011 given by the Manila City Government as part of their 440th anniversary.
In 1994, I received Third Prize from the Letras y Figuras III painting competition at the Instituto Cervantes, Manila. I was awarded one of the Best Entry in the same competition in 1997. In 1990, I received the Third Prize from the NCCP-CCA Painting competition in Manila. In 1984, I received the Best Creative Design Award for the Cosmetic Invitational Design Competition from the Fritz Walter Lange Foundation. I also received an Art Residency awards from the Oceasie Art and Cultural Group in Nantes, France. I was the Philippine representative in Asia in 1996 and also another Art Residency award from Uijae Art Studio as the Philippine representative in Woonlim-dong, Dong gu, Gwangju, South Korea in 2007.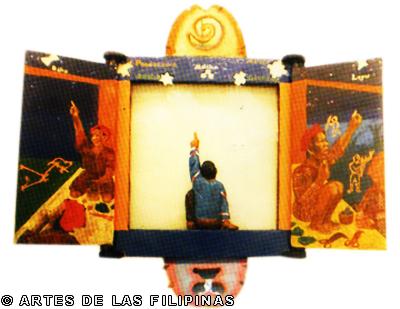 20Divine Cross (2003)

Do you think a painter can become commercially successful without receiving any award in his career?
Yes. Being commercially successful depends on the intentions or goals of the artist and how the artist defines success.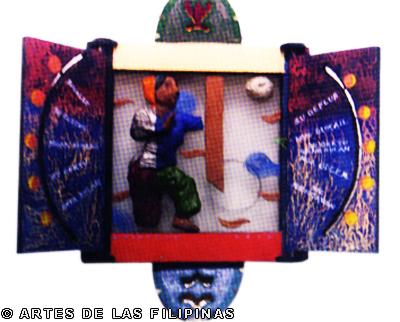 21Heavenly Bodies Over Tawi-Tawi (2010)


Whose style are you drawn to painting during your student years?
I was fascinated by the German Expressionists, Max Beckmann and Emil Nolde, among others.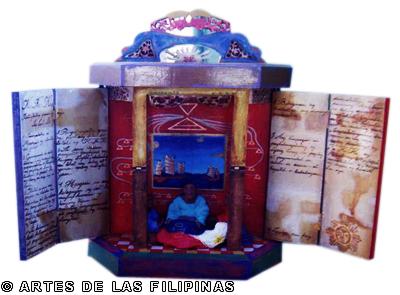 22Hilot at Ibang Hindi Pangkaraniwang Gamot (2010)

Which local painters had an influence on your art?
I admire my uncle, Angelito Antonio, my aunt Norma Belleza, Antonio Austria and Mario de Rivera.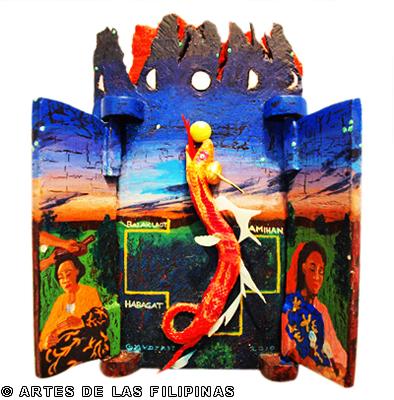 23Manobo Lumad (2010)

Any foreign influences who have fascinated your imagination?
I'm fascinated by Mexican folk art and other unknown artists who havecreated icons and retables with religious themes . Their naïve renditions often inspire me to create innovative versions wherein I apply both sculpting, carving , inlaying indigenous materials on both hardwood and terracotta.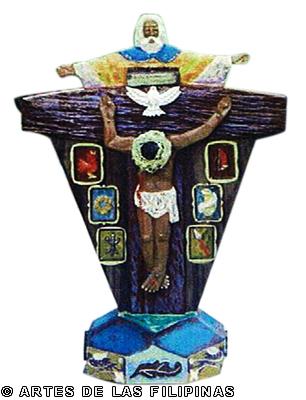 24Cultural Parallels (2007)

Who handles the business side of your profession?
I don't have a manager since I started doing art. In God's grace, art projects just keep on coming by.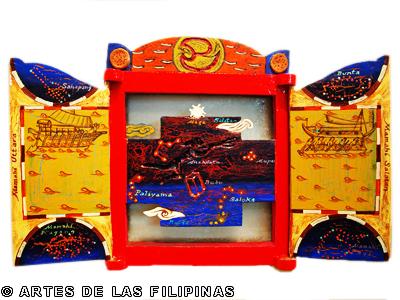 25Ang Pagpapatuloy ni Gabriela (1994)

Do you have an idea of the profile of collectors who buy your works?
In my recent solo art exhibition, "Orasang Pilipino" at the Gallery Indigo in Bencab Museum, I discovered that my new collectors, much to my surprise , comprised of a famous media personality , businessmen, a leading attorney, two very famous artists, a Filipina and an Australian national.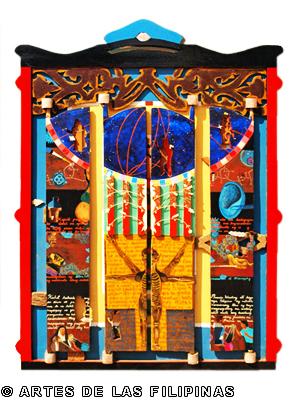 26Mawawala Nga Ba Ang Hakang (1997)

How do you think these collector display your painted urnas in their individual spaces?

I don't have any idea. When I displayed my urnas in exhibitions, they were installed atop some pedestals so that the visitors can view them conveniently. My thoughts are that they are most probably installed atop some pedestals in their individual spaces.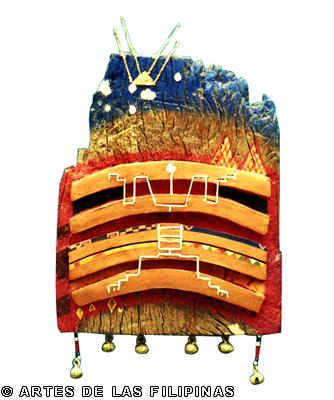 27Ang Sitangkai Bakcground (1999)

What has been the best compliment said about you or your work?
I overheard a very prominent visual artist and a writer telling me that when it comes to my version of doing mixed media retables and urnas, I'm the only one who actually does these kinds of work.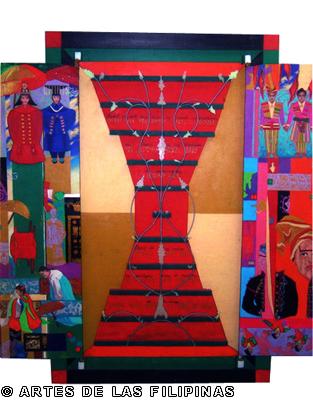 28The Southern Spectrum (2001)

And what have you been criticized of?
Some critics tell me that my works remind them of a a prominent senior artist who does wood cutouts. For sure, no one can say that he owns an exclusive patent of a certain technique or style in art. My works are a combination of sculpting , cutout and extensive inlaying of indigenous materials on wood and terracotta.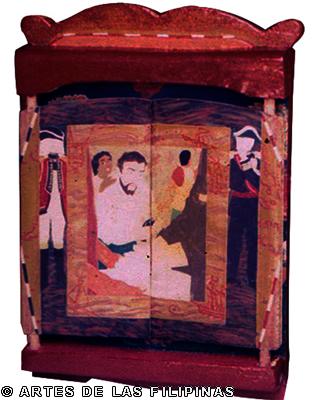 29The Tattooed Nightmare (2007)

Would you say that you are more of an artist or a sculptor with these kinds of work?

I am both since through sculpting expressed my concept through a dimensional approach in the same way as old traditional sculptors and wood carvers have done in the past.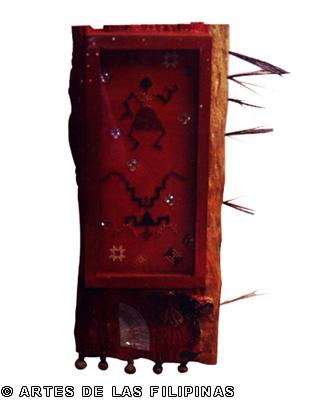 30The Tattooed Nightmare (2007)
Tell me about you.

I was born on March 1960. I had a difficult time adjusting to my growing up years since my late father was a drunkard and a gambler . My father and I hardly talked because he was sober. I wished I could gotten more advice from him during my younger years.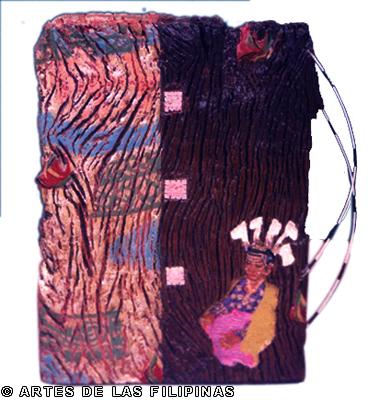 31The Tattooed Nightmare (2007)
What are some of your fond memories of your childhood?
Watching colorful cartoons which later convinced me to try my hand in video animation after I graduated from college at the University of Santo Tomas. I also made my own versions of spaceships , sharks , after watching TV shows and science fiction movies.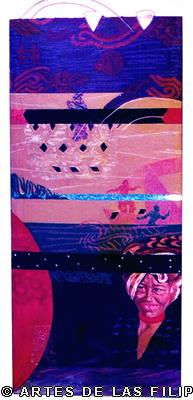 32Anting Anting ng Panahon (1994)

What about your early life and education?
I was drawn to cartoons and comic books and colorful toys as a child. I became fascinated with how I can create my own versions of toys and cartoon characters .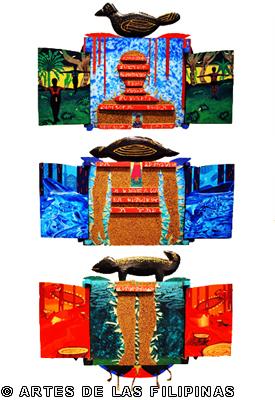 33Diwa ng Babaylan (1994)

Where did you spend your primary and secondary education?
I studied in Don Bosco Makati Grade School for my primary education and for my secondary education, I studied at the Sta. Clara Parish School .


Have you always liked art?
Yes although I didn't really had an inkling that I would one day end up as a painter and sculptor .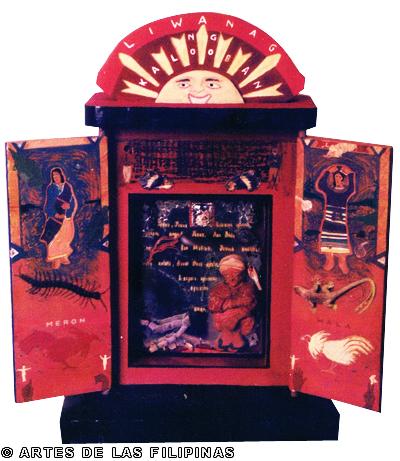 34Paghahanap kay Perry (2011)

What made you decide to study Painting in the University of Santo Tomas?

I took the advice of my uncle, Angelito Antonio and my aunt Norma Belleza. I will forever be grateful for all their valuable advice, help and full support.

Who were some of your professors during your college years?
Mario Parial, Rhoda Recto. Prof. Parial had a hand in helping me find what i really wanted to do. He was a very supportive, understanding, and patient art Professor I've ever had. Even after graduation, he guided me and gave me valuable advice which to this day I always use. He said that to become a Filipino artist, I should instill and express the Filipino culture, psyche and persona in the best and innovative way.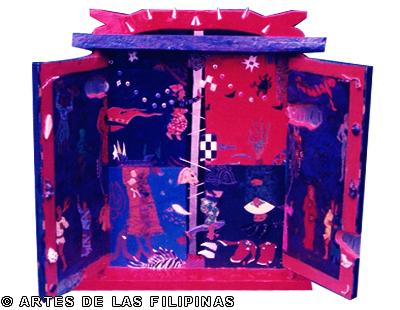 35Mga Pangaral na Nasayang (1994)
You have exhibited abroad many times in the past. How different or similar is it to exhibit in other countries?
It's a beautiful and challenging experience to exhibit my works in other countries because you adopt their standards which is not the same in the Philippines. For example, their manner of hanging paintings requires a steel wire. They also require the artist to use acid free materials.

36



What exhibit do you consider memorable? Yours or by other artists?
I would say I find other artist's solo and group art exhibitions fascinating but of course I also have very fond memories of my own art ventures.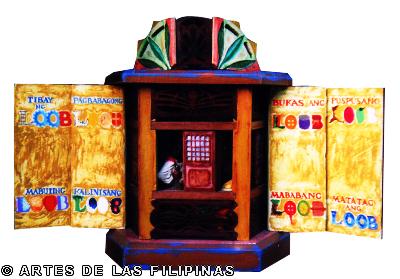 37

Tell me about your most memorable exhibition.
It was the OCEASIE art residency group art exhibition in 1996, my first time to represent the country and launched my works for the French and Filipinos in Nantes , Cholet , Malakoff , St. Nazaire and Paris. It was also my first time to visit a foreign country . When the Philippine embassy contacted me to help me in making a proposal to launch my solo show in Espace Beaujon, Rue de Fabourg San Honore, Paris in 1997. Before the opening, the consul, Madam Cookie Feria together with Ambassador Villaruel decided to make it a 3 man art exhibition together with Sandra Palomar and Gaston Damag. The visual experience was mind blowing as I did not expect the French audience would be appreciative of my approach in doing my Neo-folk art.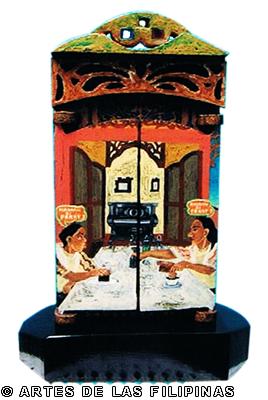 38


What do you think is the best audience to have during art exhibitions?
Admittedly, a young audience is quite fun to be around and meet with because they are hungry for answers. They asked questions about our cultural history which for now may be unknown to them.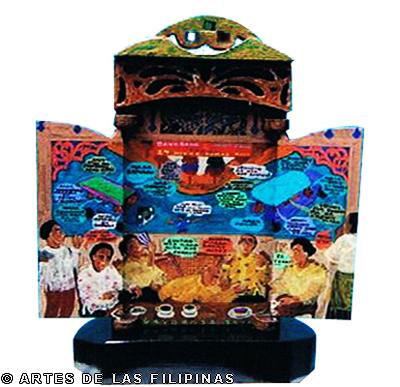 You have been around the art industry for quite some time. Do you still get insecure?
I have no reason to be insecure because I always find inspirations in every day living. I get excited when I rediscover unfamiliar details which I haven't thought of and I've taken for taken for granted. I know I can innovate and fuse it to new concepts and eventually to my mixed media works.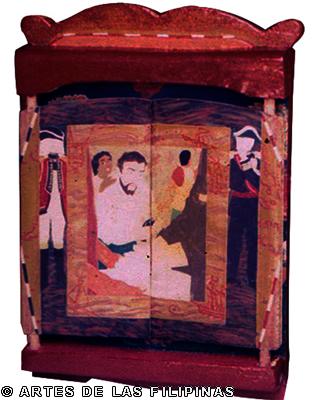 What is your view on the state of our contemporary art?
I'm quite square about it because I still favor a conservative direction when it comes to art making . I get depressed and disappointed when some artists take religion as a subject for example and use freedom of expression as an excuse to do blasphemous works which they can easily label as art. Artists must be sensitive to other people's feelings and concerns. In my case, after being hospitalized twice over and now living my third life, I am blessed that I still get to create and innovate through my faith and art.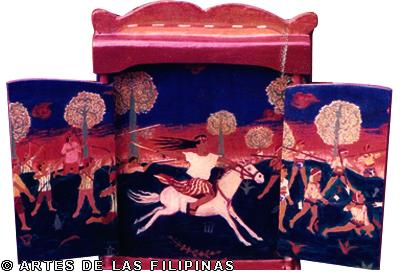 Do you support exhibitions by other artists?
Yes especially if I find that the artist has an established record of achievement or if a young artist has a promising potential. I root and support them.



42

Where do you think your art fit in the puzzle in contemporary art?
The traditional backdrop that nobody has thought of in the first place would be more than sufficient . I thought that if I come up with something different and that the audience could relate to it in terms of our cultural tradition then that would be very nice to have.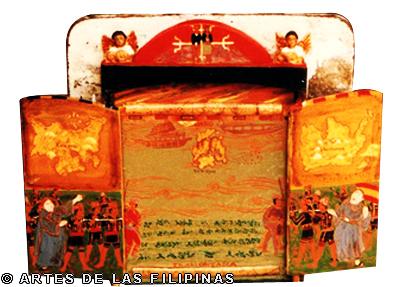 43

Do you think your body of work holds a significant place in the history of Philippine art?
I would let the Filipino collectors describe that for future generations to come.