Purveyor of Knowledge and Emerging Publisher of Content and Visually Driven Books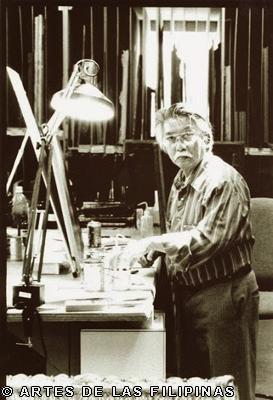 Leonardo Boy Hidalgo Comes Home For Good
by: Christiane L. de la Paz
January 2014
--
In 1958, Boy Hidalgo joined a group exhibition where he debuted as an aquarellist, partial to on-the- spot painting. He staged his first one-man show at the C.I.V.I.S in Rome, Italy in 1960 and then held his first Manila exhibition at the Gallery Bleue in 1971. Alla prima was Hidalgo's technique through and through. His subjects were nudes, seascapes, still lifes, groves and landscapes with mountains, fields and rivers devoid of people. He also produced public monuments in Heroes Hill and Gen. Antonio Luna in La Union, Dominican Saints and Martyrs at the Central Library of the University of Santo Tomas (UST) and also religious sculptures such as Christ Crucifixion at Roxas District, Christ the King at Baguilin, La Union and Sto. Domingo at Cabuyao, Laguna. In this New Year interview, Odra Hidalgo-Anderson, Hidalgo's daughter, discusses her father's early life, private and public works in Italy and America and his life as a husband, father and grandpa. She also reminds us that while Boy Hidalgo had been away from the Philippines for several decades, her father always considered the Philippines his home.
Leonardo Hidalgo graduated from the University of Santo Tomas in1958. Who were his contemporaries?
Leon Pacunayen, Antonio Austria, Angelito David, Florencio Concepcion, Angelito Antonio, Tomas Bernardo, Cenon Rivera, Napoleon Abueva, Jose
Joya, Ernesto Tagle, Solomon Saprid, Raul Isidro. He was under the tutelage of great professors such as Galo Ocampo, Vicente Manansala, Diosdado Lorenzo, Antonio Dumlao. He was a sculptural apprentice of Professor Monti and Antonio Dumlao. He also belonged to Ugnayan'80 composed of UST Fine Arts alumni.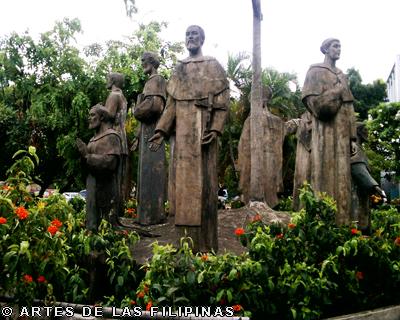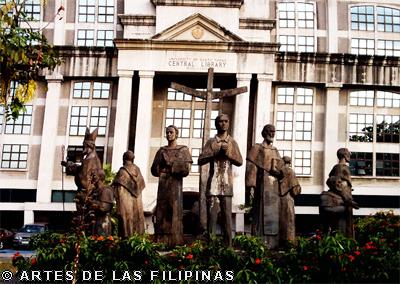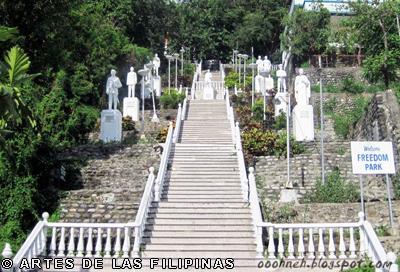 Heroes Hill, La Union


After his graduation in 1958, where did he seek employment?
His apprenticeship with Galo Ocampo was his first job. He assisted him in completing his commissioned stained glass at the Manila Cathedral. He was also included in several group art exhibits including the one in 1959. He exhibited his artwork at the Chicago Art Exposition. He also assisted Antonio Dumlao in completing a bar relief in Manila Zoo. He was commissioned by the University of Santo Tomas to do sculptures of saints installed in their seminary in Baguio.
My father was given an art scholarship by the Italian Government where he stayed in Italy for eight years. When he returned to the Philippines, he taught at the Fine Arts Department of the University of Santo Tomas. He worked there for 24 years – he eventually became the Department Head of the College of Fine Arts.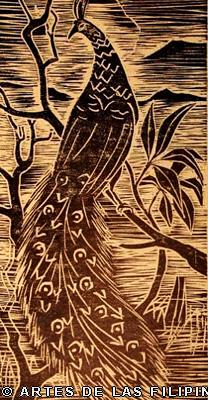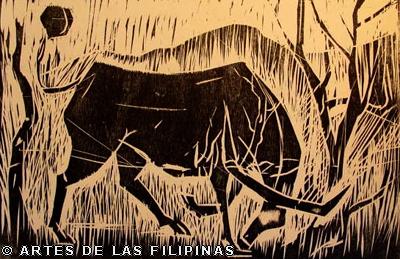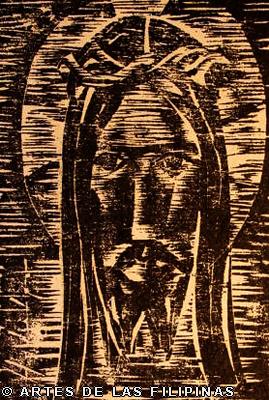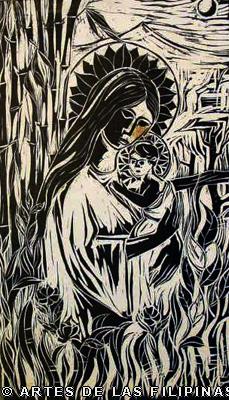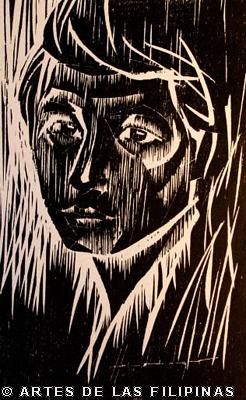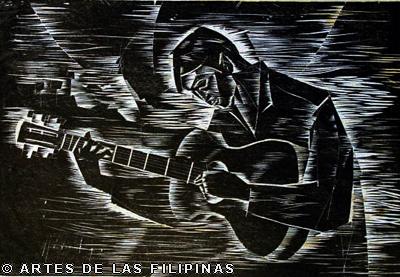 What were his early works?
He did not concentrate in one medium. He did watercolor, oil and sculptures but he was also a lithograph major at the Academia de Belli Arti. His fascination with nature particularly trees was the focus of his art. He was also commissioned to do portraits.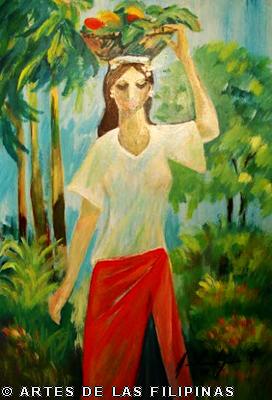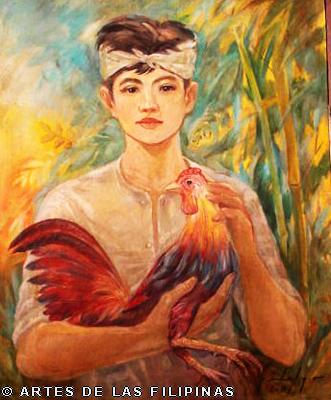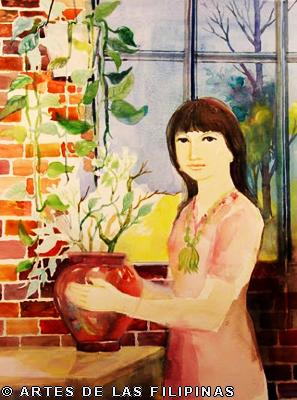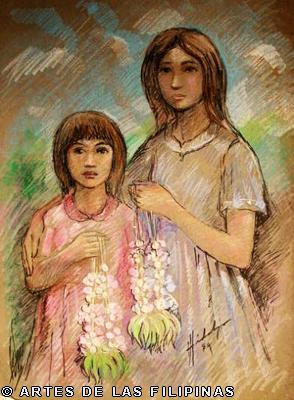 What was considered the peak of his artistic career?
After a long blue period, starting in 1977 when I was born, he created works that allowed him to have solo exhibitions yearly and at times even twice a year. During this time, he sold most of his artworks and was commissioned to do bust sculptures including bust sculptures of all the Philippine presidents from Aguinaldo to Aquino. During those years, he concentrated on watercolor and was part of a group that promoted watercolor -- the Watercolor Society. Collectors and prominent people were constant visitors in his studio including the Araneta, Antonio, Ortegas, Alejandro Roces and others. It was also during this time that artists visited his studio to do nude or still life sketching. This was also the time that one of our first ladies bought several of his watercolors that now graced her vacation homes.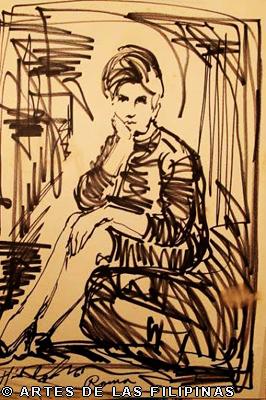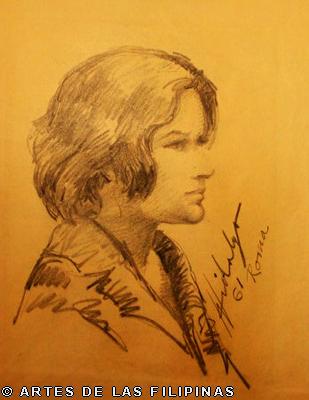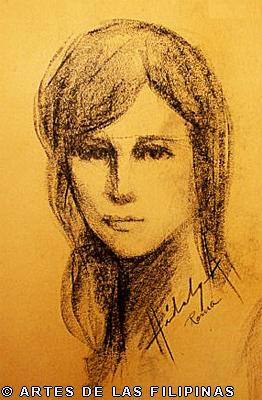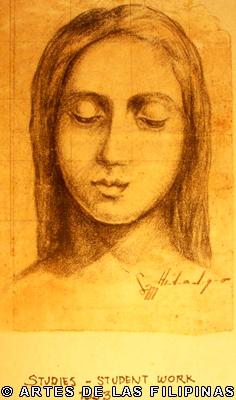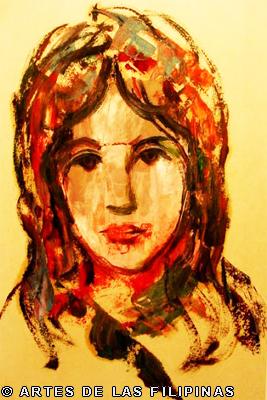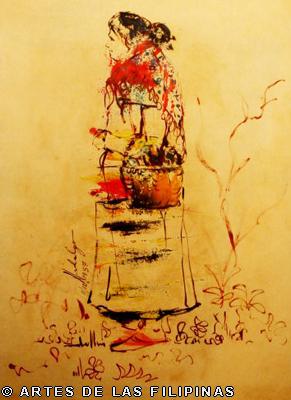 What are some of his other works, public or privately commissioned, that not many people know of?
Unfortunately he did not keep a record of his work but those that are documented include the following:
•

Dominican Saints and Martyrs in front of the Central Library at UST
•

Worked as a Scenic Artist (among 2 Filipinos) during the filming of the "Agony and Ecstasy of Michelangelo" painting the ceiling and walls of a Sistine Chapel replica - Dino de Laurentis Movie Studio Rome, Italy
•

Commissioned by a large corporation to sculpt Philippine Bust Portraits of presidents (1st president to Corazon Aquino)– not sure where (my mom thinks it is at the convention center)
•

Heroes Hill in San Fernando, La Union
•

General Antonio Luna in Luna, La Union
•

Complete restoration of the Stations of the Cross at the St. Augustine Church in Philadelphia, PA
•

Many religious sculptural works in various churches including a brass sculpture at St. Paul's Church in Quezon City.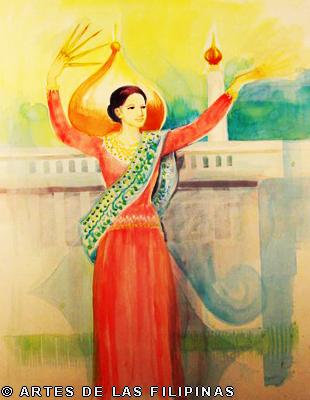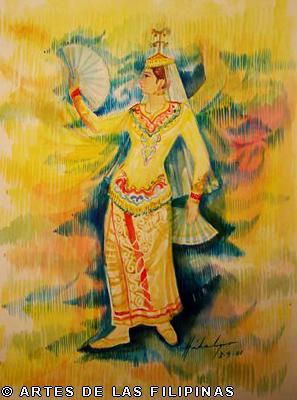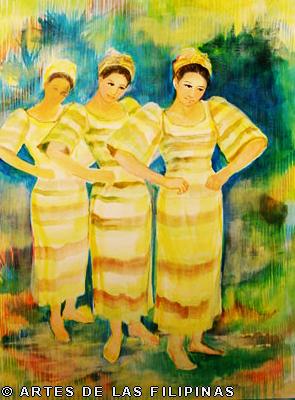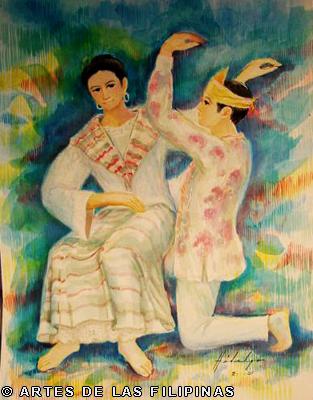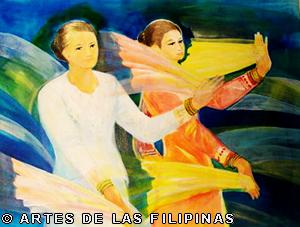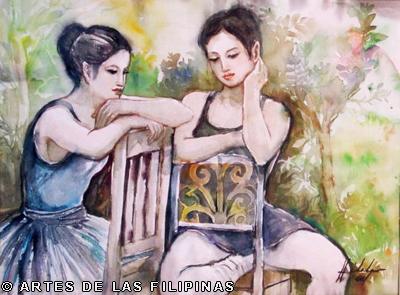 When was his first solo exhibition?
His first one man exhibition was in 1961 in Rome Italy at Galleria D' Arte Sistina followed by yearly one man art exhibitions all done in Rome Italy. One in 1961, 1962 and two in 1963. His first one man exhibition in the Philippines was in 1971at the Gallerie Blue Rustan's. He had several national and international solo art exhibitions.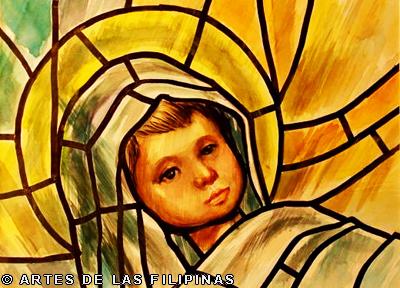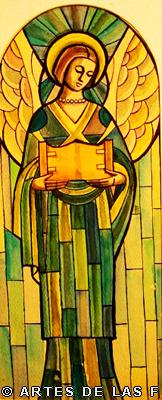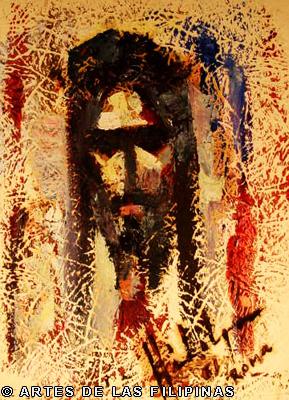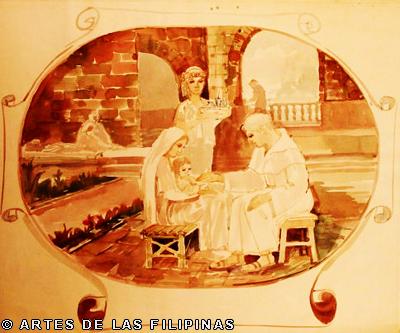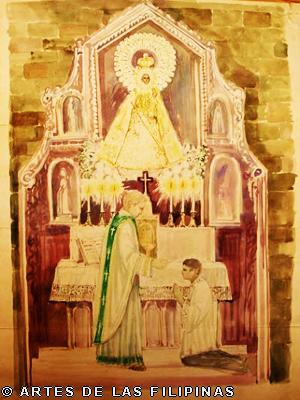 I understand he won numerous cups and awards. Can we enumerate them?
•

1961- Golden Cup "Premio Internazionale di Pittura Estemporanea" Lago di Bracciano, Italy. He had several gold and silver medals and cups that were stolen
•

1962 – Silver Cup "Premio Gubbio 1962" Gubbio Perugia, Italy
•

He also represented the Philippines at the Biennale de Paris and the "Concorso Internazionale di Pittura Estemporanea" in Castilli Romani Roma, Italy
•

Participated in Troisiem Biennale Di Paris in 1963, 64 and 1965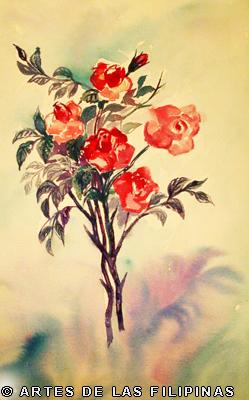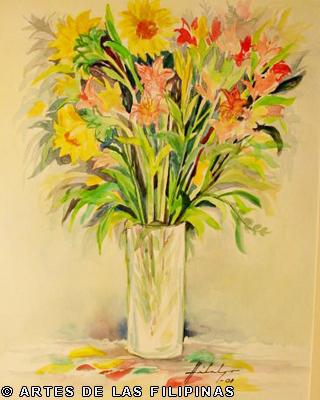 41
BUST PORTRAITS OF 5 PHILIPPINES PRESIDENT
32" inches high, San Miguel Corp. Emilio Aguinaldo, Manuel L. Quezon, Carlos P. Garcia, Ramon Magsaysay, and Pres. Ferdinand E. Marcos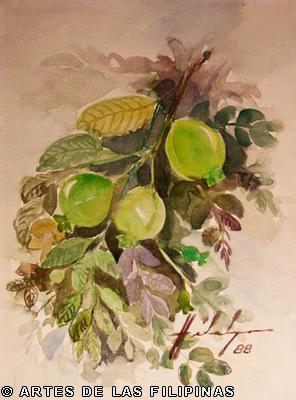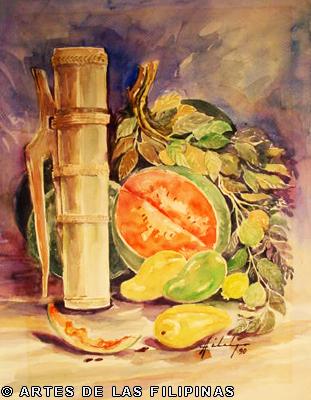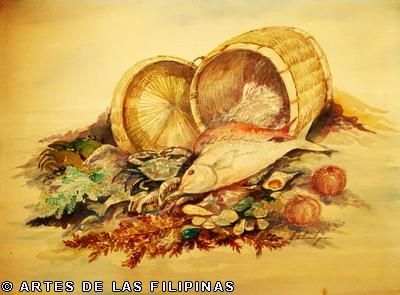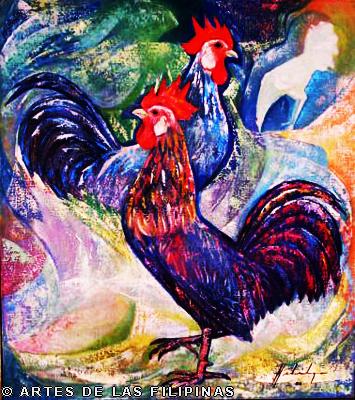 1962 First Prize – Concorso Di Pittura Estemporanea. Palombara Sabina, Italy
1963 First Prize – Premio Di Pittura "Castello di Serraval, Republic of San Marino, Italy.
1965 First Prize – Concorso di Pittura Internazionale "Santa Rita" Carpinetto Romano, Italy.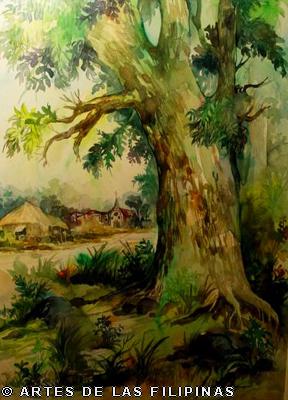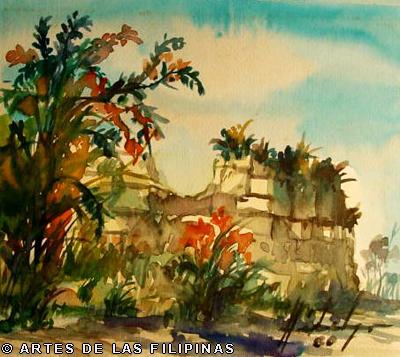 1962 Second Prize – Concorso Inter. di Pittura Extemp. "Carpinetto Romano" Italy
1964 Second Prize – Concorso Int. D' Pittura Extemp. Castili Romani, Italy
1967 Second Prize – Premio D' Pittura Extemp. :Belezze Panoramiche, Caratterestici Di Gaeta." Gaeta, Italy.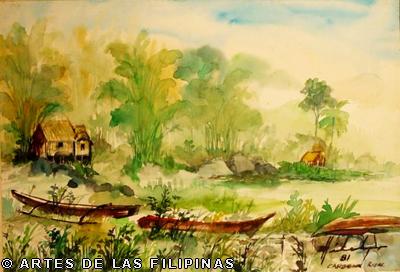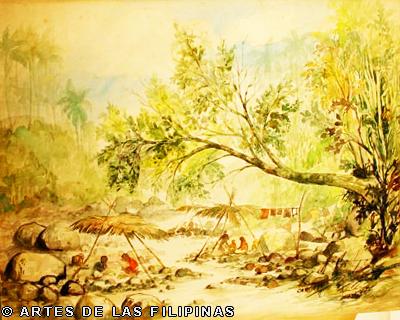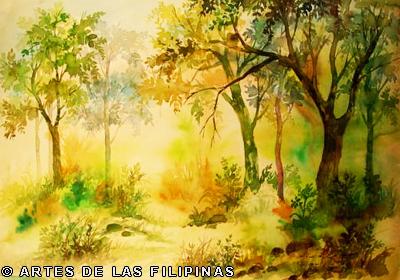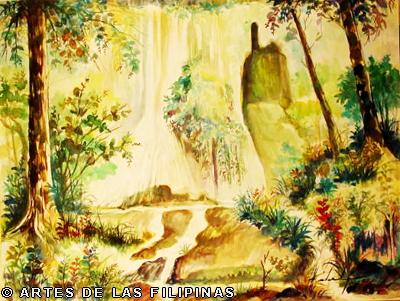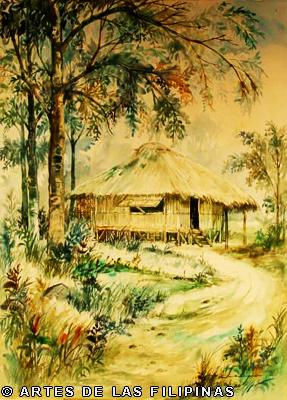 1963 Third Prize – Primo Concorso Internazionale Di Pittura. "Scorcio Di Via del Bauino." Roma Italy.
1964 Third Prize – "XV Fierra D' Arte De Via Margutta" Rome, Italy.
1964 Third Prize – Concorso D' Pittura Extemp. "Un Angolo Di Tuscania, Italy.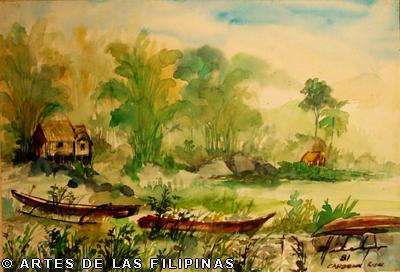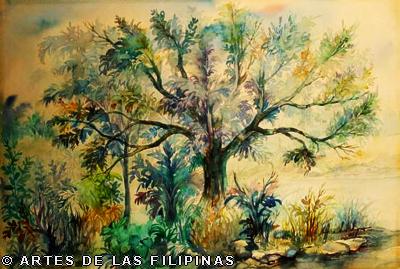 1961 Concorso Extemp. Di Pittura "Soriano Belle Viterbo, Italy
1961 Premio Ariccia di Pittura Extemp. Ariccia, Italy.
1964 "2" Concorso Internationale Di Pittura Extemp. Castello Di Seravalle. San Marino Italy.
1965 "Nettuno D'Oro Pittura Extemporanea, Italy
1965 "Premio Gubbio 1965" Gubbio, Italy
1966 La Pittura Estemporanea A Rocca Di Tele Europa, Rocca di Papa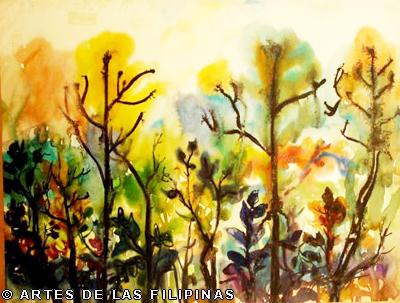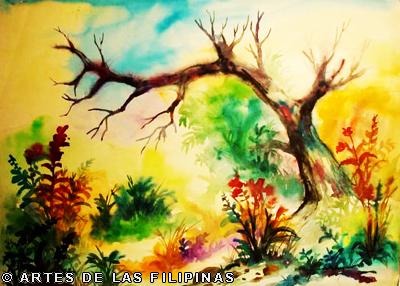 1961 Golden Cup – "2 Premio Internazionale di Pittura Estemporanea" Lago Di Bracciano, Italy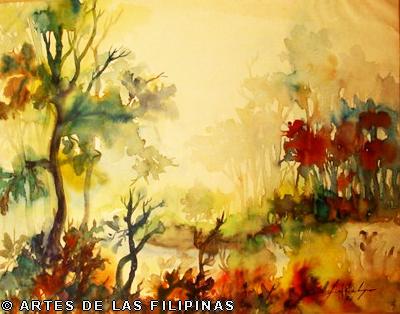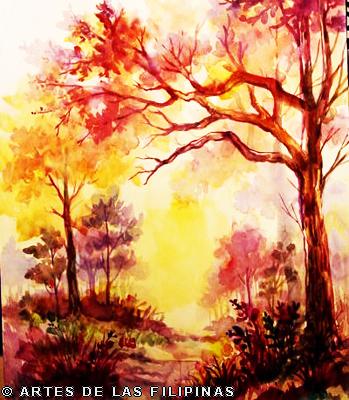 SILVER CUPS
1962 I* Mostra Int. di Pittura Estremp. Priverno, Italy
1962 II* Gara di Pittura Estremporanea Tivoli, Italy.
1962 "Premio Gubbio 1962" Gubbio, Italy.
1966 Concorso Int. di Pittura Estemporanea Romani, Roma, Italy.
1967 Premio Carpinetto Romano di Pittura temp., Carpinetto, Italy.


Here in the U.S., he was a Centennial Awardee for Arts and Culture given by the Filipino American Association of Philadelphia. Recently, he was also awarded the La Union Service Award and San Fernando Service Award, the second highest award given to residents/former residents of the city/province for the arts. He was also part of a Juried Art Exhibition by the Pennsylvania Watercolor Society.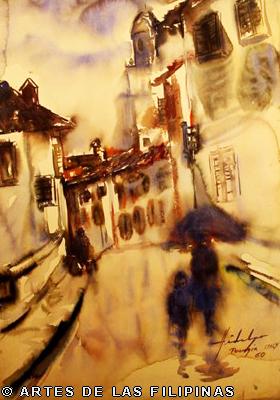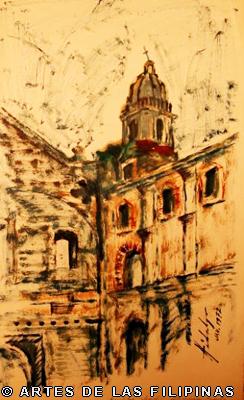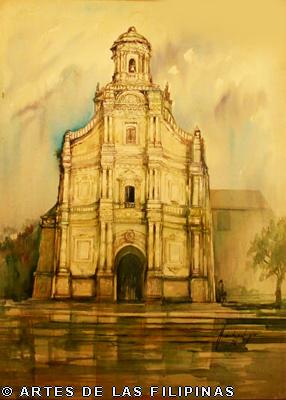 What about other related articles written about him. What did they say about him and his works?
That he was proficient in many mediums. He excelled in both sculptural works and painting. They also mentioned that he is a very quiet and kind man but once he gets going, his great sense of humor surface. He was also said to have been the quietest artist. He ventured in different fields and achieved successes in painting sculpture and education. His dexterity in using all mediums mostly watercolor and oil are wide ranging but with watercolors, he found trees as eloquent subjects appearing like tree portraits. He painted them as if in motion and expansiveness celebration of nature with their flowing branches and spiraling leaves of graded hues.

Tell us about his early life and education.
My father is the oldest of eleven kids. He grew up in San Fernando La Union, and was born on January 9, 1935. His parents were Leon and Matilde Hidalgo, who were very prominent in his hometown. The first mayor of San Fernando La Union was his grandfather. He is also a descendant of both Felix Resurrecion Hidalgo through his father and Juan Luna through his mother.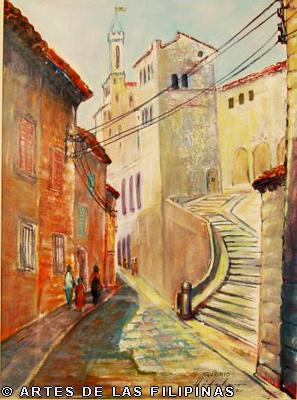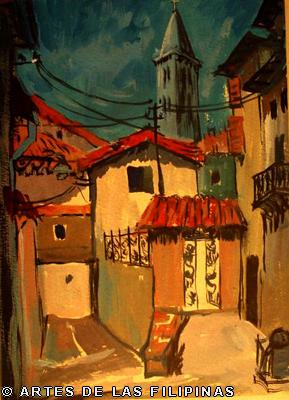 Where did he study for his elementary and high school education?
He studied in private Schools in La Union, the Christ the King and the Father Burgos High School.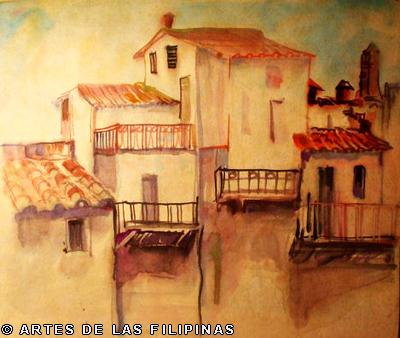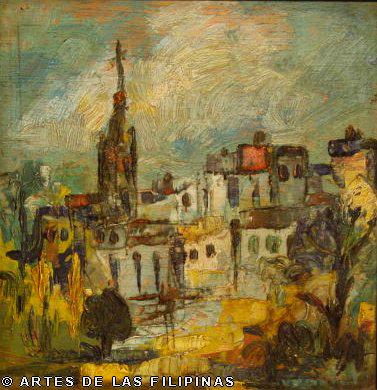 There are a few articles written about Hidalgo in the Philippines. Why do you think this has been the case?
According to my Mom, there are several articles about him as he was very active in the art scene. He was never the one to toot his own horn but every time he had an art exhibit, there was always a press release. The articles were in newspapers – which are not web based. Come to think of it, I remember cutting articles of him in magazines and newspapers. There is an album of some of the articles that we cannot find. My Mom also told me that my father is more of a family man and preferred to stay at home than socialize. He was also distracted by his many inventions and projects. He was commissioned to do portraits or bust sculptures. He was never out of commissioned work.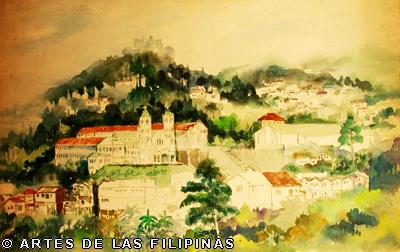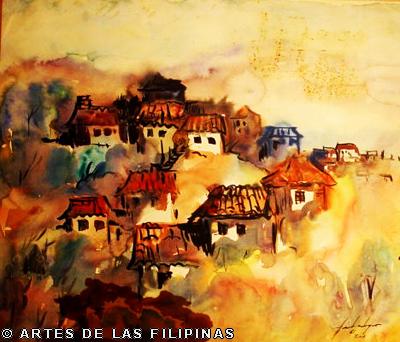 Tell us about his last years in Philadelphia, Pennsylvania.
His last years were quiet. He loved to tend the garden with my Mom. Sometimes, he would dabble with painting or even sculptures. Mostly he was restoring artworks. He also painted a 5feet high wedding portrait of me and my husband. His last work is an unfinished portrait of the family. My Dad went to church at the St. Augustine-Philadelphia on Sundays and spent time with the Filipino Community. My kids loved hanging out with him and my Mom. When he died of a heart attack this January 16, 2013, my Mom found him looking so peaceful. She thought he was just sleeping on the couch.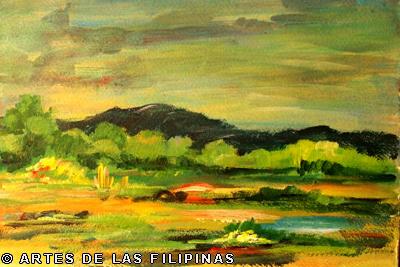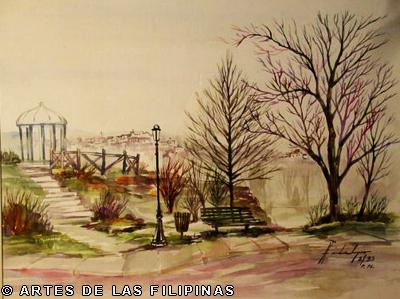 He had his memorial at the St. Augustine Church in Philadelphia, Pennsylvania. The parish celebrated him. He is coming home to San Fernando La Union on January 2014 and will be re-united with his parents. We planned on having a homecoming and exhibition of his works. He left us quite a collection of his works which I am sure he would want his works shared. There will be an art exhibit in Rockwell Makati.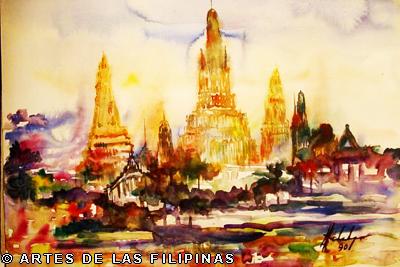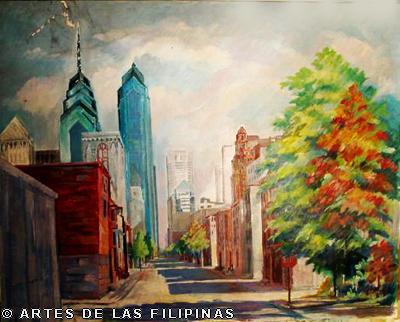 What do you remember most about your father?
My father has the kindest heart. He is a very unassuming person and humble. He always gave his all to his family and he was a very kind man. I have two kids and my daughter, who is now fifteen years old, had a strong relationship with his grandpa. She remembers him always as they did art, crafts and inventions then they would switch to playing basketball or even cooking. One person said that he is now cooking for the people in heaven. He was an amazing man that knew how to do many things. Very talented yet very very kind. Many of the people that have met him always remember him. He has a very kind soul.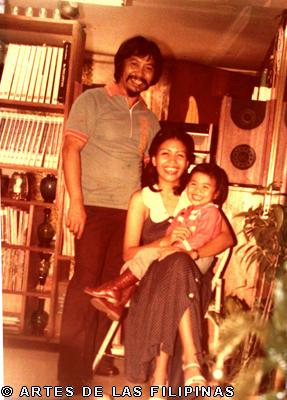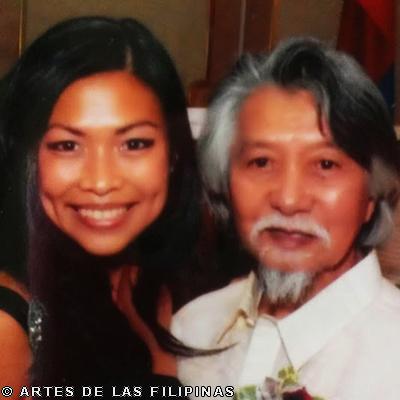 Odra and her father, Leonardo


Tell us about your family, your mother and your sibling.
I am an only child. I have a half-brother from a previous marriage in Italy who is about ten years older than I am. His first wife is also an artist and also exhibited in the Philippines. My brother, Michelangelo is into photography. I am my father's junior. My name is the reverse of his name.
My parents decided to immigrate in the United States during the height of their careers in the Philippines because I was given a scholarship by the Pennsylvania Ballet. During my father's several art exhibitions in the United States including four in government buildings in Washington D C, one in New York, one in Los Angeles and one in Canada. I was also sent by our government as the young ambassador of art to the United Nations. Then I was accepted and given a scholarship to study ballet. My parents then decided to stay in the US. My mother continued her graduate education by studying psychoanalysis. She was a guidance counselor and a psychology instructor at the St. Joseph's College. She completed her graduate degree from Bryn Mawr College and is now a mental health professional.
Who in the family authenticates the work of your father?
My mother and myself.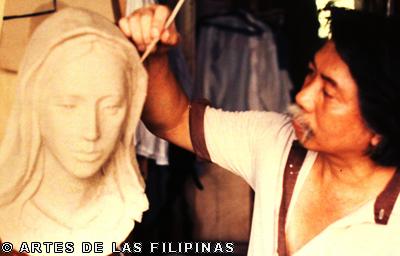 Hidalgo putting his finishing touches to a sculpture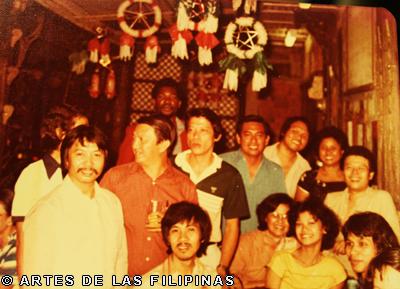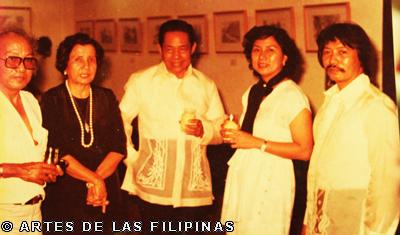 Exhibit with La Union Mayor as Guest of Honor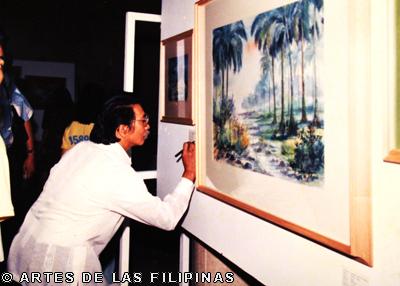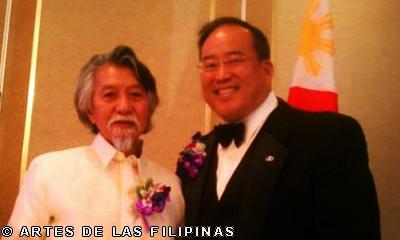 Hidalgo with Councilman David Oh


Do you think Leonardo Hidalgo achieved the success befitted of him?
This is difficult to gauge without me imposing my own standards of success. But based on who he is, I think my father lived the life he wanted. He was able to simplify it to the extent that he did not sweat the small stuff which for other people could be bigger stuff. He wanted to do more artworks, do more exhibitions of his sculptures but more important things like his dedication to his family occupied him. Given his numerous talents, I feel he could have done more but that is not his purpose in life.
I tell everyone who asks, "My dad still lives on." He was able to make his mark in the art world without even trying. I knew he was a great artist and many knew him and knew of him but when he passed away, everyone came out of the cracks and were in tears. They told me how he had inspired them and how he was instrumental in getting them started in the arts. He loved to teach. I don't think he was being intentional but he reached many lives and he shared his art to the world. And that's him very Zen like, he just did things without any hidden motivations or secondary gains. No bad thoughts about anyone. One of the neat things I like seeing or hearing is when an artist mentions my Dad as their previous mentor. They said that one will never know he was a "great man" because of his humble demeanor and that they were honored to have talked to him. When I returned to the Philippines in 2013, I was so surprised at how many artworks he has all over the country. I am so proud to be his daughter. I intend to continue his legacy and plan on reaching out to the artworld by building a foundation under his name.