Purveyor of Knowledge and Emerging Publisher of Content and Visually Driven Books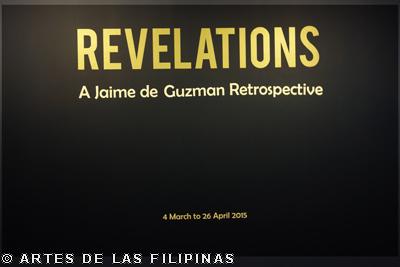 REVELATIONS
A Jaime de Guzman Retrospectivei
The Artes de las Filipinas Research Team

May 2015 -- A retrospective exhibit of creative works is important essentially fpr the spectrum and continuum it should manifest, allowing viewers to trace amd track the development of an artist from the earliest stirrings to the most recent works.

Early works may thus be considered even more significant than the latest ones, as they establish the provenance of an artist, the initial fount of creativity, and not the least the temper and character of his or her beginnings, Sundry may be the decisions made as a budding artist, and from which subsequent other directions may have then evolved.
All of these address the early choices of genre and subject, the propensity for a style or manner, affections and affectations both, plus all the other hallmarks of staring a serious career, vocationa, and/or devotion as a visual artist.

This retrospective is invaluable for its display of the cyclical passage, and more importantly, portage of inscape elements across the broad yet focused navigability of the artist's persona and imagination. It is as if from dream to dream, early oeuvres to the latest creative maneuvers, the narrative of maturation suggests a retro-introspection. Invariably and invaluably, this display of Jaime de Guzman's gamut of facets of a yet personal mythology serves not only as a looking back retrospective, but also as a looking-glass re-introduction to his robust creativity. The introspection is still paramount, even as this spells a renewal, and ultimately, a reclaiming of his exalted status as an artists' artist.



Gomburza Martyrs (1971)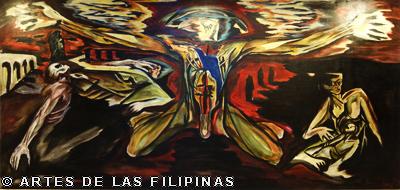 Metamorphosis III (1970)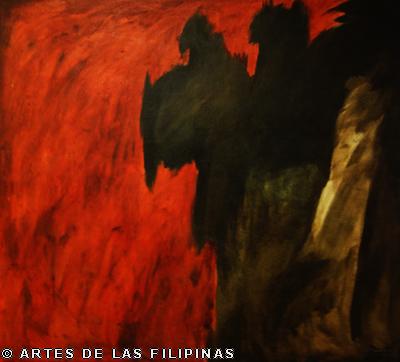 Inscape (1968)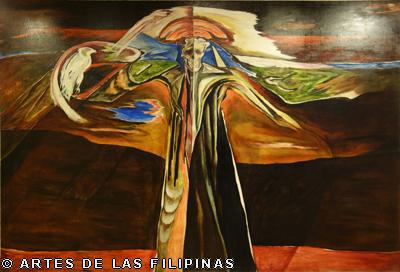 Metamorphosis II (1970)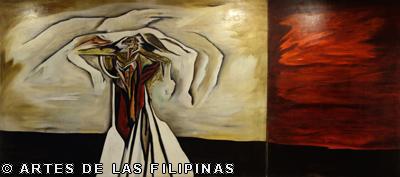 Metamorphosis I (1970)

It was expressionism, a very dark one, that first appealed to Jaime as a painter. In the 1970s, he earned critical reputation for his large-scale canvases, which frolicked darkly on the margins of expressionism and surrealism, employed a motley array of folk symbols and personal motifs. With the buzz about his apocalyptic art, Jaime was selected to be part of the first Thirteen Artists show at the Cultural Center of the Philippines in 1970, the same year that he mounted yet another solo exhibit at the Frankfurt, Germany International. He had fast become a staple in Manila's art scene being invited to join the annual group shows at Luz Gallery in 1969 and 1970.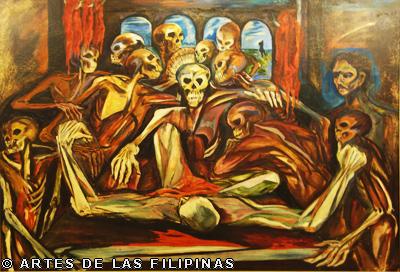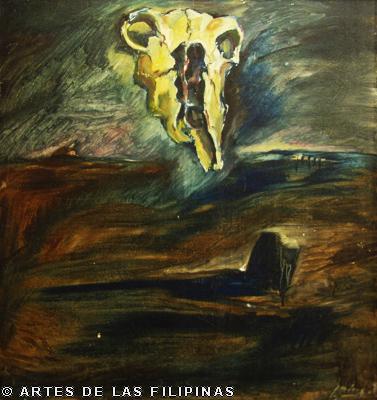 Metamorphosis of a Decapitated Carabao Head II

By the 1980s, Jaime and Anne had migrated to Candelaria, Quezon where they established a kiln and raised their growing brood of seven children. There they produced high-fire output, inclusive of raku and celadon, as a thriving cottage industry billed as Mount Banahaw Pottery. In 1985, the family uprooted itself again, this time settling in Sagada, Mountain Province, where their last child was born. Still they produced pottery.

He returned to drawings, pastels and oils while still in Sagada in the late 80s, His output was irregular, but collectors who swore by his art were elated that little by little, their new walls might again be given over to Jaime's mythopoetic landscapes.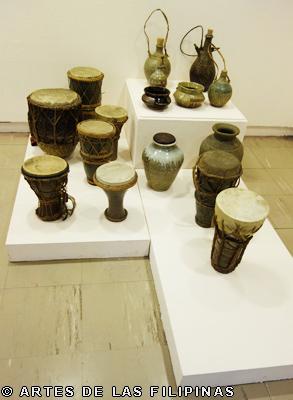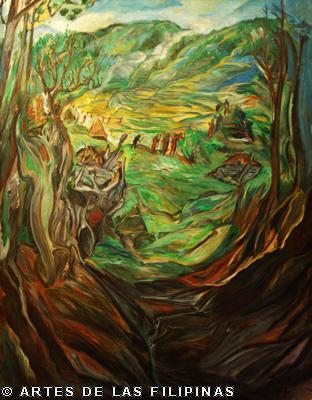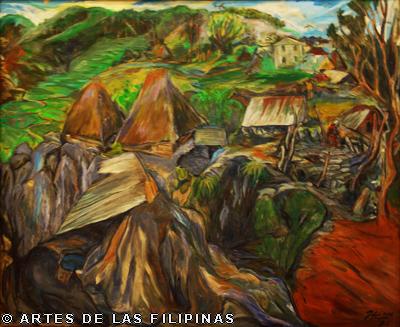 Jaime's early patrons and collectors kept hoping that at least he wouldn't turn his back entirely on painting. But Jaime had written a poem early in the 70s, which went:

The creative process does not stop
when there are no walls to unwell.
There is always something to do
Wedge the clay, invent a little
It is good for the mind
To feel the earth, to water it, to form it
And be formed
There is the fire
In the night in harmony
with the stars
in the day as bright as the sun
In a pot
In a jewel
from the fire.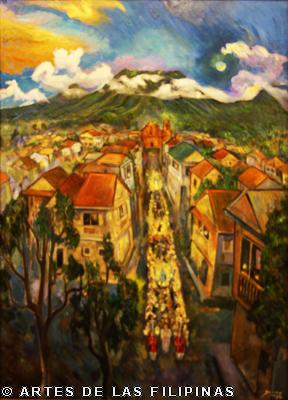 Procession (1999)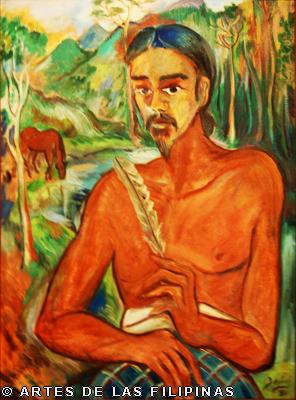 Self-Portrait (1991)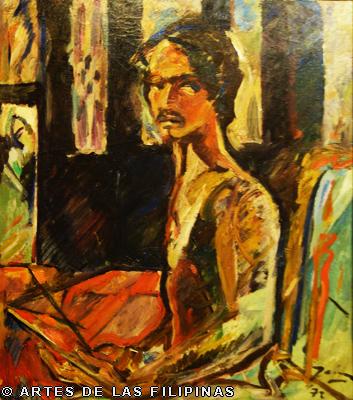 Self-Portrait (1973)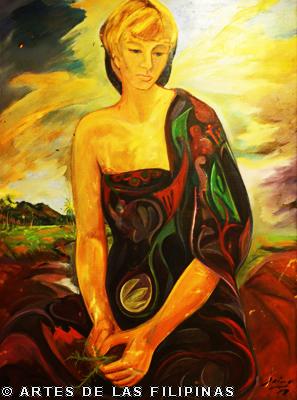 Portrait of Anne (1971)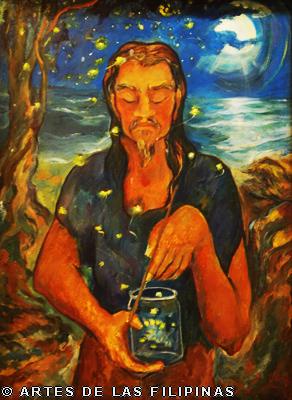 Pakulba (1993)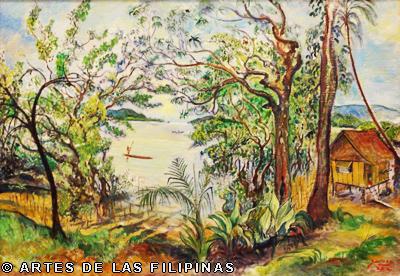 Bangkero sa Concepcion (2002)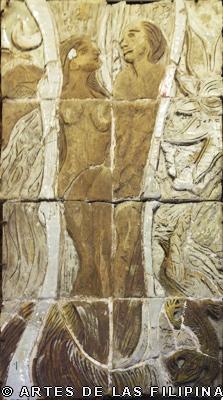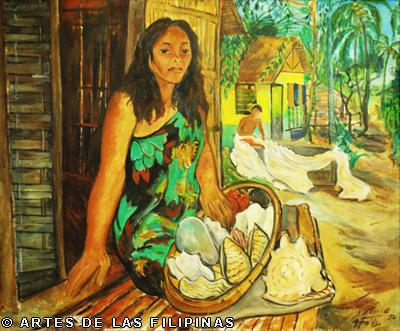 She Sells Seashells by the Seashore (1992)

In the 1990s, Jaime travelled often to other places of idyll such as Dumaguete, Vigan and Sorsogon. This time his formerly intense landscapes would steadily turn into "light-scapes."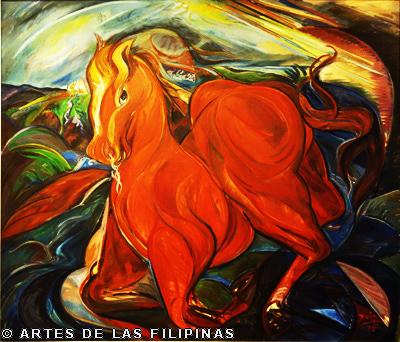 From the Horse Idea (1975)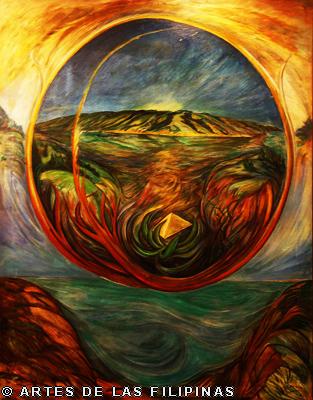 Topographical Imagination (1976)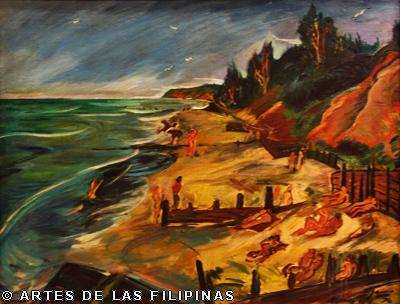 Nudist Beach Camp (Bolinas, California) (1976)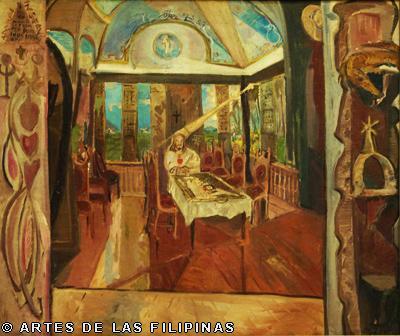 Christ Waiting for His Apostle at the Last Supper (1973)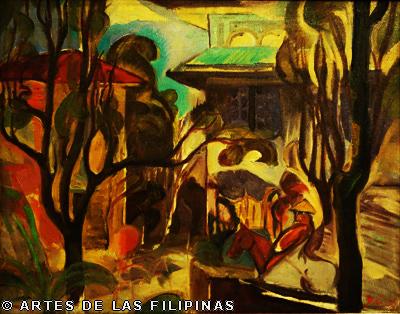 Liliw (1972)

His pictures depend on his phenomenological pursuit of his brushstroke. He makes abstract dabs and dashes all over the board, sees them and conforms them to the shapes and objects stacked in his memory... Somewhere in the changing climate of Philippine art is Jaime de Guzman working against the grain of both the pundits of semi-representation and precursors of new art. His figures are un-anatomical, his work more evocative than literal. Aside from these we think de Guzman is recording some metaphysical insights by means of his personal mythology."

- Raymundo Albano, CCP Museum Director (1971-1985)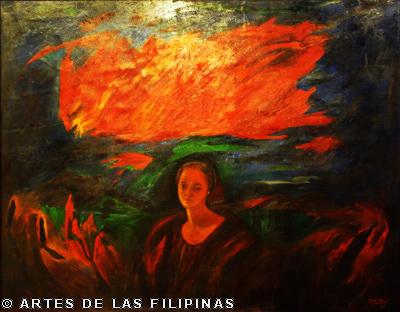 Inang Laya (1967)

INANG LAYA
(Homage to My Country)

It was 1973, the first year of Martial Law under Marcos and I was starting my studies as an artist at the UST College of Architecture and Fine Arts. Manuel Duldulao had just come out with his breakthrough volume of Contemporary Philippine Art (1972) and it was through his prototypical coffee table book that I first knew of Jaime de Guzman. It was here that I saw the colored reproduction of what was in that book titled Homage to my Country, a riveting composition of a doleful, glassy eyed mestiza-burgis in a misty panuelostaring out against what seemed to be strife torn landscape dominated by a searing cloud of red-vermillion, part protest grafitti, part Rothko in its mystic chromatic presence. The rest of the landscape was vague at best, shadowy and distorted, but the entire worl resonated with the anxiety of the recent of the last few years that encompassed the first quarter storm, the August 21 Plaza Miranda Bombing, the explosion of student activism, the turmoil and torpor of a newly militarized state forcing its Pax Marcosia on the Filipino people.

Most of the other works in Duldulao's compendium sang of a country rushing to keep up with the modernity of Europe and the United States. Jaime's Homage groaned with such eloquence in what seemed in that book to be the only authentic picture of the angst bubbling under the surface of the pageantry meant to distract our public from the brutality and fear that this regime of 1081 has wrought. This, of course, was entirely my personal reading, but it was a reading I would carry with me, inspiring me, possessing me, goading me towards making an art of the immediate and the present. If there was one work that would steer me towards Social Realism and my current practice, Jaime's Homage to my Country, which 41 one years later I would be privileged to see in the flesh, now renamed Inang Laya, would have to loom large. Salamat, Boss, salamat Jaime.

- Jose Tence Ruiz, February 2015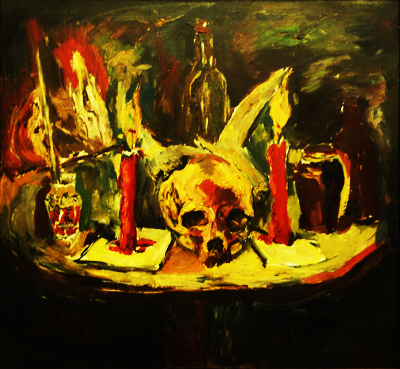 Candle Light Series No. 2: Artist's Table (1970)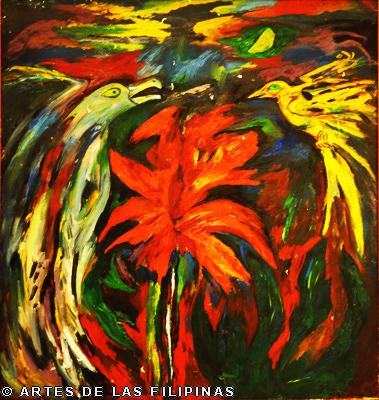 Night Flower (1968)

1960s

Jaime Arevalo de Guzman was born on 4 March 1942 in Liliw, Laguna, and attended high school in Ateneo de San Pablo. His father, Dr. Joaquin S. De Guzman, was a physician-surgeon and director of the Peter Paul Hospital in Candelaria, Quezon. His mother, Estela Arevalo, was born in Liliw, Laguna, and was the principal of Candelaria Elementary School.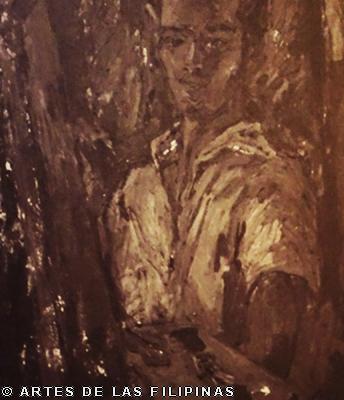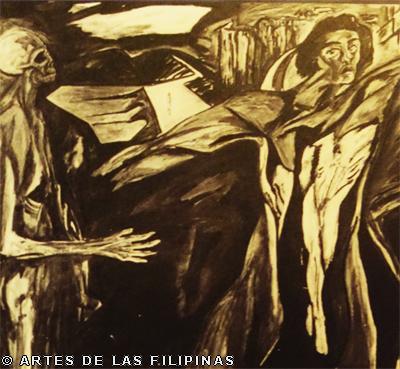 1963-1965

From 1961 to 1962, Jaime takes up Economics at the Ateneo de Manila University. In 1963, he moves to the self portrait, one of the first of the artist, was done in 1964. Jaime leaves UST in 1965 and spends some time travelling around the Philippines. He visits Cebu and meets Martino Abellana, Mentor to many of the Cebuano artists, and Sofronio Y. Mendoza or SYM. Jaime also travels to Samar, and to Iligan and Zamboanga in Mindanao. Together with SYM, he joins the Dimasalang Group of painters for a few years. This group is known for their paintings that captures the life in downtown Manila in the 1960s.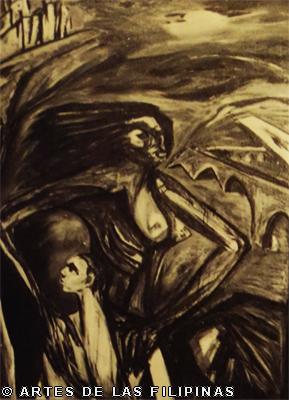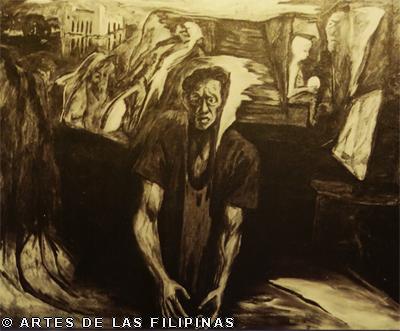 1966-1969

From 1966-67, Jaime takes up Fine Arts at the University of the Philippines.

In 1967, Jaime mounts his first solo exhibition at F. Sionil jose's La Solidaridad Gallery featuring works done from his previous travels. He also participates in the Art Association of the Philippines' Sizteen Young Artists group show at the Nothern Motors Showroom along UN Avenue.

That same year, Jaime holds another one man exhibition of paintings and drawings at the National Museum of Manila. In 1968, he mounts yet another solo show, this time at the Luz Gallery. His work is also included in the 1969 and 1970 Luz Annual group shows.

70s

On 3 August 1970, Drwaings by Jaime de Guzman marks the inauguration of the Cultural Center of the Philippines' Small Gallery, with Roberto Chabet as curator. Months later, Chabet selects Jaime as among the participants in the firsat Thirteen Artists show at the CCP, where he exhibits his Metamorphosis murals.

In 1970, Jaime is asked to design the stage for Alice Reyes' Itim Asu, a modern ballet based on Virginia Moreno's drama titled Onyx Wolf, as the inaugural performance for the CCP Little Theater.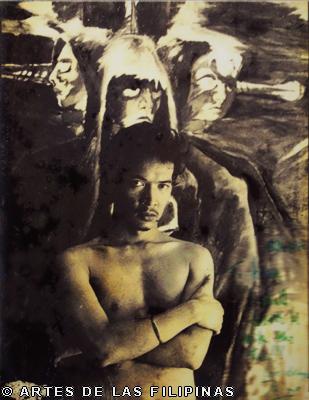 Jaimie infront of his work Gomburza Martyrs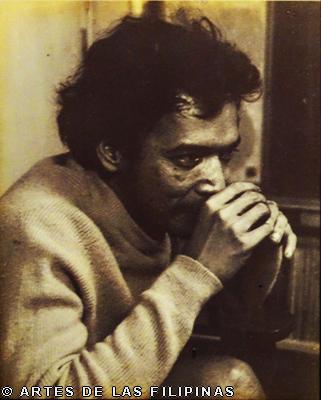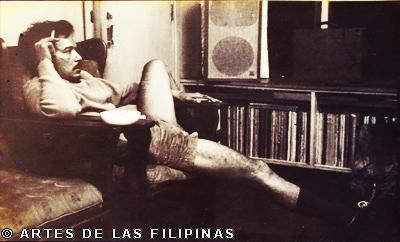 In November 1970, Jaime receives a travel grant to Mexico from the Nationa Historical Commission. While walking around Mexico City, he sees a mural in progress and meets David Sequieros. Jaime stays with the great muralist for a few weeks and then leaves for San Miguel de Allende. In the town north of Mexico City, Jaime meets Anne Polkinghorn, who had a pottery studio there.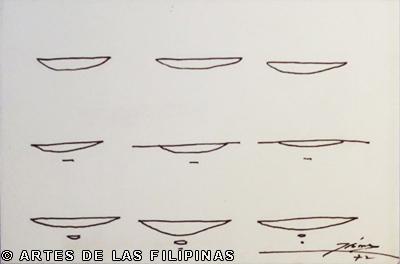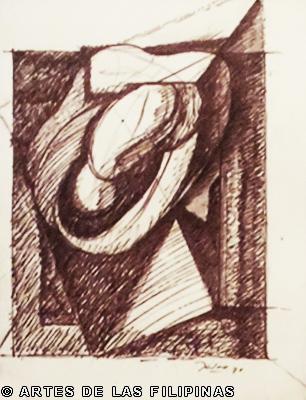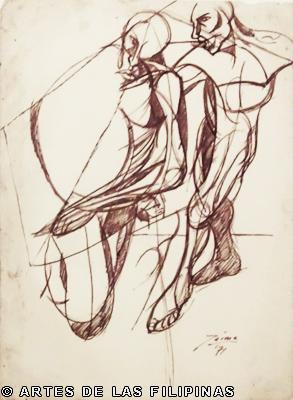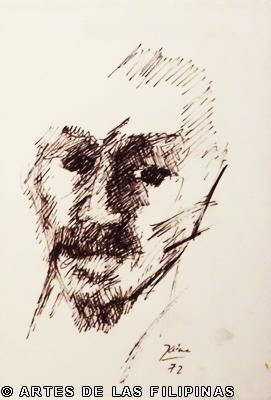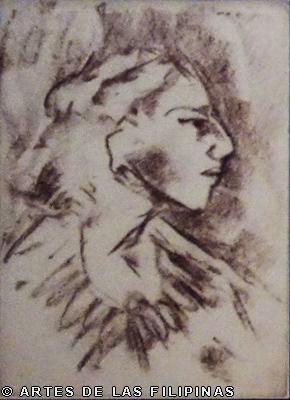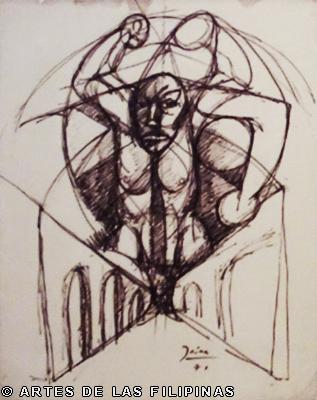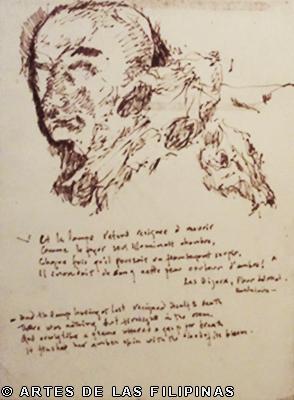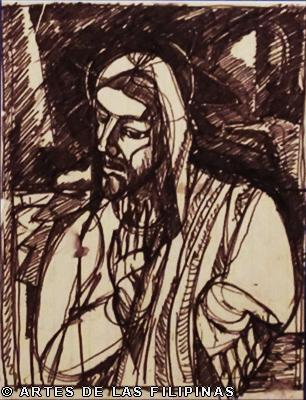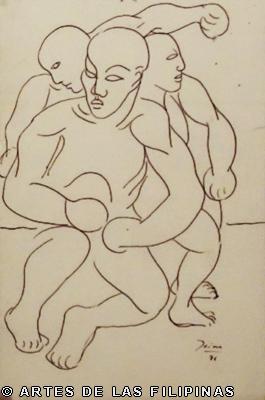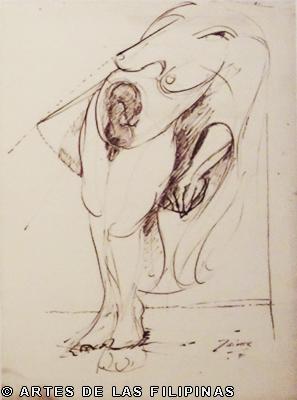 Drawings from the de Guzman family collection, some done during Jaime's stay in Mexico.

1971

Jaime returns to the Philippines in May 1971. He mounts another one man exhibition of paintings at the Luz Gallery. Anne arrives in the Philippines in June that same year. The couple travels to Sagada and Bontoc, and settles in Liliw, Laguna.

A dramatic presentation of Itim Asu is held at Liliw for the Third World Theater Festival. Jaime also creates set designs for the alice Reyes Dance Company for the staging of Jesus Christ Superstar in Manila (1971) and in Lake Caliraya (1973).


While in Liliw, Jaime executes a mural for the Liliw Municipal Hall Lobby in memory of his grandfather Fausto, a notary public who also wrote plays and zarzuelas, translated Spanish poems to Tagalog, composed rondalla music. His grandfather became a katipunero who served under Gen. Antonio Luna. The mural remains there to this day.

1972-1979

Anne introduces pottery to Jaime. Together they mount a group exhibition of ceramics at the Manila Hilton, with Baidy Mendoza. In 1973, he holds a solo exhibition of paintings at Sining Kamalig and participates in a group show of Filipino Prints in Tel Aviv, Israel.
In 1974, the couple moves to Bolinas, California. While there, Jaime has a one-man show of paintings at the Marin Country Civic Center in San Rafael, California. In their last year in the United States, Jaime and Anne participate in a group exhibition of ceramics at the Grand Hotel in Bolinas. In 1977, they return to the Philippines and settle in Candelaria, Quezon.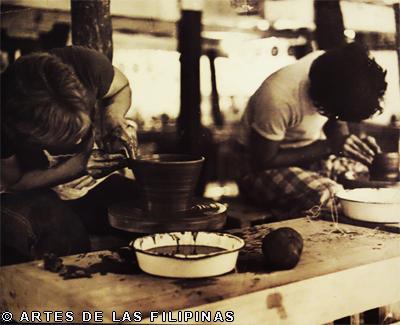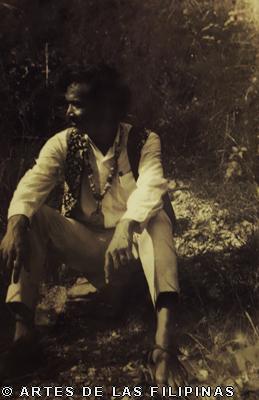 1980-1984

Jaime and Anne move to Sagada, Mt. Province on the invitation of local leaders. There they develop the use of indigenous raw materials for wood – fired pottery making. The couple establish Mt. Banahaw Wood- fire Pottery whwre they designed efficient high firing ceramic kilns. Jaime ans Anne join group exhibitions at the ABC Gallery in 1980, Wood Fired Potter at the Rear Room Gallery in 1981, and Philippine Contemporary Pottery at the Design Center in 1982.

In 1984, De Guzman participates, in the inaugural group show of Pinaglabanan Gallery, together with Danilo Dalena and Antonio Austria. That same year, he exhibits his work in the Ugat suri Asean Visual Arts Festival at City Gallery Manila and in the group exhibition entitled Mt. Banahaw Collective at the Hiraya Gallery.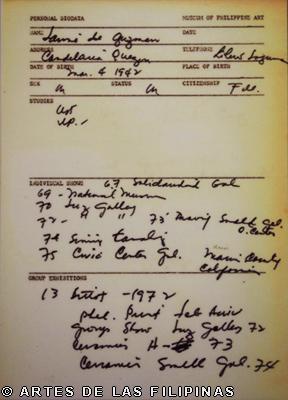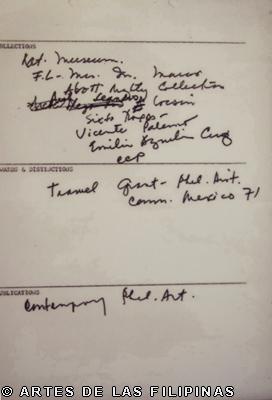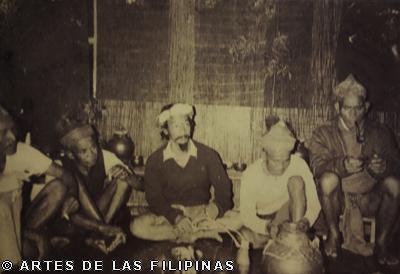 1985-1989

The De Guzmans continue to mount pottery exhibits at Gallery Renaissance in Baguio, as well as the Madrigal Gallery in Alabang.
Jaime returns to drawing, pastels, and oil in the late 1980s. He exhibits "Makibingit Id Sagada" a collection of his Sagada paintings at the Pinaglabanan Gallery.

90s

1990-present

In 1991, Jaime presents a one man show at the CCP entitled Visionary Paintings of the 60s and the 70s. From 1992-1993, he travels to Dumaguete and creates numerous works in Apo Island and Siquijor. In 1993, he returns to Candelaria, Quezon and continues to paint. He lives and works briefly in Sagada from 2001 to 2002 and spends some time traveling to Thailand, Cambodia and Indonesia in the years that follow while participating in various exhibitions.

Jaime de Guzman currently resides in Candelaria, Quezon.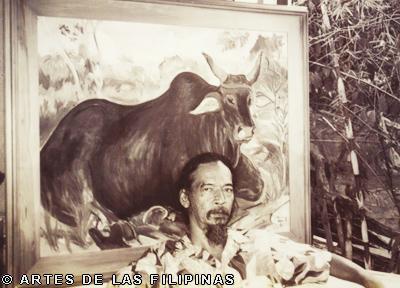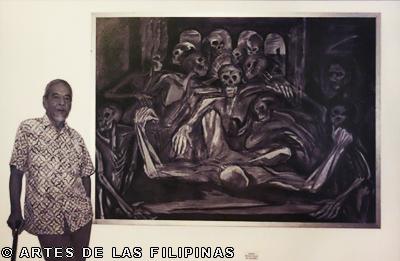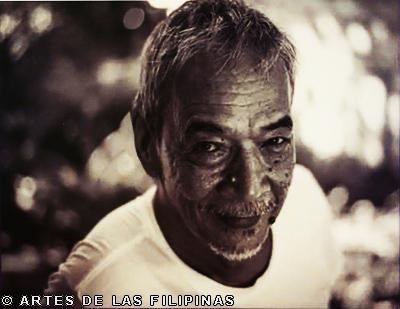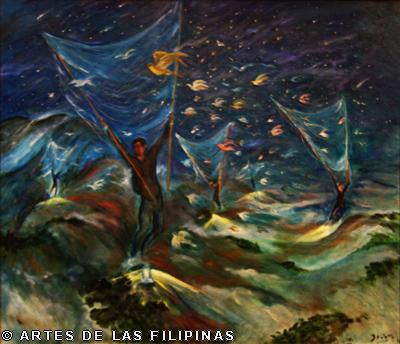 Mang Kek (2014)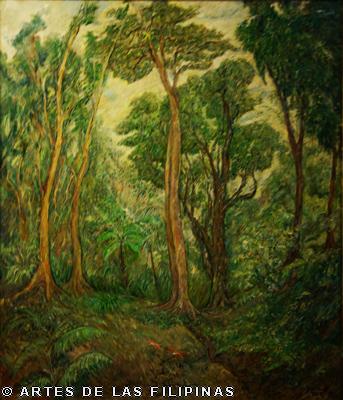 The Glen (2012)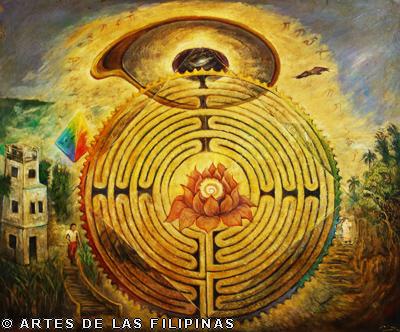 Labrynthian Way (2005)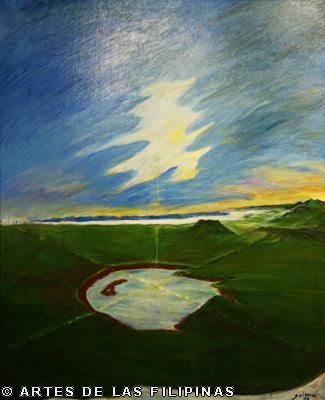 Untitled (2013)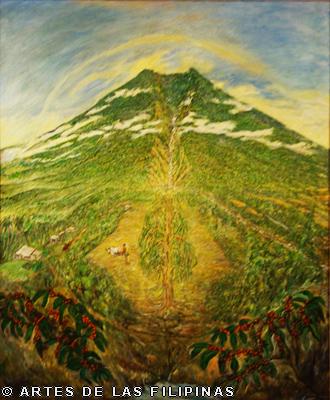 Dulong Ilaya (2014)

Jaime de Guzman currently resides in Candelaria, He has been regularly painting again, his work evidencing quite a departure from the somber expressionism and busy surrealism that initially inhabited his canvases more than four decades ago.