Purveyor of Knowledge and Emerging Publisher of Content and Visually Driven Books
AGUILAR ALCUAZ
Un Voyage pictural en Europe
A picturesque journey in Europe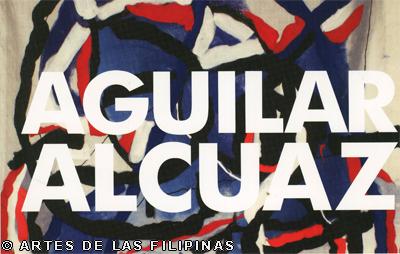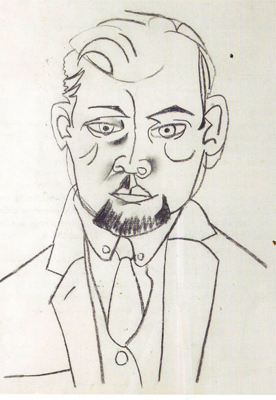 Federico Aguilar Alcuaz (1963)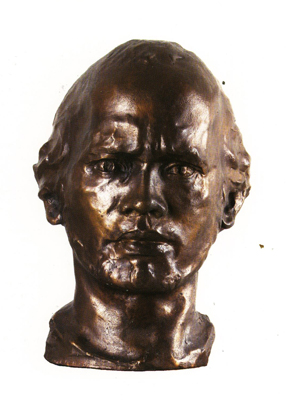 Federico Aguilar Alcuaz Bronze Bust (1976)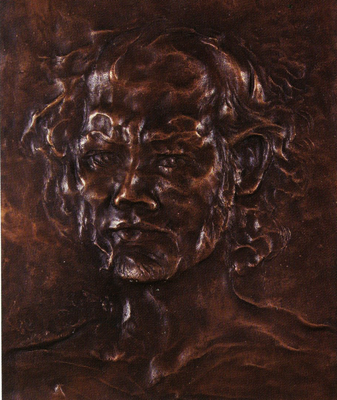 Federico Aguilar Alcuaz Bronze Relief (1976)

Selected Works Spain/ France/Germany/Czech Republic

SPAIN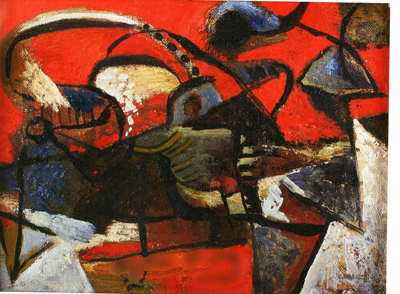 Untitled (1965)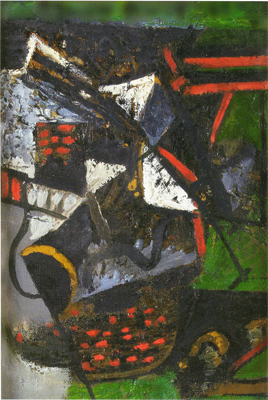 Untitled (1965)

In 1955, Federico Aguilar Alcuaz received a scholarship grant to study at the Academia de Bellas Artes de San Fernando in Madrid. His instructor soon noticed that he was very talented. He was asked to leave the university , as "they had nothing more to teach him". So less than a year after his arrival in Madrid, he moved to Barcelona where he soon joined a group of artists, called "La Puñalada". The group got together because they were against Spanish art's conservatism. Most of the artists who joined "La Puñalada" became forerunners of modern and contemporary art in Spain, such as Tapies, Cuixart, and Tharrats.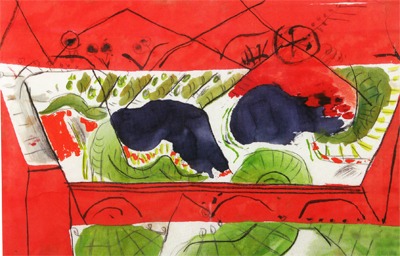 Untitled watercolor (1974)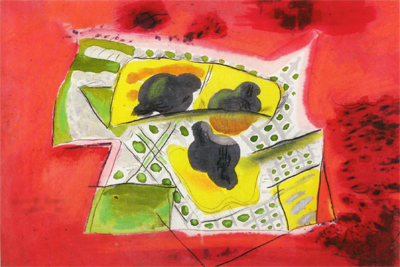 Untitled watercolor (1974)

Aguilar Alcuaz started to flourish as an artist and became well-known for his abstract paintings. He held exhibits at the highly prestigious Sala Direccion Generak, Museum of Comtemporary art in Madrid, having been the youngest then at 24 to have exhibited there. He also received several awards such as the first prize at the Premio Francisco Goya (1958) in Barcelona, where he met Don Benjamin Gayubar, who was his first and foremost sponsor amd later became at one time the biggest collector of Aguilar Alcuaz's works. By the end of the 1950's, he had finally adopted a change of name to what he later would be known as: Aguilar Alcuaz. The change –or better modification- of name was necessary to distinguish himself from the many others also named "Aguilar" in Spain. He maintained a studio in Barcelona on Aragon Street, which he kept as his main studio away from Manila until 1997. Altogether, he devoted fruitful years of his life in Spain.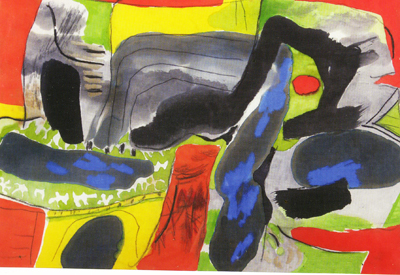 Untitled watercolor (1975)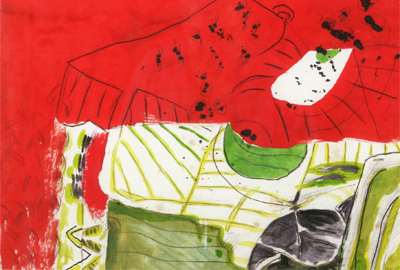 Untitled (1975)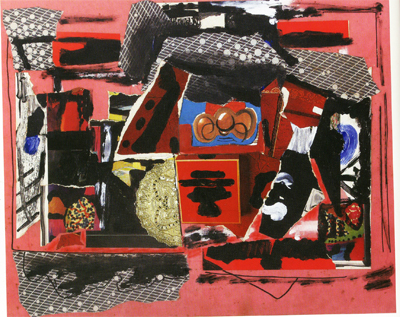 Untitled (1976)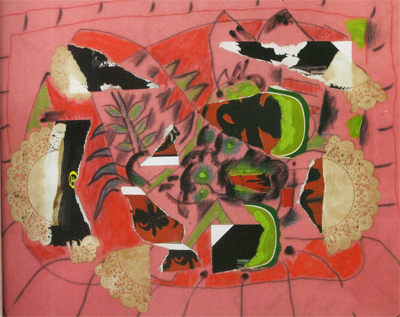 Untitled Collage (undated)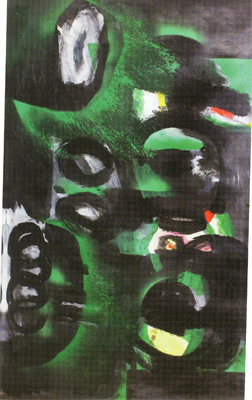 Untitled Watercolor (undated)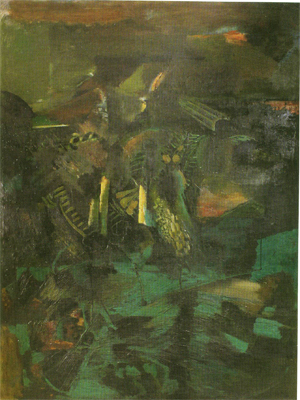 Untitled (1979)

His works are part of several museum collections such as: Museum of Comtemporary Arts of Barcelona and Madrid, Museumsof Villanueva y Geltru , Barcelona, City Hall of Burgos, Sant Pol de Mar, Valls- Barcelona, etc.

FRANCE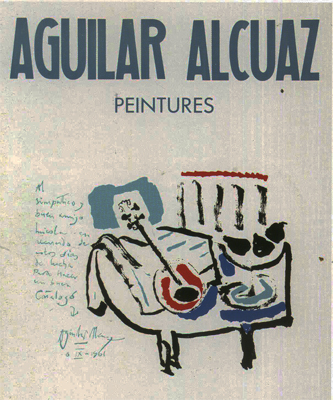 Exhibit Poster (1961)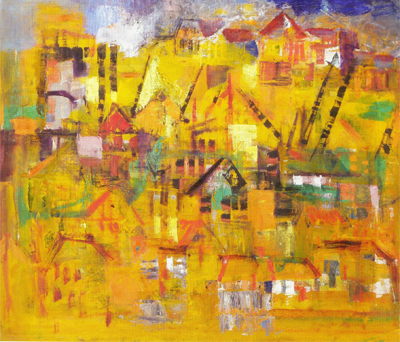 Untitled (1961)

Influenced by cubism and fascinated by Picasso and Braque, but also by other modern masters like Cezanne and Matisse, Federico Aguilar Alcuaz also spent some time in France. He went to Paris occasionally, and became quite successful there. He received several honors by the French Republic and other French NGOs. Among the most noted ones were the Diploma of Honor at the International Exhibition of Art Libre in 1961 and the award of "Arts, Sciences, Lettres" in 1964. Futhermore he received two different awards of "Le Genie Francais " in 1965 and 1967. He was also a member of the Spanish intellectuals in France and several French artists associations, where he served as a delegate for international relations.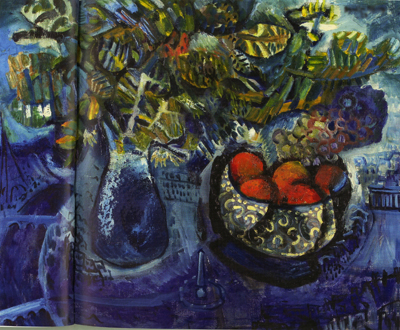 Untitled (1963)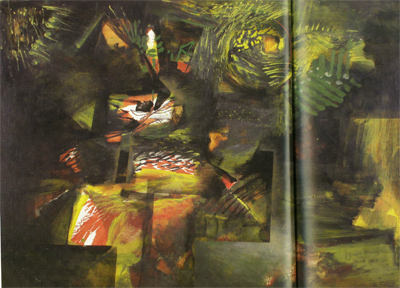 The Flying Dutchman (1967)

In Paris, Aguilar Alcuaz was able to exhibit in some of the most pretigious galleries. His works were shown in the Galerie de la rue Paul Cezanne (1961/1964), 73e Exposition, Societe des Artistes Independants (1962), Salon de L'Art Libre at the Palais des Beaux – Arts de La Ville de Paris (1963) or Modern Art Museum for the Biennale de Paris in 1967 which could be considered as the meeting place for those who would define "the art of the future". He painted the Flying Dutchman (1967) especially for the Biennale while he was in the Philippines recovering from a near-fatal car accident that happened in nearby Lyon. His accident was such a big news in Barcelona that there was an hour –to-hour update on his condition over the radio. This incident probably gave him a sharper insight and a grander vision to his abstract paintings.

GERMANY

Federico Aguilar Alcuaz traveled for the first time in Germany in 1958 to ask Ute Schmitz's hand from her mother. He was introduced to her in Spain when she was a business and languages student. The two had a lot of things in common, particularky their interest in Asian culture, talking for hours on end about Asian and Japanese art.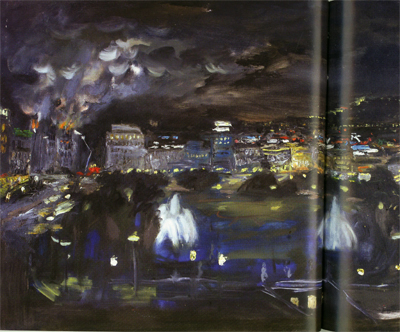 Untitled (1959)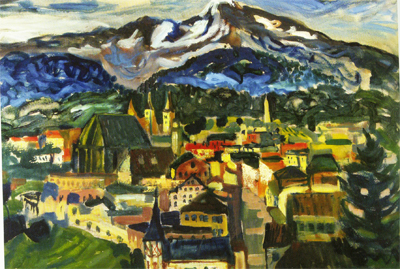 Untitled (1957)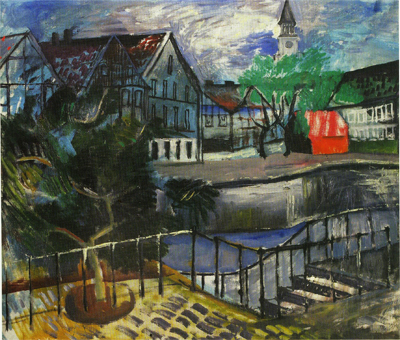 Untitled (1959)

He had astudio in Wiesbaden in the late 1960s to early 1970s and did some research on classical and most importantly modern German art, Braque, Dada, Nolde, Feininge, Mahler were some of the artist that inspired Aguilar Alcuaz. His works were favorably accepted by the Germans, not only for its studied refinement and flair, but also for the ease and pleasure conveyed by his choice of light, color and composition. Aguilar Alcuaz was already seen as an early representative of the globalisation of art. And he even made it into the prestigious German art and artist encyclopedia, the Thieme-Berker, Kunst und Kunstler Lexikon.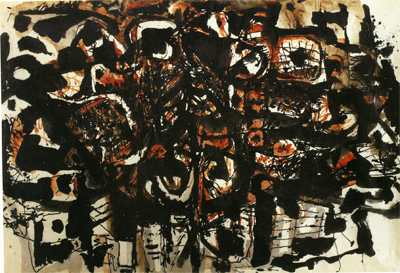 Untitled Mixed Media (1968)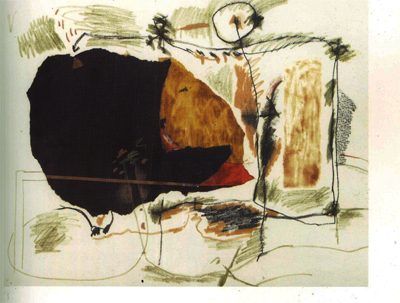 Untitled Collage (1970)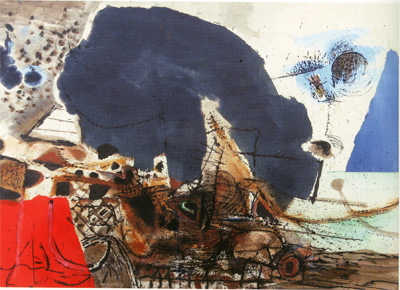 Untitled Collage (1970)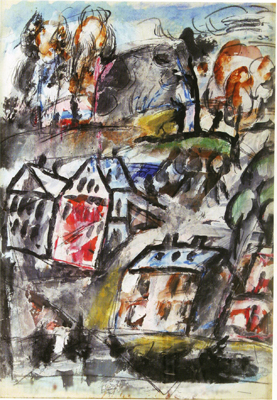 Untitled (1974)

In Germany, he created a giddness of senses, and an uplift of spirit, the atmosphere and the architecture were so close in each painting – highly reciprocal in their reflections and colorations. He brought a new sensibility to paintings, a springhtly and fresh bourgeois spirit.
He had presented a one-man exhibition at Gallerie Commeter, Hamburg (1963), Gallerie Moering, Heidelberg (1970), and at the Gallerie Borkowski, Hannover (1998).

CZECH REPUBLIC

From the late 1960s to mid-1980s, Federico Aguilar Alcuaz made several trips to the former Czechoslavakia especially in a town outside Prague, in the neighboring region of Moravia, Brno, where he used to work in a textile factory named Art Protis.
As a multifaceted and curious artist, he had been very interested in modern kinds of tapestries made in Czechoslavakia. This was his prime motivation to go to this country and explore this new art opportunity. For years, he engaged his creative process to compose his tapestries which were very unique.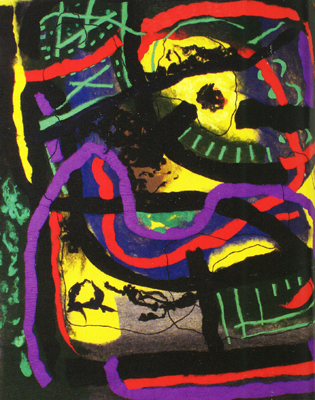 XX Tapestry Wool (1983)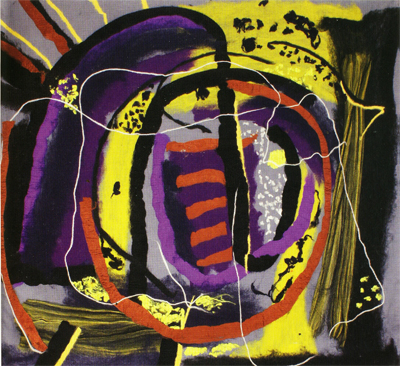 XXVI Tapestry Wool (1983)

As in other (communist) places during that time, Art Protis' factory belonged to the state which imposed working hours. Consequently, Aguilar Alcuaz's effort took a very long time. These tapestries are not made in a traditional manner (weave, stitch), but in a special provess regarded as "painting with fibers." Aguilar Alcuaz amazed his peers, with what artistry he could create an artwork with a hitherto rather unknown medium and process.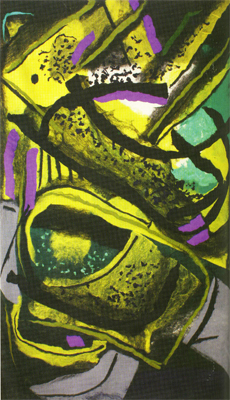 XVI Tapestry Wool (1983)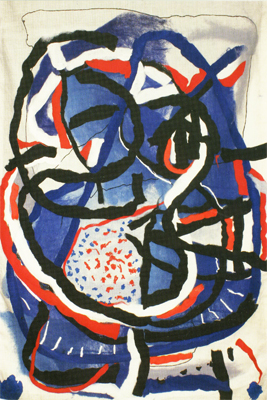 XII Tapestry Wool (1963)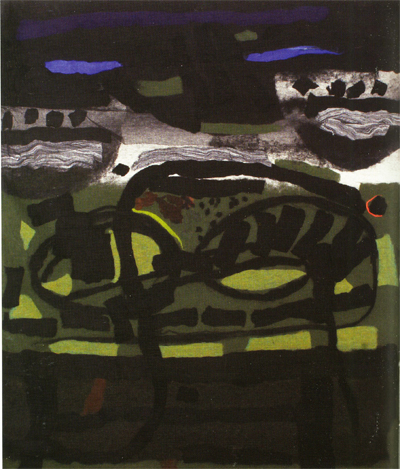 Untitled Tapestry Wool (undated)

Aguilar Alcuaz's highly artistic tapestries were so sought after that the Brno City Hall found it worthwhile to buy one of the biggest ever recorded tapestry of this process. It was also at the brink of what Art Protis could produce.

For the exposition
Aguilar Alcuaz
Un voyage pictural en Europe
A Picturesque Journey in Europe
Alliance Francaise de Manila
June 2015