Purveyor of Knowledge and Emerging Publisher of Content and Visually Driven Books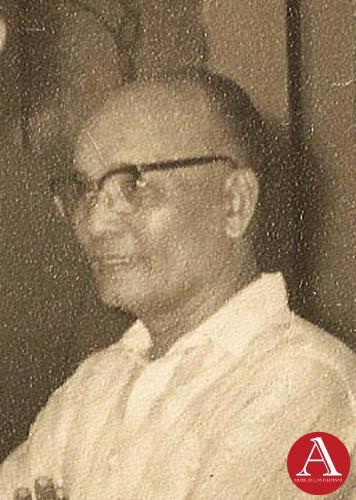 Porfirio Castañeda on His Tatay, Dominador Castañeda
by: Christiane L. de la Paz

March 2016--Dominador Castañeda spent his early education at the Escuela de Bellas Artes in Quiapo, Manila. In 1924, he graduated at the University of the Philippines School of Fine Arts (UP SFA) and continued his studies at the Art Institute of Chicago where he fell under the influence of the Impressionists. During his studies abroad, Castañeda participated in the 1929-1931 Educational and Sketching Tour in Mexico and did some plein air painting there. His art education paid off when he won first prize in an art competition sponsored by the Philippine Free Press in 1939 and another in Treasury Art Design Competition sponsored by the Central Bank of the Philippines in 1949. He joined the UP SFA faculty in 1931 and taught Painting Advanced Drawing from Life, Philippine Art History, among others and became the school director from 1955-1961 after Guillermo Tolentino's term. He retired from teaching in 1961 and continued research writing for Art in the Philippines, a reference book on the history of art in the Philippines, published in 1964. Castañeda succumbed to colorectal cancer on November 27, 1967. A retrospective exhibition of his drawings and watercolors was held at the Solidaridad Galleries in 1971. In this feature interview, Porfirio Castañeda, Dominador's eldest son, unearths crucial facts on his father's private life as he saw himself, his tame public image, familiar subjects that he painted, artistic comrades, final year and his invaluable contribution to Philippine art-- extraordinary revelations still unknown to many.
Dominador Castañeda graduated from the University of the Philippines School of Fine Arts in 1924. Did he first take a job before studying at the Art Institute of Chicago?

We don't know whether he took a job after he graduated from the university. He did tell stories about painting canvas backgrounds for the theaters in Manila and doing piece work illustrations for the local vernacular magazines. Even Fernando Amorsolo did the same. He designed the logo of San Miguel gin still in use now by La Tondeña. Regarding his study overseas, all we know is that he went to the Pratt Institute of Art in Chicago as a scholar. My paternal grandmother always said that he traveled and studied as a pensionado.

After this stint, he traveled to Mexico on another educational tour from 1929-1931. Did he enroll in a school in Mexico?

We have no knowledge about his travel to Mexico or whether he took formal courses there. The only evidence I have is an 18 x 24 inches watercolor of a desert landscape he painted there dated 1929. It was the largest watercolor painting I have seen him painted. But he always tells us stories about his travels in California. He has a lot of stories about San Francisco and the Monterey area where he claims that he worked in Monterey at the sardine canning factory. He always tells this story whenever we have sardines for our meal. He says that he worked for the Portola Sardine canning factory, a famous Monterey Aquarium in California. He says that he had to work there to support himself. He often tells of eating simple meals.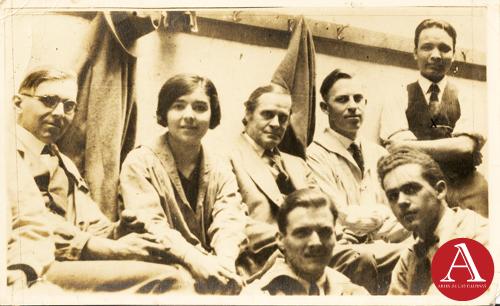 Castañeda (fifth from left, standing and arms folded) at the Art Institute of Chicago

In 1939, Castañeda won first prize in a national competition sponsored by the Philippine Free Press. What was the title and image of his entry?

My father never mentioned about his winning in art competitions but this might be why even during World War II during the Japanese occupation, he continues to design and do the covers of the Philippine Free Press.

Ten years later, he also won in a competition sponsored by the Central Bank, would you know what banknote he designed?

He was doing a lot of banknotes and government certificates but I don't know which won as he never mentioned it.

His directorship at the University of the Philippines School of Fine Arts, a post he inherited from Guillermo Tolentino, was a quiet one. What were his accomplishments?

He does not have any accomplishments whether the academic reforms or the physical plant of the College of Fine Arts which was at his tenure, housed at the top floor of the UP Library. It was moved there from the third floor west wing of the College of Education building. His main concern and he often tells me was the education, training and developing artists. He helped poor artist find local and foreign scholarships. This is the main task he concentrated on. The other related activity he worked on was the On-the-Spot Painting competition sponsored by the Shell Oil Company and the scholarship grants by ESSO. ESSO is a well-known American oil company. They sponsored art exhibits and shows for budding artist.

Was Castañeda traveling from Paranaque to Padre Faura or was he holding classes in Diliman?

When the university moved to the Diliman Campus, my father commuted from La Huerta, Parañaque. Rain or shine, he had to get up at five in the morning, take a jeep to Quiapo then a bus to the campus.

Not much had been written about your father's past exhibitions.

He never had any one man show although he lent paintings for group exhibits, not commercial shows done by commercial art galleries. He did talk of putting up a show when he retires. It is not a matter of having enough finished paintings. He was very generous about his work giving them away as gifts to his brother and his few friends. He never thought about putting up his work for sale in a commercial art gallery.

Carina Castañeda, your cousin showed me some of the paintings your father had given her on her birthdays. Did I understand you correctly that the paintings of your father were never for sale?

So you know Carina? My father is the godfather in the baptism of all my cousins meaning all of Carina's brother and sister call him Ninong. It was Carina who gave him the name Mr. Incognito. My father never sells his painting in the sense that he consigns them to a gallery or sells them through an art agent. He was very liberal with his work. He keeps telling me that his reward was in doing the painting.

It seems that your father is not keen to interviews.

He really avoids social gatherings and never goes to advertising himself and his works.

In the few articles written about Castañeda, he was often portrayed as a contemporary of Fernando Amorsolo but he often emphasized that he was not his follower.

He never talks about negative feelings about his work and that of Amorsolo. Amorsolo was his best friend. He tells us about going out sketching in the countryside in Bulacan, in Paranaque and Cavite. During the Japanese occupation we were often visitors in the Amorsolo home in Calle Azcarraga, now C.M. Recto, near the Far Eastern University. I am sure Amorsolo was giving him some art commissions for he was actively painting and we would bring them to Amorsolo's home.

Again, in the few articles written about your father, what were some details or errors in print said about him?

In the three or four published articles about him that I have read, I don't recall any statements that were not true or negative.

Generally speaking, Castaneda's subjects were familiar: sunset, mangroves, clouds, backyards and religious scenes. Did he paint a lot of figures?

He did a lot of works with figures. He was also doing a lot of landscape sketches in the last two to three years before he died.

Tell me about the painting that belongs to your son.

The painting is that of an old house in the lake shore at Los Baños. It was done on a field sketching trip of my father's landscape painting class. I was then grade 4 and the students I recognized and remembered were Larry Alcala and Juvenal Sanso. The painting is oil on canvas board and is 16x10 inches.



Mother and Child (1948)
Napoleon and Cher Abueva Private Collection

One of the more powerful images your father created was the casualties of the war well represented in the collection of the National Museum of the Philippines.

You are right. He personally witnessed the war atrocities. They even witnessed executions, beheading by the Kempetai, the Japanese Military secret police at their camp across from our house then in Gagalangin, Tondo. He painted those immediately after the war. I saw him sketching studies for them during the war.

Your father was born on April 8, 1904 in Tondo, Manila. Can you tell us about his family background?

My father was born in Gagalangin, Tondo and was baptized in the Gagalangin Catholic Parish Church. His father, my grandfather is Deogracias Castañeda of the Castañeda clan from Imus, Cavite. Deogracias was an accountant for the International Harvester. His mother is Dolores Hilario y Rojas, claimed to be ethnically from Cavite, is a Spanish Teacher at the University of Santo Tomas. Dolores is widow with a son, Jose Puzon with her deceased first husband. Dominador is the first born of Deogracias and Dolores. Next to Dominador is Soledad a Home Economics teacher. Next is Rosa a music teacher and the youngest is Deogracias Jr., a lawyer and a certified public accountant.

What do his friends call him?

Dominador is called in the family circle as Domining but in La Huerta, Paranaque he is Mang Doming. In the School of Fine Arts, he is fondly called Maestro by everybody including the janitor, Mang Lucio. Mang Lucio was his friend whom he shares his baon of rice and fish. When passed he away, he asked for and called Mang Lucio to his deathbed giving him his clothes and shoes.

What do you call your father?

We call our father Tatay.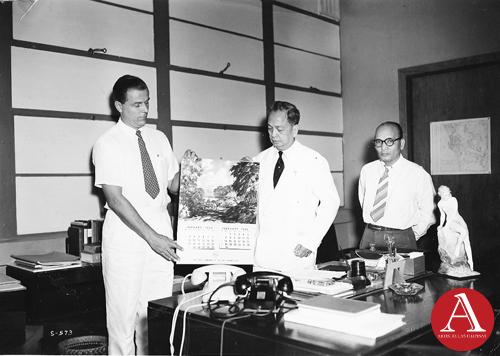 Castañeda (first from right)

Who were among his closest artist friends?

His closest artist friends are Fernando Amorsolo, Ambrosio Morales, Guillermo Tolentino, Billy Abueva and the film director, Richard Abelardo.

Can you tell me something about your family?

Our family is an average Filipino family. I am the eldest, Porfirio. I worked as a professional diver and I paint birds and landscapes. Next is Joselito who finished Business Administration at De La Salle and worked for Shell. He passed away last December. Our youngest, Erlinda is a nutritionist in the US.

Did anyone in your family become a painter like your Dad?

I paint and I write.

Can you tell me something about your body of work?

I am a bird painter but only for my own pleasure and relaxation. I paint landscapes in watercolors. In my younger days, I have exhibited with groups in the University and various galleries but for my bird paintings I have exhibited them at the Ayala Museum and the Galleria de las Islas. I have also published through the Ayala Museum a portfolio of Philippine Birds limited edition print. I am not a creative writer. I write mostly technical stuffs related to Ecology especially Marine ecosystems. I have written and read papers on this topic in foreign assemblies sponsored by World Wildlife Fund International Union for the Conservation of Nature and the UNESCO. I also co-authored the first published Diver's Guide for the Philippines

Tell us about your work as a professional diver.

I was a professional diver from 1975 to 1990 and headed the Coral Reef Research project with the DENR from 1997 till 1988. Concurrent with this is my stint as a dive guide –dive master to the dive boats carrying foreign tourist divers. In 1990, I was requested by the operations officer of the Calypso through the French Embassy in Manila to guide the Calypso with Jacques Cousteau in his trip to Palawan. This profession gave me the freedom of choice to paint what I want to paint.

You were also privately tutored by your father. How was he as a teacher?

I paint birds and have a limited clientele. I was trained by him since I was in second grade the rudiments of art and painting. My training stopped only when he passed away. He was a very good teacher stressing to me light and shadow. He never allowed me the use of color till I was in second year high school.

What was he working on during his last years?

The basement of the UP Main Library used to be occupied by the UP Press and they were the ones, through the help of Jimmy Laya, who gave him the space. This area allocated to him at the basement was never his studio but he gave the students space to use as theirs. For him it was a classroom. He was painting actively doing oil sketches of the once rustic scene in Parañaque such as the river, the saltbeds, the farm and bamboo groves. Notably he was also working on the restoration of a portrait of the father of Don Antonio Araneta.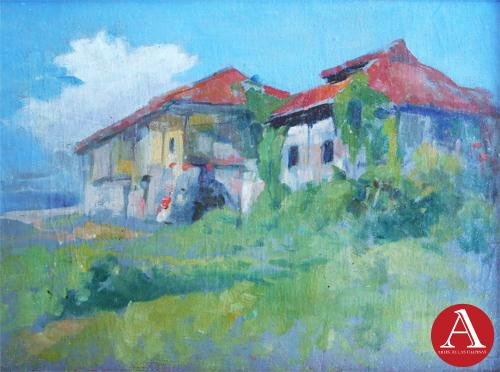 Old House in the Lakeshore at Los Baños

Castañeda passed away on November 27, 1967, what was the cause of his death?

My father passed away after a short two months fight with cancer of the large intestine.

Was he in the last stage when he learned about his condition?

I am sure he was aware of his medical condition but he tried to keep it to himself until the last stage. After his death, I found a letter from his doctor advising him for further medical treatment.

Where was he buried?

He was interred in our family plot at the Parañaque Catholic Cemetery at Barangay San Dionisio together with my maternal grandparents and my mother.

He was given a retrospective exhibition at the La Solidaridad Galleries in 1973. It was documented that the works put out in this exhibition were selected by Jose Joya and Rodolfo Paras-Perez from among the available drawings and different colors in different lots. These works were all in his studio? Where are these works now?

His works shown at the La Solidaridad were selected by Rod Paras Perez alone. He worked hard in selecting and catalouging them. Later after the show, they were consigned to the Gallery Sining Kamalig. Not much was left after.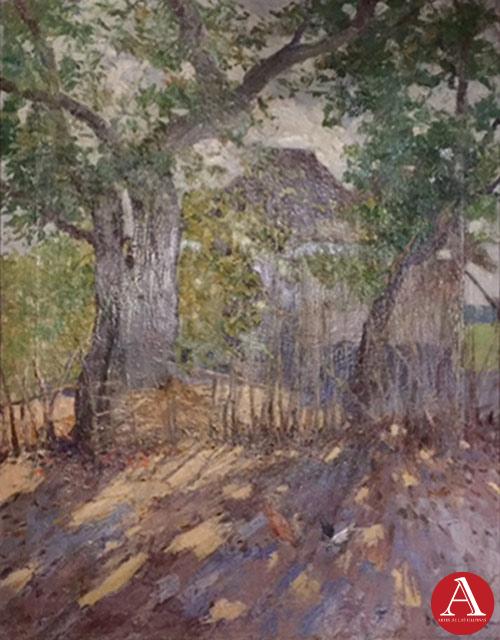 Kasamas (Tenant) Hut
Family Collection

What paintings were kept by your family?

The paintings kept by the family and close relatives were those personally given as gifts. Carina Castañeda has a few. His impressionistic painting of a farm house which Rod Perez said I should not sell is with my daughter in California together with a full length portrait of me. His painting of the dawn during an Easter Celebration is with my sister in Maryland. He also did portraits of me and my brother, Carina's siblings and my maternal cousins. My brother who recently passed away has a few watercolors and oil sketches.

Are you the one in charge in authenticating your father's works?

When Rod was alive, he did the authentication. I can only authenticate the works that I see him working on either his sketches, oil studies and watercolor sketches. Even as a mere five year old boy, I was sleeping and playing in his studio space. In fact, my father never had a studio till about three years before his demise. He would tell me about what he was working on. Later it became a part of my art education.

You made a very good point in emphasizing that you only authenticate those that you see your father painted. Why was the task of authenticating his works given to Rod Paras Perez?

Rod Paras Perez was the one who did the cataloguing of my father's works. He even made a chop mark to stamp sketches that were not signed later on a few buyers requested him to authenticate my father's works specially those he painted before 1940.

Have you encountered any copies of your father's works?

I have been shown a lot of Dominador Castañeda copies or counterfeits. It was shown to me by prospective buyers even the National Museum.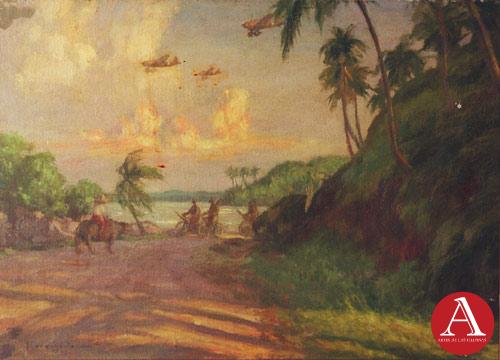 Japanese Patrol (1947)
University of the Philippines Vargas Museum and Filipiniana Center

What was the giveaway that they were imitations?

Most of the counterfeits are blatantly crude: the technique, the brushstrokes, the colors, the subject and even his signature. I was shown by a prospective buyer fifteen years ago in a restaurant in Manila a series of five portraits of Spanish ladies that were good paintings but blatantly not his style not even his colors and signature.

And how did the buyer take your verdict? How do you manage telling collectors that what they have is not a work done by your father?

It is general feeling I have when I first see the painting. There is only one instance when I cannot firmly say the works were my father's or not. This a series he did dated 1934 before I was born. I had to pass the buck to Rod Paras Perez. I have been watching my father work in his studio during the Japanese occupation of Manila. I was born 1937. My interests in his work became more professional when I grew older since I want to be a painter like him. I always inspect and scrutinize his sketches and studies and my father was never too busy to answer my queries, Thus, most of his works are familiar to me. Most of the people who asked me to authenticate their paintings were asking this of me as a favor and most were friends of mine such as the later Father Gabriel Casal, Cora Alvina and Ding Roces, among others. I only had contacts with prospective buyers not the people selling them.

When you're gone, who can authenticate your father's works?

I don't really know of anybody who could authenticate my father's work. There may be somebody there in Manila but I am not aware. Some of his former students who are familiar with his work could be able to do it.

Are your children familiar with their Lolo Doming's works?

My children and my nephews and nieces are all familiar with my father's works. My niece, Angela Castañeda Melo is planning to write about him as an artist.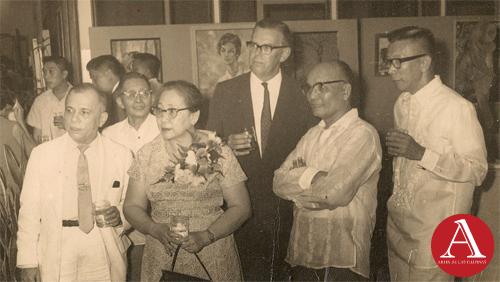 Castañeda (second from right) in an art show opening

Tell us about some of the other accomplishments and awards received by your father.

Previous to this after his stint as director he had his heart problem and had to reduce weight. In consideration for this, the dean of the College of Fine Arts and Architecture with the courtesy of the UP Printing Press who occupies the whole basement gave him a classroom space at the basement of the library. My father, if I might say, is a very quiet self-effacing person, very unassuming. I know he received awards and certificates but he never talks about them to us. He always talks to me about the painting he was working. I was trained by him in the rudiments of art and painting since I was eight years old. This functions as lecture for me. His best accomplishments would not be in his paintings since he always say that the reward in painting is in doing it. His accomplishments would be the artists he helped educate and develop.

What was your fondest recollection of him?

It is very hard for me to isolate him from his artist self and my memories of him are art related. I am what I am now -- a man seventy-nine years old: the work values, ethos as a person and even the genes for an artist came from him. However, I have a story I always remember. When I was growing up in La Huerta about seven years old, he saw me holding a bird that I had caught at the mangrove swamps then prolific in the river bank. The bird was a kingfisher with blue to blue green iridescent wings. He asked me why I trapped the bird and what I intend to do with it. He told me to look at the bird and hold it against the light to notice the color shift from dark blue to blue green. He told me that it's a waste killing them and much better to capture them in your canvas in a painting. I am a painter now and I paint birds.

And that kingfisher was your first bird painting?

The white collared kingfisher was the first bird I attempted to paint.

What do you think is the legacy of your father?

To us his loved ones, his legacy was us. He raised us to be good human beings. To the art world, he left a few paintings. But for me, his greatest legacy will be the artists that went through the University of the Philippines School of Fine Arts, who became successful in their careers. Some of them became National Artists. The artists who he has a hand in nurturing, developing and given the opportunities they need to bloom.