Purveyor of Knowledge and Emerging Publisher of Content and Visually Driven Books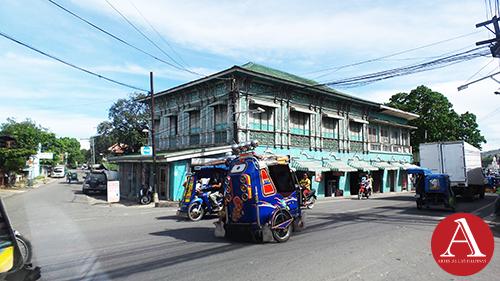 Carcar, Cebu
by The Artes de las Filipinas Research Team

July 2016-- Carcar has been established a component city of the Province of Cebu by virtue of Republic act 9436 which passed into law on April 15, 2007, and ratified by the people of carcar in a referendum on July 2, 2007. Carcar had progressed from a small seaside settlement around 40 kms. South of "Zebu" or "Sugbu" now Cebu City, to what it is today.

Land Resource:

The total land resource or land area of Carcar is, 12,200 hectares per re plotted map of the DENR approved in September 2012. The land of Carcar City is generally level with less than 18% slope comprising 78.7% of the total land area. Areas with slopes ranging from 18 to 50% cover 19.3%, and those over 50% slope comprise approximately 1.9% of the total land area. The highest recorded elevation is a little over 660 meters (2,170 ft) above sea level, located within Barangay Napo.

Land Allocation

Of the total land area, around 64.08 hectares are under NIPAS (Guadalupe Mainit-Mabugnao Hot Spring); 4,450.567 hectares are Forestland areas (Upland and Lowland); 7,685.6 hectares are Alienable and Disposable (A & D) land areas; and 3,152.59 hectares of Open Access including mangroves and upland forestland.

Demographic Profile

Carcar has a population of 107,323 with 23,066 households scattered over fifteen (15) barangays with a growth rate of 2.2 per NSO survey of 2010. Its population density indicates a high percentage of people living in the city proper.

Education

Carcar has three levels of education; the elementary, secondary and tertiary level. The literacy rate of population above 10 years old is 89%. Urban folks have higher literacy rate at 97.50% compared with the rural folks which is 88%. Of the population with ages above seven years old, 6.89% has not attended school, 5.31 % have attended college, of which 3.59% are academic degree holders.

The education services of the City is catered by nine Private and 33 Public Preparatory Schools; nine Private and 33
Public Elementary Schools; 25 National, 16 Barangay and nine Private High Schools; and two Tertiary Colleges, (the St. Catherine's College, and the Carcar City College). The skills training is provided by the Local Government for the employable age group and out of school youth under the auspices of Technical Skills Training and Development Authority and now managed by the Local government. A Public Employment Service Office was established to assist job seekers from the locality to find jobs local or overseas work. Health and Welfare Services

All fifteen barangays of the city, have barangay health stations with at least one midwife aided by Barangay Health Workers BHWs), and Barangay Nutrition Scholars (BNS). The City Health Office has also established nine satellite health stations each with a midwife and BHW. The health services of the city is supervised by a City Health Officer aided by a dentist, five registered nurses, two medical technologist, twenty six (26) midwives and four sanitary inspectors. The Carcar Provincial Hospital established by the Province of Cebu, and private Medical Clinics provide medical services for those who cannot be served by the city Health Officer. The welfare service provided by the city, is delivered by the City Social and Development Office with occasional programs from the religious sector and civic organizations, and the provincial and national governments.

Economic Profile

Carcar is basically an agriculture-base economy. Around 5,326 hectares of its land resource is classified as agricultural. More than nine-hundred hectares of fertile land is dedicated to rice farming, the rest of the agricultural land is dedicated to corn and or cash crop farming and cut flower growing. The rice fields and vegetable farms of Carcar is served by an irrigation system whose source of water is provided by two Small River Impounding systems. One is located at Sitio Dam, Poblacion 1, and the other is located at the boundary between Barangay Calidngan, and Barangay Can-asujan. Out of the irrigation system is the small river impounding system at the boundary of Poblacion2 and Poblacion 3 which is the source of water for the irrigation system of the Tapon Farmers' Association.

Commercial and backyard livestock and poultry raising is one of the agriculture activities in Carcar. There are four tunnel ventilated poultry farms, and one Commercial Piggery Farm situated in Carcar. Aquaculture, and Fishing are also a source of livelihood of Carcaranons. Around 10% of the population are engaged in fishing. Of which 90% are municipal fishermen, and 10% are fishermen with motorized boats. Fishpond industry also thrive in Carcar. There several fishponds with an approximate total aggregate area of 201.95 hectares located in barangays Valladolid, Bolinawan, Perrelos, and Ocana.

Trade, Commerce and Industry

Carcar is known for its locally-made shoes and native delicacies like the Carcar Chicharon, ampao and bucarillo. Like shoemaking, bolo-making and basket weaving are some of the common livelihood among Carcaranons. Carcaranons are also into wooden furniture manufacturing and antique restoration. The entry of service providers and real estate development; commercial establishments, financial institutions, and a steel industry provided tremendous economic and employment opportunities for Carcaranons.

Tourism

The Tourism Potential of Carcar is basically its rich cultural heritage. It made Carcar known as the Heritage City of Cebu. In Carcar one can see beautiful houses and buildings inspired by the architectural designs of the Spanish, and the American period. These architectural designs is the gamut of many a carcaranon artistic acumen. The Balay na Tisa, the Old Church, the many old houses, the old school buildings and statues at the town plaza and the Carcar Rotunda highlight Carcar's rich cultural heritage. There are also many other
tourist attractions in Carcar. There is the "Theotokos Shrine" built after the "Dancing Sun" phenomenon which took place in the
first half of the 90s, the Watch Towers for its historical value, the Mainit-Mabugnao Hot Spring National Park a nature park and the Can-asujan Dam for its utility and contribution to agriculture production, and its scenic beauty. The exhaustion after touring Carcar's beautiful spots and heritage structure will be culminated with savoring Carcar's native delicacies the chicharon, ampao, bucarillo and many others.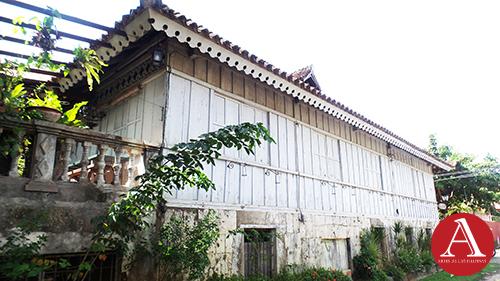 Balay na Tisa (Sarmiento-Osmena House) Declared a Heritage House by the National Historical Institute on September 4, 2009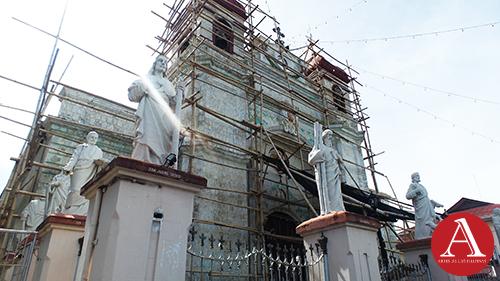 St. Catherine of Alexandria Church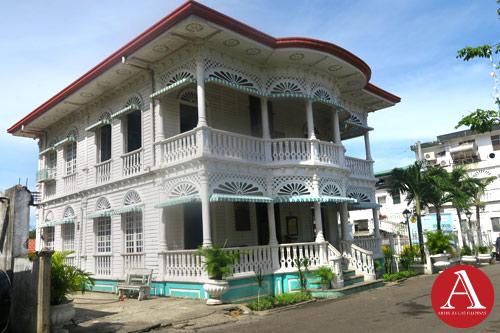 The Carcar City Museum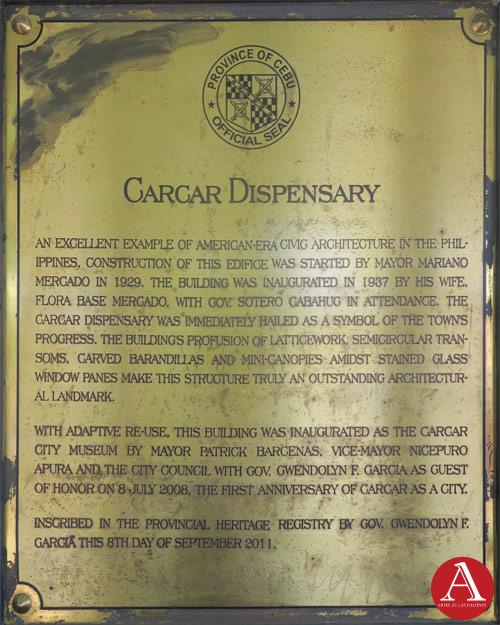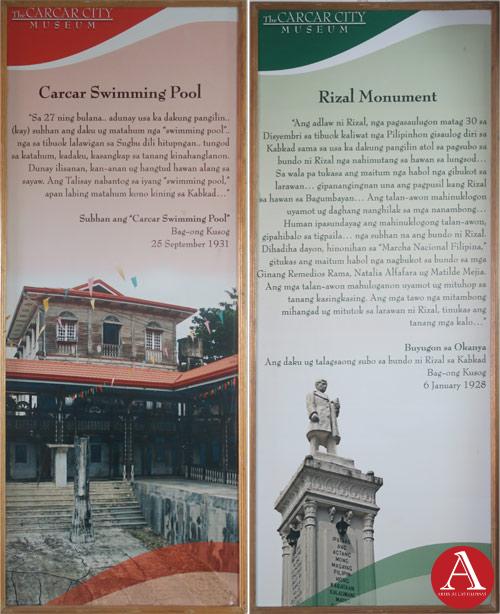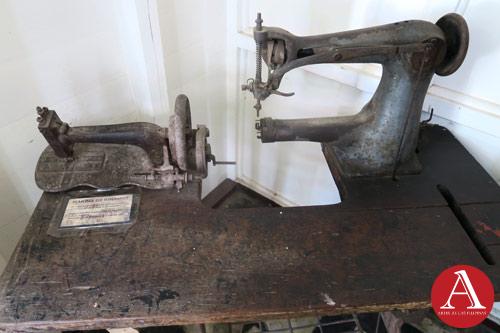 Makina de Kinamot (Provenance: Perrelos, Carcar City)
Donated by Geraldine E. Ybanez in the 1990s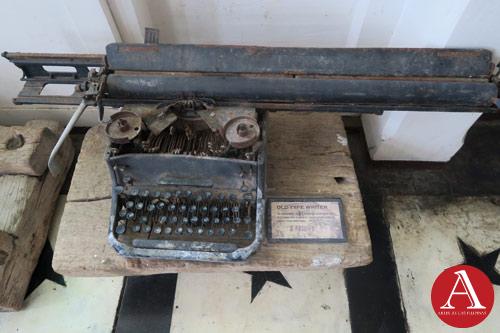 Old Typewriter at the Carcar Museum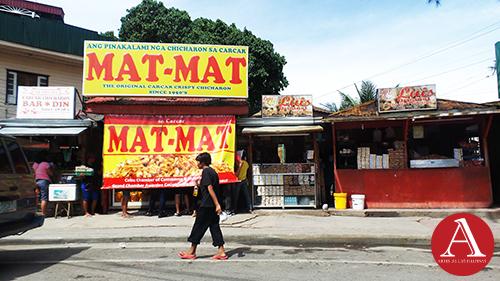 Chicharon, the city's native delicacy

Before bidding farewell, a whistle stop at the Acacia Grill is a must. There, tourists will have the chance to shop for handmade shoes and slippers which Carcar is known for and for which is famed, "MARIKINA OF THE SOUTH".
CARCAR TIMELINE

1860- Cebu is opened to international trade. Some local families rise to dominate the economic scene and these included the Sarmientos Jaens and the Barcenillas. Carcar starts to prosper as they were influenced by Chinese mestizos from the Cebu Parian who settled in town.

June 19, 1861- Jose Rizal, Filipino nationalist and martyr is born in Calamba Laguna.

1875- The construction of St. Catherine's Church is finished by Fr. Manuel Fernandez Rubio, OSA.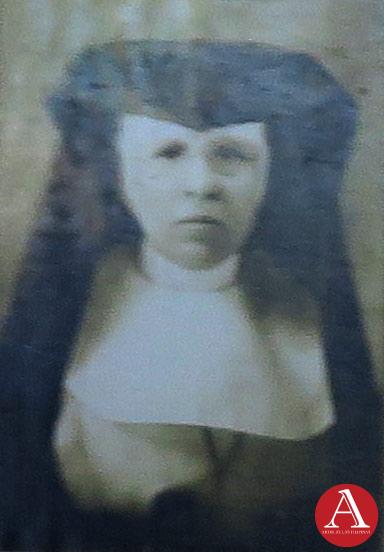 St. Catherine of Alexandria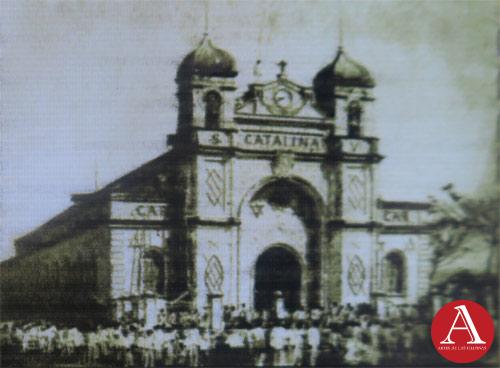 1890- Sugar productions in Cebu declines. Carcar is on the towns severely affected. Some of the lands came under control of creditors.

1896- Katipunan is discovered and begins an uprising. Jose Rizal is executed at the Bagumbayan on December 30 as warning to Filipinos who aspire independence from Spain.

April 3, 1898- Lead by Leon Kilot the revolution starts insurgents take control of Cebu City and its environs the succeeding day.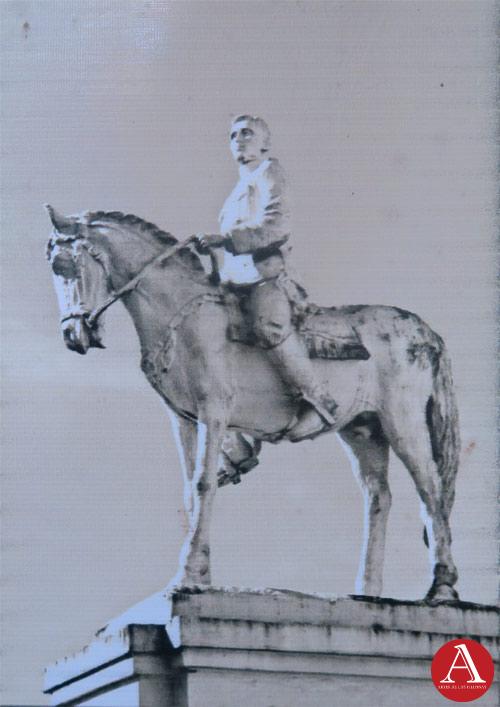 Leon Kilat, Lightning Leon in Cebuano

April 5, 1898- Insurgents occupy Carcar and takes Spanish priest Fr. Manuel Fernandez, OSA as captive.

April 8, 1898- Leon Kilat is assassinated in Carcar. Upon arriving in Carcar, Leon was brought to their residence of Mateo Barcenilla. Gathered in Barcenilla's house were the town principals. The principals asked Leon not to stage the fight in Poblacion in order to spare it from destruction and to avoid innocent blood to be shed. Leon answered back: "dili mahimo adto sa bukid, anhi himo sa Poblasyon ang away." Another meeting was held in the residence of Don Florencio Noel. It was only after a lengthy discussion that the plot to assassinate Leon Kilat was carried out. Since Leon was supposedly invulnerable to bullets, the crime was committed by stabbing him at the back with a sharp knife. Then Alcuitas tried to slit Leon's throat

December 24, 1898 – Spaniards leave Cebu.

January 15, 1899- Carcar municipal government was re organized under the revolutionary government. Florencio Noel emerges as the winner in an election in jefe.

February 21, 1899 – US gunboat Petrel appears in Cebu.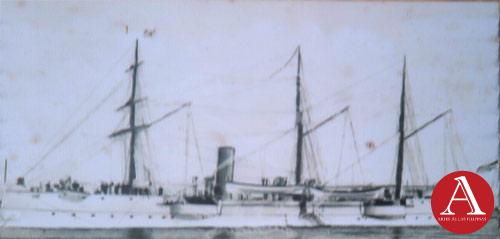 April 3, 1899 – Lt. Col. Thomas Hamer arrives in Cebu and by June becomes the first American governor.

July 2, 1899 – Americans occupy Carcar.

1905 – Upland Elementary School is opened by Municipal President Vicente Noel.

1908 – A railroad connecting Cebu and Carcar starts its operation.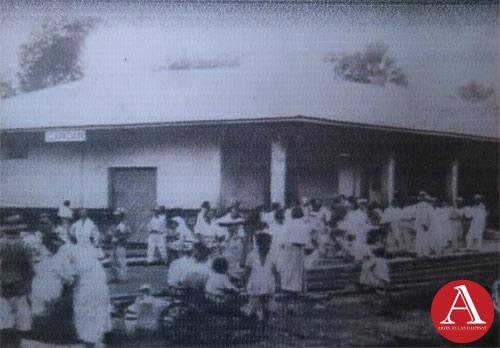 The old train station in Carcar.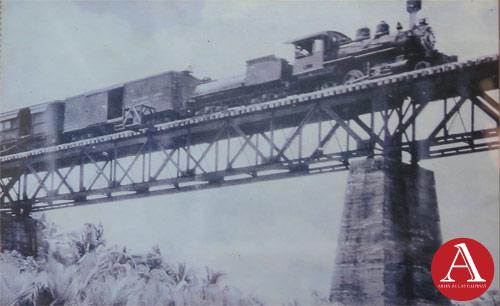 A Philippine Railway Company Train passing by a railway bridge in Perrelos, Carcar, Cebu (circa 1915)

1922 – Election of Don Mariano Mercado as municipal President.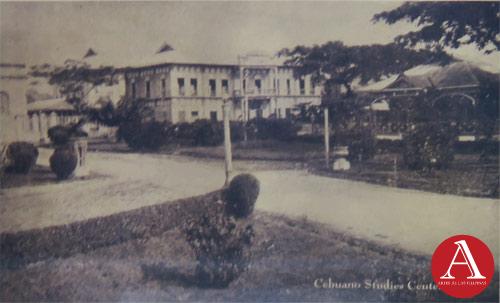 St. Catherine's School in the early 1920s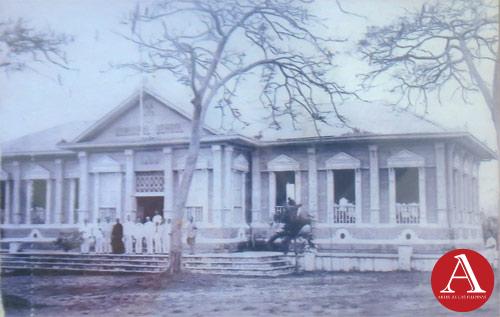 Carcar Elementary School (1924)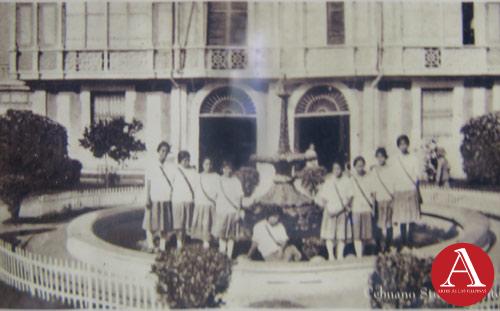 The old fountainhead infront of the Municipal Hall 1929
Source: School Yearbook

June 15,1923 – St. Catherine's School the first boarding school for girls in Cebu is opened. This was founded by town's parish priest Fr. Anastacio Del Corro. The Belgian nun Mother Marie Alix became the first directress.

August 1, 1926 – Leon Kilat's remains are exhumed outside the cemetery in Bolinawan. This was witnessed by Fr. Alejo Barredo parish priest of the Aglipayan Church of Bacongo, Basilio D. Villegas Leon's nephew President Mercado among others. On August 27 of the same year the Municipal Council of Carcar passes a resolution declaring the town plaza in front of the old municipio in Plaza General Leon Kilat to vindicate for the tragic death of the "soul of the Cebu revolution."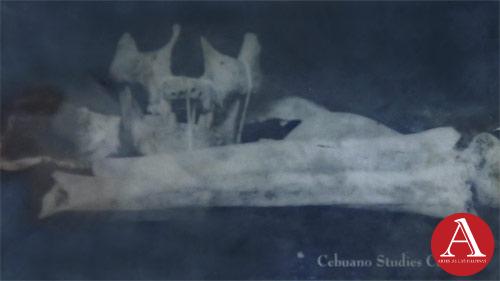 The exhumed remains of Leon Kilat.

1927- Rizal monument is inaugurated during administration of President Mercado.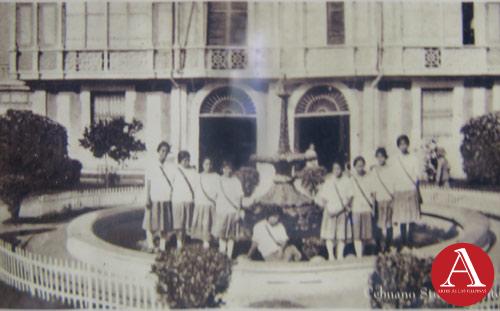 The old fountain infront of the Municipal Hall 1929
Source: School Yearbook



An undated photo of a troop of Filipino soldiers taken from where the Rizal Monument stands now.

1935- Filipino people approve new constitution after a plebiscitary US President Franklin D. Roosevelt signs it into law. Quezon is elected president and Osmeña as vice president of the commonwealth of the Philippines.

December 31, 1937- Inauguration of Carcar Rotunda under the administration of Mayor Mariano Mercado, Vice Mayor Alfredo Cui cuts the ribbon with Public Works Secretary M.J. Cuenco Plan of the rotunda was made by Mayor Mercado. Sculptures were done by Teofilo Abellana also from Carcar.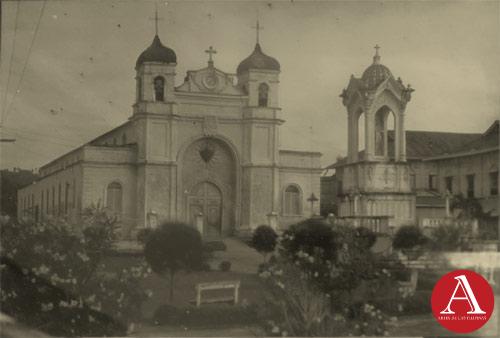 A Prewar photo of the Church and Plaza

April 11, 1942- Supreme Court Chief Justice Jose Abad Santos is captured by the Japanese military in Carcar Justice Abad Santos would be executed in Malabang Lanao ion May 2.

May 15, 1942- Senator Vicente Rama is appointed acting mayor of Carcar.

March 7, 1945- Cebu City was taken by American forces.

October 20, 1944- General Douglas MacArthur land in Leyte with President Sergio Osmeña.

December 11, 1948- Fr. Anastacio del Corro dies after serving Carcar as Parish Priest for 47 years.

February 9, 1964- The new municipal hall is inaugurated under the administrative of Cong. Max Noel and Mayor Abundio Aldemita.

September 21,1972- President Ferdinand Marcos declared Martial Law

1986-EDSA Revolution Coarazon Cojuangco – Aquino is sworn in as the Philippine firsat woman president.

April 8 1998 – Centennial of Leon Kila's assassination in Carcar.

1999- Senator Sergio Osmeña III files Senate Bills No. 1784 entitled "An Act Converting the Municipality of Carcar into a Component City."

July 1, 2007- After the certification of RA 9436 sponsored by Rep. Eduardo Gullas of the 1st district of Cebu Province, the people of Carcar vote for the conversion of their town as Cebu's seventh component city in plebiscite. Hon. Patrick Barcena becomes the first city mayor with Hon. Nicepuro Apana as the first city vice mayor.

Source: Information about Carcar City was provided by Candice Sandiego-Acuna, the City Information Officer of Carcar City.
All other information was transcribed by Artes de las Filipinas.