Purveyor of Knowledge and Emerging Publisher of Content and Visually Driven Books
Raul Piedra's Textured Abstracts
by: Christiane L. de la Paz

June 2016--Known for his textured abstract paintings, Raul Piedra, still a college student in 1970, staged his first solo exhibition at the University of the East where he featured his paintings of botanicals, landscapes and still lifes of orchids using acrylic and watercolors. He put out another batch of the same subjects at the Waterfront Hotel in Lahug, Cebu in 1978. During the 1980s, he started his series of semi-abstraction of rock formations and horizons mixed with ancient Malayan alphabet. This brought about his style of textured abstraction of modern landscapes using subtle colors of blues, browns and grays. In this feature, his wife, Adoracion "Baby" Tayag Piedra, lets us in into the interior life of her husband and some important biographical details about the artist.

After completing his secondary education, where did Raul Piedra pursue his college education?

What I know is that he graduated from Torres High School. I'm still trying to find his records at the University of Sto.Tomas and the Philippine Women's University.

Did you meet Raul Piedra in college?

I met him in the University of the East. I was a pre-Nursing student at that time and he was the artist of Sing Out Philippines. According to him, he was a part-time instructor under Mrs. Moscoso, a professor of mine in Humanities. He was always present during our rehearsals that every time I feel that he would make an attempt to fetch me, I avoided him. He was so persistent. But because of him I learned to draw and he in turn would retouch my own drawings.

What were Piedra's works during the early phase of his career?

He was doing still lifes of birds, flowers and nature.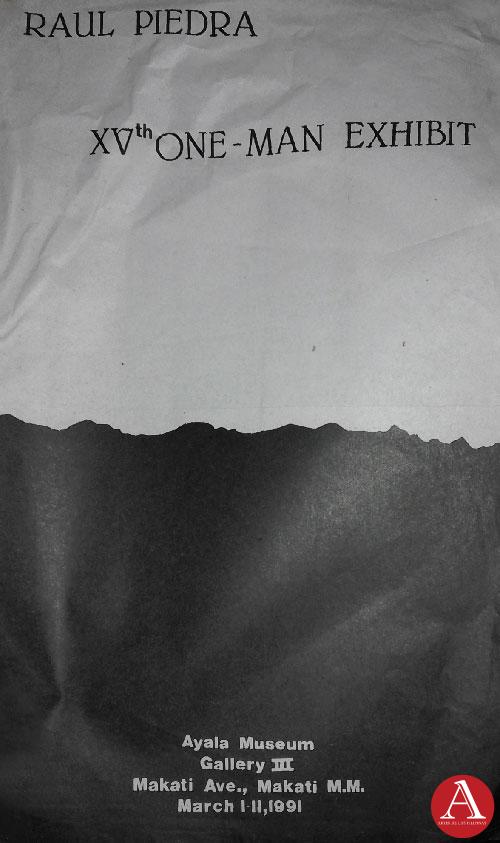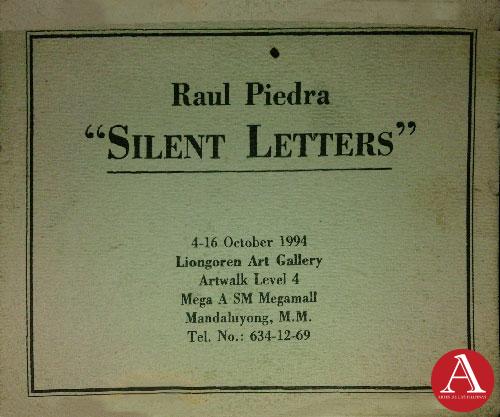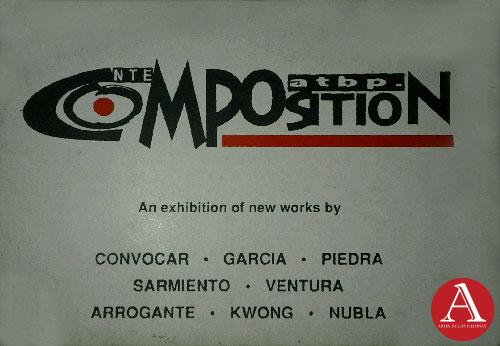 Who were his contemporaries?

Eghai Roxas, Reuben Canete, Ral Arrogante, Ronald Ruiz, Antonio Ventura, Mario Patdu and Clarence Eduarte.

Was he a part of an artist's group?

He was a member of Art association of the Philippines and Contemporary.

After college, where did he seek employment?

At the City Service in Donada St. Pasay City. He worked there as a messenger at the Bank of the Philippine Islands. And then this was followed by United Laboratories. He worked in UniLab as a layout artist doing the design of medicine boxes.

Now let's discuss the phases of Piedra's artistic career. At what year did he begin doing abstract paintings?

In 1971, he was first a curator at the Los Indios Gallery in Pedro Gil. This gallery no longer exists. After this, Raul held an exhibition at the Hiraya Art Gallery in United Nations Avenue and then at the Gallery Bleu where he staged his fourth one-man show.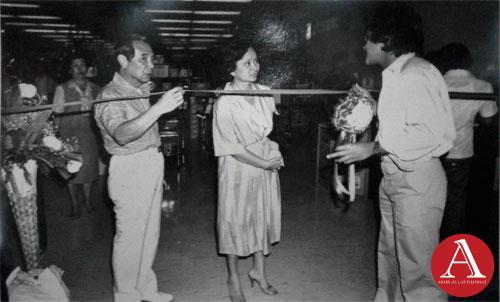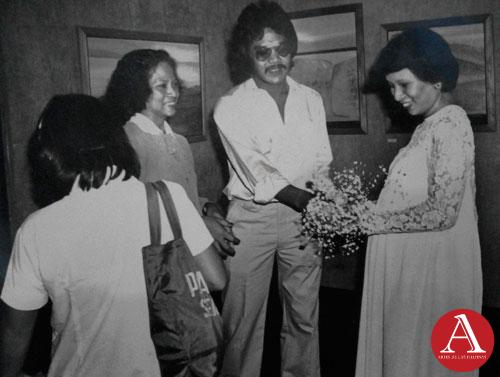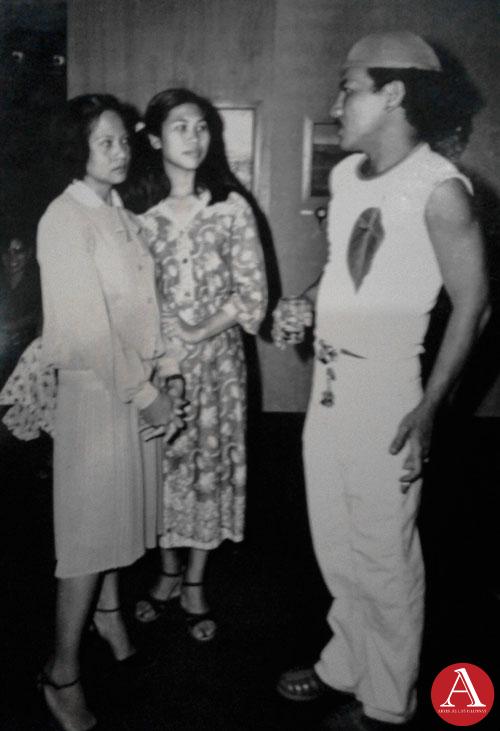 After this, did he do other things or was he simple working with acrylic?

Raul also used charcoal, watercolor, particularly on his nude sketches and other mixed media. He also created sculptures.

What are some of Piedra's other works, public or privately commissioned?

He has paintings at the GA TOWERS in Boni Avenue, Mirador Hotel and the Protacio Hospital in Baclaran. He has also paintings in Richmond Alabang and in one the houses of Willie Revillame and Architect Albano.

Tell us about his first solo exhibition.

My children and I are still trying to recall the details of Raul's first solo show through pictures he left behind.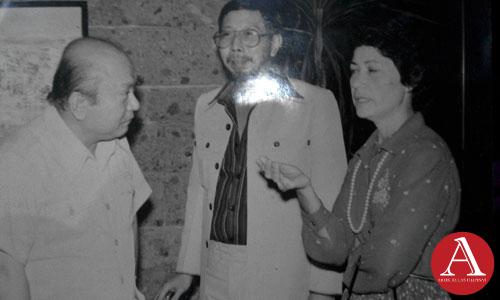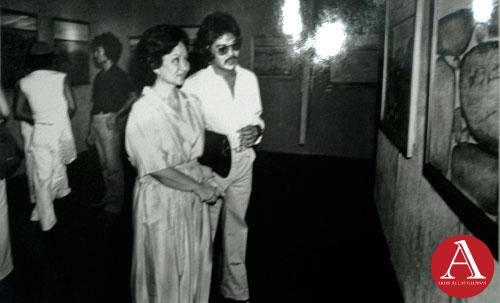 Did Piedra ever win any important art awards?

First Prize in Folk Arts Theater Art Contest in 1980

Victoria Arts Council Scholar Australia in year 1984 to 1986

Nominated to twelve New Emerging Artist of New Zealand in 1984

Philip Morris Jurors's choice at Philip Morris in 1990s

Honorable Mention at the Philippine Art Awards in 1995

Contempo President in 2000

Piedra means a piece of stone, a rock or a pebble. Tell us about his early life and education.

Early as a child, Raul had been working already while finishing his studies. He sold pan de sal, newspapers and Filipino komiks to meet his needs. He had three brothers: Conrado Piedra, Jaime Piedra and Reyanaldo Piedra and six sisters: Esther Borja Piedra Cruz,Petty Piedra Pagot, Purification Piedra Lionillio, Carmela Piedra Bais, Norma Piedra Macdangdang and Aida Piedra Campasas He was born on May 29 1951 and grew up in R. Fernandez St. in Tondo, Manila. His father was Tomas Gonzales Piedra Sr. and his mother was Asuncion Borja Piedra.

What were the occupations of his parents?

His father was said to be a barber. He had his own barber shop near the cathedral in San Fernando, Pampanga. His mother managed her own restaurant in San Fernando, Pampanga near the cathedral as well.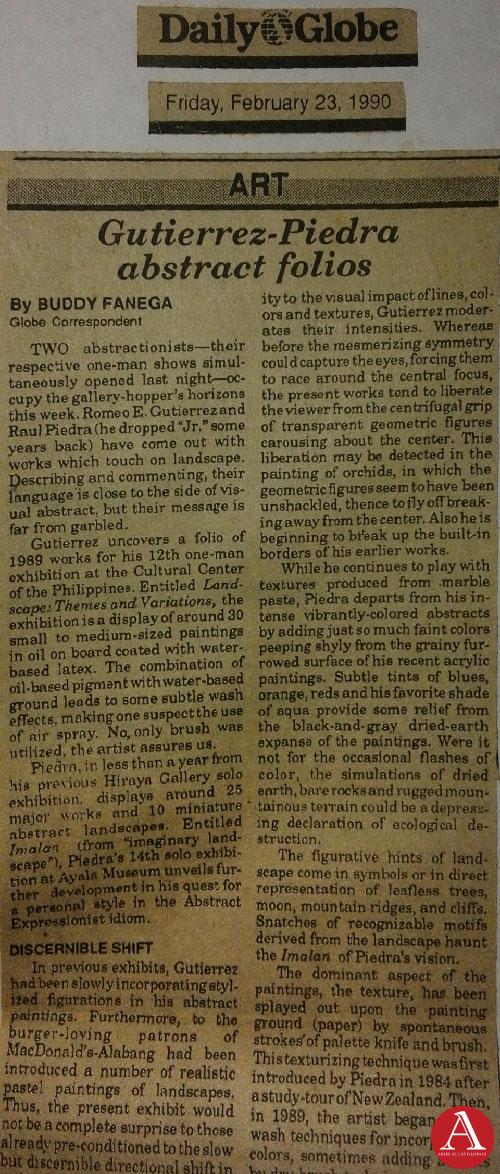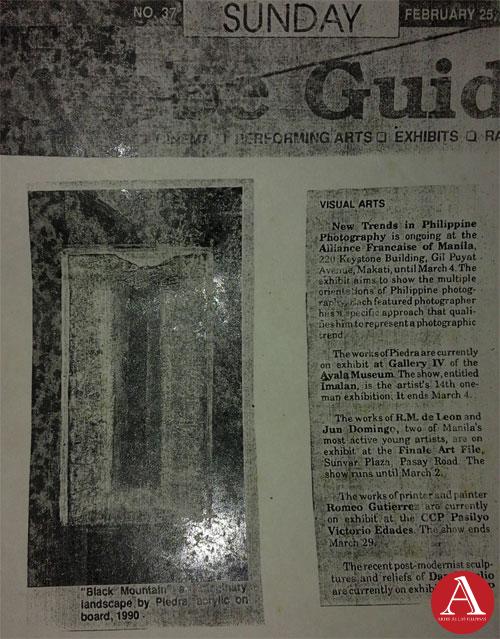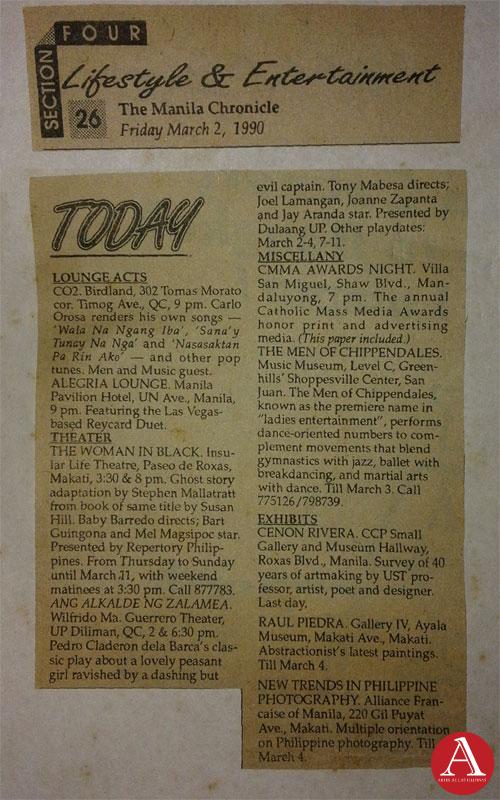 Where did he study elementary and high school?

He studied at the Gregoria Elementary School and went to high school at the Torres High School in Tondo, Manila.

There is a known anecdote about your husband that he won in an art competition in Grade 4 which motivated him to take up Fine Arts in college. Could you tell us about this story?

I have no idea about this story but according to Raul the money he earned as a child were used for his needs. In high school, he made book marks, Christmas cards, Valentine cards and other projects for his fellow students.

Tell us about Piedra's last years.

Two years before his passing, he had a four one-man shows at the Rafael Gallery, LRI Gallery, Astra and Gallery Big in 2007. The last one-man show he mounted was held at the Crucible Gallery. He had kidneys stones since 1996 but died of cardiac arrest on April 16, 2009.

What do you remember most about Raul Piedra?

Raul courted me for one week. I answered him right away but our relationship was on and off. Sta. Rita College where I studied was in Gagalangin, Tondo, Manila. During that time, I was surprised to know that house where Raul stayed was just four blocks away from my school. One time, Raul came to our school play wherein I played a heroine. He got furious when the hero kissed me on my cheeks and so Raul did not want me to participate in this play anymore because I was already pregnant with our first child. For all the years I was with him, I thought that Raul was thoughtful because he sends me flowers and chocolates during our anniversaries; some flowers he would just pick up along the way. During his exhibits, he would always ask me to go with him so we can have time for each other. His priority was always our children. As a brother to his siblings, he makes it a point to go to their houses and bring something for them. He never missed occasions.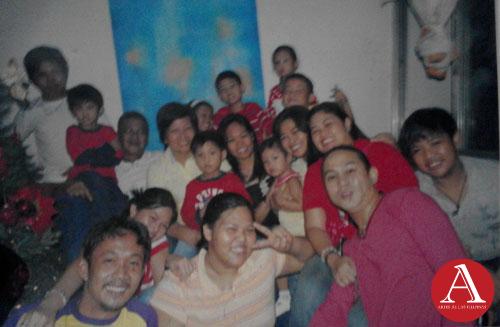 Did any of your children become an artist?

My children are all artistic. My eldest, Ma. Rachaela Piedra Bravo, ventured into travel and tour. She was good at calligraphy. She graduated from the Centro Escolar University where she studied Tourism. Our second child, Maria Regina Piedra Ya-om, knows how to paint abstracts when she was a child but she pursued Business Administration in St. Paul's College Manila. Our third child, Maria Rhoda Piedra Do, was good in fashion design. She studied at the University of Santo Tomas. Our fourth child, Maria Ranee Piedra whom I thought would go into a medical school studied Business Administration in St. Paul's College Manila. Our fifth child, Rosaano Ray Piedra, our elder son, pursued Advertising at the University of Santo Thomas. He was good at pencil, pen and ink and oil painting. He had a one-man show in Astra Gallery. Next was Maria Renee Rose Piedra. She is still a student at the Far Eastern University where she is taking up Advertising. She already participated in a group show in Angono, Rizal through the help of Nemiranda and Dolpee Alcantara. Last is my younger son, Rainier Ross Pidra who could draw but majored in Financial Management in Far Eastern University.

Who in the family authenticates the work of your husband?

As of now, it's me, Adoracion Tayag Piedra, who authenticates Raul's works with the help of my daughter, Maria Renee Rose.

Have you encountered copies of your husband's works?

I have seen similar works but no fake works.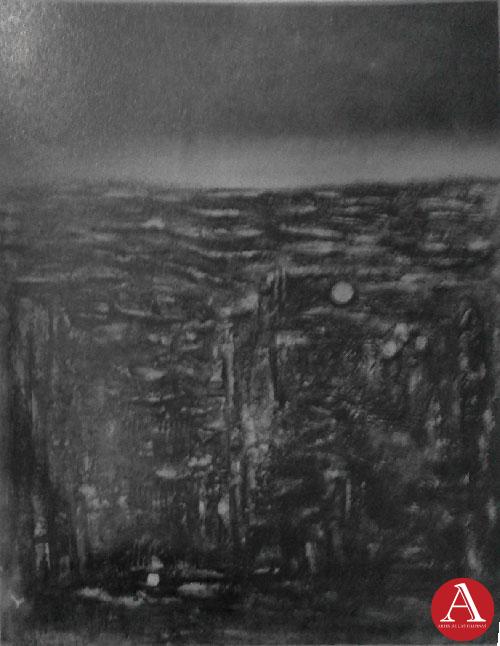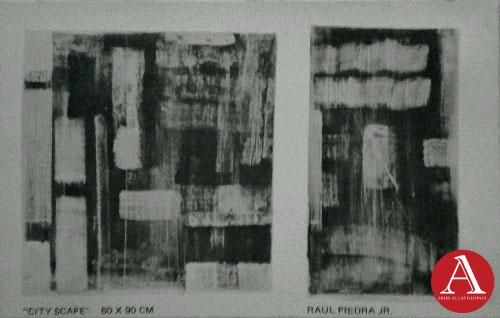 What do you look for when authenticating Raul Piedras textured abstract paintings?

First, you have to look at the year. Second, look at his signature. Third, I ask the buyer where, when and who he bought it from. More or less, with that standard, I would already know when the painting was done. There were changes in his subjects from still life to abstract. Raul is very good in building textures and colors.

When your husband died, did he leave many paintings behind?

Two years before he died, he had four exhibits in one year. Those works in each exhibit were done in different galleries and so in our possessions are his paintings disposed by Gallery Big, Artes Orientes, Gallery Astra and Rafael Gallery.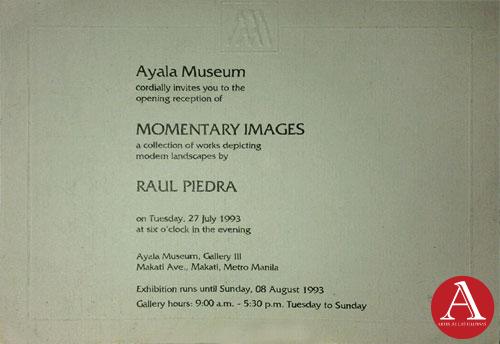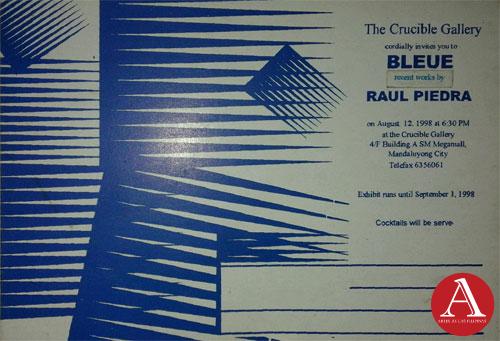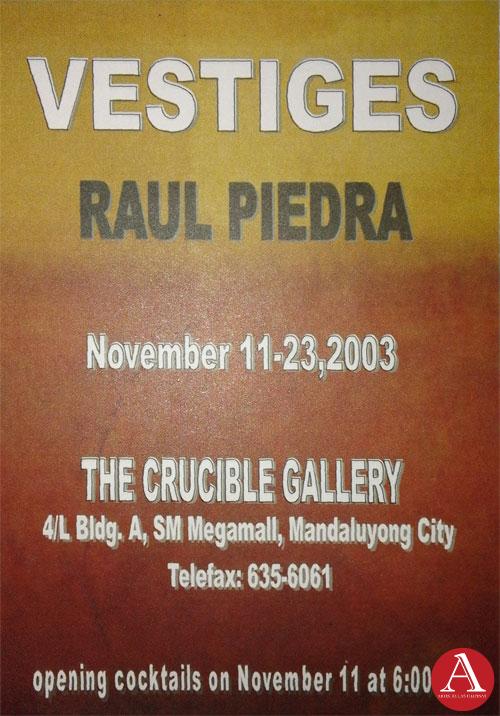 Can you tell me something about you?

I studied Business Administration at the University of the East but I transferred to Sta. Rita School of Nursing. I worked as an industrial nurse from 1985-1992 at the Golay Buchiel Philippines at the Laguna Technopark. One of my bosses, Sergio Ortiga, was the owner of Crucible Gallery.

Do you think Raul Piedra achieved the success befitted of him?

Yes. In fact, he was a known abstract artist. A master builder of colors.