Purveyor of Knowledge and Emerging Publisher of Content and Visually Driven Books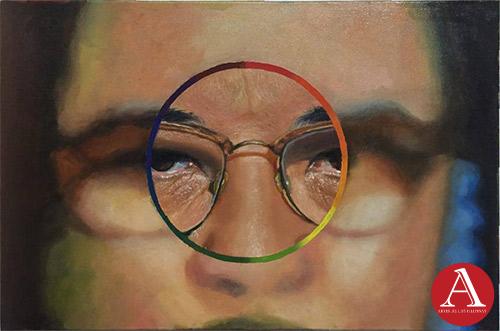 Bokey Study No. 2 (2016)

LEO ABAYA'S DIALOGUE OF IMAGES AND IDEAS
by: Christiane L. de la Paz

September 2016--Leo Abaya has an enviable sense of timing. In 1993, his student plate of a collage study of images from magazines, Views and Points of View won the Jurors Choice at the Art Association of the Philippine Annual Art Competition. What made his winning meaningful was that his mimetic exercise of sourcing images from magazines to demonstrate the long tradition of appropriation was intelligible to an audience. Abaya explores many disciplines that integrates collage, conceptual art, costumes, film, installation, literary art, painting, print, set design and sculpture. More often, he demonstrates with conviction that whenever a work he creates is presented, it hangs within a matrix of assumptions, conscious and unconscious, that deeply influence the viewer's perception of it. Pay attention as Leo Abaya discusses some of his select works, his rich educational background and art practice. What we may possibly witness in this interview is the palimpsest of our nation's history.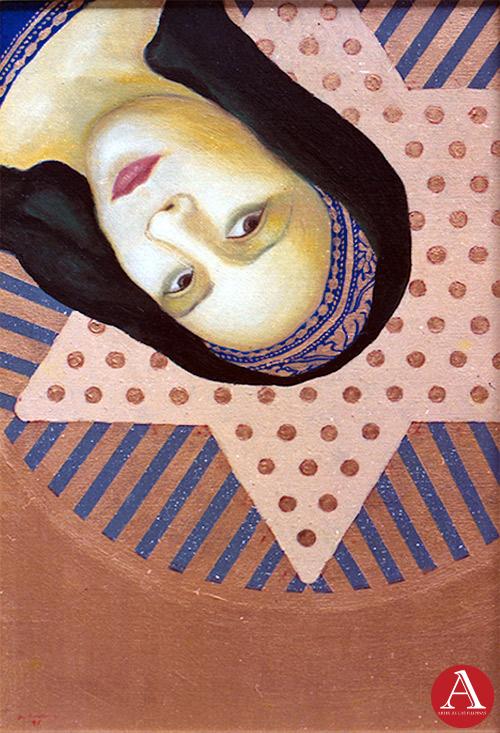 Aba Ginoong Maria (1995)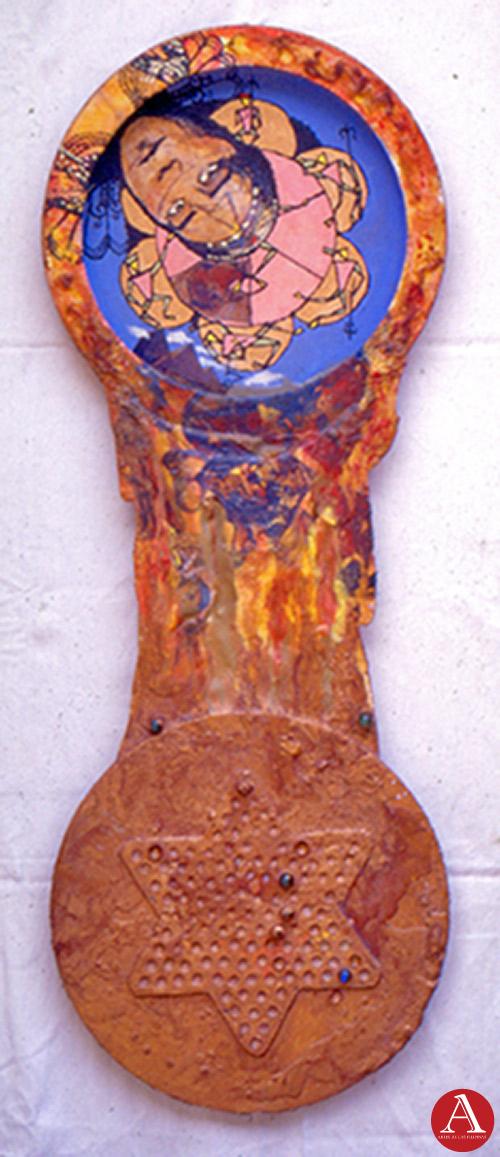 Karnabal (1995)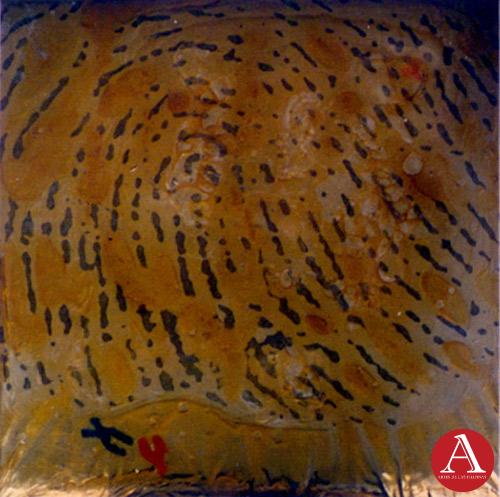 Distinguishing Marks (Wedding Night) (1996)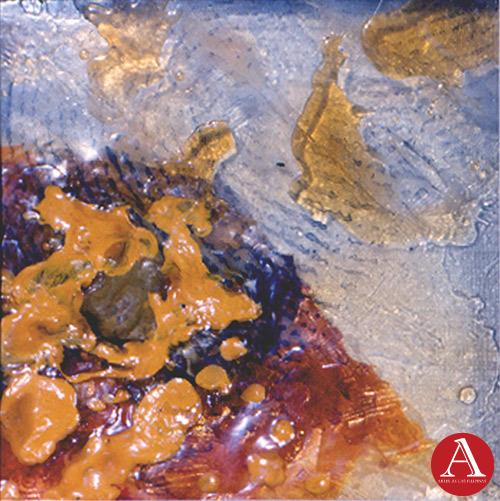 Strange Fruit (1996)

Graduating from the University of the Philippines, magna cum laude in 1995, what did you do afterwards?

I spent the summer travelling the US, France, Italy, Spain and the Netherlands with the money I saved as a working student earning my second degree. And then, with the invitation of the Theory Department of the UP College of Fine Arts, I started to teach as a lecturer.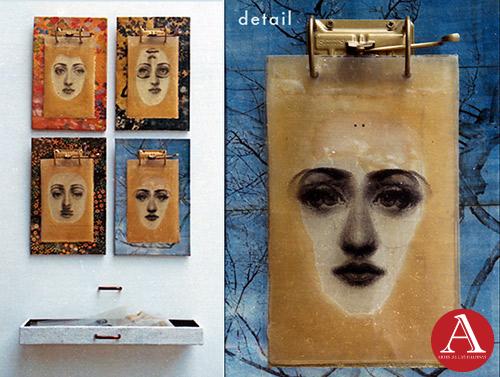 Usong Ganda (1997)




Doon Pillar (1997)

How did that trip change the direction of your career?

Since I decided to formally study art, film work had to take a backseat. Designing sets for TV advertisement was the feasible thing to do. Travel changed that. It made art beyond my sphere of experience more palpable. What I knew only through periodicals and books were right there before my eyes. My guts told me I was doing the right thing. Gradually, my engagement in TV commercials lessened. I thought perhaps that phase, while it gave so much, served its purpose.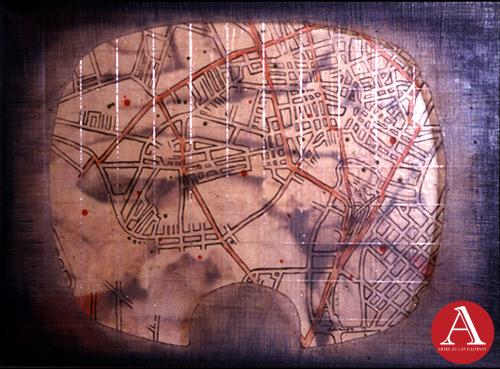 Pook Ligaya (1997)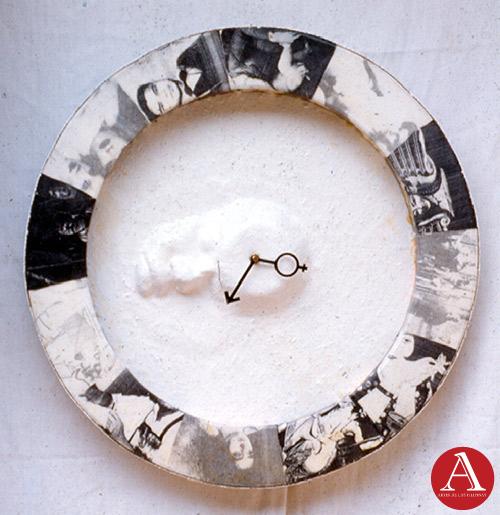 Saglit (1997)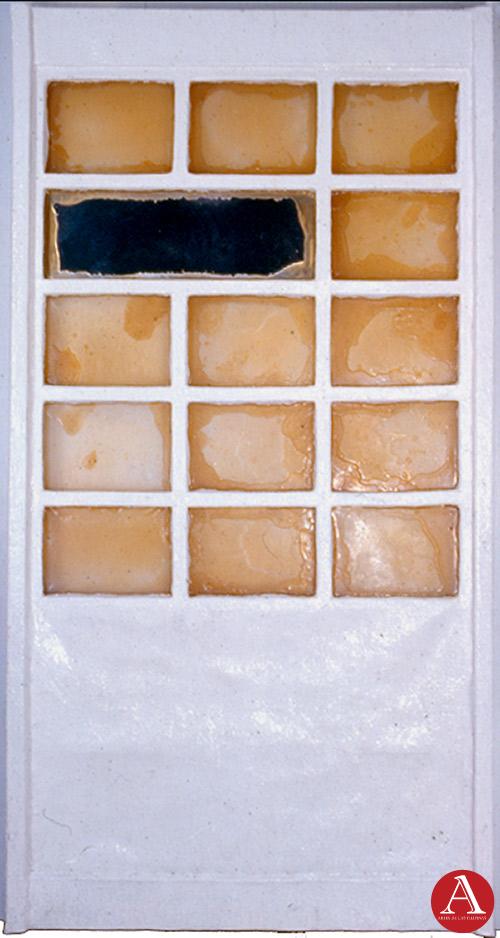 Pagitan Natin (1997)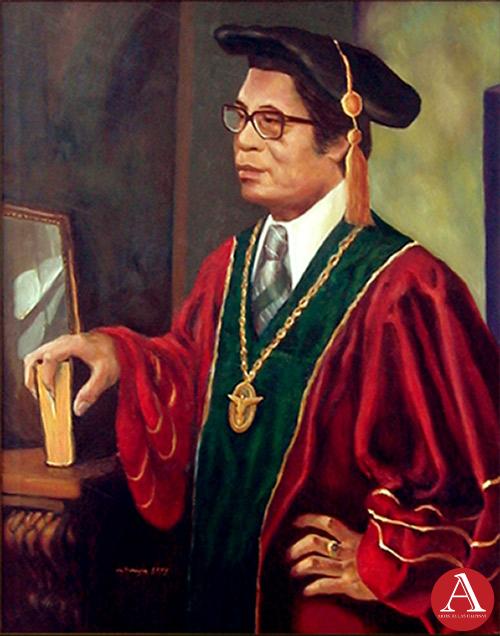 Portrait of Onofre Corpus (1999)

What was the status of the art scene during the mid-1990s?

I couldn't say with certainty. I was not really into the practice yet. But my impression was that there were not as many collectors and they were primarily interested in the works of established artists; fewer still like Dr. Joven Cuanang supported the young and upcoming. Some galleries welcomed and exhibited young artists. It was interesting that there were many who pursued or were pursing art despite the fact that it was not that easy to get a slot for a show in a decent venue. At that time, many young artists took art contests seriously. It was a way for works to be seen by the public and hopefully be recognized. Many of those I knew didn't care much how artworks were priced for as long as they were appreciated, better if they were bought. It was a different cry from today wherein many young and emerging artists are conscious of price and collectability. I also had an impression that there was also a kind of divide between art that foregrounded form and art that foregrounded subject matter, and artists seemed to be associated with either of these two tendencies, seldom with both.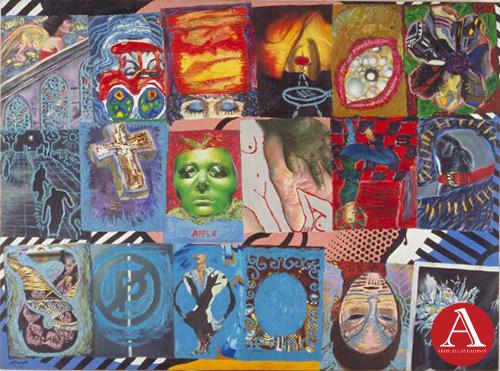 Views and Points of View (1993)

In college, your painting, Views and Points of View won the Jurors Choice at the Art Association of the Philippines. What is this work about?

That work was a plate in Advanced Visual Studies, which required us to paint a collage study. The personal objective I set for myself was to convincingly convey the difference between transposing a photographic reference and a drawn one -- a kind of a mimetic exercise. Because we sourced our preliminary images from magazines, I added Lichtenstein touches to the background of the magazine pages to suggest the Pop art movement, which widely practiced appropriation. As an art history major as well, I could not resist making a historical reference to what I was doing. While I was appreciative of the Art Association of the Philippines Award, I was delighted that the Singapore Art Museum purchased it for their permanent collection.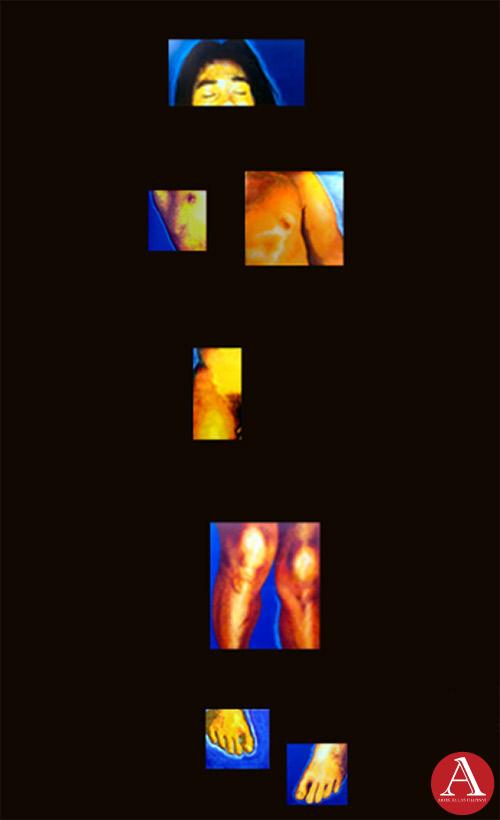 Corpus Series (2000)

Aside from the Singapore Art Museum, where else are you represented?

I have an assemblage with the Pacific North Star, and a painting in The Luciano Benetton Collection in Italy, both acquired in 2015. I have two paintings with the University of the Philippines Art Collection, acquired in 1998 and 2015. I have been commissioned to do installations by the Lopez Memorial Museum and Library in 2009, and the UP Chancellor's Office in 2015. Beyond that, my works are in private collections here and abroad.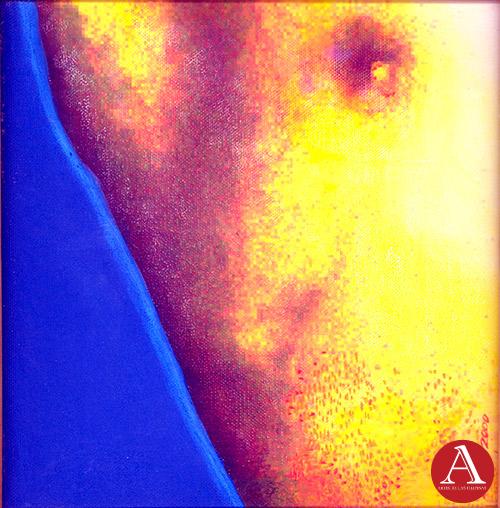 Corpus Philippinensis No.6 (2000)

Do you think a painter can be commercially successful without receiving any award?

A national-level award helps an unknown or little-known become visible, but it is not a guarantee. These days, even an artist who has barely warmed his/her seat in art practice gets to land full page in a glossy magazine. But that's no guarantee, either. There's nothing wrong with commercial success for as long as it is not considered as the only or worst, ultimate demonstration of success in the field. There are other more substantive forms; those that live on after the last peso has been withdrawn from the bank.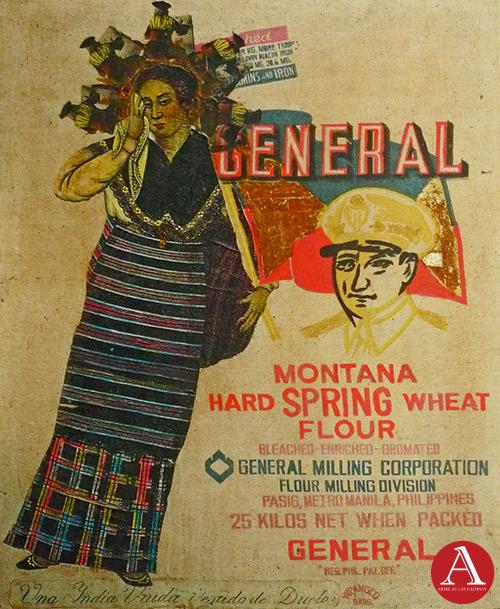 Taghoy ng Pagpinta (1993-1994)

Who are some of your memorable professors in Fine Arts?

Fortunately, most of them were memorable, although not all of them were officially my teachers. Dean Vinluan, Mr. Sena, and Dan Raralio, Professors Dandan and Defeo, Professors Pilar and Ma'am Hila, Sirs Alfredo Liongoren and Fil dela Cruz, Professors Benjie Cabangis and Bob Feleo, and National Artists Napoleon Abueva and Jose Joya. I wasn't enrolled in Professor Chabet's classes, but I was permitted to sit –in a few sessions and critiques. Whenever I could, I eavesdropped on his other classes because acoustics were not so good in the studios.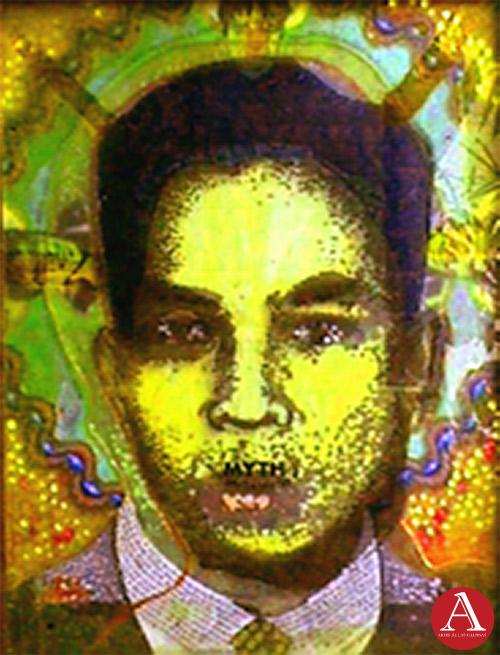 Icon (1994)

What have you learned from Chabet?

From the lectures and critiques heard and overheard, I learned the critical importance of seeing form clearly over representation or meaning, regardless of the artistic idiom.




Prelude to a View (1994)

How about from Professors Santiago Pilar, Dandan and Defeo?

Art history and its methods, visual language, art theory, introduction to curating. And since they had institutional memory, some oral narratives of Philippine art under the radar.
Who are the other individuals who influenced you as you were developing?

Developing as an artist doesn't stop so I'll be mentioning artists of different generations. By influence, I have to qualify that it's the sensibility of their works or art practice more than their iconography or style, I'll exclude those whose works I haven't actually seen. So to mention a few: Piero della Francesca, Diego Velasquez, Jean-August-Dominique Ingres, Eduoard Manet, Rene Magritte, Botong Francisco, Ric Ramasola, Nene Borja Lungay, Billy Abueva, Edward Hopper, Claes Oldenberg, Andy Warhol, Robert Rauschenberg, Hans Haacke, Rebecca Horne, Helen Chadwick, Santi Bose, Chuck Close, Sigmar Polke, Jasper Johns, David Medalla, Bill Viola, Cindy Sherman, Gabriel Orozco, Jeff Wall, Yinka Shonibare, Sam Taylor-Wood, Pepon Osorio, Ahmad Zakii Anwar.

For the non-artists, the ideas of Maurice Merleau-Ponty changed my way of looking at art especially painting. Also Walter Benjamin, Judith Butler, Michel Foucault's Archeology of Knowledge also changed my way of looking at history as well Renato Constantino's A Past Revisited which I have read when I was about eighteen.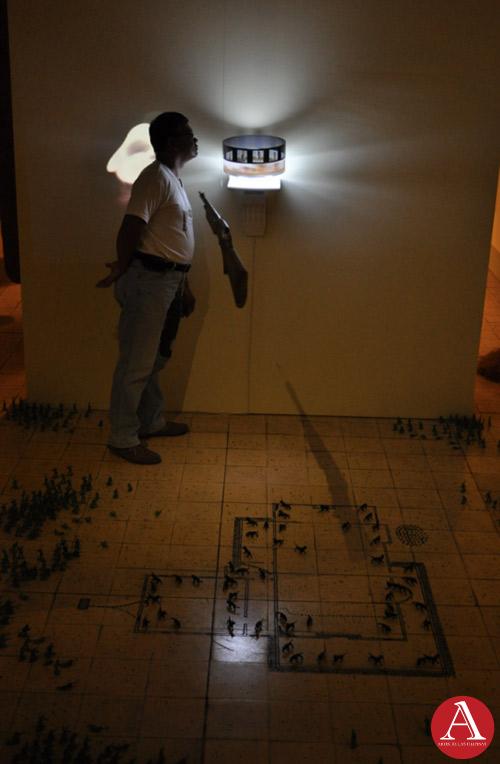 End is the Beginning (2009)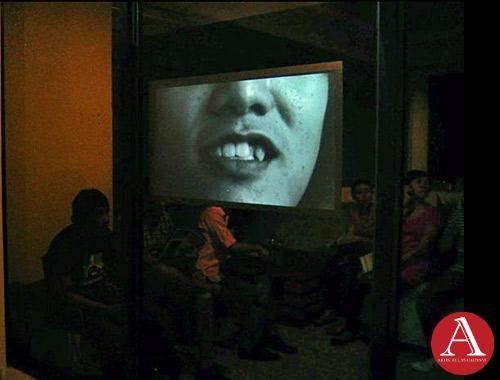 Talking Silent Pictures, video still (2009-2010)

How about international shows that you have seen abroad?

Many shows I have seen in Asia, the US or in Europe affected me in one way or another. Some of them however are epiphanic like The Spirit of the Fluxus show in the Whitney Art Museum in 1993. Abject Art too, which was on another floor at the museum. I was still pursuing my second degree in Fine Art when I saw both shows and they opened my eyes to other possibilities in art-making in terms of materials and attitude and my take was that it questioned singularity in terms of art practice. Also the ukiyo-e show in Tokyo National Museum wherein they were able to put together all the thirty-six views of Mt. Fuji series by Hokusai. That blew me away. It gave me a deeper appreciation and respect for printmaking.

What was the first gallery that carried your works?

West Gallery accommodated me for my first solo show in 1997 on the endorsement of Professor Defeo.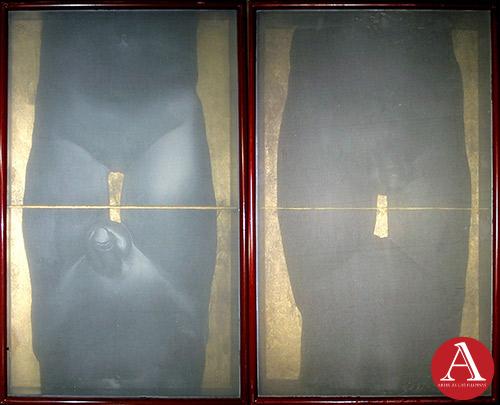 Tulay Papuntang Yashiwara (1997)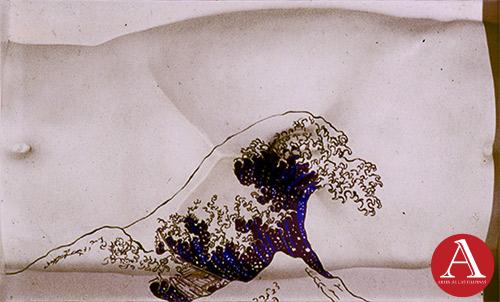 Tatu'ng Daluyong (1997)

Tell me about your first exhibition.

My first solo show was called Bliss in 1997. It was inspired from ukiyo-e or pictures of the floating world that flourished in the Edo period. Ukiyo is a Buddhist concept that means sadness (uki) of life (yo), but it developed to a sensibility that puts importance to the transitory and temporality of earthly life, alternately pertaining to the pleasure-seeking urban lifestyle of feudal Japan. It was the unofficial art form, the "pop art" of that time. As a kind of escape, subjects of the ukiyo-e genre revolved around kabuki actors, geisha, poetry, dance and music, fashion, the teahouse and brothel, and landscape. In Bliss, I used the body directly, indirectly or referentially as a motif for seven works. I casted body parts, conjoined or reconfigured them, created thematic associations by including objects like clipboards, maps, a clock, TV and shoji screens, adhering to the classic formats of the woodblock prints and appropriating some of the genre's iconic images. At that time I was still active as a designer for TV advertisements and the exhibit was sort of a reflection on the values of that world. Some pieces showed male and female genitalia, which did not sit well with some conservatives, including the gallery's patriarch, as I was told by my curator. Many came to the opening. Not a single piece was sold but artists I respected saw it. A gallery staffer intimated to me that Prof. Chabet spent some time looking at the pieces during its run. And some have even bothered to write comments on the guestbook. For instance, Bogie Ruiz wrote, "Nakakagalak!" after his name. That mattered a lot to me.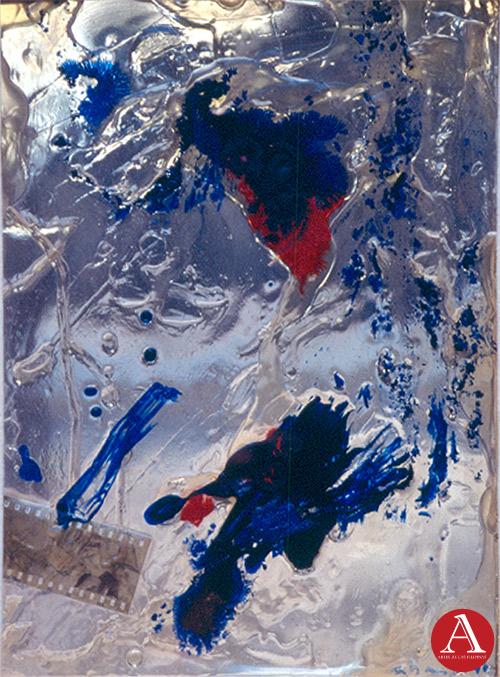 Floating World (1997)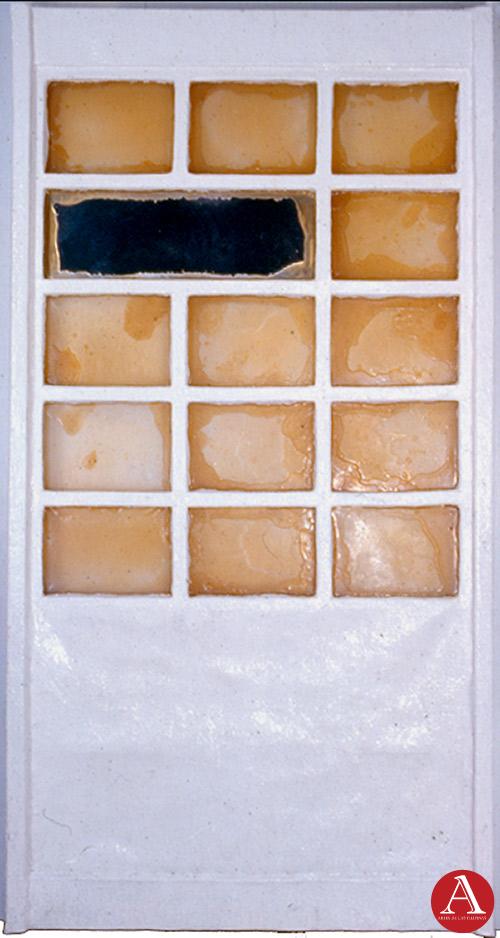 Pagitan Natin (1997)
Since none was sold, what happened to the pieces you put out?

I gave some to two of my teachers as a way of thanking them. Another piece I gave to a good friend as a wedding present. I showed some pieces in Bohol and out of my negligence, I lost the shoji screen piece and the gender clock piece when the works were returned. The four seasons piece was purchased just last year, 2015. One piece is still with me. It is in the process of being reworked at a glacial pace.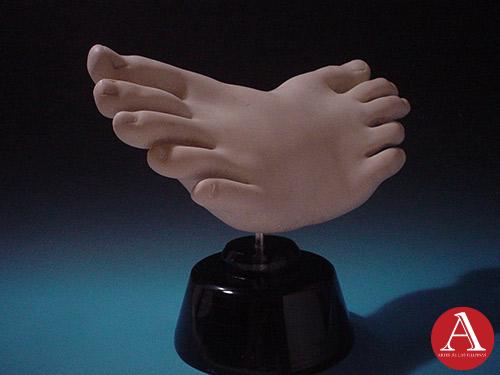 Paakpak (2001)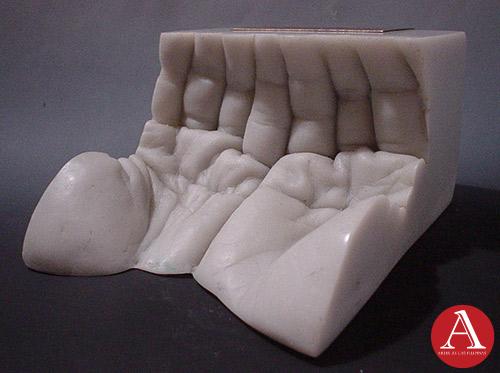 Untitled (cold cast marble) (2001)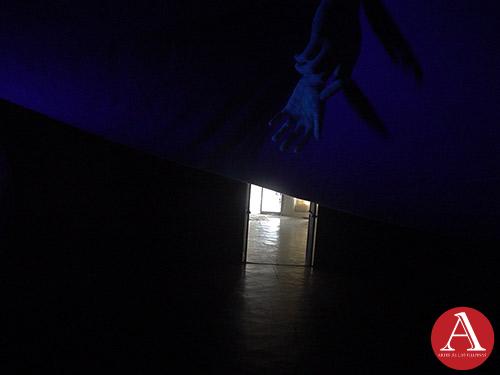 Corpora Immobilia (2003)

Tell us about your second solo show.

Installed in 2003, Corpora Immobilia (Still Bodies) was a large-scale installation. I transformed the entire Corredor Gallery of the UPCFA into an immersive space of darkness. I painted the walls dark and installed a dark canopy, shutting out all natural and studio light and replaced them with the faintest, hardly-discernable artificial illumination. There were casts of body parts suspended, and I placed a mattress in the center of the floor. I burned incense in the four corners and natural underwater sound recording was played back in a loop. In that exhibit, I wanted to explore the flipside of the idea of spectacle, for artistic and personal reasons. I couldn't help but smile when I read in the guestbook the comment of a student asking whether the work had something to do with DeBord's ideas. Many times I hid in one corner curious of the response of those who entered. Many looked for objects. Others were nonplussed. There were also those who, not having the patience to wait until their eyes got accustomed to darkness, left saying that everything was a joke. Well, perhaps, it really was a joke, but a serious one. I remember the last phrase in my exhibition notes that went - "…the deprivation of visibility is compelling for the sighted."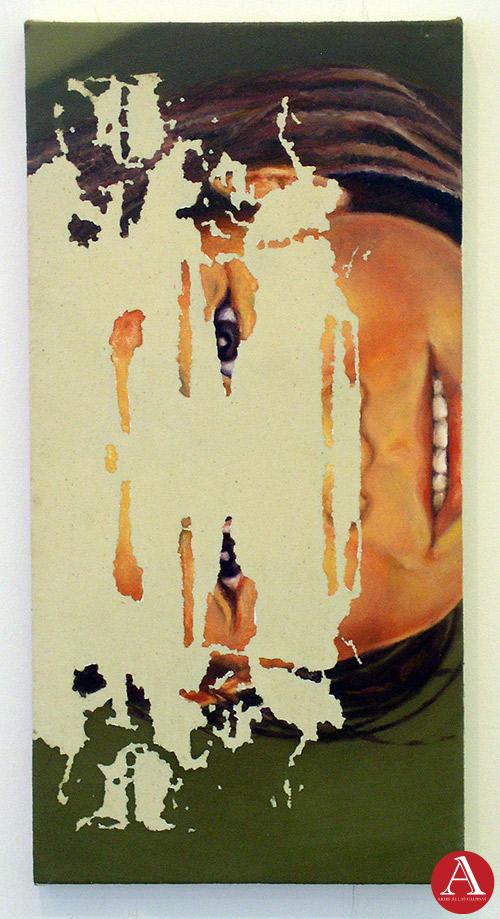 300 years (2003)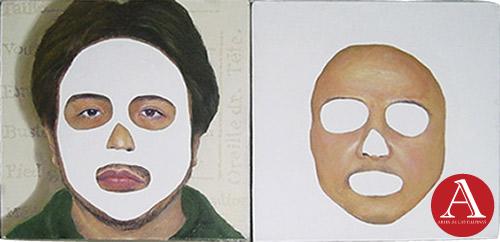 Self-Portrait (2003)

How did you become interested in working with collage, installation art, etc.?

Collage, installation art, etc. were already common in UP CFA at that time; part of instruction, in addition to the more traditional idioms.



Holy Smoke (2004)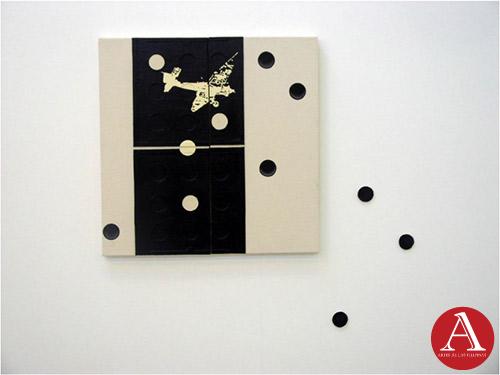 Floating (2004)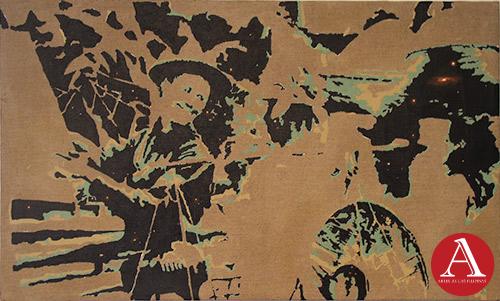 Negotiating Space (2004)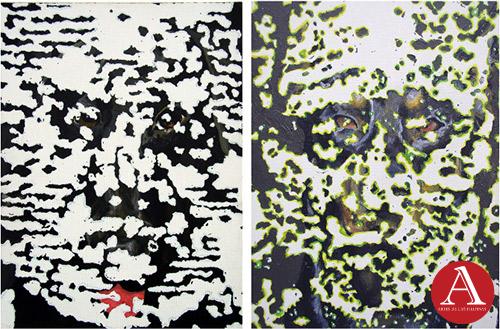 Between No.1 and No.2 (2004)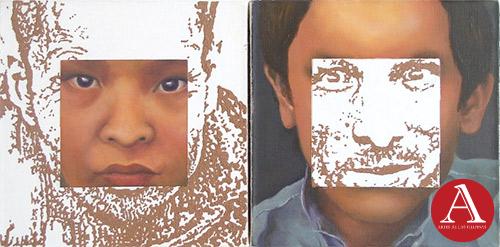 Juncture No. 1 (2004)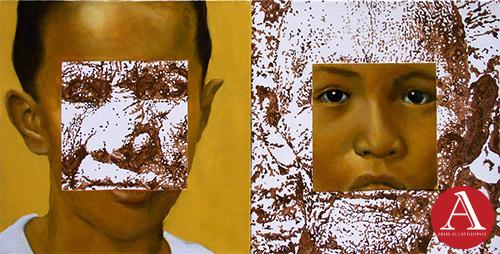 Juncture No. 2 (2004)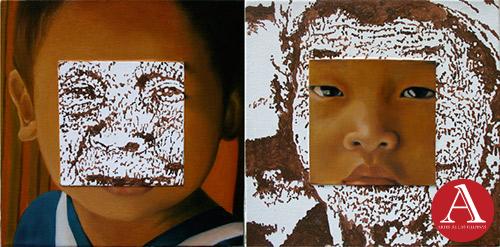 Juncture No. 3 (2009)

What is the advantage of working with different media than, say, just painting or printmaking?

I don't see it in terms of advantage. It's just compatible to my sensibility so I enjoy it, perhaps in the same way with those who work in a singular media.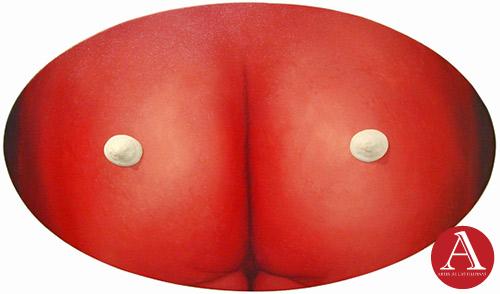 Binabawal- Binabanal (2011)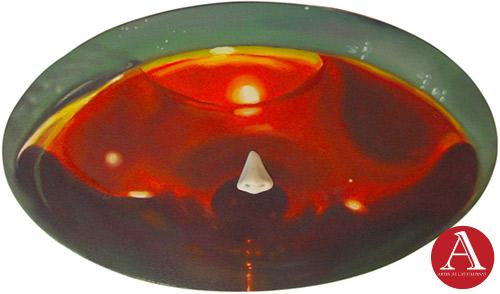 Binabawal-Binabanal (2011)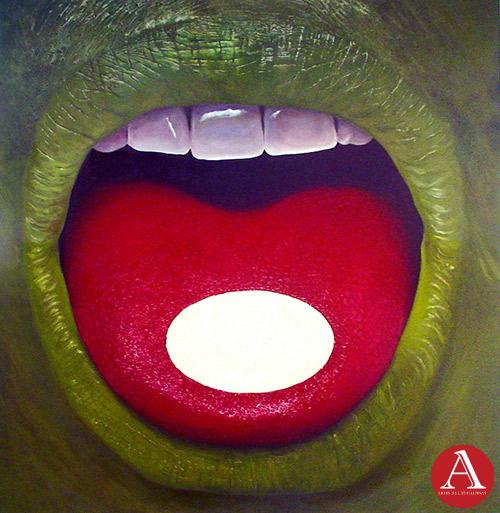 Donde, Where, Saan (2011)

The body is a common theme in your works. Why is the body something you explored?

We bring everything with our bodies: thoughts, emotions, consciousness, memories, sensations, feelings, desires. Societies are made up of bodies, not just places - consider the nomads, for instance. Even religions acknowledge the body as a medium or vessel of the spiritual. Like it or not, the body is central, if not intertwined to our humanity. Interest in the body will outlive us.

For the ideas of your own exhibitions, how do you try to be unique in concepts and executions?

I don't. I just do what I think I'm capable of doing well in relation to what is relevant for me at a particular time.

Do you think that the themes you try to deliver connect to your audience? Are your themes universal and understandable enough?

I hope they do. But I don't know and don't care at the same time because ultimately, I have no control over the matter. Once I finish a work and exhibit it, it takes a life of its own.



This Can Happen Elsewhere (2004, 2005, 2012)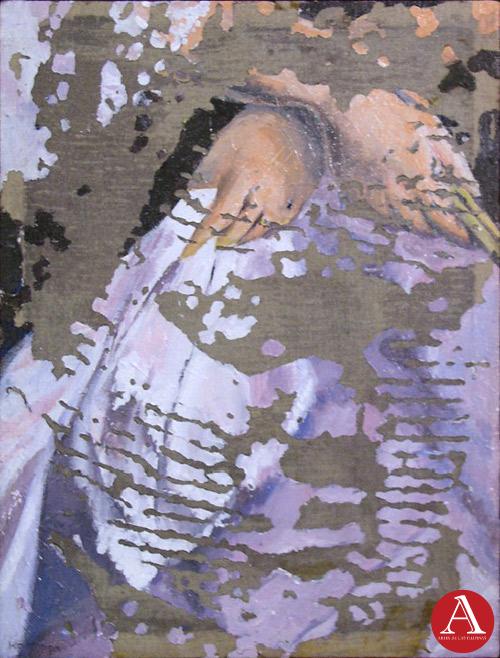 La Bulaquena (2007)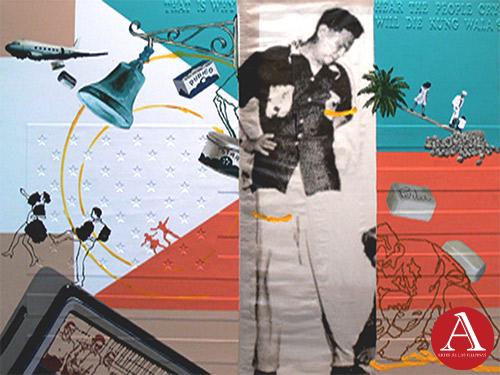 Mambo (2008)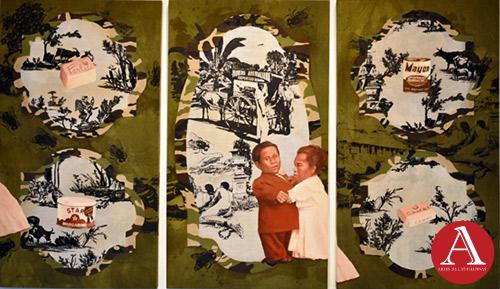 Daedalus Projects (2009)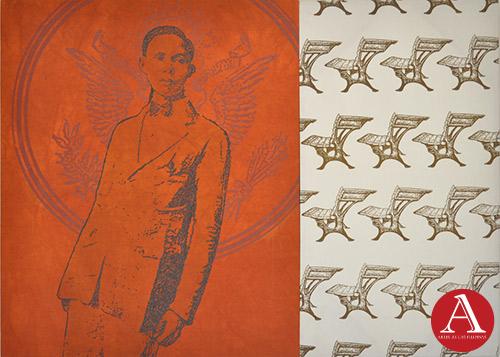 Drill (2009)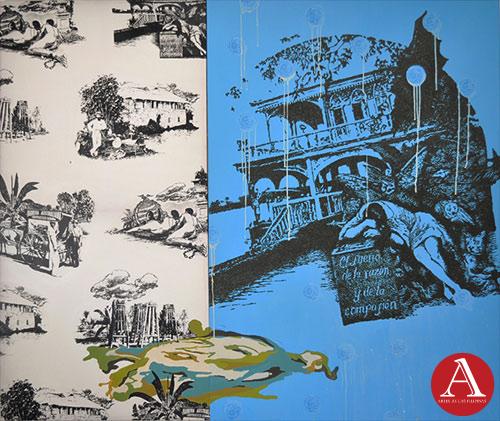 Dormido al Lado de la Pasig, Que Hacemos (2009)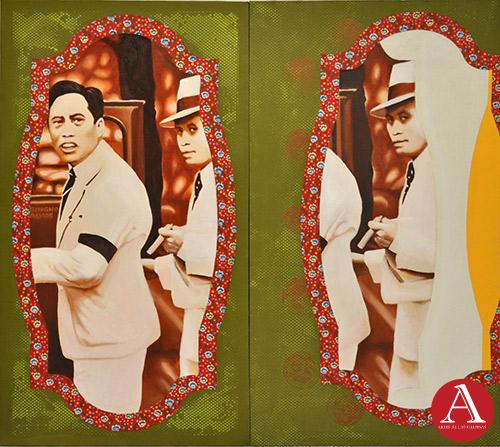 Refranes de Camino (2009)

You made use of images of the early Filipinos and explored the theme of bondage. Tell how you develop this theme.

In the course of my research in graduate study abroad, I happened to come across a folio of colonial photographs of Native Americans, tribes in Philippines and elsewhere in Southeast Asia. The subjects appeared like specimens. I was very disturbed by it especially that they seemed figuratively captured even without the sight of chains or shackles. I have seen similar photographs before but as an Other in the UK - being a foreign student - the effect it had on me seemed more pronounced.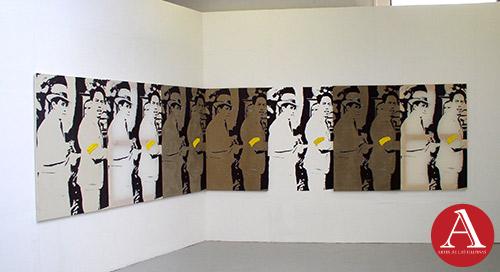 Places to Make Conga Line (2004, 2005, 2015)

Your image of bondage is subtle and serene, never aggressive. You even put ruffs in your figures' necks. How did this element come to play?

The ruff is neckpiece of European origin that has little practical function except as adornment. It flattered the wearer but was uncomfortable at the same time. This duality is so telling of our colonial history. And in the present, the bondage and captivity that is rampant and widespread are hardly overt - not obvious. They exist in the everyday. They come in the form of seductive engagements such as the relentless compulsion to consume. Today, consumption has trumped need.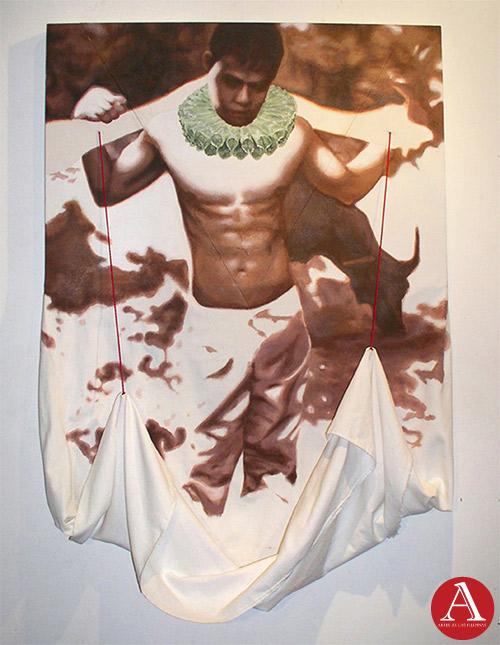 Unfold (2007)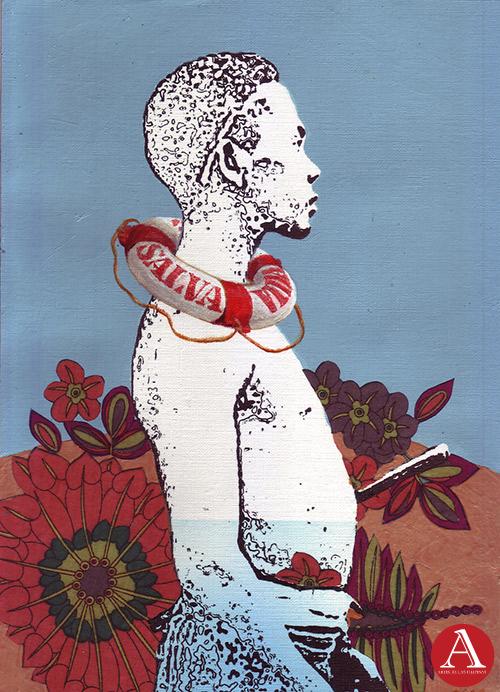 Salva Vida (2008)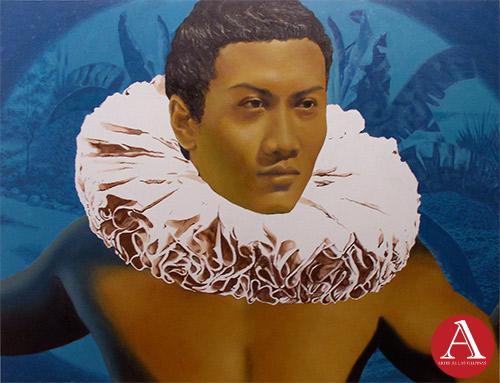 Tropical Baroque (2008)

How do you manage to make this theme relevant to avoid reverberation?

One will be relevant if one opens his/her eyes to what's going on, if one reads credible material on people and society, read histories in the hope of finding consonance between the past and present, be interested in other artistic forms, including emerging one. I don't do these to avoid anything. I don't avoid anything, except if it is life threatening.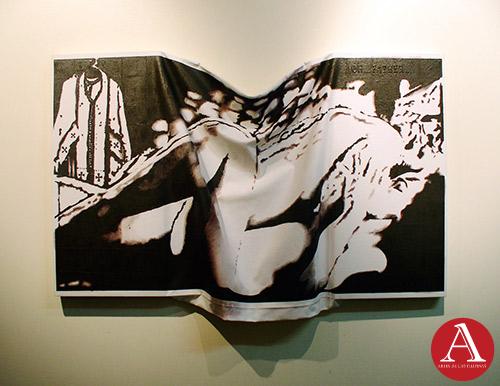 Taong Tela (2007)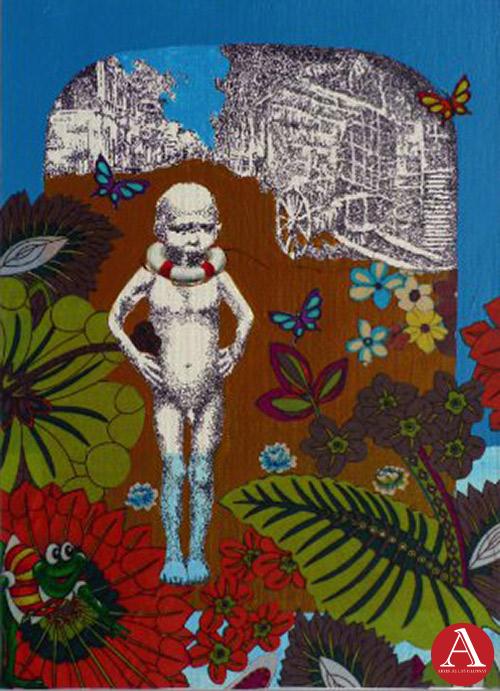 Salva Vida No. 5 (2008)

What are the other series you have worked on?

The Bespoke Series. I referenced the craft of tailoring to poke fun at made-to-order art making. I basically attached real canvas collars on paintings.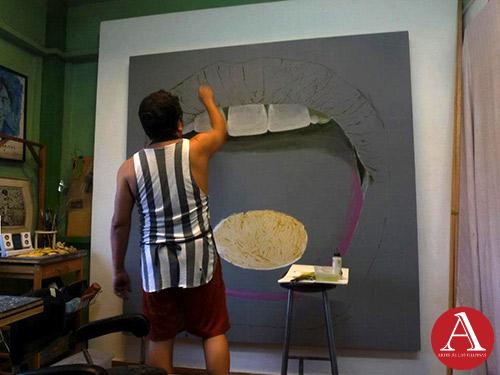 Abaya on his room studio working on his painting, Donde, Where, Saan

Could you describe your working studio?

My studio is comprised of two spaces in a house where I also live. For painting and screen printing, I work in a room, about 220 square feet, made smaller by 3 shelves holding art materials, tools, equipment, various media and art supplies. I have a 4 x 6 ft. table that can be disassembled if I need a bigger floor space for a project. Whenever I work on big paintings, I use the living room wall space near a library. For sculptures and projects that need cross-ventilation, I work at the patio, about the same size as the painting studio, and like it, materials, tools and equipment are also kept there I dream of having a bigger studio space someday.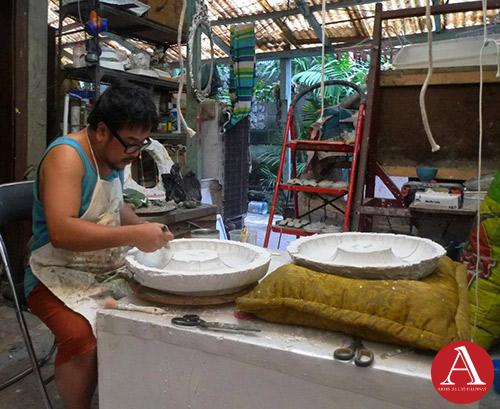 Abaya working on lifebuoy mold for Dama Naranja

Do you have a particular working time or do you work if you are just in the mood?

I try to work at least twice a week whether I have an upcoming show or not. If I have a show or an ongoing project, I work averaging about 4-8 hours a day depending on the timetable. Mood is something I embrace and work around with instead of against, so it does not get the better out of me.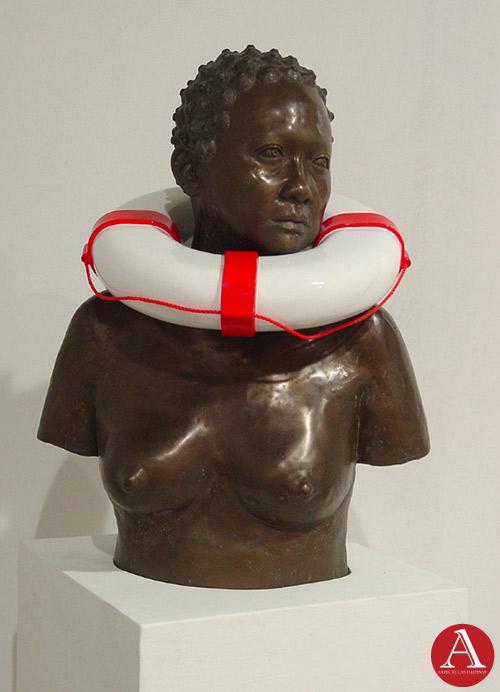 Dama Naranja (2011)

You also teach Fine Arts courses in the UP College of Fine Arts, how exactly do you encourage your students to produce something new?

I don't. If I did, I'll just lead them to disappointment. What I do is encourage them to strive hard to be authentic and be true to who they are.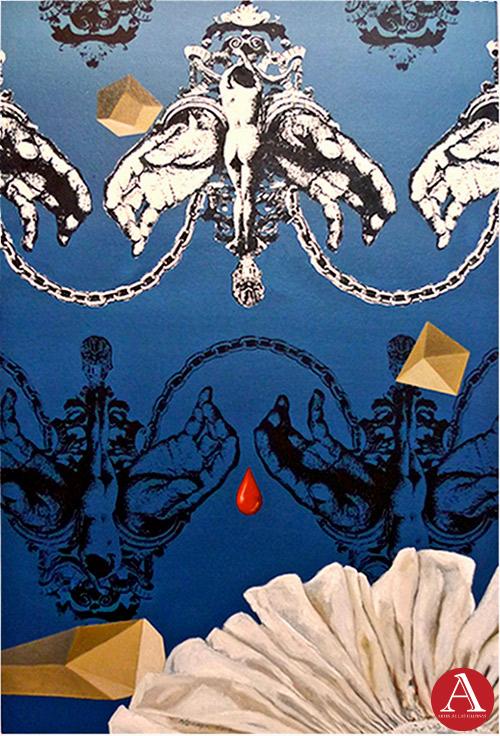 Bisperas (2012)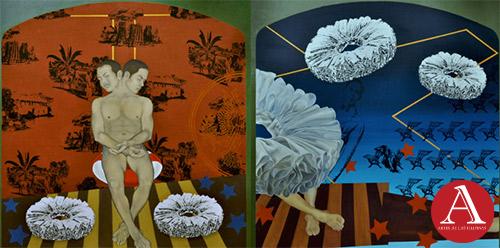 La Pesdailla Estereoscopica (Stereoscopic Nightmare) ( 2012)

What is the advantage of being an art professor to your own artistic career?

The sustained engagement with student artists is invigorating to my art practice. In more ways than one, I get other glimpses of the world through their eyes. If being a professor is advantageous to one's " artistic career", it is remote - indirect, at best. Being an art professor doesn't make the struggle for one's art easier, at least not for me.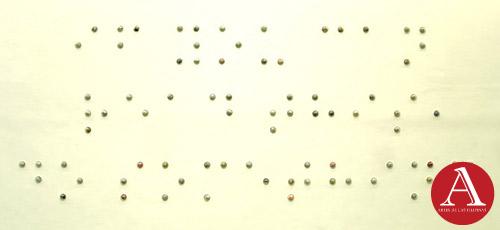 More Than You Care To Know (2012)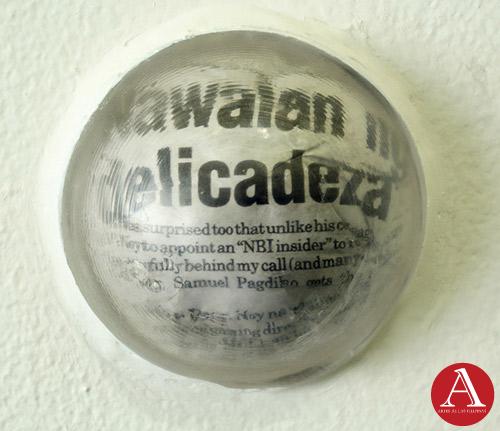 Detail of More Than You Care to Know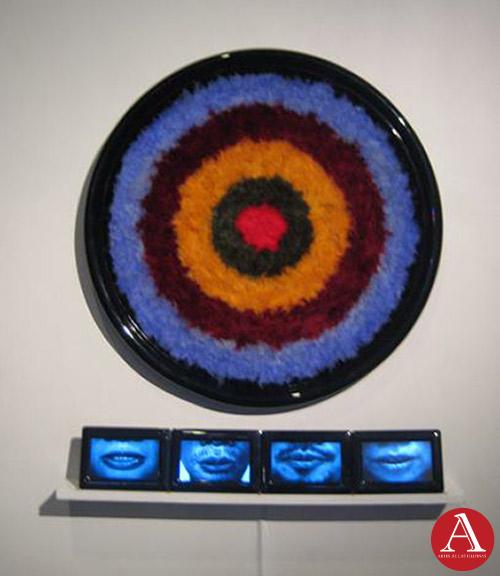 Tama (2012)

And its disadvantages?

Teaching, research and mentoring considerably eats away studio time. I can't mount solo shows as often as I would like to. Opportunities for residencies are also compromised. But I've accepted all these realities.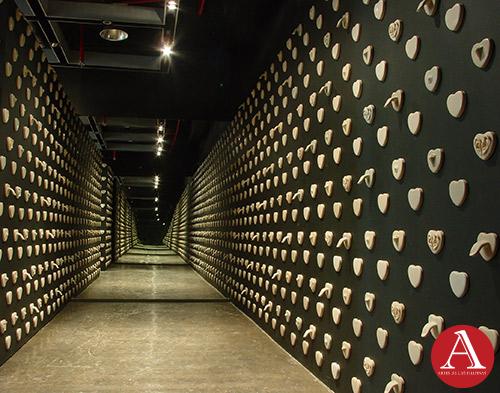 Sense, Sate (2012)

When you are in the process of preparing for a solo show, who exactly is the viewer you have in mind?

No one in particular. Perhaps, someone who is patient with slow art and art that can be dense and challenging to engage in at times. Also, someone who is not a speculator.

Do you have an idea of the profile of collectors who buy your works?

I really don't exert effort in profiling my collectors although I know some of them. For me, it is sufficient that they like or love my work enough to collect them. I just hope they don't turn out to be speculators.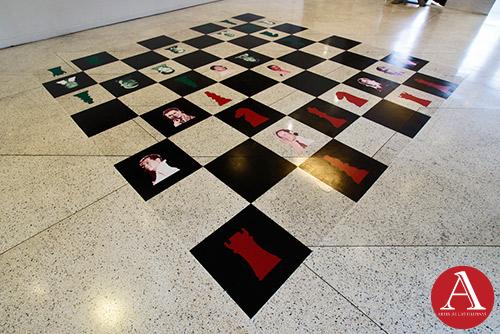 Rigodon (2013)

Why do you not welcome speculators?

Who was it that said that whatever it may be, art these days will eventually or inevitably become a commodity. The problem arises when art starts out as one. Speculators looks at art from that perspective, but I don't when I work. So intrinsically an incompatibility exists. Of course, I can only speak for myself.

What has been the best compliment said about you or your work?

I don't rate or categorize the compliments. I just feel grateful that there are. Like food, I let it go to my stomach, and let natural processes take over after that. I try very hard not to be constipated with compliments.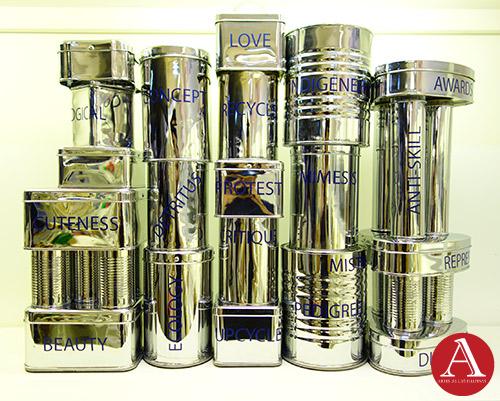 Study for a Canned Goods Monument (2014)

And what have you been criticized of?

I have yet to encounter someone who will come up and criticize my work in my face or in print. I don't rely much on secondary sources or accounts in the grapevine because I really don't care in the first place. I have no problem with honest well-intended, intelligent criticism. It can make things less boring and I believe I can learn from it.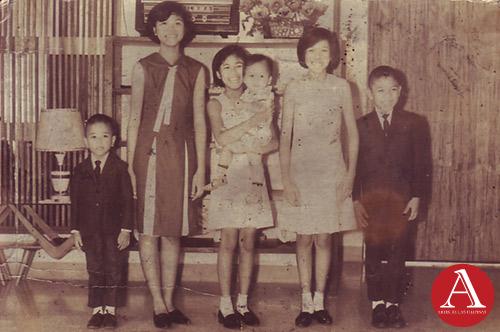 The Abaya Family (Leo at extreme left)

Tell me about your early life.

In a capsule, I was a bundle of contradictions. I liked school but I liked playing better. I was very curious about a lot of things. It didn't help much that formal education didn't cover the many questions I had in my head. But school helped me develop skills especially for communication, interpersonal relationship, and the love for reading. I was not very obedient. I was somewhat stubborn but I don't think I was a problem child. My youngest sibling and I have a six-year gap. For a considerable time, I was the youngest - the baby in the family. I suspect my conflicted need and fear of attention originates from that situation.

Were you artistic as a child?

My mother told me that I was already scribbling even before I could talk. But I'm not sure if that qualifies for artistry because a lot of kids are like that. But I really think all children are artists. It's in the process of growing up when other things occlude the artist in them. It is retained with nurturing. Without it, it is abandoned and forgotten. Others recover and reclaim it later in life.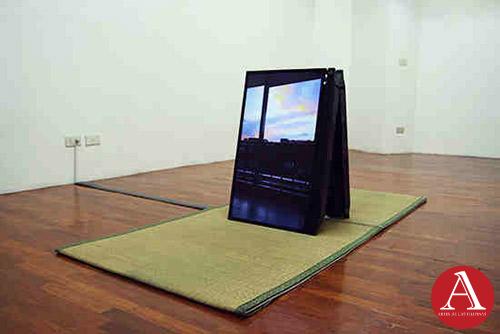 Because We Cannot Share the same Light (2014)

What careers did you other siblings pursue?

I have siblings in advocacy, business, the medical and dental fields and seamanship.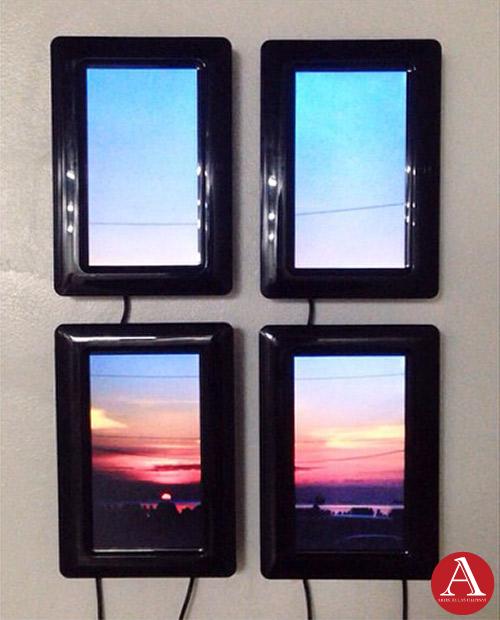 Closed Quarters (4 channel video) (2015)

In high school, you wrote for your school organ, Tambuli. What topics did you cover?

I was principally the artist and layout guy. I contributed an occasional poem and perfunctory feature articles. I no longer remember what they were about. I can recall the camaraderie of the staff members better.




A Vertical Sleep collaboration with Jose John Santos III (2015)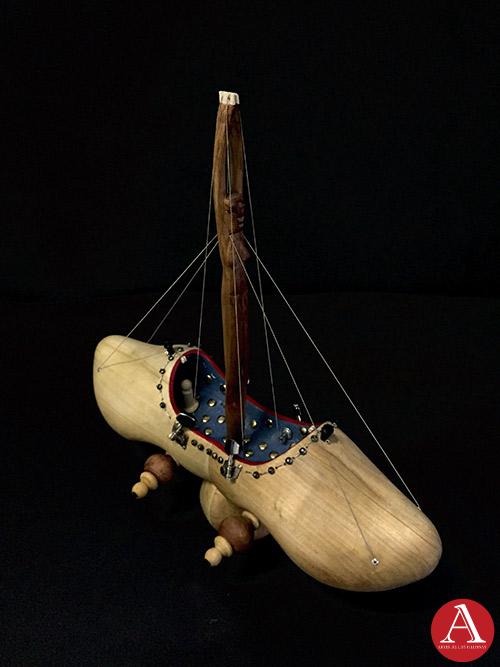 Aboard Argo Navis (2015)

Was art or art history integrated in your high school curriculum?

Sadly, no. I think the school tried to correct this by letting us summarize lessons in catechism and values education through scrapbooks and collages.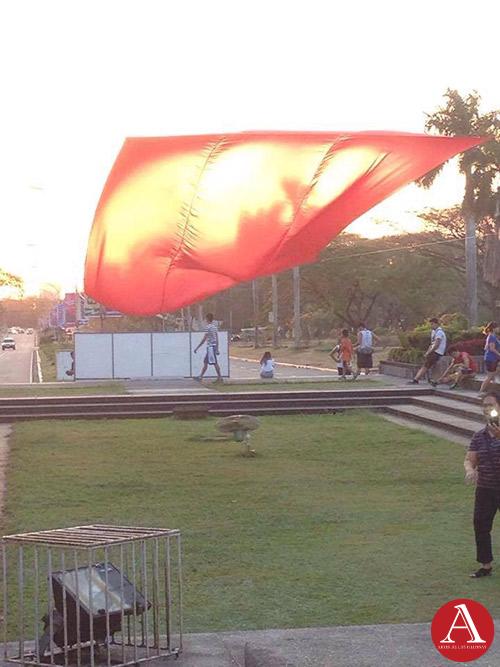 Layag Parangal kay Hans Haacke (2015)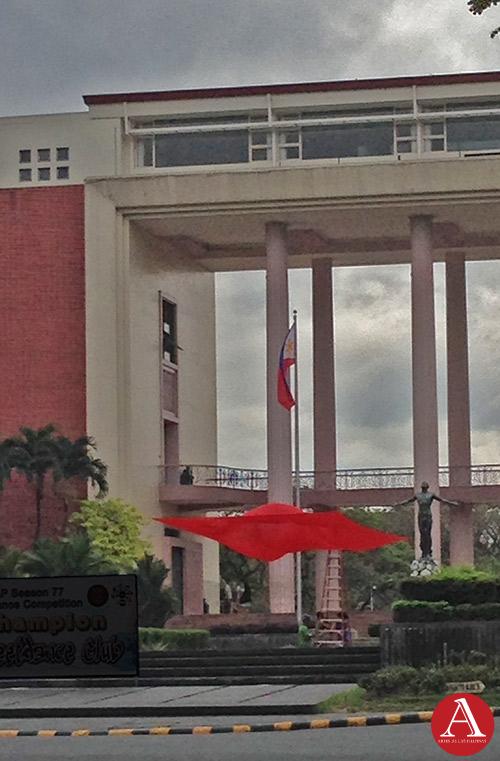 Layag Parangal kay Hans Haacke (2015)

You were exposed to Nene Lungay's artworks when you were in college. How did you meet her?

The late Nene Borja Lungay was my friend's mother. I frequented their place which was alive with music, smart conversation and scrabble. Ma'am Nene was the classmate of Joya and Abueva and she would regale me with stories of art school which I found fascinating. Her stories, the art books, and seeing her paint were my introduction to Philippine art. I learned from her that to be fulfilled, one must pursue one's calling, whether the opportunity comes early or late in life. Her forthrightness and fortitude are qualities I try to emulate to this day.

Aside from Nena Lungay, Napoleon Abueva and yourself, who are the other artists that the province produced?

Ric Ramasola was a favorite student of Botong Francisco in UST. But he didn't pursue painting professionally. He returned to Bohol and set up what eventually became the most popular photographic studio in the province. Henry Cainglet - although I only met him long after I moved from Bohol. Manny Migriño, who used to be my student in UP; he was also a student of Ma'am Nene's Udlot classes. Sam Penaso is Boholano. Perhaps there are many others who I don't know or who I am not aware are Boholano.
What made you decide to pursue Economics for your first degree?
I was very immature at that time. It just seemed like the coolest substitute of an art course, which was not encouraged.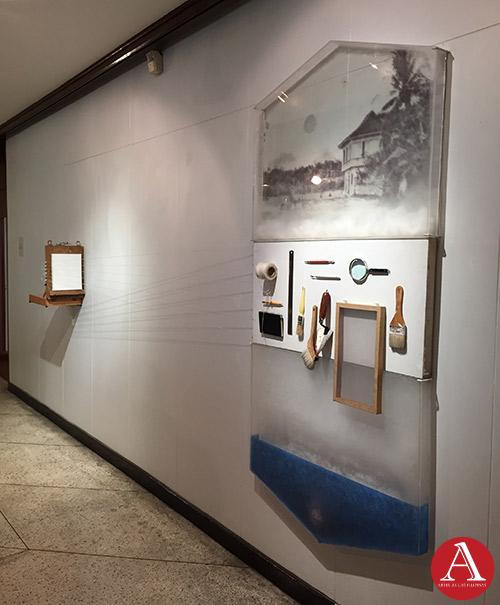 Reimagine, Reconstruct (2015)

Before enrolling in the Divine World College for your degree in Economics, you stayed in Manila for a year to enroll for a Business Administration degree in the University of the East? What made you decide to come home?

I was frustrated that I was taking up a course that I disliked and I was sad that I was away from my family; double jeopardy. Plus, I had no friends in school. I was a misfit. The only subjects I liked were Constitution, which was taught by Vicente Albano Pacis, and Humanities.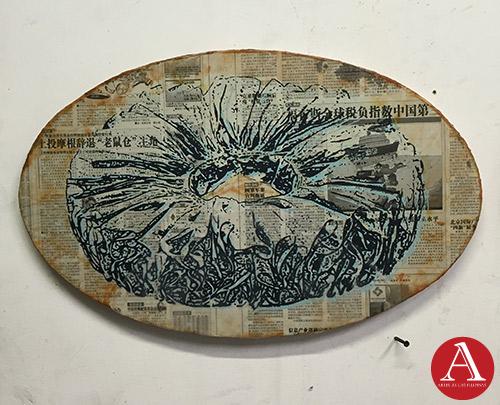 A Traves de sus Anteojos No.1 (2015)

How does having two degrees in Economics and Fine Arts benefit you as an artist?

It's hard to qualify that. Art is hardly the field where your academic degree, or for that matter – degrees-- determine how good or how bad you'll do. But degrees open doors. That's all they do, I think. Or perhaps, it is more advantageous if a previous degree is cognate to the Fine Arts field. But really, you cannot rely on your degree or degrees or your latin honors. You have to work your butt off and I really mean it.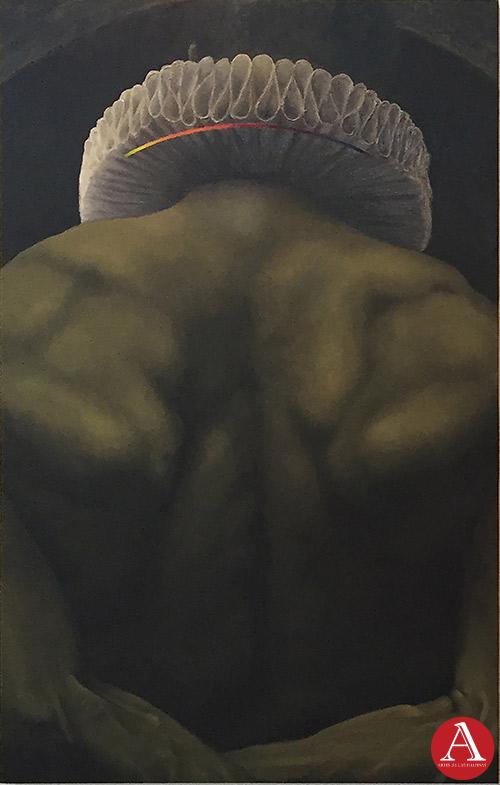 Panginoong Alipin Papuri kay Zakii (Master Slave- In Praise Zakii) (2016)

If you have some free years ahead of you, what other degree would you want to enroll in?

It would be nice to have some time to formally study Philosophy or take up religious studies. It's seems like a natural progression from Commerce and the Arts.