Purveyor of Knowledge and Emerging Publisher of Content and Visually Driven Books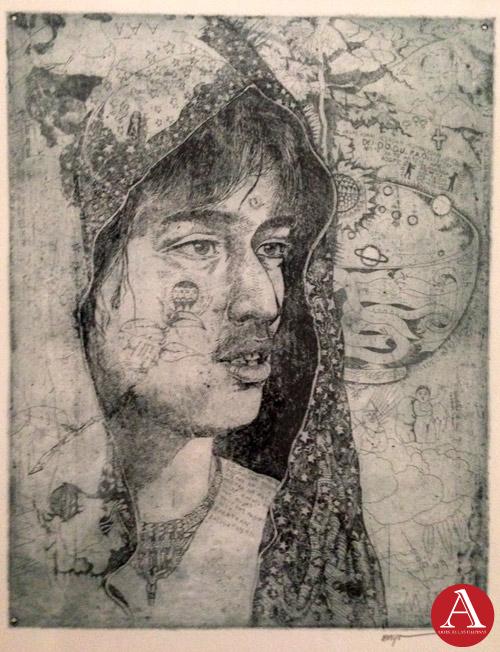 Lito Mayo's Alternate Reality
by: Christiane L. de la Paz

January-February 2017—Lito Mayo was a fixture in the Philippine art scene since the 1970s and his relevance in the history of Philippine art has never been questioned and ignored. When he was a college sophomore, he received recognitions for his prints and sculptures from the Makati Rotary Club Art Competition, Nayong Pilipino Competition and the University of Sto. Tomas Graphic Arts and Sculpture Competition. In 1976, he staged his first one-man show, Printshow at the Art Associates Gallery where he showcased his early experimentations with etching and intaglio. The amalgamation of animals, figures and texts in his works exhibited his idiosyncratic approach to Art Brut Surrealism as substantiated in Abakada (1976), Hayop (1976) and Shell (1976), among several others. That same year, two of his etchings, Anting-Anting ni Kristo (1975-1976) and Komersiyalismo (1976), was awarded first prize and first runner-up, respectively, at the Art Association of the Philippines (AAP) Graphic Arts Division. He also served as the president of the Philippine Association of Printmakers from 1975-1976. Mayo often spawned distorted creatures in agony, nude women, stylized humanoids and threatening reptiles. "Fantasy and reality are just the same," he once said of his works. He also played on the hidden fears of the viewers by using bold strokes, distortion and sheer backdrops of color. In this interview, Michelangelo, his elder son living and working in Santa Clara, California as a microbiologist, takes us back to the many strands of his father's life and works, significantly adding to even a well-informed viewer's knowledge.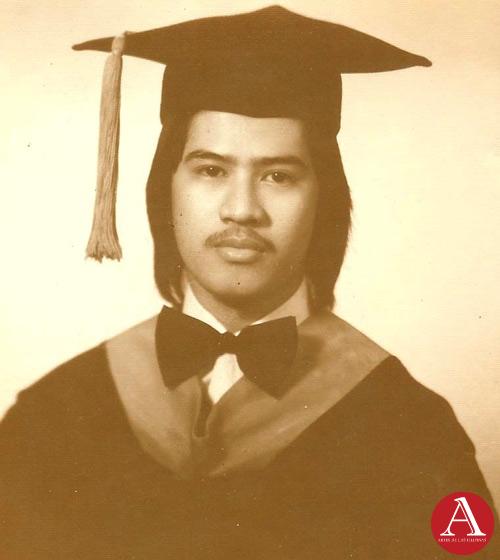 UST Graduate, cum laude, Bachelor of Fine Arts

Lito Mayo graduated from the University of Sto. Tomas in 1975. Tell us what you know of his student years.

From the information gathered from informal chats from my father's peers, Lito Mayo, as a student in UST, was not only an artist but a social activist. He joined the Anti-CAFA (Committee on Anti-Filipino Activities) propaganda movement using printing presses he had access to. The CAFA was the forefront "witch hunt" government commission during the Martial Law regime of Marcos which flushed or liquidated the liberal and left-wing students and political entities. He was also an associate of Orlando "Ka Orly" Castillo, a painter activist of the 70s. According to my mother, Irma Cachela, they held frequent meetings in Ermita while tending his gallery works at the Philippine Association of Printmakers. In his later after school life, my father shared a strong friendship with Heber Bartolome and his wife, Maita Gomez, a woman's advocate, government rebel and co-founder of GABRIELA.

Mayo was also active in social projects of the Tau Gamma Phi (UST Triskelions), providing material aid like furniture and access to work facilities. In 1979, he also designed the T-shirt of the Kapit-Bisig Kabataan that commemorated the 11th anniversary of the fraternity. He was also a participant at the Lakbay Sining, a project of the Cultural Center of the Philippines that promulgated art programs in universities to help start art programs and to contribute in the beautification projects in provincial communities. Art students from UST, UP, and Ateneo de Manila contributed to the success of this program. According to Noel Lopez Catacutan, a UST mate, he and Lito were invited by the provincial government of Bulacan in the early 1970s to paint and beautify the historical spots in the province. They also exhibited in the opening of Hiyas ng Bulacan Gallery in Malolos. He also excelled academically in his student years. In culmination, he graduated from UST with cum laude honors in 1975.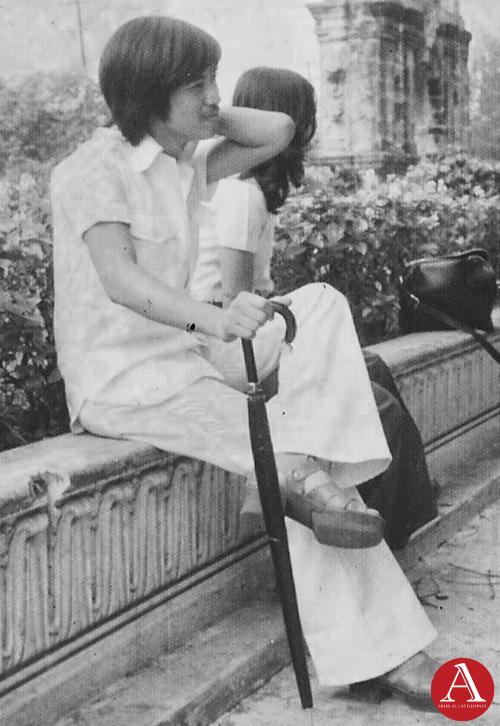 UST Student Profile

Who were his professors and contemporaries?

Lito Mayo's professors in UST were Mario Parial, Antonio Austria and Rodolfo Gan, among others. He was a very social, gregarious, and jeprox kind of a guy. He would bend over backwards for anything to help a fellow artist or student. He was close friends and/or have connections with UST alumni such as Fil Delacruz, Fernando Modesto, who is my Ninong, Ben Cruz, Sky Biscocho, Ramoncito Cruz, Daniel Chua. Alfonso Medilo, Eros Basilio, Mario De Rivera and Nonoy Mercado.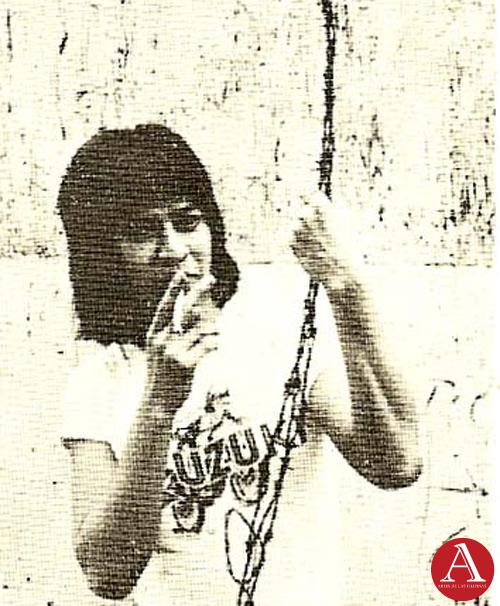 Mayo started out as a printmaker. How did he get into this?

As an early participant of the Philippine Association of Printmaker, he had first hand interactions with Manuel Antonio "Ka Maning" Rodriguez, Sr., the father of Philippine Printmaking, Benjamin Cabrera, Imelda Cajipe-Endaya and Virgilio Aviado. All of these Filipino art pioneers were influential in his body of works and artistic styles.

What techniques did he utilize and what were his early subjects?

Lito Mayo was enamored with Mysticism and Surrealism. His human form was a combination of figurative studies of El Greco and Peter Paul Rubens. He often illustrated emaciated male forms and robust women mixed with mythological such as minotaurs and folkloric animal forms like tikbalangs just like in his Temptation series. He was into numerology, astrology, Kabbalah theories and Christian mysticism. In his Anting-Anting ni Kristo (1975-1976) and Anting-Anting (1975) series, he incorporated oration texts and prayers and hidden numerical sequences with Christian mystical symbols. Moreover, he also had a few examples of activist and propaganda prints that contained political allegorical themes such as Komersyalismo (1976) and Ano't Itataboy N'yo Na Naman Kami" (1976-1977). In his early student years, he did a few student and competition paintings. The bulk of his work in printmaking was predominantly in etching technique. He also have works in, but not limited, to the following techniques: intaglio, collagraph, dry point, woodcut block printing, mezzotint, serigraph, lithograph, and aquatint as honed by his years at the Philippine Association of Printmakers under the direction and tutelage of Manuel Rodriguez Sr., etc.. He skillfully used all these printing techniques in combination with other mixed media.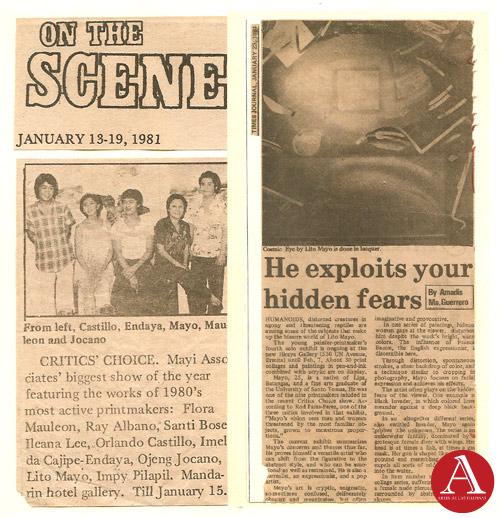 In the 1970s, Mayo was a frequent participant of art contests. Can we emumerate all his awards?

This is the information I got from his official curriculum vitae with recent updates:

1973: 1st Honorable Mention, UST Sculpture Contest, Manila
3rd Prize, Graphic Arts, UST, Manila
3rd Honorable Mention, Graphic Arts Competition, UST, Manila

1974 - Miladay Art Center, Makati Painting Contest - "Dynamic JengJeng" (36" x 36", Acrylic)
(Accounts of Alfonso Medilo and Sky Biscocho - Chat January 22, 2017)

1974 Honorable Mention, UST Annual On-The-Spot Painting Contest, Manila - "Untitled" (Facade of UST Main Building-Inscriptions "In Memory of Omi Vazquez") (29" x 29", Oil)

1975 2nd Prize (Mixed Media Category), Print Competition sponsored by Bancom, Eurasia Arts and PAP, Manila

1976 First Runner Up (Grand Art Competition Sponsored by Art Association of the Philippines [AAP] ), Manila Komersyalism(1976) 20" x 28" Etching/Intaglio
First Prize (Graphic Arts) AAP, Manila - Anting-Anting Ni Kristo (1975-1976) 20" x 26" Etching with Aquatint

1977 Honorable Mention (Graphic Arts) AAP, Manila

1980-81 - Critic's Choice 1980/Ma-Yi Associates , Mandarin Hotel Gallery, Manila 1981 Magtitigan Tayo (1981) 28" x 28" - Mixed Medium in Print China Selection/Peking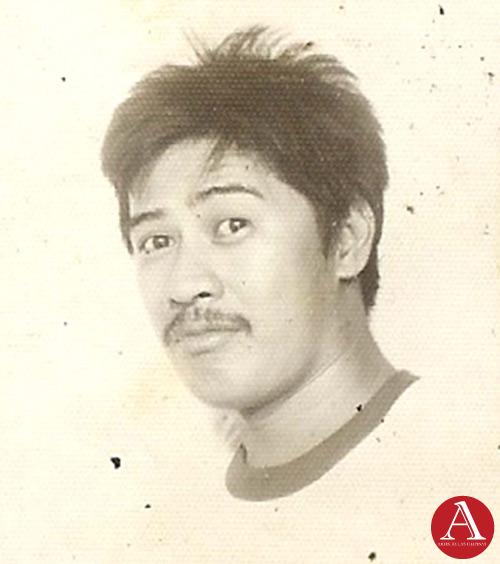 Lito Mayo's Faculty of Fine Arts - Philippine Women's University ID photo

Mayo also joined the faculty of the Philippine Women's University from 1981-1983.

He taught Visual Arts and Design briefly at the Philippine Women's University School of Fine Arts and Design from 1981-1983. His faculty was under Mr. Virgilio Aviado. Other Associate Deans were also in charge of the faculty including Mrs. Ludivina L. B. Abes, Associate Dean from (1979-1986) and Mrs. Purification Torres (Administrative Officer). Mayo even gave Mrs. Ludivina L. B. Abes a book artwork that has a poem entitled "Dito Lang" dedicated to her in his last living year of 1983. With these last caption of farewell-

"...abong paglisan,
rehas-rehasang kidlat
ng mga bagwis na
namamaalam.
maraming salamat po!"

Lito Mayo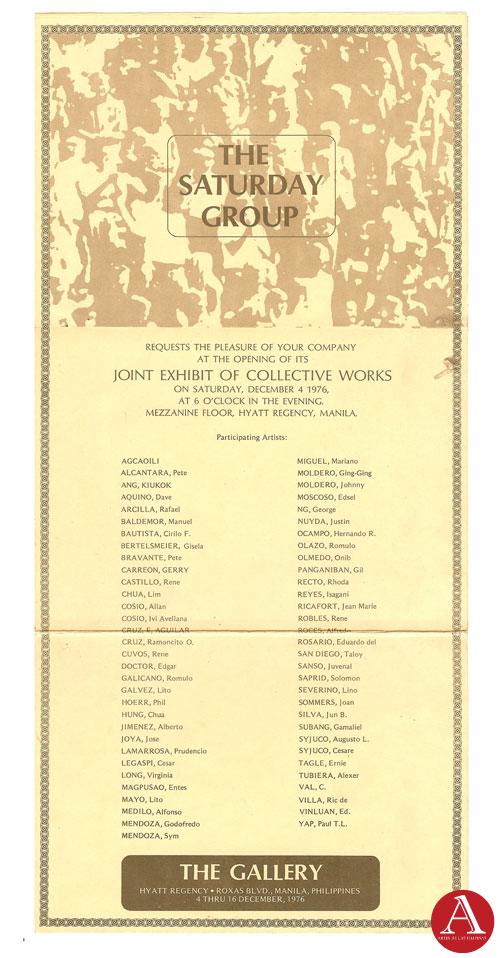 Can you tell us about your father's maiden exhibition?

In October 15, 1976, Mayo launched his fist one-man show at the Art Associate Gallery, Makati. The exhibit was from October 15 to 30. The show featured the following works and series: "Anting-Anting" collagraph series, Etchings - "Temptation" Series, "Pusa," "Circus", "Karne Norte," "Abakada." It was a breakthrough exhibit for him. It launched his legitimate art career and solidify him as a printmaker in the art circles of the Philippines.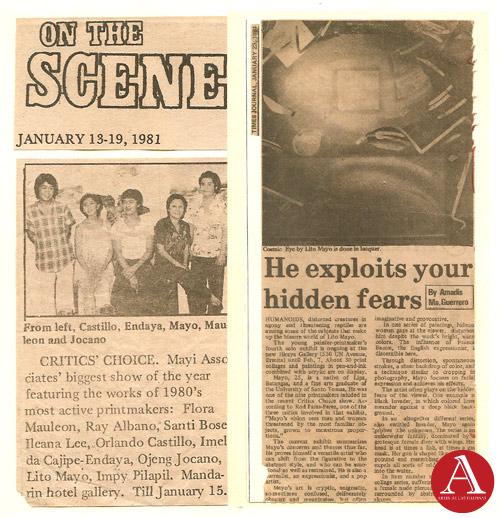 Who were his contemporaries in printmaking?

His contemporaries are Imelda Cajipe-Endaya, Impy Pilapil, Rafael Gozum, Fil Delacruz, Jess Flores , Ojeng Jocano, Flora Mauleon, Ileana Lee, Orlando Castillo, and whoever was a part of the Philippine Association of Printmakers and the Art Association of the Philippines from 1975 - 1983. He also collaborated with Glenn Bautista, Joel Soliven, Ibarra dela Rosa and Efren Zaragoza.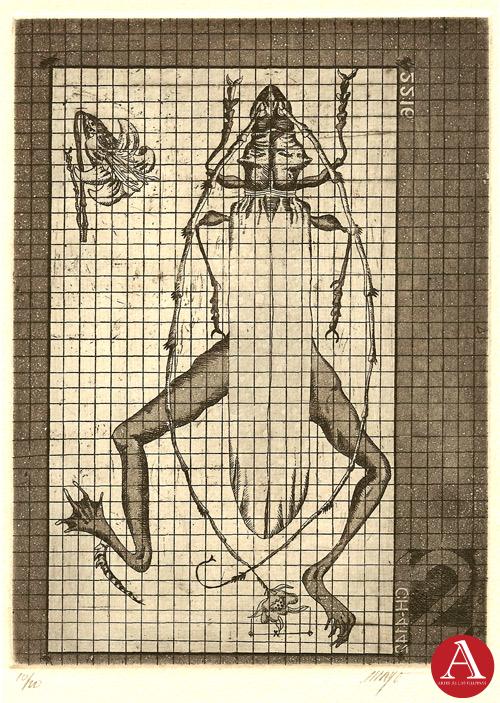 Insecto (1976)

There aren't many works of Lito Mayo left for art scholars to study. Why has this been the case?

Most of Lito Mayo's works were limited in public galleries or contemporary museums. Most of his works were in private collections or buried deep in institutional archives. However, materials such as his paintings and prints and information that include newspaper clippings, book references about Lito Mayo are still accessible to art historians and academics. The UST College of Fine Arts and the Ateneo Art Gallery have several of his works in their collections. I have recently tried to request access to scanned digital photos of Lito Mayo's works from the Ateneo Gallery headed by Director Maria Victoria Herrera.

Lito Mayo was also a museum artist for the Museum of Philippine Arts (MOPA) from 1979 -1982. He also had documented activities with the Cultural Center of the Philippines (Lakbay Sining) from 1973-1975. Those information is available to academic researchers. Moreover, according to my correspondence with Ms. Imelda Cajipe-Endaya last January 24, 2017, the GSIS owned significant numbers of paintings that was sequestered from foreclosed properties. I believe that those may be accessible to the public through the GSIS Museum.

Even in his short career, Lito Mayo's works were well documented in books, news clips and in the archives of the Philippine Association of Printmakers, Art Association of the Philippines, University of Sto. Tomas, Ateneo, Cultural Center of the Philippines and other government entities. There are a lot of his peers who continue to be active in the arts like Fil Delacruz, Egai Talusan Fernandez, Fernando Modesto and Alfredo Liongoren. They have worked alongside or have observed Lito Mayo while he was undergoing his creative processes.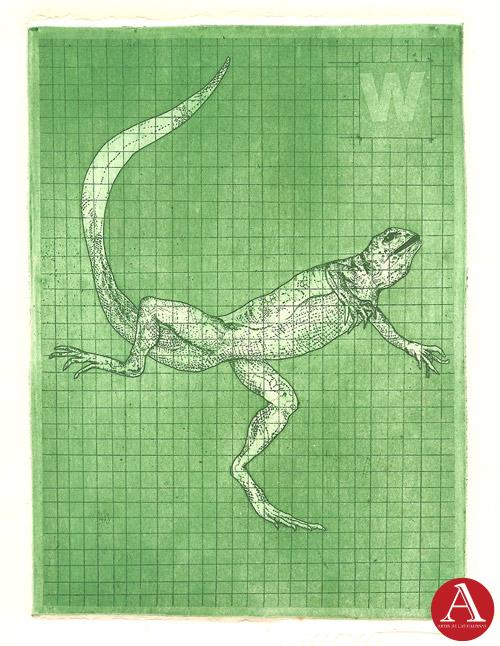 Butiki (undated)

Who handled the business side of his profession?

He handled his own business. As a son of a banker, he was well-versed in financial and business undertakings. In legal matters, he asked counsel from his lawyer, Atty. Gonzalo David.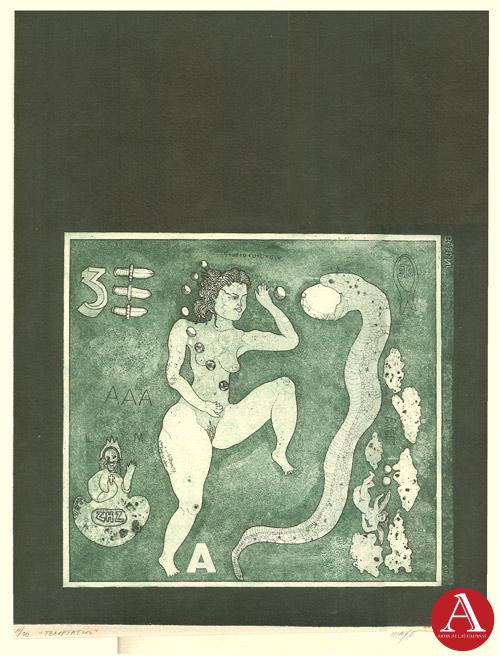 Temptation (1976)

Do you have an idea of the profile of collectors who have collected your father's works?

Most of the documented collectors who have Lito Mayo's works were from different backgrounds and profiles: doctors, associations, lawyers, military people, socialites and foreigners:

The following individuals own his works:

"Abakada" (18" x 24) (1976) Etching - Mr. Leo Real
"Temptation #2" (18" x 24) Etching w/ collage - Interactive work with son Michelangelo - Private Collector/USA
"Pusa" (18.5" x 14") Etching - Collection of Art Associates
"Anting-Anting Ni Kristo (1975-1976)" 20" x 26" Etching with Aquatint - General Rodolfo Tolentino, Atty. Gonzalo David, Mr. Butch Santos, Egai Talusan Fernandez
"Bird and Heart of Banana Tree" (1980) "18 x 18" silkscreen painting and acrylic - Dr. Bobby Magsino
"Saguit 17" (1981) 36" x36" Mixed Media - Mr. Bobby Valdez
"F40----"F40 (1979) 48" x 34" Lacquer - Dr. Jose Segismundo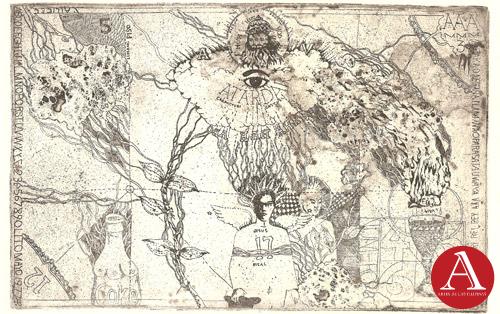 Untitled (1977)

What has been the best compliment said about your father and his works?

The late curator and co-founder of Hiraya Gallery, Bobi Valenzuela said it best –
"He was the Original Punk, an artist ahead of his time, Lito was generous and friendly." I would also like to quote Don Briones, professor emeritus at the Far Eastern University College of Fine Arts -- "Si Lito ay walang kaplastikan." Truly, he was a frank and curt person.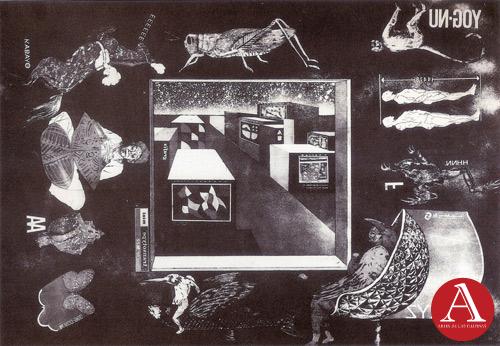 Komersyalismo (1976)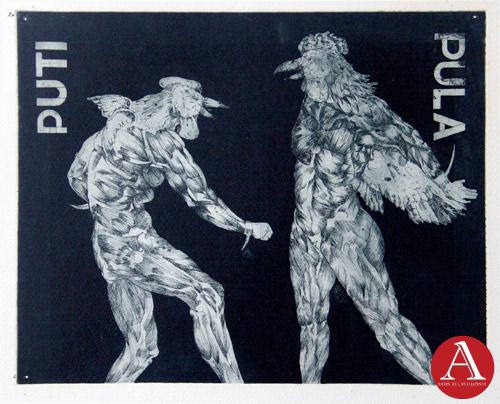 Pula Puti (undated)

And what has he been criticized of?

On the flip side, Lito was also "a promising artist who was a troubled and fragile young man who drove himself to self-destruction". This is according to Didi Dy, Hiraya Gallery (conversation December 13, 2016).

Actress Gigi Duenas stated in 1983 that "he was restless. Nakakadisturb, may turbulence..." In this quotation, my father's immaturity to keep his house and mind in order was questioned and probed. It showed what I have seen with my young eyes that my father was in a dark place with really bad people and influences. All in all, I believe that we all have our own flaws and imperfections but these are also the same ingredients that we needed to draw inspiration to our crafts. He was a really good friend to be around. A proud young artist who was not afraid to experiment and to destroy molds of complacency.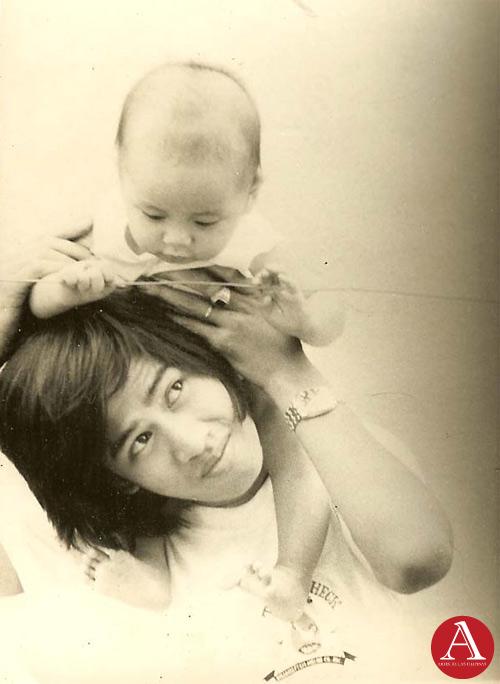 Lito Mayo with Young son, Michelangelo (1972)

How old were you when your father passed away? What do you call him?

I was eleven years old when my father passed away. I called him Daddy. To his friends and family, he was known as Toto. My brother Leonardo and I were very close to him. He always talked to me like I was his art student. As far as I could remember, he also taught me concepts and art techniques. He took me to interact with his friends and peers. He opened my eyes to the world of art and incorporated my early works with his own works, culminating in our art show in 1979. His nephews and nieces called him Daddy Toto. I was the eldest of the grandchildren so he always conferred on me to take care of the younger children and to be a good example and role model.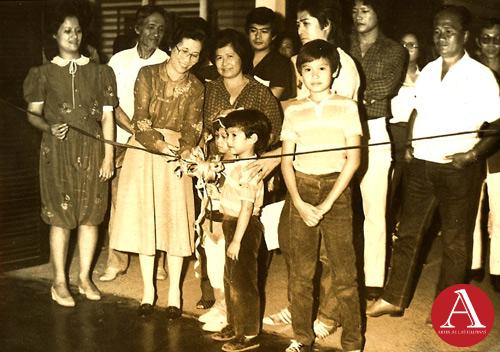 Ribbon cutting ceremony for Touch of Gold- Michelangelo (eldest son,striped shirt) and Leonardo Mayo (youngest, striped shirt cutting ribbon). Lito behind Michelangelo (Belen Mayo - Lito's mother on his right side, and Sebastian Mayo,Lito's father on his left side. Author Jess Calixto wearing black shirt behind Belen Mayo, Virgilio Aviado behind Sebastian Mayo.
What collaborative works have you done with your father? Tell us about your Father and Son series.

On our first collaborative show in 1979, my father took several ballpoint and Pentel pen drawings of mine. Then he cut and pasted the figures from my own work and fused them with his etchings and painted works on paper. Thus, he created a new technique for himself that he have never done before. He incorporated this in his plethora of works which he called "collaborative print collages." With that collaboration, the Father and Son series was born. From then on, Lito Mayo would be experimenting with mixed media and collages often involving my drawings or artworks. My works usually comprised of fantastic creatures, original concepts of giant robots such as Voltes V of 70s Japanese anime), alien humanoids, mythical beasts and other gruesome entities. My father was very strict in guiding me to draw original characters. The cover art of my Father's CV and Lito-Michelangelo Art Exhibition Program has a great example of our hybrid collaboration.

Later on in 1982, I would be exhibiting independent works along with my father. In 1981, I presented my ballpoint and color marker drawings in sheets, size 724 by 572 mm. during the "Experimental Exhibition" in the Rear Room Gallery of Manila Garden Hotel. The highlight of my exhibit was my 36" x 500" continuous Xerox roll drawing depicting an epic battle royale of the creatures of my imagination. My father was so proud of this work because it was something that I originally concocted independently. When my grandfather, who has a copier service in Lipa City, gave me an outdated roll of paper, I started scribbling and drawing on it. My father saw this and he gave me a deadline to finish the work so that he could include it in the exhibit. He taught me the value of completing a project in time at a very young age.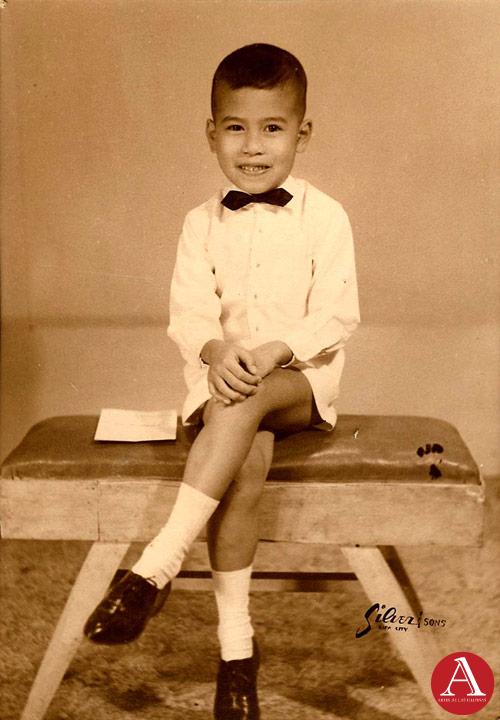 Lito Mayo as a student at Our Lady of the Rosary (Batch 1967)

Can you tell us about Lito Mayo's early life?

He was a quiet but mischievous child. According to his elementary and high school chums, makulit and palabiro were his ominous traits. He went to the Our Lady of Rosary in Lipa City for his elementary studies. He graduated in 1967. Then, he transferred to LaSalle Lipa to finish his secondary education in 1971. Our family was blessed with artists. My grand uncle, Arsenio Rosales, was an artist as well as the musician, Fray Benito de Lipa, a capuchin monk, who was based in Catalonia. Misunderstood by his father Sebastian Mayo, Lito's path to pursue art was met with skepticism. His mother, Belen Tolentino was very supportive. In the end, the whole family gave him the full support that he needed. Mayo's education happened during the time when his father's business was booming. His father was involved with several businesses including insurance, tricycle and motorcycle dealership, manager at the local Philippine National Bank. It was this bliss that allowed Lito along, with his sisters and brothers, Dr. Elvira Mayo- Milo, Merle Mayo-Laquian, Nelson Mayo and Zaide Mayo-Manes, to be concurrently in school at the University of Sto. Tomas, except for Nelson Mayo who graduated from San Sebastian College.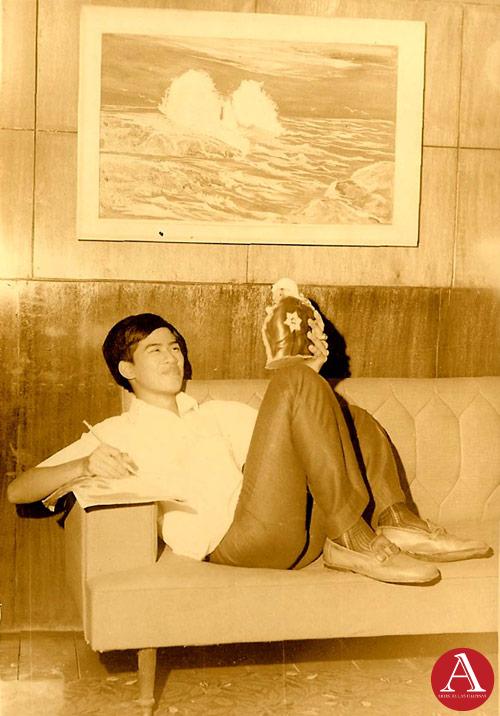 Sketching a buddha pose as a La Salle High School Student (Batch 1971)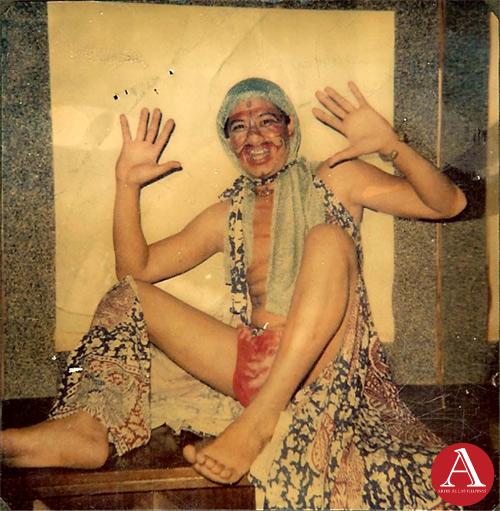 Posing for a Performance Art Piece (1980s)

Tell me about your mother and other siblings.

Lito Mayo married Irma Hermano, now Cachela, in 1971. Both were barely out of high school at seventeen years old. My mother was the daughter of a Philippine Air Force official, Porfirio Hermano and business owner, Pacita Puno from Fernando Air Base in Lipa City. I was born from that union on December 11, 1971. My brother Leonardo Mayo followed on June 15, 1977. My mother, Irma Mayo, was always at his side from the years 1971-1977. She was his public relations aid and co-manager of his gallery works and shows. We resided in an apartment in Pililia Street, Makati and then at 200 Iba Street, La Loma, Quezon City. We moved to Lipa City during school days while my father worked in Manila. My mother eventually left my father in 1978 to emigrate to the US due to irreconcilable differences and marital problems. My brother and I were left in the care of our grandparents, Sebastian and Belen Mayo in Lipa City. My mother filed for divorce on May 19, 1981 in the State of Nevada. My father refused to sign the papers. Divorce, after all, was not recognized in the Philippines.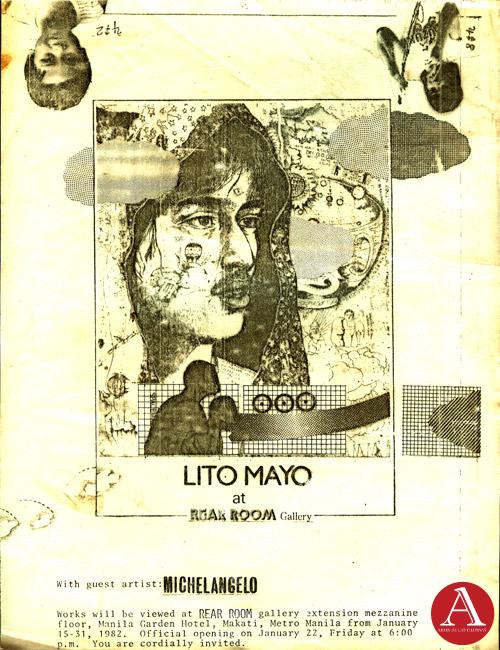 Lito Mayo's Solo Exhibition (1982)

Has there been anyone in your family who became an artist like your Dad?

I consider myself as an artist/scientist. Most of my works are underground. I have yet to re-launch my stunted art career. I have collaborated with International Dada and Faux Art movements in online exhibits and galleries. At present, I am a clinical laboratory scientist/microbiologist at Kaiser Permanente Hospital in Santa Clara, California. My brother from another father, Eugene Cachela, is also an artist. He graduated from the California Academy of Arts in San Francisco.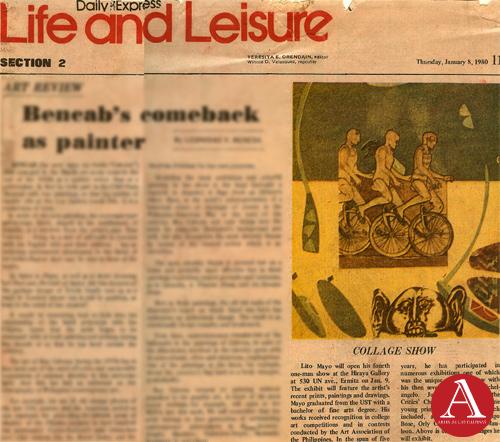 Lito Mayo's Collage Show (1980)

Your father died of cardiac arrest in 1983 but in some existing articles, his death was shrouded in mystery.

There were many mysterious circumstances that surrounded Lito Mayo's passing. He was dead on arrival when he was brought to the UST hospital. His sister, Dr. Elvira Mayo-Milo was on duty at that time, around 7 p.m., on May 3, 1983. However, according to the timeline, his friends, whom I cannot mention in this interview, made a detour to our residence in 200 Iba St., La Loma, Quezon City to gather his belongings and works without the permission of the artist or his family and relatives. Most of his new works and personal collections that he planned to exhibit abroad were stolen by these shady associates. They did this while the unresponsive Lito Mayo was with them. They took time to bring him to the hospital.

According to his death certificate, the cause of his death was acute pulmonary arrest due to acute pulmonary edema. While his body was in repose in the Mortuary of Lipa, Lipa Cathedral, an NBI autopsy was ordered by Army Ranger Brigadier-General, Rodolfo Tolentino, the artist's maternal uncle. The findings from that investigation done at the Camp Crame was witnessed by Philippine Air Force Colonel Bong Fernandez, the artist's brother-in-law, who concluded that several prescription drugs were present in the deceased system. These interactions may have cause his death. The incident remained a cold case involving foul play that would probably be forever unresolved. Unfortunately, no one was held responsible nor any crime was filed against anybody. Most of his works and belongings were never recovered from this incident. I was eleven years old and my brother Leonardo was 6 years old at that time and we were both shielded from all these devastating turn of events.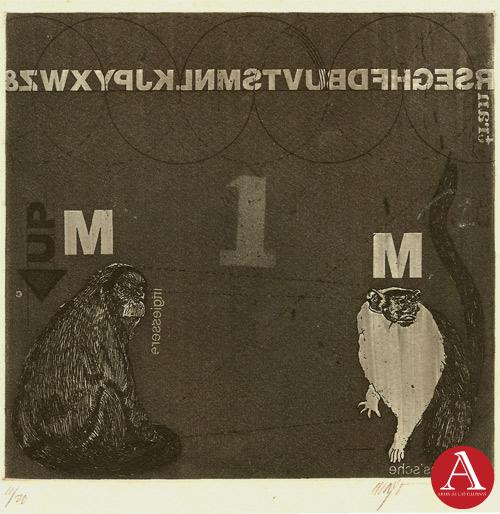 Hayop (1976)

What happened to his remaining works after his passing?

Lito Mayo's last year in 1983 was a year that he endeavored to launch a show in New York with his new works and projects. He was busy after his show, Touch of Gold at the Philippine Women's University. He created new pieces that he planned to launch in a barrage of new exhibits and shows abroad. Unfortunately, due to malicious incidents perpetrated by his shady friends, we do not have an idea of the extent of stolen or missing works that was taken from La Loma. Nevertheless, some of the few surviving early works and several new works in paper have been kept by our family. In turn, I took charge of keeping his archives and works as one of the lawful heirs of Lito Mayo.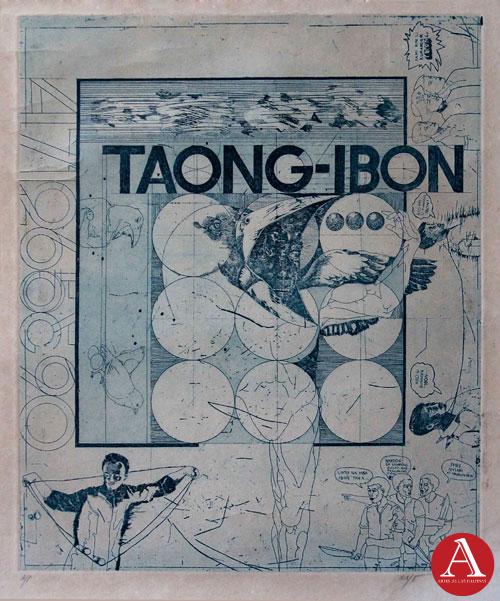 Taong-Ibon (1976)

What is your favorite work of your father?

"Taong Ibon" (1976) was my father's favorite and mine. This was a very personal piece. "Taong Ibon" (The Birdman) ,as he always referred himself to be, was a symbol of his ideas of total freedom: freedom from all his personal demons and prisons. He was still a young man at twenty-two. More often, he would argue or butt heads with his strong-willed father about everything and anything under the universe. "Taong Ibon," for me, symbolized the potential and bright future that my father struggled to achieve in both his personal and artistic life. It was his statement of hope and dreams. It was his roar to everyone, a proclamation of his triumphs over small victories. In the end, the epitaph on his tombstone would read as follow: "The birdman flew, never to come back...but his memories will remain forever." as written by his brother, my uncle, Nelson Mayo.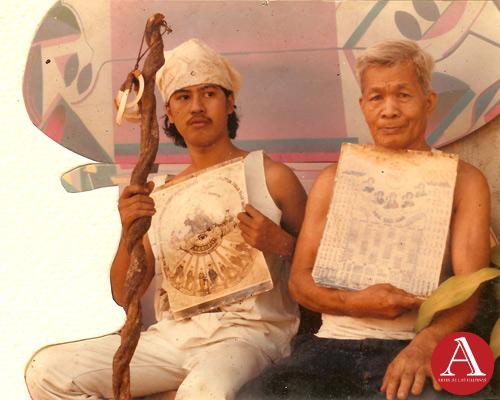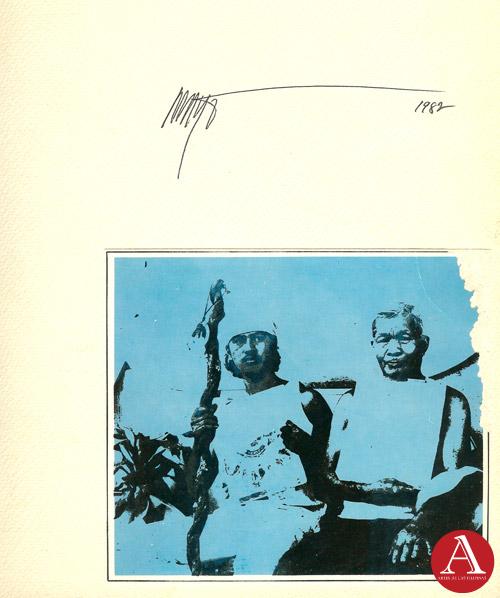 Photoshoot with Mamay Emong in Lipa City for his Fourth One Man Show paraphernalia

And what is your least comprehensible work of your Dad?

"Black Invader" (1981), a very monochromatic and almost black from a distance painting, has always perplexed me. But once the viewer starts to move closer, one can see a silhouette of a spaceman with his ray gun drawn pointing to the left side. Moreover, there were also muted lightning- like streaks of color. Lito Mayo has always painted in mercerizing bright colors and tones. Even in his "Black and White" series, his paintings were glossy and shimmering. The composition has a secret message of premonition: the void of the darkness of impending doom surreptitiously engulfing the festive hues that embodies life and vitality. The invader was not the spaceman but the darkness that was slowly eating him away. 1981 was a very dark period for my father. That year was filled with marital strife and emotional distress. We were relocated back to Lipa City away from him. My grandfather took the reins of raising me and my brother. He began abusing prescription medication and alcohol heavily. He was faced with a life that has quickly accelerated into a downward spiral. I do not have any picture or scans for that piece. It would be a most welcome gesture, if someday, the proud owner of that painting could share a photo online.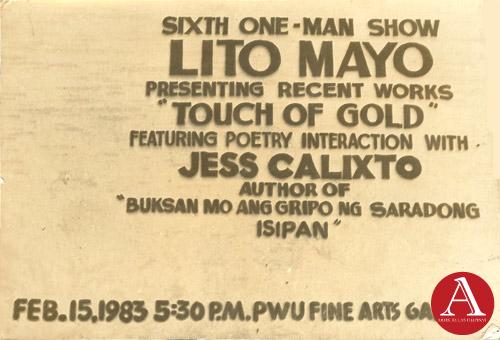 Lito Mayo's sixth and last one-man show (1983)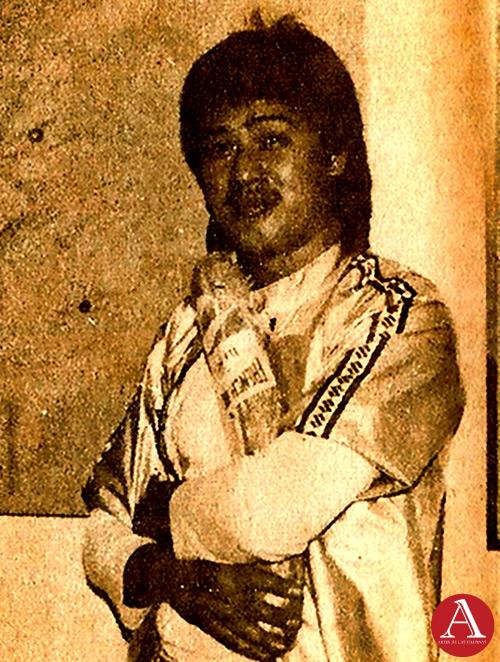 News photo of Lito during his last show at the Hiraya Gallery (1981)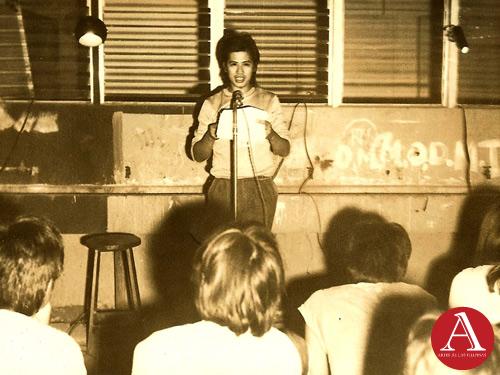 Lito Mayo's spoken word performance and poetry during his last solo exhibit - "Touch of Gold" at PWU's Fine Arts Gallery (February,1983)

Tell me about his farewell show.

Lito Mayo's final show was Touch of Gold at the Philippine Women's University Fine Arts Gallery. This show also featured spoken word performance from writer/poet, Jess Calixto.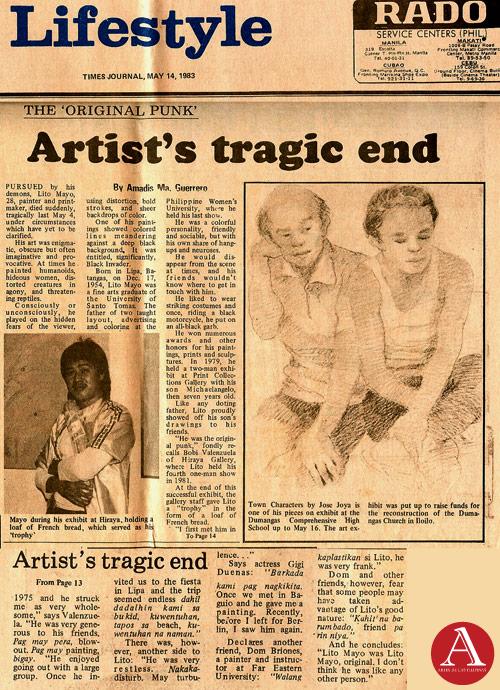 And what was the last painting he did?

The last significant works that I recognize was the Print Collage series (1982) that was featured in his last exhibition, Touch of Gold. I would also like to mention the fourth one-man show at Hiraya Gallery in 1981. There was an ominous work called "The Black Invader," 40" x 40" in estimation, in black lacquer and acrylic. It was mentioned by Amadis Ma. Guerrero in a news clipping as having "colored lines meandering in deep black background." I have personally seen this work and this left a foreboding feeling in my thoughts. It was haunting and insidiously perplexing. I can still picture this painting in my mind. The work is now part of someone's art collection. I have no further information of its whereabouts.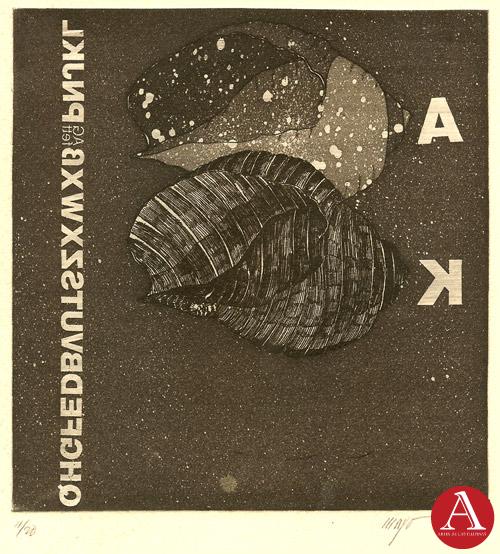 Shell (1976)

Who in your family authenticates the works of your father?

Since I took the mantle of safeguarding my father's works, I have the necessary information to authenticate his works. My uncle, Nelson Mayo, could also cite my father's works since he has also the same familiarity as I do regarding these matters. There has been rare occasions that someone asked about the authenticity of their collections years ago. It was found to be genuine print with paper works and proper references. I know his signature techniques and strokes. I have carefully studied them for a thesis paper while I took a minor in Graphic Arts in West Valley College in Saratoga, California.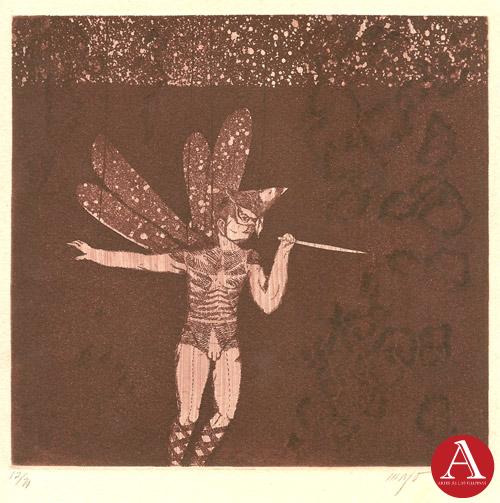 Untitled (1976)

But has there been any forgery of your father's works so far?

Our family has never encountered any attempts of forgery of my father's works. His artworks are limited in quantities. My father documented his works thoroughly through photographs and publications which is compiled in my archives. My family in Lipa City has the original etching plates that can be used as reference for comparisons. Furthermore, some of his works were done at the Print Association of the Philippines. They have records of the collaborations and productions that my father has done in their facilities. Moreover, his earlier prints should have gallery tags from Luz and Solidaridad Galleries.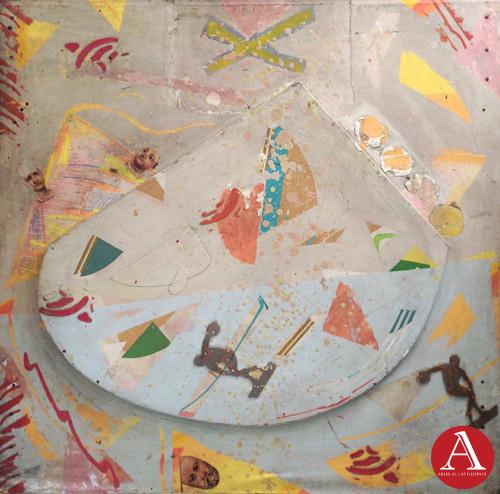 Untitled (1982)

Do you think your father's body of work hold a significant place in the history of Philippine art?

I thought that his death in 1983 would bury his name in the eyes and hearts of the Filipino art circles and the public. As a child, I thought that his works were mediocre compared to his peers. Our family closed the books on his very colorful career to deal with our painful loss. I was very wrong about my opinions. We are our worst critics. Last year, a high school student from Rizal, MJ Monforte, painstakingly searched online to find information about Lito Mayo for her class project. She could have picked from the numerous and talented artists from the Philippines that were well-written about but did not. Determined to find information about Lito Mayo's works, she found my email from the Triskelion blog page that was posted in 2013. Because of this, I had an epiphany and found myself rummaging through his archives and seeking more information from books and online.

I believe that Lito Mayo deserves a place in the long line of Filipino artists who have blazed the trails of the history of Philippine Arts. I try not to lionize Lito Mayo and find credible research facts to separate my own biased fictions about his body of work or life stories. First, he was an apprentice to Manuel Rodriguez Sr. and Virgilio Aviado. He was part of the next generation of printmakers in the veins of Filipino art pioneers. Second, he collaborated and worked with many great Filipino artists whose works now hang in the Philippine National Museum of Arts. His works were archived in many educational and governmental institutions. Several books including Marlene Aguilar's Encyclopedia of Philippine Arts and ART Philippines by Leo Benesa et al. have mentioned and featured him. There were few exhibits such as the Cultural Center of the Philippines, Philippine Association of Printmakers, Art Association of the Philippines, Ateneo Art Gallery that posthumously featured his artworks to keep his legacy alive in the present.

Moreover, punk musician, Bobby Balingit of The Wuds, credited Lito Mayo as an influence. He cited this in his blog, A Violent Dispersal. Actor Ian Veneracion recalled Lito Mayo as a driving force in his painting and art inspirations. Ian's father, Roy Veneracion, was an associate and friend. At present, art academics such as Thea Garing, an Atenean educator and Mark Louie Lugue were actively researching about Lito Mayo for their respective projects and interests. Fellow Lipeño and Cinemalaya Indie director, Gym Lumbera, have been in close contact with me for a possible documentary about Lito Mayo. All of these interest was generated by an artist who died in his 20s, with less than ten years activity in art and more than thirty years ago. Surely, Lito Mayo should be included in any conversations in Philippine modern art.

How do you and your brother make sure that the legacy that your father has left will continue to be remembered in the generations to come?

Aside from preserving his remaining artworks and documents in our archives, we are always in constant search for everything related to Lito Mayo. This year, I have launched Lito Mayo's tribute page in Facebook to get in touch with his friends, peers and associates from his brief career. This undertaking, which I called the "Lito Mayo Project,"aims to gather more information and bring his life's works into the public eye. I am also opening this channel of communication to whoever wants to do research about Lito Mayo. Immortality, according to the 2100 BC Epic of Gilgamesh, can be only achieved through the remembrance of one's community and family.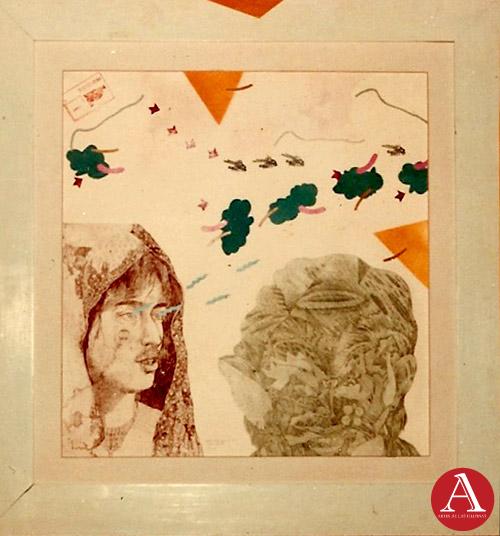 Magtitigan Tayo (undated)

If your father continues to work today, how do you think his art would have fared?

My father's works and ideas were ahead of its time. He was punk even before the punk invasion came in the Philippines during the mid-1980s. There were the Sex Pistols, The Ramones, The Wuds, Philippine Violators. He would be as phenomenal as his peers have become. He was also a relentless teacher who was adored and respected by his students. More and more younger generations of artists and students have inquired about his works. His ideas and experimental artworks would have been enhanced and probably progressed with the new media- digital printing, sound and video arts, etc. It was said that when someone buys a painting or an artwork, they were not buying the work but the reputation and the soul of the master who have created them. Also the fact that there are still people interested in my father's works prove the longevity and stability of his artworks. He would definitely fare well in the present art scene. He would be as relevant as the other established artists and peers from his time.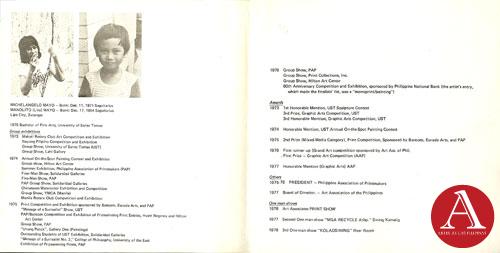 Lito Mayo's Portfolio (1978)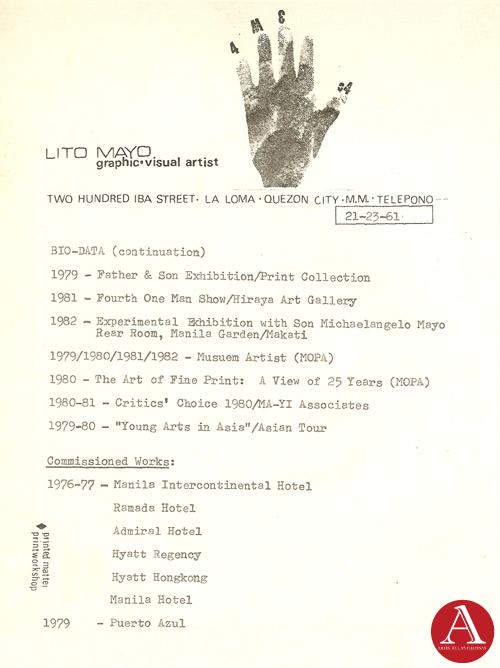 Lito Mayo's Curriculum Vitae from the Family Archive

Manolito Tolentino Mayo (Lito Mayo)
Born: December 17, 1954

1975 Bachelor of Fine Arts, University of Santo Tomas (UST)

One-Man Shows

1976 PRINTS - Art Associates Showroom, Makati, Philippines

1977 MGA RECYCLE Atbp.- Sining Kamalig, Quezon City, Philippines

1978 KOLADSINING - Rear Room Gallery, Manila

1981 LITO MAYO FOURTH ONE MAN SHOW - Hiraya Gallery, Manila

1982 EXPERIMENTAL EXHIBITION w/ son MICHELANGELO MAYO -
Rear Room, Manila Garden, Makati

1983 February 15, 1983 - SIXTH ONE-MAN SHOW - "TOUCH OF GOLD" - PWU FINE ARTS GALLERY with JESS CALIXTO
(Author of "Buksan Mo Ang Gripo Ng Saradong Isipan)

Group Exhibitions

1973 Makati Rotary Club Art Competition and Exhibition
Nayong Pilipino Competition and Exhibition
Group Show, University of Santo Tomas (UST)
Group Show, Lahi Gallery

1974 Annual On-The-Spot Painting Contest and Exhibition Group Show,
The Manila Hilton Art Center, Manila
Summer Exhibition, Philippine Association of Printmakers (PAP), Manila
Four-Man Show, Solidaridad Galleries, Manila
Five-Man Show, PAP, Manila
PAP Group Show, Solidaridad Galleries, Manila
Chinatown Watercolor Exhibition and Competition
Group Show, YMCA, Manila
Manila Rotary Club Competition and Exhibition, Manila

1975 Print Competition and Exhibition sponsored by Bancom,
Eurasia Arts and PAP, Manila
"Message of a Surrealist" Show, UST, Manila
PAP/Bancom Competition and Exhibition of Prizewinning Print Entries,
Hyatt Regency And Hilton Art Center
Group Show, PAP, Manila
"Unang Putok", Gallery One (Paintings), Manila
Outstanding Students of UST, Exhibition, Solidaridad Galleries, Manila
"Message of a Surrealist No. 2" Show, College of Philosophy,
University of the East, Manila
Exhibition of Prizewinning Prints, PAP, Manila

1976 Group Show, PAP, Manila
Group Show, Print Collections, Inc., Manila
Group Show, The Manila Hilton Art Center, Manila
Saturday Group, Joint Exhibit of Collective Works, Mezzanine Floor, Hyatt Regency, Manila
60th Anniversary Competition and Exhibition, sponsored by Philippine
National Bank ( the artist's entry, which made the finalists' list was a "
monoprint/painting".), Manila

1979 Father and Son (Lito and Michelangelo Mayo) Exhibition,
Print Collection, Inc., Manila

1979-1982 - Museum Artist, Museum of Philippine Arts (MOPA)

1979-1980 - "Young Arts In Asia" - Asian Art Tour

1980 - The Art of Fine Print: A View of 25 Years, Museum of Philippine Arts (MOPA)

1980-1981 - Critic's Choice 1980, Ma-Yi Associates Gallery, Makati City

Posthumous Exhibits

1983 - July 2, 1983 Tribute Exhibition -Print Collections Gallery
-Philippine Association of Printmakers 1360 Leon Guinto, Ermita, Manila

Awards

1973: 1st Honorable Mention, UST Sculpture Contest, Manila
3rd Prize, Graphic Arts, UST, Manila
3rd Honorable Mention, Graphic Arts Competition, UST, Manila

1974 Honorable Mention, UST Annual On-The-Spot Painting Contest, Manila

1975 2nd Prize (Mixed Media Category) , Print Competition, Sponsored by Bancom,
Eurasia Arts, and PAP, Manila

1976 First Runner Up (Grand Art Competition Sponsored by Art Association of the
Philippines [AAP] ), Manila
First Prize (Graphic Arts) AAP, Manila

1977 Honorable Mention (Graphic Arts) AAP, Manila

Commissioned Works

1976-77 Interior Paintings/Decor

InterContinental Manila
No.1 Ayala Avenue, Makati, 1226, Philippines

Ramada Manila Central
Quintin Paredes Rd, Binondo, Manila, Metro Manila, Philippines

Admiral Hotel
2138 Roxas Blvd, Malate, Manila, Metro Manila, Philippines

Manila Hyatt Regency
2702 Roxas Boulevard, Pasay City

The Manila Hotel
One Rizal Park Manila

Hyatt Hong Kong
Hong Kong

1979 - Puerto Azul- Covelandia
Covelandia Rd, Binakayan, Kawit, 4104, Philippines

Offices Held

1975-1976 President - Philippine Association of Printmakers (PAP)

1977- Board of Director - Art Association of the Philippines [AAP]