Purveyor of Knowledge and Emerging Publisher of Content and Visually Driven Books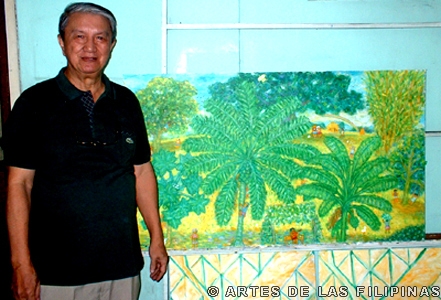 Antonio Austria with one of his most recent paintings in his San Juan residence.
"I'm happy when I do landscapes kasi mas relax ako dyan. Masaya ako at excited sa mga
kulay na natatanaw ko. Hindi sya matrabaho sa isip ko at hindi gaano madetalye."
Photo by: Christiane de la Paz
OLD MASTER OF THE VISUAL ARTS: ANTONIO AUSTRIA
(First of Two Parts)
by: Christiane L. de la Paz
Filled with beautiful memories and happy moments, Antonio Austria's house in Bonifacio street in San Juan is an expression of his diverse fascination – from antique bottles varying in different shapes and sizes to old santos and capiz windows adorned with colorful antique glass to memorabilia and some of his original works, Austria's house has something just about for everyone.
A few distance from the historical Santuario del Santo Cristo church and the Dominican College, his house and studio is a light-filled space surrounded with canvases waiting for him to complete. Inside his den are antique chests where he keeps his books and newspaper clippings and in which rare pieces of gin antique bottles are found. This is the place he has called home for the last sixty-eight years.
Meeting Antonio Austria for the first time is truly an unforgettable experience. Everything you needed to know about him was in his face. The eyes were warm. The mouth loved to wrestle all at once with a mischievous smile and whimsical expression. And the face is as meek as a lamb. Someone once said that Antonio Austria regarded each new acquaintance like an old-time friend.
The Austrias
To get to know Austria it helps to bring to mind the young boy who was born in the American territory in Shanghai on May 5, 1936 to Filipino parents, Pedro Austria and Lucila Gilbuena. His parents are from San Pedro, Laguna, a few towns from the birthplace of the country's national hero, Jose Rizal. Antonio's great grandfather was mentioned by Dr. Jose Rizal in his Noli Me Tangere as the "El Vagabundo Cabo Mariano," the brass band maestro renowned throughout the towns of Rizal, Laguna, and in the provinces in Central Luzon. They had named him Antonio after San Antonio de Padua, the patron saint of lost items.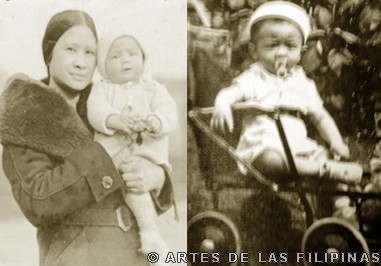 8-month old Antonio with his mother and in a stroller at age 1 1/2.
Taken in Shanghai, China.
Photo Courtesy of the Artist
In 1917, Austria's adventurous father, Pedro, went to follow his aunt to Shanghai. Much later, after trying out several jobs, he landed a job as a supervisor in the tire department of General Omnibus, a company that runs double deck buses. In the American Concession where they stayed, Pedro met a French-Japanese mestiza whom he eventually married. Pedro's first wife died after giving birth to their second child. The couple had two children -- Ricardo and Helen.
Pedro then returned to his hometown in San Pedro, Laguna to rekindle his love for his childhood sweetheart, Lucila, and in 1934, the couple decided to marry. Pedro brought Lucila with him to Shanghai to start a new family. However, in 1937, barely some months after the young Antonio was born, the Sino-Japanese War broke out. Pedro deemed it necessary to come home and settle anew in the Philippines.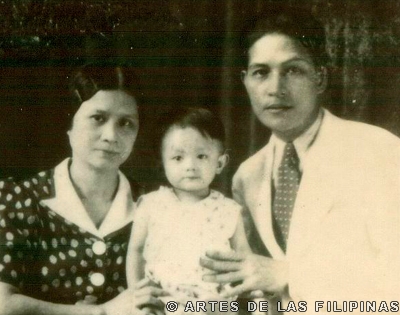 The Austrias: Lucila, Antonio, and Pedro, dated 1937
Photo Courtesy of the Artist
Back home, remembering the time he spent working in the motor bus company, Pedro put up an auto supply and tire services shop as a means to provide for his growing family. He tried his best to give a good life to his family which grew to include another son Mariano, who was named after their great grandfather, the Vagabondo Cabo Mariano Austria. Antonio's father filled his formative years with examples of hard work, dedication, honesty, and perseverance; and his mother instilled in him the virtues of kind-heartedness, patience, gentleness and the feeling of independence and self-reliance.
The Early Years
Antonio recalls that he was a normal boy growing in the quiet suburb of San Juan. In his younger years, he was often found in the streets playing basketball and skating with the other children in the neighborhood. "Ang mga kalaro ko noong araw ay yung mga ka-edad ko ring bata na kapitbahay namin. Piko, sipa, gagamba, tumbang preso, taguan at kung ano-ano pa ang mga linalaro pa namin. May nalalaman din akong konting porma noong araw. (My playmates and I were of the same age. We used to play a variety of street games -- hopscotch, kicking lead washers, spider fight, hide and seek and many others.) I also tried to keep up with the latest fashion back then," he happily shares.
In 1942, the young Austria began his education in Sta. Lucia Elementary School, located just a few meters away from their house in San Juan. From an early age, curiosity and creativity was already showing in him. "As a child, nagcocollect ako ng Classics Illustrated. Madami ako naipon ng mga comics noong bata ako kaya lang nawala na at napabayaan na ang iba. (I used to collect Classics Illustrated comics when I was young. I collected countless issues but many were lost while some were not taken care of.) I used to admire the illustrations and characters there-- Ivanhoe, Three Musketeers, Moby Dick, Rip van Winkle, Robin Hood, and Robinson Crusoe are some of my favorite characters. Ginugupit ko sila pag luma na tapos dino-dawring ko. (I used to cut the characters from my old copies then I drew them.)
By the time he went to high school in San Sebastian College in 1948, Austria already charted his path in becoming an artist."High school pa ako hindi ko na alam kung saan pupunta kundi ang magpinta. Kasi noong mga panahon na yon, ang paborito kong gawin ay mag-doodle at gumawa ng scale model ng boats, airplanes, cars, at magkulay ng coloring books. Masaya kong ginagawa ang mga ganitong activities. Ganito pa lang kaaga, I already envisioned myself as an artist."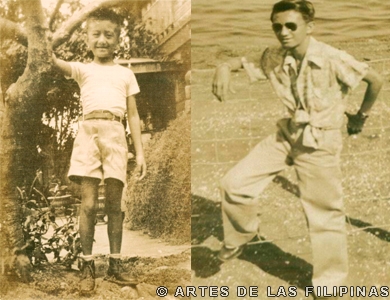 The young Antonio who was always seen playing in the streets after school and
as a teenage boy who loves fashion.
Photo Courtesy of the Artist
In 1952, Austria began his artistic studies in the University of Sto. Tomas (UST), back then, the bastion of modern art in the country. "I was not aware of the academic styles propagated by the University of the Philippines and the University of Sto. Tomas. The only two reasons that I remember why I enrolled in UST were that it was the best school to learn art and it was near our house in San Juan," he says with a giddy smile.
The move to study in UST was integral in the development of his painting style as he was trained by Professors Victorio Edades, Vicente Manansala, Diosdado Lorenzo, and Galo Ocampo, among others.
Austria says that taking painting from life under ProfessorVictorio Edades was not as difficult as he thought it was. "Edades was not very strict at all. You will not see him often at your back to check on your work. He allows you to have your own style.But when he demonstrates a little, we easily get influenced." Edades, according to Austria, has instilled in him the lesson that "painting is a lifetime study." "Si Edades hindi masyadong nakikialam yan pero kapag nagdemonstrate sya ng konti, kuha na lahat yan at hawa na kami. Edades would always tell us that you perfect your art by improving your technique, idea, and passion to be able to mature."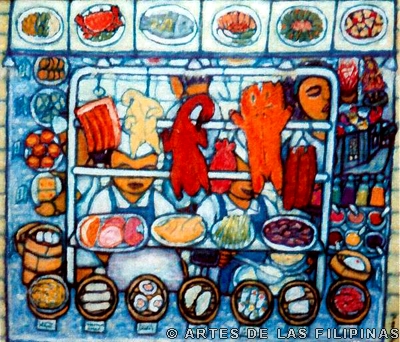 Antonio Austria
"Dimsum at Iba Pa"
26 x 30 inches
1995
oil on canvas
Mr. and Mrs. Kirk Young
Landscape class with UP School of Fine Arts graduate, Diosdado Lorenzo, was also an enjoyable experience for Austria. He taught his students to paint traditional subjects but to do them in modernist style. "Kay Professor Lorenzo ko natutunan on how to apply my brush strokes and to not be afraid of using bold colors like bright orange, green, and blue. Professor Galo Ocampo was also a good teacher of principles of design. Madami rin akong natutunan sa kanya (I also learned much from him.)"
But among his professors Austria very much admired the works of National Artist Vicente Manansala. "When I was his student, I was already deeply infatuated with his works. I was a fan talaga. Matunog na si Manansala noong araw pa." His training with Manansala broadened his vision and enabled him to develop original interpretations of everyday scenes.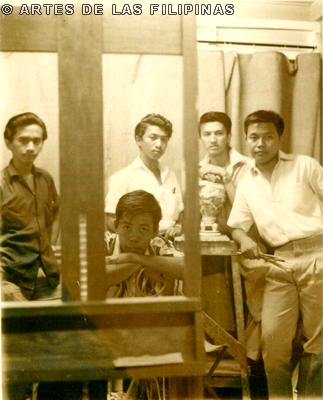 Austria with his UST schoolmates (The gorup of 5 who exhibited
together in 1958). From L-R: Angelito David, Leon Pacunayen,
Leonardo Hidalgo, Antonio Austria, and Angelito Antonio
Photo Courtesy of the Artist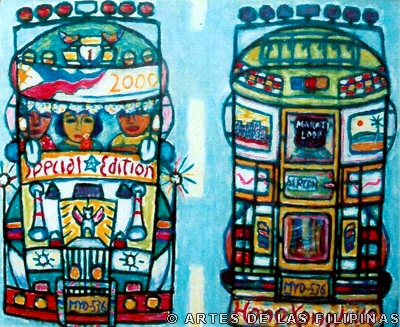 Antonio Austria
"Jeepney" (Diptych)
28 ½ x 34 ½ inches
2000
oil on canvas
Mr. and Mrs. Anthony Dayao
Manansala, whose innovation and style Austria found compatible with his own preferences of subject matter in painting, was evident in his early works. "I can identify with his jeepneys, vendors, and the Madonna of the Slums. I like the fact that his renditions were not done in a glamorous portrayal."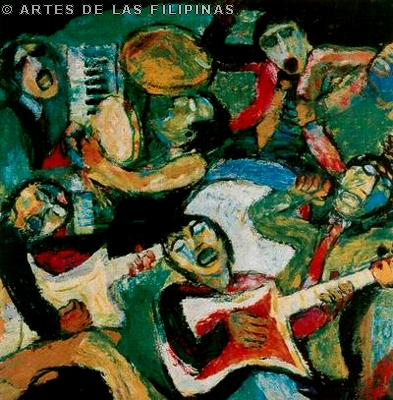 Antonio Austria
"Combo"
31 x 31 inches
1970
oil on wood
Bangko Sentral ng Pilipinas collection
It was also during his stay in UST that he fell in love with the works of the French impressionists and post impressionists, who became an influence on his early works. The French Impressionists was preoccupied with capturing the effect of lights and shades, shadows on objects, landscapes, and human figures.
Friendship with Ang Kiukok
While attending courses with Professors Victor Edades, Vicente Manansala, and Diosdado Lorenzo, Austria met his classmate, Ang Kiukok. "Ang and I are very good friends pero hindi kami malimit magkita nyan.(We hardly see each other.) I remember we were together in UST in 1952, we were freshmen. Even before Ang studied in UST, he was already very talented. He was very good in watercolor maybe because of his Chinese roots. He also paints and writes in Chinese characters. You would hardly see him naka-istambay (loitering). You can see him playing basketball sometimes then you see him next in class silently finishing his paintings. At that time, nakikita na ni Manansala ang talent nya kasi kinuha syang assistant sa ginawa nilang fresco mural sa National Press Club and later again as assistant in Manansala's Way of the Cross in the UP Diliman chapel. (Vicente Manansala already saw Ang Kiukok's talents. He was recruited by Manansala to help execute a mural that was commissioned by the National Press Club and later again as assistant in Manansala's Way of the Cross in the UP Diliman Chapel.) But me? No way. My classmates and I used to skip the class of Edades to make istambay lang sa school or we would just play billiards. Our class is from 5-9PM, pagtinatamad na kami pumasok noon, nagbibilyar na lang kami!" (We feel lazy attending the 5-9PM class of Edades so we'd just play billiards!)
Introduction to the Art World
In 1959, Austria joined the prestigious Art Association of the Philippines and submitted his entry piece, "Mga Magpapalayok," for its annual competition. He made it despite severe time and money limitations, which he addressed like a genius, making virtues out of limitations. In this work, one can see how infatuated he was with the subject and how incredibly adept he was with the medium of oil; the whole scene packed with fire, ideas, and ambition.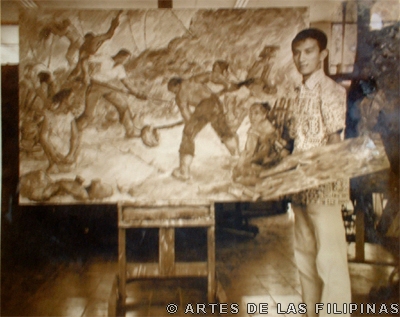 MAKING HIS MARK: The young and handsome Austria with his college thesis
"Magpapalayok." "I admire Vicente Manansala very much kaya hindi rin maiiwasan
na mainfluence ako noong araw."
Photo Courtesy of the Artist
Austria narrates that his entry "Mga Magpapalayok" which he submitted for the AAP, was an extension of his thesis. "Siempre, nagsisimula ako non, wala akong pangalan. Malaking bagay ang award na nakuha ko sa AAP. (I was starting out. The award I received from the AAP means a lot to me.) I remember pumupunta pa ako sa Rosario sa Pasig noon to observe the pottery production. Bahay kubo lang ang mga nakatayo noong araw and yung backyard nila, doon nila sinisigaan yung mga clay nila. (I remember going to Rosario, Pasig to observe the pottery factory. The houses were in shanties at that time and their kiln is at their backyard.) I research on the subject then I make a dozen studies then I start painting. Two hundred pesos ang tanda kong prize money ko doon. I do not remember how I spent my prize money but I think I bought additional painting materials with it. Sali ako ng Sali for three years sa Shell Students competition when I was in UST, pero hindi naman ako nakatikim kahi na minor prize. Malakas lang talaga ang loob ko noong araw kasi lahat naman ng kaklase mo sumasali kaya sali din ako. No harm in trying."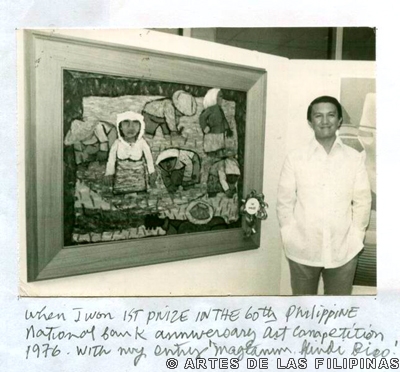 Magtanim Hindi Biro
Oil on Canvas
30 x 36 inches
1976
Antonio Austria
The success of his entry placed Austria on the A-list of the talented artist to watch for. His winning was very much in the leading newspapers and magazines and the public took notice of him. "I consigned my works at the leading art galleries during those time and sa awa naman ng Diyos nabibili naman kadalasan. It was not difficult for me to sell my works through the galleries. Hindi ko naranasan yon sa awa ng Diyos. (Thank God, I did not experience that.) My exposure to the public was through my participation in AAP, yun lang (that's it). I won a special award. The competition during our time was limited to AAP or one or more institutions or company sponsored art competitions. Kakaunti lang competition noong araw. Unlike now there are Shell, Metrobank, Petron, Philip Morris, and Art Association of the Philippines for art students.

Joining competitions, according to Austria, is a good way to be recognized by peers and boosts one's confidence. "Kagaya ko dati, sali ng sali paminsan-minsan nanalo pero I join to keep me going. When I grew older, I get invited to judge in various art competitions but I have declined invitations lately because every time I see new works by students, it gets difficult to understand their work. They inject several symbols, meanings, and statements that it will take them several minutes to explain their work which are all very unique and personal to the artist. I am not saying this is bad, but sometimes, you could no longer relate to it," he explains.
First Job
After graduating with a Bachelor of Fine Arts degree in 1956, Austria's first job was in the Universal Textile Mills as a textile designer. His job entails him to create and develop original designs or patterns exclusively for dresses, shirt, curtains and bed sheets. In this job, Austria broadened his creativity and developed his technical skills. "Doon ko napulot yung keen sense ko of design and composition kasi you're working on a limited space, iba-balance balance mo yon para kapag crineate mo yung design mo continuosly wala kang makikitang blank horizontal or vertical line. The idea is to have a balance distribution or layout of the motif design and also the background space."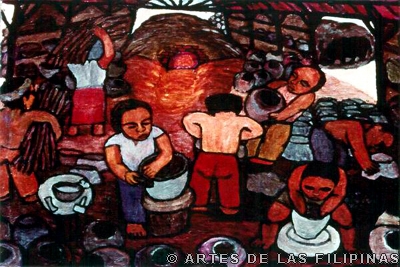 Antonio Austria
"Burnay"
29.5 x 35.5 inches
1979
oil on canvas
Private Collection
It was in this job where Austria met Tarcila Patacsil Estepa, a payroll clerk in the textile mill where he works. She was a beautiful girl from Bauang, La Union. Her beauty and kindness are some of the qualities that drew Austria to her. As Austria puts it, "How can I not fall in love with her? She is chinita my weakness and she counts and hands over my salary!" he says laughing.
Like Austria, Tarcila was also fond of collecting bric-a-brac, from kitchen and household items to cookbooks and other decorative items, she collected them with so much fascination. "Nagkasundo kami dahil pareho kami ng interest. (We got along very well because we share the same interest.) Ako naman, I started collecting antique bottles, antique furniture, antique glass, and other knick knacks. Pareho kaming naghahalukay ni Tarcy sa magluluma shops noong araw dyan sa Tomas Morato at sa M.H. del Pilar," (Both of us dig our items from the thrift shops in Tomas Morato and M.H. del Pilar.)" he shares.
On May 6, 1972, the couple was married in Mary the Queen Church in San Juan. The ceremony was attended by their families and closed friends. A year later, Tarcy was pregnant with their first child but lost it to some complication she experienced during her pregnancy. The stillborn first child they named Catherine remains a living part of the family. In spite of this misfortune, the couple kept their faith in the Lord, realizing that there were others still worse off than them. As the head of the family, Austria learned to accept the inevitable. The couple had looked forward to the birth of their second child with tremendous anticipation and in 1974, Tarcy gave birth to a baby boy whom they named Paolo. Four years later, Tarcy once again gave birth to a baby girl they named Thea.
After starting a family and working as a textile designer, Austria. was looking forward to the little time left for me to paint. "After office hours, I would paint. Kaya kinabukasan nala-late ako dahil puyat ako the night before. After twelve years in being a textile designer, sabi ko sa sarili ko "kahit na ano mangyari, hindi ako titigil sa pagpipinta kahit na paunti-unti mairaos ko. I know that once you stop painting, mahirap ng magsimula at di mo na maituloy tapusin ang isang gawa.

(To be continued...)