Purveyor of Knowledge and Emerging Publisher of Content and Visually Driven Books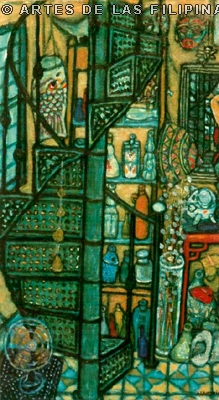 OLD MASTER OF THE VISUAL ARTS: ANTONIO AUSTRIA
(Second of Two Parts)
by: Christiane de la Paz
Austria Becomes the Professor
Austria started his teaching career in the University of Sto. Tomas in 1969. Students who knew Austria when he was still a professor describe their experience with Austria, "Takot kami ma-late sa klase ni Sir Austria. Very strict si Sir. Kaya pasok kami talaga ng maaga sa 7 AM class nya. (We're scared to be late in Austria's class. He was very strict so we make it a point to be early in his 7 AM class.) Sometimes, we'd even test his punctuality by looking out the window to see if he'll beat the clock and be in our 7AM class. Then 3 minutes before the clock ticks at 7, makikita na namin sya (we would see him) clad in all the way blue outfit --blue polo shirt, blue pants, even blue socks arriving with his very famous neon orange Beetle car. Then we'd all go to our seats and get ready for his class," Austria's students recall.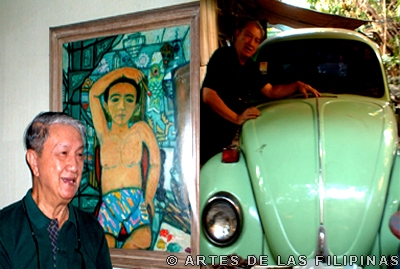 Austria with his self-potrait on the background and with his famous Volkswagen car
which he drives to UST for more than twenty years - - still running good.
Photo by: Christiane de la Paz
Austria's strictness in attendance is proverbial. He recognizes that many of the old lessons are too valuable to ignore. He explains, "How could a student accumulate knowledge and skills if he does not attend his class? Attendance was my minimum requirement. You don't have to be a good painter but if you are serious in attending your class, I will value that in a student even more. You cannot expect a student to be good right away but because the student attends his classes; in the end you will see his work has improved as compared to the student who does not regularly attend his classes."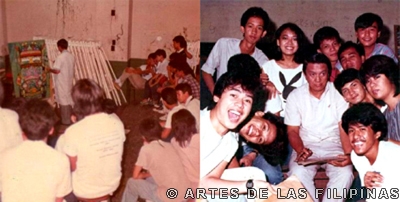 Professor Austria on a studio demonstrating to his students a good composition.
Photo Courtesy of the Artist
There is no question that the concern and affection Austria felt he extended his students were genuine as all he ever wanted was for them was to use their time and talents wisely. Many of his students were honored to have had him as their teacher. For the rest of their lives, they had the privilege of being educated by someone who cares the way Austria did, someone they can learn from; someone worthy of emulating. After devoting 27 years to teaching, Austria bade farewell his career in the academe and began his new life of a full time artist.
The Life of the Artist
Austria continued painting after his retirement from teaching. His unrelenting quest for new forms which carried him to the extremes of placing special emphasis on brilliantly colored childlike images have provided us with an unparalleled collection of simple even naive impressionistic art.
In 1979, Austria had his first one man show exhibit in Gallerie Dominique, where he presented about nineteen works in oil and twelve composition drawings. Between1962and 1982 he exhibited a couple of works in Australia, New York, and Japan and has also participated in several group exhibits held in various galleries in Manila.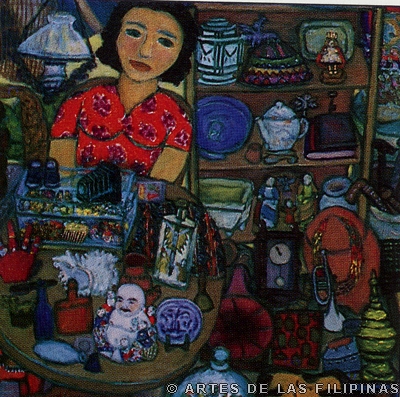 "Tiangge"
61 x 74 cm
1984
oil on canvas
Pinaglabanan Galleries Collection
Since then, Austria's career has been studded with honors and awards. In 1970, he was among the first recipient of the Thirteen Artists Award conferred by the Cultural Center of the Philippines. This award is named after the Thirteen Moderns of Philippine Art to progressive young artists. Six years later, he bagged the first prize in the Philippine National Bank's 60th Anniversary Art Exhibit and Competition. In 2002, he was awarded the Patnubay ng Sining at Kalinangan sa Larangan ng Pagpipinta by the City of Manila on the 431st Araw ng Maynila celebration. A year later, he was chosen as Outstanding Thomasian Alumnus in the field of visual art by his alma mater and the UST Alumni Association Incorporated.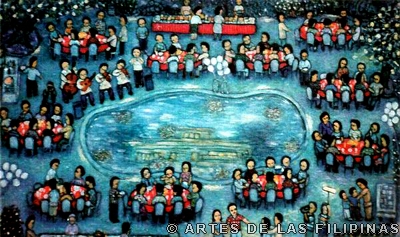 "House Blessing"
oil on canvas
Private Collection
Through years of experience, Antonio Austria's paintings have within them a certain power that is expressed through simplicity and local charm. He took his greatest inspiration from simple subjects and everyday scenes and his work took on a power and profound sense of charm. Jeepneys, sari-sari stores, billiard parlors – these are his favorite subjects and of all the things that surround him, they seem to preoccupy him completely. His later works ranged in subject matter from a group of blind musicians and couple in a lovemaking position to all kinds of vendor selling fruits and vegetables-- all of which he painted with increasing brushstrokes and bolder use of color and light.
"I derive inspiration from our colorful cultural past to try to create our very own Philippine contemporary art. I portray urban subjects like the jeepney, sari-sari store, carinderias, street vendors, family life, religious practices, people at work or relaxing in parks, beer houses and billiard parlors by treating them in my personal and distinctive style. I am contributing to an art that can be discerned as Filipino and recognizable as something from the Philippines," he says.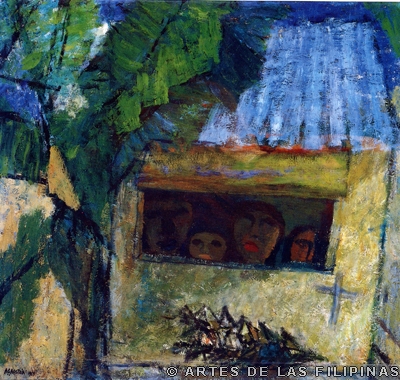 "Mag-Anak"
69 x 74 cm.
1969
oil on canvas
National Museum Collection
Nowadays, Austria casts his art works with renewed energy in a series of canvases. "But what I have noticed through the years that I have been painting, nabawasan na rin ang intuition and spontaneity ko (My intuition and spontaneity have lessen in time) because it takes me a long time to compose my subject. Naubos na ang oras ko sa pagcocompose ng mga elements. I am the type of artist, like other artists for that matter, who doesn't get satisfied with three or more studies, madami yan, it will even take me months before I start painting in canvas. It's just really the way I am. There is no pressure for me to finish a painting because it is important that I get satisfied with my work before others can appreciate them. These days, I'm happy when I do landscapes kasi mas relax ako dyan. Masaya ako sa mga makukulay na tanawin. Hindi sya matrabaho sa isip ko at hindi gaano madetalye."
For many years now, Austria, a widower, maintains a passionately private life. This he explains smiling, "Hindi talaga ako mahilig lumabas. Sa bahay na lang or kakain sa labas with my children. My favorite thing to do now is to do nothing. I just like to relax at home after painting in the morning then in the afternoon, I listen to my collection of mp3 music or watch DVDs after my nap. May mga moments din na naglalakad na lang ako pag gusto ko pumunta sa Unimart or nearby malls. I do that as my form of exercise."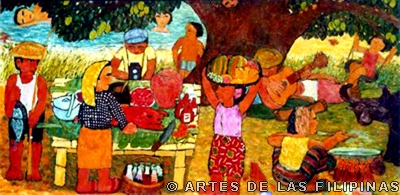 "Picnic"
36 x 72 inches
1978
oil on canvas
Private Collection
Antonio Austria remains a grounded man. He puts his family first and saves any ego he has for works he still has to paint. He is still passionate about his work yet quiet and humble about his accomplishments. He leans back in his chair and says, "You know, I am already old so my wish is to see my children settle down so I can still see and enjoy my grandchildren. In days that I don't feel like painting, I tinker on things in the house. I still love to eat and take life the easy way.


Antonio Austria
36 x 72 inches
oil on canvas
Paulino Que Collection
His face becomes serious as he says, "Mabait sa akin ang Diyos most of my life in that I still have my children to keep me going. I am still in good health which is very important. I still have this house which requires constant attention and I have my paintings to work on which I love so much. I still have some simple wishes to realize for myself, my children, and my career like a book on my art and a retrospective of my works but there is nothing more than that that I could ask for. I am just an ordinary person who was blessed."