Purveyor of Knowledge and Emerging Publisher of Content and Visually Driven Books
Landscape artists invariably have a love of their environment and this is clearly seen in the works of young artist, Adler Llagas. The rolling hills and mountains of Rizal and Laguna figure largely in his works. The yellow rice fields and the mountains are his favorite subjects as his childhood memories are full of details that chime again and again with these imageries that is almost like a story found in fairy tale books. "Ang palayan ang aming naging palaruan, (The rice fields became our playground.)" he begins.
Born on June 12, 1977 as the son of a poor farmer living in a small village alongside the rice fields in Baras, Rizal, the young Adler grew up in a rather huge family with nine other siblings. He was the ninth child and fifth son of Delfin and Caridad, whom Llagas describes as "the most hardworking and persevering people I know." Llagas recalls that his family was in tremendous financial difficulties that they were all asked to help in the field and become farmers at their young age. "Di kami katulad ng ibang bata, kailangan kaming tumulong sa magulang para magsurvive. Mahirap ang buhay namin sa bukid talaga, (We were not like other kids. We need to help our parents in order to survive. Our life in the farm was difficult.)" he said.
Influenced at this period by the works of old master, especially those of Meindert Hobbema, John Constable, Thomas Cole, and Carlos de Haes, Llagas was captivated by the classic mode of idealization and the clarity of details in their works. He was also deeply impressed by the works of American painters, Michael Stack and Charles Fritz. He believes that painting nature was more challenging and exciting than any artistic model.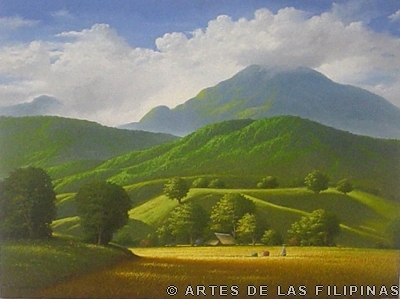 Golden Fields at Noon
30 x 40 inches
2005
oil on canvas
As he explains: "Gusto ko kasing makilala bilang landscape artist at ang bundok na aking kinalakihan ang isa sa mga familiar akong subject na ipinta. Kahit na ito ang malimit kong gawin, ang habol ko ay yung iba't-ibang oras ng pagkalat ng araw sa bundok at palayan. Sa ganitong paraan, kahit na paulit-ulit ang subject ko, iba-iba ang na-aachieve kong hitsura dahil na din sa iba't-ibang hitsura ng bundok at palayan sa iba't-ibang oras sa isang araw." (I would like to be known as a landscape artist. The mountains where I grew up is one of the subjects I am familiar with. Even if I adopted the habit of painting the same subject, I try to achieve different versions of the subject under the different conditions of light at different times of day.)
Llagas has worked as a landscape artist in the medium of oil for many years and is now working in watercolor, bringing another dimension and new possibilities to his landscape paintings. He promises some very different horizons in his future works and is working towards his first exhibition by the end of the year. But for now, Adler Llagas is a talent to watch for he has given us an insight into the workings of his creative mind.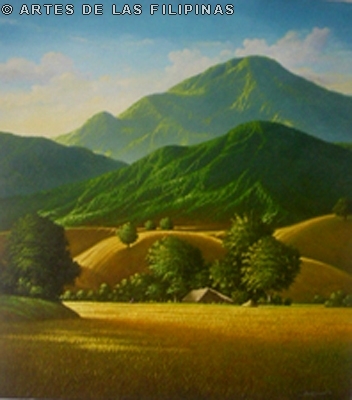 Adler Llagas
"Golden Fields"
44 x 40 inches
2006
oil on canvas
ADLER LLAGAS' GREEN AND YELLOW FIELDS
by: Christiane L. de la Paz