Purveyor of Knowledge and Emerging Publisher of Content and Visually Driven Books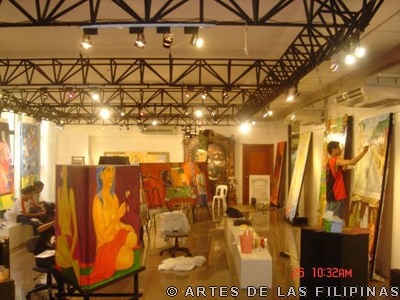 ART COMMENTARY: THEY COME AND GO
by: Mailah Baldemor
I just realized that I have been teaching for almost eight years now. In the beginning, I thought it would be easy as I promise myself that I would only be teaching for five years. I was wrong. I never thought I would stay this long. The hardest thing for me to do was letting go of my students.

I remember that my professor used to tell me that teaching requires dedication and sacrifices. He was right. My life was turned up-side-down. I dedicated more of my time teaching art than painting artworks--a passion that I love.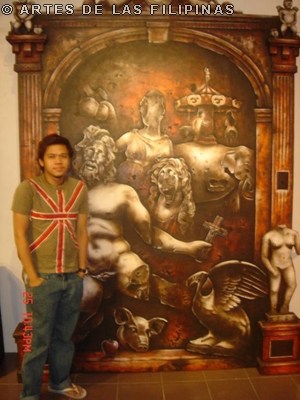 Every year students come and go and each class is different from the other. For all the times I have spent with them, I always learn something new. In school, I handled one of the hardest subjects -- Thesis, but I enjoyed it. Last semester (AY 2005-2006), I never thought that it would changed my life again.

The Painting Batch of 2006 was one of the most difficult classes I had handled. They were all enthusiastic, ingenious, ground-breaking, daring, and forthright. They did not limit themselves with paint but indulged themselves by playing with other media. Some artists I met told me once that "Sometimes rules cannot be broken but can be bent." This batch proved it to be true.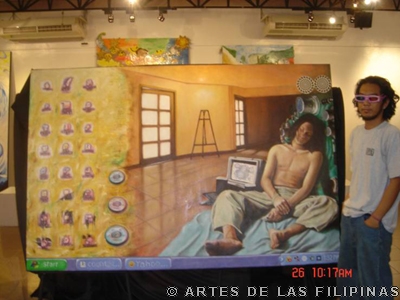 February came and deliberation started then the exhibition, entitled "Gratia Artes: Art for Arts Sake." was opened. There were thirty-six artworks composed of paintings, sculptures, installations and mixed media. Artworks displayed were from four feet high to ten feet. Works were made of plaster of Paris, indigenous materials (bamboo, seeds, rocks, twigs), junks, resin, wood, lawanit, paint, pen and ink, artificial light, cartons, organic (decomposing heart) and artificial objects (chair, needles, rag, television). The topics range from religion to personal matter; representation to non-representational; and materials used and techniques. During the opening, live butterflies were released. People gathered to see the artworks and visitors were amazed that the venue took place at the Beato Angelico Gallery of the University of Santo Tomas.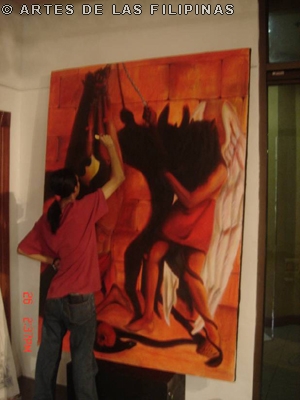 Parents near and far were proud of their children. A parent told me, "Ang ganda ng mga gawa nila. Dapat nga na ipakita yan sa iba kaysa itago lang nila." (All their works are beautiful. Displaying their works was the right thing to do rather than keeping them.) Another visitor commented, "Ah ito pala ang painting, akala ko kasi pagsinabing painting, yung bang nagpipinta lang ng bahay." (I learned that this is what painting is. I thought it was only for painting houses.) It was a pity knowing that there are still people thinking that way but I think the exhibit proved to be a good start to correct it.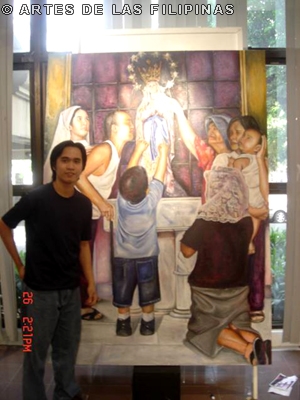 The students who exhibited include Willy Agpaoa, Zyra Mae Alcaraz, Jonas Marcel Baua, Michael Belleza, Marvic Ching, Alvin Claros, Dom Cruz, Eugene Cruz, Mark Jason Cruz, Rainer Ma Cruz, Geanne Marie Dagatan, Jessie de Guzman, Carla Jane Del Rosario, Anna Melissa Domingo, Christina Dominguez, Victor Gagni, Mike Garcia, Raizza Grandezza, Jenilyn Jarin, Lawrence Kabigting, Michael Kao, Enrico Lopez, Kristian Marfil, Don Nemesio Miranda III, Jensen Moreno, Raymond Joseph Olivera, Shiela Oliveros, Vanessa Pegoria, Christina Peletina, Peter Andrew Prado, Rupert Resulta, Helen Grace Eleanor Ricana, Leonard Michael Rosales, John Santos, Kenneth Tangonan, Marianne Angela Uy and Amanda Valisto.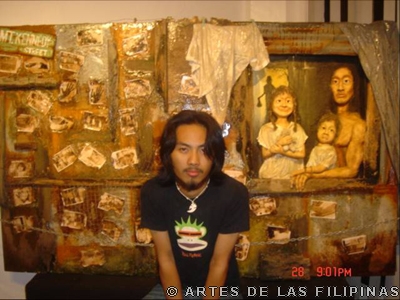 The exhibit lasted for two weeks. The sad part was the last day of the exhibit. The artists and their professors gathered infront of the gallery for a picture taking. One last shot before the show ends. I felt sad. My students asked me what will happen after that day. I told them that the show must go on but with them making on their own. I was proud to be their teacher. I truly was.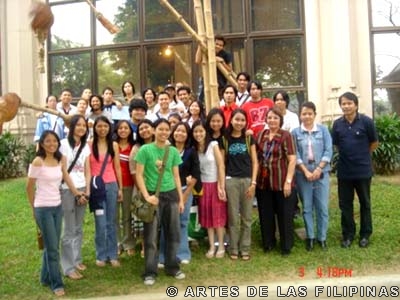 A poem for my students:
As I think back through the years that we have spent together,
I can't help but break down into tears and laughter.
The things we've been through and the things we've done,
They are what have made us all become one.
Yes, we've had our rough times; we've had our good,
No matter the case we all understood.
It's hard to think of leaving it all,
Now who is going to be there when I fall?
I thank you for teaching me
The true meaning of friendship and love
Like paintings, sculptures and installations
That all portrays the beauty of life.
Now that you are graduating this year
It's time you all must move on
You can hold on to the many memories
Look how fast those years have flown
You will now start a new journey in life
And it has just begun
Everything you have accomplished
And not one thing was left undone
I Know God Has Special Plans For You
And I am Sure You Will all Succeed
And He'll Be There To Help You
With Anything You Will Need
I know you will all have much success
As you all go along your way
And the sweet and caring person you've all become
I know you'll always portray
Mailah D. Baldemor