Purveyor of Knowledge and Emerging Publisher of Content and Visually Driven Books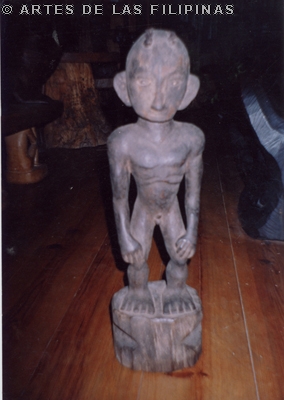 ANTIQUITY: THE HAPAO-HUNGDUAN
BUL-UL
by: Rico Acda
The Hapao bul-ul is normally carved in a standing position. Its knees are slightly flexed with its hands resting on the kneecaps. Each year, for about a century now, the bul-ulís real life family-- the Bumatangís of Magoc, Hungduan, sponsors a village festival in honor of the bul-uls as well as the appeasement of it. The family was convinced that unless it gave the annual party which involves the butchering, roasting, and dispensing of several pigs, sickness would strike the household. This is an old and strictly followed tradition the family observed.
Another Hapao example is the binakle, which has imparted to these bul-ul their distinctive white-blotched surface. This is a religious observance they follow once a year at harvest time in some parts of Ifugao. They slather on bul-ul as nourishment coasting of blood or rice wine. This pair of bul-ul was carved by Yoyog of Pakawal, Hungduan in 1910 and was used yearly in religious ceremonies -- the last occasion being the harvest canao in 1998.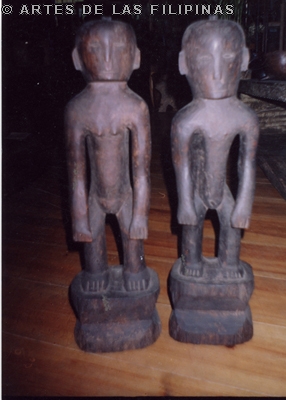 It is apparent that these bul-uls are ceremonial type because of the color of the whole body. The unequal blotched of the surface is an indication that animal blood was being bathed around the figure. The Hapao bul-ul usually has a small patched of hair pegged on top of the head.
The muscularity of the first bul-ul being noted here is somewhat being clearly defined by the carver of Magoc while there is less muscularity in the second one. The second type is somewhat rendered in an elongated body and peripheral arms. It has also a very minimal configuration of ears, nose, eyes, and lips and a portion of the head is somewhat recognizable.
(Rico Acda has written numerous articles on the subject of Bul-ul and other antiquities. He is completing his masteral studies in the University of the Philippines.)