Purveyor of Knowledge and Emerging Publisher of Content and Visually Driven Books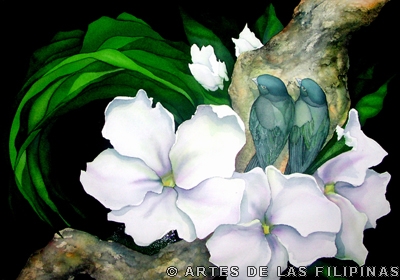 Joven Ignacio
"Kirsten"
17 x 24 inches
2005
Watercolor on paper
THE JOURNEY TO ART OF JOVEN IGNACIO
by: Christiane L. de la Paz
There is something beguiling about painting new and spectacular flora. They infiltrate our reception of images and they carry particular poignancy. The sweetness of a nightingale and the tranquility of white orchids create an airy ambience displaying a shared sensibility: tender, delicate, sensual, graceful, almost reflecting nature's simple perfection. The works of up and coming artist, Joven Ignacio, contribute a visual poetry of their own. The Malaguena (2004), with magnolia flowers and a nymph that lie beneath the leaves strike a sweet note of bashfulness. In Force of Destiny (2003), the palawan peacock parades the artist's ability to capture the sadness of autumn leaves --this piece is a moment captured in the bird's life.

Joven Ignacio
"Malaguena"
24 x 17 inches
2004
Watercolor on paper
Either from external circumstances or personal choice, Ignacio's oeuvre is devoted exclusively to floral and fauna. His subjects are skillfully executed that it is difficult to believe that they reflect anything other than the artist's visual imagination.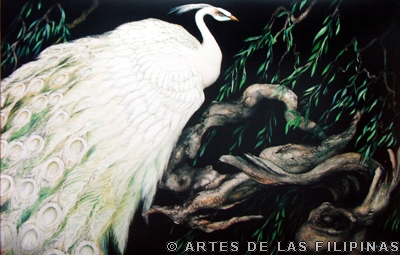 Joven Ignacio
"Chavayan"
24 x 36 inches
Year 2000
Watercolor on paper
The son of a civil engineer and a pharmacist, Jose Bienvenido Ramon (Joven) Ignacio, remembers as a child a trip he made with his father. It was in the seventies. "I was barely twelve when my father brought me to the University of the Philippines College of Fine Arts," he recalls laughing. "He asked me if I wanted to study there. I said, "No." Kasi, dati ang mga hitsura ng mga tao sa Fine Arts, pula ang buhok! (Back then, the students in the UP Fine Arts dyed their hair red.) So I told my Dad, "Ibang course na lang! (I'd rather take another course.) But the person who has influenced me the most is my sister Merch. When she was a Fine Arts student in college, I was always looking at her plates while she was working on them."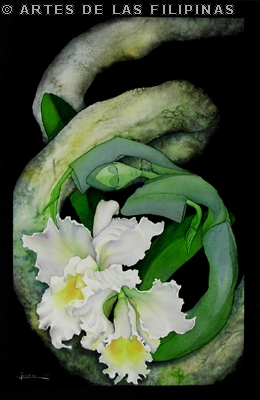 Joven Ignacio
"Kuratsa"
24 x 17 inches
2004
Watercolor on paper
Ignacio eventually ended up taking architecture in college, a course, which he says is related to his father's profession. "After finishing my course in architecture, I was like any regular student. I still had no concrete plan on what to do with my life and how to make a living. I ended up doing a little bit of construction work for my father."
Towards the start of a new and promising career, Ignacio, who at 26, had successfully passed the board exams and was a licensed architect, experienced a renewed burst of energy. He developed an interest in computer-aided design and decided to take short programming courses offered in Ateneo. Ignacio narrates: "At that time, there were a lot of construction going on in Ateneo and Fr. Noel Vasquez who was then the Jesuit provincial, asked me if I can assist him monitor the ongoing constructions at the Social Development Complex. I said, "yes." Ignacio held that job for two years but soon realized he was no longer doing architectural design work and was already absorbed doing mainly administration work. "It was at that point that I informed Fr. Vasquez of my plans to take a post-graduate course abroad," he shares. "He was very supportive of my decision to study again and even gave a recommendation letter to the British Council, with whom I applied for a scholarship."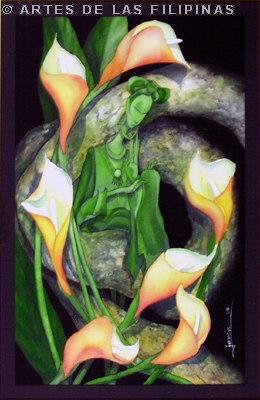 Joven Ignacio
"Udol"
24 x 17 inches
2004
Watercolor on paper
In 1992, Ignacio left the Philippines to pursue a graduate program in England. He was on a scholarship journey -- a study trip sponsored by the British Council of the Philippines given to deserving Filipino students after successfully passing the requirements.
In the University of Sheffield in England, Ignacio took his post-graduate degree on architecture with focus on tropical design. After completing his masteral degree, he was given another opportunity to do further research work on architecture and engineering simulation at the research center in DeMontfort University, Leicester. Visual animation, in the mid-nineties showed strong potentials in the fields of architecture and engineering science. Ignacio focused on simulating 3D visual effects and energy efficient architecture through lighting analysis and computer-aided design tools. This experience broadened Ignacio's interest in 3D computer-aided-design modeling and builidng science that helped in his profession to deliver building projects on a technical level.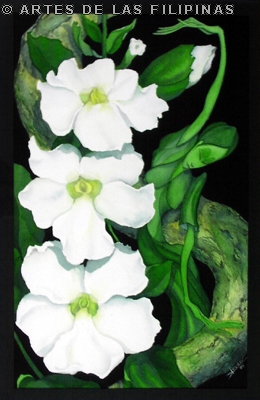 Joven Ignacio
"Kalapati"
24 x 17 inches
2004
Watercolor on paper
While in Europe, he took every opportunity to explore the multitudes of famous buildings and art museums in the United Kingdom, Ireland, Germany, France, Spain, and the Netherlands. This eventually became a turning point for him as he formulated influential ideas on visual art, architecture, aesthetic, and design. He became familiar with the innovations in both fields but was geared on the unity of ideas -- the design of image, color, lighting and composition rather than focused on the notion of "visual invention."
Three and a half years later, however, his scholastic journey was put on hold as he was informed of his father's unexpected heart attack. It was an arduous and lonely journey back home but his decision proved to be particularly significant. "The family looked after my father who was eventually bed-ridden for five years in a semi-conscious state," recalls Ignacio. "I was not able to complete my doctorate degree in DeMontfort because I felt my parents needed us more than getting a diploma from a prestigious university. I could always take it again next time."
Ignacio came back to the Philippines to help the family watch over his father who eventually died from heart failure in 2001. "It was a traumatic experience for everyone in the family," he shares, "but we all had to be strong and accept it and move on with our lives."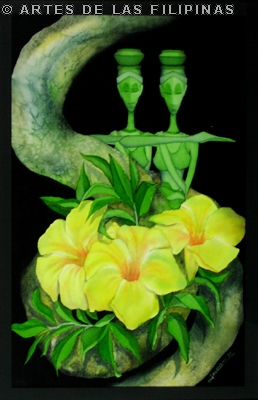 Joven Ignacio
"Banga"
24 x 17 inches
2004
Watercolor on paper
It was during this time that he started looking into the whole idea of pursuing his love for painting for consolation. "Art became a healing experience for me. It saved my life in many ways! Naging makulay ang mundo ko. (My life has become colorful.) The people that I met, the patience that I developed, and the understanding and empathy I learned from others were just some of the changes brought about by art in my life."
Never obtained a formal training in the fine arts, Ignacio believes that art is not always taught. In his own words, he explains, "some people have an inborn talent to it. I know of a few artists who didn't have any formal training but produce magnificent works of art. Pero sa dinami-dami kong kilalang artists, mas humahanga ako sa hindi tinuruan tapos ang gagaling ng trabaho." (Among all the artists I know, the ones I respect the most are the ones who never had any formal training in art yet they create impressive works.) "Felipe Mayoya, a watercolor realist was not afforded an opportunity to study but overcame the difficulties of hard life by producing impressive watercolor art rendered in pointillism. Mayoya was only able to finish Grade 6 and was once a sorbetero, and a gardener in Baguio."

Ignacio's determination motivated him even more to try harder to pursue his love for art and architecture. He laboriously experimented on watercolor as he had always composed his project presentations as a college student with this medium. It took Ignacio several years, however, to develop his accuracy and attention to detail that is now associated with his work.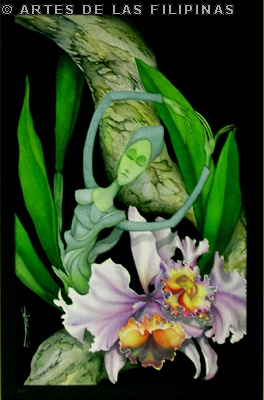 Joven Ignacio
"Pamulinawen"
24 x 17 inches
2004
Watercolor on paper
"My sister, Merch, advised me to show my work to an artist just to give me an idea if my work was good or not," says Ignacio. "The artist she recommended at that time was her professor in the UP College of Fine Arts, Dean Napoleon Abueva. This was in 1998, a year after I came back from England. I had no exposure to the Philippine art scene except through my sister. I was just into all aspects of architecture so I had no idea of the National Artists we have here. I went to visit Mr. Abueva in his house and showed him my works and ask for some piece of advice. Mr. Abueva told me this: "Mr. Ignacio, though I'm an artist, I'm not a painter. I'm a sculptor so I could not help you much on the finer techniques of your medium. But I like your art."
Abueva suggested Ignacio to see Araceli Dans, a stature in Philippine art, who is best admired for her watercolor paintings of flowers and laces. He drew inspiration from her and had closely studied her works and appreciated more the natural spontaneous expression of the watercolor medium. He painted in his spare time and recalls some moments when he would wake up in the middle of the night by the calling of his brush. It took him several years, however, to develop his accuracy and attention to detail that is now associated with his work.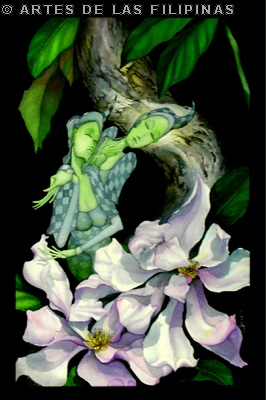 Joven Ignacio
"Itik-Itik"
24 x 17 inches
2005
Watercolor on paper
"My first exhibit took place in the British Council of the Philippines. When I came back from my studies in Europe, I paid a courtesy call to thank them for awarding me the scholarship. Mr. Abueva also pushed me to exhibit my works. I had about thirty works to show and they were mostly birds and flowers. Out of the thirty works, I was able to sell twenty-seven paintings on the opening night and eventually sold all except for one work which I still hold on to. The exhibit was entitled, "First Flight." I attribute that to the two years we were looking after my father in the intensive care because his room was always surrounded with flowers."
Ignacio's decision to turn his attention to painting exotic birds and flowers was inspired by the symbolic and intrinsic properties of his chosen subject. While each kind of bird is assigned a special meaning, the artist, in general, favors it as a symbol of beauty and the transitory nature of life. To him, birds represent the cycle of life and are important element in rituals and ceremonies. His interest in nature and the behavior of light on surfaces comes from his architectural training in Europe. In his Philippine dancer's series, nymphs, likewise represent certain deities and are associated with cultural beliefs. The artist espoused a conservative and realistic approach to his subjects with a sense of luminosity and spirituality in nature.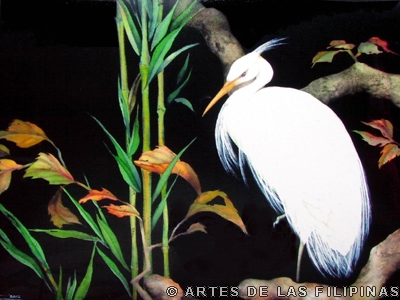 Joven Ignacio
"Bokanegra"
36 x 48 inches
2000
Watercolor on paper

Recognition for his talent came when his work, Bokanegra, was a runner up in the Kulay sa Tubig Watercolor Annual competition. Ignacio considers this as his most important work. He had completely absorbed the lessons from her mentors the idea that the background of the painting is as significant as the foreground. He understood that setting the background in contrast with the subject would capture the immediacy of vision. The direct outward gaze of the white peacock, that disregards the viewer, makes it independent and creates an effect of mysterious distance -- a world on its own.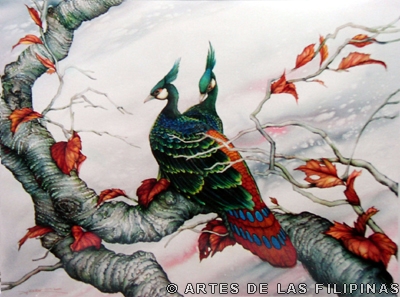 Joven Ignacio
"Force of Destiny"
24 x 36 inches
2003
Watercolor on paper
In "Force of Destiny" (2002), the pheasant is in its natural setting, showing the poetry inherent in nature similarly found in Chinese paintings. In this work, the artist highlighted the beauty of the male bird's long tail fanned out in display for the female bird to take notice. The use of red in showcasing the bird's tail and the falling leaves against a winter landscape suggest strong emotions of life, vitality, passion, and aggression. The downward direction of the bird's tail, the maple leaves falling off their branches, and the coarseness of the tree all suggest the passing of time. The falling off the leaves itself is a reminder that all things end. The youth and beauty of the figures imply their current state that they too will age and that their beauty will fade. Ignacio paints this beautiful scene in the life a bird instilled with the theme of a strong sense of loss. With this work, he found himself ready to embark on a series of paintings of Philippine birds which have since been the cornerstone of his works.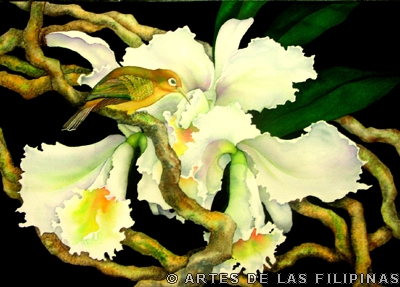 Joven Ignacio
"Rachelle"
17 x 24 inches
2005
Watercolor on paper
Ignacio's works now portray Philippine birds and flowers, usually in their natural settings. His bird series of paintings are characterized by delicate style and stressed the artistic effect of wash painting. Passionato (1998), Kirsten (2005) and Rachelle (2005) were his representative works. The internal drama of the artists on these paintings was derived from the way he uses the watercolor's propensity to drip to his own advantage by taming it with light strokes of colors that displays the artist's own power and discipline.
The success of Ignacio's works developed a large following as well as requests from discerning art patrons. The artist is no less than thrilled when collectors convey their likeness to his works. "I feel good when buyers are generous to tell what they feel about my works," he says. "A collector once told me, "It surely is nice to see your painting with my cup of coffee." I was flattered to hear that."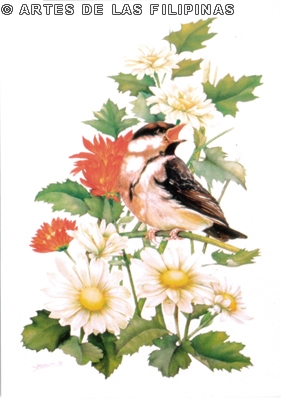 Joven Ignacio
"Passionato"
21 x 15 inches
1998
Watercolor on paper
As Ignacio matures as an artist, he continues to jolt viewers with works that are remarkable for their simplicity and brilliance of their conception. By artfully rendering familiar environments, Ignacio's works give what good art gives – gently poetic, completely satisfying, and quiet portrayal of his subjects -- which only a man of utmost discipline can realize and embody. "When I'm gone, I just simply like the viewer to have a smile on their face when they look at my works."