Purveyor of Knowledge and Emerging Publisher of Content and Visually Driven Books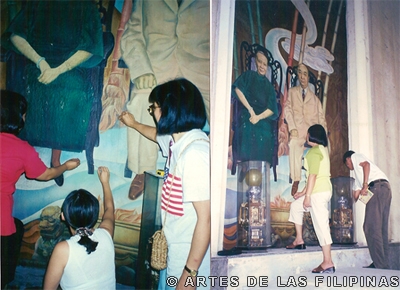 ART RESTORER: JUNE POTICAR DALISAY
by: Christiane L. de la Paz
"I love my job because it challenges my person," says artist and art restorer, June Dalisay. "It's a relationship between myself and the object infront of me. I have always wanted to become a doctor but we could not afford it back then so to me my job challenges my skills in handling tools. It gives me so much joy and pride after seeing what I have done with the object restored."
The practice of scientific art conservation is a fairly young field of knowledge in the Philippines, despite the large amount and variety of great artworks requiring restoration and conservation. To meet this need, Art Conservation and Restoration Specialists, Inc. (ACES) was organized and incorporated in 2000 by a group of scientific conservators which include Amelita Guillermo, Louella Revilla, Roberto Balarbar, Willie Estonanto, Larry Cruz, Raymundo Esguerra, and June Dalisay.
June Dalisay talks about her job and the skills, knowledge, and abilities required. She provides insights on some of the art objects she has restored and the great deal of enjoyment out of restoring them. She also informs collectors of the preservation of artworks, their protection from future damage, and the importance of creation, understanding, and maintenance of material culture.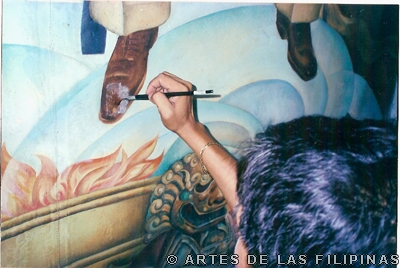 How did you get started with being an art restorer?
It was in 1991 when I first attended a lecture on art restoration given by a Filipino from Australia. That sparked my interest and led me eventually into the circle of Filipino conservators.
Could you explain the difference between art conservator and art restorer?
The primary concern of a conservator is to stabilize or minimize the destructive effects of the environment in which an object is displayed or housed. So a conservator would check the temperature, humidity, lighting, storage area and storage system. A restorer repairs physical damages on an object with the use of special tools, chemicals, adhesives, and other materials.
What are the requirements in becoming a restorer?
One must study and undergo training in scientific conservation and restoration. This course is not taught in any school or university in the country. However, one can be trained by becoming an apprentice.
A good restorer must possess an analytical mind, a scientific outlook and an artist's sensitivity, integrity and self-respect.
Could a person with no background in fine arts become one?
Yes, if he or she has the genuine interest.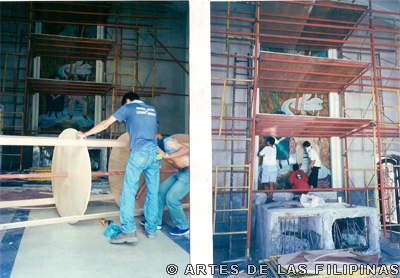 How does a photographer contribute in art restoration?
A photographer's work and presence is very important because he documents all procedures before during and after restoration. His photographs serve as proofs and guides the next conservator/restorer in future restorative work.
What is the duty of an architect in art restoration?
The architect's main concern is structure, a structure that houses and protects a collection. He is also involved in restoration of old houses and buildings. He works with an interior designer in planning and lay-outing art objects for exhibitions as well as for storage.
What does a chemist contribute in art restoration?
A chemist analyzes, measures and prepares different kinds of glues, adhesives and helps in the preparation of different kinds of glues. Glue for cracks, sealing, re-attaching a paint layer to the ground. There is another kind of glue that chemist use in attaching strips of cloth around the edge to lengthen the tacking edge of the painting.
What is the duty of an interior planner and designer in art restoration?
It is a known fact that we use the outer space like a garden to exhibit artworks so interior planners not only help in the layout and design of the exhibit area, they also facilitate in the layout and placement of artworks outside of a structure.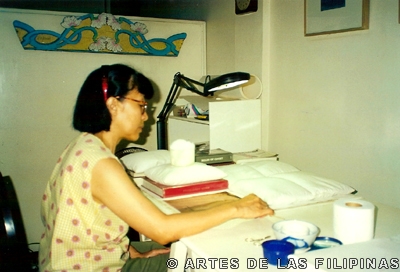 Can someone just claim to be an art restorer without the proper training?
No, definitely not. It's like saying, "Can somebody be a doctor without going through a training?" In the same manner, one has to study and train before someone can call himself a scientific conservator and restorer.
How did Art Conservation and Restoration Specialists, Inc. (ACES) come about?
ACES was established in 2001 after we graduated from this intensive training in advanced restoration sponsored by the Agencias Española. We were the first, the only, and the last group to be trained so in effect we, as graduates, should be the ones to teach this course eventually.

Are there many other organizations here that do the same thing that you do?
As far as I know, there are only 3 groups that do restoration. There are private restorers but our group is the bigger one. I'd like to think that our group is the more active at the moment.
Are you friends with them?
Yes, but some of them felt bad because they thought our group was unprepared to form an organization. Maybe they could not accept that we had the guts and the courage to form a group because our members are more professional, well-grounded, and have post-graduate degrees. At this point, I make sure that young conservators that we invite, accept, and train have degrees.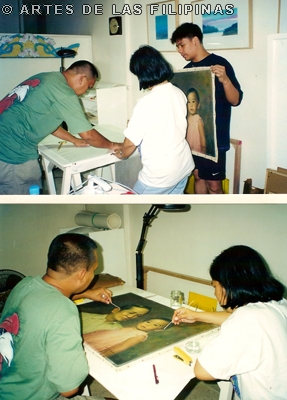 What are the principles that your profession follow?
A restorer should never alter an artwork. He should respect the artist's intention. He follows accepted scientific procedures and interventions using the best possible materials. He must always work with a reliable and trained chemist, artist, and other individuals in related fields. In short he works with a team of responsible individuals.
Is authentication part of your practice?
No, but we help in authentication by checking and making a pin session analysis of the painting. To do this, we take a very small piece of paint layer in one corner of a painting then sandwich it between a transparent resin. We then sand it until it becomes as thin as a paper then we put it under a microscope. Under the microscope, we're be able see the strata of a paint layer. For example, from my studies of Amorsolo paintings, he would always apply on his primed canvas, a dark gray undercoating. The correct way of preparing a canvas is this way. You wash the canvas then you dry it then iron it. When you leave the canvas in the water, you should stretch it. When you take it out of the water, you should stretch it over a bastidor then you apply a rabbit skin glue.
Why is this relevant in authenticating an object?
This procedure ascertains and establishes the correctness of one's position and beliefs concerning the authenticity of an artwork.
Would you be able to tell if a work presented to you is authentic or not?
In some instances, yes, for the reason that I'm an artist myself. There was this Amorsolo painting that my husband saw on Ebay. The painting was in the United States. We downloaded the image to study it. I felt disturbed the longer I looked at it. Something was not right with the image so I compared it with another Amorsolo painting that I saw before. Amorsolo had this habit of repeating the same subject in different perspectives. I came to the conclusion that it is not an Amorsolo from the anatomy of the subject. The painting must have been done by a pupil of him as students copy the works of their teacher.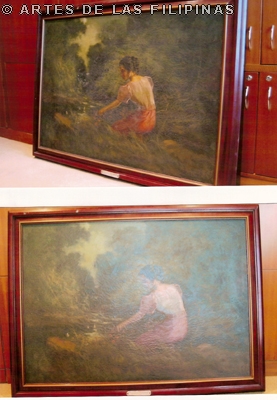 Why is an Amorsolo always the first to be forged?
Because it commands a very good price in the market. If a seller gets away with it, then good for the person. There are some people who are gullible in the art market so they buy because it is an Amorsolo. They would take a chance even if there are no authenticated papers that go with the work.
Do you restore artworks by collectors whose artworks you perceive to be fake?
I have not encountered one. I don't know if we ever restored fake artworks. We restored artworks regardless if it is fake or not. That is not our concern but if I realized that the artwork is fake, I would inform the client. But again, it never happened to us, not yet. Our clients are from big companies, institutions, and respected art collectors like Jaime Laya, Alyon, Mr. Sycip, etc.
Do you restore artworks whose works are done by artists who are still alive? What are the rules with regards to authorship?
We have done a few. But no radical procedures of interventions were used. Most of the time, the problem would be cracks. Ideally, the owner should inform the artist about his decision to have the artwork restored.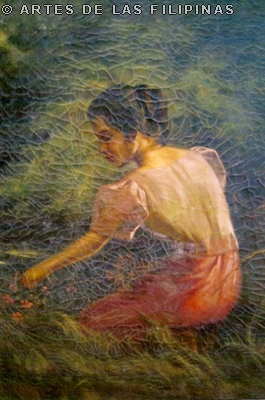 Have you restored any works of foreign masters?
Yes, I restored an oil painting owned by Fernando Zobel, a portrait of a young tribal girl painted by a Chinese. There is this well-known contemporary British painter, whose name I could not remember, who uses colored chalk as his medium. This is a painting owned by Sofia Zobel. She has a very good art collection.
How do you go about in restoring a wood sculpture?
A wooden sculpture would usually mean a santo, retablo or an icon. The usual problems are paint losses and cracks. Sculpted santos with paint loss problems are approached the same way we approach a painting on canvas. The only difference is that one is 3 dimensional and the other is on a 2 dimensional plane. Of course, there are some techniques that can only be used on sculptures and vice versa.Our batch was the first and the last to be trained in restoration of polychrome sculptures.
Can a bronze or metal sculpture be restored?
Definitely. The kalawang (rust) that you see in bronze sculptures is part of the charm and beauty of the piece. It develops this greenish patina and it adds to the charm of the sculpture. Personally, I have not restored any metal objects but the members of my team have done some works on this.
What has been the most challenging project your organization has restored?
The most challenging was the Yuchengco mural and the Spoliarium of Juan Luna.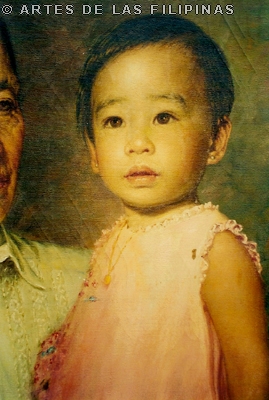 Have you restored an artwork that has been restored by other restorers?
Yes, we have. We have not encountered any problems. In fact we are able to have a better understanding of a restorer by the way he does his work.
In restoring, could you tell the age of the artwork or sculpture?
No, unless if you are an art historian you would know through available documents and the development of arts through the years -- its style, its techniques but this is not the concern of art restorers.
How different is your practice and procedure in art restoration from those of other countries?
They are the same except that we do not have the advanced equipment and tools to assist us in our work but the procedures are the done in the same way.
What equipment do we lack here?
An example would be the suction machine to seal the cracks, to re-attach the paint layers to the ground instead of using a small iron. The suction machine is used in special cases. Also they have x-ray machines designed for paintings, and equipment that analyzes chemical and material compositions.
Which museum do we have whose collection should be restored?
I have not seen the entire collection of the National Museum but they have many paintings in their collection that need to be restored. The problem of the National Museum is that it is a government institution and they lack funds in preserving their collection so it's very difficult to buy materials and chemicals to preserve them. We have government –funded museums that have collections in need of repair. They have the same problems as the National Museum.
Could you give an idea how much to have an artwork restored?
A client would go to our office or we go to the client's house if the painting is huge, then we assess how extensive and serious the damages are. Unless we assess we would never be able to compute because treatment proposal are based on the assessment. There are some people who would call me to ask but we never conduct business over the phone. Our team needs to see the artwork.
If the amount of work to be restored is higher than the value of the object, is it worth restoring it?
A client asked me this question once and I told her that an artwork whether done by an amateur but has deep sentimental value makes the artwork worthy of being restored (even if bought at a very cheap price).
How do you update your knowledge in restoration?
In my case, I am a member of an interdisciplinary forum on conservation online. Some members are sent abroad to attend conferences or trainings and they come back to share with us their knowledge. We also order books abroad and we share with each other new learning.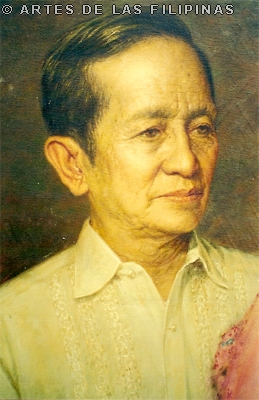 Do you see yourself doing restoration work until maybe twenty more years?
At a certain point, I may not be able to do scaffolding. Maybe I can do simpler procedures like retouching and other activities that are not physically exhausting. Until I have my eyes, my fingers, my hands, and my mind, I will continue to restore art objects.
What are the common damages to oil artworks?
Molds because of the high humidity in the Philippines. Stains, paint loses, dents, abrasions.
What are the common damage to paper artworks?
Paper artworks are difficult to take care so at a certain point molds grow on the surface especially if the paper is acidic.
How do collectors avoid these factors? How should they care for their collection?
One should identify the most stable room in the house or the building. A conservator should come in to check the temperature and humidity of the place. At the moment, all I can say is always choose the North-South direction not the East-West where the sun rises and sets. Make sure that the artworks are not exposed to water and strong natural or artificial lights.