Purveyor of Knowledge and Emerging Publisher of Content and Visually Driven Books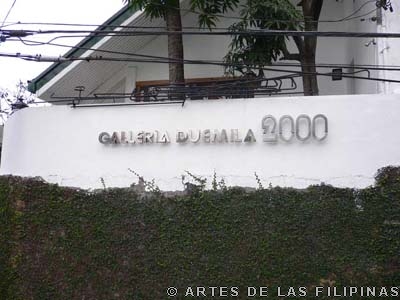 GALLERY OWNER: SILVANA ANCELLOTTI-DIAZ
OF GALLERIA DUEMILA
by: Christiane L. de la Paz

Italian-born beauty Silvanna Ancelloti-Diaz has spent the last thirty-two years in the Philippines promoting and exhibiting the works of the country's blue-chip and contemporary artists. After settling in Manila, following a long stay in New York, she tried her hands on organizing exhibitions for Miladay gallery, together with pilot-artist Lino Severino, and eventually moved on to open a gallery of her own.

On December 5, 1975, three years after the Martial Law, Diaz opened Gallerie Duemila in Vermida building in Makati City. Duemila, in Italian, means twentieth century contemporary modern art. In a country that cherishes its past, Gallerie Duemila has truly become an unlikely landmark. She introduced modern art to Filipino and foreign collectors and has brought our local artists to international fame and recognition. She also holds the distinction of running the oldest gallery in existence in the country. In this interview, Silvanna Diaz talks about her experiences, roles and responsibilities as founder and artistic director of Gallerie Duemila.

How did you get started with art dealing?
In 1974, after moving to the Philippines from Italy to get married, I worked in an art gallery "Miladay Art Center" situated in Makati. The Ayala QUAD, what is now Glorietta Center used to house 2 art galleries with big spaces. One was Quad Gallery owned by Alejandro Roces and the other Miladay Art Center owned by Mila Dayrid, the famous jeweler and Lino Severino, who was the Artistic Director and an artist himself; famous for his "Vanishing Scene" subject.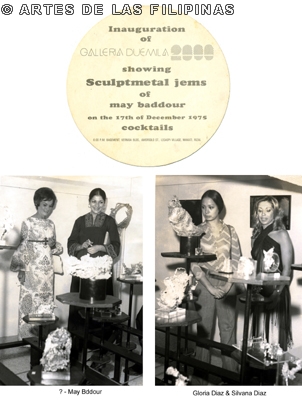 What happened afterwards?
When the owner decided to close the gallery, I was so broken hearted that I decided to open my own. My dearest friend, Ms. Christy Pagaspas Hagedorn was partner.Together, we opened on Dec. 5, 1975, Galleria Duemila situated in Vernida Building, Amorsolo St., Makati. In 1975, we formed the group called Samahang Tubiglay with Vicente Manansala, as head member, Romulo Olazo, Lino Severino, Edgar Doctor, Ang Kiukok and many more watercolorists of that time. We planned to have a major activity once a year. I was elected as the secretary of the group.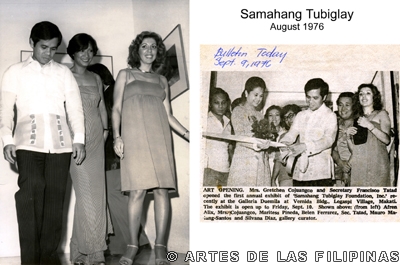 How did the market accept your first attempt to sell?
The gallery at that time was not making enough money to support related events and so I was taking extra jobs like working part time as interpreter for the Italian Embassy Trade missions since I speak Italian, French, and English.

What are some of the problems that you encountered when you were starting?

It was slow moving and difficult. The reason was that my interest lay very much in modern art and at that time, it was a novelty, not very much understood nor appreciated, but through perseverance was proven right as all the artists mentioned above became very notable and even National artists of the country.
What are the standards that you follow when choosing which artists to sell or exhibit?
The artists are chosen for their unique original contemporary creativity. I am exposed to many exhibitions here and abroad by attending and visiting their studios. And one of those things I observed is that one characteristics of a passionate and dedicated gallery is that the artworks are never seen as goods to be sold. I relate to the artist and each and every work that comes to my door. Part of my service is also to document the careers of each of the artists that I carry. Thus, when a client or interior designer asks me to see a location where they need paintings, I am armed with both the knowledge and experience to suggest artworks that best fit the client and the ambiance that he has created around himself.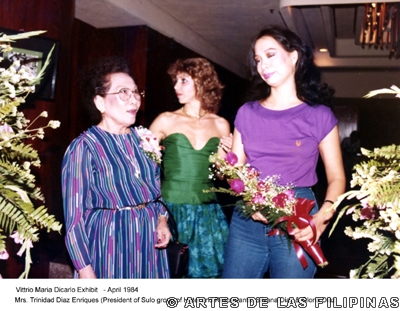 What is the set up of your exhibition space here in Loring, Pasay?

Galleria Duemila building has two galleries here in the compound. Sometimes, one artist may use both spaces, other times two artists simultaneously. I organize one exhibit a month and we accept proposal for exhibition from curators and artists.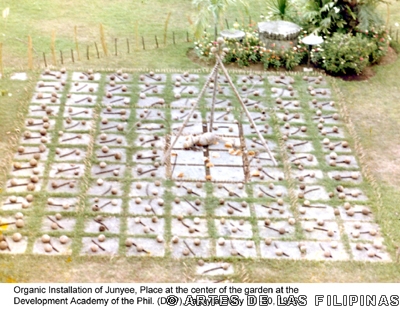 How many times in a year can one artist exhibit in your gallery?

Before, there were fewer artists. Artists would mount one-man exhibition once a year and they were very concerned with the quality of their work. They were more selective about which works would represent them.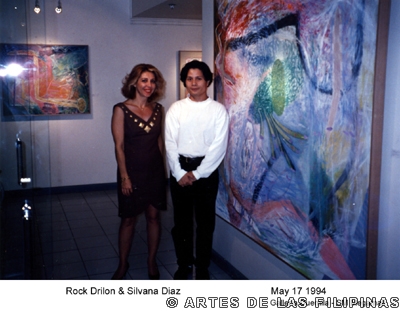 Does that still apply today? Some artists have more than one exhibit here and abroad.
Today, the whole system has changed. There are many more places that exhibit artworks so we can find a little art everywhere. Before, we had artists that were known to be exhibiting only in one gallery or two. Today, such exclusivity is rare.
Why did you decide to focus on selling the works of Filipino artists?

The Philippines has many excellent artists. All the ones listed below that I have the pleasure to exhibit are some of the best the country has and many more are represented by other reputable galleries in the country.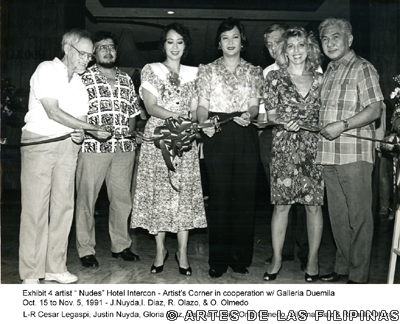 Who are among the artists that you sell and exhibit?
Pacita Abad, Lee Aguinaldo, Leonardo Aguinaldo, Gus Albor, Alfredo Juan Aquilizan, Virgilio "Pandy" Aviado, Gabby Barredo, Ben Cabrera, Norberto "Lito" Carating, Ed Castrillo, Valeria Cavestany, Lina Llaguno Ciani, Maria Cruz, Charlie Co, Edwin Coscolluella, Jon Cuyson, R. M. De Leon, Duddley Diaz, Isabel Diaz, Ramon Diaz, Kiko Escora, Lamberto Hechanova, Nilo Ilarde, Lianben Lao, Raul Lebajo, Gerry Leonardo, Julie Lluch, Arturo Luz, Shoko Mafune, Fernando Modesto, Jerry Elizalde-Navarro, Justin Nuyda, Jonathan Olazo, Romulo Olazo, Onib Olmedo, Impy Pilapil, Dan Rarallo, Roberto M. A. Robles, Ginés Sèrran-Pàgan, Tony Twigg, Denise Weldon, Betsy Westendorp, Edwin Wilwayco, Luis "Junyee" Yee, Jr., Phyllis Zaballero.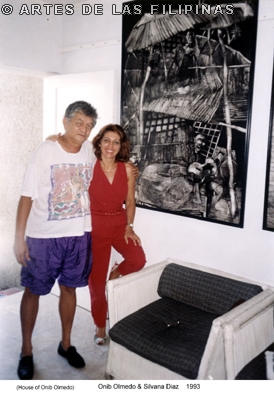 In the international art scene, which among the artists whose works you follow or admire?

Giacometti Tapies, Paul K. Lee, Pollock, Marini, Kiefer, Brancusi, Chilida, Bill Viola, Zaha Hadid and really so much more. These artists have made the world change the way they see innovation and creativity. Affecting the mindset of humanity is something special and a feat that deserves admiration.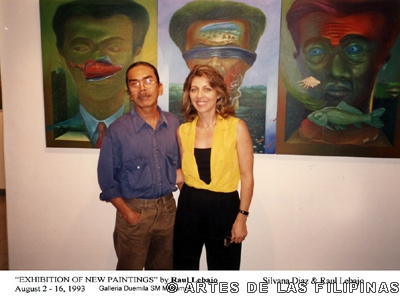 What about our local artists?
The modernists – Luz, Zobel, Legaspi, H. R. Ocampo.

What are the responsibilities of a gallery to an artist? Does exclusivity work in your gallery?
When an artist is exclusive to Galleria Duemila, we promote him into international magazines, exhibitions. We expose him to different dealers – we invest in him and make sure that he gets exposure through the media and access to our network of artistic institutions.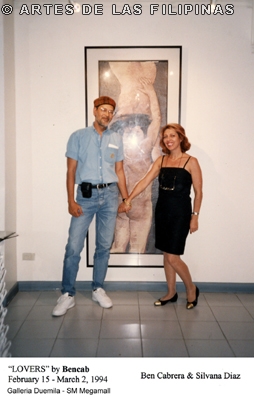 How do you handle a situation when your artists sell from home?
It depends on who the artist is and his way of selling. The gallery respects and deals with the artist that sells his work from his house at the same price as he sells it in the gallery that represents him.

What is it that you require from your artist when you start carrying their works in your gallery?
The bond of trust and respect are essential in our business. The gallery promotes the artist's works through documentation, exhibitions, lectures, publicity and projects as well as introductions to museums and institutions locally and internationally. It's a long term relationship and not just a transactional one.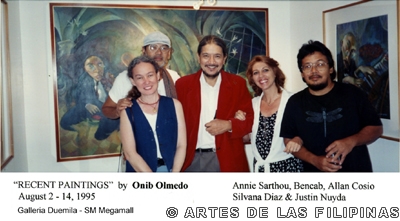 What is the advantage of situating a gallery in a mall?
Before, I had a gallery in SM Megamall which stayed there for thirteen years. At the start, I saw the necessity of such new location because it would expose the art of the contemporary artists to all sections of society. This awareness, I thought, is essential for the growth of the aesthetic value and culture.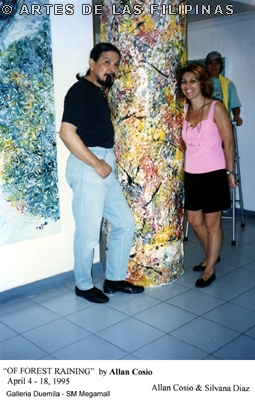 Why did you decide to move out after thirteen years?
There were changes in the mall environment and it was time for me to make a move so I built an exhibition building that can accommodate not only exhibitions but also installations, conferences and videos. We sometimes even have sculptors use our power tools to create their works when they are in town. In a few words, I've created a new playground for more artistic events after I close the gallery in Megamall.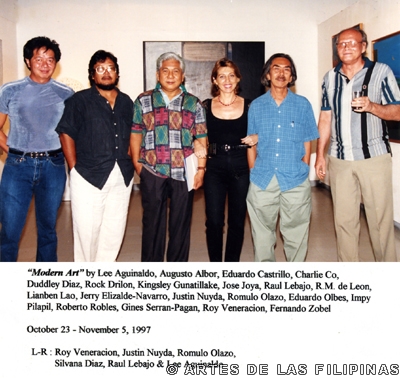 Let's say a person walks in to your gallery, would you know which works will suit him?
No but few key questions will make me aware of the knowledge of the person that I meet, what surrounds him but his house will show his taste. His house is the give away.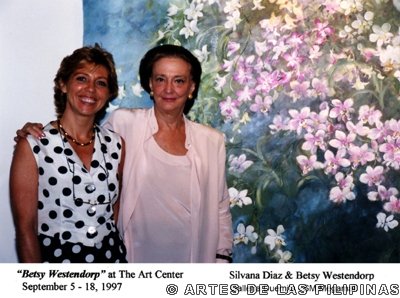 Can you describe a "real" collector?
A real collector is the person that really loves the works of art, goes out of his way to know all there is about the artists that interests him. He collects the artist's works throughout his different periods in his career. A collector then is one that identifies himself to the creation of one or more artists. Art collecting is not a monogamous relationship.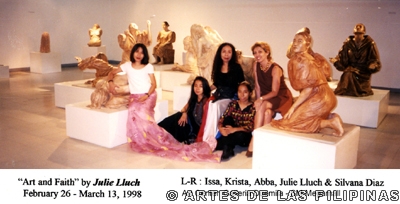 Do you influence your artist on what to create?

No. Never. It is possible to discuss and interact about a project, but the artist is free to create his art. The gallery is there to take care of many of the other issues surrounding the exhibition. This trust is what makes a gallery and artist grow together.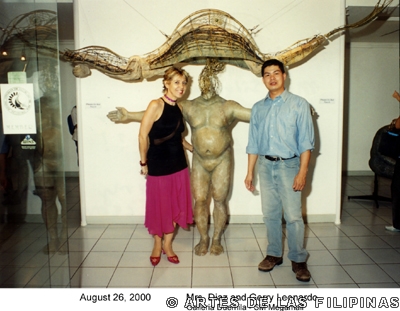 Has your gallery been involved in an issue in the past?
We had an issue in the past on matters of authenticity but we were able to prove we were correct through documentation, research, and diligent archive research.

What did you learn from that incident or in your practice of art dealing in general?
To love, protect, respect and document the works of the artist because someday it will become our cultural heritage.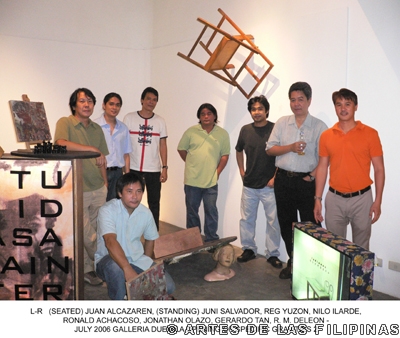 What is the bulk of the stocks in your gallery?

Most of the paintings in the gallery are from the exhibitions of the artists while others are from the artists themselves and some are from private collections.
Is the 30-40% mark up standard to all galleries, your gallery?
It is the standard commission, but we seldom net that. Filipinos are very good bargainers.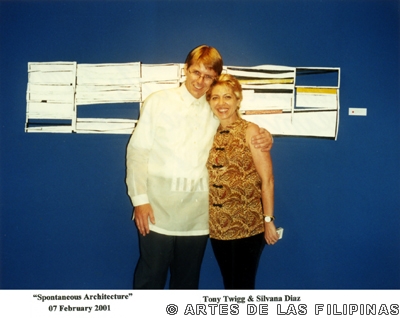 Tell me what you think of the following players in the art field?
Art Writers –They relate the passing of the different trends and their writing initiates debate and analysis which stimulates the dialogue about the art. This debate inspires inspiration as well so art critics are not just archivists of Art's movement but active change agents in its development.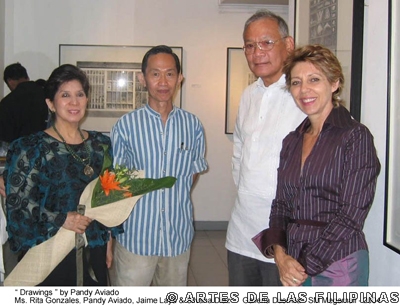 Art Critics -- They are a vital force in the life of a Museum. He organizes exhibitions and its documentation. His judgment is key to art acquisitions. As head of Museum and Cultural Institutions, he must have vision of the museum's direction and great knowledge of the history of Art to be able to present to the public worthy cultural events. In essence, a curator is a gatekeeper of our culture and identity as a people.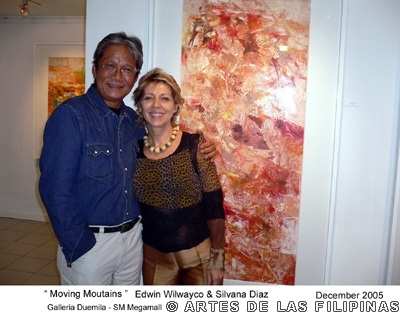 Artists --They are the soul and blood of the country with their unique individual minds and vision. They reflect who we are as a people and what we have created as Filipinos, as individuals, or just as simple human beings. Artists also are the wheel that makes art move and they continue creation. Money makes the world go round and though artists will always create paintings, the industry allows them to pursue their passion full-time.
Which among these players are the most important?
The artists, of course, but all are indispensable players that are needed to achieve the overall success of a national cultural identity. Each of them plays a valuable part in increasing awareness that people need cultural growth, a sense of identity as a people, just as much as they also need economic growth.
These days, what are some of the new ways you promote your artists in Gallerie Duemila?
I continuously propose interesting exhibitions and lectures, sometimes cultural events and congregating artists and clients. It's all about getting the word of mouth going. Nothing can beat this interaction. I learn from all the guests who come to the gallery and I do my best to share the knowledge that I have as well. When both come out having learned something great, recommendations are sure to follow.
What is it that you love as an Artistic Director of Galleria Duemila?

The excitement I get from discovering beautiful works and learning the process of their creation. I deal with so many interesting people and this is career is a fascinating continuous learning process that keeps me feeling young and vibrant.