Purveyor of Knowledge and Emerging Publisher of Content and Visually Driven Books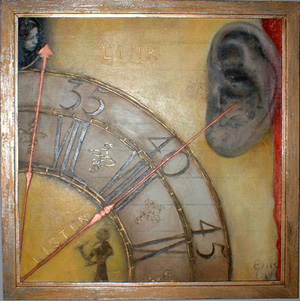 Pamela Yan
"Time is Gold"
Oil on Canvas
20' x 20'
undated
Reggie Quimbo Collection
ART COLLECTOR: REGGIE QUIMBO
by Christiane L. de la Paz
I interviewed Reggie Quimbo over the phone a few days before this conversation. When we met in his residence, he took me to the two-floored space, which serves both as his family's ancestral house and his daily retreat. Reggie's dimly lit and airy garret resembles a gallery with its pristine white walls and ceiling spotlights. The white walls create a subtle but eye-catching backdrop in his space. His pieces are huge, almost murals. They are carefully enhanced by the location in which they are placed. Looking closely at his pieces, they don't come out as very powerful but looking at them from a distance, his pieces serve as artifacts that are displayed on fixed sites that make them very significant.
Reggie Quimbo welcomed me with a warm and friendly hello. He gave me a tour in all the rooms where he displays his collections. A young lawyer at 42 and a UP Law professor for twelve years, he is the seventh child among ten children. He comes from a family of lawyers who seriously love art.
"My brother Rico and Dr. Cuanang had the biggest influence on my exposure to art. Rico, who is a doctor and who also collects art brought me along with him during art exhibits. I would seriously listen to their conversation. Dr. Cuanang, on the other hand, who is also a good friend of Rico would always invite us to see the works of artists who would exhibit in his Pinto Gallery."
Reggie says that he kept many of the works he saw catalogued on his mind until he considered buying his first painting. "I have been teaching in UP since 1991 and I never collected my salary until the time that the secretary called my attention that I had this amount on my savings. I thought of buying something that would remind me of the hard work I put into teaching. That was the story of my first purchase. "
"In my younger years, I would buy posters from the Museum of Modern Art and display them in my room because that was our first exposure in humanities class, we're not taught to know of Philippine art right away. I don't think there is anyone who goes to college and studies humanities and says, "Oh I like a Borlongan!" Our exposure to art is so Western that we learn about Dali, Michaelangelo, da Vinci before we learn about de la Rosa, Amorsolo, or Juan Luna."
"After that stage, I went into liking the beautiful, the colorful, the Renoir then I went to the phase of liking monochromatic pieces. I have transcended from this level of art appreciation and began looking at artworks on a deeper level. I began to appreciate the hard work put into the piece. I always think that when you're a young artist, you should begin with something that will show how hard you work and how detailed your work is, how passionate you are about this work rather than merely starting with abstraction. Mario Parial, an old master, for instance, does not need to prove himself to anyone but you can still see the hard work in his paintings. There is also Rodel Tapaya Garcia, a young artist, who works like an old hand."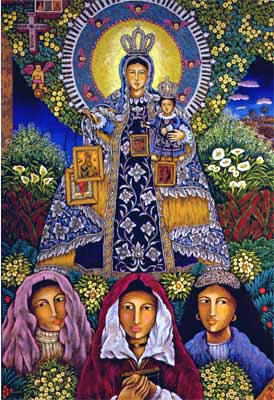 Mario Parial
"Nuestra Senora del Carmen"
Acrylic on Canvas
48' x 36'
1985
Reggie Quimbo Collection
Reggie's early paintings focused on realist-expressionist works by Ferdie Montemayor, Tony Leaño, and Elmer Borlongan "Elmer Borlongan was somebody whose works I found ugly, distorted, and absurd in the beginning. But I have learned to really appreciate his work because I realized that Elmer, Ferdie, and Tony are artists who are serious about their craft. They sacrifice commercialism and value their art in a way that they think is serious, an intellectual creation, and with authorship. To me these are the artists who will pass the test of time."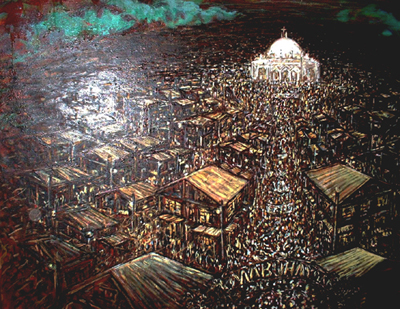 Ferdinand Montemayor
"Fiesta sa Antipolo"
Oil on Canvas
36' x 48'
2001
Reggie Quimbo Collection

One of Reggie's strongest beliefs is that the essence of art is the idea and the process of its creation. "From my level of art appreciation, I get turned off with artists who copy somebody else's work. I think that these artists should not represent to the world that those are his works because they were copied. There is a mental process involved in making art as compared to just copying. Hindi talaga ako bilib sa mga ganon."
Vitally important to him is supporting the works of artists whom he finds serious in their craft. This is evident in his collections in almost all the areas of his home and office. His collection of works now includes those of up-and-coming artists: Tony Leaño, Neil Manalo, Erwin Leaño, Charlie Co, John Santos, Marcel Antonio, Mikel Parial, Pamela Yan, Rodel Tapaya, Wilson Ma and artists from Antipolo like Jerson Samson and Edrick Daniel. He also takes pride in owning works of old masters like Arturo Luz, Cesar Legaspi, Rodolfo Ragodon, Onib Olmedo, Mario Parial, Jaime de Guzman, Raul Isidro, Norma Belleza, and Angelito Antonio.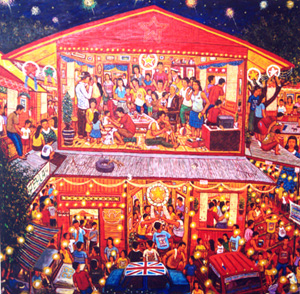 Jerson Samson
"Pasko sa Aming Bayan"
Oil on Canvas
24' x 36'
2002
Reggie Quimbo Collection


Except for a few small pieces, his fascination for large canvases is eminent in his collection. "I like big paintings. When I look at a painting, I don't think about the space where I'll put it but I like to look at the painting from afar and look at the details. I am also drawn to subjects that are folk in nature: fiestas, religious themes, rituals, cityscapes," he says.
As the interview draws to a close, Reggie presents us with keepsakes: "I try to educate and expose the people around me to support the arts. I tell them that if they have extra money, they should also consider putting their money into art because if people with extra money don't buy art then art will die. We have a civic duty to the artist and the community. If you want the art to grow and flourish then we have to support them."