Purveyor of Knowledge and Emerging Publisher of Content and Visually Driven Books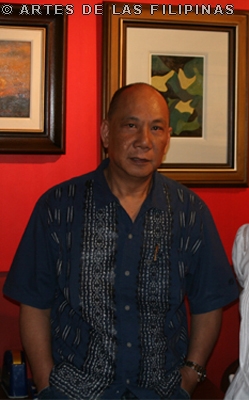 GALLERY OWNER: VIC SALTA OF
ARTISTREE GALLERY
by: Christiane L.de la Paz


Vic Salta is a legendary art collector in the seventies who opened Artistree gallery in Shangri La Plaza to make first-rate works of art available to learned collectors. He chose not to deal with ordinary pieces and decided instead to carry paintings by the Old and Modern Masters in Philippine art whose provenance were from prominent families in the country. He went to great lengths to get hold of many great masterpieces to give his clients choice works high in aesthetic and commercial value. In this interview, he talked about the journey he took prior to his rise in becoming a formidable art dealer in the country and his unique experiences in dealing artists.
How did you get started with art dealing?
It was actually accidental. Eleven years ago (1990), I retired as disc jockey for 89.1 then I bum around for six years to enjoy my newfound freedom. I was living on interest. I have been in the broadcasting company for more than twenty years. And then I was in the record business for fifteen years but I was able to combine the two. I was a disc jockey and the same time I became a vice president and director of a major record company (Dyna and Wea Records). I was handling the department called ANR (Artist and Repertoire) which happens to be the bread and butter department of any record company. We were number and I was considered the best ANR man that ever lived.
How then did the business of selling art come about?
The business of selling art came when I was invited to sponsor an on-the-spot painting by the Joya group. They now call themselves the Tuesday Group. I was not even aware of the various art groups but a certain artist introduced me to this group. I sponsored ten sessions after that. When you sponsor, these artists will give you ten of their best paintings of your choice for a fee. From those works, I started selling them to my friends to experiment if I would enjoy selling or if I become successful in it.
What was the result of this first attempt?
Naubos lahat. They were bought by my friends. They patronized me. Naawa na rin siguro. I had no gallery at that time. They were all just in the trunk of my car. I didn't realize I could be good in selling. The artworks that I sell I should definitely have to like it. I also realized that there's a good market for art. I found out na probably it could be better if I have a regular place, maybe a gallery.
Did it entail you a lot of money to put up Artistree?
The usual three months deposit, three months security. The construction involved is like any ordinary space when rented. One of my closest friends happen to be a director of Valle Verde Country Club and I was a board member as well. This director is also a member of Shangri La and asked me to take a look at some available spaces in the mall. There were a couple of existing galleries already on the sixth floor.
What are some of the problems that you encountered when you were starting?
The gallery wasn't doing super but it wasn't doing bad. It was just right like a new baby growing. I was selling all sorts, all kinds: Monday group, Tuesday group, Wednesday group, etc. Sometimes selling is easy but more often it is hard. Art dealing has no formula basta if it comes it comes.
Has your gallery been involved in any issues in the past?
You develop new relationships. You discover new friends and clients.
You are aware that there are many dealers who sell from their homes, how do you situate yourself in this?
They are the guerilla style of dealers. Ang advantage nila wala silang overhead cost, they stay home, relax ka, you sell when you need money. That's why as gallery owners, you have to find your niche or where you want to be. Niche is the right format for you. In time, I have come to realized that my niche is selling works of masters. The cost of buying these works entail huge amount of money.
Where do you get the artworks that you sell in your gallery?
I utilized my old collection. I started buying in the late 70s.When it's moving, you have to replenish your stocks. You have to buy again. Madami namang sources for these. I buy from collectors.
How do you make your galleries interesting for buyers?
By selling class A1 works. These are exceptional works by masters and great artists. They have experimental works and exceptional works. I always choose exceptional works. I have not personally met these masters but I seriously study their works. We have sold many Amorsolos, Edades to the rarest like Simon Flores, Cenon Rivera, Felix Resurrecion Hidalgo.
Your other gallery (Artistree 2) sells works of emerging artists, what are your criteria in choosing which artists to carry?
To lessen my burden of choosing, tinitingnan ko na yung mga nanalo ng major awards; winner from major art competitions (AAP, Philip Morris, Nokia, Art Petron, Metrobank). If they have an exhibition I try to find time and look at them.
Do you make it a point that the one that you sell is the first prize winner?
Not necessarily but at least they are finalists.
The young artists that you carry, who has a good track record of marketability?
Parker Encisa, an Art Petron winner, Don Delmacio, winner of Nokia, Kirby Roxas, winner of Metrobank.
Do you carry works that are exclusive to other galleries?
No. There is no such thing as exclusivity in galleries because artists are butterflies. Lipad ng lipad ang mga yan kung saan makakakuha ng pera. As a gallery owner, you know that they are like that, so you play as they want to play. I just rely on their integrity and marketability. Integrity in an artist is that they don't undersell. For example, I bought one piece for say PHP 10,000 from an artist then this artist goes to another dealer and sell his work for PHP 5,000. He loses his integrity as an artist. This practice has been going on for a long time. News spreads around. That's a typical character of an artist.
What kind of arrangements do you make with artists?
There are artists who managed to be paid outright. Wala din naman problema if consigned. It's a matter of how well you know each other as artist and dealer. Among the artists I have a good relationship with Caloy Cabuco, Ed Castrillo.
Do you influence your artist on what to create?
No, I never do. I buy the work that I want. They present a number of works and I choose what I feel will click or will be patronized by buyers. When I buy, it is not about my taste but the taste of my collectors. The final arbiter will always be the collectors. Sila ang bibili, so they tell you what it is and how it is. But it doesn't mean under yung feel mo. When you're in the mall, pressured ka to sell because of your obligations, rentals, overhead. You cannot waste time. If you have a painting that has not been bought for one year, there is loss of time, loss of money, loss of space. Hindi mo talaga masabi. Minsan paintings move fast, minsan walang benta. Walang specific formula na alamong ito ang bebenta at ito hindi bebenta.
Who are your favorite artists?
Ang Kiukok, HR Ocampo, Jose Joya, Romulo Galicano, Caloy Cabuco, Ed Castrillo. These are the artists whom I consider to have integrity.
What theme or subject that are most sought by your buyers?
Always the Mother and Child of Joya, HR Ocampo. Landscapes and abstract works of HR and Joya sold to me by collectors.
If your source is the secondary market, how would you know the authenticity of such works?
You feel it naman eh and then if you have doubts you call whoever is the expert in a particular artist. I have friends from the Ayala Museum like Ed Ernale who worked with the Ayala Museum for about twenty years. He's got integrity. Hindi yon mag-aauthenticate ng alam nyang fake. You cannot buy him. He was also a panel who authenticates in the National Museum.

Please decribe to me a collector who frequents your gallery.
There are many types of collectors. There are rabid, incidental, passive. Rabid collect ng collect, na-addict na. Incidental yung magkagusto lang sya but is not so rabid. Bili sya, collect sya, pahinga sya. Passive paminsan-minsan kung meron syang excess money, bili sya.
How would you describe a young art collector?
Depende sa passion nya kung magiging rabid sya or passive sya. Once in a while they come, then they evaporate. Young collectors are in their late twenties meron na up to forties.
How would you describe a serious collector?
Depends on his passion and capacity. It is hard to tell kasi someone could be a serious collector but whose taste you don't agree naman. Sometimes they measure it sa wallet. Me, I measure it by passion and desire. Kung ang desire nya is this particular piece, or this particular artist, or this particular subject. Prerogative nya yon. We cannot take that away from him. Yun nga lang we get caught by collector na maraming pera.
How do you establish relationship with your buyer?
Sincerity. Honesty. That's all. Be frank. Be honest. Be sincere. Mahirap naman yung nagbebenta ka na hindi mo dinidisclose kung ano yung binebenta mo. I always teach them the lesson taught to me by the number one dealer in the US – Wiseman. He carries Miro, Dali, Chagall, etc. Always give to your client the triangle. At the pinnacle is the aesthetic value. Nobody can question that. That's the personal aesthetic of the buyer. Down is the investment value and then at the other end is the pride of ownership. You declare and you tell them honestly about this three and then wala ka na problema. You have disclosed to them everything there is to know or what you've sold to them.
What do you think of the following players in the art world?
art dealers/gallery owners – Sales. Stores. Supermarket
art critics – They are the usual media.
Curators – Kulang tayo ng curators sa business. People don't understand the meaning of the word here. They are supposed to be well-verse in the arts that they are capable of explaining everything and anything. We don't have regular curators in gallery kasi maliit ang sweldo.
Collectors – they are the ones who sustain the artists and galleries.
Artists -- I consider them as headaches. They are like butterflies and GROs. Kung sino ang mas may pera doon sila. Pag wala ng pera yung isa, doon sila sa kabila. It's not that I don't respect them or take it against them but the situation compels them. That's their excuse. That's their thinking. It is very hard to find a good artist to deal with.
Siempre hindi naman tayo charitable institution that we provide for all the needs of the artists. Hindi ko rin sila blini- blame because of the economic situation also compels them. Pero hindi naman sila yung kasing-sama ng iba na makikipag deal sa iyo because they think you have a lot of cash. Tapos malaman-laman mo makikipagdeal ng iba ng mababa. Sometimes, akala nila bobo ka, ido-double bill ka mga ganon. They can only do that to me once. No more second time and cancel sila sa gallery ko. Hindi ako bothered if they say things against me. As long as you know na hindi ka ganon, you just leave it like that pero pag bothered ka baka mag-quit ka. Lakas ng loob din ang kailangan dito.Malalaman naman later on who you are.