Purveyor of Knowledge and Emerging Publisher of Content and Visually Driven Books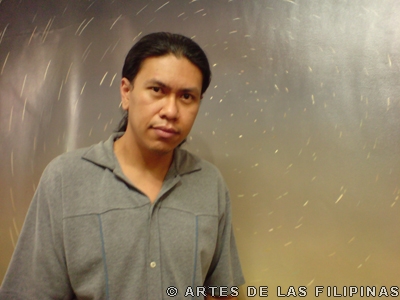 PHOTO-ART ARTIST: ALVIN VILLARUEL
by: Christiane de la Paz
Alvin Villaruel belonged to that generation of young artists who excites and intensifies the Philippine contemporary art. He began his career in 1998 after receiving his diploma from the University of the Philippines College of Fine Arts. He re-introduced the idea of photo-paintings as well as smudges and blurs in his works. A decade later, he made a mark as a young painter eventually becoming one of the leading artists of his generation. In this interview, Alvin Villaruel talks about his struggles, his early beginnings, his joys and sentiments and the activities that young artist like him goes through in the early stage of their careers.

Alvin, what was your life like after graduating from UP?
It became different because painting was already a daily activity for me. The act of painting was not something that I do on schooldays but regularly. I paint even in summer vacations, sem. breaks and Christmas vacations. In fact, I enjoy painting during school breaks because there is total freedom in art making. No plates to think of, no 2-day deadlines…But after I graduated, my cousins, Titas and Titos suggested that I take the usual direction of artists like get an art related job in advertising or animation. I knew people who have worked in that kind of environment and only few of them survived their jobs. I realized early that that was not the life I wanted. What I wanted is to paint and tackle the issues of art in my own pace and way. My portfolio is meant to be submitted in galleries.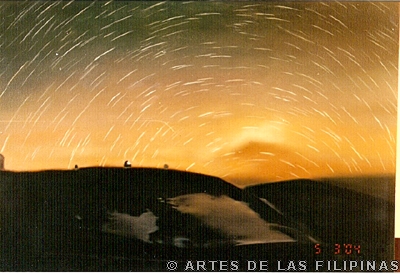 20 Degrees off the South Celestial Pole
3 x 4 feet, oil on canvas
2004

Was Fine Arts your first course in college or did you transfer from another course?
I was an economics student before I shifted to fine arts. When I graduated from high school, I took economics just to be in school. I spent two years there then my sister who was already in UP at that time suggested that I take the UPCFA art workshop and the Talent Determination Test. I failed my first test then I was out of school for a time. Then I followed Mr. Sena who was my workshop teacher in UP and I enrolled in his workshop. For two years I went there and in the next UP TDT, I passed. It was from my workshop with Mr. Sena that my skills and abilities in compositions got polished. But then I remember that it was my dad who inspired me to paint. Although he went to work in corporations, I saw him painting in watercolor when he was home.
Geraldine, Wire Tuazon, Keiye Miranda, Mariano Ching, Yasmin Sison, Mike Munoz, Katya Guerrero, Trina Valenzuela, Eric Roca, Emerson Abraham, Amiel were my classmates in some sems but all in all it was the same batch. I remember there were two sections that dwindled as the years went along. Our batch was closely knit. Even now that we have our own careers, we still get together from time to time to hold a group show once a year. Other contemporaries but not of the same batch were Lena, Nona, Lyra, Louie, Poklong, Jason, Ringo but during that time most of us were working together during group shows put up Chabet. After UP, Wire and my classmates set up Surrounded by Water. Katya and Ringo started Big Sky Mind.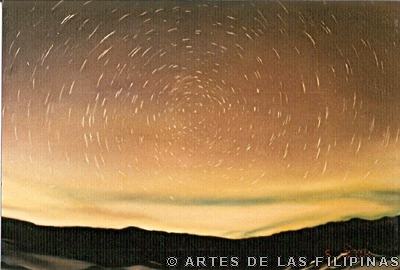 Polaris 20 Degrees North
3 x 4 feet, oil on canvas
2004
I remember when I used to borrow books from the library, I picked those of Turner, Vermeer, Rembrandt, Ingres, Rothko and Malevich. Then twentieth century photographers like Margaret Bourke-White, Cartier-Bresson,Walker Evans, Henri Lartigue, Steiglitz, Weegee, a lot.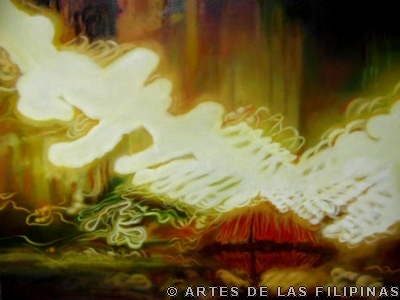 Streets on Fire
3 x 4 feet, oil on canvas
2005
I did extreme close up and cropped organic forms or images taken from the National Geographic magazines or science books then I would make a collage out of them. Then there came a phase when I got fascinated with photography because it allows me to take pictures to use for my own studies.
Yes. For a while, I just had a small allowance. Then I sidelined by making portraits and murals to live by. Thinking about it now, those were really difficult times for me as I was very much dependent on my parents. They are getting old so I painted more. Nobody knew me and a sale of my work only happens once in a blue moon.
My Tita saw a portrait I did for a plate in school and she commissioned me to do a portrait of Jose Mari Escriva, the founder of the Opus Dei. She paid me 2000 pesos for an 18 x 24 inches painting. Then another Tita of mine in LA commissioned me to paint lotus flowers. I charged her 4000 for that. It was a bigger painting and she lives in the US anyway. (laughs)

In 1997, we had a five-man show at West Gallery in Megamall. It was a thesis show and I did an installation. I put a working refrigerator in the gallery and stuffed it with pictures of people I knew. Of course there was ample space for booze in the opening. Then in 1998 we had our final thesis show at Sou Mak Interior Design Gallery in Makati. That time I used the photos I placed in the refrigerator for my thesis as studies and made 24 small photorealist abstract paintings out of them. It was sold for a thousand bucks each. The money I got from the sale, I instantly bought more paints, canvases and this was the first time I also contributed in our home expense.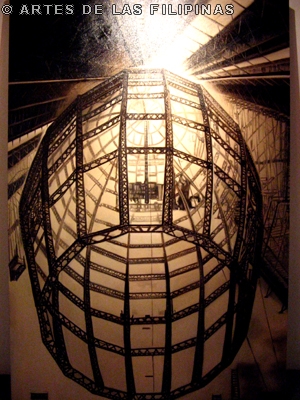 Helium
4 x 6 feet, oil on canvas
2006

My first group show was in the UP Faculty Center. That was a third year class show and most of us were painters under chabet's class. The show was well received based on the logbook remarks. (smiles). I think that was the time when our individual styles emerged. Then my first one man exhibit was in 1999 at Big Sky Mind in E. Rodriguez during that time. It was more of like a compilation of my mini and final thesis works, a combination of photography, installation and painting.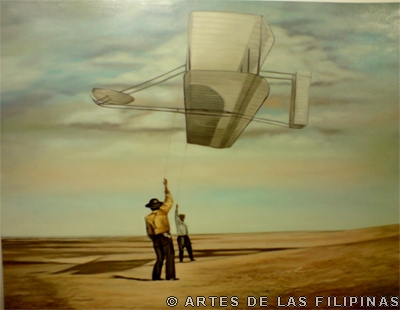 A Fine Day to Make History
5 x 6 feet, oil on canvas
2007

I don't think the first exhibit could make or break a career. I think the first good exhibit can really be the start of a career and an artist should excel from that point on, continuously build his portfolio and improving on his skills. For a young artist, its' ok to make a few mistakes or to appear amateurish but once he has found his comfort zone, there should be no mediocrity.
I was a finalist for Shell in 1994 and an honorable mention in AAP in 2000. I was also nominated for the 13 Artist Award in 2003.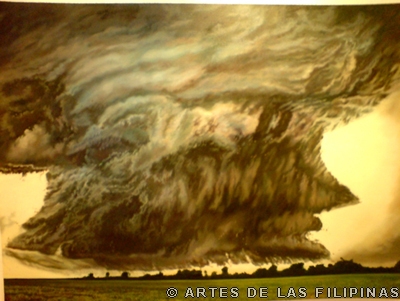 Touchdown
5 x 7 feet, oil on canvas
2007

Do you think awards help in making the painter become commercially recognized?

Great works make an artist commercially recognized and eventually they are recognized by award giving bodies. I believe in the idea that an artist should make great and significant works before he becomes successful and famous.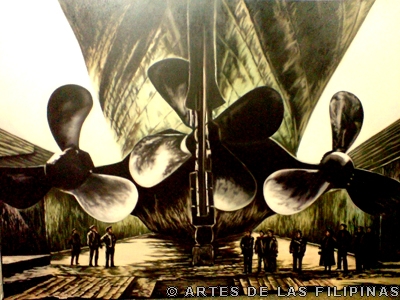 Building the Future
5 x 7 feet, oil on canvas
2007
Winning an award is a milestone in an artist's career. This means that an artist has done some great works to deserve that award. The value of an artwork will inevitably rise too even if the artist has not had an award. I think this can be accomplished by showing excellence and dedication to his work. But the award giving bodies usually recognize the artist at one point in an artist's career so what an artist needs to do is to concentrate in improving his work and to not stop learning. If an award comes then graciously accept it; if not just, continue. The value of the painting will rise anyway. For me, being collected is like winning an award because it means someone recognized my talents and that someone believes in my work.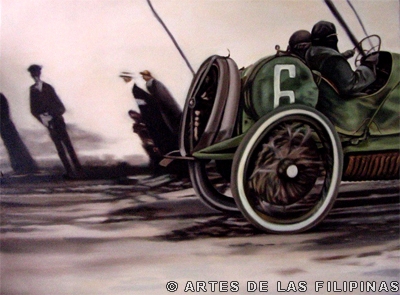 Turbo
3 x 4 feet, oil on canvas
2007
Yes.
I like the CCP Thirteen Artists Award because it's an award given to my generation. Pero pana-panahon lang yan. If my time comes, I will graciously receive it.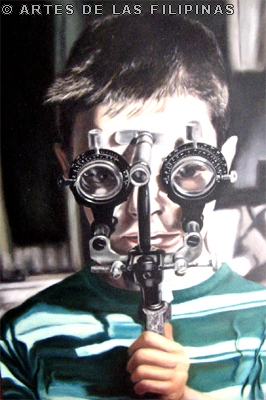 Can't See Haze No More
2 x 3 feet, oil on canvas
2007
I used to be fascinated with modernist photographers. When I was studying their works, I noticed how light and perspective behaved in photography. Light sometimes behaves as a glare or as a smooth effect which soothes my senses. Sometimes, it's wild like when you shake a camera while taking a photo of a light bulb and perspective sometimes becomes blurry or deforms an image. Those things fascinate me which also motivated me to paint using photographs as studies. Photography makes new things out of simple things and photographs become objects that contain glimpses of a past or present reality. And to make a painting out of those ideas is another story. All these things come to play when I make art. It is very instinctive especially for abstract studies.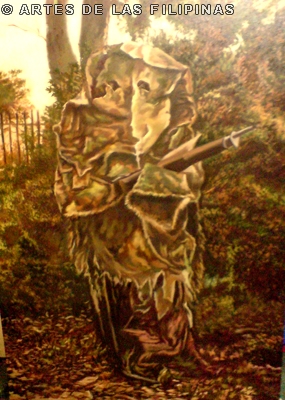 Homeland Defense
4 x 6 feet, oil on canvas
2007

(Laughs) They're sometimes the best critics. I remember there was a time from a one man show of mine, the works that I liked the least, they really liked and was sold. The ones that were my favorites, my family didn't like and didn't get sold. It's funny really.



Our Home in the Sky
4 x 6 feet, oil on canvas
2008

Do you ever regret being a painter or was it the best decision you made in your life?

I'm having the time of my life doing what I love and earning from it as well. This is definitely the best decision I've ever taken. I had plenty of rough times when there wasn't any sale and sometimes it coincides with a financial crisis in my family. I'm happy to say I got through with that and I held on. I never thought of getting a job anywhere. Instead, I focused more on my paintings. Relentless painting and practicing made me improve my work. Eventually it caught up with me and I am starting to reap its benefits.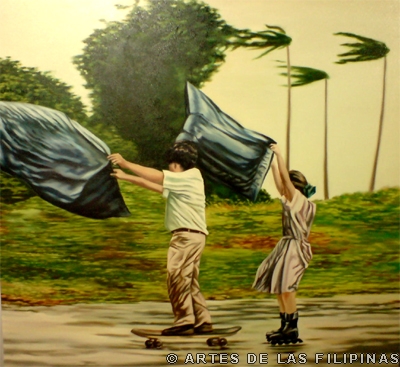 Riders of the Storm
5 x 5 feet, oil on canvas
2008

My articles in Mega Magazine Dec-Jan issue of 08-09 and one in Inquirer by Nath Rondina. Then there was also one in Manila Bulletin by Yonina Chan.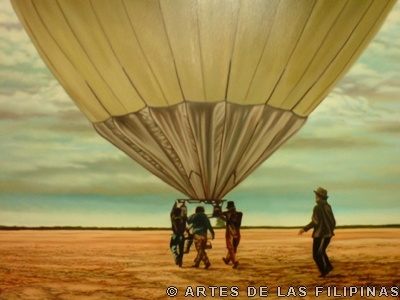 Under Favorable Conditions
5 x 5 feet, oil on canvas
2008

None really except for a few typos like my family name being misspelled as Villareal, Villanueva or even Villaroel. This always happens in big group shows were the typist confused my name with others.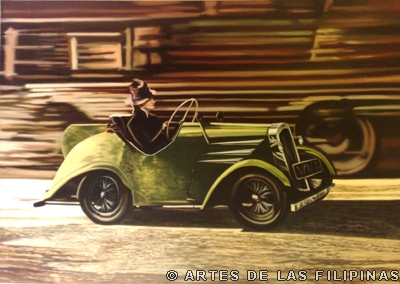 Takin' Her Out For A Spin
5 x 7 feet, oil on canvas
2008

I don't think so otherwise it would be very difficult. In my case, school developed my taste in my choice of subject matters. It also developed my skills in painting and broadened my knowledge on the art world through exhibits, meeting with artists, publications, magazines, etc. I guess I was lucky as I got interested at an early age then I had my formal training in UP where I had access to a library and was trained by a great mix of professors.
I don't remember.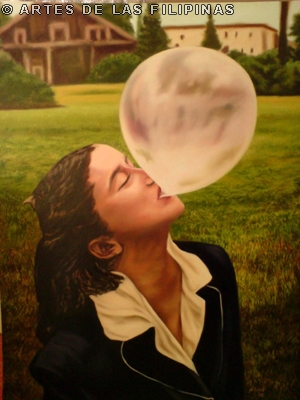 Fly by Gum
3 x 4 feet, oil on canvas
2008
I can paint whatever I want. I do not think about skill or technique when I paint because its been molded in me of years of constant practice. Painting gives me freedom to try out new things or approaches in paintings. People say I have a distinct style whether in my abstract or in my figuration. When I paint that's the time when I feel I'm indulged in pleasure. I feel free. I feel powerful.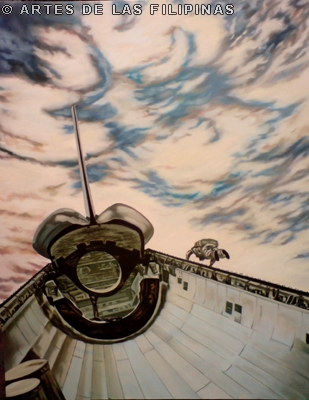 A Cake Walk WIth Atalntis
4 x 5 feet, oil on canvas
2008
I was lent a book about Gerhard Richter and Uta Barthe. I realized that I was doing works similar to what they've done.
Recently, who have fascinated your imagination?
What can you say is your clear talent in painting?
Do you ever remember an instance when you approach a writer or critic to take notice or write about your work?
Do you think anyone can pursue a career in painting without a formal education?
And what has been the worst?
What has been the best thing written about you?
Has your parents or siblings seen your works? What do they have to say about your works?
I noticed that most of your works are photograph inspired. How did this style come about?
Is there any award that you wished you have won?
Do you think a painter can commercially become successful without receiving any award in his career?
Does this help in the value placed in the succeeding works after winning an award?
Have you ever won any awards?
Do you agree that the first exhibit of a painter could make or break his career?
Can you tell me some details of your first exhibit?
What was the first gallery that carried your works?
And what were you painting when you were a student?
Who are your contemporaries in school?