Purveyor of Knowledge and Emerging Publisher of Content and Visually Driven Books

Robert Deniega
"Datu's Eldest Wife"
Watercolor
24' x 18'
2002
Private Collection

EMERGING ARTIST: ROBERT DENIEGA
by: Christiane L. de la Paz

"Hindi lahat nakukuha sa experience. Kung saan ka masaya at kung ano ang gusto mong ipakita sa tao, nasa sa iyo yon. On my side, hindi pa ako nakakarating sa Baguio o Sagada pero tuwang-tuwa ako i-paint ang mga ethnic tribes natin. Nagreresearch ako. Lahat na ata ng library napuntahan ko para magbasa ng tungkol sa kanila. Pero ang rinerelyan ko talaga ay ang imahinasyon. Malayo ang puede mong marating sa imahinasyon. Isang pikit lang ng mata, marami kang puedeng makita." (Not everything can be gained from experience. Whatever makes you happy and whatever you want to show to people, it's up to you. I have never been to places like Baguio or Sagada but I find happiness painting the ethnic tribes of the Philippines. I do research. I have been to almost all the libraries to learn more about them. But I rely on my imagination to take me to places I have never been to. I just close my eyes in order to see.)
"Painting the different tribes of the Philippines in their beautiful environment is the purest, most original and alluring beauty that I want to capture in my paintings. Nakalimutan na sila halos ng karamihan (They are almost forgotten by many.) and at the same time the affection for them are slowly deteriorating. I would like to be remembered as the artist who survive the beauty of their purity and that hopefully someday my works will be used by the future generation as a reference to learn about the ethnic groups in the Philippines ."
You would think that with such a propitious start, 37-year old Robert Deniega, whose elaborate-style in painting, would naturally follow his talents and breeze through life the easy way, but that was not the case . His was a story that was about to be told.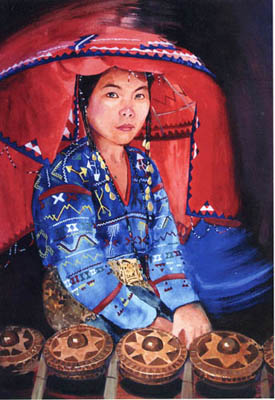 Robert Deniega
"T'boli Maiden"
Watercolor
24' x 18'
2004
Private Collection
Deniega was born in 1967 in Sta. Cruz. The son of a copywriter and a public school teacher, Deniega is the third child among four children. "Ayaw sana ng magulang ko na magconcentrate ako sa pagpipinta. Ang gusto nila magkaroon ng anak na arkitekto." ( My parents were somewhat against my decision to concentrate on painting as they wanted to have an architect in the family.) He did a lot of drawings as a child and would yearly win in school art competitions. " Hilig ko i-drawing noong maliit pa ako ay mga mechanical toys —robots, truck-truckan, mga kotse. Mahirap lang kami. Hindi naman kayang bilhin ng aking mga magulang, kaya dino-drawing ko na lang," he recalls. (I like to draw mechanical toys like robots, trucks, and cars. We are poor. My parents could not afford to buy me these toys so I just draw them.)
One of his childhood memories is of spending many hours reading the life and works of Austrian painter and illustrator Gustav Klimt. " Hindi ko na matandaan kung kaninong libro ako nakahiram tungkol kay Klimt pero sya ang artist na nag-inspire sa akin. Bilib na bilib ako sa kanya. Kahit katakot-takot na criticisms ang nakuha nya sa mga gawa nya. Tuloy-tuloy pa din ang pagpipinta nya. Nabuhayan ako ng loob ng nabasa ko ang buhay nya." (I do not remember whom I borrowed a book on Klimt but he is the artist who influenced and inspired me. I am very much amazed by him. Even if his works was much criticized, he still pursued painting. It perked up my spirit when I read his life.)

In his early year as a painter, Deniega became fascinated with wartime scenes and heroes. He says that his grandfather, who was a war veteran, would endlessly tell them of the horrors he went through as a soldier. " Tumanim sa utak ko ang mga naranasan ng lolo ko noong panahon ng giyera kaya siguro nailalabas ko sa mga drawings ko noong maliit p a a ko. " (The experiences of my grandfather during the time of war stuck in my mind. This could be the reason why I paint these mental pictures when I was young.) He drew the war because he wanted "to capture the human drama and action in the battlefield." He wanted people to see through his paintings the emotional torment war causes.
But it wasn't always this way for the young Deniega. Like a fine wine, Deniega's fascination for the subject matter soon matured with age. "I read the life of Carlos "Botong" Francisco in my early twenties and it changed everything about how I want my life as a painter to be. He says that Botong is "the master of the human figure." "Noong pinag-aralan ko ang mga gawa ni Botong, namangha ako sa husay ng kamay nya sa detalye at yung mga kulay ng gawa nya, napakahirap timplahin, " he says unwittingly. (When I was studying the works of Botong Francisco, I was amazed on how skilled he is and how detailed his works are. His colors are very difficult to mix.) "Botong inspired me to work hard and polish my craft. Even though I know that I won't be able to make work like his, I was very much impressed by his passion, dedication, and hard work. That was the time in my life where he seemed like a god."
At the University of the East, which he entered straight out of high school, he learned the basics of color theory, composition, and water color techniques. Deniega says that "I was just like everyone else. Madami din akong mahuhusay na trabajo at mga trabahong tamad." (I have plenty of good works as well as works done in haste.) He credits his teachers Buds Convocar and Florencio Concepcion as "two mentors who saw my work and encouraged me to continue."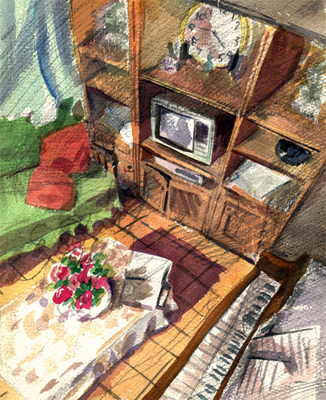 Robert Deniega
"Un Libro"
(A Study for the 26 th Shell National Art Competition)
Watercolor
16' x 12'
1992
Artist's Collection

Deniega joined the Shell National Art competition with his watercolor entry "Un Libro," and ended as a finalist." The painting was sold for Php 4,500. " Iba pala ang pakiramdam ng may bumili ng trabajo mo. Nakaka-encourage. Gusto ko na kaagad umuwi at magsimulang magpinta," he says with enthusiasm. (It was a different feeling when someone buys your work for the first time. It was encouraging. I wanted to go home and start painting.)
Deniega a t 26 years old was on the move. He was joining and winning several art competitions left and right and was on his way to having a successful career as a painter until he took a turn and worked in an animation studio. His life as a cartoon animator has begun. He found it necessary to work full time as a way to make ends meet. " That was the time na ako n a a ng nagpapa-aral sa sarili ko. Masakit sa loob ko ang mahinto sa pag-aaral but life has not afforded me the opportunity to finish school . Gusto ko din i-prove sa magulang ko na kaya ko panindigan ang pinili kong carera." (At that time, I was already the one sending myself to school. It was heart-breaking for me to stop schooling. I also wanted to prove to my parents that I will stand by my decision to become a painter.)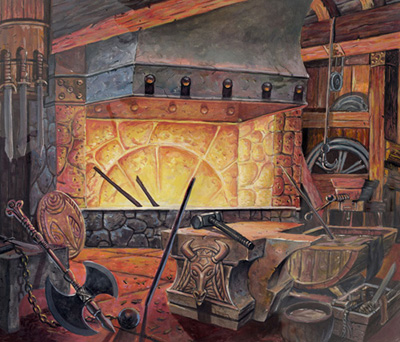 Robert Deniega
"Fire Place"
Gouache on Paper
16' x 24'
2004
Private Collection

For eight consecutive years, Deniega worked as an assistant animator in Toon City Animation studio, where he experienced and learned by heart the traditional hand-drawn animation. " Sa animation, masasanay ang kamay mo na magdrawing, magbalance ng characters, discipline of lines, and composition. Ang isang animator assign sa isang eksena, kailangan nya i-drawing yung buong eksena. (In animation, your hands will be trained to draw, balance characters, develop composition, and learn to discipline your drawing lines. One animator assigned to a single scene is responsible for completing the whole scene.)
It was also an exciting career he had as an animator. It has given him the opportunity to train under the unerring eye of Larry Alcala, who used the medium of the comic strip as venue for social commentary in the aftermath of World War II. "Si Mang Larry ang nagturo sa akin ng tamang composition in cartooning. Natutunan ko sa kanya ang importansya ng punch line sa cartoon. Kahit walang words kailangan mong mapatawa ang tao dahil malaking bagay yon sa nagbabasa," he recounts. (Larry Alcala was the one who taught me the proper composition in cartooning. In cartooning, it is important to have a punch line. Even in the absence of words, it is very important to communicate to your reader and make them laugh.)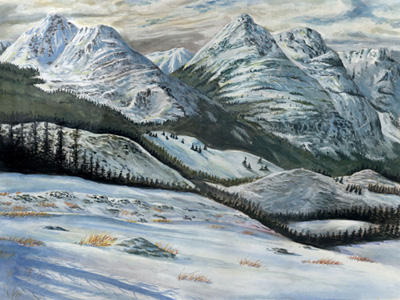 Robert Deniega
"Snow Mountain"
Gouache on Paper
16' x 24'
2004
Artist's Collection
With his busy work schedule as an animator, Deniega no longer found the time to pick up his brush and paint. His designs have changed but his command in watercolor renderings was something that he says, "I had a romance with and perfected in time." "Watercolor is the most creative and versatile medium. You can create different effects and techniques with additives and other materials to give it a more textural appearance. It is a very disciplined medium."

But painting for Deniega is still the most beautiful of all arts. He sensed a change was occurring in his life. There was the urge in him to pursue the calling of his heart. He could not resist his destiny. In 2003, he renewed his membership in the Art Association of the Philippines and became an active member of the Aquarellist, a circle of watercolorists who does outdoor painting every Saturday. He likewise became an active member of the Eastwood City Art Club. In these groups, he further honed his skills during regular art sessions and became active in group synergy.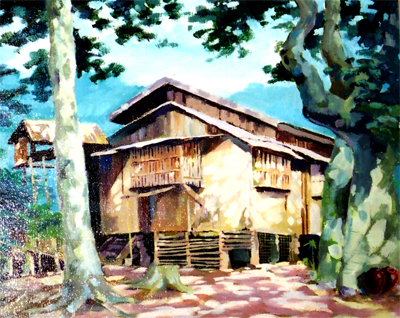 Robert Deniega
"Doon Po Sa Amin"
Acrylic on Canvas
15' x 15'
2004
Artist's Collection

Robert Deniega is back into painting. He paints places he says "I created in my mind," and subject matter that pops in his mind every now and then but Denieg a a lways return to the beauty of portraiture. He says that there is something he wants to say about people, art, and their time. He admires works done by Ben Cabrera, Caloy Cabuco, Gig de Pio, and Romulo Galicano. "It has never changed what I am interested in. It was just put on hold and now it just keeps growing out of me. To be able to create something that I love is enough reason to spend my life doing art."