Purveyor of Knowledge and Emerging Publisher of Content and Visually Driven Books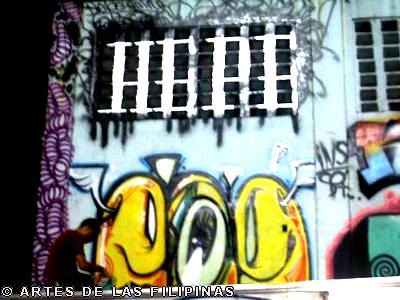 A MODERN GRAFFITI ARTIST: HEPE
by: Christiane L. de la Paz

February 2009 - - Graffiti is from the Italian word graffiato which means scratched. It has a long history that goes back to the figure drawings found in the walls of ancient ruins in Rome and monuments in Egypt. Since then, the art, style and usage of graffiti has evolved as a means to communicate social and political messages and is linked with punk rock and the hip hop culture. Today, graffiti art is a global phenomenon viewed and opined by young and old alike. In this interview, Hepe, one of Manila's prolific taggers and a visual artist expresses his bold opinions, narrates the beginning of his interest and tells how tagging has been a driving inspiration in his artistic career.

Do you remember the first wall you have sprayed aerosol on?

The first walls I worked on as an undergraduate are those inside UP campus in Diliman. It was in collaboration with another artist. I was introduced to street art when two of my mates are painting on the walls one night. Then we started doing the same stuff using vinyl stickers instead of latex paints or aerosols. We created simpler shapes of inanimated forms. Our only intention was to put second layer images over some of the painted blobs and graphical forms which have long existed in UP. It took us nearly two months to finish our first collaborative street art project.

You paint maggots, how did this idea come about?

After I finished the vinyl sticker project I was doing early on, I began experimenting on images of gorillas and maggots. Painting these images on the streets and people interpreting them gives me the thrill of doing it more often. The more I spread these maggots the closer it gets to my idea of criticizing our system. Decay and Rot!!!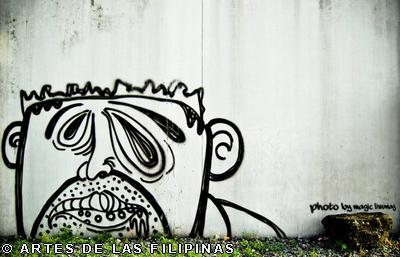 How did your style evolve since then?

I started working on simple form of images. I didn't care much about style whether if I have one or none. Maybe style applies to the technical aspect of my work like when I'm doing my tags or writings. But my concern these days is to create some unique markings as a graffiti writer. And since there are no nozzles on aerosols sold in the local market, I try to make do with what is available. In graffiti, it takes a series of experimentation to validate the progressions of style.

You are known as Hepe, could you tell me the genesis of your pseudonym?

Hepe is a chief. It was a creation of my mind. Seeing cops and police patrols everywhere, I thought they were the worst kind of people in society so I'm giving an ode to these cops. It seems that they had already taken over the city. I consider them fascists. They are greedy and they abuse the masses. They hide under their uniforms with the slogan of peace and integrity. But the irony of it is who is there hepe now? (grins)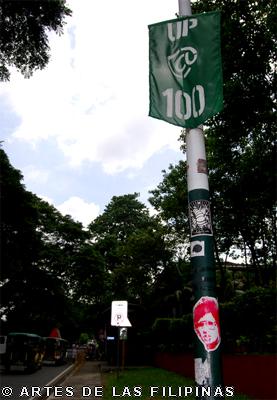 What motivated you to do graffiti to begin with?

All the small time people who cannot afford to consume the so called art found in galleries and museums and those who are psychologically abused by gigantic billboards polluting EDSA. Those who believe that information around us are misinformation. I paint for these people.

Is graffiti art legit?

A big yes for me and a No No No for Mr. Bayani Fernando. What more can I say? They are the rulers and we are their cultural workers and creators.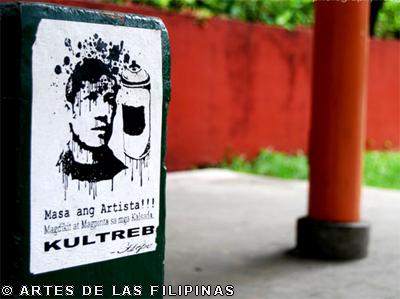 Since you paint when authorities are no longer in the streets, do you consider your act a crime?

No. Communication is not a crime. Liberating and educating people using visuals in a public space is not a crime. Art is not a crime. I am just doing my duty as an artist and this validates my own being. It is my right.

Is graffiti art a form of vandalism?

All acts of private and public destruction and distraction are forms of vandalism. Destruction through construction is a different story.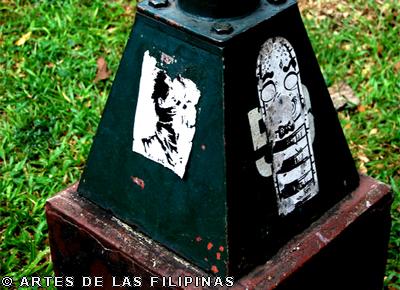 Do you consider graffiti a public art?

Painting has long been extended into different areas of concern. The use of diverse mediums and experimentations classify graffiti and street art as public art.

Would you categorize graffiti as "lowbrow art?"

People label it lowbrow art because graffiti is linked with advertising and commercial arts. The way I see it, graffiti is an art movement, a form of expressing one's idea into a much superior body of viewers.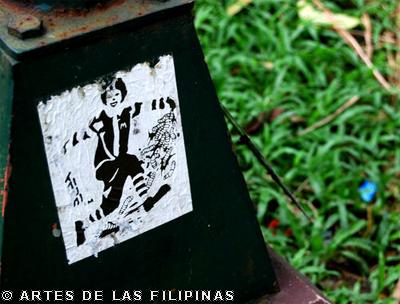 Some say that most graffiti artists are driven by vengeance, is this true in your case?

I'm just doing what I should be doing as an artist.

How do you feel when you see a wall you have painted images before have been repainted by the MMDA?

I think your question should be "what will the MMDA feel if they see the wall they have painted over have been painted with maggots?"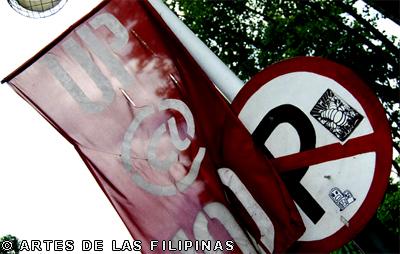 Have you had any chase encounters with the MMDA?

Yes twice in EDSA but we were never caught by the blue and pink boys.

Have you ever been in jail for your graffiti?

Never but I've been to police stations but never inside a jail. I wonder how it feels to be behind bars.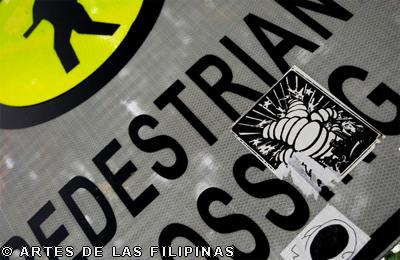 Has your parents seen your works?

They have seen some and they were glad about it.

Do you plan the images before you begin work?

No. All my work is arbitrary but it also depends on the place I will be working in and how much time it will require me to stay.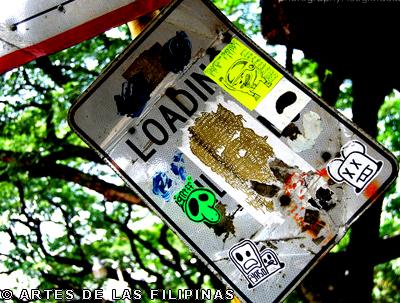 How many aerosols do you bring in one night?

Two aerosols would be the least. Sometimes I use latex paints and rollers and markers, anything that marks.

Do you prefer to work alone or in collaboration with other artists?

Solo because I don't have to worry much about security. When I work alone, there is also a lesser chance of getting caught.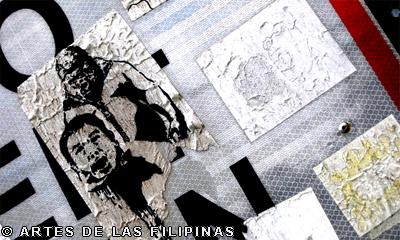 Which has more impact, a graffiti done in black and white or with colors?

Black and white because you could easily read the whole composition than a multicolored piece.

Have you heard some comments about your works?

One time, I was working under a bridge in Katipunan when I heard voice of an old woman. The woman told me "Ayos yang ginagawa mo. Sige lagyan mo pa ng maraming uod tong kalsada. Sana umabot pa sa loob ng Malacañang." I initiated a small talk with her and I added her words to the graffiti I was doing.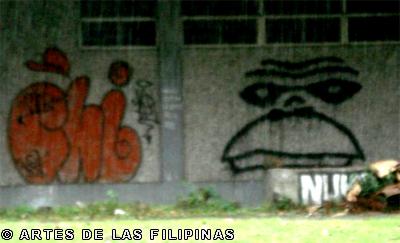 How much of your work is driven by a need to express a message and how much is driven by a need to create aesthetics?

I focus on content than the pleasure of aesthetics. A work is acknowledged if people could understand and relate to it.

What is the message you are sending to people who might come across your work?

My messages are calls for social change.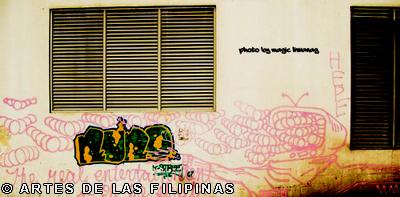 Why is it important that people see your graffiti?

Because my graffiti is an instrument in communicating to a large number of people.

Do you paint over an old graffiti that is not yours? Is there such a thing as "rules" in doing graffiti?

Yes and there are no rules in doing graffiti.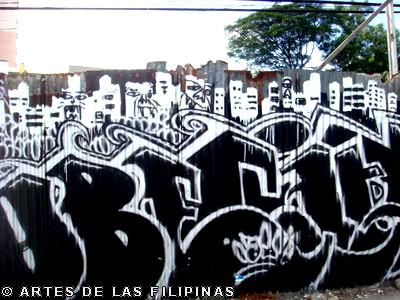 Have you explored on the idea of graffiti art in passenger trains?

Yes, museum on wheels! I do put stickers on trains sometimes.

In other countries, graffiti art is linked with the hip hop scene. Does this apply here or even in your case?

Taggers and writers here.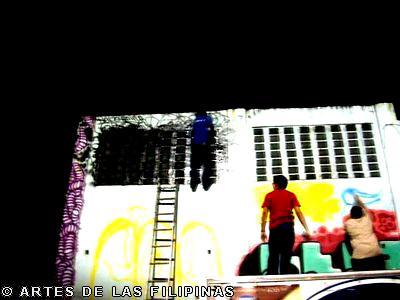 Who are some of the graffiti artists whose works you are aware of?

Large scale works of BLU, Neckface, Graffiti Research Lab in Spain, Banksy, the street art scene in Brazil, WK Interact and more.

Do you ever document your works?

No but I have a few pictures of my old works.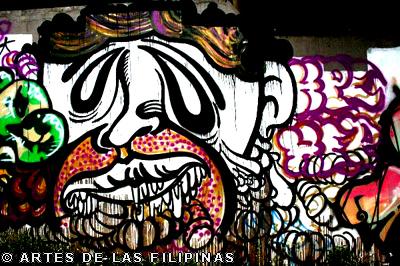 Which one is a favorite work of yours in the last two years?

The one I painted alongside Katipunan LRT station. The image is a man in a suit with a head of a television screen with maggots all over his head.

Do you intend to do graffiti for a long time or are you a "short-timer" in the scene?

I intend to continue doing it like just like how I enjoy playing a video game. Each time I'm out there, I advance my skills.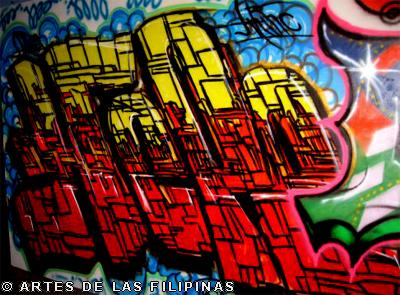 Do you think the city needs more graffiti art?

Yes. So many things are happening everyday. There are many issues in society that need to be checked.

Have you done any graffiti outside the city?

I have some in Batangas City and Pampanga.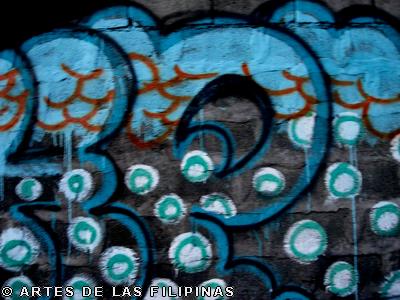 Do you have a dream place to do graffiti?

I cannot share any of my whereabouts on this. (leaves)